Assisted Living vs. Independent Living: The 5 Main Differences
Posted by Texas Real Estate Source on Thursday, June 1, 2023 at 2:21:08 PM
By Texas Real Estate Source / June 1, 2023
Comment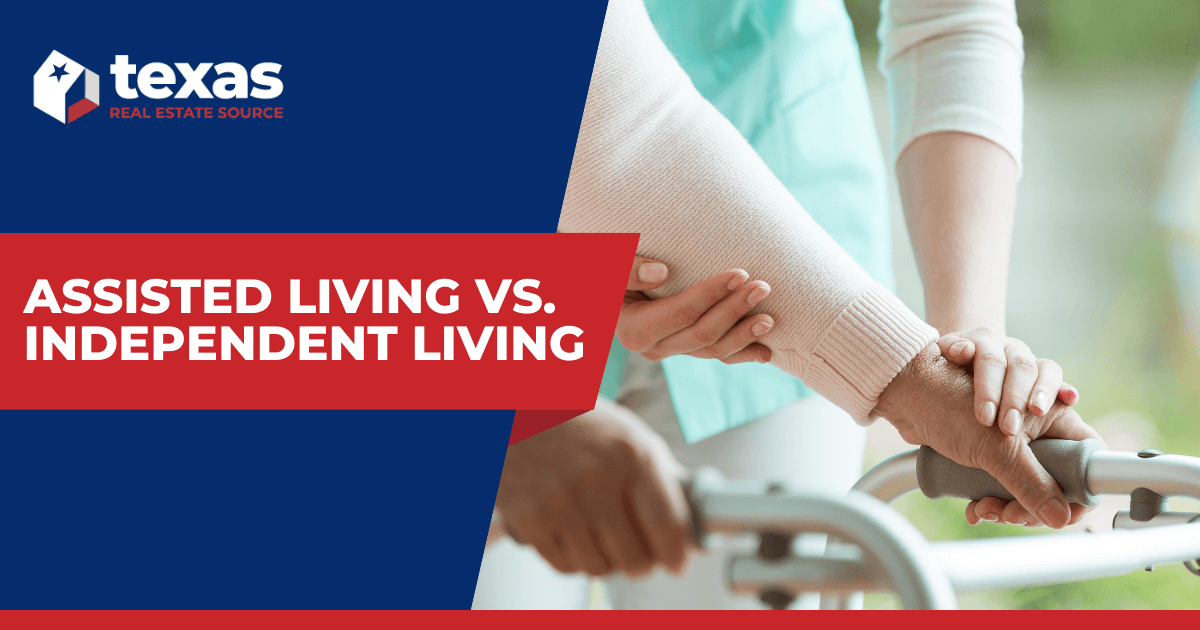 While many older homeowners prefer to remain in their homes as long as possible, both independent living communities and assisted living communities can provide attractive alternatives. Independent living communities offer social and practical benefits, while assisted living provides the daily care that's sometimes necessary for aging seniors. But what are the major differences, and which is best for your needs?
Levels of Care in Assisted Living vs. Independent Living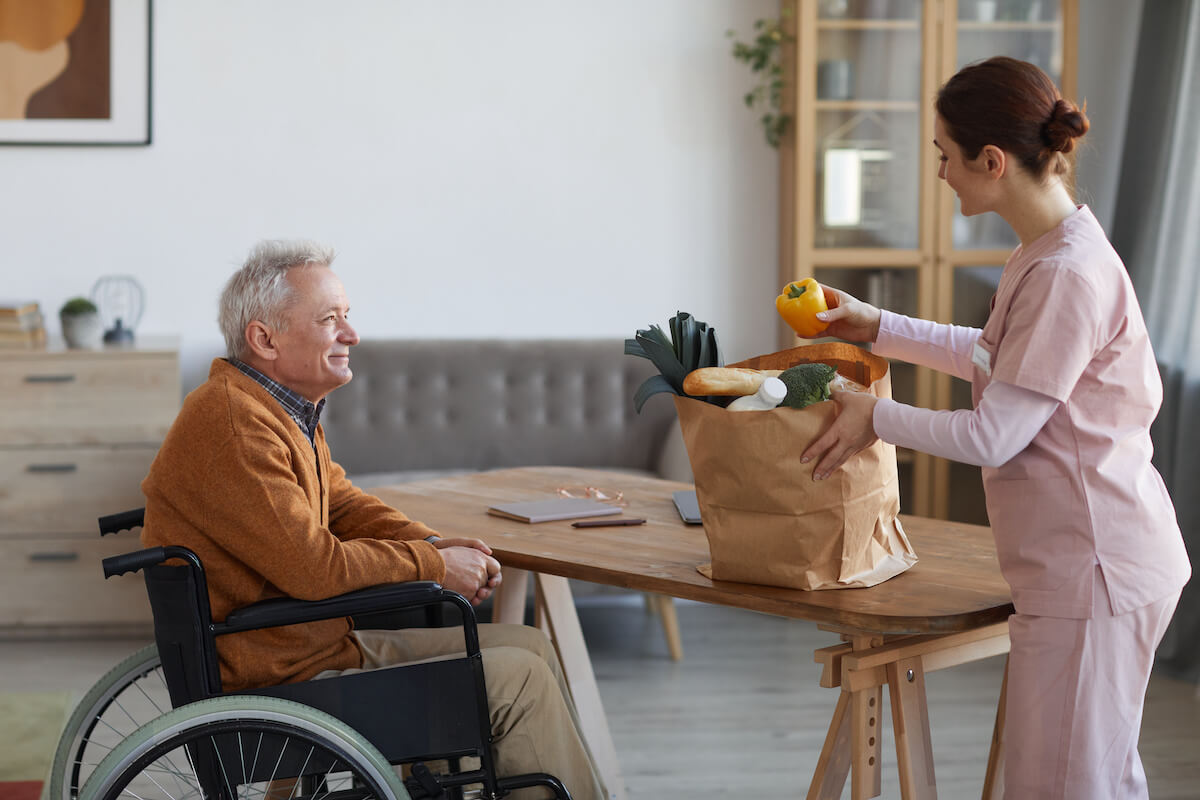 The primary difference between assisted living and independent living is that they offer different levels of care for individuals. Assisted living facilities provide support for Activities of Daily Living (ADLs), while independent living communities do not.
For many seniors, the choice between assisted living and independent living comes down to how much assistance they need in the day-to-day.
ADLs: Activities of Daily Living
ADLs are a widely used benchmark for determining what level of assistance a senior needs, so it's important to understand what they refer to. The six ADLs include:
Bathing: The ability to clean oneself and carry out grooming activities like shaving and brushing teeth.
Dressing: The capability to independently dress oneself without difficulty with buttons and zippers.
Eating: The capacity to feed oneself without assistance.
Transferring: Being able to move from a bed to a wheelchair or vice versa, either by walking or self-mobility.
Toileting: The capability to use the toilet independently.
Continence: The ability to control bladder and bowel functions.
Apart from ADLs, there are other complex tasks known as instrumental activities of daily living (IADLs) that are important for living independently but may not necessarily be required on a daily basis. These tasks include managing medications, preparing meals, shopping for groceries or clothes, using a phone, housekeeping, managing finances, etc.
ADLs and IADLs are used by long-term care providers to assess eligibility for assistance programs and determine levels of care needed within assisted living or independent living communities accordingly. Seniors who can complete ADLs and IADLs on their own are best served in independent living communities rather than assisted living communities.
Medical Care
Having access to medical care is essential for maintaining your health as you age, and you can get the care you need whether you live in an assisted or independent living community. The difference is in how close at hand that medical care is.
Medical care availability is one of the biggest factors in choosing which type of senior living best fits your needs. Even within umbrella terms like "assisted living" and "independent living," care services vary dramatically.
One factor that many people don't know is that assisted living communities don't necessarily have nurses present 24/7. Assisted living facilities are not medical facilities. If a senior requires round-the-clock medical care, they're best served by nursing homes, which have legal requirements for nurse-to-resident ratios and offer skilled nursing at all times. Assisted living communities do typically provide transportation to medical appointments.
In communities for independent senior living, such as 55+ communities and senior apartments, healthcare services are generally not a factor. There may be medical facilities nearby, but no more so than any other neighborhood.
Types of Housing in Assisted Living vs. Independent Living
Assisted living typically offers private or shared apartments for residents. These apartments may provide certain features such as wheelchair accessibility, grab bars in bathrooms, and other amenities that are designed to support seniors who require assistance with day-to-day tasks.
Independent living, when used as an umbrella term, encompasses several different types of housing communities. Independent living communities are generally associated with an assisted living community and may offer the same style of housing, but detached from the main assisted living facility. Senior apartments are like any other apartment complex, but they may have age-in-place features since they cater to a specific demographic.
55+ and active adult communities generally offer single-family homes for sale, and most residents are homeowners. There may also be townhomes or condos. Infrequently, rental options may be available. The housing stock may also differ from other neighborhoods—because the communities are developed with older adults in mind, homes suitable for downsizing after retirement are frequently on offer. These homes are smaller, single-story homes, and may be zero-lot-line or otherwise have smaller yards, giving residents the privacy of single-family homes with much less maintenance required.
Community Lifestyle in Assisted Living vs. Independent Living
When it comes to community lifestyle, both types of senior living typically offer social activities and community events designed to keep residents engaged with their peers.
Assisted living facilities typically provide a more structured environment that offers residents a sense of security. In addition to socialization opportunities and organized outings, they're provided with meals, laundry services, housekeeping services, and transportation services.
On the other hand, independent living communities generally allow for more freedom while still providing social opportunities in the form of amenities and social calendars. Independent living communities associated with assisted living also typically provide maintenance-free living with meals, housekeeping, and other services, and frequently provide other amenities.
55+ communities are much like living in master-planned communities in that the community lifestyle takes center stage. These communities often provide resort-style amenities like pools, tennis courts, walking trails, and even golf courses and other outdoor activities. Community clubhouses can include fitness centers, game rooms, and other features. In many communities, the HOA takes care of tasks like exterior maintenance.
Family Involvement in Assisted Living vs. Independent Living
Family can play an important role in the care of a loved one, whether they're in an assisted living facility or independent living community.
In both types of communities, families are encouraged to visit their loved ones, join them for meals, organize parties and gatherings, and otherwise remain involved in their lives. This involvement helps keep seniors from feeling isolated, which can lead to depression and other health consequences.
In assisted living facilities, loved ones are relieved of many caregiving responsibilities—professional staff is dedicated to anticipating and fulfilling the changing needs of seniors. This can help relieve stress and anxiety and help loved ones avoid caregiver burnout, which can help improve relationships between seniors and their loved ones.
On the other hand, families may still need to provide support to seniors with health issues in independent living communities.
Regardless of where a senior lives, there should be open communication between the senior, family members, and staff involved in caregiving decisions so that everyone is on the same page when it comes to meeting a senior's needs.
It's also important for family members to recognize signs of caregiver burnout or depression in themselves so they can take steps towards seeking support if necessary.
Assisted Living vs. Independent Living Cost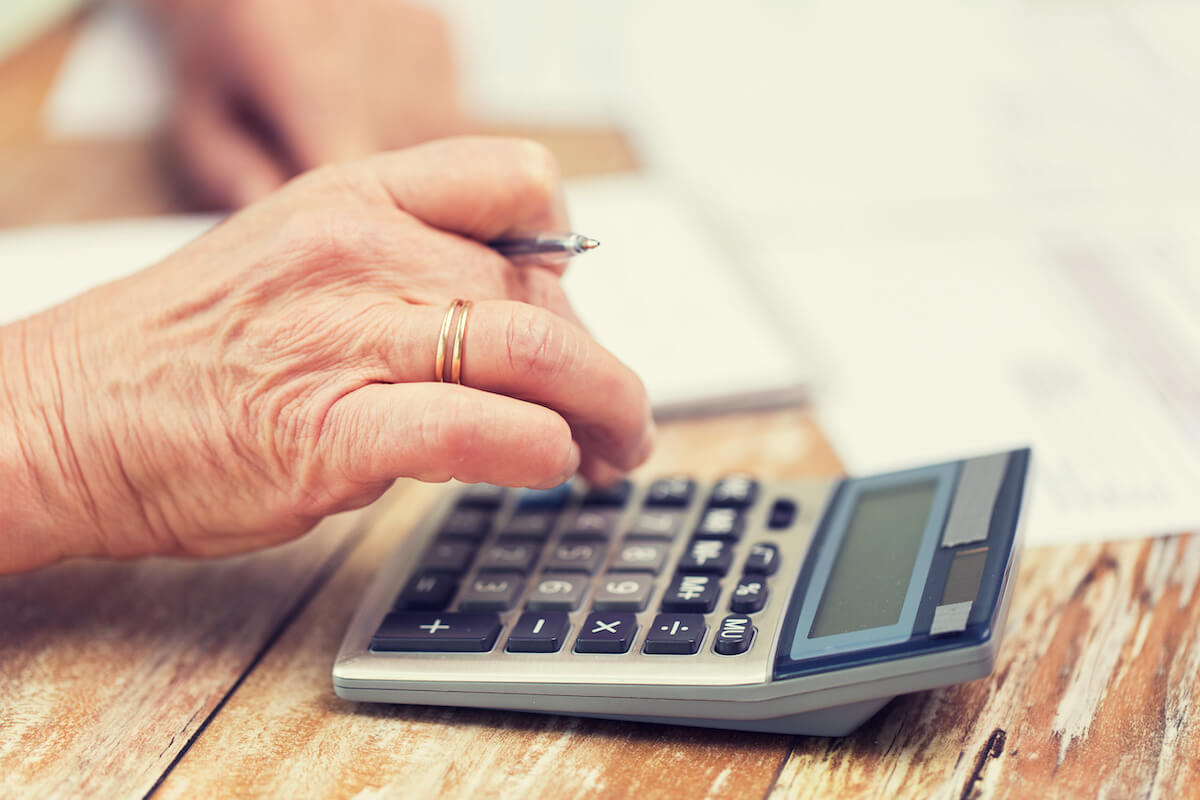 Independent living communities typically cost less than those offering assisted living services, as they don't provide medical care or other services that assisted living does.
On the other hand, the cost of assisted living pays for a level of support a senior would be unlikely to receive while living at home. This includes:
24/7 staff availability
Personalized care plans
Medication management
On-site activities and outings
Nutrition planning and meal preparation
In addition, long-term care insurance may cover some or all of the costs associated with assisted living—but coverage may require a doctor's prescription or other medical orders. It's important to review your insurance policy or long-term care plan before making a decision, as this will help ensure you're receiving the best possible value for your money.
Continuing care retirement communities, sometimes called CCRCs or life plan communities, typically have a sizeable entrance fee to secure a place in the community.
Monthly costs of living in an AL or IL community can vary dramatically depending on the community's location, the services available, and more. Some communities will have everything included in the base rate, while others offer a la carte services. It's vital to clarify what's included when you're considering a specific community.
In terms of average monthly costs of assisted living vs. independent living:
Other Names for Assisted Living & Independent Living
Understanding the different names associated with senior living and retirement communities can be confusing, so it's important to ask questions to ensure you're getting the care your loved one needs.
Assisted living is often used as an umbrella term for any type of senior community wherein a senior receives assistance with daily tasks. However, there's a big difference between the level of assistance you can expect at a typical assisted living facility vs. a nursing home vs. a memory care community. Some facilities may have multiple levels of care under one roof, but not always. It's important to determine what type of assistance and services are available within a particular facility.
Other names for assisted living may include residential care facilities, board and care homes, adult family homes, or congregate care facilities. Adult daycare may also be included in the same context.
On the other hand, independent living can refer to seniors who are able to live on their own but require minimal assistance with daily activities, such as housekeeping, or it can be used as an umbrella term that includes wholly independent living, such as 55+ communities, active adult communities, and senior apartments.
These names are often, and sometimes erroneously, used interchangeably, so it's important to clarify the services, amenities, and care provided on a community-by-community basis.
Which Type of Senior Living is Best for You?
Assisted living and independent living offer seniors different options for care and housing that are tailored to their individual needs. Both have advantages and disadvantages that should be considered before making a decision.
Ultimately, it's important to find the option that will provide the best quality of life for you or your loved one.
Ready to live your best life in Texas? Call The RealFX Group at (512) 956-7390 to contact an experienced local real estate agent who can help you discover the Texas home of your dreams.