Buying a Home in Austin: Your Austin Real Estate Questions Answered
Posted by Texas Real Estate Source on Wednesday, November 30, 2022 at 3:20:17 PM
By Texas Real Estate Source / November 30, 2022
Comment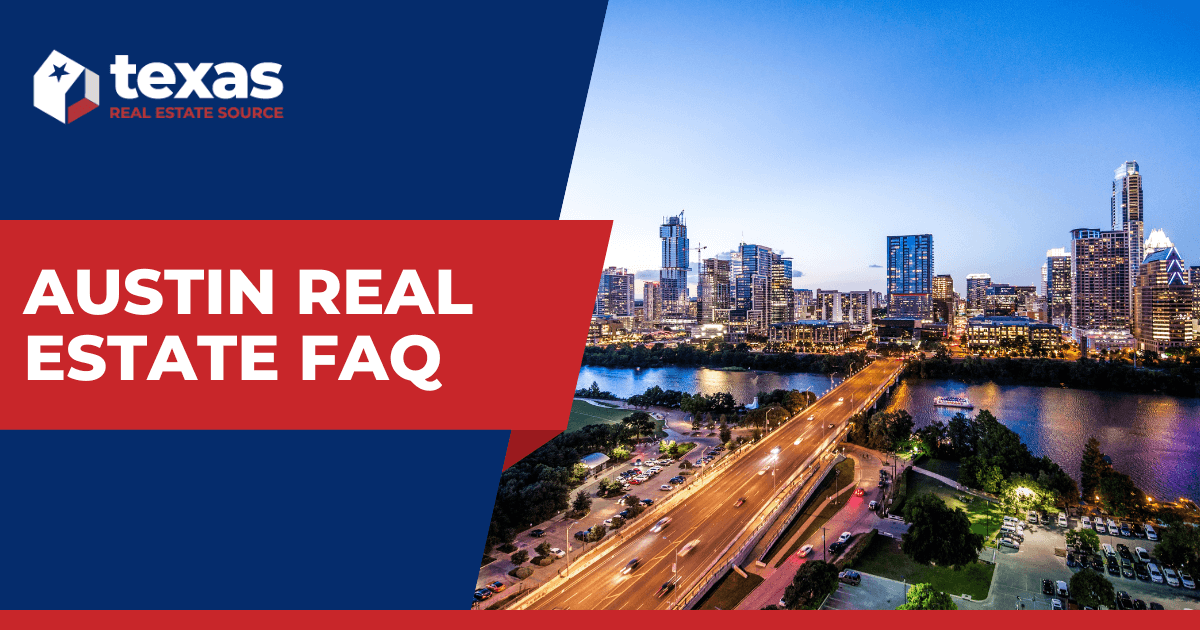 Buying a home in Austin comes with its own specific questions and considerations. The real estate market is highly competitive, and property styles and prices vary significantly from one area to the next. Read on to find answers to frequently asked questions and discover what Austin homebuyers need to know before buying a house in the area.
What Areas Make Up the Austin Metro Area?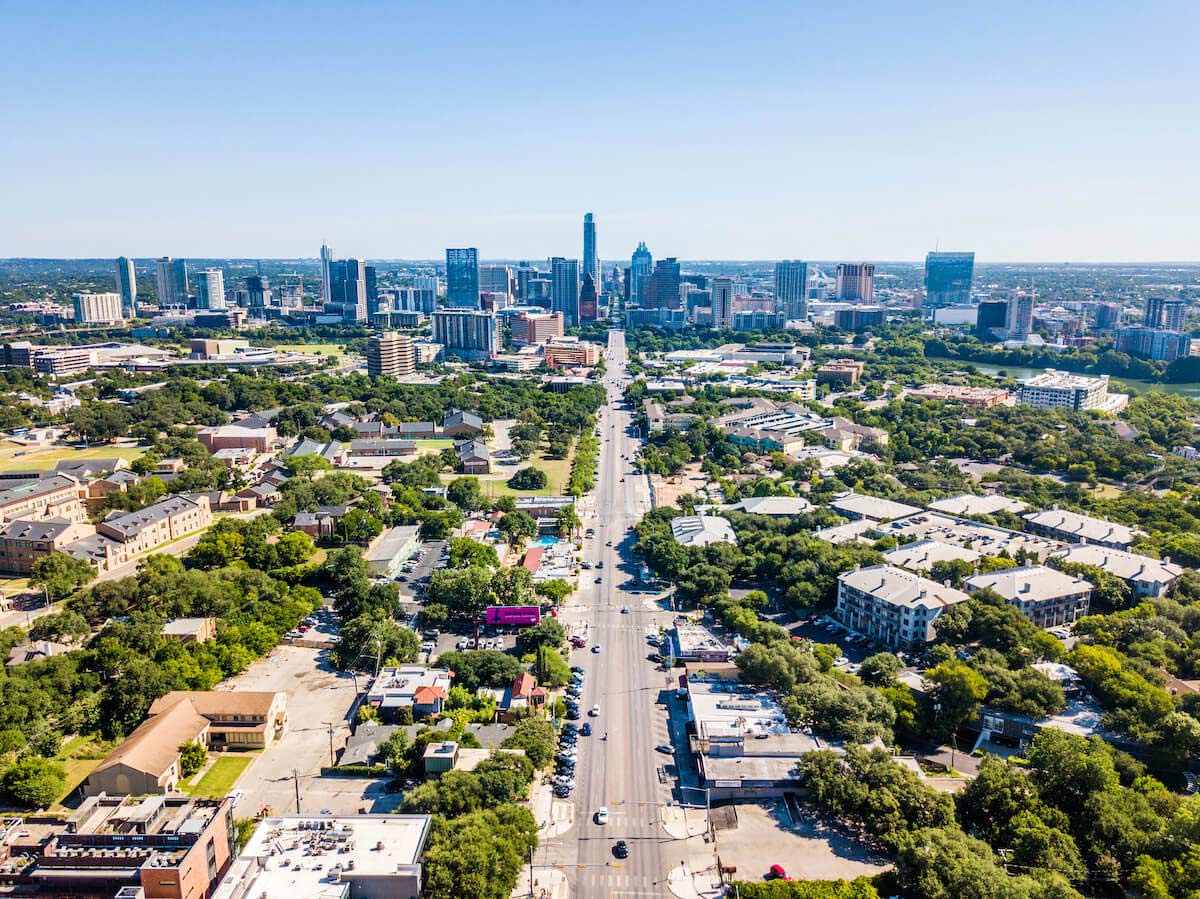 Officially known as the Austin–Round Rock–San Marcos metropolitan area, Greater Austin comprises the Central Texas counties of Travis County, Williamson County, Hays County, Bastrop County, and Caldwell County. Austin homebuyers have plenty to consider, including trendy, affordable neighborhoods in East and South Austin, upscale luxury homes in gated communities around Lake Travis, and North Austin's newest master-planned communities in Williamson County.
Generally speaking, the Austin metro can be divided into North Austin and South Austin, with North Austin being considered the area north of US-183 and South Austin being considered the area south of the Colorado River and Lady Bird Lake. The area in between is Central Austin, and West Austin refers to the area toward Lake Travis.
Popular Real Estate Markets in the Austin Area
Popular markets for homebuyers in the Austin area include some of the best real estate investments in the region. Some of Austin's hottest real estate markets include:
Cedar Park
One of North Austin's most popular suburbs is the city of Cedar Park, about 20 miles north of Downtown. Home to more than 80,000 people, Cedar Park lies almost entirely within Williamson County, though the extreme southern and western reaches of the city extend into Travis County.
There are plenty of things to do in Cedar Park, and residents enjoy convenient access to abundant recreation and water sports on nearby Lake Travis and Lake Austin. The area around Cedar Park also features miles of hiking trails, acres of parks and green space, and dozens of golf courses. There's a wealth of outdoor opportunities for every lifestyle in this part of Greater Austin.
Austin homebuyers will also find a neighborhood ideal for every lifestyle in the Cedar Park area. Many of North Austin's most popular and affordable master-planned communities are just minutes away, including the Crystal Falls neighborhood in the nearby town of Leander. These developments feature a mix of single-family homes, condos, and townhome properties, with plenty of community activities and amenities. The median price for homes for sale in Cedar Park is in the mid-$500s.
Pflugerville
Around 20 miles northeast of Austin is the city of Pflugerville, with a growing population of more than 66,000. The city lies primarily in Travis County, with some northern parts of town spilling over into Williamson County.
Many popular things to do in Pflugerville showcase the great outdoors with hiking and biking trails, fishing, swimming, and more at nearby Walnut Creek Metropolitan and Lake Pflugerville parks. Serious water sports enthusiasts will also find Pflugerville less than 30 miles from fun in the sun on Lake Austin and Lake Travis.
Pflugerville remains one of Austin's most affordable areas, with the median sale price for single-family homes for sale in Pflugerville at around the mid-$400s. Among the area's most popular neighborhoods are Tech Ridge, Bradford Park, and Windermere.
Downtown
Folks living in Downtown Austin have convenient access to everything the capital is known for. The area features an unparalleled live music scene, some of the state's best dining options, the Texas Capitol building, and the nearby University of Texas campus. Downtown residents also have easy access to Lady Bird Lake and its surrounding recreational opportunities.
As the downtown Austin area continues to see significant economic and population growth, the past decade has also seen a rise in the number of condos and townhomes in the city center. Homebuyers here will also find various older single-family homes in the area. In Austin's Downtown district, residential real estate has a median listing price in the $800s.
Lake Travis Area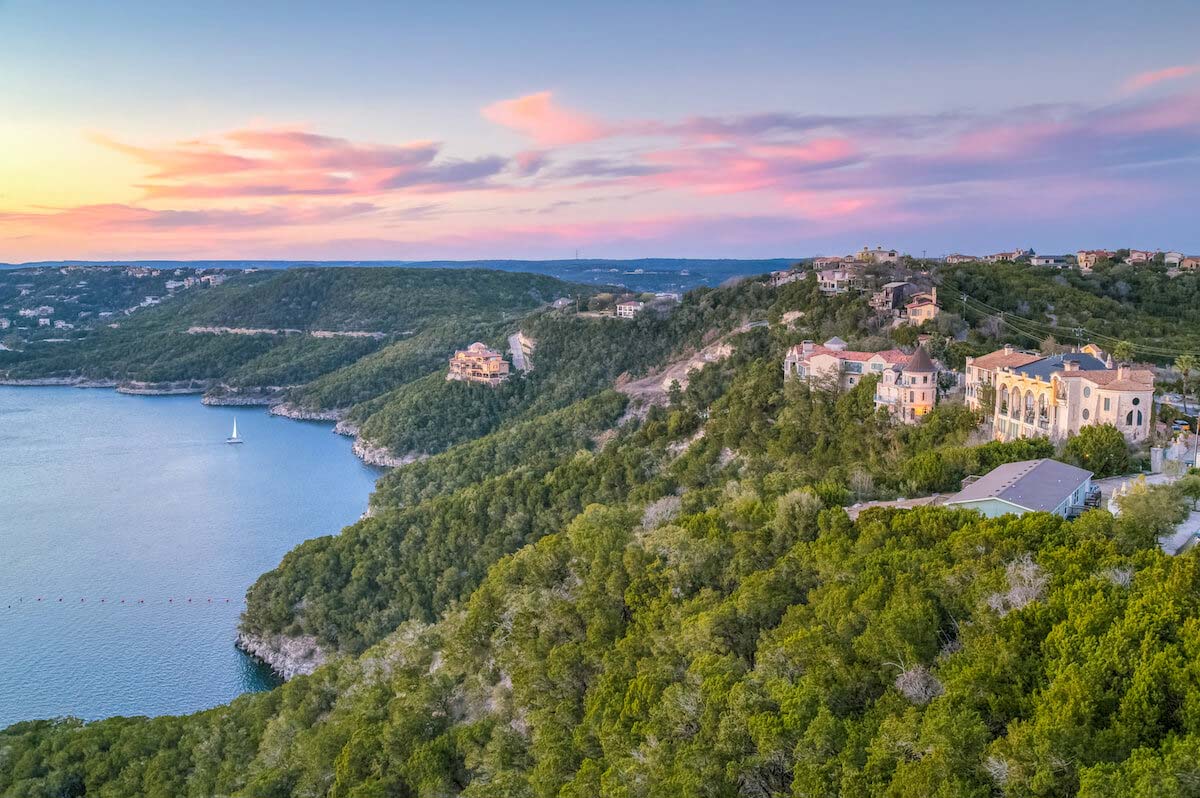 The Lake Travis area presents one of Greater Austin's largest and most popular real estate markets. The lake is over 18,000 acres, with more than 60 miles of shoreline, and surrounding wildlife preserves, parks, and nature trails expand the area's outdoor recreation opportunities even further. Homeowners living near Lake Travis enjoy hiking, biking, boating, skiing, and fishing. There's something to do for every lifestyle, just 30 minutes from the city.
Some of the best neighborhoods near Lake Travis include the city of Lago Vista, Hudson Bend, the city of Lakeway, and the popular master-planned community of Steiner Ranch. Waterfront homes on the lake list for around $1.6 million, on average, with properties in some neighboring subdivisions priced substantially less.
Master-Planned Communities in Austin
Homebuyers in Austin increasingly flock to live in master-planned communities and enjoy the amenity-filled suburban lifestyle they provide just minutes from the city. The best Austin master-planned communities feature a combination of home styles, resident amenities, and area activities, with properties priced for different budgets.
Among the best master-planned communities in Austin is the Steiner Ranch neighborhood, situated between Lake Travis and Lake Austin, with homes from the $600s. A bit farther north, near the small city of Liberty Hill, is the community of Santa Rita Ranch, with plenty of homes in the $300s and $400s.
North of Austin, near Cedar Park, is the Avery Ranch community, one of the area's fastest-growing residential developments. Homebuyers here will find single-family properties from the $400s. Closer to the city, the master-planned community of Mueller offers residents amenity-rich living with homes from the $500s.
Another of Austin's best master-planned communities is the Easton Park neighborhood, located in the city's southeast corner. Residents of Easton Park have easy access to all of the attractions in the Austin area, all while enjoying a vibrant neighborhood with homes from the $300s.
What's the Average Home Price in Austin?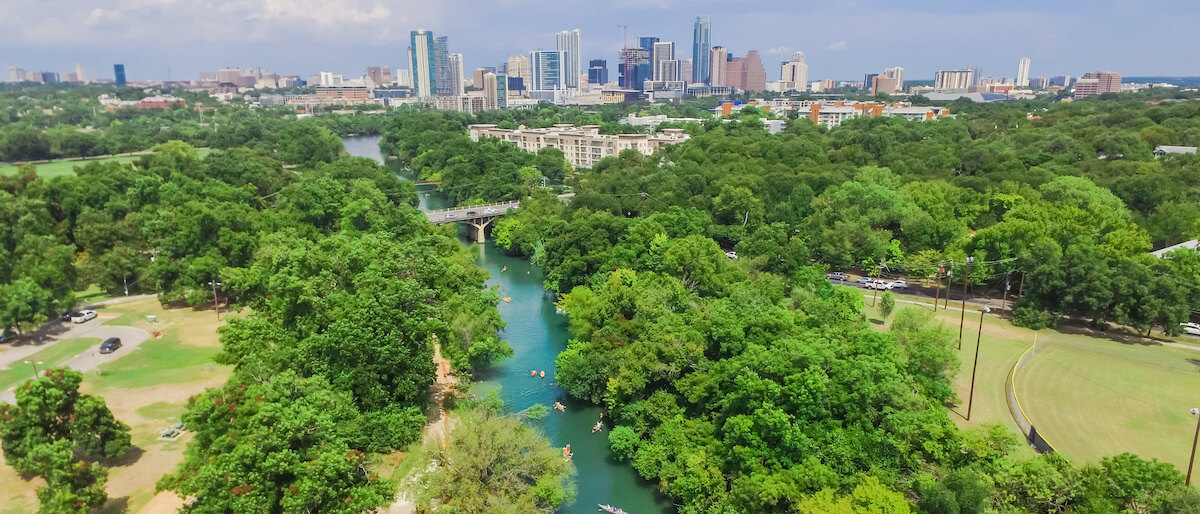 The median price of a home for sale in Austin is in the mid-$600s. However, values vary greatly, generally becoming more affordable farther from the city.
Among the most expensive suburbs of Austin is Barton Creek, northwest of the city, with median home prices exceeding $3.5 million. Other expensive neighborhoods in Austin include Tarrytown on the west side, with typical homes priced above $3 million, and nearby Deep Eddy, with median prices well above $2 million. Austin's Downtown district and the Zilker neighborhood on the south side of Town Lake both feature median home prices of around $1.5 million or more. Many of the most desirable homes in Austin are in neighborhoods along the Barton Creek greenbelt.
The most affordable neighborhoods in Austin are found in some of the city's more suburban areas, like Hornsby Bend east of town. Homes in this area are typically priced in the $400s, as are properties in places like Tech Ridge and the small city of Manor. Other affordable Austin suburbs include Pflugerville, the city of Round Rock, Shady Hollow, Leander, and Hutto.
Rental Market in Austin
When buying a home in Austin doesn't make sense for your goals or circumstances, rental options can be found throughout the city. The average apartment rent in Austin runs more than $1,800 for a typical 900-square-foot unit, varying in rate depending on property type, size, and location.
Like area home prices, the Austin rental market becomes more affordable farther from the city center. For instance, the average rent Downtown is almost $3,500, with nearby neighborhoods in The University of Texas campus area approaching $3,000 per month.
Outside of town, communities like Steiner Ranch have monthly rental rates averaging around $2,000, with even lower numbers in communities like the Mueller neighborhood and Bluff Springs. Some potential buyers looking for affordable Austin real estate may find rent-to-own programs suitable for their particular situation.
What Kind of Properties Can I Find in the Austin Area?
Homes in the Austin area represent a variety of architectural styles, including Queen Anne and Tudor Revival classics found in the city's historic Hyde Park neighborhood. Other designs range from the many Craftsman bungalows throughout the city to the Mediterranean-style mansions overlooking the area's lakes.
One of the most popular architectural themes for homes in this part of Texas is the Hill Country style, featuring local limestone masonry and elements like exposed timbers and beams.
Neighborhoods and suburbs in the area showcase many different properties, including a wide variety of contemporary and traditional single-family houses and townhomes. Those interested in buying a condo in Austin will also find no shortage of options, particularly near Downtown and North Austin business districts.
How Competitive is the Austin Real Estate Market?
First-time Austin homebuyers have likely discovered how competitive the local real estate market is. This part of the Texas Hill Country is a highly desirable place to live, and the continued appreciation of property values here makes real estate a solid investment.
As the Austin population continues to grow and businesses push ahead with headquarters and hiring, the residential real estate market shows no signs of slowing anytime soon.
Are There Any Small Towns Near Austin, Texas?
Numerous small towns and communities dot the greater Austin area. Among the area's most popular and fastest-growing small towns is the city of Dripping Springs, located about 25 miles west of downtown Austin in Hays County and home to around 6,000 people. Dripping Springs sits just a few miles west of the master-planned community of Belterra, one of the Austin area's premier residential developments. Other neighborhoods around Dripping Springs include the gated community of Highpointe and the new construction homes of the Rim Rock community.
A few miles north of Lake Travis is the small city of Liberty Hill in Williamson County. Home to around 5,000 residents, Liberty Hill is also the location of the Santa Rita Ranch neighborhood, one of the area's newest and most popular master-planned communities.
In the northeast reaches of the Greater Austin area is the city of Hutto, with a population of about 30,000. There are various resale and new construction homes for sale in Hutto, thanks to the city's growth rate. Other popular small towns near Austin include the city of San Marcos to the south, the cities of Elgin and Bastrop east of the city, and the city of Round Rock in the northern reaches of the metropolitan area.
What's the Commute to Downtown Austin From Areas Outside the City?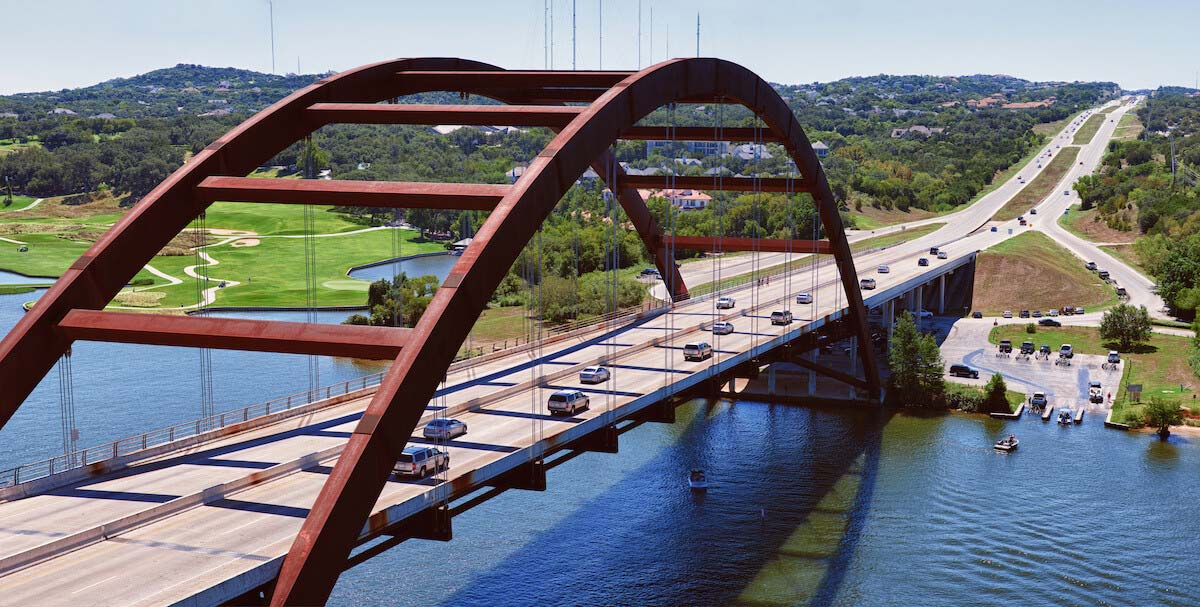 Austin homebuyers looking outside the city will find varying commutes from the suburbs to Downtown. Many North Austin areas are within an approximate 20-mile radius of the city's center, including Lakeway, the city of Leander, Cedar Park, Brushy Creek, Round Rock, and Pflugerville.
Across Lady Bird Lake from the Downtown district are the numerous residential areas of South Austin. Homes near Zilker and Travis Heights are just minutes away, while those living in the southern reaches around Slaughter Lane and the Manchaca community will find commutes to Downtown of around 12 to 15 miles.
Residents in areas west of South Austin, like Shady Hollow, Circle C Ranch, and similar communities southwest of the city, are within around 15 miles of Downtown.
Commuters are advised to familiarize themselves with parking in downtown Austin. While the city offers a mix of garage and street parking and even a few free options, Austin parking remains challenging, particularly in the central business districts.
What's Great About Living in Austin?
Among the reasons many people consider buying a home in Austin is the sheer volume of attractions and activities in the region. This part of Texas is a mecca for outdoor enthusiasts. There's more live music here than anywhere else in the world. And it's a foodies' paradise. Austin also continues to enjoy solid job growth and increasing employment options. A significant number of public and private schools are located here, as well.
Things to Do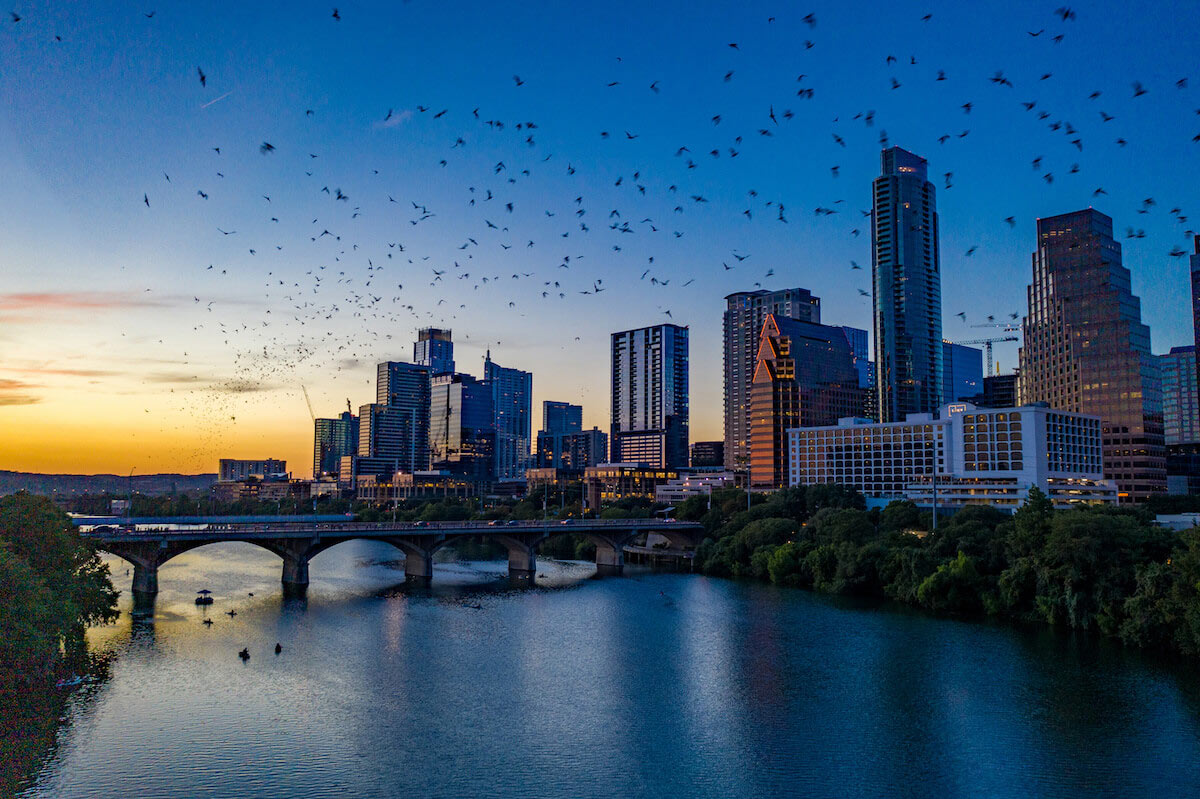 Austin and the surrounding Texas Hill Country feature a nearly unlimited number of things to see and do, beginning in the middle of town, just blocks from the Capitol.
Lady Bird Lake divides the Downtown district and South Austin, providing abundant recreational opportunities and waterfront activity. Folks enjoy kayaking around the lake near Zilker Park and Barton Creek and watching the South Congress Bridge bat colony fill the sky every evening.
More outdoor fun can be found around the city, with numerous parks, golf courses, and hiking and biking trails. Further up the Colorado River, water sports enthusiasts will find some of the state's best boating, skiing, and fishing on Lake Austin and Lake Travis.
Of course, Austin is known as the Live Music Capital of the World, with more than 250 venues to choose from. Iconic hotspots like the Broken Spoke, Continental Club, Antone's, and Stubb's are magnets for music lovers.
Elsewhere, Austinites enjoy hundreds of dining options. Long known as a hotspot for Tex-Mex and BBQ, Austin has become equally famous for its lively (and tasty) food truck scene. The city also boasts a variety of international cuisine, and diners here can always come home to the familiar flavors of Southern cooking.
The arts and culture scene is also vital in the city, with an eclectic blend of fine art, ballet, opera, and theater located just blocks away from places like the Cathedral of Junk and Austin's many funky street murals.
The scope of entertainment options in a city this large means residents will never run out of things to do in Austin.
Employment and Job Growth
Austin is also a great place to work and is considered one of the country's hottest job markets. Residents in the region enjoy higher-than-average salaries and strong job growth with the influx of tech giants like Apple, Amazon, and Google. Areas like North Austin and Tech Ridge also continue to benefit from Austin's flourishing economy.
Other top employers in Greater Austin include the University of Texas system, grocery giants Whole Foods and H-E-B, and the Tesla Gigafactory on the city's east side.
Schools and Universities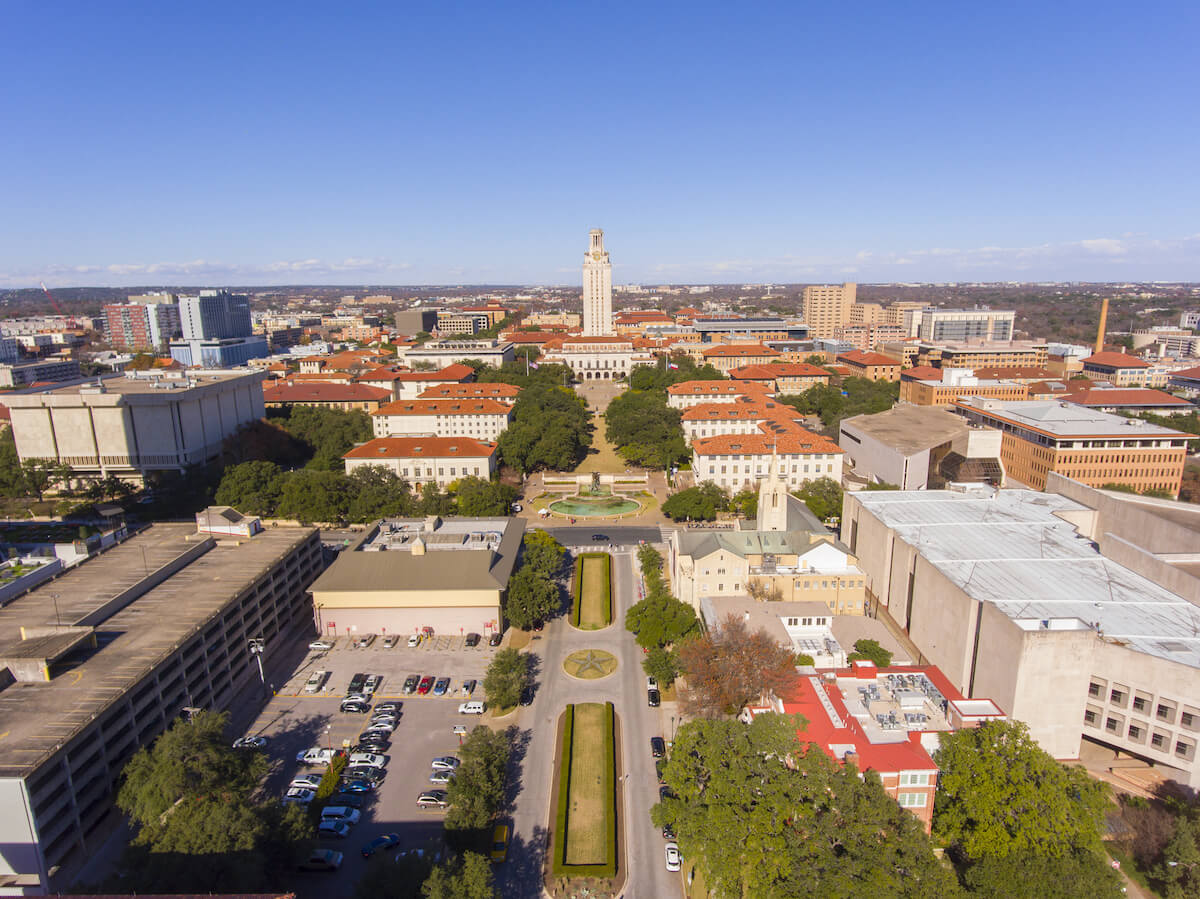 Austin schools include more than a dozen public school districts serving the metropolitan area. Austin Independent School District serves most of the students within the city limits, with around 75,000 kids and more than 5,500 classroom teachers. Austin ISD has over a hundred elementary, middle, and high schools.
Various ISDs like Leander, Round Rock, and Pflugerville serve suburban areas outside the city. Other school districts serving Greater Austin include Dripping Springs, Hays Consolidated, Hutto, and Del Valle.
There are several colleges and universities in Austin as well. With more than 40,000 undergraduates and over 11,000 grad students, the University of Texas at Austin is the largest in the UT system. The city is also home to St. Edward's University, a private 4-year Catholic university. Several Austin Community College campuses are also located throughout the area.
What's the Average Cost of Living in Austin?
The cost of living in Austin is always a consideration for potential homebuyers. The median price for a typical three-bedroom house can be considerably higher than the state average.
On the other hand, wages in the Austin area tend to be significantly higher than the national average, with the typical worker earning around $70,000 per year. The City of Austin also adopted a living wage of $20.00 per hour as of October 2022 for all regular and temporary city employees.
Austin homebuyers should be aware that the cost of living generally increases closer to the city's central districts, while suburban and rural areas tend to be less expensive.
What's the Property Tax Rate in Austin?
First-time homebuyers considering a home in the area should familiarize themselves with property taxes in Austin. The city of Austin lies primarily within Travis County, with portions of the greater metropolitan area stretching into Hays County to the south and Williamson County to the north. Taxing jurisdictions vary depending on the property's address.
The average property tax rate in Travis County is around 2%, about the same in Hays County and just a bit higher in Williamson County. It's worth noting that the total bill will depend on your home's assessed value, so Williamson County's typically lower home prices mean that, even with a slightly higher tax rate, Williamson County homeowners often have lower tax bills.
Applying for homestead exemptions in Austin is relatively simple, as is applying for all other qualifying exemptions. And, as with every Texas taxing district, owners can lower their bill even further by appealing property taxes through their county tax office.
Get Ready to Come Home to Austin
The greater metro area spans more than 4,000 square miles across five counties, with popular real estate markets to choose from in every corner of the region. Homebuyers moving to Austin will find houses of every type and style, from downtown mid-rise condos to lakeside luxury mansions and plenty in between.
Greater Austin is also home to many major employers, top schools, and an endless variety of things to do. With a neighborhood for every lifestyle, a competitive cost of living, and a robust real estate market, it's no wonder people are buying homes in Austin as fast as they can be built.