4 Best Scenic Drives Near Austin
Posted by Texas Real Estate Source on Tuesday, March 8, 2022 at 8:13 AM
By Texas Real Estate Source / March 8, 2022
Comment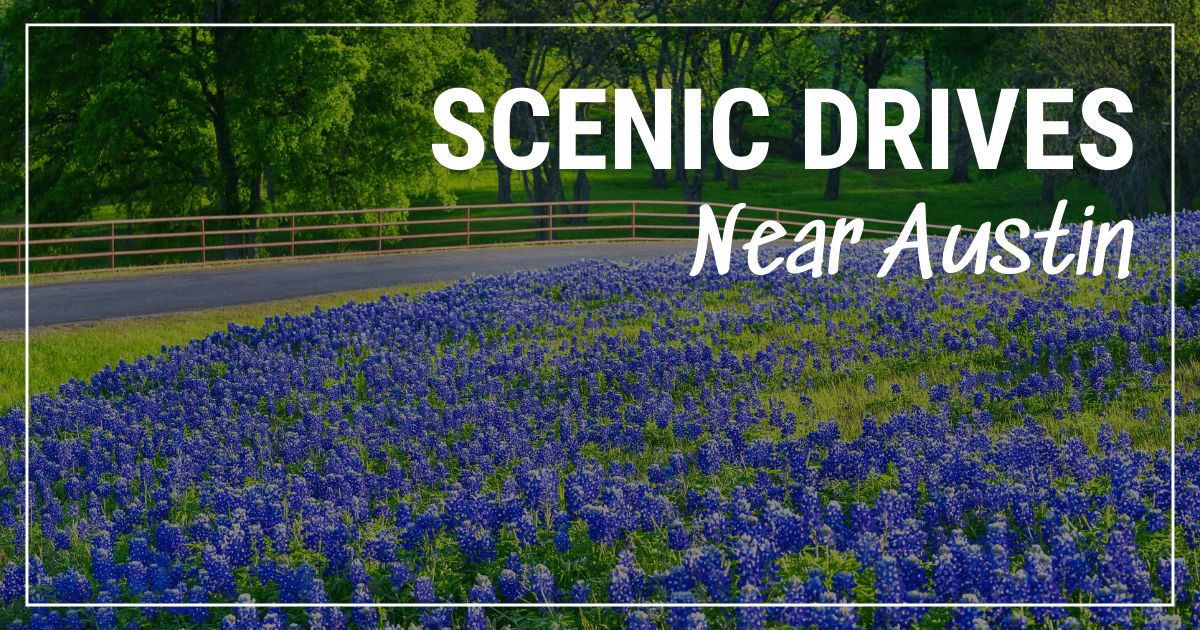 Austin's convenient location in the heart of Texas makes it easy for you to find scenic road trips that showcase the splendor of Central Texas. While there are so many fun things to do in Austin, when you're ready for a change of scenery, you can leave the city from any direction to discover a fantastic road trip. Whether you have a couple of hours or a long weekend, you may choose from arid deserts or sparkling lakes. Drive through cedar-filled forests that give way to authentic Texan towns and unique National Parks. Keep reading to learn about four scenic drives near the city of Austin.
Take Highway 290 to The Cowboy Capital of the World
Your journey to Bandera, Texas starts on Mopac South as you exit the city through South Austin. This scenic drive takes you through Blanco and Bernie before ending in Bandera, the Cowboy Capital of the World. All along the route, expect gorgeous Hill Country scenery and small-town Texas Charm.
Zilker Park and Barton Springs
Before you leave the city, take a few minutes to explore Austin's Zilker Park. Zilker Park's 358 acres surround and protect Barton Springs Pool and the endangered Barton Springs Salamander.The pool is fed from underground springs and spans over three acres.
Zilker Park is a key component of Austin's vibrant culture.
Zilker Park attractions include:
ABC Kite Festival
Umlauf Sculpture Garden and Museum
Blues on the Green
Austin City Limits Music Festival
Zilker Christmas Tree
Trail of Lights
Deep Eddy public pool
If nothing else, put a placeholder to come back and explore one of Austin's most famous and iconic locations.
As you leave town, just south of the Greenbelt and Barton Springs, Loop 1 (Mopac) merges with Austin's newest freeway, Highway 71/290. As you travel west, the city and the traffic fall behind, and the gorgeous, rolling landscape of Hill Country emerges.
Voila! You are off on your Central Texas adventure.
As you meander along US 290, you will pass through sleepy Texas towns such as Henly and growing areas like the Dripping Springs community. If you are interested in wineries and distilleries, make plans to come back to this area because there is much to explore.
Along the last couple of miles on 290, keep an eye out for Miller Creek, an off-shoot of the Perdanales River to the north.
Soon, you will approach a hard right onto 281 South, and you are on your way to Blanco.
Blanco, Texas
Blanco State Park run through downtown Blanco, hugging a one-mile stretch of the river. You can spend a day in Blanco boating, hiking, picnicking, or geocaching. Geocaching is a type of community hide and seek — geo means earth, and cache means hidden item. A popular activity, these camouflaged (not buried) items are hidden treasures. Geocaches range from very small (a film canister) to large (metal box).
Real Ale Brewing, located in downtown Blanco, is a family-owned and operated tradition. Founded in 1996, visitors can tour the brewery and distillery.
Another place unique to Blanco is the Hill Country Lavender Farm, Texas' first commercial lavender farm. The farm produces a full lavender product line, including soaps, lotions, and culinary items. Admission to the farm is free. In June, look up the Lavender Festival, with fresh lavender, wine, and music.
The Buggy Barn Museum showcases over 200 unique buggies, carriages, and wagons from the 1860s to the 1900s. The museum includes Pine Moore Old West Studio, an authentic Old West town often used for western movies.
Back on the road, you'll cut across the western edge of Cayon Lake and skirt the Guadalupe River.
Travel on Highway 46 to eventually arrive at the quaint old ranching town of Boerne (pronounced "Bernie").
Boerne, Texas
Founders named the town of Boerne in honor of German author and publicist Ludwig Börne.
If you have the time, check out the Cave Without a Name, located 11 miles northeast of Boerne. The breathtaking natural wonder remains at a constant 66 degrees. Here you will see spectacular stalactites, stalagmites, cave drapery, and magnificent flowstones. If you can't stop, swing by the Dienger Trading Co for fresh coffee and pie.
From Boerne, it's a quick 30 minutes to Bandera, TX.
Bandera, Texas
Bandera claims to be the "Cowboy Capital of the World." The town lives up to its title with trail rides, cowboy bars, and the Mayan and Dixie Dude Ranches. Browse a few cowboy-themed shops and taste wine from Lost Maples Winery for an authentic Bandera experience.
If you are not staying over, then it is time to head back. The trip is 118-miles to Bandera, and you will need to retrace your route home. With a few necessary stops to gas up and recharge for the drive, it should take about 2.5 hours to get back to Austin.
Austin to Enchanted Rock Via Ranch Road 1323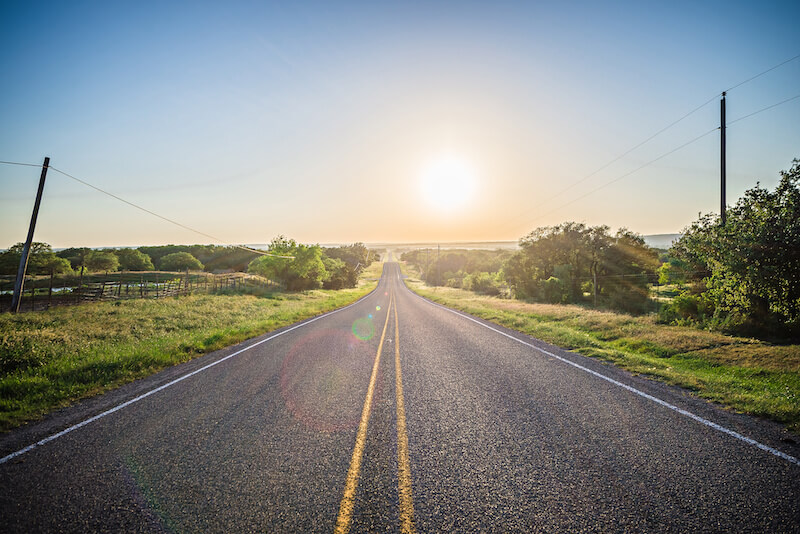 There are several routes to Enchanted Rock, and the trip is well worth it.
This route spans from Downtown Austin to Enchanted Rock State Natural Area by way of Loop 1 south, Highway 290 west, and Farm Road 1323.
The trip's final leg is carried out on North State Highway 16 and 965 to enter the park. The route totals about 200 miles round-trip, and driving time should be 3.5 hours without the stops and sightseeing.
It is an easy and gorgeous drive, especially in the fall and spring. During these seasons, it can be quite pleasant to open the windows and enjoy the warm Texas breeze.
Getting out of the city is straightforward, but depending on traffic may take a bit. You'll pass through Dripping Springs and then on to Pedernales Nature Preserve near Johnson City.
There are scenic stops along the route, including Bell Mountain Vineyards and the Willow City Loop, where you can enjoy the bluebonnets in the spring.
Johnson City, Texas
James Polk Johnson founded Johnson City. He was also the uncle to Lyndon B Johnson, the 33rd President of the United States. The area is full of history, like the Texas White House, the former childhood home of LBJ, and a functioning government facility throughout his administration.
The Exotic Resort Zoo stands on 137 wooded acres, housing over 500 animals of 80 different species — more than half of which are on the endangered species list. The preserve enables the animals to raise their young. Daily safari tours are available year-round.
In addition to cowboys and trail rides, the Texas Hill Country is home to spectacular art. The 140-acre Sculpture Ranch & Galleries sits 23 miles north of Johnson City, allowing visitors to take full advantage of the tranquillity of the Hill Country. MuseoBenini includes a 14,000 square-foot studio building, a library, and a 6,500 square-foot gallery featuring 40 years of Benini's artwork.
If you are looking for a nearby winery. There are no less than 16 in this part of the state. But don't drive through town without a quick stop at Whittington's Jerky.
Back on the road, the scenery is peaceful. Farm roads criss-cross the area, but much of the land remains untouched.
Pedernales Falls State Park
Situated just north of Johnson City along the banks of the Pedernales River, the Pedernales Falls State Park houses a .5-mile Twin Falls Nature Trail and a scenic overlook.
Too easy? Try the six-mile Wolf Mountain Trail, which wraps around Tobacco and Wolf mountains, ending at the canyons created by Mescal and Tobacco creeks. Along the trek, refresh at Arrowhead Pool, a stair-stepped pool fed by Bee Creek. Pedernales Falls State Park is great for camping, hiking, geocaching, bird watching, and tubing.
Enchanted Rock State Park
A go-to place for Austinites in the know in the 1980s, this exquisite location is worth the drive. Enchanted Rock is a natural formation and park about 2 hours west of Austin.
If you intend to climb the 325-foot tall rock, the pinkish dome is a breathtaking view, but the trek will take some time. Call the park for reservations before making the journey out here.
Austin to Fredericksburg via Highway 290
Fredericksburg is one of the most famous weekend getaway destinations near Austin. Depart from the city on Highway 290 West, and you'll be on your way to the town of Fredericksburg.
Drivetime is about 78 miles or 1.5 hours one-way, and there typically isn't much traffic along the way.
Dripping Springs
The first stop is Dripping Springs. One can spend an entire weekend in this area that's filled with distilleries, top-notch restaurants, and the Texas Hill Country Olive Company. Owned by the Gambini family, it is a delicious and unique way to spend an hour or two. Tastings and tours are offered daily.
Live Music in Luckenbach, Texas
Nestled deep within the heart of the Hill Country is the tiny town of Luckenbach, where just 13 residents officially live.
Luckenbach was settled by German farmers, the Luckenbach brothers, and made famous by a 1977 Willie Nelson song. Luckenbach is a country music hub with a working saloon, general store, and a unique outdoor music venue. If you time it right, it has been said that the moon is bigger in Luckenbach.
The trees in the area are a combination of cedar, elm, and oak, including live oak and Texas mountain laurel. These hardy species combine to create a splendid display for your ride.
Fredericksburg, TX
Known for its wineries and fresh peaches, Fredericksburg is one of the most charming Hill Country destinations.
With mild year-round weather, one can take advantage of all there is to see and do. The area shops and antique stores are perfect for browsing, and Fredericksburg's Pioneer Museum highlights the town's first German immigrants.
In the Fall, Fredericksburg is home to pick-your-own pumpkin farms at Jensckhe Orchards and Vogel Orchard, while roadside peach stands pepper the area.
Fredericksburg's Gillespie County is home to over 50 wineries, vineyards, and tasting rooms. Dozens of additional attractions are located within an hour or so of the city.
If you bring your bike, the gently rolling terrain of Fredericksburg is perfect for cycling for the whole family.
Bird watching is a popular pastime in Texas. Central and Southern Texas is part of the migration route of dozens of birds. Approximately 300 bird species make the Texas Hill Country home, including turkey vultures, snowy egrets, all manner of owls, and red-tailed hawks.
At night, the stars of Texas shine. The Fredricksburg area is perfect for stargazing as the city lights are far away.
Looking for a place to stay overnight? Fredricksburg has a bit of everything, including a bed and breakfast, camping and RV areas, quaint hotels, and rustic cabins.
Central Texas City Centers: Austin-San Marcos-Lockhart Loop
Eager to get out of town for a day? A drive from the Texas Capitol in Downtown Austin, through the town of San Marcos, east to the city of Lockhart, and back may be just the thing to clear your mind. Driving time is about 1 hour 45 minutes, or 80 miles, round trip, depending on traffic along Austin's Interstate 35 South. Each city features a prominent building at the heart of town, and this drive allows you to see them all in one day. If you have never been, Lockhart is worth the time on the road.
Texas Capitol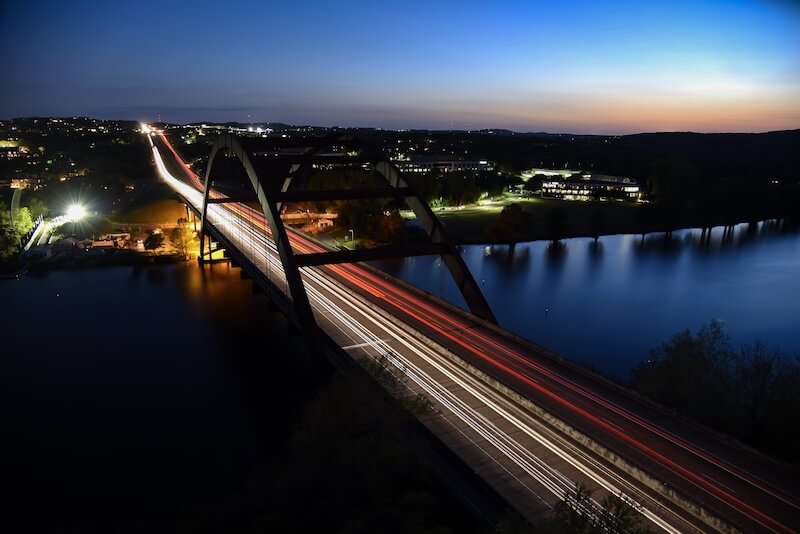 But before you go, why not start your trip with a tour of the Texas Capitol.
Found in the heart of the Downtown Austin Area, the pink-granite Texas capitol is splendid. Like other granite forms, Texas pink granite comes from ancient volcanic processes that formed the Granite Mountains and Enchanted Rock.
The majestic Capitol dome stands 302 feet tall. The Texas Capitol indeed stands 14.64 feet taller than the nation's Capitol in Washington D.C. In 1881, Architect Elijah E. Myers designed the Capitol Goddess, calling it Texas' own Lady Liberty, and capped the Texas Dome with her statue. In 1970, the Capitol was placed on the National Register of Historic Places and designated a National Historic Landmark in 1986. Historical paintings and photographs line the corridors as Elisabet Ney's statues of Stephen F Austin and Sam Houston guard the entrances.
The Square in San Marcos
At the center of San Marcos Square is the recently restored and architecturally distinctive 1909 Hays County Courthouse. The courthouse is open to the public, and historical exhibits fill the first few floors for browsing.
Around the square, locally owned stores and restaurants are on every corner, and laid-back cafes sit next to trendy Texas fusion restaurants. Walk the area as you shop in chic boutiques or for vintage clothing, and handmade or antique furniture is displayed on the sidewalks.
Urban art and murals fill Kissing Alley, a well-kept secret in the downtown area. The seven-foot-tall mermaid statues populate the city.
After leaving San Marcos, head east to Lockhart.
Historic Downtown Square in Lockhart
Lockhart is a lively, growing Texas community with a solid Texas history, including the famous Battle of Plum Creek in 1840.
Standing proud and tall in the center of town is a striking courthouse. The city has preserved numerous architecturally unique locations giving it a small-town vibe. Lockhart has been a popular Hollywood go-to set location, serving as a small town in over 50 films.
In 1999, Lockhart was deemed by the Texas Legislature as the "The Barbecue Capital of Texas," with four BBQ restaurants located in the downtown square, including the iconic Black's Barbecue.
Within the area are over two dozen antique shops and specialty gift stores for your shopping pleasure.
As you leave Lockhart Square, on the way back to Austin via Texas 130, you will pass through the small town of Mustang Ridge and the Plum Creek Wetlands Preserve before skirting Austin Bergstrom Airport and back home.
Central Texas Road Trips Always Amaze
If you are lucky enough to live in Central Texas, you will quickly find a neverending supply of fascinating things to do and see. With a little bit of research, you may find it easy to combine unforgettable scenery, historical locales, artistic venues, and friendly locals.