Why Do People Love Living in Master-Planned Communities?
Posted by Texas Real Estate Source on Tuesday, September 13, 2022 at 12:18 PM
By Texas Real Estate Source / September 13, 2022
Comment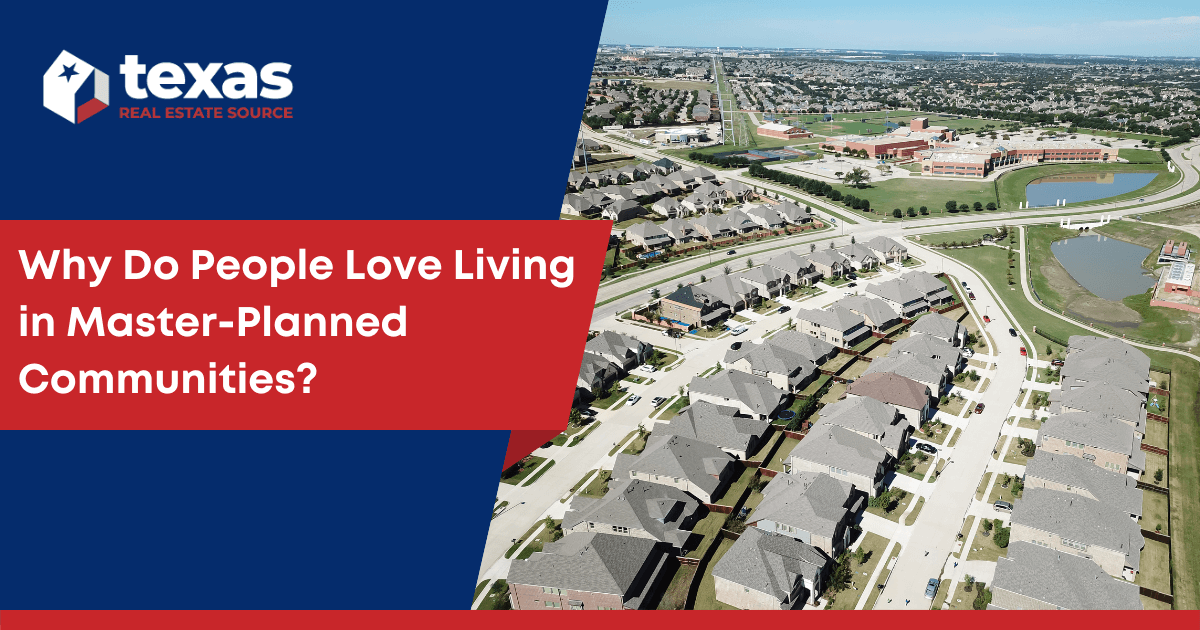 If there's any time to be choosy, it's when you're deciding where you buy a home. Naturally, many homeowners want to live in neighborhoods with plenty of amenities, easy access for commuting and daily travel, and a bright future for growing home values. That's where master-planned communities come in!
By planning out development from the start, master-planned communities can center themselves around giving residents a convenient and enjoyable homeownership experience. Master-planned developments are growing in popularity across Texas, so we're breaking down everything buyers need to know about them.
What Are Master-Planned Communities?
Let's start by thinking about traditional neighborhoods. In most cases, they came to be relatively organically, either with developers putting up small subdivisions or individual homeowners buying lots and constructing homes. Generally speaking, there's little restricting what owners can do on their property beyond local, state, or federal laws, and often there are limited amenities nearby. Unfortunately, this somewhat haphazard growth can sometimes result in less-than-desirable communities with minor issues like mismatched homes and neglected landscaping, or more serious ones like a lack of community services, broken-down cars parked on front lawns, or worse.
Master-planned communities solve all these issues with, as their name suggests, a comprehensive plan. These large-scale neighborhoods—the popularity of which varies greatly by state—often take up thousands of acres, sometimes with thousands of homes. Frequently, they're mixed-use subdivisions constructed based on a single plan that carefully selects housing styles and locations, community amenities, and even the location of commercial or retail locations within the area. Master-planned neighborhoods often include private parks, swimming pools, clubhouses, and sports courts or fields. Specialized communities may also offer marinas, golf courses, and more.
Residents will also be assured that they and their neighbors will operate under a standard set of rules designed to ensure a comfortable lifestyle and protected investment. In exchange, homeowners are generally charged a monthly or yearly fee to cover the cost of these amenities and rule enforcement, which are provided by the community's homeowners association.
Top Benefits of Living in a Master-Planned Community
Master-planned neighborhoods will have something to offer no matter what lifestyle homeowners are looking for. Here are some of the biggest draws to these growing communities, many of which are in or around the fastest-growing cities in the nation.
Amenities and Services
One of the top reasons that many buyers are drawn to master-planned communities is the fantastic variety of fun amenities and practical services. Most include green spaces like parks or walking trails which can be accessed without getting in a car. Kids can enjoy playgrounds, while adults get some exercise on various tennis courts, basketball courts, sports fields, and fitness centers. In some areas, community pools provide a place to cool off and socialize with neighbors, often close to a clubhouse that can contain event spaces, restaurants, and other services. For example, homes for sale in Sienna—a Houston-area master-planned community—come complete with access to the development's four pools and separate waterpark.
Beyond these community-owned perks, many master-planned communities also have space for local businesses, supermarkets, and a wide range of other everyday necessities. This arrangement benefits both sides, as residents can easily access things they need while business owners know they have built-in demand from many nearby homes.
Master-planned communities also offer a variety of safety features that can help homeowners feel a sense of security. These can range from gated entrances to private security and cameras. Residents may also know their neighbors better, which allows them to more easily identify those who may not have a legitimate reason to be in the area.
Convenience
Some may worry that master-planned residential developments might be isolated, but that couldn't be further from the truth. On the contrary, they're often constructed near major cities, making them some of the most convenient places to live for residents. Master-planned communities in the Dallas-Fort Worth area, for example, typically provide abundant community amenities in addition to unmatched accessibility to both Dallas and Fort Worth. In their deliberate design, builders seek to provide those living there with nearly everything they need within their community. In most cases, these conveniences can be accessed without getting in the car thanks to neighborhood walking paths and trails.
Well-planned communities often include shopping centers that include supermarkets, retailers, and everyday commercial spaces. Some of the largest master-planned neighborhoods are big enough to have their own schools, allowing children to get their education right within their community. For parents, this means less shuttling across town to pick up and drop off their kids. In addition, many master-planned communities have active social scenes, with community events like barbecues, movie nights, seasonal parties, and much more. These fun events let owners get to know their neighbors and have fun just blocks from their front doors.
Newly Built and Customizable Homes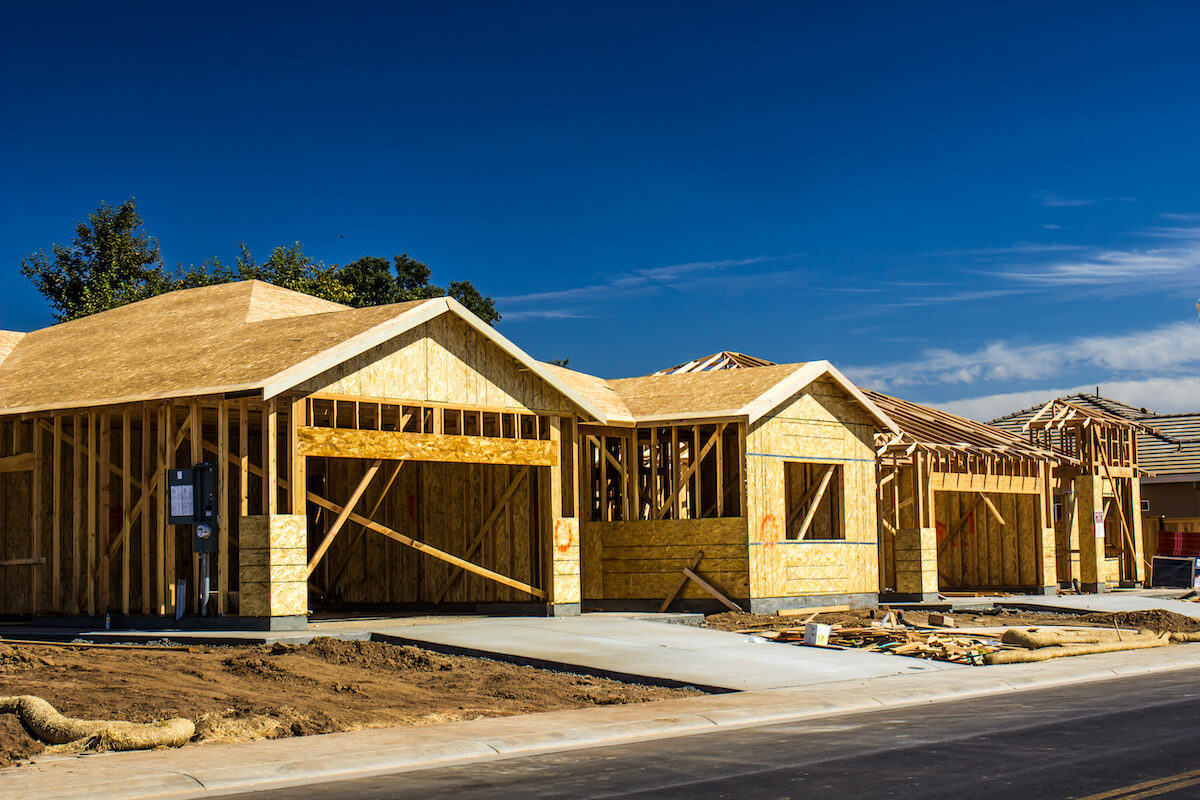 As long as home buyers are familiar with the nuances of buying a new-construction home, doing so can be a great decision. In most housing markets, master-planned communities offer the best opportunities for the average person to buy a new-construction home in an affordable manner. With communities still developing, buyers can even work with builders to customize their homes. While communities will offer a few various basic floor plans, future owners can select finishes and add features to put their stamp on their soon-to-be home.
Outside of master-planned neighborhoods, the alternative for potential new home buyers would be to seek out newly built individual homes or buy land and build themselves—both significantly more complicated, costly, and time-consuming. Furthermore, there's less housing supply in the way of newly-built homes outside of master-planned communities; most new construction homes for sale in Austin are in master-planned communities, and that's also the case elsewhere in Texas and throughout the country.
New homes also come with high-ROI smart technology in appliances like dishwashers, washing machines, clothes dryers, security systems, and more. A newly-built home also assures buyers the property will be move-in ready. That means less time and money required to fix things that came up during the home inspection or old and failing appliances. Many new-construction homes also come with a home warranty or other assurances that the builder will take care of the fix if something goes wrong outside the owners' control within a certain period.
Community Atmosphere
In some traditional neighborhoods, owners may only have a cordial relationship with their neighbors. With fewer amenities, there's less to bring them together, making it sometimes difficult to establish a true feeling of community. This is not the case in master-planned communities, which go above and beyond to help build a neighborhood spirit. Many master-planned communities have professional lifestyle directors whose sole job is to plan community events, neighborhood activities, and other ways for residents to get to know one another and take advantage of the area.
Depending on the area and community amenities, this could include cookouts, pool parties, block parties, holiday or seasonal events, garage sales, and many more events for the whole household. In master-planned communities near Houston, for example, the many natural and artificial lakes in the area are community focal and gathering points. As a result, many residents develop new, close friends who are just streets away, helping avoid those cross-town trips for a dinner party or movie night. Parents can share babysitters, friends can watch friends' plants or pets during vacations, and everyone can enjoy the conveniences of a vibrant community atmosphere.
HOA Standards and Maintenance
So much of a home's value and an owner's quality of life comes down to things outside the property's boundaries. Almost every homeowner has heard horror stories about a nightmare neighbor bringing down property values and causing those around them to lose sleep over an unkempt yard, rowdy parties, or other issues. The homeowners' associations of master-planned communities—sometimes called property owners associations—exist to prevent issues like this. Residents must abide by rules regarding their property and conduct designed to ensure everyone can enjoy their homes in peace. These organizations have the power to levy stiff fines for noncompliance and, in some cases, even kick out the worst offenders.
Residents are thrilled to have this additional power to get involved in their community and have an organization that works to maintain neighborhood standards. Aside from enforcing community standards, a homeowners association will also oversee community maintenance. This may include common area or home landscaping, pool cleaning, and amenity repairs. While they generally require a monthly, quarterly, or yearly fee, these payments can often save owners money and time by taking care of their lawns or even providing bulk-purchased discounts on the internet or other utilities. For many, there's considerable value in knowing that impeccable landscaping and other services will be taken care of.
Master-Planned Communities: So Much to Offer Homeowners
By now, it should be easy to see the many appealing factors that lure many homeowners into these fast-growing master-planned communities. Residents can take advantage of unmatched amenities and neighborhood services, conveniently located within minutes of their front door. Newly-built master-planned homes are typically built sustainably, and the lower development cost means they're a great way to access high-end living. But at the end of the day, the thriving feeling of community may be one of the best benefits, helping residents to build strong, lifelong relationships with their neighbors. These developments are growing daily, and many of the top-selling master-planned communities are just waiting for future buyers to find the home of their dreams!