Lakes of Bella Terra Amenities: Community Pool, Dog Park, & Walking Trails
Posted by Texas Real Estate Source on Thursday, October 27, 2022 at 3:21:02 PM
By Texas Real Estate Source / October 27, 2022
Comment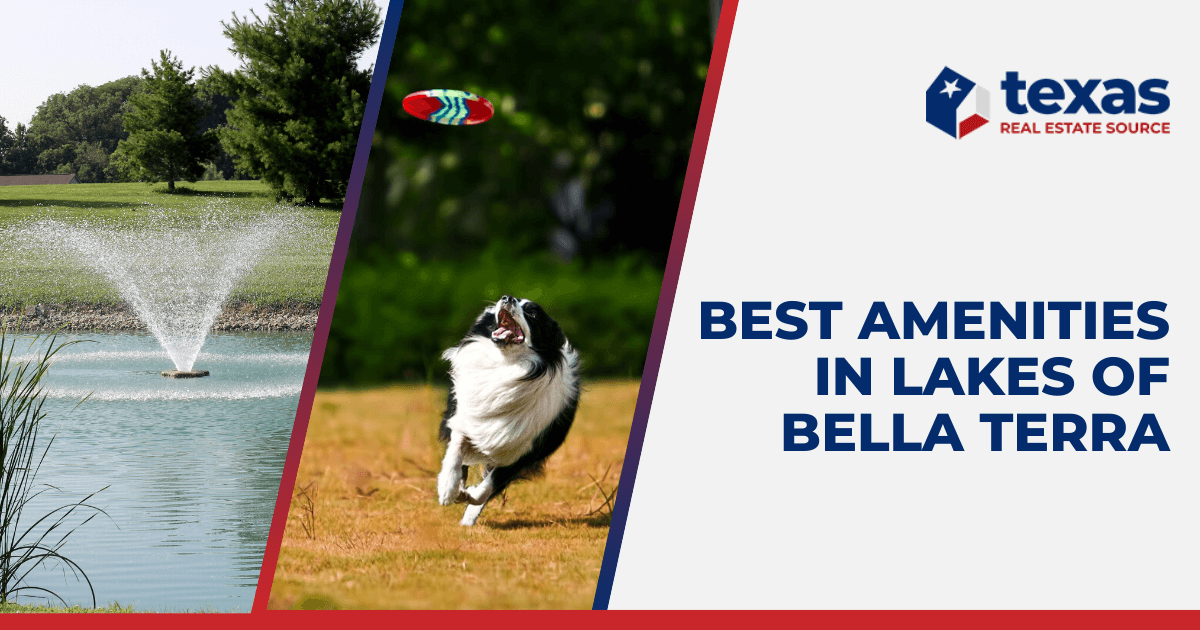 There are so many incredible neighborhoods to explore throughout central Houston and the surrounding areas, but few communities offer the same opportunities for fun and recreation enjoyed by those living in Lakes of Bella Terra.
Nestled in a convenient location west of Houston and neighboring homes for sale in Richmond, Lakes of Bella Terra provides a tight-knit community feel for residents of all lifestyles while maintaining easy access to all Houston offers. Many residents describe it as enjoying a small-town sensibility with all of the benefits and conveniences of the big city nearby.
Homes for sale in Lakes of Bella Terra feature access to a wide variety of desirable amenities, including pools, lakes, and parks, that make it easy to enjoy a fun, active lifestyle in the community. Let's look at a few features that make this neighborhood stand out from the rest.
Lakes of Bella Terra Pool & Splash Pad
There are multiple gathering places throughout Lakes of Bella Terra where residents can relax and spend quality time. Club Central is the most accessible and popular place for residents to get together and enjoy various activities.
One particularly desirable feature of Club Central is the Lakes of Bella Terra pool and splash pad, which residents enjoy during the hot summer months. Even during the calendar year for the schools in Lakes of Bella Terra, the Texas heat makes the community pool and splash pad a viable option for much of the year.
The main community pool is junior Olympic-sized and is well maintained throughout the year by the professional pool management company Swim Houston. The splash pad is the perfect place for little ones to keep cool while having fun in the sun. This is a safe and enjoyable place to spend an afternoon for Lakes of Bella Terra residents.
There are plenty of spots around the pool area for families to enjoy the shade and relax in the resort-like atmosphere. The poolside views of one of Lakes of Bella Terra's scenic lakes and multiple natural green spaces don't hurt either.
The pool is typically open from 10 a.m. to 8 p.m. during the swimming season (residents can find more information about pool access by contacting the Information Office at the Recreation Center). Homeowners at Lakes of Bella Terra can reserve the pool with Association approval for private parties!
Great Outdoors: Walking Trails, Fishing, & More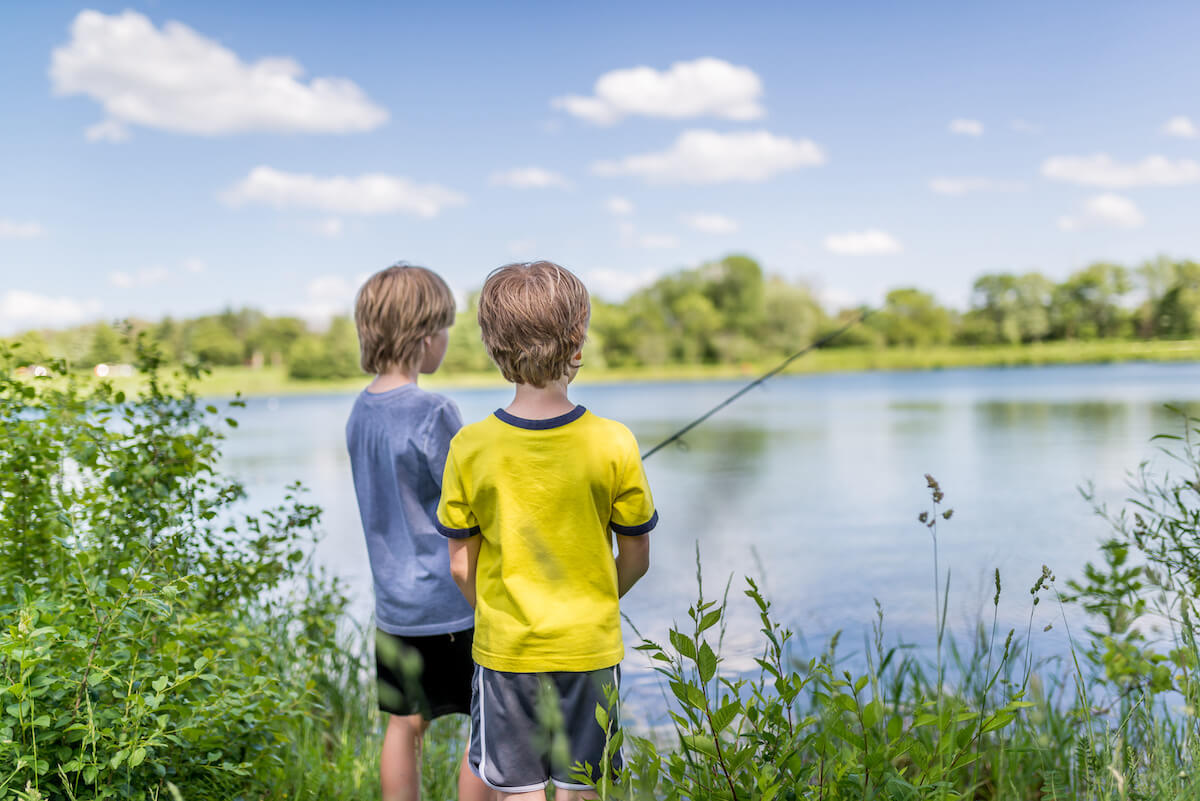 Lakes of Bella Terra is a wonderful place to live for people of all lifestyles, but it provides the most value to those who enjoy spending time outdoors. Whether you love outdoor recreational activities or want to enjoy more time in the sunshine, Lakes of Bella Terra has plenty of options for you to explore.
For outdoorsy homebuyers moving to Houston or the greater Houston area, Lakes of Bella Terra is worth a look. Multiple distinct walking trails are easy for the community's residents to reach from their luxury homes. These trails include Pista Viola, Pista Verda, and Pista Rosa.
Each trail offers different distances, different scenic views, and different amenities to enjoy along the way. These amenities include parks, the soccer field, and the catch-and-release fishing pond.
Speaking of the fishing pond, avid anglers or those looking to get into the hobby will enjoy this unique perk at Lakes of Bella Terra. The Association regularly stocks the community's multiple lakes with all kinds of fish, and recreational fishing isn't only allowed but encouraged!
Each walking trail leads to a green space or fishing area, so it's easy to enjoy the great outdoors in various ways. Go straight from a brisk walk or bike ride around the neighborhood to a picnic in the park or a community game at the soccer field.
Incredible Parks
With a huge variety of parks and playgrounds throughout Lakes of Bella Terra—in addition to Richmond's parks surrounding the community—there are so many ways for residents to enjoy a truly active lifestyle in the scenic natural areas around their homes.
This ease of access to the great outdoors is ideal for most people, but it's perhaps even more ideal for your four-legged friends. Lakes of Bella Terra is an entirely dog-friendly community with plenty of options for providing your dog with exercise, socialization, and social connection.
The Lakes of Bella Terra dog park is open to dogs of all sizes and is an excellent way for your pup to make friends. Additionally, the various walking trails, open green spaces, and large backyards included with Lakes of Bella Terra homes make it easy to give your dog the same active lifestyle you enjoy.
Fitness & Sports Amenities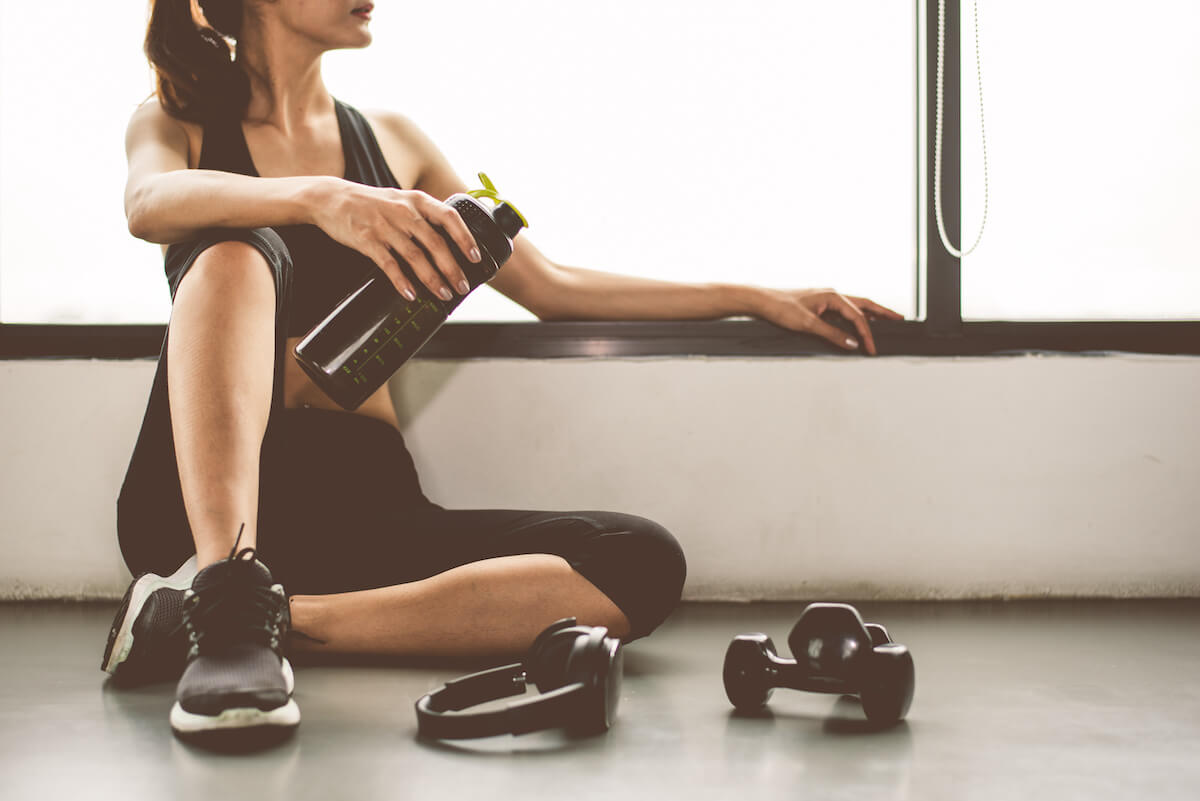 If maintaining a healthy, active lifestyle is a priority for you, you'll feel right at home at Lakes of Bella Terra. There are many ways to stay fit and support your health according to your preferences and abilities at Lakes of Bella Terra. Providing fitness amenities like this has helped Lakes of Bella Terra become one of the best master-planned communities near Houston.
Additionally, many of the fitness and sporting amenities in the neighborhood are also great ways to socialize and get to know your neighbors!
The Fitness Center is the perfect place to get a great workout. Located in Club Central, this facility is fully equipped with plenty of strength training equipment and cardio machines so you can tailor your workout to your goals.
The Fitness Center is open from 5 a.m. to 11 p.m., so it's easy to fit your fitness habits into your busy schedule. Electronic access devices are provided to homeowners in Lakes of Bella Terra and are required for Fitness Center entry.
If sports are more your style, you can enjoy Lakes of Bella Terra's multiple tennis and volleyball courts to get some healthy movement while enjoying friendly competition with family members or neighbors!
Even with all the things to do in Houston, residents of Lakes of Bella Terra can stay busy and fit right at home. The many parks and open green spaces throughout the community make it easy to find a spot to play recreational sports or host a group workout.
Enjoy an Active & Fulfilling Lifestyle at Lakes of Bella Terra
It's hard to beat living in master-planned communities. The incredible amenities and meaningful sense of community connection that Lakes of Bella Terra residents enjoy provide insight into why these communities are becoming so popular. Ready to take your lifestyle to a new level? Give us a call today and consider making Lakes of Bella Terra your new place to call home.
Dreaming of a home in Lakes of Bella Terra? Call The RealFX Group at (512) 956-7390 to get in touch with an experienced local real estate agent and discover your Lakes of Bella Terra home today.