6 Best Romantic Getaways for Couples Near Austin
Posted by Texas Real Estate Source on Tuesday, August 23, 2022 at 1:23 PM
By Texas Real Estate Source / August 23, 2022
Comment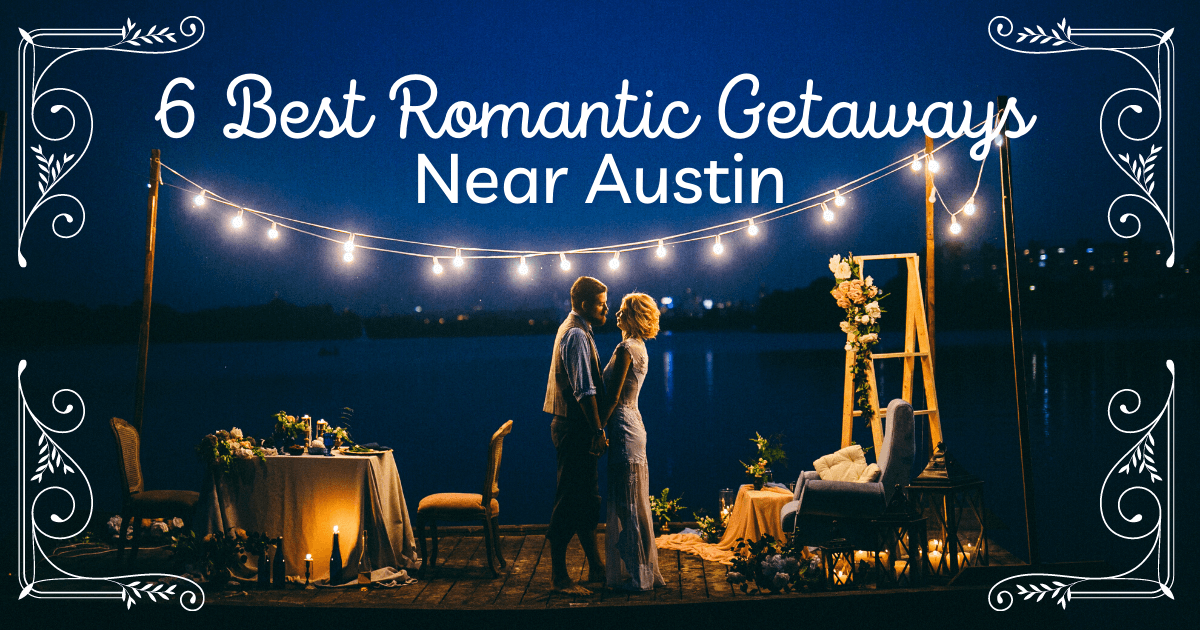 Austin is a fun city with many romantic spots. Still, couples sometimes need a romantic getaway to explore new places, reconnect in a new intimate environment, celebrate an engagement or anniversary, and make special memories. Some beautiful locations near the city of Austin offer what couples need, whether it's relaxation or excitement. Learn about the best romantic getaways near Austin and get ready to book your next trip.
Wimberley
The city of Wimberley, named one of the best small towns in Texas, is the perfect hamlet for a romantic getaway. Couples can take a quiet stroll through the EmilyAnn Gardens, attend a play at Shakespeare Under the Stars, or watch as their own piece of art is created at Wimberley Glassworks. Wimberley is about 40 miles southwest of Austin, and it's a quick 45-minute drive via Interstate 35 and Highway 150. Wimberley is a wonderful place to visit year-round, with different activities occurring each season.
Romantic Place to Stay: Creek Haven Inn
Creek Haven Inn, situated on Cypress Creek, is a magical place for couples. Guests can relax in a luxurious suite with a fireplace, jetted tub, and private deck, enjoy a picnic by the creek under a canopy of trees, or rejuvenate in the spa with a couples massage. Check out the romance packages that include spa treatments and delectable desserts.
Romantic Place to Eat: Trattoria Lisina
Trattoria Lisina, on the grounds of the Mandola Estate & Vineyards in the nearby Driftwood community, is a romantic spot that transports guests to the Italian countryside. Couples can enjoy a traditional Italian dinner and a bottle of wine while looking over the beautiful grounds.
Romantic Thing to Do: Explore Art in Wimberley
Wimberley has a thriving art community. The Wildflower Art Gallery features the paintings of Linda Calvert Jacobson, and her art surrounds couples with the beauty of the Texas Hill Country. Gallery on the Square has a unique collection of art, including a collection of vintage guitars from local artists. Any art tour in the city must include "Bootiful Wimberley," the 50 boot sculptures around town painted by local artists.
Fredericksburg
As one of America's most romantic small towns, Fredericksburg is the perfect place for a romantic getaway. Couples can stroll hand-in-hand down Main Street, browsing the many one-of-a-kind shops, book an intimate wine tour, wake up early to enjoy the sunrise on Cross Mountain, or dance the night away at the historic Luckenbach Texas. Fredericksburg is 78 miles west of Austin, about an hour and a half drive with no traffic, following Highway 290. With the warm summers and mild winters, Fredericksburg is a great year-round destination.
Romantic Place to Stay: Magnolia House Bed & Breakfast
Magnolia House Bed & Breakfast, a few blocks from Main Street, is the perfect place to relax and unwind at the end of the day. The luxurious and intimate suites include private entrances, fireplaces, and antique soaking tubs. After a relaxing night, guests can enjoy a fabulous gourmet breakfast before heading out on another romantic adventure.
Romantic Place to Eat: Vaudeville
Vaudeville, located in a historic downtown building, is the creation of Chef Jordan Muraglia and Artist Richard Boprae. Their collaboration allows guests to enjoy fine art and culinary masterpieces so that each visit feels like a celebration, making this the perfect spot to celebrate an engagement or anniversary.
Romantic Thing to Do: Pedernales Cellars
Pedernales Cellars, home to some of the finest wine in Texas, is situated on 145 acres in the heart of Texas Hill Country. Couples can tour the vineyard, learn how grapes become wine, enjoy a private wine tasting, and snuggle on the patio overlooking the Pedernales River Valley.
Horseshoe Bay Resort
In the Texas Hill Country, Horseshoe Bay Resort sits on the shore of Lake Lyndon B Johnson. The stunning views and luxurious amenities make this an excellent option for a romantic getaway. Guests can take a refreshing dip in one of the pools, play a game of tennis, cuddle by a campfire while making s'mores, and create some wonderful memories. It's about 50 miles northwest of Austin, an easy one-hour drive with no traffic, following Loop 1 to Highway 290 to Highway 71. Horseshoe Bay is a beautiful place to visit year-round, offering indoor and outdoor activities.
Romantic Place to Stay: Horseshoe Bay Resort
Horseshoe Bay provides plush lakeview suites with luxurious amenities. Relax and unwind on a comfortable bed, sofa, or a private patio or balcony overlooking the lake. Couples can celebrate a special event with a romance package, which includes champagne, chocolates, nightly valet, daily breakfast, and late checkout.
Romantic Place to Eat: Yacht Club
The Yacht Club offers guests a combination of fine dining and scenic lake views. Couples can enjoy mouth-watering steak and seafood in the dining room or on the patio overlooking the lake, then extend date night by moving to the inviting atmosphere of the Y Bar for an after-dinner cocktail.
Romantic Thing to Do: Horseshoe Bay Romance Experiences
Horseshoe Bay offers several romantic experiences to make the visit more memorable. Couples can relax and rejuvenate with a private couples massage, sample world-class wines on a guided winery tour, or set sail with wine and snacks on an intimate sunset cruise on Lake LBJ.
San Antonio
San Antonio has a reputation for romance and is a wonderful destination for a romantic getaway. Couples can stroll along The Riverwalk, the number one attraction in Texas, rejuvenate with a couples massage at Mokara Spa, enjoy a stunning view of the Riverwalk on Selena Bridge, or get engaged on Marriage Island. With all there is to do, couples may decide to extend their stay.
San Antonio is 80 miles southwest of Austin. The drive takes about one and a half hours, with little to no traffic, following Interstate 35. San Antonio holds events throughout the year, making it an incredible place to visit anytime.
Romantic Place to Stay: Emily Morgan Hotel
The Emily Morgan Hotel is located in downtown San Antonio, offering guests an exceptional view of The Alamo and easy access to the Riverwalk. Couples can enjoy the views, take a dip in the pool, wrap themselves in luxurious robes, or sleep in on a Sweet Dreams bed.
Romantic Place to Eat: Biga on the Banks
Biga on the Banks, situated on the Riverwalk, provides couples with an intimate, fine dining experience. This restaurant serves stunning views, a quiet ambiance, award-winning new American cuisine, and a wide selection of wines in their private perch by the water.
Romantic Thing to Do: San Antonio Botanical Garden
The San Antonio Botanical Garden offers a tranquil escape for its visitors. Couples can stroll through the gardens, pack a picnic lunch, and experience the breathtaking beauty of the flowers, ponds, historic buildings, and migrating birds.
Fort Worth
With its rustic charm, the city of Fort Worth is a fantastic destination for fun and romance. Couples can hold hands by the waterfalls at the Fort Worth Water Gardens, pack a picnic lunch at Trinity Park, take a Segway tour of Cowtown, or step back in time on a romantic ride on the Grapevine Vintage Railroad. Fort Worth is about 200 miles north of Austin, and the drive takes almost three hours following Interstate 35. Like most other Texas cities, Fort Worth has warm summers and mild winters, so visitors will feel comfortable all year.
Romantic Place to Stay: The Ashton
The Ashton, a charming boutique hotel, is close to the lively downtown scene, including Sundance Square, the Fort Worth Water Gardens, and Stockyards Station. This hotel offers romance packages with a spa suite, champagne, and chocolates. Couples can share a toast before heading out for a romantic dinner.
Romantic Place to Eat: Saint-Emillion Restaurant
Saint-Emillion Restaurant transports guests to Paris with its traditional French dishes. Couples are swept up in the romantic ambiance while enjoying a three-course dinner, dessert, and wine.
Romantic Thing to Do: Line Dancing at Billy Bob's
Billy Bob's, the world's largest honky-tonk, is open every night for guests to experience the unique ambiance and show off their line dancing skills. Billy Bob's offers couples dance classes to those who want to learn some new moves.
Corpus Christi
Nothing is more romantic than sandy beaches and rushing waves, making Corpus Christi the perfect destination for a romantic getaway. Couples can go for a thrilling horseback ride on the beach, sail a boat on the bay, float on kayaks under a starlit sky, or get engaged by the fountains at the Corpus Christi Watergarden.
Corpus Christi is about 200 miles south of Austin, and the drive takes a little over three hours, with no traffic, following Interstate 35, Highway 123, and Highway 181. It's the perfect year-round destination, though there may be crowds during Spring Break.
Romantic Place to Stay: Omni Corpus Christi
The Omni Corpus Christi Hotel, located in the Marina District, offers guest suites with plush furniture, private balconies, and spectacular views of Corpus Christi Bay. Their romance package includes champagne, chocolates, and late checkout so couples can enjoy the luxurious amenities a little longer.
Romantic Place to Eat: The Yardarm
The Yardarm is one of Corpus Christi's best romantic hidden gems. This family-owned waterfront restaurant has been serving delicious seafood for 40 years, offers a wide selection of fine wines, and provides some of the best ambiances with outdoor dining overlooking the bay.
Romantic Thing to Do: Ride Horses on the Beach
Horseback riding on the beach is the number one outdoor activity in Corpus Christi. The unique experience is a feast for the senses, surrounded by warm sand, cool breezes, rolling waves, and golden skies. Couples can share intimate moments and create special memories with a sunset ride on the beach.
Romantic Experiences Not Far From Austin Await
Couples don't have to travel far from their Austin home for a romantic escape. Skip the lines at the airport, jump in the car, turn on a passionate playlist, and take an intimate drive to one of these charming cities with so much to offer. These getaway spots are welcoming, like a home away from home, making the memories more special.