8 Best Austin Suburbs: Discover Inviting Towns Around Austin TX
Posted by Texas Real Estate Source on Thursday, March 10, 2022 at 11:49 AM
By Texas Real Estate Source / March 10, 2022
Comment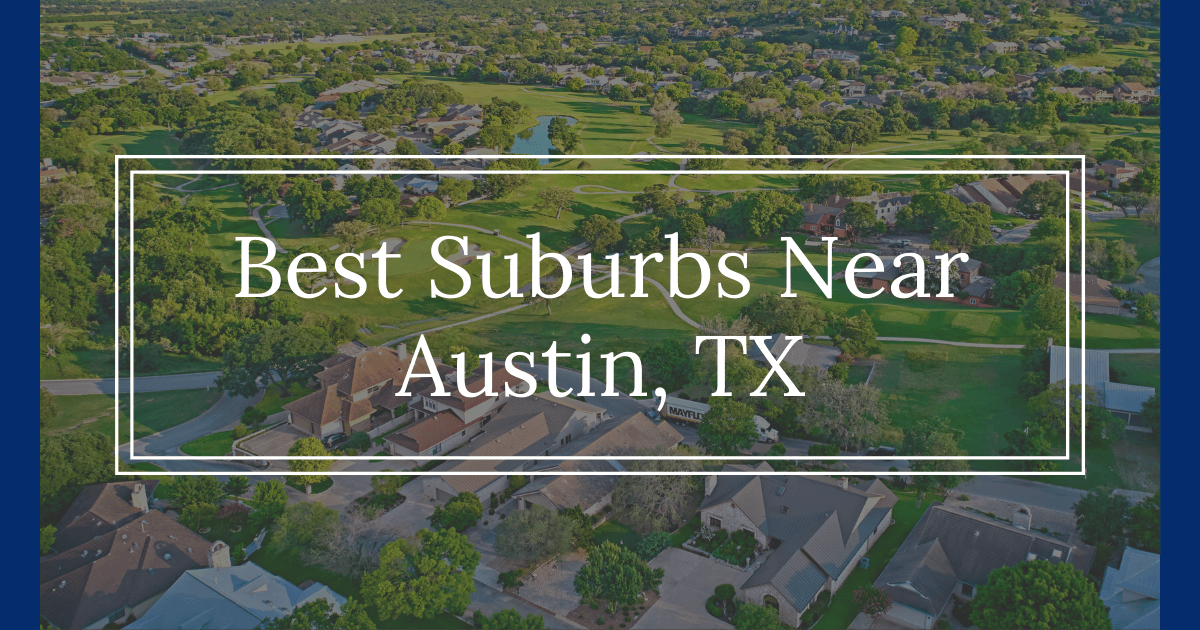 While the city of Austin, Texas, is known for its incredible music and food scenes and active and outdoorsy lifestyle, it can also have congested roads and pricier homes compared to its surrounding areas. If a homebuyer is looking for the benefits of living in Austin but doesn't want to live in the city itself, then a suburb is a great option. Keep reading to discover some of the best suburbs in Austin, Texas.
Table of Contents
Rollingwood
Rollingwood Amenities
Rollingwood Park
Trader Joe's
Close to Zilker Park and Barton Creek
Colorado River views
Rollingwood is a suburb west of Austin, next to Zilker Park and the Colorado River, with under 2,000 residents. It was founded and developed by George B. Hatley in 1955 and incorporated in 1963. Rollingwood residents enjoy easy access to nature like Zilker Park, Lady Bird Lake, and the Barton Creek Greenbelt.
Rollingwood home construction began in the 1950s, with most built through the 1960s and 1980s. The median home price is typically over $1 million, and while many go for more, homes closer to the $600s are also available. The housing market contains mostly single-family homes, many of which have two or more bedrooms and bathrooms.
Rollingwood Park is located in the heart of the city and features several amenities like a swimming pool (part of the private Western Hills Athletic Club), ball fields, playgrounds, and a rentable pavilion. Residents also enjoy a conveniently located Trader Joe's for their grocery shopping. Food options within city limits include Chinatown Westlake and Nothing Bundt Cakes, but people don't have to travel far to find more.
Cedar Park
Cedar Park Amenities
H-E-B Center
Twin Lakes Family YMCA
Cedar Bark Park
Splash Shack waterpark
Whole Foods Market
The suburb of Cedar Park was established in 1873 around ranch land about 20 miles northwest of downtown Austin. The town began to grow as the area railroad developed. Apart from the proximity to Austin's amenities, Cedar Park residents enjoy excellent shopping and entertainment opportunities, along with plenty of jobs.
Homes for sale in Cedar Park typically range from $400,000 to $1 million, and the median home price is about $600,000. The market predominantly contains single-family homes, usually with two bedrooms and two bathrooms, though more expensive homes have more.
Some of the amenities in Cedar Park include the H-E-B Center and Lakeline Mall. The H-E-B Center is an events center that hosts concerts, family shows, and other events like Texas Stars hockey games and Austin Spurs basketball. Lakeline Mall is a large shopping mall with over 100 stores. It also includes a movie theater and several restaurants.
Round Rock
Round Rock Amenities
Kalahari Resort
Old Settlers Park
Round Rock Premium Outlets
Round Rock Sports Center
Dell Diamond
Round Rock Donuts
Located 20 miles north of Austin, the suburb of Round Rock offers a scenic escape from the hustle and bustle of city life. It is most notably recognized for its "round rock," a large stone in Brushy Creek, which visitors can see — along with wagon tracks remaining from the mid-1800s. Today, the city is home to Dell, a computer company that employs more than 11,000 people. It also boasts numerous parks and shopping locations.
The Round Rock housing market is strong, with the median home price reaching approximately $540,000. However, homes in Round Rock usually range from the low $300,000s to the high $900,000s, making it a desirable place to live for many people. Most homes have between three and six bedrooms and at least two bathrooms.
One of Round Rock's most popular destinations is the Kalahari Resort, equipped with an indoor waterpark, spa, and numerous restaurants. The Round Rock Premium Outlets is an excellent place to shop and features more than 120 stores. Sports fans have the Dell Diamond, home of the Round Rock Express minor league baseball team. Don't forget to stop at Round Rock Donuts, ranked among the best in Texas!
Bee Cave
Bee Cave Amenities
Bee Cave Sculpture Park
City of Bee Cave Central Park
Falconhead West Primitive Park
Falconhead Golf Club
Hill Country Galleria
Named after the Mexican honeybees that live along Barton Creek, Bee Cave is a city in Travis County, Texas, with 9.5 square miles and just over 10,000 people. Fifteen miles west of Austin, Bee Cave was incorporated in 1987. Residents enjoy large home lots — some communities embracing the equestrian lifestyle — and close access to the creek and Lake Travis.
The median home price in Bee Cave is almost $900,000, but homes range in price from the mid $500,000s to well over the multi-million dollar mark for Bee Cave's luxury homes. Most homes in Bee Cave have between two and five bedrooms and at least two bathrooms. Two-story homes are the most common, though single-story properties are also available.
The Hill Country Galleria, a large shopping center with over 50 stores, a movie theater, and several restaurants, is a popular attraction in Bee Cave. Outdoor destinations include The City of Bee Cave Central Park, containing 50 acres with pavilions and playscapes, and the Falconhead Golf Club, an 18-hole course offering an exciting experience for golfers of all levels.
Lakeway
Lakeway Amenities
Easy Lake Tavis access
Hamilton Greenbelt
Lakeway City Park
Flintrock Falls and Live Oak country clubs
Lakeway Greenbelt
The suburb of Lakeway is 20 miles northwest of Austin, right on the shores of the Colorado River. About 20,000 people live in the city, which was incorporated in 1974. Residents are in the Hill Country, just minutes from Lake Travis and all it offers, and enjoy beautiful nature and homes.
The median home price reaches almost $1 million in the Lakeway housing market. Homes in the area usually start in the $400,000s and reach nearly $2.5 million, making it a popular destination for luxury homebuyers. Most properties in Lakeway have at least four bedrooms and three bathrooms, making it an ideal location for those who want some extra space.
Lakeway's primary amenity is Lake Travis. Apart from its stunning waterfront homes, residents can enjoy the lake by boat or during a day at one of the area's many popular restaurants and shops. It's not far from the famous Oasis on Lake Travis restaurant, allowing guests to view the lake from its outdoor decks. Golfers have several courses to choose from, such as the Flintrock Falls and Live Oak country clubs.
West Lake Hills
West Lake Hills Amenities
Near Barton Creek
Near Wild Basin Wilderness Preserve
Westlake Athletic & Community Center
H-E-B
Barton Springs Nursery
West Lake Hills (also known as Westlake) is a prestigious Austin suburb that began development in the 1970s and '80s. It's just five miles northwest of Austin, putting it close to all of the city's amenities. The population of fewer than 4,000 makes West Lake Hills a small community, and residents enjoy large homes and the stunning scenery from the Hill Country.
The median home value in West Lake Hills is an impressive $2.9 million, with most homes in West Lake Hills valued at well over $1 million. The large lots (most over one acre) and luxurious two-story homes are what set West Lake Hills apart from other Austin suburbs. Homes will usually have at least three bedrooms and two bathrooms and, in many cases, are custom-built.
West Lake Hills is a great place to live because of its focus on nature. Much of its land is public, meaning there's a lot of room for residents to enjoy trails and parks. Additionally, it's close to Barton Springs, the Colorado River, and the Wild Basin Wilderness Preserve. There are plenty of things to do outdoors, ranging from walking and biking to simply enjoying the surroundings.
Brushy Creek
Brushy Creek Amenities
Brushy Creek Community Center
H-E-B
Pepper Rock Park
Olson Meadows Park
Cat Hollow Park
LA Fitness
Brushy Creek is a master-planned community in Round Rock, Texas. The community is named after the creek of the same name, which is nearly 70 miles long. Brushy Creek is about 20 miles north of Austin on the west side of IH-35. Its location puts its near-22,000 residents in an excellent spot to enjoy amenities from Round Rock and Austin, and Cedar Park isn't far either.
The average home price in Brushy Creek is around $600,000, but homes can go closer to $400,000 on the lower end to almost $1 million on the higher. Most Brushy Creek homes were built between 1970 and 2000, so there is a wide variety of styles and ages represented in the community. Homes will generally have at least three bedrooms and three bathrooms.
Brushy Creek has a lot to offer its residents in the way of amenities. Its parks are a big draw, with Shirley McDonald Park and Cat Hollow Park being two of the most popular. Shirley McDonald Park has a playground, trail, and duck pond, while Cat Hollow Park features a disc golf course, a swimming pool, and two pavilions. Residents also enjoy being close to the Round Rock Premium Outlets and La Frontera shopping and dining destinations.
Pflugerville
Pflugerville Amenities
Stone Hill Town Center
Typhoon Texas Waterpark
Lake Pflugerville
Heritage House Museum
Blackhawk Golf Club
Pflugerville is a suburb located 17 miles northeast of Austin and offers easy access to all major roads. The community has just over 60,000 people and is named for the original German settlers in the mid-1800s, who had the last name Pfluger. However, incorporation wouldn't come until 1965. Pflugerville residents enjoy proximity to Austin's amenities while having plenty of options for outdoor activities closer to home.
The median home price in Pflugerville is about $550,000. Home prices range from the low $300,000s to just over $900,000. Generally, homes for sale in Pflugerville will have at least three bedrooms and two bathrooms. The housing market mainly contains single-family homes, and both one- and two-story homes are available.
The Stone Hill Town Center features a variety of shops and restaurants, and the 180-acre Lake Pflugerville Reservoir offers a place to fish, boat, and relax. Typhoon Texas Waterpark is also a popular attraction in Pflugerville. It features seven slides, more than 100 spray areas, and several spots for snacks. The city is particularly proud of its annual "Pfestivals" for residents to enjoy, including Deutschen Pfest, which celebrates the community's heritage.
Enjoy Big-City Amenities in These Austin Suburbs
While Austin is a great place to live, newcomers moving to Austin should consider moving to one of the suburbs if they're looking for more space and affordability. Many of them are pretty close to the city, meaning residents aren't missing out on any of Austin's amenities. Each suburb has unique and appealing benefits. Whether looking for a quiet town with rolling hills or a bustling community with all the conveniences, the suburbs of Austin have something to offer everyone.