8 Best Condos in Houston: High-Rise Living in Houston TX
Posted by Texas Real Estate Source on Wednesday, April 12, 2023 at 5:02:53 PM
By Texas Real Estate Source / April 12, 2023
Comment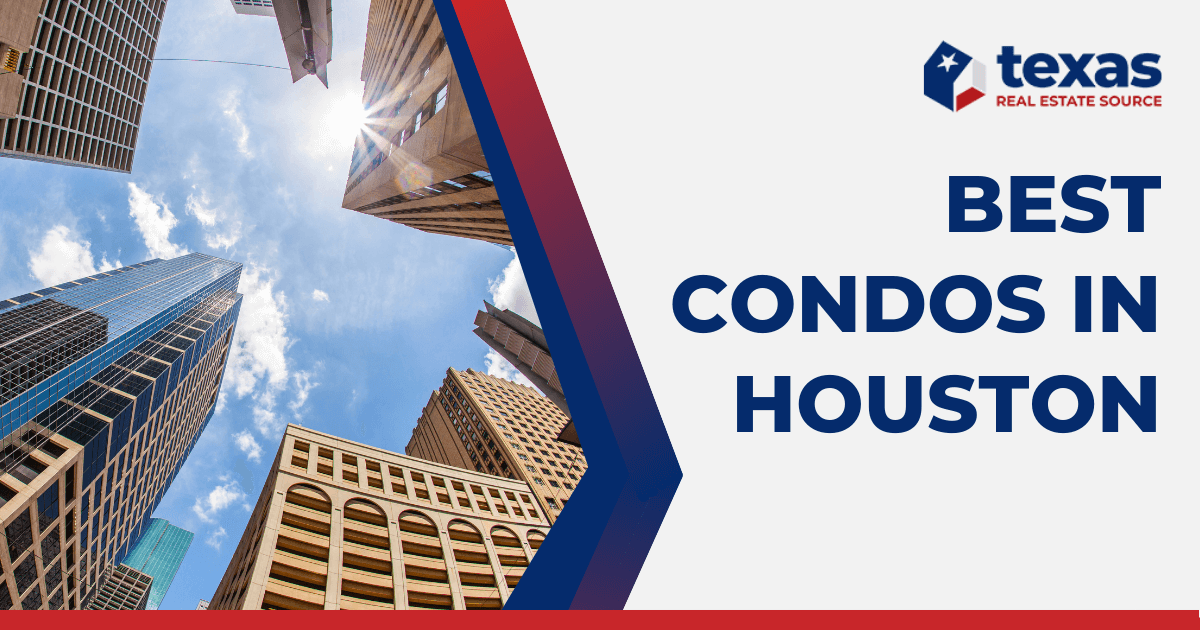 As the largest city in Texas, Houston embodies big-city living, and there are few things more big-city than living in a high-rise. Houston's best lofts and condos are right in the middle of the action, making it easier for residents to access the best restaurants, shops, and entertainment options in the Museum District, downtown, and more.
If you're getting ready to live the big-city dream, a Houston condo can offer you the luxury and comfort you desire. But with so many options available, it can be challenging to choose the best one. So, which are the best condos in Houston?
Commerce Towers
Commerce Towers is considered one of the best condos in Houston and ranks among the city's most recognizable historic buildings. Located on Main Street between Walker and McKinney in the heart of Downtown, the structure was built in 1928 to serve as the headquarters for Houston's Chamber of Commerce. In 2002, the property was redeveloped into a 25-floor residential high-rise featuring more than a hundred units and multi-level penthouse suites.
Lofts in Commerce Towers feature unique layouts, showcasing over 50 floorplans and measuring between 1,400 and 2,800 square feet. Hardwood floors, upscale interiors, and 18-foot tall ceilings are typical of the properties here. Recent sales generally range from the $200s to the $400s, with some upper-floor models and larger penthouse units priced at more than a million.
Residents of Commerce Towers enjoy a full-service facility, including round-the-clock concierge and valet, and lifestyle amenities like a state-of-the-art fitness center, rooftop swimming pool, and fully-stocked party room and kitchen. Those living here also benefit from convenient access to Houston's light rail public transportation system and the nearby Downtown Tunnel System, featuring underground restaurants and retail shops and connecting with nearly 100 city blocks.
Commerce Towers Amenities
24/7 Concierge and Valet Services
Controlled-Access Parking
Rooftop Heated Swimming Pool
Spa and Hot Tub
Fitness Center and Jogging Track
Nicklaus Design Putting Green
Clubhouse and Private Party Room
Climate-Controlled Storage
Four Leaf Towers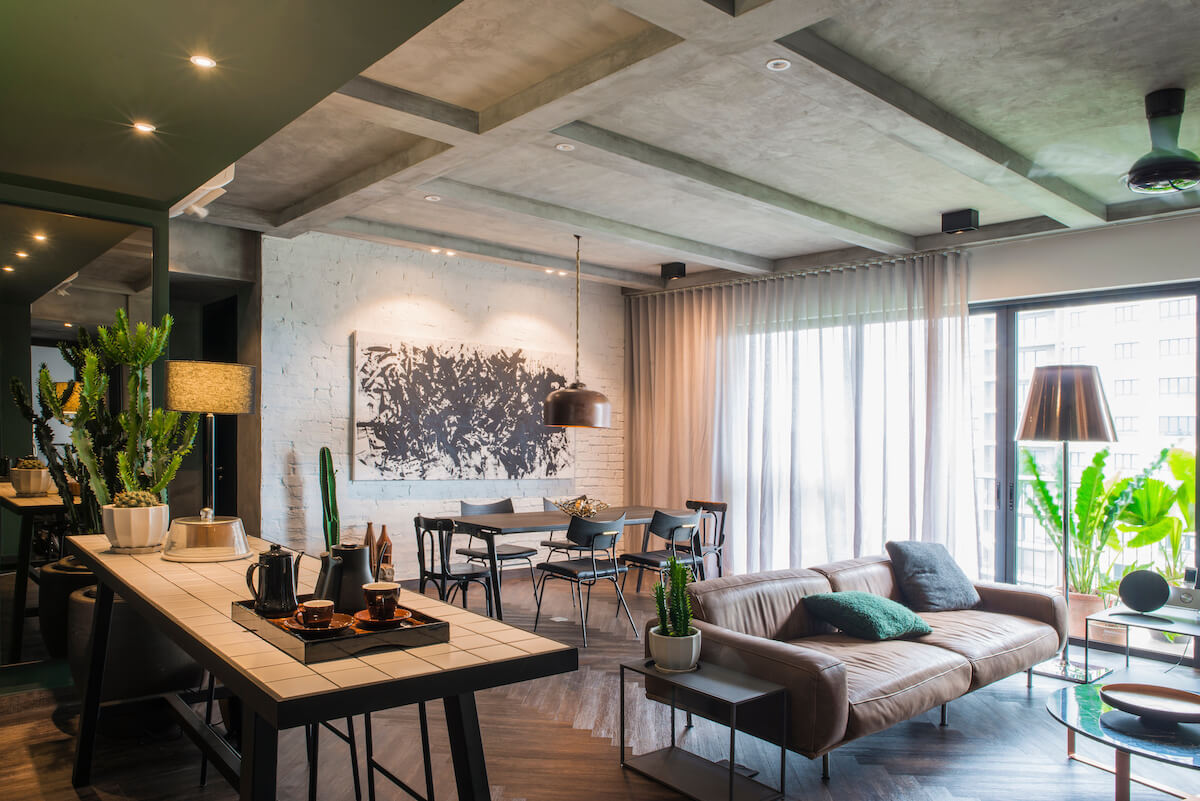 Another of Houston's best condo properties is the Four Leaf Towers complex at San Felipe and South Post Oak in the city's vibrant Uptown District. Initially built in 1982, the property underwent a multi-million dollar renovation in 2022. Today, Four Leaf Towers' twin 40-story high-rises host almost 400 residences and eight top-level penthouse suites.
Buyers here will find several standard floorplans and a few custom configurations. Typical units range from one-bed, one-bath models at just over 1,000 square feet to two and three-bedroom layouts of more than 2,600 square feet. Penthouse properties are significantly larger, measuring almost 5,000 square feet. Listings at Four Leaf Towers are typically from the $200s to the $600s, with penthouse and custom units priced at a million or more.
Owners in Four Leaf Towers enjoy an impressive list of amenities and services, including the extraordinary private park and recreational plaza connecting the East and West towers. Featuring southern-favorite magnolia trees and beautifully landscaped grounds, the area includes a resort-style swimming pool, a sun deck with poolside cabanas, lighted tennis and pickleball courts, and an outdoor cocktail lounge. Crushed-rock walking paths, comfortable benches, and several acres of green space provide Four Leaf Towers residents with plenty of room to roam throughout their private oasis.
Four Leaf Towers Amenities
Concierge and Valet Services
Private Park and Recreation Area
Swimming Pool and Hot Tub
Sauna and Indoor Jacuzzi
Tennis and Pickleball Courts
Exercise and Fitness Center
Private Housekeeping
Dry Cleaning Service
Bayou Lofts
With so many benefits to living in a renovated historic building, it's no surprise that Houston's historic lofts are so popular. Houston's historic Bayou Lofts nine-story mid-rise was constructed in the early 1900s, originally serving as the headquarters for the Southern Pacific Railroad. Renovated during the 90s, today, Bayou Lofts features more than 100 well-appointed condo units and penthouse suites, with views of Downtown Houston, neighboring Buffalo Bayou, and nearby Market Square Park.
Loft layouts here include one-, two-, and three-bedroom floorplans, ranging from just under 1,000 square feet to more than 2,300 square feet. Typical interior touches include exposed brick, hardwood floors, and high ceilings. While many smaller units start from the $200s, larger spaces and upper-floor properties are usually priced in the $900s and up.
Bayou Lofts residents appreciate their private rooftop terrace and swimming pool, providing panoramic views of Houston's Historic District. Among the area's most popular attractions is Market Square Park, the dog-friendly home to outdoor community events, open-air dining, and beautifully-landscaped green spaces. The building is also located near the confluence of Buffalo Bayou and White Oak Bayou, where condo owners have easy access to various hiking and biking trails, city parks and greenways, and plenty of other outdoor activities.
Bayou Lofts Amenities
Rooftop Private Swimming Pool
Fitness Center
24-Hour Doorman
Market Square Park
Buffalo Bayou Greenway
Allen's Landing Park
University of Houston Downtown
The Mosaic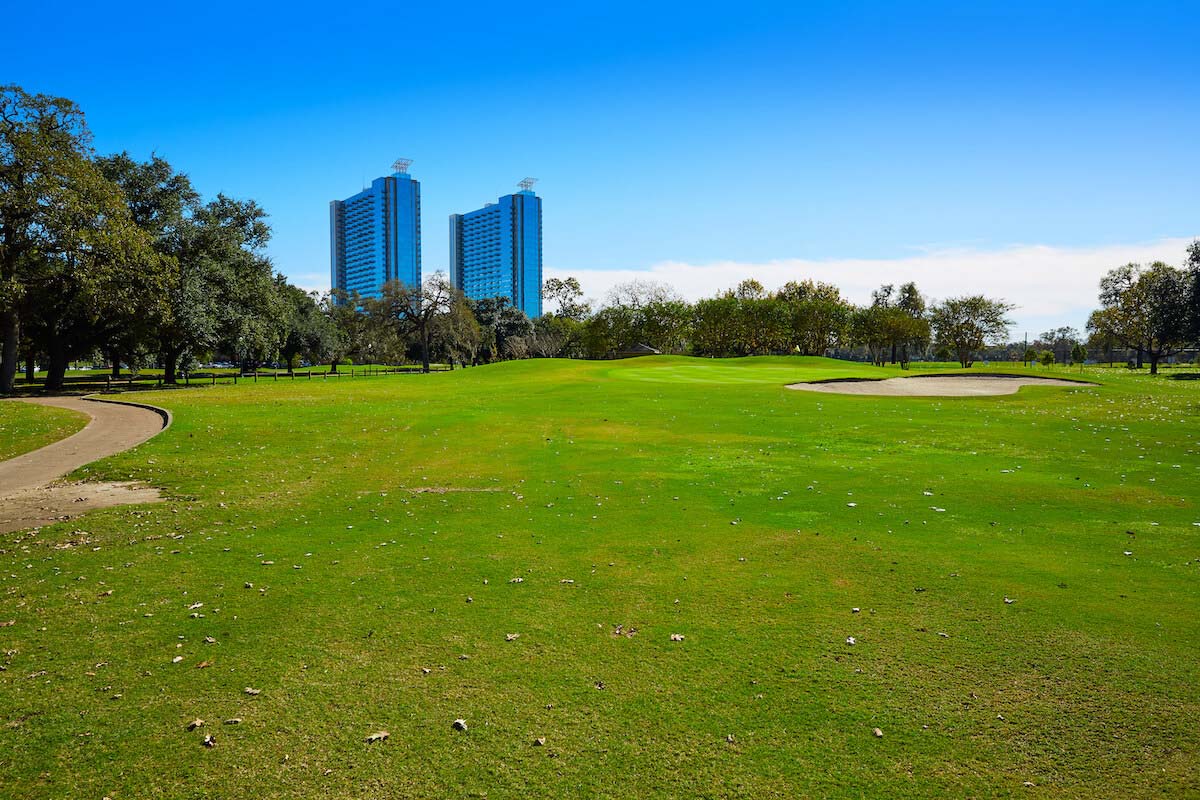 Built in 2006, the Mosaic is a two-tower high-rise condo development between the South Freeway and Almeda Road, adjacent to Hermann Park and the iconic Houston Museum District. While the Mosaic's South Tower is reserved exclusively for rentals, buyers will find a variety of condo properties for sale among the North Tower's nearly 400 units and penthouse-level suites.
Layouts in the Mosaic Residential North Condominium vary from approximately 800-square-foot single-bedroom studios to two-bedroom units measuring nearly 2,000 square feet. Prices are generally from the $200s to the $400s, though buyers can expect penthouse suites and upper-floor units to be priced substantially higher if and when they become available.
The Mosaic's location provides residents with views of the neighboring Hermann Park Golf Course, the Houston Zoo, and other popular attractions. The Museum of Natural Science and Houston's Museum of Fine Arts are within walking distance of the Mosaic condo towers, and residents are mere minutes away from dozens of world-class hospitals and healthcare facilities at the nearby Texas Medical Center, home to many of Houston's biggest employers.
The Mosaic Amenities
24-Hour Concierge and Valet
Infinity Pool and Sun Deck
Private Wellness Center
Pilates and Yoga Studio
Sauna and Steam Rooms
Business Center and Media Lounge
Onsite Dining Options
Dog Park and Dog Wash Stations
Villa D'Este
Nestled next to a lazy bend in Buffalo Bayou just outside the West Loop is the 27-story Villa D'Este luxury condo tower. The building was built in 1999 and features an attractive combination of contemporary architectural design and native Texas materials. Villa D'Este comprises approximately 100 condo units and several penthouse-level properties, all just minutes from The Galleria and other Houston attractions and activities found throughout the Uptown area.
Limited to no more than four units per floor, condo layouts here run larger than average, measuring between 2,400 and 4,300 square feet. Common features include 10-foot ceilings, updated kitchens, hardwood floors, and expansive balconies. While many cozier lower-floor units are priced from the $700s, larger upper-level models and penthouse suites list as high as two million or more.
Villa D'Este condo owners enjoy beautifully-landscaped grounds and a resort-like atmosphere. The tower's front entrance drive is adorned with an elegant fountain and well-manicured green space. Nearby are two lighted tennis courts set among native Texas oak trees, a private swimming pool and sun deck, and paved walking trails winding along the banks of Houston's Buffalo Bayou.
Villa D'Este Amenities
Resort-Style Pool and Spa
Two Lighted Tennis Courts
Top-Rated Fitness Center
Clubhouse and Party Room
Buffalo Bayou Walking Trails
Valet and Concierge Services
24-Hour Security
Franklin Lofts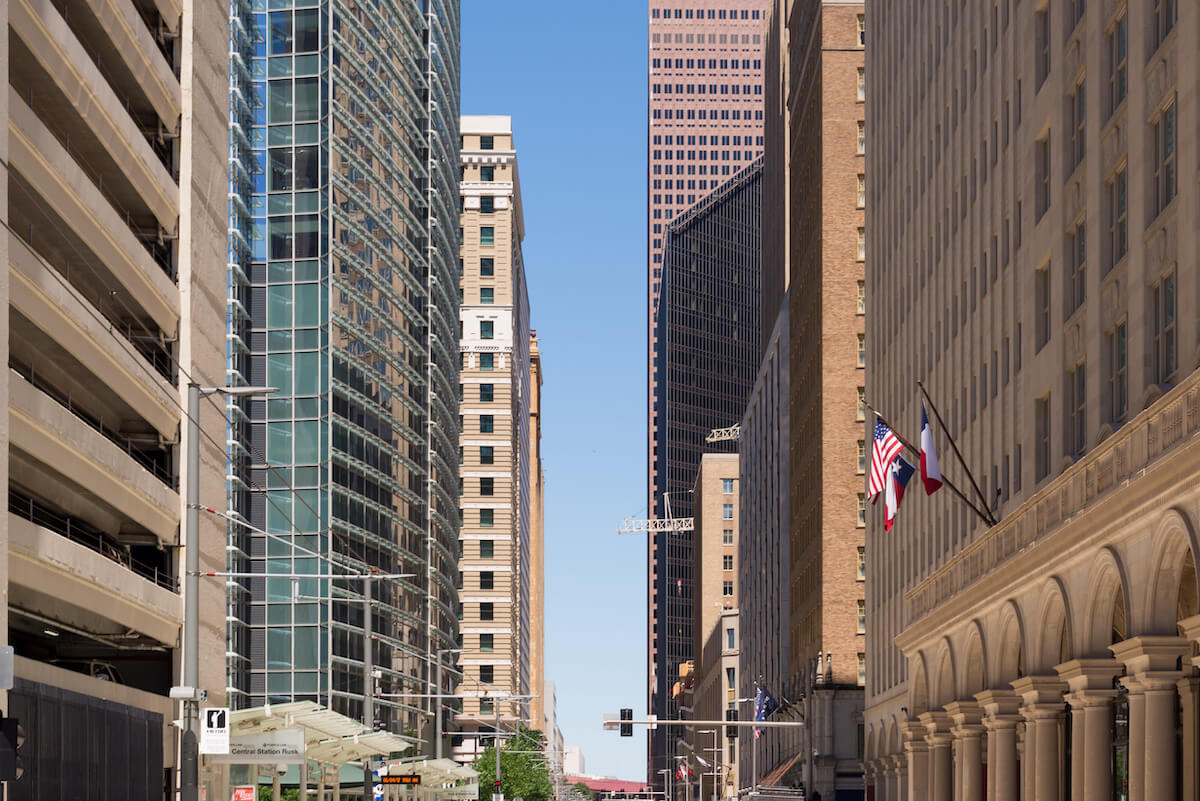 Just a few steps from the Bayou Lofts condominium is the eight-story Franklin Lofts, located on the corner of Main and Franklin. Another example of the historic architecture that makes living in Downtown Houston so appealing, the Franklin Lofts building started life as the Lomas & Nettleton Building in 1904, when its eight-story height earned it the title of Houston's first skyscraper. It was converted to condos in the early 2000s, and the building today features more than 60 units and penthouse properties behind its vintage neoclassical exterior.
Despite plenty of modern updates, units here maintain the high ceilings, brick walls, and exposed ductwork characteristic of Houston's renovated historic real estate. Each of the building's eight floors hosts residences ranging from less than 1,000 square feet to approximately 2,500 square feet. With limited inventory, vacancies can be rare. When units hit the market, they're typically priced from the $200s to the $500s.
Among the many benefits Franklin Lofts offers condo owners are its superior location and convenient proximity to the wealth of attractions and activities in this pedestrian-friendly part of the city. The University of Houston Downton campus is steps away on the other side of Buffalo Bayou. The city's vibrant Theater District is only a few blocks to the west, and the famous Market Square Park is just around the corner.
Franklin Lofts Amenities
Concierge and Porter Services
Garage Parking
Party Room
Rooftop Deck and Terrace
Buffalo Bayou Greenway Trails
Market Square Park
Downtown Houston Theater District
The River Oaks
In Houston, "River Oaks" is synonymous with high-priced luxury, and The River Oaks condominium complex is no exception. Initially built in the early 60s and renovated in 2016, it ranks among Houston's most upscale and expensive condo buildings. Featuring around 80 units and four penthouse-level suites across 18 floors, homeowners here enjoy amenities on par with the finest vacation resorts, as well as panoramic views of the city from virtually every floor.
The residences and penthouses of The River Oaks are among the city's most well-appointed properties, as fitting for Houston's most expensive neighborhood. Gourmet kitchens with top-of-the-line cabinetry and appliances, 14-foot floor-to-ceiling windows, and Italian marble are typical of the high-end finishes here. Condo units average around 4,000 square feet, while the multi-story penthouse suites can reach 10,000 square feet or more. Real estate listings in The River Oaks usually range from $1.5 million to $5 million and higher.
This luxury high-rise is convenient to many of Houston's most popular attractions and activities. Golfers, in particular, will enjoy proximity to the private course and facilities just minutes away at River Oaks Country Club and one of the city's most popular public golf courses at Memorial Park.
The River Oaks Amenities
24-Hour Concierge and Valet Services
Party Room and Clubhouse
Outdoor Kitchen and Fireplace
Two Resort-Style Swimming Pools
State-of-the-Art Fitness Center
Massage and Yoga Studio
Overnight Guest Suites
Dog Park and Pet Grooming
The Houstonian Estates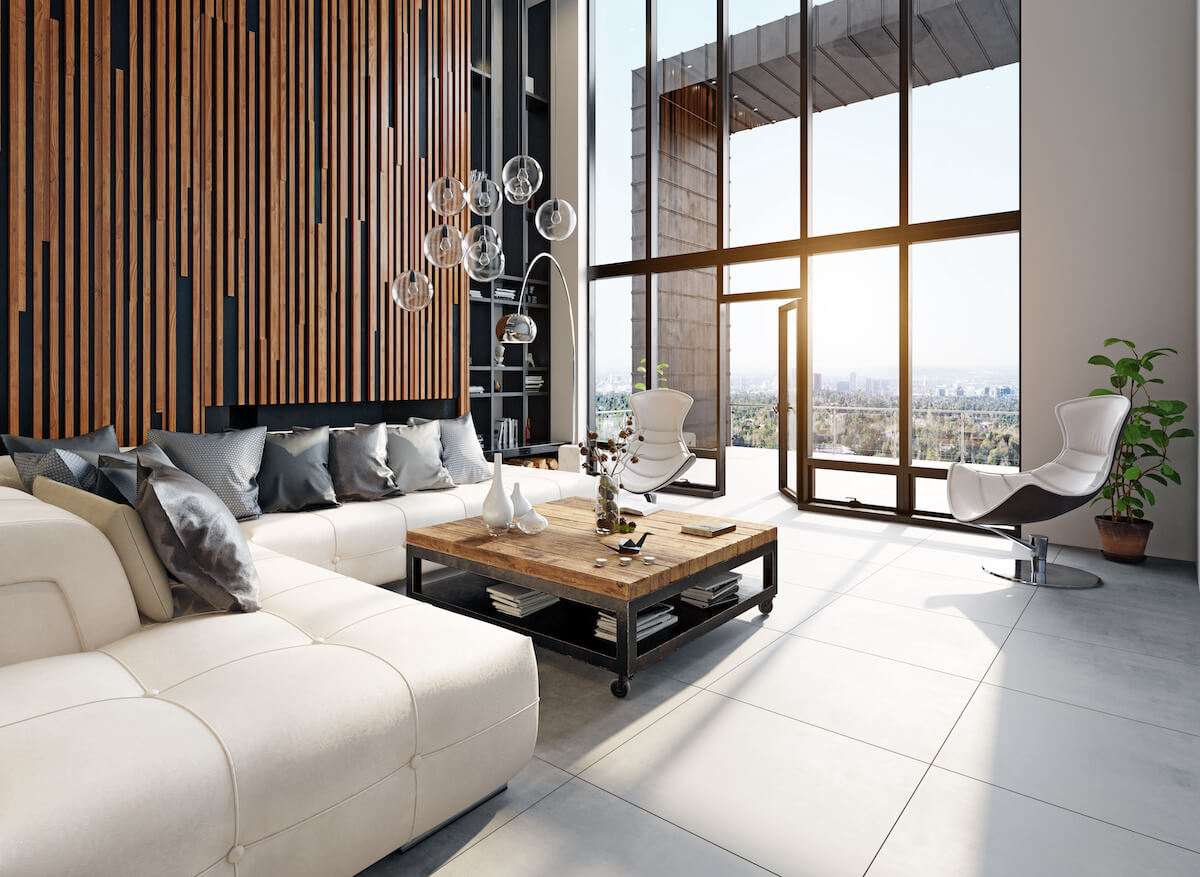 Overlooking nearby Memorial Park and the Galleria area is the Houstonian Estates, long recognized as one of the best condos in Houston and among the city's first luxury condominium complexes. Located along North Post Oak amid more than three acres of native Texas trees and well-kept landscaping, the condo offers owners a peaceful respite from the urban hustle and bustle. The Houstonian was built in 1982 and comprises three individual towers within the same structure, with approximately 150 residences and several penthouse suites.
A maximum of two units are located on each floor, allowing for front and rear balconies. Most of The Houstonian's floorplans measure between 1,800 and 2,800 square feet, with penthouse-style properties having layouts of 5,000 square feet and larger. Recent sales generally start from the $600s, with top-level condos priced into the millions.
Residents here have access to an amazing assortment of amenities, including the tennis courts and recreation deck atop the roof of The Houstonian Estates' four-story parking garage. Here condo owners will find a fully equipped fitness center, tennis and basketball courts, a jogging track, and an outdoor kitchen. On the ground-level garden terrace, owners enjoy a heated resort pool surrounded by more than three acres of landscaped grounds and paved walkways. There's even an enclosed off-leash dog park for The Houstonian's furry friends.
Houstonian Estates Amenities
Garden Terrace Swimming Pool and Spa
Tennis Courts and Recreation Deck
Sauna and Locker Room
Garden Room and Outdoor Grills
Fully-Equipped Conference Room
Fenced Off-Leash Dog Park
Tree-Lined Walking Trails
24/7 Concierge and Valet
Ready to Live the High Life in Houston?
If you're ready to buy a condo in Houston, be prepared to be spoiled for choice. Each of these excellent condo buildings in Houston offers a unique set of amenities and features that cater to various lifestyles and preferences. From historic lofts rich in character and industrial vibes to sleek high-rises perfect for feeling a contemporary rush, Houston has it all.