Best Dallas Suburbs: Top 8 Dallas-Forth Worth Suburban Cities
Posted by Texas Real Estate Source on Monday, September 12, 2022 at 3:24 PM
By Texas Real Estate Source / September 12, 2022
Comment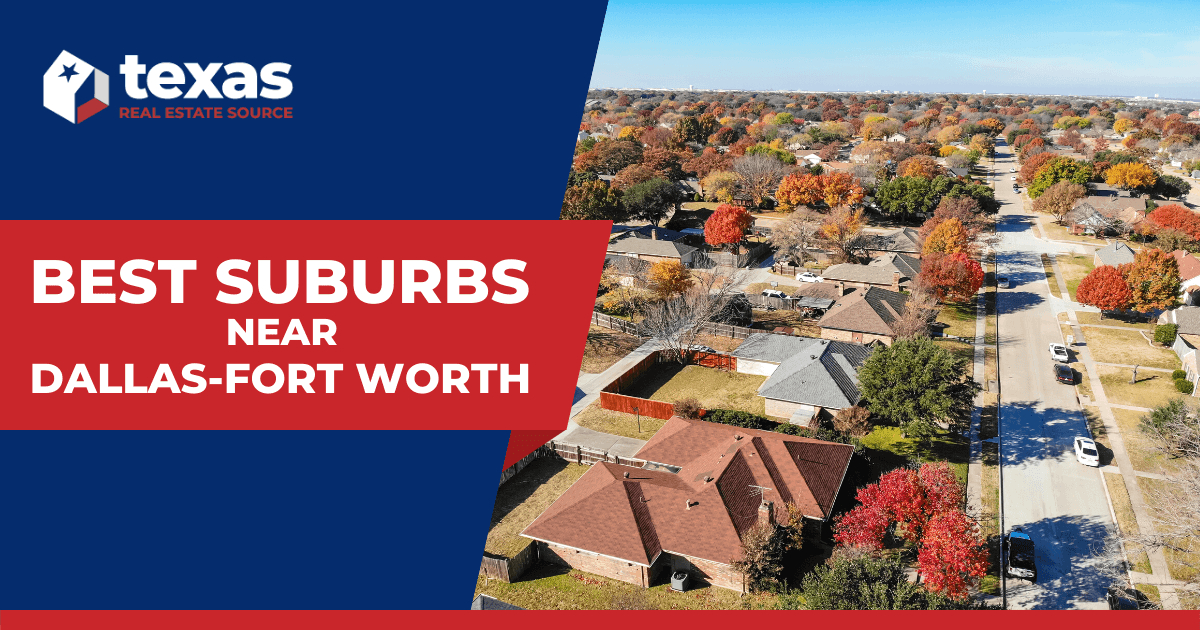 Are you interested in moving to the Dallas-Fort Worth area or one of the 7.6 million people already living there? It's no secret that North Texas is a great place to live, but not many people know about the amazing Dallas and Fort Worth suburbs. There are DFW suburbs with low property taxes, communities centered around lakes, amazing master-planned communities, and so much more. While many people love living in Dallas, Fort Worth, and Arlington proper, others want to live in smaller communities close to the bigger cities.
Colleyville
Rural living just minutes from excellent golf courses and an international airport. These are just some of the many benefits of living in the small city of Colleyville, Texas, an enchanting suburb with a picturesque downtown square. With a population of around 23,000, Colleyville has seen significant growth in recent years yet remains a quiet community within the Dallas-Fort Worth metroplex.
With many beautiful parks and over 11 miles of designated bicycle trails, Colleyville is a wonderful community for outdoor enthusiasts. One of the area's most popular amenities is the Colleyville Nature Center, a 46-acre nature refuge with local wildlife, an amphitheater, over 3.5 miles of trails, a playground, a covered pavilion, and a fishing pier.
Another beautiful green space in the heart of Colleyville is Bluebonnet Hills Memorial Park. While Bluebonnet Hills Memorial Park is a cemetery, the location's 65+ acres have some of the most beautiful gardens in Northern Texas. Within the gardens, the Lake of Whispering Waters has three fountains and a shoreline gazebo, making it a serene, peaceful place. It is also just a 15-minute drive to the Dallas-Fort Worth International Airport.
Colleyville Amenities
Colleyville City Park
Chisholm Aquatic Center
La Hacienda Ranch
Stone House Restaurant
Kimzey Park
McPherson Park
Southlake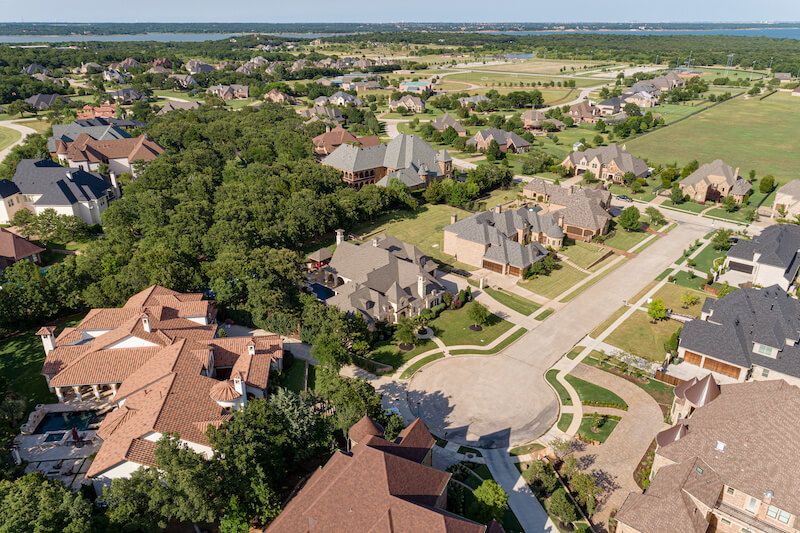 Combining rural suburb living with urban sophistication, the city of Southlake sets the standard for elevated living in North Texas. Located in Tarrant County, Southlake is just 30 minutes from the city of Fort Worth and is an easy commute to Dallas, Arlington, and Irving. With just over 32,000 residents, Southlake is small enough to maintain a sense of community while providing its residents with exceptional amenities like Timarron Country Club. Golf course homes in Southlake provide wonderful views of area courses.
At the heart of Southlake is the spectacular Southlake Town Square, an upscale shopping precinct that is one of the area's biggest attractions. While it was established in 1999, Southlake Town Square is stylized after the vintage downtowns found in some of America's quintessential small towns. It is also one of the most popular shopping centers in the Dallas-Fort Worth metroplex. Southlake Town Square has over 100 upscale shops, 27 restaurants, three parks, the Harkins Theater, and a Hilton luxury boutique hotel.
Along with Southlake Town Square, one of the most popular attractions in Southlake is Grapevine Lake, one of the metropolitan area's largest lakes. Just off the lake is Meadowmere Park, which has a public beach and boat landings.
Southlake Amenities
Urban Air Trampoline and Adventure Park
Timarron Country Club
Bicentennial Park
Bob Jones Nature Center and Preserve
Calabrese Southlake
Plano
Plano, Texas, is not just a suburb of DFW; it's a city in its own right. With a population of over 285,000 people, the city of Plano is one of the largest suburbs in the Dallas area. This historic city is home to some of DFW's most prominent museums, nature parks, and churches. Take a stroll through the Historic Downtown area to glimpse Plano's storied past. There are plenty of tour options to get a feel for the area's rich history, including walking tours and trolley rides. Don't forget all the boutique shops and restaurants within the downtown area that are worth exploring.
One of Plano's biggest attractions is Arbor Hills Nature Preserve, a 200-acre nature park featuring walking paths, biking trails, and some of Texas' spectacular wildlife. Arbor Hills Nature Preserve is one of the Dallas area's most famous nature parks and is a beautiful place to find serenity within the city.
Plano Amenities
Heritage Farmstead Museum
Crayola Experience Plano
Interurban Railway Museum
Oak Point Park and Nature Preserve
Arbor Hills Nature Preserve
Coppell
Impressive doesn't even begin to describe the small city of Coppell, Texas. Located less than 30 minutes from the city of Dallas, Coppell is much more than a DFW suburb. Coppell is home to many major companies, including an Amazon fulfillment center, Samsung warehouse, and other major corporations, such as Zales Corporation and Brantly International. Coppell's other significant claim to fame is in gymnastics. Coppell is the home of Texas Dreams Gymnastics, a world-class gymnastics training facility that has trained some of the country's most decorated Olympians.
Coppell has many beautiful parks, including Coppell Nature Park, which has over 66 acres of natural space with nature trails, bike trails, and a picnic area. It's an excellent spot for birdwatching and nature photography. Another one of Coppell's popular hotspots is the Coppell Farmers Market, with locally-sourced plants and produce for residents. And with easy access to all the great activities in DFW, Coppell is a popular suburb for many reasons.
Coppell Amenities
Coppell Nature Park
McInnish Sports Complex
Riverchase Golf Club
Grapevine Springs Park
Hard Eight BBQ
Victor's Wood Grill
Frisco
Among Dallas and Fort Worth's many suburbs, the city of Frisco is arguably one of the most popular suburbs in Northern Texas. With an estimated population of around 215,000 residents, Frisco's population growth places it among the fastest-growing cities in the US. Thanks to its proximity to Dallas, its substantial economic opportunities, excellent amenities, and projected developments in the coming years, it's easy to understand why the city is on the rise.
For sports lovers, Frisco is the Dallas area's go-to destination. It is the home of three major sports arenas: The Star, Toyota Stadium, and Dr. Pepper Ballpark. The Star, also known as Ford Center, is one of Texas's most famous sports arenas. While the Dallas Cowboys play at AT&T Stadium in the city of Arlington, The Star is considered Dallas Cowboys World Headquarters and is the team's main practice facility. Toyota Stadium is the home of FC Dallas, the city's Major League Soccer team, and hosts many events, concerts, and other soccer matches. Dr. Pepper Ballpark, also known as Riders Field, is the home of the Double-A Frisco RoughRiders and is considered one of the nation's best minor league baseball fields.
Frisco Amenities
National Videogame Museum
Frisco Commons Park
iFLY Indoor Skydiving - Dallas
Texas Sculpture Garden
Harold Bacchus Community Park
Flower Mound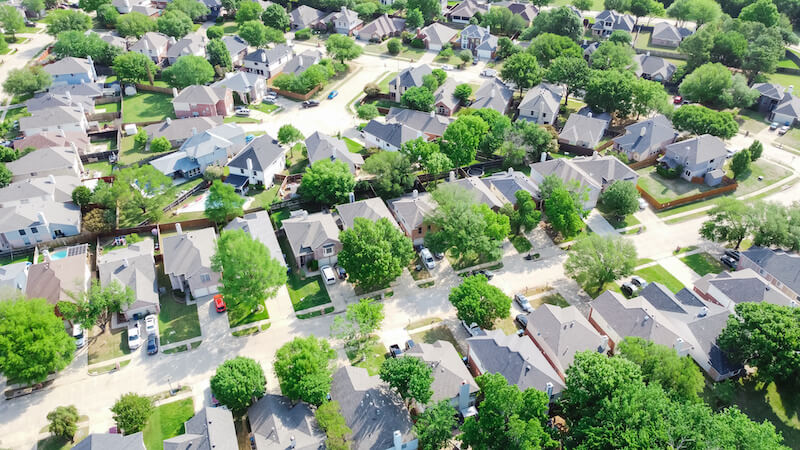 Centrally located in Denton County and Tarrant County, the town of Flower Mound is a beautiful suburb northeast of Fort Worth. With a population of around 76,000 residents, Flower Mound is small enough for residents to be part of the community while having tons of big-city amenities.
One of Flower Mound's most attractive features is its River Walk. Located in Downtown Flower Mound, this gorgeous space features boutique shops, restaurants, residential areas, and event spaces. A 14-foot waterfall provides the photo-ready focal point.
Set along beautiful Grapevine Lake, Flower Mound is also the home of Rockledge Park, a local park dedicated to lakefront recreational activities, such as swimming, boating, and water sports. The town offers a variety of real estate listings, but Flower Mound's luxury homes are spectacular.
Flower Mound Amenities
Bridlewood Golf Club
Knob Hills Bike Trail
North Shore Trailhead
Cristina's Fine Mexican Restaurant
Rocky Point Trail
University Park
Located just 20 minutes from Downtown Dallas, the city of University Park is home to Southern Methodist University and neighbors the town of Highland Park. University Park is considered one of DFW's most desirable places to live with its spectacular museums and gorgeous green spaces. One of the town's most famous landmarks is the George W. Bush Presidential Center, a museum dedicated to the political legacy of our nation's 43rd president. The museum showcases many exhibits and archives, including the George W. Bush Presidential Library.
One of the most iconic sites of University Park is Southern Methodist University, one of Dallas' prominent private universities. Along with its exceptional museums and educational facilities, University Park is a friendly community with many different boutique shops, cafes, and parks. And with just 25,000 residents, University Park is an independent community within the Dallas city limits.
University Park Amenities
Fondren Library
Meadows Museum
Goar Park
McFarlin Auditorium
Caruth Park
University Park Public Library
Bubba's Cooks Country
Richardson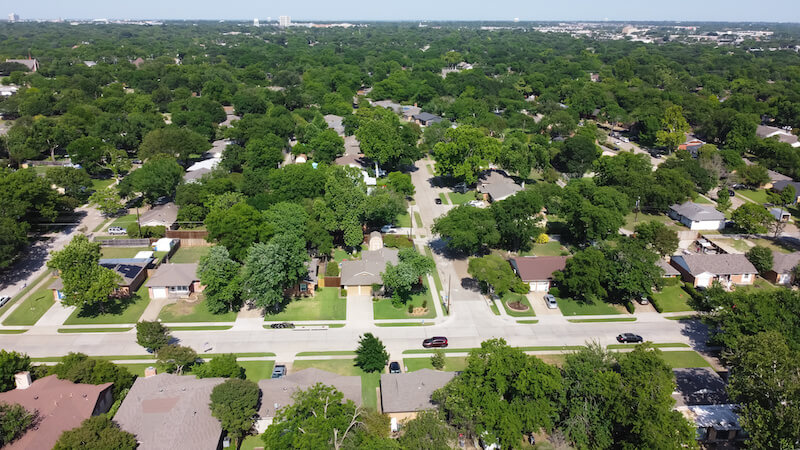 Regarding location, it's hard to beat living in the city of Richardson, Texas. Ideally located northwest of the city of Garland, Richardson is one of the larger suburbs of the DFW area, with a population of over 112,000 residents. One of Richardson's biggest claims to fame is the University of Texas-Dallas. Beyond the university, another draw of living and working in Richardson is its strong local economy.
Along with its abundance of economic opportunities, Richardson has plenty of amenities, from beautiful city parks to fabulous entertainment venues. The Charles W. Eisemann Center for Performing Arts and Corporate Presentations is a modern venue popular for many events, performances, and conventions.
Richardson Amenities
The University of Texas at Dallas
Spring Creek Nature Area
Cottonwood Park
Canyon Creek Country Club
Bush Central Barkway
DFW's Suburbs Welcome You
Dallas-Fort Worth's suburbs come in all sizes, from small rural towns that share school districts to bustling cities complete with public transportation. Whether close to prominent universities, the DFW International Airport, or some of the area's most prominent corporations, Texas residents are sure to find a wonderful suburb in the Dallas-Fort Worth metroplex that's right for them.