Best Gated Communities in Katy TX: Private Amenities, Luxury Homes & More
Posted by Texas Real Estate Source on Thursday, February 16, 2023 at 5:10:50 PM
By Texas Real Estate Source / February 16, 2023
Comment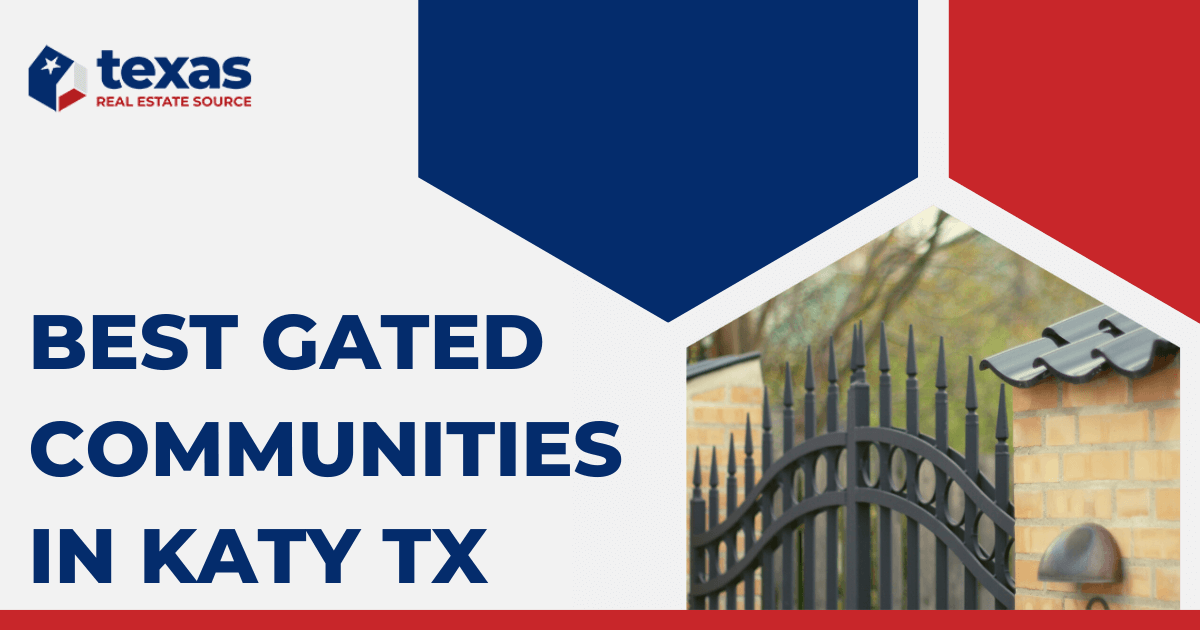 About 30 miles west of downtown Houston, at the junction of Harris, Waller, and Fort Bend counties, lies the city of Katy. Formerly a sleepy railroad and farming community, today, the Katy area is home to a growing population of around 400,000 as Houston's westward expansion continues.
Many of the best master-planned communities near Houston are located in and around Katy, including a variety of gated subdivisions. Prospective homebuyers in the region will find plenty of private neighborhoods with amenities, home styles, and price ranges ideal for any budget and every lifestyle. Read on to explore some of the best gated communities in Katy, Texas.
Cane Island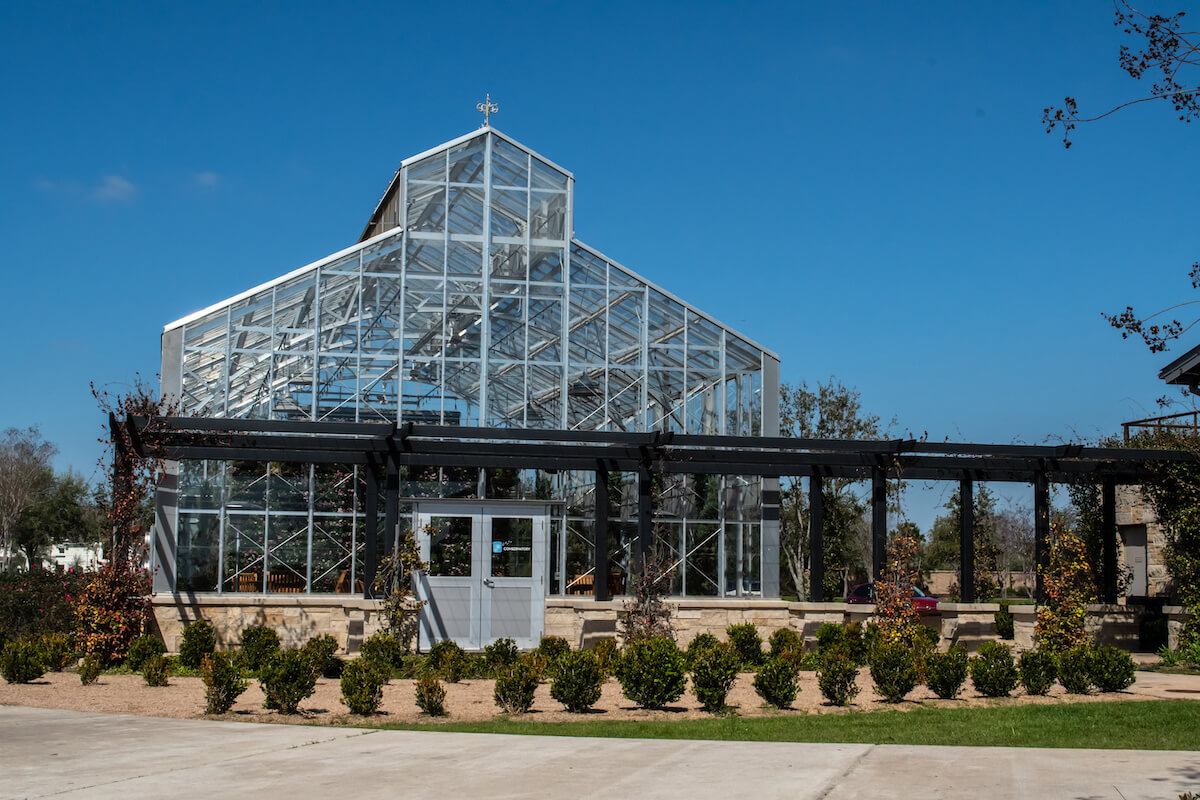 The thousand-acre Cane Island development on the north side of Interstate 10 in Katy features several private sections within the community. Among the gated neighborhoods are The Estates, with 20 half-acre homesites, and The Legends, with a few dozen 100-foot lakefront lots. Other gated villages in Cane Island include the patio home sections of The Trails and Oak Pointe and the 80-foot homesites of Champions Trail.
Typical new construction homes in Cane Island average more than 3,000 square feet of living space and sit on spacious half-acre lots. Homes for sale in Cane Island typically list from the $300s to more than $1 million. It's worth noting that Cane Island is one of the area's only neighborhoods located entirely within the city limits. That means residents here enjoy municipal utilities and city services associated with a Katy address.
Cane Island is known for its amenities, including a beautiful glass conservatory event space, multiple community pools, on-site dining and fitness, and neighborhood parks and trails.
Students living in Cane Island attend schools in the Katy Independent School District, including the convenient on-site campus of Robertson Elementary. Among the other Katy ISD schools serving sections of the Cane Island community are Hutsell Elementary, Katy Elementary, Katy Junior High, and Katy High School. Area residents will also find several private education, parochial schools, and daycare centers close by.
Cane Island Amenities
Cane Island Community Center
Swimming Pools and Splash Pad
Fitness Center and Yoga Studio
Community Greenhouse and Gardens
Sports Courts
Parks and Playgrounds
Walking Trails
Private Lakes
Sunterra
One of the fastest-selling master-planned communities in Katy is Sunterra, a thousand-acre development just north of town. The subdivision's main entrance is located off Clay Road, a mile west of Pitts Road.
Prospective home buyers will find several gated sections in Sunterra offering a variety of floorplans from top-rated builders. For example, Perry Homes offers two gated neighborhoods on 50 and 60-foot lots, both with private lakes and plenty of new construction homes. Other gated sections in Sunterra include construction from Shea Homes, with a variety of floorplans on 40 and 50-foot homesites. Homes for sale in Sunterra usually range from the high $200s to the $800s.
The highlight of the Sunterra lifestyle is its world-class Crystal Lagoon, featuring five acres of Caribbean-blue waters surrounded by white-sand beaches. Residents here can enjoy swimming, a variety of paddle sports, or just soaking up some Texas sunshine.
Students in Sunterra are served by Katy ISD schools, including Robertson Elementary, Haskett Junior High, and Katy High School. Several early learning and daycare facilities are also found throughout the area, with Home Away From Home Child Care, Kids' R' Kids Learning Academy, and Little Hands Learning Center among the most convenient.
Sunterra Amenities
Crystal Lagoon
White Sand Beach
Swimming Pool and Splashpad
Event Space
Community Clubhouse
Tennis Courts
Covered Basketball Courts
Sand Volleyball
Playground
Canyon Gate at Cinco Ranch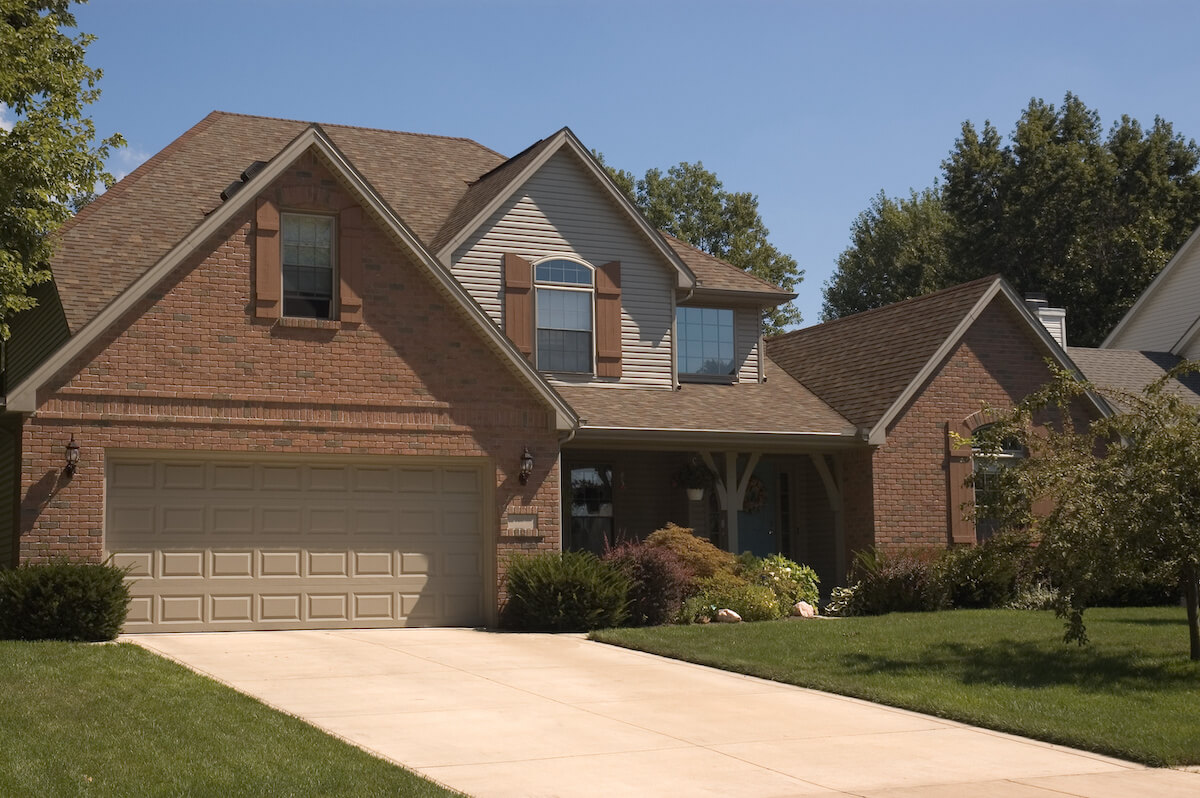 Canyon Gate at Cinco Ranch is an established, guard-gated community located off Westpark Tollway on the east side of Mason Road. Inside the private entrance on Canyon Gate Boulevard are more than 700 single-family homes, most of which were built in the late 1990s and early 2000s. The Canyon Gate development makes resident security a top priority, with entry guards on duty 24 hours a day.
Homes in Canyon Gate offer more than 2,500 square feet, many on lots large enough to accommodate private backyard swimming pools and playground equipment. Listing prices in Canyon Gate at Cinco Ranch generally range from the $200s to the $400s.
Community highlights include the Canyon Gate Recreation Center, where residents enjoy a clubhouse, fitness center, swimming pools, and two lighted tennis courts. Canyon Gate Park on the south side of the subdivision features plenty of green space for sports and events, several covered picnic areas, and shaded playground areas.
Katy ISD schools serve students living in the Canyon Gate at Cinco Ranch community. Campuses for Betty Sue Creech Elementary and Rodger and Ellen Beck Junior High are both about a mile away, while the Cinco Ranch High School complex is conveniently located just a few minutes up Grand Parkway. Nearby colleges in the area include Houston Baptist University and several campuses within the University of Houston system.
Canyon Gate at Cinco Ranch Amenities
Clubhouse and Recreation Center
Swimming Pools
Fitness Center
Sports Courts
Playgrounds
Skate Park
Climbing Rock
Multi-Use Sports Fields
Picnic and BBQ Pavilions
LakeHouse
LakeHouse is among the Katy area's newest gated communities, featuring a limited number of luxury lakefront properties tucked away just 10 minutes from town. Located at the northwest corner of Pitts and Clay roads, residents enter the LakeHouse community through the private gates at the Shore Gaze Drive traffic circle.
Homes here are generally new construction, featuring floorplans ranging from 2,000 to more than 4,000 square feet from popular home builders like Tri Pointe and Trendmaker. Prices tend to run from the $400s to the $700s. LakeHouse homeowners enjoy large backyards, private lake access, and resort-style amenities. As a bonus, there's no MUD tax.
As one might expect from a development named "LakeHouse," waterfront living is at the forefront of the community's amenities. The sizeable private lake offers activities like fishing, kayaking, and paddle boarding that make every day feel like a vacation.
Students living in the LakeHouse gated community attend Katy Independent School District schools. Nearby Katy ISD campuses include Robertson Elementary, Haskett Junior High, and Katy High School. Elsewhere, numerous private and parochial programs provide convenient educational opportunities and daycare services for area residents.
LakeHouse Amenities
Recreation Center
Beach Entry Swimming Pool
Waterpark-Style Slides and Splash Zone
Fitness Center
Private Community Lake
Playground
Picnic Areas
Walking Trails
Lake Pointe Estates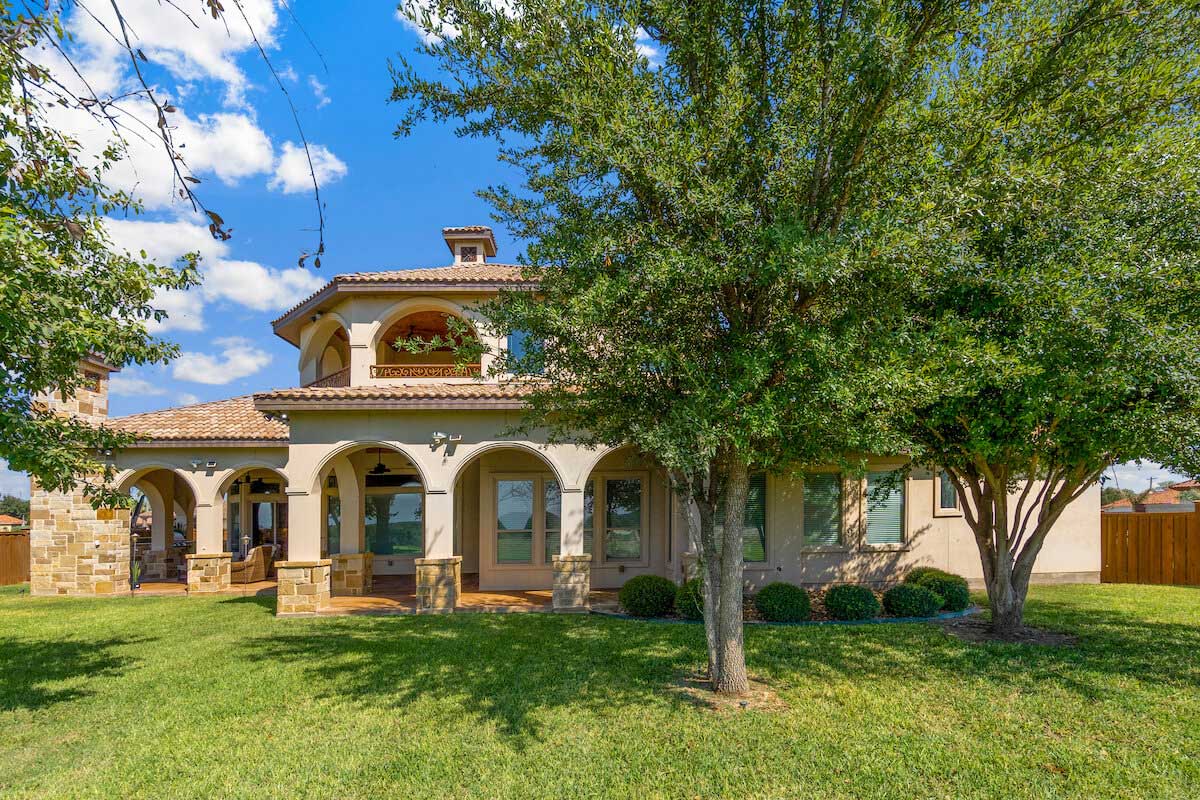 South of Katy along the northeast side of Westheimer Parkway is Lake Pointe Estates, a gated community of almost 90 lake-view luxury homes. The guard gate and main entrance are located on the southeast side of the subdivision at Roesner Road and Lake Pointe Estates Drive. Upon entering, residents and visitors are greeted by expansive scenic views of the large community lake.
Homes in Lake Pointe Estates typically feature expansive floorplans of 5,000 square feet or larger. Homesites are generally an acre or more, providing residents with plenty of space for private pools, tennis courts, and backyard playgrounds. Homes for sale in the Lake Pointe Estates community often range from the $700s to $1.5 million and up.
The custom-designed 20-acre lake is the centerpiece of this community. While most Lake Pointe Estates homeowners enjoy amazing views of the lake, many of the larger waterfront properties feature direct access via private docks. Residents can be on the water, kayaking and paddle boarding, just steps away from their back doors.
According to the Katy ISD zone map, students in Lake Pointe Estates attend the nearby campuses of Tompkins High School, WoodCreek Junior High, and Rylander Elementary.
Lake Pointe Estates Amenities
20-Acre Community Lake
Kayaking and Paddle Sports
Private Docks
Walking Trails
24-Hour Guard Gate
Parklake Village
On the south side of Interstate 10, tucked between the sprawling community of Kelliwood and the vast undeveloped spaces of George Bush Park, is the 73-acre gated neighborhood of Parklake Village. Prospective homebuyers will find the guard house and main entrance at the end of Stonelodge Street, less than half a mile east of Fry Road. The gates give way to a spectacular view of the private lakes at the center of the community.
Development of Parklake Village began in 1999, with the majority of the community's 100-plus homes built by the early-2000s. Floorplans here vary in size, with an average living space of between 4,000 and 5,000 square feet. Homesites are spacious, particularly for the many luxury estates backing up to water. Most homes have backyard swimming pools, and several properties feature private docks. Recent sales in the neighborhood vary from the $500s to $2 million.
Residents of Parklake Village are zoned to Katy ISD public schools. The Pattison Elementary campus is adjacent to the community and within easy walking distance for students living in Parklake. Other kids in the neighborhood attend McMeans Junior High and Taylor High School, both conveniently located just minutes away.
Parklake Village Amenities
Community Clubhouse
Private Lakes
Pedestrian Gate to George Bush Park
Tennis Courts
Playground
Avalon at Seven Meadows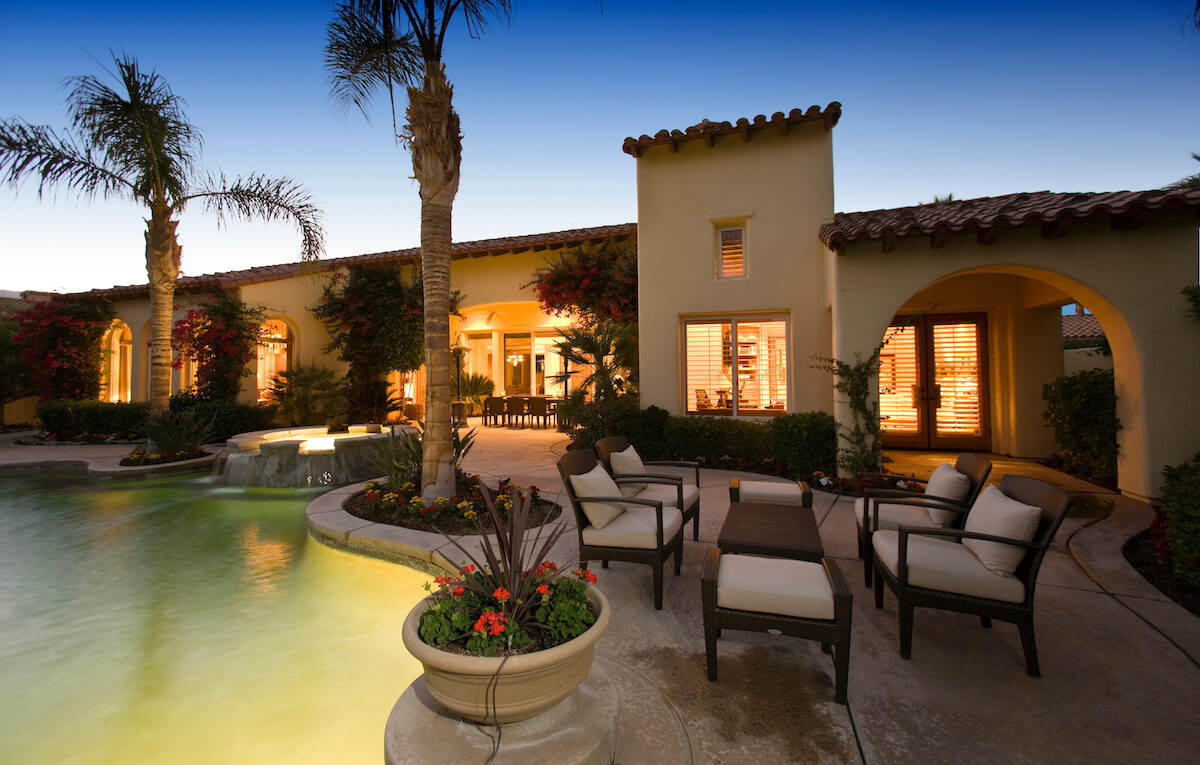 Located west of Grand Parkway and north of Westpark Tollway is the community of Avalon at Seven Meadows. Gated entrances at the Avalon Bay Lane traffic circle just off Fry Road lead to almost 300 luxury properties that back up to neighborhood lakes and the nearby Meadowbrook Farms golf course. Construction here began in 2004, with most of the community completed by the late 2000s.
More than half of the roughly 300 homesites in Avalon at Seven Meadows sit on one of the private lakes, and several of these waterfront homes enjoy private docks for their small pontoon boats and paddle craft. The typical home here averages more than 4,200 square feet and sits on a quarter-acre lot. Recent sales range from the $400s to more than a million, with an average home price in the $700s.
Katy ISD schools serving students in the community are Seven Lakes High School, Beckendorff Junior High, and Griffin Elementary. Several early learning and daycare facilities are located throughout the area, including Sugar Creek Montessori, with multiple nearby campuses, and Kids' R' Kids of Cinco Ranch West daycare center just two miles up the road.
Avalon at Seven Meadows Amenities
Community Lakes
Parks and Playgrounds
Tennis Courts
Greenbelts
Walking Trails
Fairways at Kelliwood
Among the best gated communities in the Greater Katy area is the Fairways at Kelliwood, a small enclave of fewer than 90 single-family homes located on Fry Road just south of Westheimer Parkway. It's part of the larger Kelliwood neighborhood, one of Katy's best luxury neighborhoods. As its name suggests, Fairways at Kelliwood is surrounded by the Willow Fork Country Club golf course, providing fairway views for many golf course homes here.
The Fairways at Kelliwood section was established in the mid-1990s. Today, the completed community boasts many mature trees and beautifully-landscaped commons, including the gated entry area at Fry and Wedgewind. The average floorplan features around 2,200 square feet of living space on lots large enough for private swimming pools and backyard entertaining. Homes for sale in this community generally range from the $300s to the $400s.
Students living behind the gates of the Fairways at Kelliwood are zoned for the nearby Katy Independent School District campuses of Creech Elementary, Beck Junior High, and Cinco Ranch High School. The area also features a mix of private schools and daycare facilities, including the British Private Prep School, the Katy campus of Hua Xia Chinese School, and a nearby Nest Schools campus.
Fairways at Kelliwood Amenities
Golf Course Views
Entry Park and Pavillion
Access to Kelliwood Amenities
Choosing a Gated Community in Katy TX
Katy's official motto is "Small Town Charm with Big City Convenience." This sentiment is evident in the many amenities and attractions of the area's gated communities. Inside the privacy and security of these subdivisions, Katy residents enjoy custom homes, resort-style comforts, and a small-town neighborly vibe. Beyond the gates of these communities, residents have easy access to "big city" services and conveniences, all just minutes from home.
Ready to discover your next home in Katy? Call The RealFX Group at (512) 956-7390 to get in contact with an experienced local real estate agent today and let us help you find your dream home in Katy, TX.