Discover the 8 Best Gated Communities Near The Woodlands, TX
Posted by Texas Real Estate Source on Thursday, April 27, 2023 at 3:50:09 PM
By Texas Real Estate Source / April 27, 2023
Comment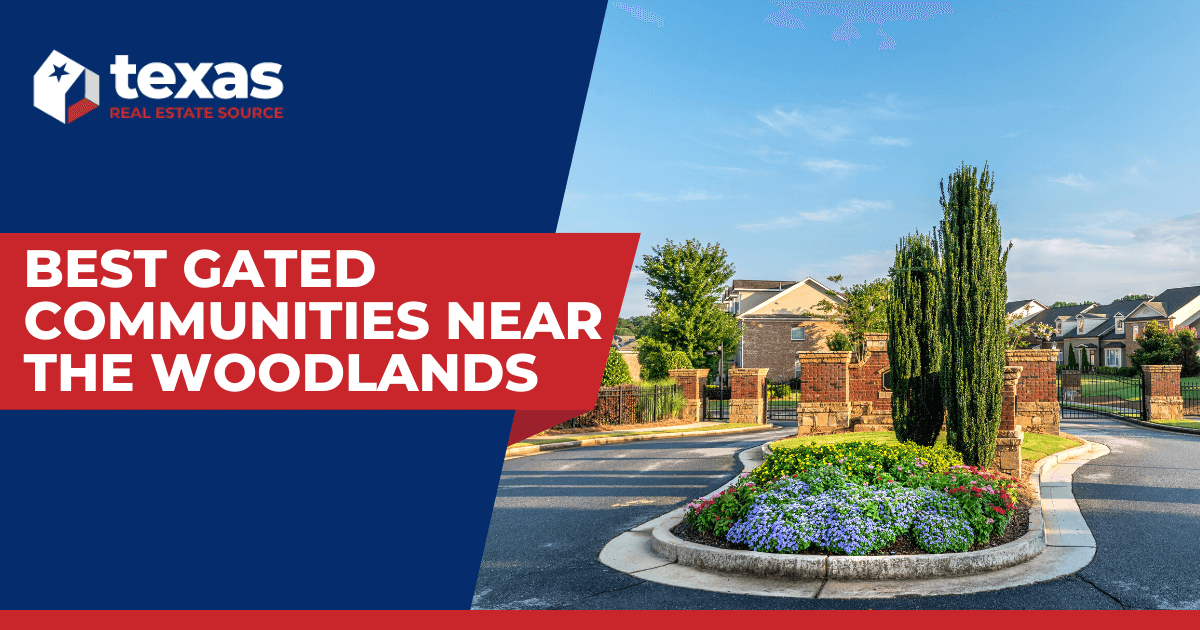 If you're in search of a secure and luxurious community near Houston with a range of amenities and a peaceful lifestyle, a gated community could be an ideal fit for you. The Woodlands area boasts some of the most desirable gated communities in Texas, each with unique features and benefits. From stunning golf course neighborhoods to 55+ lifestyle communities, there's a gated community near The Woodlands that will tick off every box on your wishlist.
Carlton Woods & Carlton Woods Creekside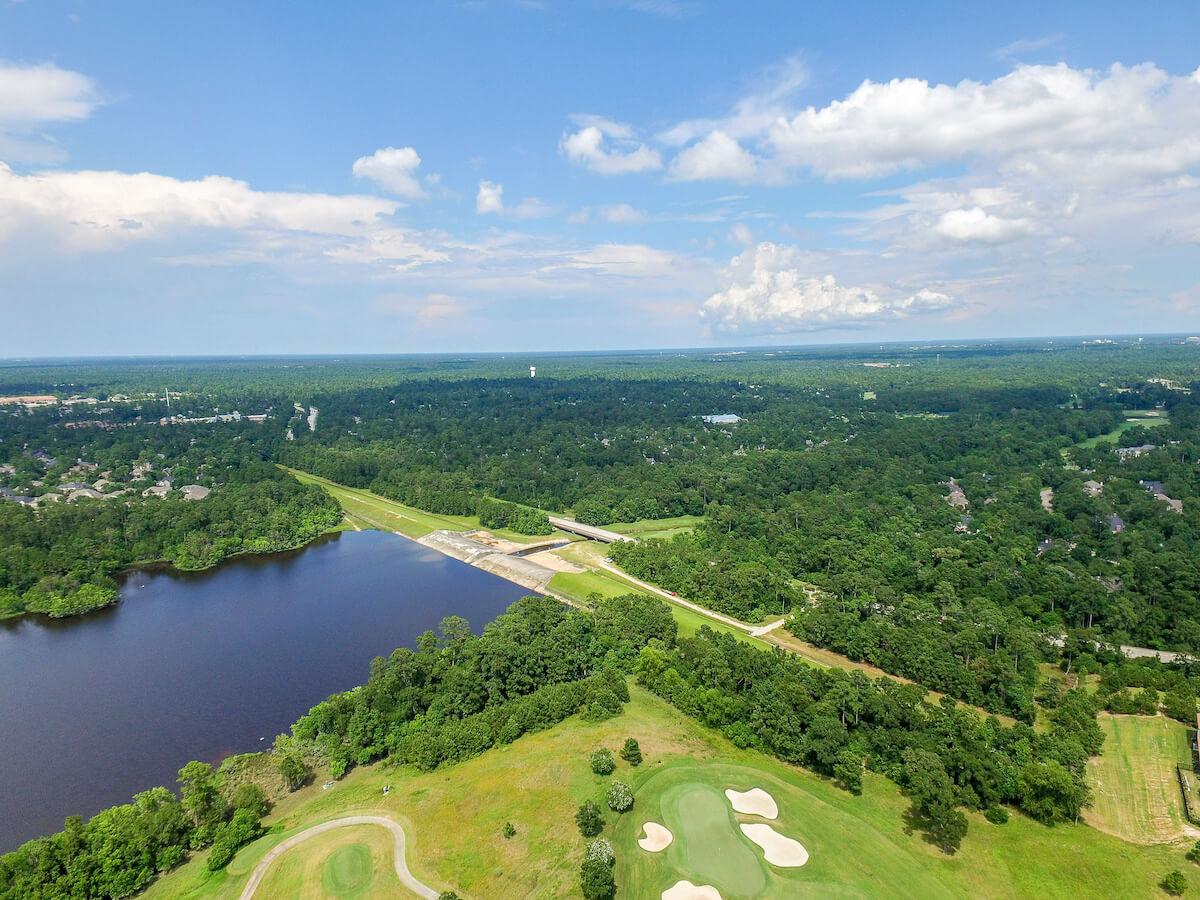 Among the best gated communities in The Woodlands are the golf course neighborhoods of Carlton Woods and Carlton Woods Creekside. The first features a few hundred luxury homes behind the gate and guardhouse near the Sterling Ridge Drive traffic circle. Further to the south, homebuyers will find the Carlton Woods Creekside gated community at Branson Creek Way inside the Creekside Park neighborhood. Beyond its guarded main gate, buyers will find almost 500 properties surrounding the fairways of the 18-hole championship golf course.
Real estate in the Carlton Woods section of Sterling Ridge generally ranges from early-2000s construction to newly-built luxury homes. Typical properties here average more than 6,000 square feet and sit on fairway-facing lots of over half an acre. For the most part, the Carlton Woods Creekside community features newer homes with similarly sized floorplans and homesites. Homes in both gated sections of The Woodlands boast median market values of more than $1.8 million.
Aside from the luxury lifestyle and sense of security these gated communities deliver, the main attraction to living in either subdivision is the opportunity to enjoy the top-ranked golf courses and amenities provided by The Club at Carlton Woods. Members can play the Tom Fazio-designed 18-hole layout in Creekside or the Jack Nicklaus signature course in Sterling Ridge and access The Club's many health, wellness, and dining amenities.
Carlton Woods & Carlton Woods Creekside Amenities
Private Club at Carlton Woods Creekside
Tom Fazio-Designed Golf Course
Private Club at Carlton Woods
Jack Nicklaus Signature Golf Course
Nearby Parks and Playgrounds
Community Pools and Sports Courts
Reserve at Grogan's Mill
Near the northern reaches of The Woodlands lies the Reserve at Grogan's Mill, a cozy gated community of fewer than 50 homes surrounding a single circular street inside the subdivision. Homeowners enter through the gate on Columbia Court, just off Vision Park Boulevard. All addresses here are within Montgomery County, in the small Texas city of Shenandoah, just minutes from the activities and attractions near The Woodlands Town Center.
Home construction in the Reserve at Grogan's Mill began in 2014, with the majority of the properties here built by 2018. Floorplans are spacious, averaging well over 3,000 square feet, and homesites feature fenced backyards with enough room for private swimming pools. Home values here typically range from the $600s to the $700s.
Residents of The Reserve enjoy convenient proximity to top destinations in The Woodlands, including the township's popular lakefront and waterway, shopping and dining options near The Woodlands Mall, and live music events at the Cynthia Woods Mitchell Pavilion. With easy access to the North Freeway, those living in the Reserve at Grogan's Mill are also just 30 minutes away from major job centers and other destinations located near downtown Houston.
Reserve at Grogan's Mill Amenities
Private Single-Street Neighborhood
Convenient to The Woodlands Town Center
Nearby Parks, Playgrounds, and Pools
Conroe Independent School District
Del Webb The Woodlands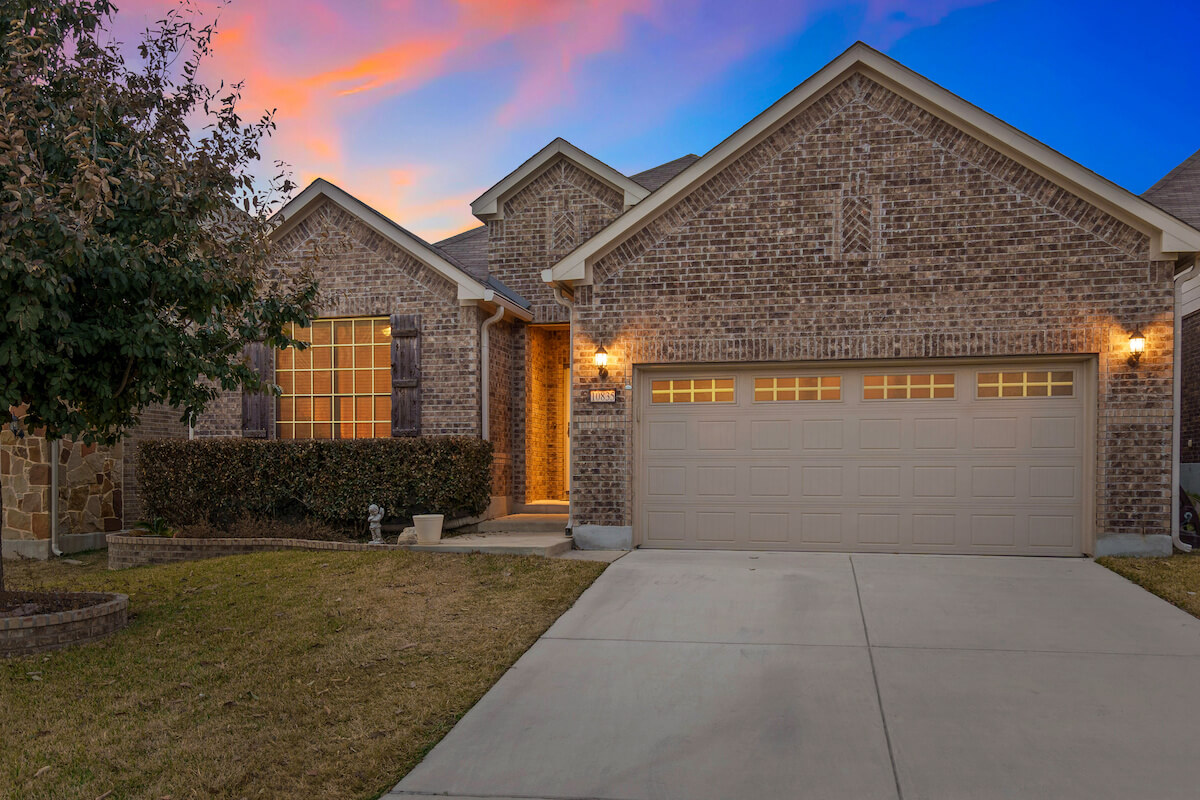 Del Webb The Woodlands is a 55-and-over active adult community carved out among the heavily-wooded area on the northern border of the Alden Bridge neighborhood. Buyers interested in this gated community will find the main entrance and guardhouse along the beautifully-landscaped Del Webb Boulevard near FM 1488.
Established in 2017, the master plan includes almost 600 single-family properties behind the gate. Available real estate in Del Webb The Woodlands includes a variety of move-in ready homes and lots for new construction. Floorplan options typically range from cozy 1,700 to 2,000-square-foot properties priced in the $400s to larger layouts averaging around 2,500 square feet, priced from the $500s.
Among the many reasons folks choose to call Del Webb The Woodlands home is the gated community's impressive private clubhouse and amenity center. Residents here enjoy a resort-style outdoor swimming pool as well as a heated indoor lap pool. Lighted tennis and pickleball courts overlook an adjacent lake, and a couple of regulation bocce pitches are found nearby. Paved hike and bike paths surround the entire area, connecting with an abundance of water features and tree-filled green spaces throughout the rest of the neighborhood.
Del Webb The Woodlands Amenities
Community Clubhouse and Fitness Center
The Lodge Amenity Complex
Indoor and Outdoor Swimming Pools
Tennis, Bocce, and Pickleball Courts
Paved Hike and Bike Trails
Private Lakes and Green Space
Prosper
The gated community of Prosper is a private neighborhood section in the Stillwater development near The Woodlands Village of College Park. Behind the gated entrance on Prosper Road off of Stillwater Creek Drive are about 40 spacious homesites surrounding a private community lake and greenspace.
Real estate in the Prosper neighborhood features a mix of existing homes and ready-to-build lots. Custom construction in the community is by Partners in Building, one of the area's premier luxury home contractors. Interested buyers will find a variety of layouts measuring from 4,500 to 8,000 square feet, with prices generally starting from $1.1 million.
While Prosper residents enjoy their central lake and water features, they also have access to all of the amenities and activities available in the Stillwater development. Among the community hot spots is The Back Porch, just steps away from the homes in the Prosper neighborhood. This four-acre amenity center boasts firepits and outdoor BBQ grills, a catch-and-release fishing pier, and plenty of paved pathways for hiking and biking around the water features and wide-open green spaces.
Stillwater Amenities
The Back Porch Amenity Center
Outdoor Grills and Fire Pits
Calendar of Community Events
Private Lake and Fishing Pier
Wide Open Green Space
Hike and Bike Trails
Del Lago Estates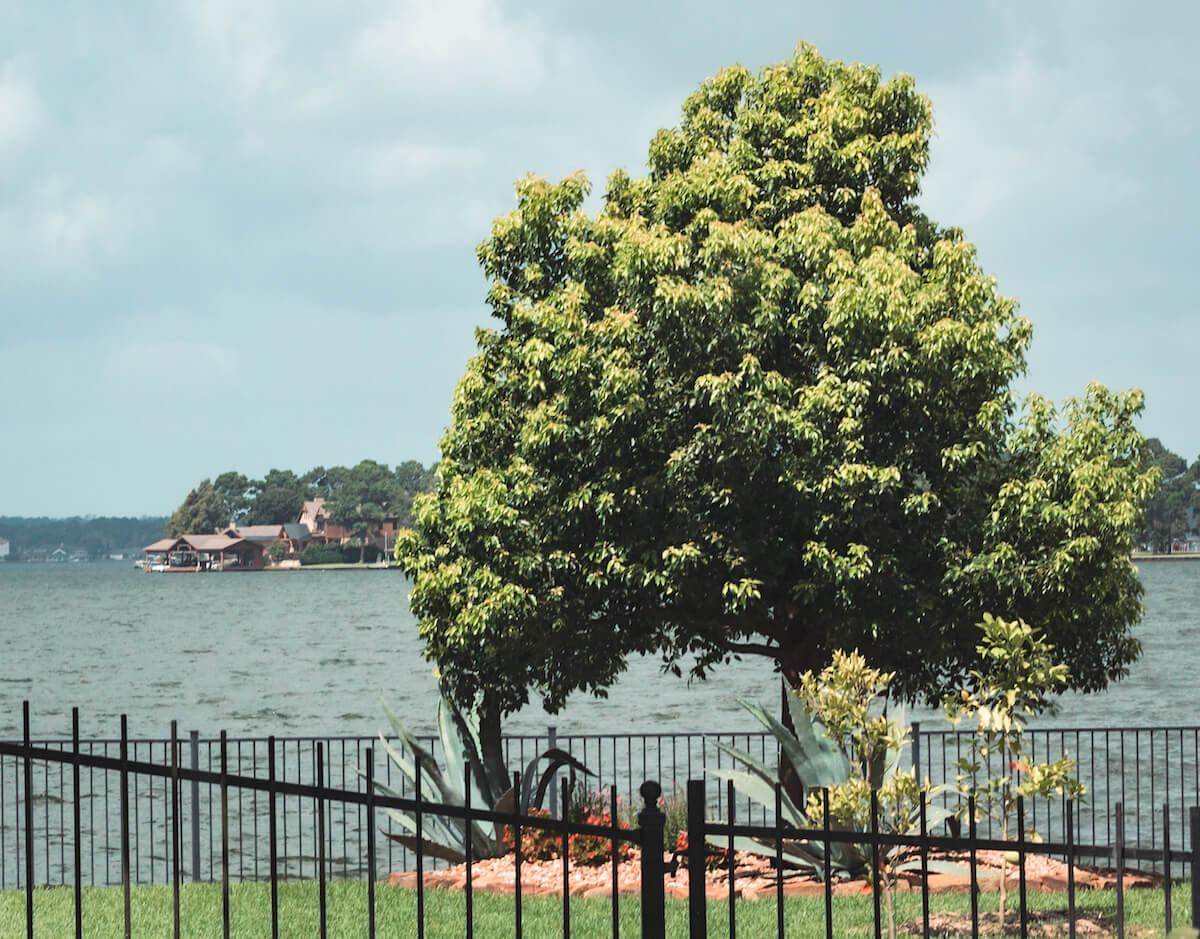 Near the city of Montgomery, northwest of The Woodlands, is the gated community of Del Lago Estates. Positioned on a private peninsula along the west side of Lake Conroe, the neighborhood boasts a mix of lake-view properties and waterfront homes behind the gate and guardhouse on La Jolla Circle off Walden Road. There's nowhere better to enjoy one of the best lakes near Houston.
Some properties here date back to the late 90s, with ongoing construction throughout the years. Lots average a half-acre, with several measuring an acre or larger, and typical homes in Del Lago Estates feature floorplans of at least 4,000 square feet. The community comprises only around 60 total properties, most priced well into the millions.
The beauty of life behind the gates at Del Lago Estates is the direct Lake Conroe access and waterfront lifestyle afforded its residents. The community features a neighborhood boat launch, and most of the waterfront homes here enjoy private marinas and boat docks. The lake offers over 20,000 acres of outdoor recreation, including boating, skiing, fishing, and more. And directly across the water from Del Lago Estates is the popular Margaritaville Lake Resort and Golf Club, providing plenty of dining and entertainment just a short boat ride from home.
Del Lago Estates Amenities
Waterfront Lots with Lake Conroe Access
Private Community Boat Launch
Abundant Trees and Greenspace
Montgomery ISD Schools
Woodtrace
Among the largest and newest neighborhoods in the region is Woodtrace, a master-planned gated community west of The Woodlands. Located just a few miles up the road from Tomball near the suburb of Pinehurst, you'll find the development's main gate and guardhouse on Woodtrace Boulevard off Highway 249. The Woodtrace community lies entirely within Montgomery County, with residents here zoned to schools in Tomball ISD.
Real estate in Woodtrace includes a mix of existing homes and ready-to-build lots across several neighborhood sections. The typical single-family property here ranges in size from 2,300 to 4,600 square feet, and homesites average around a quarter of an acre. Woodtrace home prices generally run from the $400s to the $800s.
One of the community's main attractions is the Woodtrace Recreation Center, adjacent to the 23-acre spring-fed lake just inside the main entrance. Amenities include a clubhouse and event space, a resort-style lap pool, and a nearby fishing pier and canoe dock. Woodtrace residents also enjoy the signature park running through the heavily-wooded center of the community, where plenty of play space and dog-friendly pathways meander throughout the area's hundreds of native trees.
Woodtrace Amenities
Woodtrace Recreation Center
Resort-Style Swimming Pool
Community Clubhouse and Kitchen
Wooded Parks and Playgrounds
23-Acre Spring-Fed Lake
Hiking and Biking Trails
Gated Communities in Woodforest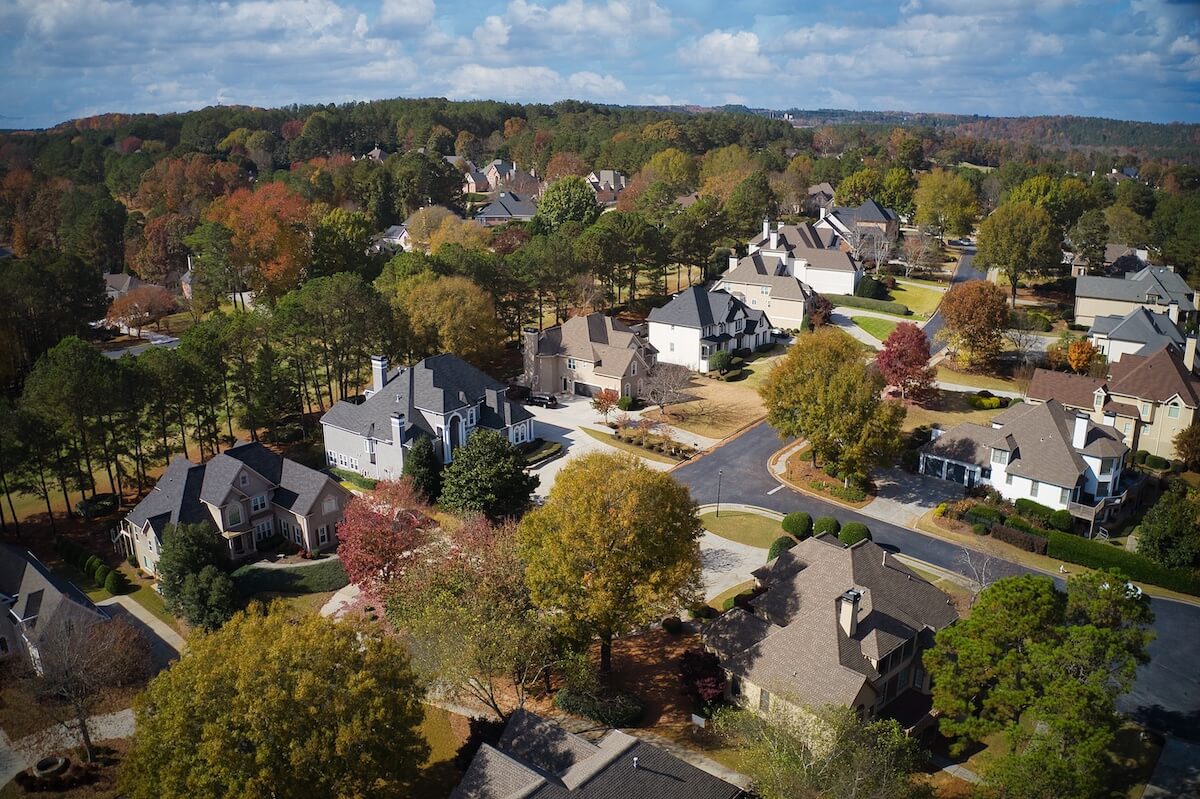 Opened in 2009, Woodforest is a popular mixed-use development and golf course community located between Montgomery and The Woodlands. Among the many cozy neighborhoods found throughout Woodforest are several gated community sections, including Pine Island, Eagle Pointe, and Elk Reserve.
Buyers interested in exploring Woodforest's gated community of Pine Island will find the main gate and guardhouse on Pine Isle Boulevard, west of Fish Creek Thoroughfare. Set among this heavily-wooded section of the development is a mix of golf course properties from $2 million and up, as well as homes on interior lots priced at more than a million.
About a half-mile east of Pine Island, along Elk Trace Parkway, you'll find the main entrance to the gated community of Eagle Pointe, featuring fewer than 25 golf course estates and lake-view properties tucked into the heavily-wooded Fish Creek nature area. Homes on interior lots here are generally priced from a million, while golf course and lake-side properties list from $2 million or more.
Behind the Eagle Pointe gate on the east side of the road is the secluded enclave of Elk Reserve. Boasting 24 luxury homes surrounding two private lakes and water fountains, the estate-sized properties in Elk Reserve are typically valued between $1 and $2 million.
Woodforest's gated community residents enjoy several membership options to the development's world-class private club and golf course. Members can tee it up on Woodforest Golf Club's 27-hole Steve Elkington-designed layout, challenging players of every skill level with tree-lined fairways, well-placed bunkers, and strategically located water hazards. The club also offers state-of-the-art practice and training facilities, as well as dining options that include the Woodforest Grille and al fresco refreshments at The Treehouse. Gated community residents also enjoy access to all other amenities and attractions available throughout Woodforest.
Woodforest Amenities
The Palm Amenity and Event Center
Forest Island Water Park Complex
Multiple Parks and Playgrounds
Private Community Lakes
Tennis, Pickleball, and Basketball Courts
Admiral Bark Off-Leash Dog Park
Woodforest Private Golf Club
27-Hole Steve Elkington-Designed Course
Silverstone
The gated community of Silverstone is located in the southwest corner of the city of Conroe, between Loop 336 and Sgt Ed Holcomb Boulevard. Beyond the main entrance at Silverstone Way are around 150 single-family homes on lots as large as an acre, positioned around a large private lake and wide-open neighborhood green space.
Most of the properties here feature expansive fenced backyards with ample room for amenities like private pools, sports courts, and outdoor kitchens. Luxury homes with layouts of 7,000 square feet or more are typical, with listings in Silverstone usually ranging from the $600s to more than a million.
Silverstone homeowners enjoy an ideal mix of country lifestyle and big-city conveniences. The sizeable wooded neighborhood and spacious homesites provide residents with a certain rural appeal while within close proximity to more urban destinations and attractions. Conroe offers plenty of dining, shopping, and entertainment options, and The Woodlands is just minutes away down Interstate 45.
Silverstone Amenities
Community Lake and Water Features
Parks and Green Space
Paved Walking Trails
Conroe ISD Schools
Discover The Woodlands' Hidden Gems
These gated communities near The Woodlands, TX, offer enviable opportunities for the discerning homebuyer. From lakeside living to golf course views to opportunities for fully custom builds, buyers can discover some of the best real estate in the area tucked away in these private enclaves. If you're ready to buy a home near The Woodlands, prepare to explore some of the most desirable hidden gems on the local real estate market—these communities will have all you ask for and more.
Ready to find your dream Woodlands home? Reach out to The RealFX Group at (512) 956-7390 to contact an experienced local real estate agent and discover your new Woodlands home today.