5 Best Girls' Getaways Near Houston
Posted by Texas Real Estate Source on Wednesday, March 16, 2022 at 11:02 AM
By Texas Real Estate Source / March 16, 2022
Comment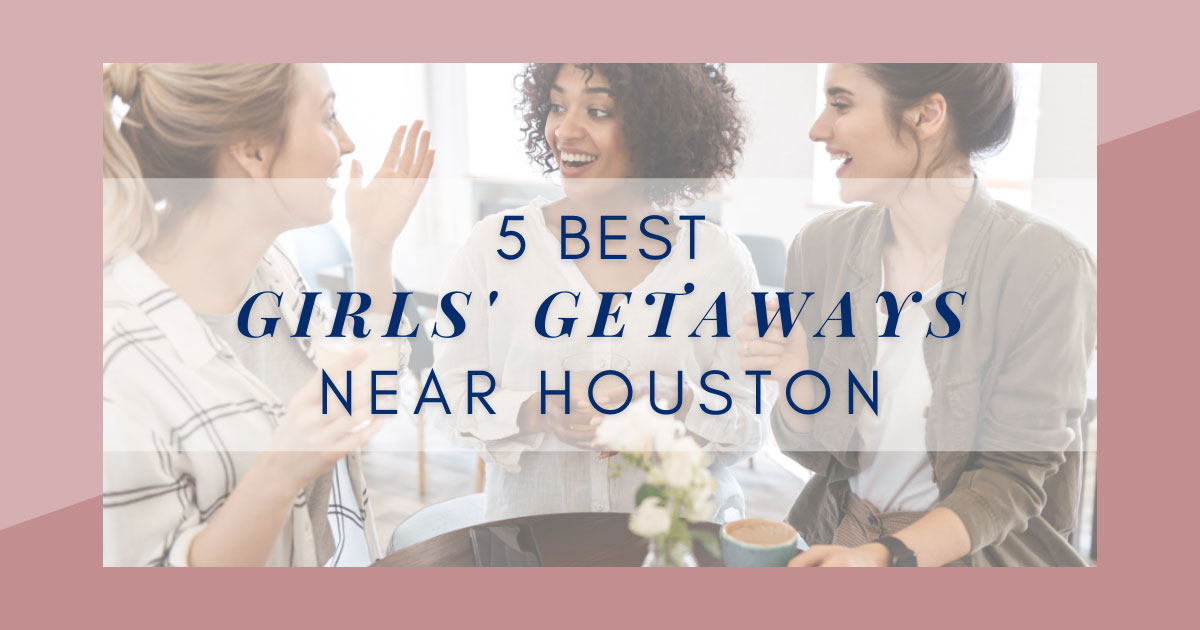 There are days when escaping the daily routine with your best friends sounds like true bliss. But figuring out where to go for a girls' trip can be a bit tricky. A well-planned weekend must include delicious food, outdoor fun, retail therapy, and entertaining nightlife. But most of all, a girl's trip must have plenty of time to curl up someplace comfy and chat, relax, and catch up—all within a short drive from home. Not surprisingly, Texas offers an endless supply of unique and memorable locations for the ideal girl's weekend getaway. Those living in Houston should take note of the following best girls' getaways near Houston when getting ready to book their trip.
Austin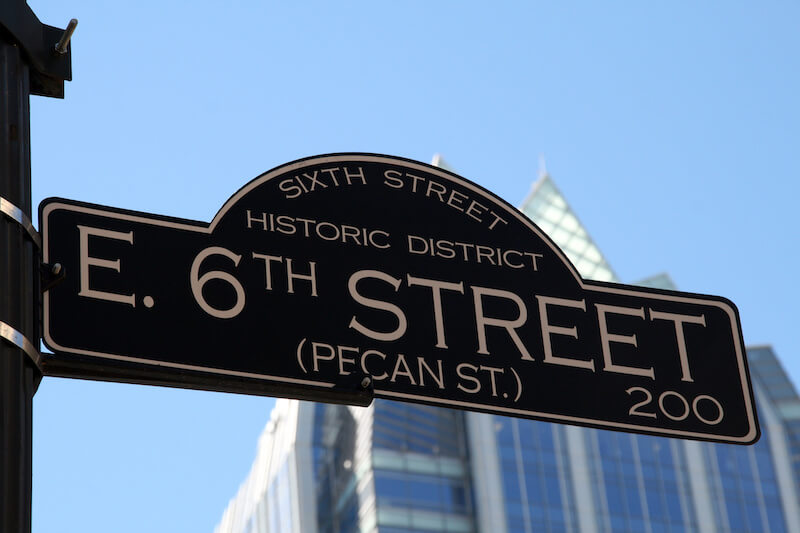 The city of Austin is a 2.5-hour drive roughly 162 miles from the city of Houston. The fastest route is IH-10W, then take Highway 71 W through the rolling hills and pine forests into Austin.
With mild winters and picture-perfect summers, Texas' capital city is high on the list for a girl's weekend getaway. Austin is an eclectic mix of traditional and unique, combining music, art, outdoor adventure, and trendy food truck cuisine. Austin even has its own "bat cave" for comic fans to get excited over—or for nature lovers to enjoy the sight of the clouds of bats taking flight each summer evening. For those inspired by nature, the area's seven lakes feed countless creeks and swimming holes, and the Hill Country is home to breathtaking views and unforgettable sunsets.
Paddleboard on Lady Bird Lake
Lady Bird Lake is a river-like reservoir segment of the Colorado River that dominates downtown Austin. Known to locals as the iconic Town Lake, the park offers endless options for outdoor fun. With views of the Austin skyline and bordered by Zilker Park and Auditorium Shores, the glass-like lake is an excellent place to rent a paddleboard for a day on the water.
Take Pictures at The Museum of Ice Cream
The Museum of Ice Cream works to unite and inspire the world. And yes, there is ice cream. Tickets are required for entry, and prices range from $39 to $45 per person, but visitors can stay as long as they want in a totally immersive atmosphere. MOIC, as the locals call it, is a creative sensory overload with flavors such as "strawbella" and "strawberry margarita" — it's a great place to meet and memorialize a trip to Austin.
Find Nightlife on Sixth Street
Sixth Street is iconically Austin. Referred to by locals as Pecan Street, Sixth Street is a historic street and entertainment district in Austin's urban core. Split between East and West, Sixth Street is roughly six blocks of bars, restaurants, hotels, and a music vibe found nowhere else in the world. Music spills from local bars such as Maggie Mae's, while The Iron Cactus serves margaritas with rooftop views of the nightlife below. Dinner and a show at the Velveeta Room comedy club or Esther's Follies are great ways to experience the authentic Sixth Street.
San Antonio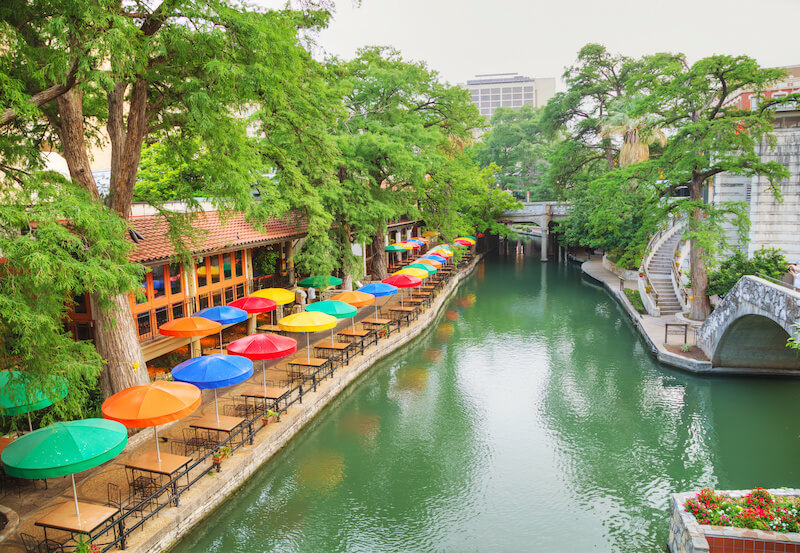 San Antonio is an old-world city steeped in history and culture and a great weekend getaway. Getting to the city of San Antonio is easy. Take IH-10 W for about three hours or 197 miles. It may not be one of the most scenic drives from Houston, but it goes by quickly, especially with the right tunes.
San Antonio is a foodie destination, but it is also home to iconic sites like the San Fernando De Bexar (pronounced 'bear') Cathedral, one of the oldest cathedrals in the United States, and the historic Alamo—site of the famed 1836 battle. Dozens of museums like the San Antonio Art Museum guarantee something for everyone.
Stay at a Hotel With A Rooftop Pool
Downtown "San Antone" is a curious combination of old and modern. The Riverwalk is 15 miles of art, entertainment, and delicious cuisine. Peppering the area are boutique hotels with rooftop restaurants and heated rooftop swimming pools like the Mokara Hotel & Spa, a local favorite with European-style luxury, and the iconic Grand Hyatt San Antonio Hotel.
Dine on the Riverwalk
The Riverwalk offers waterside dining amid old Spanish architecture. After rooftop cocktails, plan dinner at one of the dozens of restaurants that line the San Antonio River. Perfect places for a group when cuisine choices range from Brazilian beef at Fogo de Chao to Texas BBQ at the County Line or a local favorite, Mad Dogs British Pub, for fish and chips.
Finding Food and Fun in the Pearl District
A short taxi ride from the Riverwalk and north of downtown San Antonio sits a unique space combining retail, dining, outdoor music, and the Paseos riverside amphitheater. The Pearl District sits in the old 1883 Pearl Beer brewery and is now an excellent place for lunch and a bit of retail therapy.
Bryan/College Station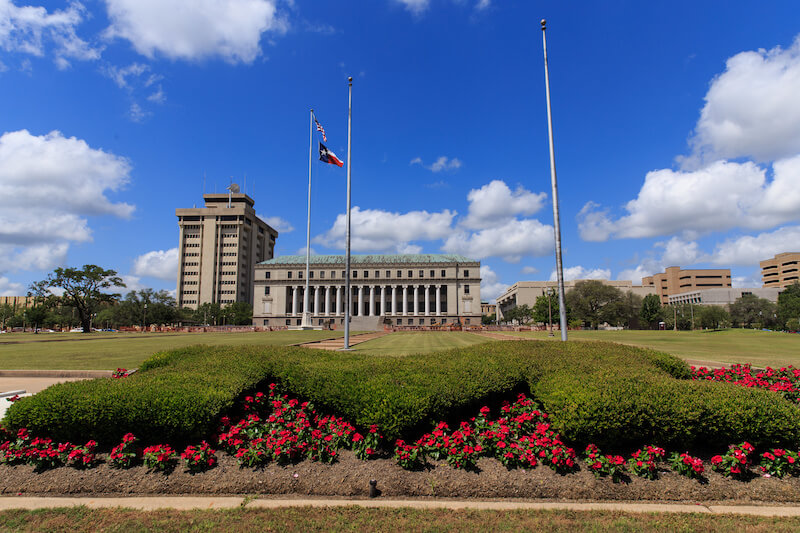 The drive to the Bryan/College Station Metroplex from Houston is 95 miles—roughly 1.5 hours. The most direct route follows I45 N to Tomball Parkway (TX-249 N), then Hwy 6 N to State Hwy 6 S, which morphs into Texas Ave S in College Station. To reach Bryan, continue on Texas Ave S a few more miles to the heart of the city. While considered one big metroplex, both towns have unique histories. College Station was founded around Texas A & M University, while Bryan started as a railroad town.
Catch an Aggies Sports Game
While in College Station, it is only fitting to grab tickets to one of A&M's 15 sports teams, including women's basketball or an equestrian show at the Hildebrand Equine Complex. Whether or not anyone in the group is an Aggie, it's fun to holler for the home team!
Explore Downtown Bryan
Bryan is a unique collaboration of culture and entertainment. Designated the Texas Cultural Arts District, this five-block walkable area is home to over 40 locally-owned galleries and shops. While in the heart of the town, stop off at Murphy's Law for a pint, or Vino Boheme Wine bar for appetizers, before choosing one of 20+ restaurants in Downtown Bryan for dinner. With everything accessible, everyone can pick a favorite for a restaurant crawl.
Luxuriate at Messina Hof Winery
Messina Hof Winery is an excellent gals' adventure. The family-owned winery is the 4th largest Texas winery, restaurant, and hotel, and it offers public tours every Saturday and Sunday. Visit the Tasting Room to learn about food pairing while sampling any of the dozens of varietals. Stay for dinner at The Vintage House Restaurant or the night at The Villa B&B.
New Braunfels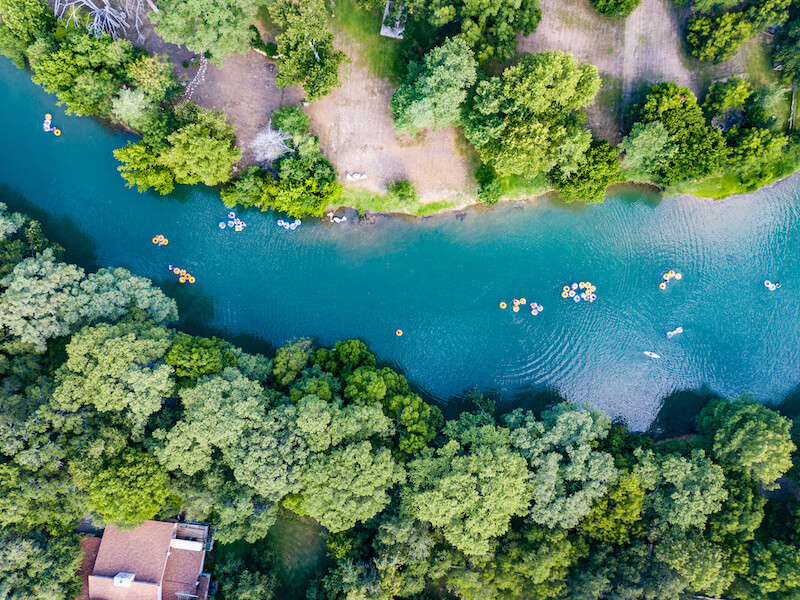 In the heart of the Texas Hill Country, New Braunfels sits between San Antonio and Austin. German settlers settled the area in 1845. Steeped in history and home to Germanic and Romanesque-style architecture, New Braunfels is a peaceful town full of shops, and wineries and surrounded by natural beauty such as the limestone Natural Bridge Caverns.
New Braunfels is an easy 2.5 hour or 175-mile drive from Houston via the interstate. Follow I-10 W to Seguin. Then take Exit 607. Turn left onto TX-46 N towards S Seguin Ave and into New Braunfels.
Unwind at The Best Spas in Town
Welcome to a girl's day of pampering. New Braunfels is home to several day spas where group reservations are welcome. Try the peaceful Evelyn Kate Day Spa in the city's heart or a quiet moment at Gruene Day Spa for a rejuvenating massage, body, or aromatherapy treatment.
Float the Comal River
Tubing is a Texas tradition. Part of the Edwards Aquifer, the Comal is a 2.5 mile long spring-fed river with a year-round water temperature of 72 degrees. And floating down the Comal River in New Braunfels, dozing and laughing with the besties, is a memorable way to spend the day.
Visit a True Honky Tonk
Music and friendship go hand in hand. Visit the oldest dance hall in Texas, Gruene Hall, for an evening of celebration and fun. This 1878 tin-roofed honky-tonk offers 6,000 square feet of authentic country and western charm with an outdoor garden for a bit of fresh air. Gruene Hall's stage has hosted country music legends and continues the tradition with local artists nightly.
BlissWood Bed & Breakfast Ranch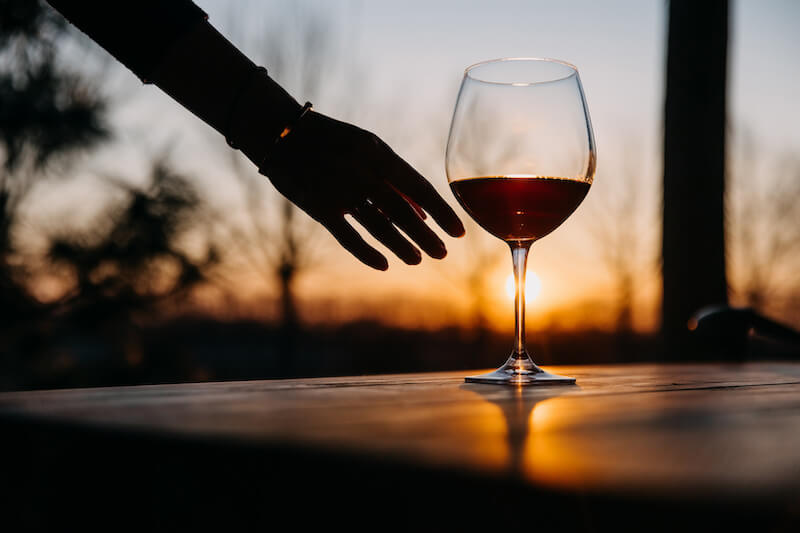 Slow down and relax. Just outside of Houston is the Blisswood Bed & Breakfast Ranch. Finding BlissWood B&B is easy; it's a short 65-mile drive. Follow I-10 W to San Felipe. Just past Brookshire, stay on US-90 W and FM1094 W to Frantz Rd in Cat Spring.
This 350-acre Texas ranch offers peaceful woods, flower-filled meadows, and babbling brooks in secluded Cat Spring, Texas. Wake up to songbirds, take a leisurely walk, or enjoy a glass of wine on the front porch at sunset.
Indulge in the Girls Getaway Package
True bliss comes in small packages. BlissWood B&B Ranch understands the need for girls to escape the daily routine and is the perfect setting for a weekend trip with the best gal pals. Special packages offer chocolate-dipped strawberries, picnics, massages, and even champagne to complement hours of girl chat.
Enjoy a Private House
Stay up all night. It is easy to fit everyone into a charming private two-story house. Or choose a cozy cabin for an authentic Texas ranch feeling, including open fireplaces where friends can relax together, sip champagne, and laugh about the day.
Giddy Up on a Guide Horse Ride
Beautiful Cat Spring, Texas, offers a memorable getaway destination. After a refreshing sleep, grab the girls for an hour-long guided horseback ride taking in the pinewood and shrub oak trees, beautiful meadows, and creeks.
Make a Lifetime of Memories on a Fantastic Getaway
Friendship is a gift to treasure and nourish. And every so often, it's fun to gather our best friends, find unique getaways and make new memories. Texas is the perfect escape, with plenty of things to see and do on a perfect girls' getaway.