6 Best Romantic Getaways for Couples Near Houston
Posted by Texas Real Estate Source on Wednesday, August 24, 2022 at 8:52 AM
By Texas Real Estate Source / August 24, 2022
Comment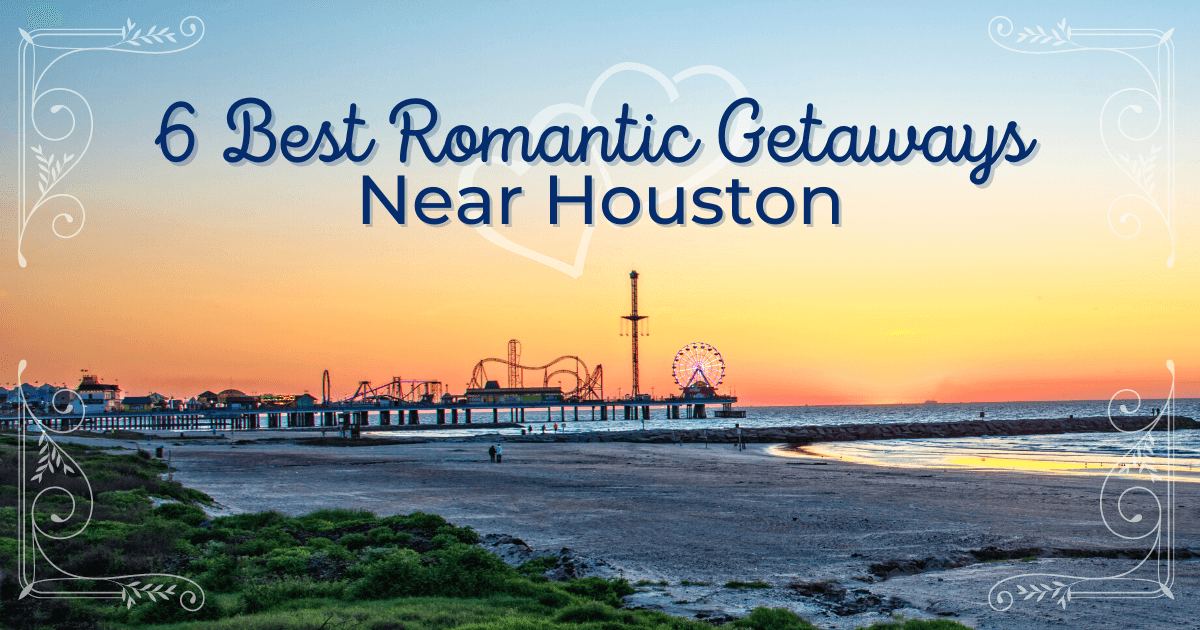 Romantic getaways are a great way for couples to spend time together and connect. Many great destinations are available for couples within a few hours of the city of Houston, making them excellent options for last-minute excursions. The best romantic getaways near Houston offer everything from outdoor adventures to great meals and can be found in both big cities and small towns.
BlissWood Bed & Breakfast Ranch
Located west of Houston, BlissWood is a massive 350-acre ranch where couples can enjoy various outdoor activities. The best way to get there from Houston is to take IH-10 W to Sealy and then head northwest. The drive will typically take about one and a half hours.
Visitors can enjoy horseback riding through the meadows or fishing in the regularly stocked lakes. The gazebos in the area make great places for picnics, and the ranch is especially beautiful in spring when the Bluebonnets are in bloom.
Romantic Place to Stay: BlissWood Cabins
BlissWood offers a variety of different housing options for visitors. Among the best and most romantic choices are the cabins, which feature rustic wooden decor in a cozy setting. Many also feature amenities such as hot tubs. Best of all, these secluded cabins offer plenty of privacy for romantic getaways.
Romantic Place to Eat: Picnic by the Lake
The gorgeous views at BlissWood frequently inspire visitors to enjoy picnics. Luckily, picnic packages are available that feature sandwiches, snacks, and drinks in a basket perfect for taking out to one of the several lakes in the area. There is also a package available that offers a horseback ride to a picnic spot.
Romantic Thing to Do: Ride Off Into the Sunset
For couples seeking a romantic weekend getaway at Blisswood, the Ride Off Into the Sunset package has everything needed. Couples will be greeted with flowers, cheese and crackers, champagne, and a bed adorned with silk rose petals. The package also includes a horseback ride, picnic, and meals for the rest of the trip.
Dallas
The city of Dallas is another of the largest cities in the United States, and it has plenty to offer couples looking for a good time. The drive is relatively straightforward; drivers just need to travel on IH-45 N all the way to Dallas. Once there, visitors can enjoy Dallas's unique arts scene, vibrant nightlife, and the greater DFW metroplex. One particularly interesting area of the city is Deep Ellum—it's a great place to enjoy shopping, restaurants, art, and live music.
Romantic Place to Stay: Hotel ZaZa
One of the most luxurious hotels in Dallas is Hotel ZaZa. This uptown hotel is known for its many concept suites, such as the noir-themed Raven Suite. Many of these suites come with amenities such as Jacuzzis and are perfect for thematic romantic getaways. Couples can enjoy one of Hotel ZaZa's bungalow offerings for more privacy.
Romantic Place to Eat: rise
Fans of French cuisine might fall in love with rise. Appropriately located on Lover's Lane in Dallas, rise is an upscale eatery inspired by French culture. This restaurant is best known for its sweet soufflés, but it also offers a full three-course menu.
Romantic Thing to Do: Enjoy the View from Reunion Tower
The most iconic building in downtown Dallas is Reunion Tower. The observation deck is 470 feet tall and offers a 360-degree view of the Dallas downtown skyline. The tower provides packages including wine and VIP access to the deck for a great romantic evening.
Austin
The city of Austin has a thriving nightlife and is a hub for events of all kinds. Getting there from Houston takes a little under three hours on US-290 W. In Austin, couples can enjoy beautiful scenery at spots like Lady Bird Lake and Lake Travis, or explore the numerous independent shops and restaurants. Afterward, visitors can visit one of the several famous bars of Austin and enjoy live music at one of its busy venues.
Romantic Place to Stay: Hotel Ella
This Greek-styled hotel has been standing since 1900 and offers a mix of historic luxury and modern amenities. Hotel Ella features a cabana-line pool and frequently has live music on its lawn.
Romantic Place to Eat: Uchi
Uchi is a unique restaurant focused on Japanese fusion cuisine designed by Executive Chef Tyson Cole. All kinds of flavors are available here, from pumpkin tempura to foie gras sashimi. This is one of the premier places to eat in the country for lovers of sushi.
Romantic Thing to Do: Watch the Sunset at Mount Bonnell
One of the best vantage points to survey Austin is atop Mount Bonnel. After a short hike, couples can enjoy the amazing view of the city at sunset. There are also shaded areas at the top for a picnic.
Brenham
The big cities of Texas can be a lot of fun, but the smaller towns across Texas also have quite a bit of charm. Brenham is nestled deep in the heart of the Texas Hill Country, just over an hour outside of Houston. Located in historic Washington County, Brenham is a great choice for couples who enjoy Texas's culture, history, and natural beauty. Visitors can enjoy museums detailing the history of the Texas War of Independence, walk along the charming old-style shopping avenues, or picnic in the meadows in the company of Bluebonnets.
Romantic Place to Stay: Lillian Farms
This Victorian-style bed & breakfast sits on a large estate on a hill overlooking woods and meadows. Couples can stay in the main building and enjoy a full breakfast. Or, for a more cozy experience, they can stay at one of the cottages further into the woods.
Romantic Place to Eat: 96 West
This Brenham restaurant offers traditional southern dishes with a luxurious twist. 96 West's emphasis is on fresh farm-to-table ingredients, all carefully prepared. Couples may enjoy the tapas-style starters and the full wine bar for a meal to remember.
Romantic Thing to Do: Visit the Antique Rose Emporium
The Antique Rose Emporium is one of the best places in the state to view beautiful flowers. Featuring a stunning array of flowers, the gardens of this location make an excellent choice for a romantic walk. Visitors can even purchase roses to create the perfect bouquet from the collection.
Galveston Island
Galveston is one of the biggest and busiest beach towns in Texas. The miles of beach in the area make it an excellent choice for waterfront fun. Luckily, the city of Galveston is just a one-hour drive from Houston on IH-45. In Galveston, couples can enjoy the plentiful beaches, eat at the many coastal restaurants, and enjoy the nightlife. One great activity is to drive along the seawall and enjoy the atmosphere of the coast.
Romantic Place to Stay: San Luis Resort
The hotel at San Luis Resort has fantastic views of the water from its suites. Guests can also enjoy the pools and cabanas at the complex. Couples can indulge in spa services such as massage and exfoliation, followed by shopping and dining at shops and restaurants.
Romantic Place to Eat: Rudy and Paco
Rudy and Paco is a great place to enjoy South American seafood, steak, and a drink from the full bar. Sitting on the patio by the bay during warm months is a great experience for couples.
Romantic Thing to Do: Morning Yoga on the Beach
The beach is central to many fun activities in Galveston, including yoga classes. Couples can enjoy an hour of stretching and mindfulness while taking in the views. Afterward, there are also classes on stand-up paddleboarding.
Messina Hof Estate Vineyard, Resort, and Winery
The Texas Hill Country is known for its wineries, but it's not the only part of the state that's home to wine. One of the most famous wineries in the state is the Messina Hof Winery in the city of Bryan. The estate also doubles as a bed-and-breakfast, making it an excellent choice for a romantic excursion. Guests can enjoy tasting and touring the winery with all of their accommodation needs taken care of on-site.
Romantic Place to Stay: Messina Hof Villa Bed and Breakfast
The winery offers villa-style rooms and themed luxury suites to its guests. A romantic package is available that includes wine, cheese, rose petals, and a winery tour for two.
Romantic Place to Eat: Messina Hof Table
The Vintage House Restaurant at Messin Hof Bryan offers visitors luxurious dishes such as duck and steak. The restaurant focuses on food that pairs perfectly with the wine from the winery.
Romantic Thing to Do: Visit the Tasting Room
After a long day of touring the vineyards, the Tasting Room is a great place to cap off the day. Couples can enjoy various glasses of wine and small plates and purchase a bottle or two to enjoy on future adventures together.
Love and Adventure Near the Big City
The great variety of fun and romantic locales makes exploring Texas outside of Houston a great experience. Fun and romance for adventurous couples who move to Houston are readily available in all directions, from finding the perfect place to camp near Houston to explore the outdoors to enjoying an elegantly luxurious couples' retreat. The only hard part is picking between all of these fantastic destinations!