Best Lakes Near Dallas: Where to Buy a Dallas Lake House
Posted by Texas Real Estate Source on Tuesday, December 6, 2022 at 3:19:17 PM
By Texas Real Estate Source / December 6, 2022
Comment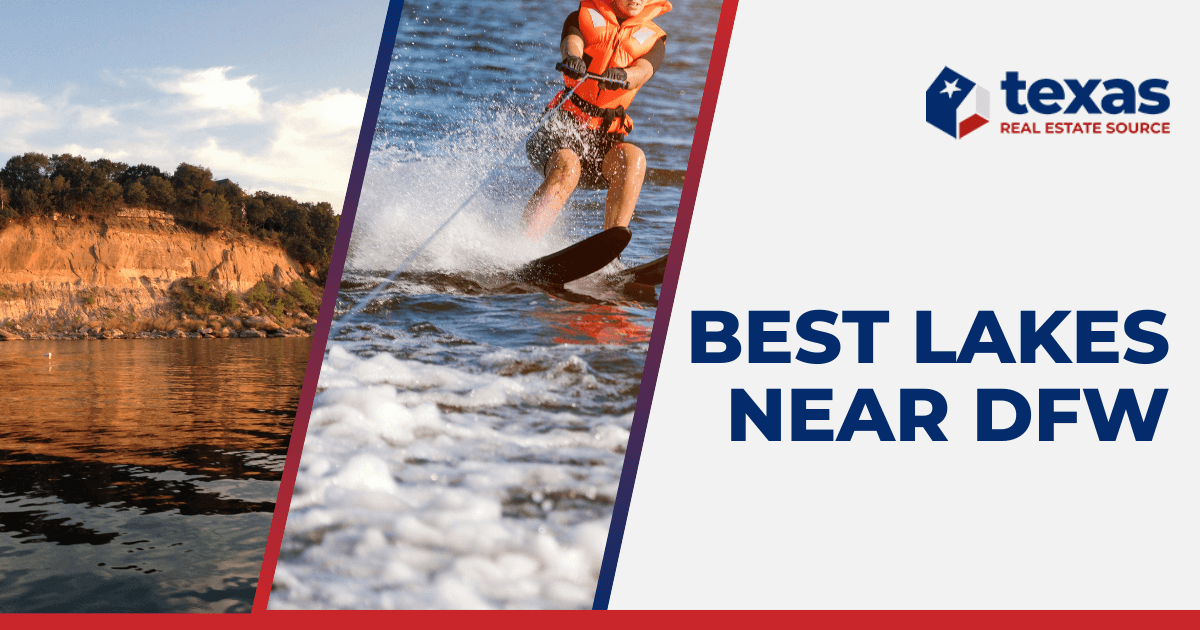 A Texas lake home is a dream for many homebuyers. If you've ever considered lakeside living, finding the right community to fit your lifestyle is important.
Whether you're interested in fishing, swimming, boating, or just enjoying the views, these lake communities near Dallas have something for everyone. Choosing a waterfront home in Dallas gives you access to recreation and relaxation that you simply can't get living anywhere else.
Lake Ray Hubbard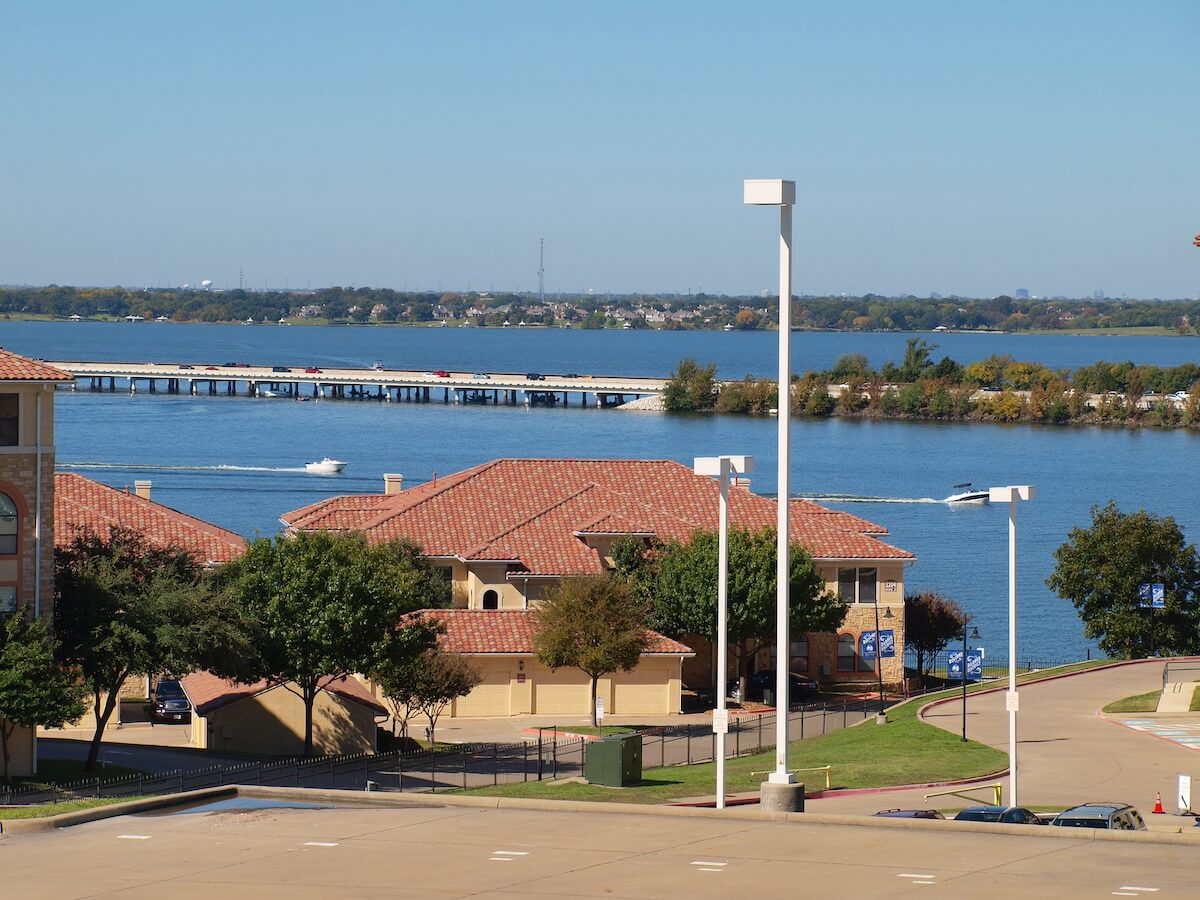 Lake Ray Hubbard is a pristine lake reservoir managed by Dallas Water Utilities. As the closest large lake to the city of Dallas, it's only about 30 miles east-northeast of downtown. The commute into downtown is around 20 to 30 minutes on Interstate 30, depending on which side of the lake you're traveling from.
There are several communities with lakefront property available. Whether you're looking for a condo, established home, or lot to build on, each of the towns has properties available for future lake residents.
Waterfront homes in Rowlett are located along the west shore and can range anywhere from the $300s to over $1 million. Several condo communities have fantastic views of the lake, and 2-bedroom condos typically start in the $300s.
On the east side of Lake Ray Hubbard are the cities of Rockwall and Heath, where you can find luxury homes on the lake that range from $1 million to $5 million and up. Lakeside neighborhoods in Rockwall feature secluded homes on large gated lots that back up to the lake.
Homes for sale in Wylie are northwest of the lake, and houses near the water typically start listing in the $400s. Notably, Wylie residents can also live on the shores of Lake Lavon, a Corps of Engineers lake.
Residents living around Lake Ray Hubbard have access to multiple parks and marinas. The maximum depth of the lake is 40 feet, allowing for a thriving freshwater fish population and diverse boating opportunities.
Lakeside Park, Pecan Grove Park, Terry Park, and John Paul Jones Park are popular destinations for Lake Ray Hubbard residents as well as visitors. Search Lake Ray Hubbard homes for sale now!
Lake Ray Hubbard Information
Motorized watercraft allowed
Boat houses permitted
Docks allowed in some parts of the lake
Boat rentals
Fishing guides
Lake Lewisville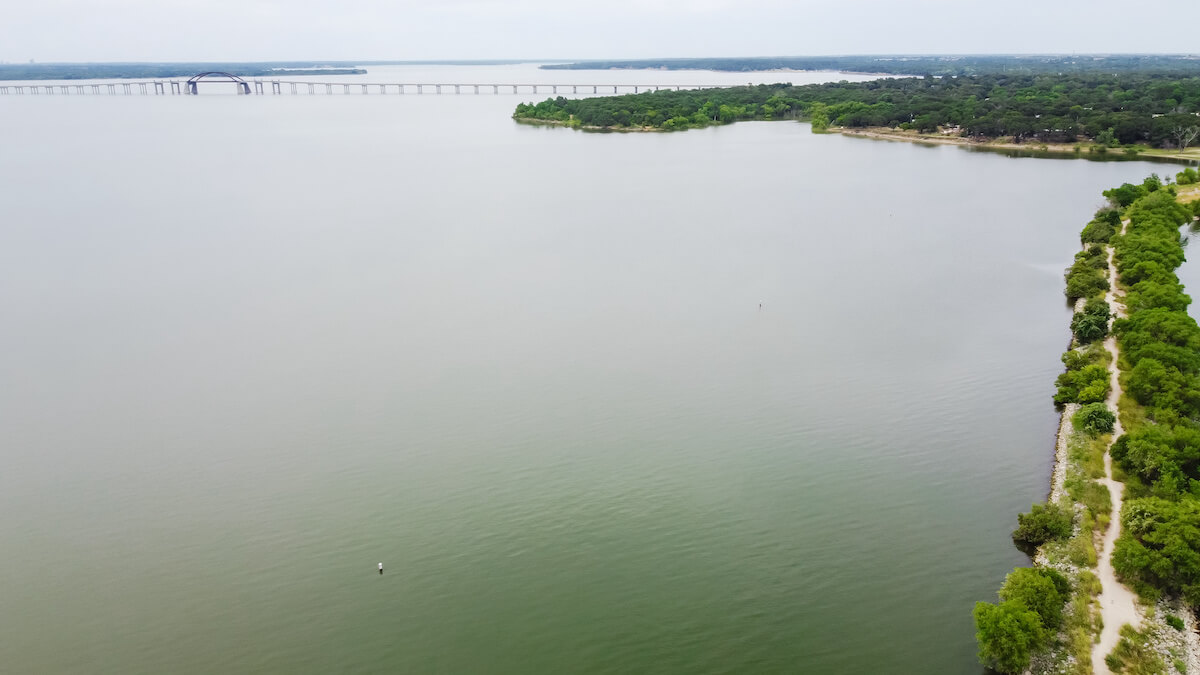 Lake Lewisville is a large lake almost directly north of DFW International Airport. The lake is about 35 to 40 miles from downtown Dallas, situated between the city of Frisco and the city of Denton.
Lake Lewisville covers over 29,000 acres, and with so many smaller inlets and branches, it boasts over 200 miles of shoreline. There are several neighborhoods on Lake Lewisville with available lakefront properties.
The homes on Lake Lewisville have addresses in Frisco, Denton, and the city of Little Elm, which also boasts the Lakefront at Little Elm entertainment district and public swim beach. Waterfront homes on Lake Lewisville are highly valued, with the median listing price sitting at slightly over $1 million.
When it comes to recreational activities, Lake Lewisville has something for everyone. The lake is a popular destination for boating, fishing, swimming, tubing, skiing, and wakeboarding.
Many of the lakefront communities on Lake Lewisville sit next to parks, golf courses, and green spaces that maintain much of the natural beauty of the lake. Several parks offer hiking and biking trails, picnicking areas, and playgrounds.
Lake Lewisville has several beaches where residents can enjoy a swim. There are also many different species of fish in the lake, and fishing tournaments are held often. Party Cove is a lively and popular spot for fun on the lake.
Since Lake Lewisville is owned by the Army Corp of Engineers, new construction of boathouses is not allowed, but you can buy a home with an existing boathouse if it has an active permit. However, there are plenty of options for getting out on the lake—Lake Lewisville has six marinas available for boat owners, along with plenty of boat and jet ski rental options.
Lake Lewisville Information
Motorized watercraft allowed
New construction of boat houses not permitted
Beach access
Fishing
Parks and recreation
Golf courses
Eagle Mountain Lake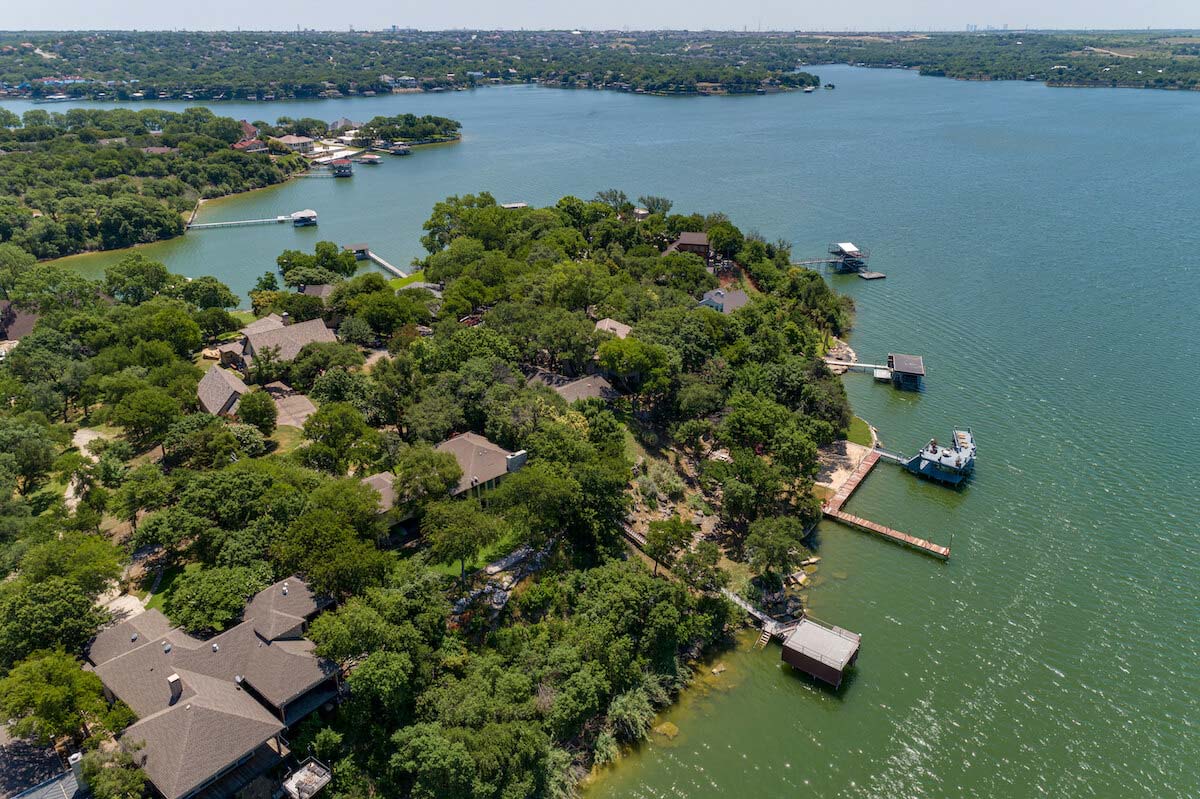 Eagle Mountain Lake is a reservoir in Tarrant County and a small portion of southern Wise County. It was developed in the 1930s by damming the Trinity River's West Fork.
The lake is located about 5 miles to the northwest of Fort Worth and is managed by the Tarrant County Regional Water District. At full capacity, it spans almost 8,700 acres.
Many waterfront homes for sale in Fort Worth are on Eagle Mountain Lake, and they're typically valued from the $500s to $2 million and up. These luxury lakefront homes come with all the extras, including piers, docks, and boathouses, in addition to high-end interiors.
Waterfront homes on Eagle Mountain Lake have addresses in Azle, Pelican Bay, and Briar. Other cities to search include Pecan Acres and Eagle Mountain.
Land is available to build on, and with several developments and builders, there are plenty of options for custom lake homes. The lake has numerous contractors available to build custom barriers and retaining walls, docks and piers, and erosion control.
Twin Points Park is an incredibly popular spot to enjoy the lake and features a swim beach, the lake's deepest boat ramp, barbecue pits, picnic pavilions, and beach volleyball.
And don't forget the social boating scene! Eagle Mountain Lake is the home base of the Fort Worth Boat Club, established in 1929 and still going strong with a packed calendar of sailing regattas and races.
Eagle Mountain Lake Information
New construction of docks, piers, retaining walls, etc. allowed with permits
Motorized watercraft allowed
Recreational activities—skiing, fishing, wakeboarding, etc.
Hiking trails
Beach access
Boat rentals
Fort Worth Boat Club
Lake Texoma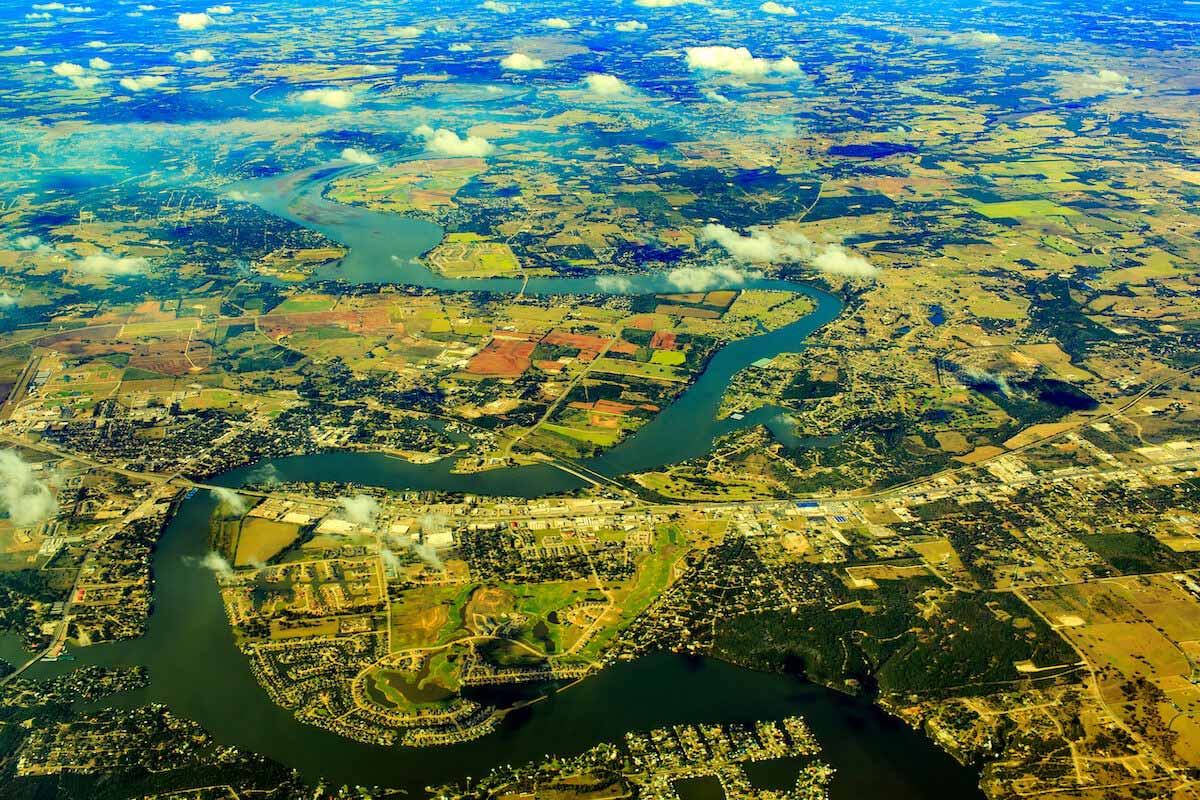 Sitting on the Texas-Oklahoma border and fed by the Red River, Lake Texoma is about an hour and a half north of the Dallas-Fort Worth metro. The lake is surrounded by several small towns on both the Texas and Oklahoma shores.
Since the lake is maintained by the Army Corps of Engineers, all structures built on the lake have to be approved. The Corps owns all of the property up to 30 feet from the shoreline. A Shoreline Management Plan is in place to protect some of the natural features of the lake's shorelines and waters.
This saves property owners from having to install retaining walls and barriers on lakefront property, and it's still entirely possible to buy a property with existing docks or acquire a dock permit.
If you're looking to buy a home on Lake Texoma, Sherwood Shores is a small unincorporated community of fewer than 1,200 residents with addresses in Gordonville. Acreage sites along the shores of Texoma are available, as well as single-family homes starting as low as the $200s, making this a great lake to start looking for affordable lake homes near Dallas.
The Preston and Cambridge communities also feature lakeside properties on Lake Texoma. The area has both established homes on the lake and lots available with plenty of natural native plants and trees. Median home prices on Lake Texoma are typically in the low $500s.
Lake Texoma Information
Lake Texoma State Park
Corps of Engineers lake; dock building restricted
Cabin, boat, RV space rentals available
Fishing guides
Marinas
Hiking
Lake Palestine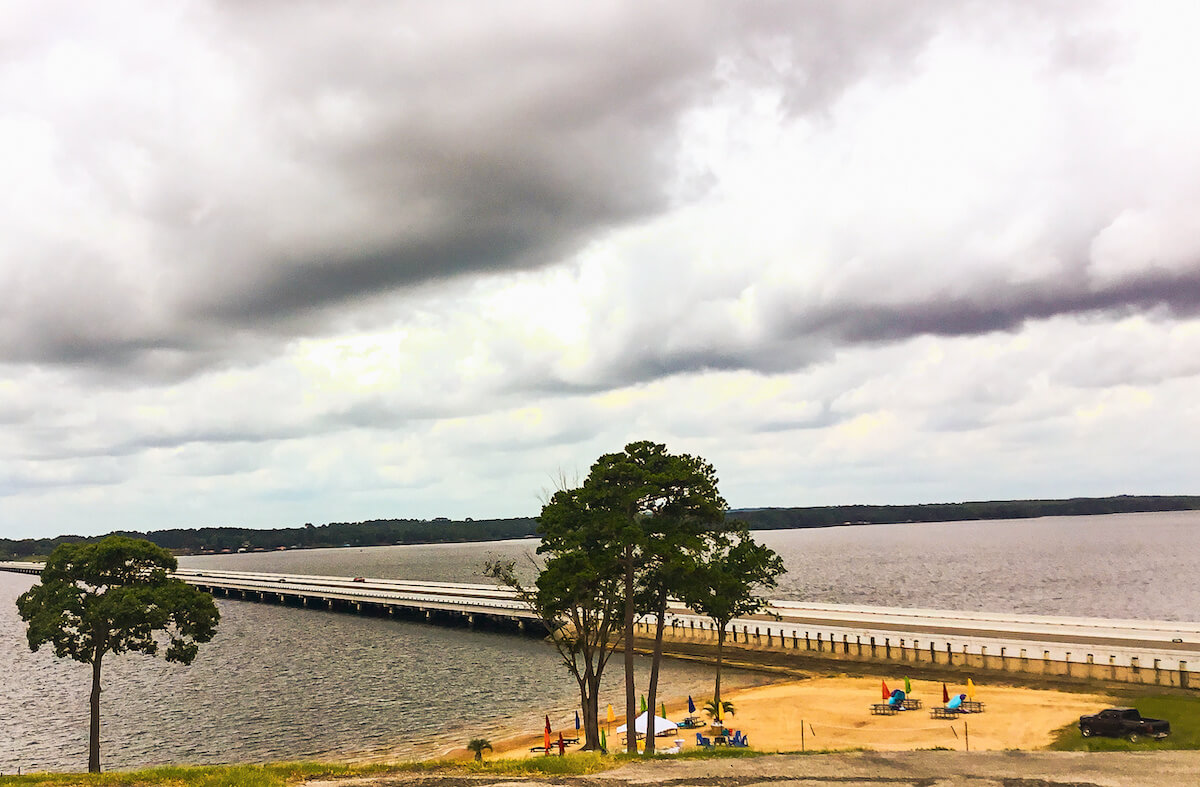 Lake Palestine formed as a result of damming Neches River about 15 miles to the southwest of homes in Tyler. The lake is 40 square miles that spread across Anderson, Cherokee, Henderson, and Smith Counties. It's maintained by the Upper Neches River Municipal Water Authority.
The lake itself is 18 miles long from north to south, providing more than enough space for boating and recreation. Fishing, water skiing, RVing and camping, canoeing, and hiking are just a few of the outdoor activities Lake Palestine is known for.
This recreational lake has multiple public boat ramps and beach areas. With at least 12 spots to access the lake, there's no shortage of places to launch and store boats. Several marinas can be found around the lake, and many have boat and jet ski rentals.
Waterfront lots for under $100,000 are available near the community of Shadybrook with addresses in the city of Bullard. As it's on the east shore, backyards in this area have a perfect view of sunsets on the lake.
Luxury lake homes on Lake Palestine with expansive lots can be found with addresses in the town of Frankston on the western shore. Homebuyers can sometimes find waterfront listings with 25+ acres for under $2 million! Empty lots in this price range can be even larger, often surpassing 50 acres.
Overall, residential property prices on Lake Palestine make this something of a hidden gem, with many waterfront homes listing from the $300s. Frankston and the town of Chandler typically have homes in this price range.
Lake Palestine Information
New construction of docks, piers, boathouses, etc. allowed with permits
Public boat ramps
Beach access
Boat and jet ski rentals
Several marinas
Recreational activities including fishing, camping, canoeing, hiking, etc.
Possum Kingdom Lake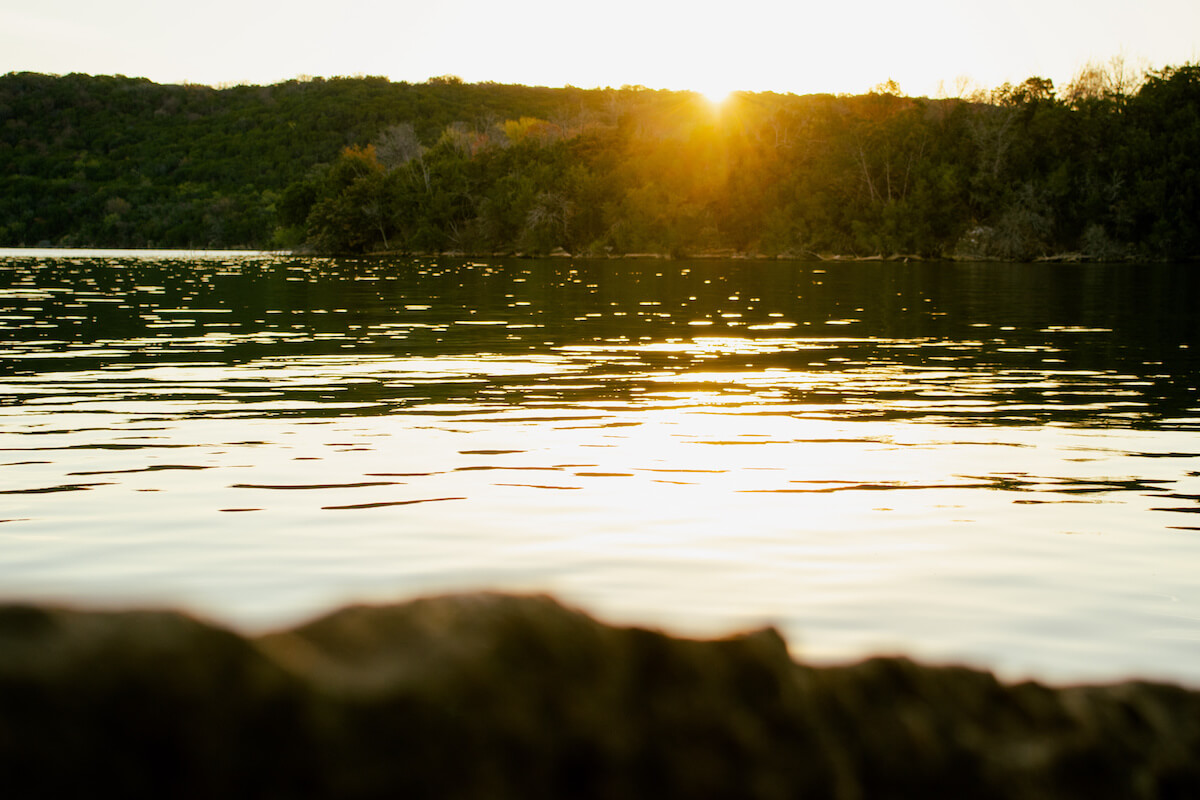 Possum Kingdom Lake is a popular vacation destination on the Brazos River in Palo Pinto County. The 17,000-acre lake has over 300 miles of shoreline along with Possum Kingdom State Park, which covers over 1,500 acres.
Possum Kingdom is a rural escape from the city. The lake is about 90 miles northeast of Abilene and just over 90 miles west of the city of Fort Worth.
There are many different types of homes available on Possum Kingdom Lake. You can find anything from small cabins under $200,000 to large multi-million dollar estates reaching home values in the double-digit millions.
Plenty of lots surround the lake in new developments. In addition, homebuyers can find undeveloped ranch land, with properties of over 50 to 60 acres and more.
There are also numerous luxury condos and townhomes in different parts of the lake. Many condos have balconies overlooking the water and feature resort-style amenities, including exclusive access to spas, pools, sports courts, and so much more.
Several marinas are located around Possum Kingdom Lake and provide boat storage and rentals, as well. The southeast corner of the lake has a kayak launch that is open to the public and offers access to the Brazos River.
Possum Kingdom Lake Information
Luxury condo communities with resort-style amenities
New construction of docks, piers, or other structures allowed with permit
Marinas and boat storage
Boat ramps
Possum Kingdom State Park
Lakeside parks
Lake Granbury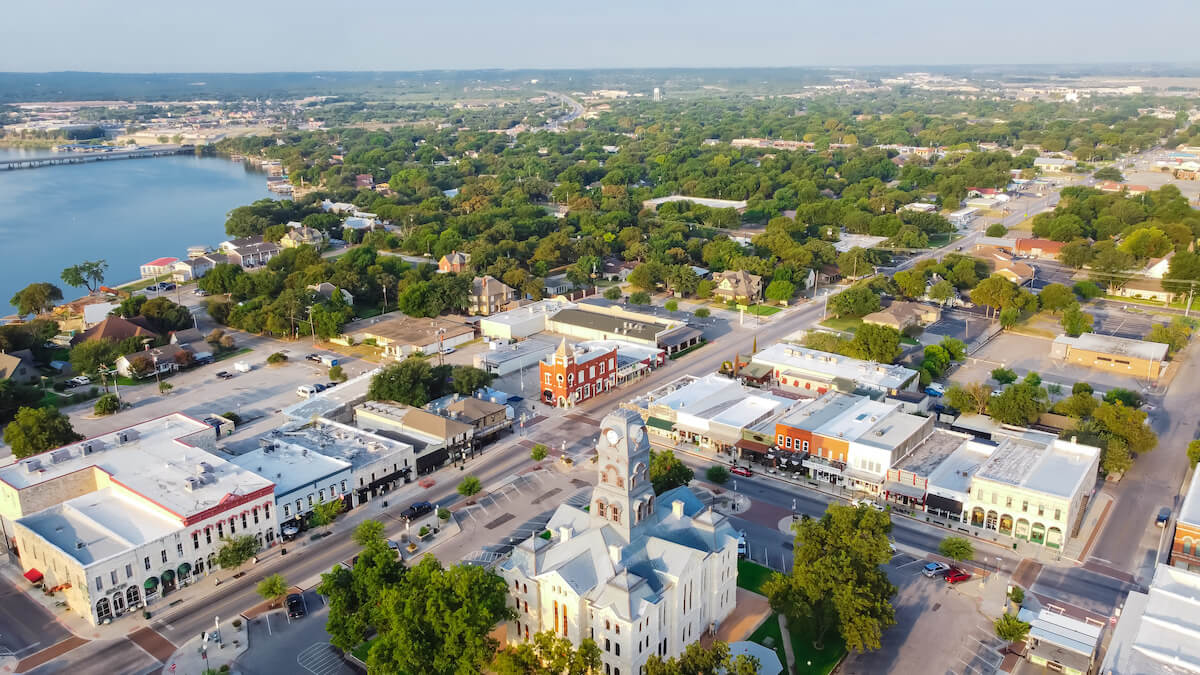 Lake Granbury sits on the Brazos River about 40 miles southwest of the center of Fort Worth traveling on US-377. It's also only about 60 miles from DFW International Airport. Lake Granbury was created from the construction of the De Cordova Dam and is managed by the Brazos River Authority.
The city of Granbury encompasses quite a bit of the lake, as the Brazos River runs right through town. The area offers several public boat ramps, camping, and plenty of outdoor recreational activities.
Communities in and around Granbury have lakefront properties that offer great views of the lake and its surroundings. Residents can enjoy kayaking, canoeing, and paddleboarding right from their backyard at many of the properties available.
The median home value of a lake house in Granbury is typically around $700,000. Granbury estates on expansive lots can offer direct backyard lake access and are valued from $1 million and up, while more modest properties are generally available starting from the $400s.
Fish are abundant in Lake Granbury, so many residents enjoy dropping a line in without ever leaving their property. Set trotlines or cast from shore to fish for catfish, crappie, largemouth bass, and sunfish, among many other species.
Granbury provides plenty of space for adventure and trekking into the great outdoors of north Texas.
Lake Granbury Information
New construction of docks, piers, etc. allowed with permits
Public boat ramps
Private boat docks
Marinas
Fishing guides
RV, cabins, and camping space rentals
Lake Tawakoni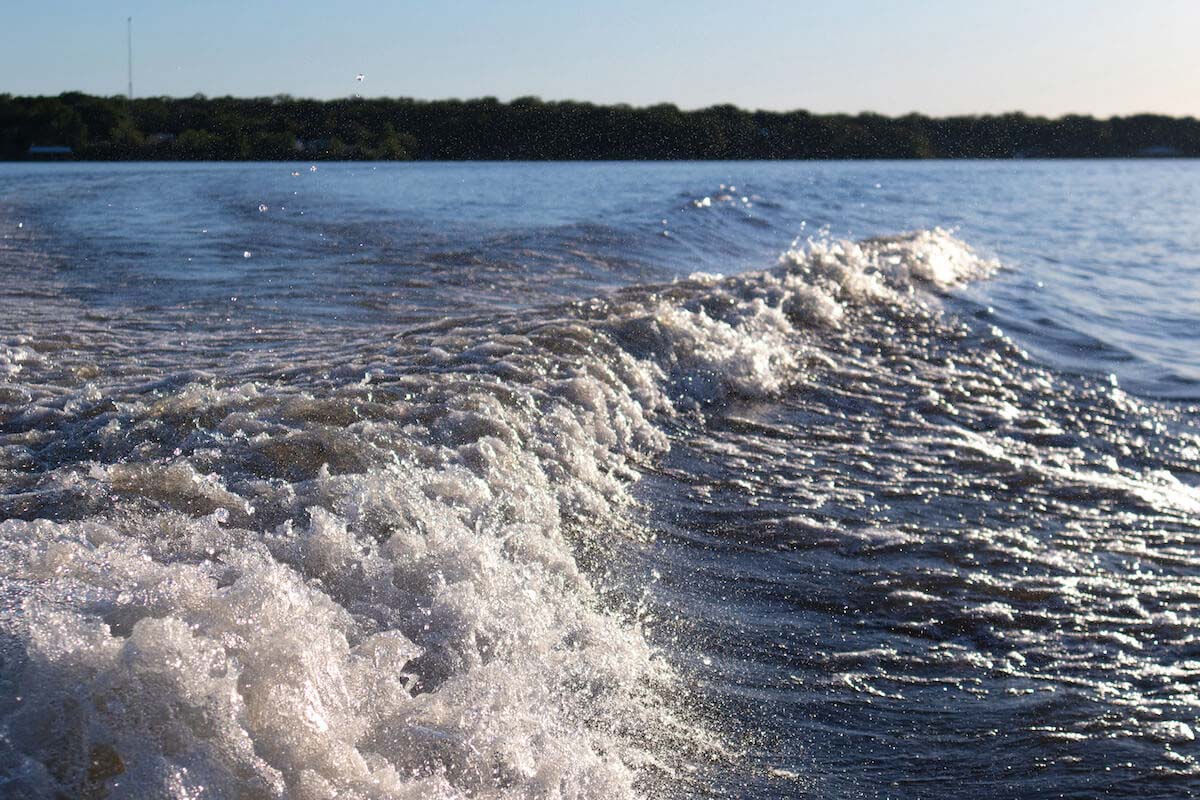 Lake Tawakoni is about 50 miles east of Dallas on the Sabine River. The more than 37,000 acre reservoir sits on the western edge of the Texas Piney Woods in Hunt, Rains, and Van Zandt counties and is managed by the Sabine River Authority.
Cedar Hill, Cooper Lake, Purtis Creek, and Lake Tawakoni State Parks are located on the lake. Living on Lake Tawakoni, residents have access to miles of hiking trails, rugged tent camping, and wildlife encounters like no other area of the state.
The lake also has several public boat ramps and rentals for kayaks and canoes. The area offers incredible outdoor recreation opportunities in the pine forests that east Texas is known for. In addition to public boat ramps, Tawakoni Marina sits on the west shore in West Tawakoni and provides rentals for boats and cabins, as well as fun activities for residents and visitors alike.
Lakefront residences around Lake Tawakoni are priced in a wide range, from homes in the high $200s to homes in the multi-millions, interspersed with land available for custom building. One of the biggest price factors is the size of the lot, as multi-acre listings are not uncommon. Lakefront property owners can build structures like piers, boathouses, ramps, and docks with approval and permits.
There's no shortage of land to build on around Lake Tawakoni, and plenty of space to grow.
Lake Tawakoni Information
New construction of piers, docks, boathouses, etc. allowed with permits
Marinas
Camping and outdoor recreational activities
State parks
Kayak and canoe rentals
Several RV Parks
Are You Ready For The Lake Life?
Whether you're looking for fun and adventure or to slow down and relax, the lake communities near Dallas offer recreational activities for an active lifestyle and the peaceful serenity of the Texas outdoors.
Boating and fishing are at the top of many lists when it comes to lakeside living. All of these lake communities offer boat ramps and marinas, and many allow you to build private docks and other lakeside amenities.
No matter what plans you have for your new home on the lake, the lake communities near Dallas are sure to provide you with the perfect opportunity.