9 Best Austin-Area Master-Planned Communities: New Homes With Luxury Amenities
Posted by Texas Real Estate Source on Wednesday, August 3, 2022 at 2:07 PM
By Texas Real Estate Source / August 3, 2022
Comment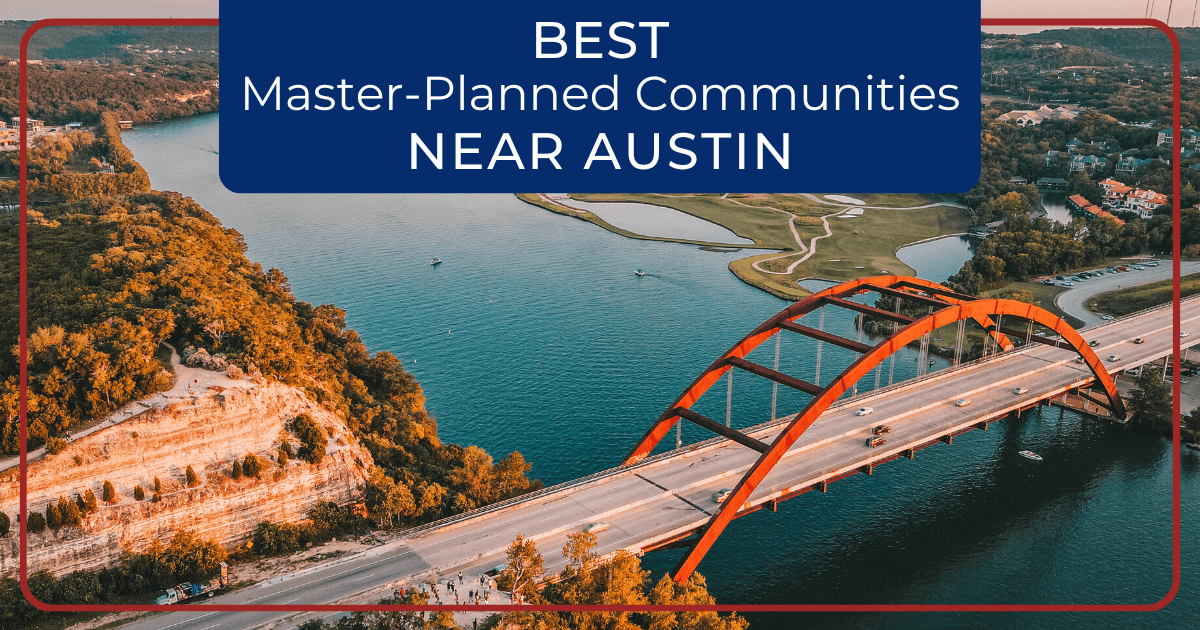 Wouldn't it be nice to have everything you could wish for right in your own community? That's the idea behind the best master-planned communities in Austin, which boast everything from lake clubs to live performance centers to long, winding nature trails. Not only do residents of these communities benefit from local access to outdoor spaces, essential shopping centers, and community events, these communities are also close enough to the city of Austin to have that all-important access to downtown Austin's cultural hotspots whenever they'd like.
Forest Creek
Located in the city of Round Rock, Forest Creek is home to the beautiful Forest Creek Golf Club—and yes, there are plenty of mature trees filling this community with greenery.
The golf course features a full-service grill, event center, and a golf academy. Residents have access to several facilities, such as a community center, various recreational and lap pools, and tennis courts. The park in the area has a large playground area, as well as several areas for picnicking and barbecuing. There are many opportunities for shopping or recreation in Round Rock, such as the 125-store Round Rock Premium Outlets. Additionally, being located between two major highways means quick access to all that downtown Austin offers.
Forest Creek has its own school within the community, Forest Creek Elementary, as well as several nearby learning centers for younger children. The community also boasts several group activities, such as the Fast Frogs Swim Team and several scouting groups.
While most of the community has been built out into homes of various styles and price ranges, there are still some lots available for new construction homes. Many homes for sale in Forest Creek have backyards facing greenbelts throughout the property, and there are several options available for garages, private pools, and more. And, of course, one can't forget all the homes with golf course views thanks to the way the course twines its way throughout the neighborhood.
Forest Creek Amenities
Updated amenities center
Recreation and lap pools
Full-size tennis courts
Park with playground, tables, and grills
Quick access to Forest Creek golf course
Steiner Ranch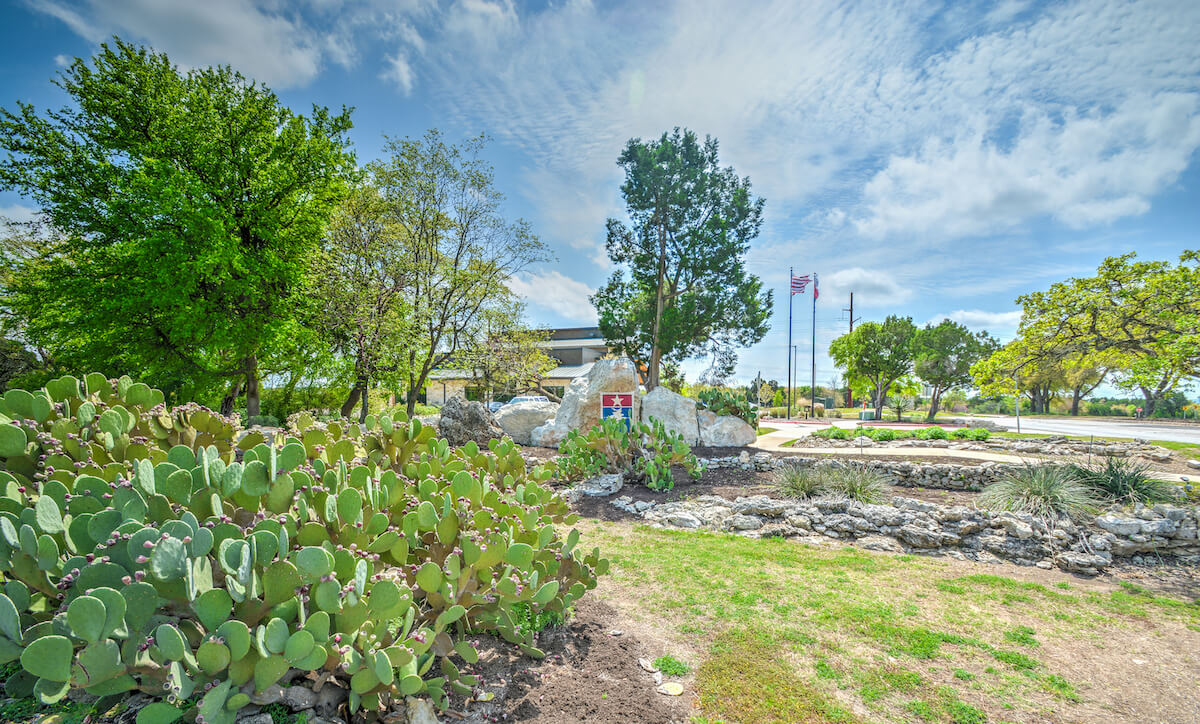 If Steiner Ranch sounds quintessentially Texan, there's a good reason—this beautiful stretch of land started life as a cattle ranch owned by rodeo cowboy Buck Steiner and is now acclaimed as one of Austin's best master-planned communities. Settled in Northwest Austin, Steiner Ranch boasts views of Lake Austin, and many of its amenities are centered around the water. The community boasts several different pools with different designs, from resort pools to splash pads.
Residents also have direct access to Lake Austin, with both boat ramps and the maintained Lake Club, with barbecue grills, picnic tables, a pavilion, and a playground. Additionally, there are community centers that include tennis courts, basketball courts, and multi-purpose athletic fields. The community's miles of established hiking trails go through the Balcones Canyonlands Preserve, which provides crucial habitats for endangered species, including migratory songbirds.
There are a lot of chances to get involved with your community in Steiner Ranch! There are several committees and organizations focused on different aspects of community living. Residents of the community also plan open events throughout the year, including holiday-themed celebrations, group exercises, and concerts in the park.
Steiner Ranch homes for sale have a variety of sizes, with many options for private pools, balconies, and landscaped yards. Many different styles of homes are available, with some neighborhoods offering more traditional ranch-style homes and others consisting of waterfront Tuscan-inspired estates. With easy access to the downtown area, the lake, and trendy restaurants and shopping, this community is ready to welcome you home.
Steiner Ranch Amenities
Direct lake access
Hiking trails (connected to Balcones Canyonlands Preserve)
Three community centers
Recreational and lap pools
Tennis, basketball, and multi-purpose facilities
Easton Park
Located about 12 miles south of downtown Austin, Easton Park is a large and vibrant master-planned community with plenty of amenities attracting Austinites who want to balance the feel of a suburban community with access to big city attractions. A variety of homes are available within the seven neighborhoods that comprise the Easton Park community, ranging from single-family townhomes to much larger estates.
Easton Park celebrates the best of the Austin lifestyle, from live music to food trucks. At the center of it all is The Union, a 14,000-square-foot community center featuring a fitness center, coffee bar, yoga lawn, and a resort-style pool. The Union is the premier gathering spot within the community, frequently featuring events such as live concerts.
Outside of The Union, several parks and playgrounds are spread throughout the community, including a dog park for pet owners. Additionally, there are over 13 miles of connected trails in the community for residents to enjoy. Each neighborhood has several unique features to discover, such as the hammock garden in Bryant Park or the Beili Liu art installation in Discovery Park, making Easton Park an exciting community with plenty to discover.
Easton Park Amenities
Miles of trails
Large community gathering centers
Several large parks
Resort-style pools
Fitness center
Playgrounds
Splash Pads
Mueller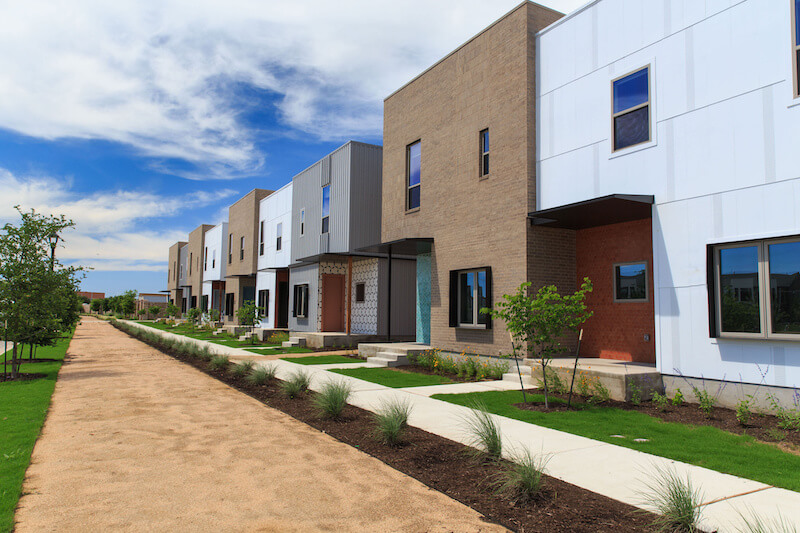 Located just three miles northwest of downtown Austin, Mueller is a master-planned community with an emphasis on walkability and greenery. Why is this so amazing? Because Mueller is a wildly successful transformation of a former airport! Homes for sale in Mueller vary from four-bedroom homes with large yards to single-family townhomes, and sustainable construction is the name of game. In particular, there is a trend toward using regional recyclable materials in construction.
The goal is to make Mueller a minimal environmental impact community, and it's doing a fantastic job of it. A focus on walkability in the town is intended to reduce car traffic and pollution in Mueller, and overall transform it into a soothing green oasis in the busy Austin urban area. Several bus lines serve Mueller, and there is also a planned rail line into the community.
This is all in addition to the 140 acres of parks and open greenery in the area. The Mueller community is 20% parkland, with every home within 600 feet of greenery. There are 13 miles of dedicated hiking and biking trails which also connect to parks and trails within Austin itself. Paggi Square and a few other parks feature courts for multiple sports, such as bocce ball, as well as children's playgrounds and sensory gardens. For those seeking a master-planned community built with walkability and sustainability in mind while still maintaining a sense of fun, Mueller is a local standout.
Mueller Amenities
Many parks with gaming areas
Miles of hiking and biking trails
Live performance Spaces
Solar Power Initiatives
Bus Service
Avery Ranch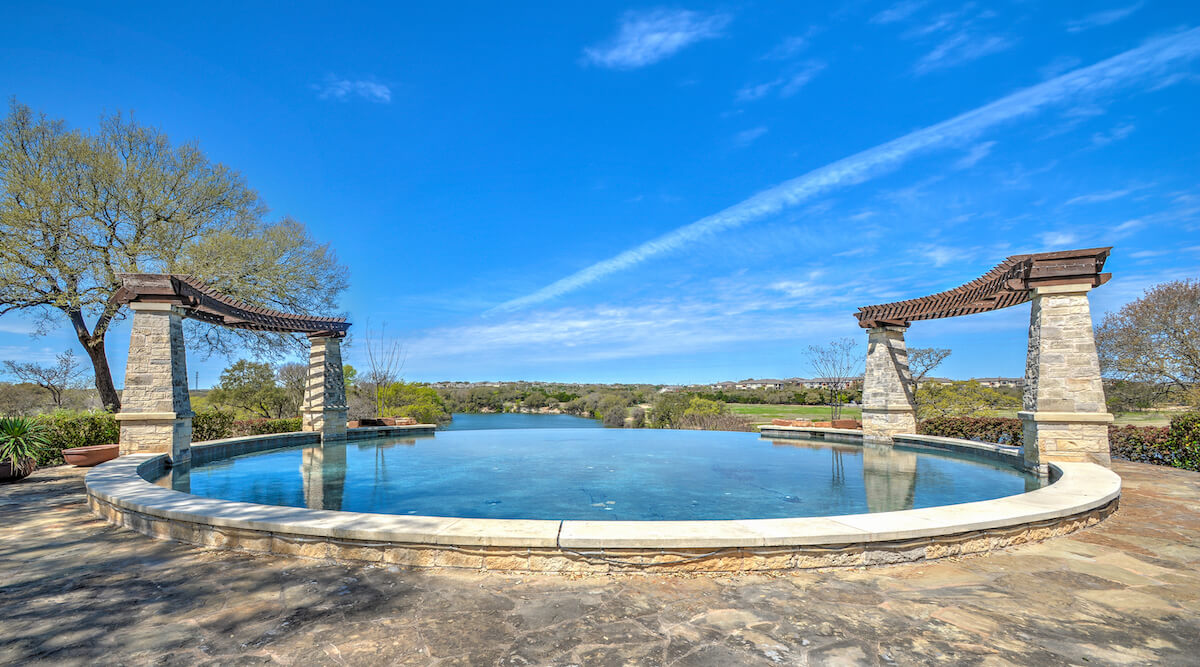 Located in northwest Austin, just 20 minutes from downtown, Avery Ranch is a very convenient choice for those seeking to live in a master-planned community with a short commute into Austin. With the Austin Cap Metro Lakeline Station just minutes away, everything Austin has to offer is close by for the residents of Avery Ranch.
One specialty of the community is golf homes, and there are several homes built along the 18-hole championship golf course at Avery Ranch Golf Club. The rolling hills, meandering streams, and limestone caverns make for a unique and challenging golf course. But that's not all—Avery Ranch amenities include pools, five tennis courts, and five recreation centers. There is also an 8.5-mile-long trail and a 60-acre lake for residents to enjoy, as well as six neighborhood pools, including a Junior Olympic-size pool which is home to a competitive swim team for kids.
This community has quite a bit to appeal to all kinds of interests. Those with homes in Avery Ranch can enjoy all kinds of outdoor activities while still being able to visit the city of Austin easily.
Avery Ranch Amenities
Miles of Hiking Trails
On-Site 18-hole Golf Course
Five Tennis Courts
Recreational and Lap Pools
Recreational Lake
Recreation Centers
Lakeside at Tessera on Lake Travis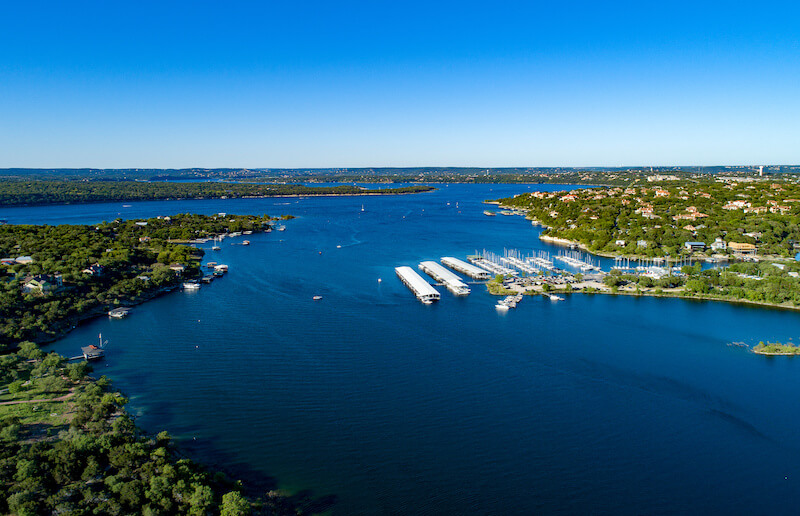 Nestled between Lake Travis and Balcones Canyonlands National Wildlife Refuge northwest of Austin, Lakeside at Tessera is a great community for outdoor exploration while still maintaining access to a big city. Featuring miles of hiking and bike trails, in addition to the trails to be found in the wildlife refuge next door, there is plenty to do in the area. Of particular interest is the mile of beach to be found within the community. Nearby there is a lakeside club featuring a waterfall edge pool and a fire pit for enjoying the amazing views along Lake Travis. For golfers, the nearby city of Lago Vista has its own public golf course near the lake.
Homes for sale in Lakeside at Tessera serve a variety of homebuyers, including those looking for waterfront homes, custom homes, and single-family dwellings. There are plenty of new construction homes being planned for the area as it continues to grow. Lakeside at Terrasa's enviable location near Lake Travis, the Balcones Canyonlands National Wildlife Refuge, and Pace Bend Park combine to make the community a great base for outdoor exploration. However, it still maintains easy access to big city amenities, being less than an hour's drive from Austin.
Lakeside at Tessera Amenities
Lakeside club
Mile of lake shoreline
Private Boat Ramps
Hiking and Biking Trails
Playgrounds
Sports Centers
Resort-style Pool
Belterra
Belterra is just what it sounds like—a community on beautiful land. Located southwest of downtown Austin in the heart of Texas Hill Country, Belterra is a 1,600-acre master-planned community with an emphasis on preserving the natural beauty of the area. Belterra real estate covers a wide range of properties, from smaller single-family homes to sprawling acreage homes. The area is designed for enjoying outdoor activities such as hiking while still maintaining easy access to the urban amenities of a city like Austin.
With miles of hiking trails, several parks, and pools and splash pads, there are many areas in which to enjoy outdoor recreation in Belterra. In addition, there's an aquatic center, a fitness center, and the Belterra Village mixed-use development, boasting retail and other services. The nearby town of Dripping Springs provides plenty to enjoy, and it's well-known for its bustling farmers market and yearly festivals.
Belterra is an award-winning community. Among other accolades, Belterra has been rated as the Best Master-Planned Community in the area by Austin Business Journal. The natural beauty, various amenities, and easy access to both the Texas Hill Country and downtown Austin make Belterra an attractive choice for those looking to move into a master-planned community.
Belterra Amenities
Parks and miles of trails
Aquatic Center
Recreation Center
Fitness Center
Resort-style pool
Neighborhood events such as live concerts
Residential Clubs
Santa Rita Ranch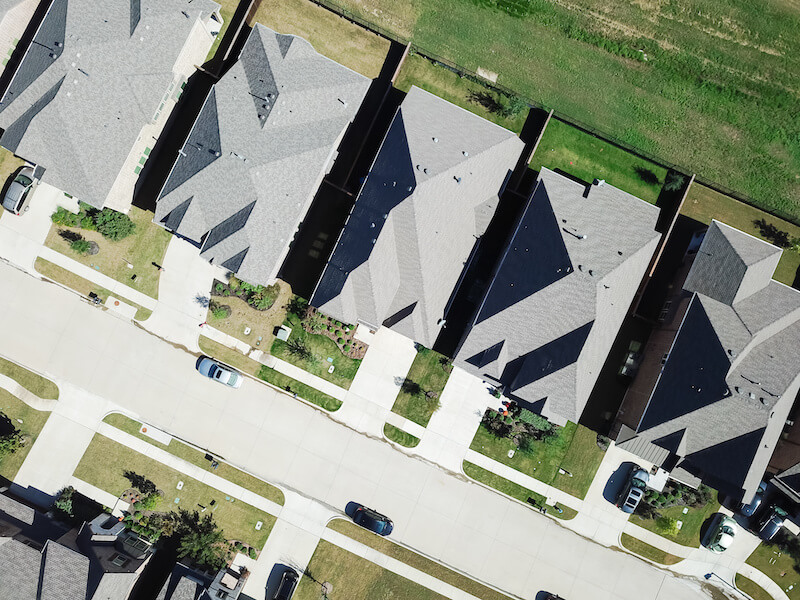 32 miles northwest of downtown Austin sits Santa Rita Ranch, a master-planned community in the city of Liberty Hill, Texas. Santa Rita Ranch has easy access to major highways while maintaining the secluded feel of a small Texas town.
This community features ponds, trails, and other amenities for relaxed living in the heart of the Hill Country. Santa Rita is growing, as evidenced by the large number of new construction homes that are available for home buyers. This includes a new line of cottages being built in the community. Homes for sale in Santa Rita Ranch evoke western themes, playing into its ranch aesthetic. It also has plenty of interesting amenities. There are ponds, community centers, and a workout area for residents to enjoy. Need to cool off? Pools, waterslides, and splash pads await for cooling off during the hot Texas summers.
This is one of the premier master-planned communities in the area, as evidenced by its list of accolades. Santa Rita Ranch has been voted Community of the Year three times by the Austin Business Journal and is one of the top-selling Austin area master-planned communities. Santa Rita Ranch homes are selling fast, so jump on the opportunity!
Santa Rita Ranch Amenities
In community elementary and middle schools
Pools and waterslides
Community Centers
Nature Trails
Playgrounds
Obstacle Course
Basketball courts
Fitness center
Crystal Falls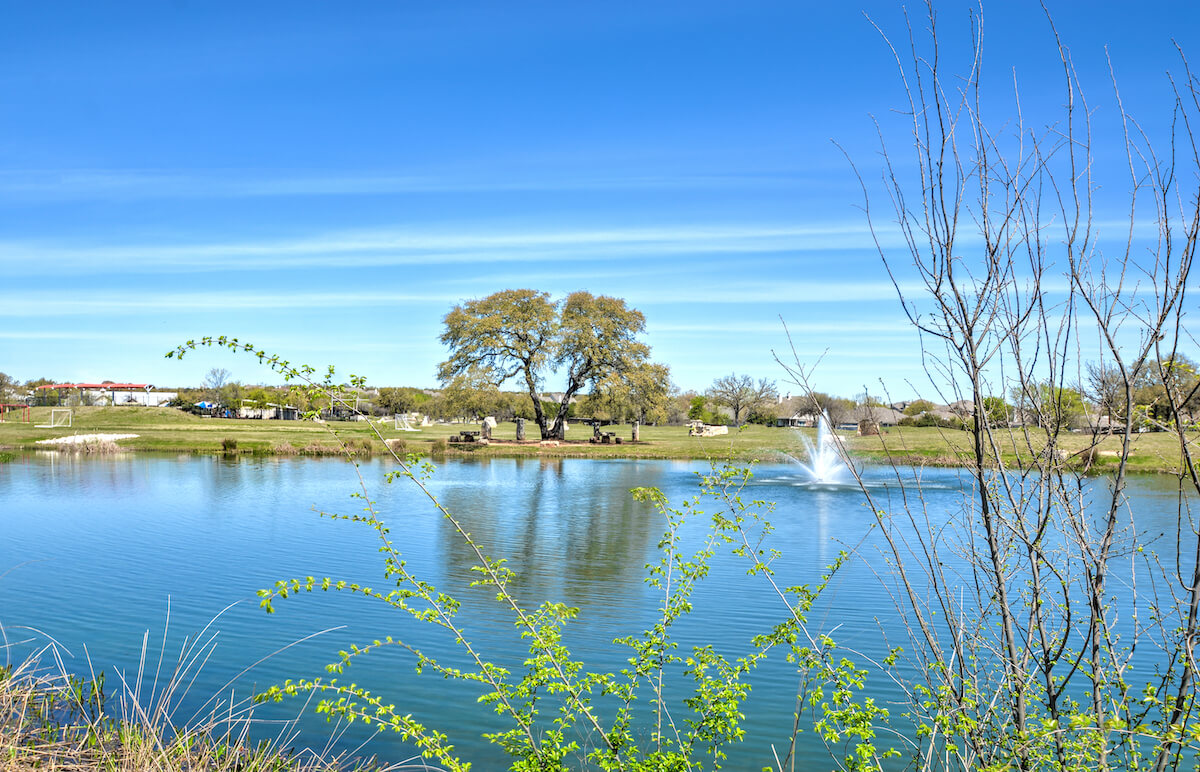 Crystal Falls—even the name paints a picture of sparkling water and soothing background music. The community of Crystal Falls is situated about 27 miles north of downtown Austin via US-183, putting it in the southwestern corner of the city of Leander. This is one of Travis County's largest master-planned communities, currently boasting over 3,000 acres and 3,600 homes, and at full development will encompass over 5,000 acres and 13,000 houses.
Crystal Falls takes pride in its gorgeous surroundings, boasting pristine Hill Country landscapes, shining lakes and fountains, and vast expanses of golf course greens, as one of the community's star attractions is the public 18-hole Crystal Falls Golf Club. Other amenities include an 18-hole disc golf course, fishing ponds, playgrounds, miles of walking trails, a tennis court, splash pads, sand volleyball, and two swimming pools—the Grotto swimming pool even features three waterfalls of its own. At night, this Dark Sky-compliant community allows residents to view the stars in the wide-open Texas skies.
Crystal Falls homes for sale offer styles and price points for every type of homebuyer. For those seeking the townhome-community lifestyle, Crystal Falls townhomes typically range from the high $300s to the mid-$500s, though the mid-$400s and up is most common. The townhomes here are often spacious, with three or more bedrooms and baths. Some single-family homes in Crystal Falls can be found starting in the mid-$500s, and luxury homes can reach values of $2.5 million-plus!
Crystal Falls Amenities
11.5-acre Quarry Park
Crystal Falls Golf Club
Fishing lake
19th Hole Pavilion
Two dark sky neighborhoods
Are You Ready to Experience Master-Planned Elegance?
Each of these unique master-planned communities offers a tempting lifestyle to its residents. Between gorgeous views, great amenities, and easy access to the city of Austin, these communities have a lot to offer people looking to move to the Austin area. Homes in these communities are available at a wide variety of price points and are designed to meet a variety of needs. One common theme in these communities is that they offer plenty of parks and trails for enjoying the many warm months that Texas gets each year. With plenty to do, these communities offer a beautiful and engaging place to live.
Read Our Master Planned Community Guides
For Each City Below
Master Planned Communities Near Austin