8 Best Neighborhoods on Lake Travis: Lakefront Living Near Austin
Posted by Texas Real Estate Source on Wednesday, September 28, 2022 at 10:05 AM
By Texas Real Estate Source / September 28, 2022
Comment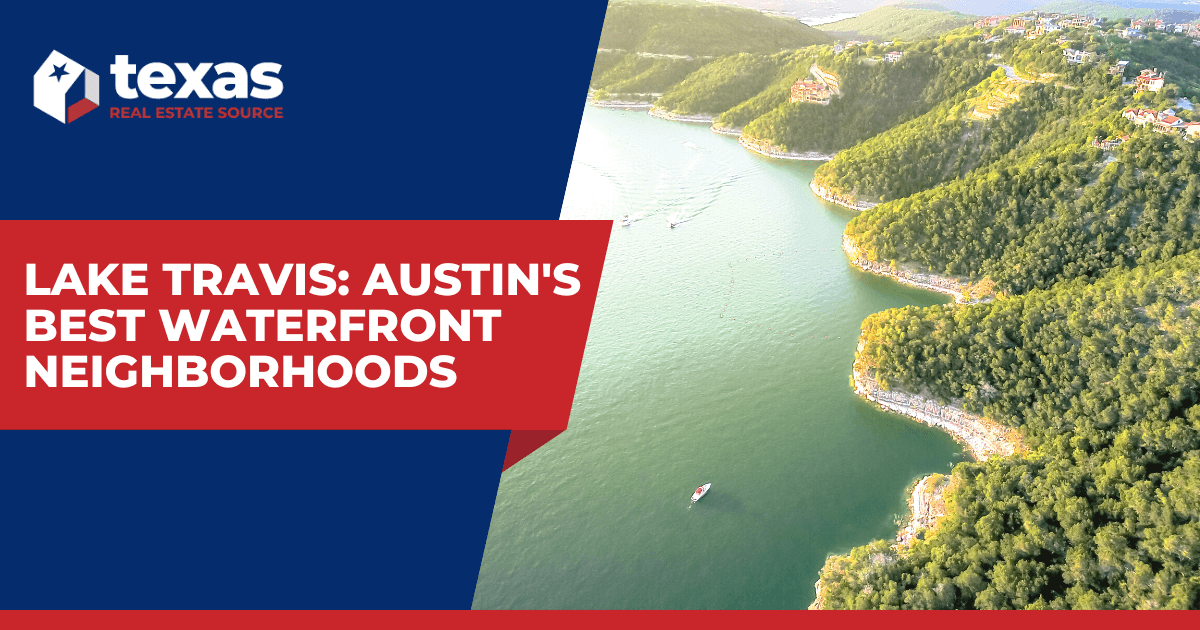 Since the Mansfield Dam first started holding back the Colorado River northwest of the city of Austin in the 1940s, Texans have flocked to Lake Travis for its unparalleled outdoor recreation opportunities. It didn't take long for many of them to change their status from visitor to resident. Why make the drive for an occasional weekend when living on the lake year-round would be so much more fun?
If you're one of the frequent Lake Travis guests looking for a permanent relationship with this part of the Texas Hill Country, your most important decision is choosing a place to live. That decision can be somewhat daunting, given the dozens of Austin waterfront neighborhoods dotting the map. Luckily, the following guide explores several of the best Lake Travis communities for living the lakefront lifestyle 365 days a year.
Lakeside at Tessera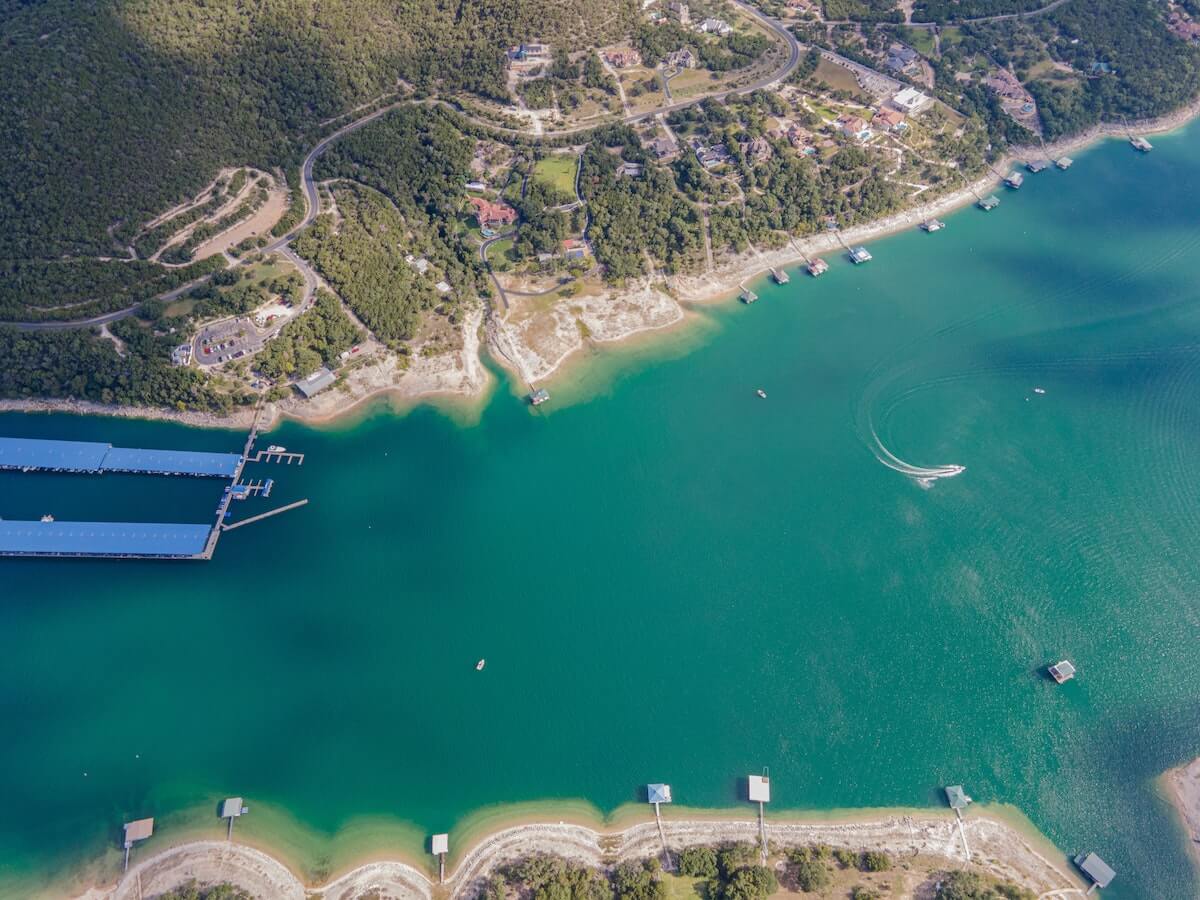 A few years ago, Austin Business Journal named Lakeside at Tessera 2019's best master-planned community. We agree—Lakeside at Tessera also made our list of the best master-planned communities in Austin. Undoubtedly, the neighborhood has proven to be a successful collaboration between the developers and Mother Nature, creating a resort-like community with stunning views overlooking Lake Travis.
Located near the town of Lago Vista, less than an hour from downtown Austin, the well-appointed homes of Lakeside at Tessera are steps away from the lake's north shore. Lakeside at Tessera homes for sale come in a variety of styles from builders like Coventry, Lennar, and Highland Homes. Prices range from the $400s to $1 million or more for waterfront homes on large, lake-view lots.
Students in Lakeside at Tessera are within the Lago Vista Independent School District attendance zone and attend one of its nearby schools. Lago Vista is also home to several wineries, golf courses, marinas, and a small private airport. More entertainment, shopping, and dining options can be found minutes away in Cedar Park and Jonestown.
Outdoor enthusiasts can enjoy the best of both worlds living at Lakeside at Tessera, with the water recreation of Lake Travis on one side of the community and Balcones Canyonlands National Wildlife Refuge and its miles of trails on the other. Golfers can take a swing at several different courses in the area.
Neighborhood Amenities
Lakeside Club outdoor events pavilion
Waterfall-edge swimming pool and splash pad
Residents-only boat launch
Over a mile of shoreline; accessible beach
Hiking and biking trails
Steiner Ranch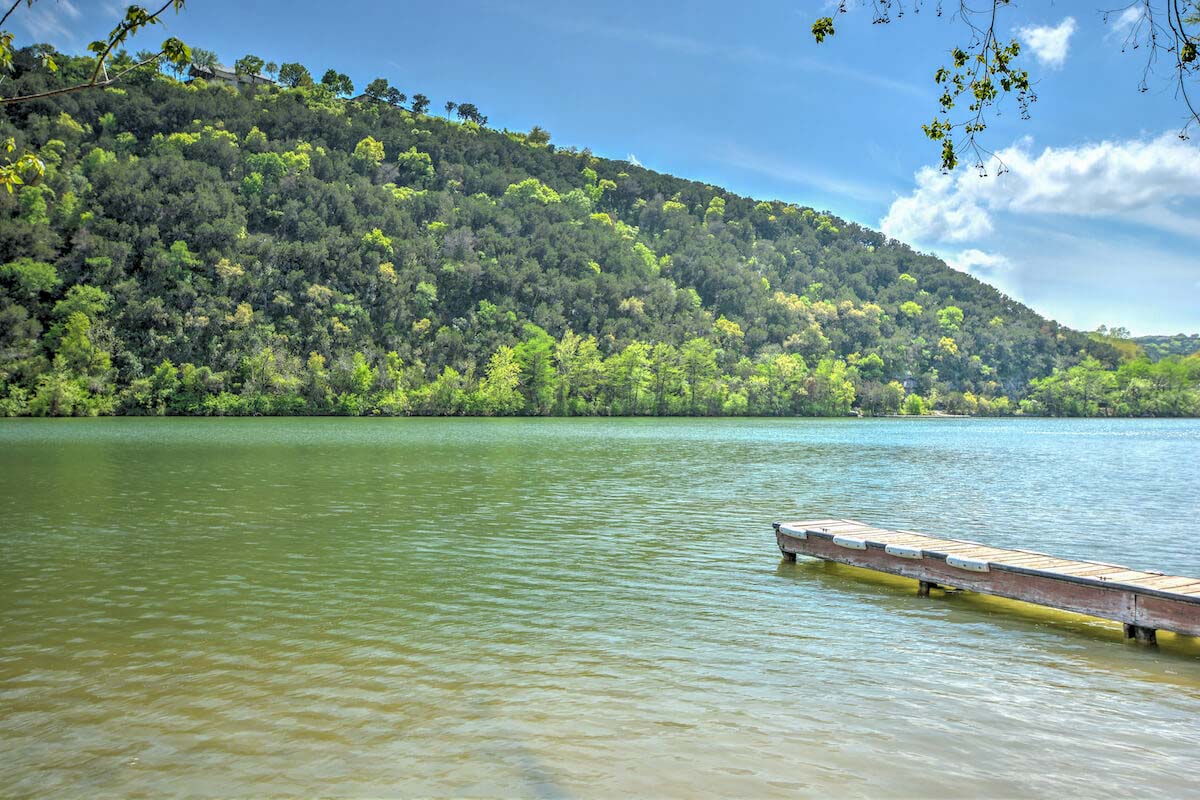 Originally the ranch land home of the Steiner Rodeo Company founders, their namesake neighborhood sits on 4,600 acres of premium Texas Hill Country, tucked in between Lake Travis and Lake Austin. The developers here dedicated over 1,500 acres of the community to green space, preserving the natural scenery surrounding Steiner Ranch.
About 20 miles from the Texas capital, Steiner Ranch features more than 3,000 homes in various styles, sizes, and price ranges. Single-family homes for sale in Steiner Ranch typically start from the $500s, with waterfront homes and luxury properties commanding $1 million or more.
Steiner Ranch schools are within the Leander Independent School District, with three elementary schools, a middle school, and a new high school campus all minutes away. Several private schools also serve the area.
Plenty of retail and dining choices are found among several shopping centers in the community. Favorite restaurants include Steiner Ranch Steakhouse, Cho Sushi Japanese Fusion, and Jim's Smokehouse BBQ food truck parked on FM 620 just west of the Randall's grocery store. The Shops at Steiner Ranch feature more dining options as well as hair care, salon, and spa services.
In addition to the abundance of water sports the area lakes provide, there's plenty of outdoor entertainment for hikers, bikers, and golfers. Miles of nature trails, acres of greenbelt, and several golf courses, including the University of Texas Golf Club, are all found at Steiner Ranch. Thanks to the course, Steiner Ranch has some of the best golf course homes for sale in Austin.
Neighborhood Amenities
Bella Mar Community Center
The Lake Club
Community swimming pools
Steiner Ranch Trails
Multiple sports areas, and tennis courts
Towne Square party room
Volente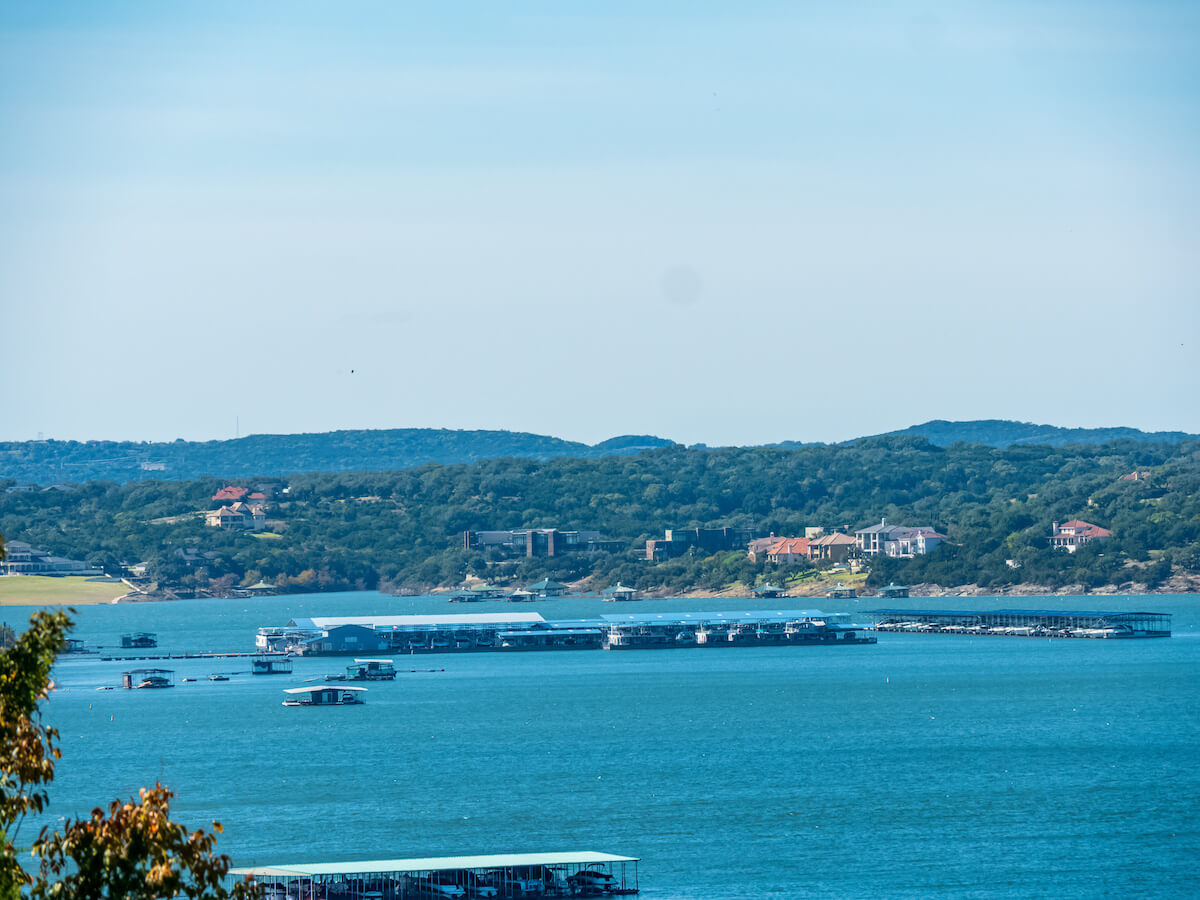 If you're looking for a place to live on "lake time," the Village of Volente might be your dream community. The post office here was founded in the 1880s, but it took more than 100 years to become an official Texas city. No rush. Volente's population in the late 1950s was around 250. Thirty years later, it had grown to just 400; today, fewer than 1,000 people call the village home. There's no sense getting too big, too fast, right?
This small lakeside community is only about two square miles, bordering Lake Travis on one side and the Balcones Canyonlands Preserve wildlife refuge on the other. Homes for sale in Volente are designed with the outdoors in mind; lots are at least an acre in size, building heights are restricted, and outdoor lighting must comply with the village's "Dark Skies" rules, meaning that you can enjoy summer nights full of stars.
The Village of Volente is zoned for the Leander Independent School District, with resident students attending nearby Grandview Hills Elementary, Four Points Middle School, and Vandergrift High School. The area also features several private education facilities, and an Austin Community College campus is close by.
It's easy to while the days away on the water of Lake Travis, thanks to the village's own marina and boat club. In fact, the Nautical Boat Club in Volente is the oldest and largest such club in Austin. Shopping, dining, and other services can be found in the nearby city of Cedar Park and city of Jonestown.
Neighborhood Amenities
Volente Beach Resort and Waterpark
Sandy Creek Marina
Dodd Street Docks
VIP Marina
Hudson Bend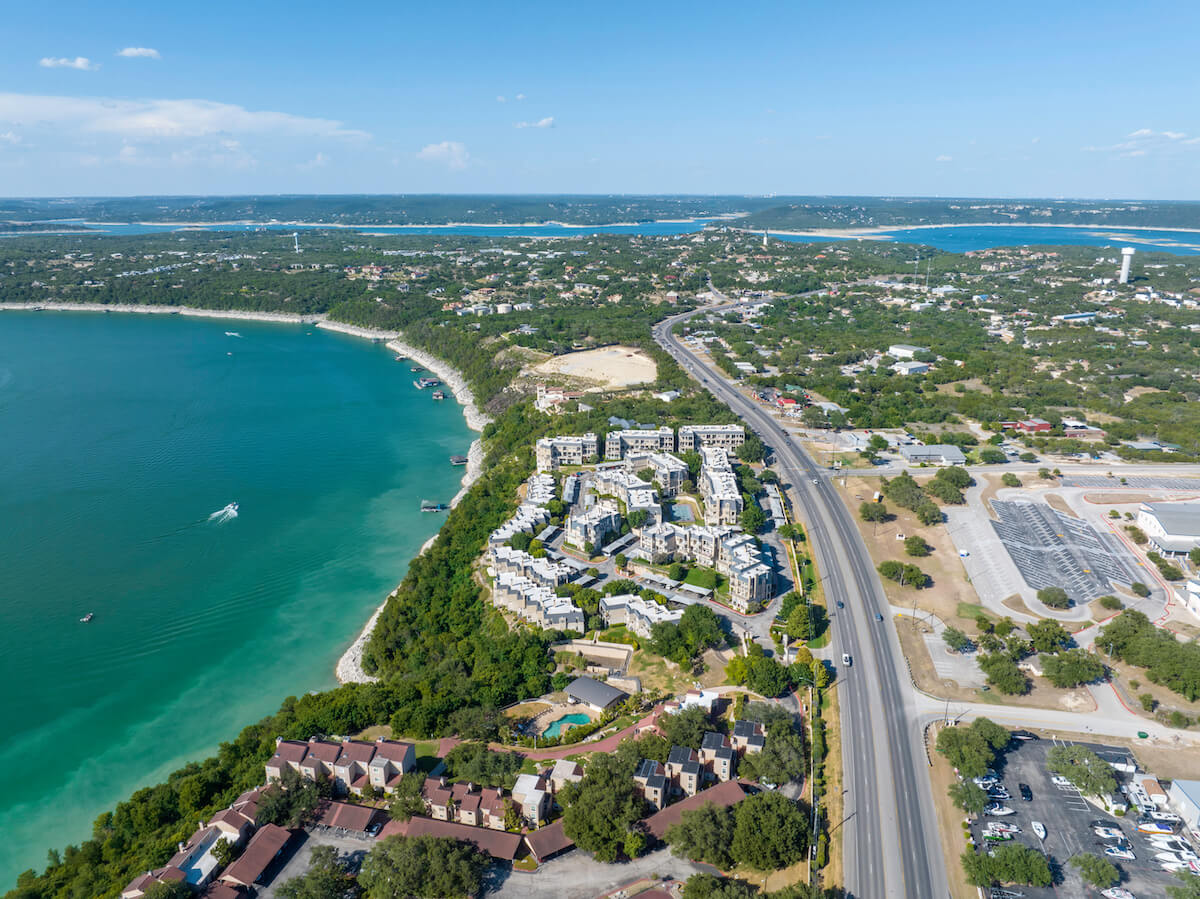 Originally a farming community dating back to the 1800s, Hudson Bay is named for one of the first families to settle in the area. Today, about 3,000 folks call the neighborhood home.
Just over 20 miles from downtown Austin, Hudson Bend lies primarily on a peninsula pushing against the south shore of Lake Travis. The community features several upscale neighborhoods with custom homes for sale on generous lots, all close to the water. Single-family properties are generally from the $500s, with some amenity-rich waterfront estates listed for several million dollars.
School-age residents of Hudson Bend attend Lake Travis ISD schools, specifically Lake Travis Elementary, Hudson Bend Middle School, and Lake Travis High School. Several convenience stores and dining choices are found inside the community, while nearby towns provide additional shopping and dining options.
Favorite spots in Hudson Bend include Hudson's Fine Hill Country Dining, Vincent's on the Lake, and the Best Dam BBQ Joint, among others. Several marinas and boat rental establishments are also scattered around the peninsula.
Neighborhood Amenities
Mansfield Dam Park and Boat Ramp
Austin Yacht Club
Commanders Point Yacht Basin
Tennis Point sports complex
State and County parks nearby
Point Venture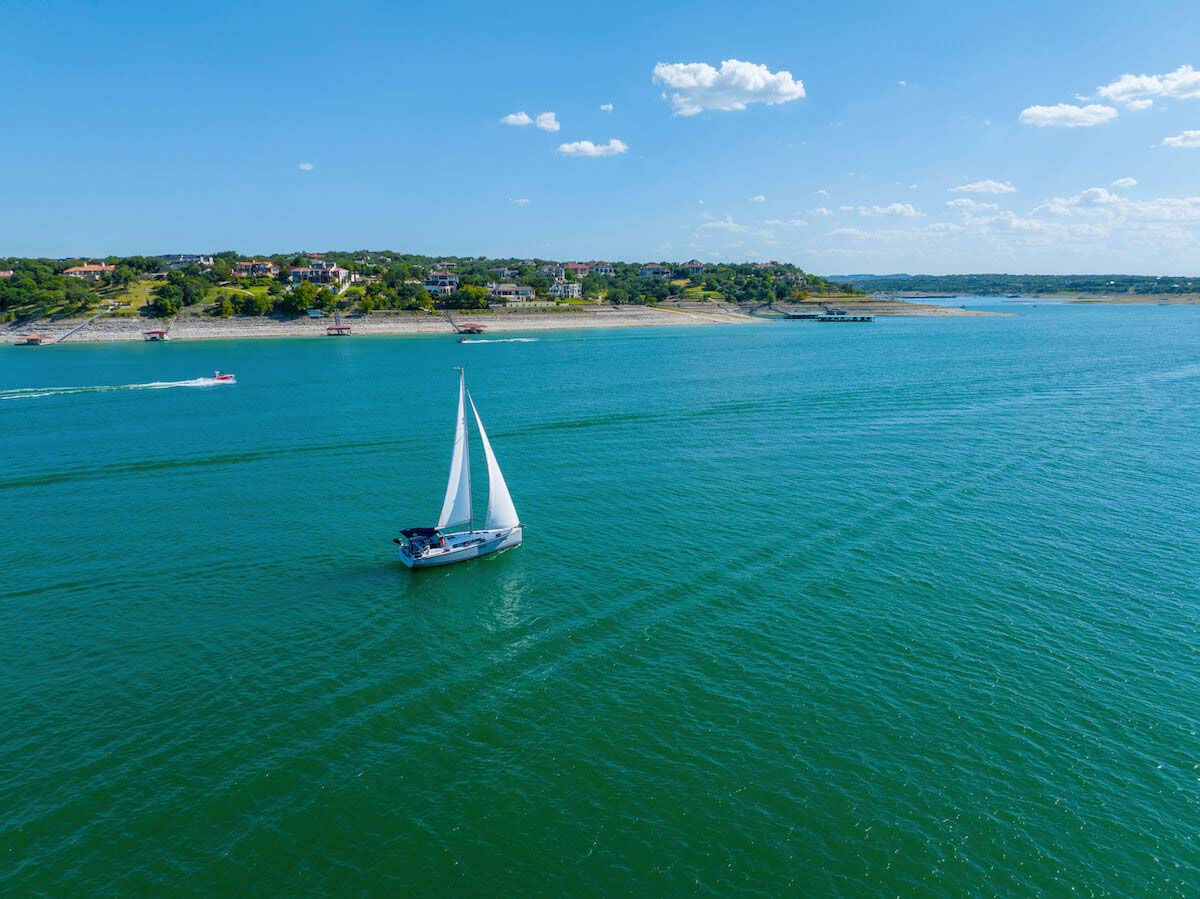 Over the past 50 years, the Village of Point Venture has transitioned from being a vacation destination to the community full of year-round residents you'll find today. The reason for being here now is the same as it was then: living a fun-in-the-sun lifestyle on gorgeous Lake Travis.
Point Venture is about 40 miles around the lake from downtown Austin. The community features a mix of townhomes and single-family properties from the $300s, with some waterfront homes priced over $1 million. Of course, many of the homes have water views even if they're not directly waterfront—even some of the golf course homes for sale in Point Venture have views of the lake as well as the greens. Zoned for Lago Vista ISD, Point Venture students attend public schools just a few short miles away.
Various shopping, dining, and entertainment options are abundant in the nearby towns of Lago Vista, Jonestown, and Cedar Park. Residents here frequent local hotspots like Captain Pete's Boathouse and Caddie Shack Sports Bar with its nightly food trucks.
Neighborhood Amenities
Point Venture Property Owners Association Marina
Point Venture Golf Club
Junior Olympic-size swimming pool
Six lighted tennis courts
9-hole disc golf course
Fully-equipped fitness center
Waterford on Lake Travis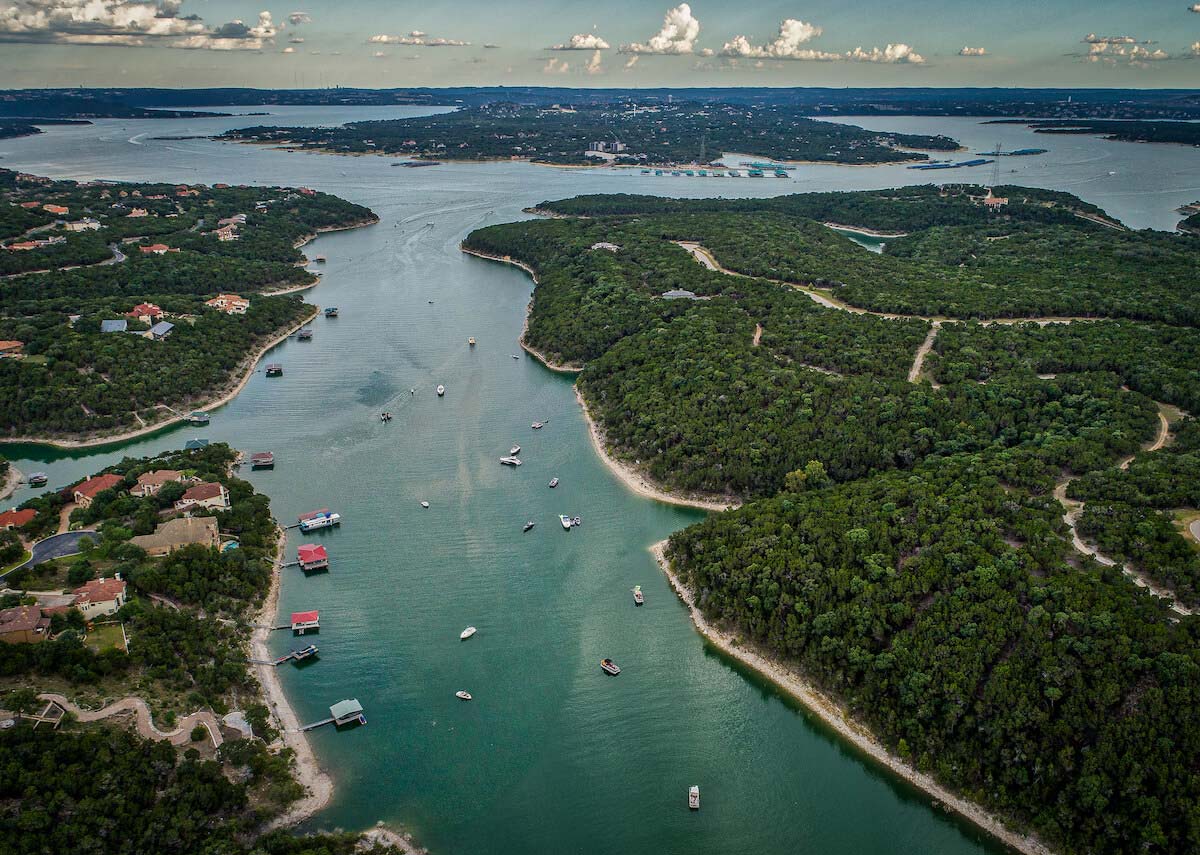 The Austin gated community of Waterford on Lake Travis is a close-knit neighborhood of fewer than 100 homes. Positioned just above Point Venture, the lake wraps around both sides of the peninsula, providing amazing views from almost every property in the subdivision. In fact, most homes here have either direct access to the water, unobstructed lake views, or both.
Waterford on Lake Travis comprises various property types, including condos from the $500s and single-family homes from the $800s. A few lots for new construction homes on large lots are also available, ranging from a half to one-and-a-half acres.
Residents here fall within the Lago Vista ISD, and all public schools are a short drive away. Several private schools also serve the area. The nearby towns of Lago Vista, Jonestown, and Cedar Park are the closest spots for groceries and other necessities. And all the fun things to do in Austin are a leisurely drive about 40 miles down the road, with gorgeous scenery all the way.
Neighborhood Amenities
Waterford Marina
Three nearby golf courses
Community swimming pool
Balcones Canyonlands National Wildlife Refuge
50-acre park with lakefront beach
Apache Shores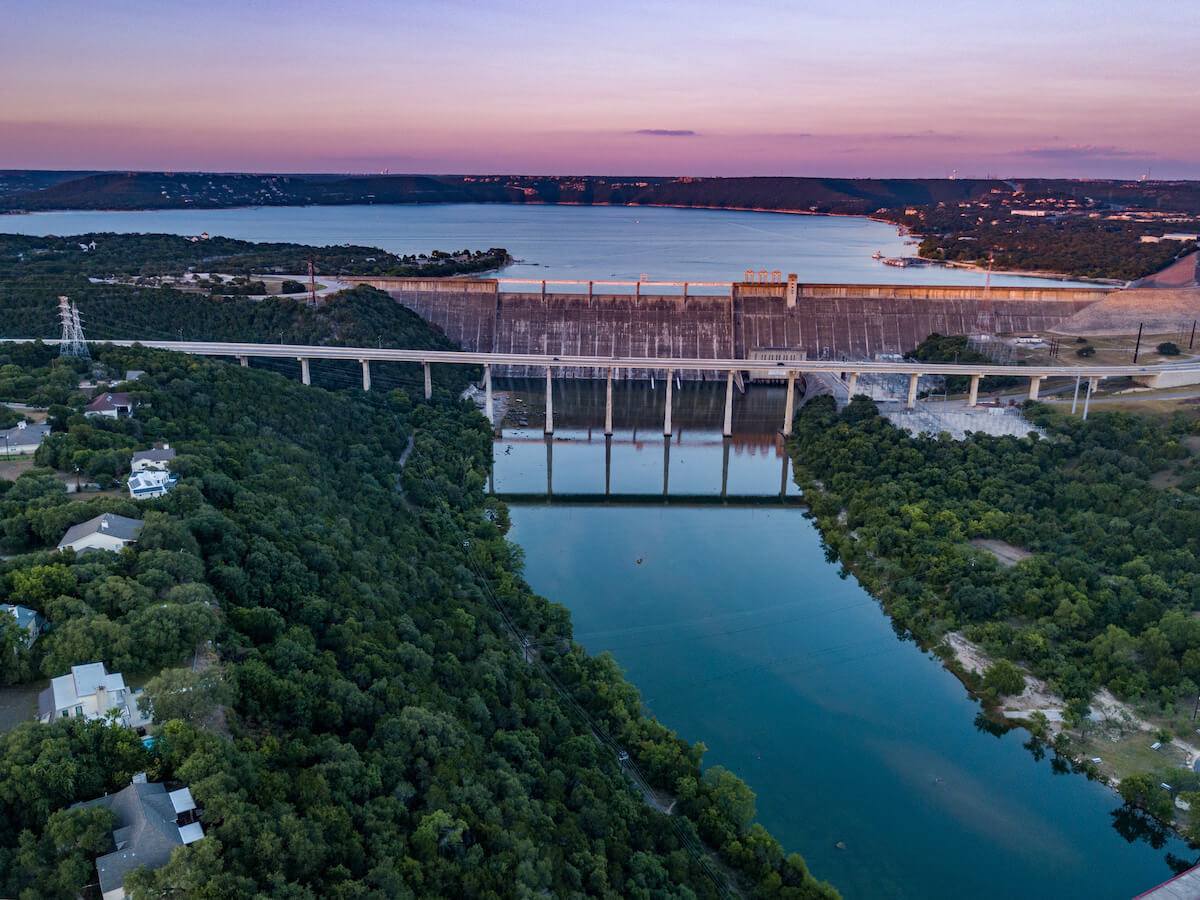 The community of Apache Shores is among the area's first developments, built in the 1960s on more than 600 acres of Hill Country ranch land. The neighborhood is home to a mix of permanent residents and second-home owners and sits just below the Mansfield Dam, where Lake Travis stops and Lake Austin begins.
Homes in Apache Shores represent a variety of architectural styles, from typical Texas Hill Country designs to more eclectic looks. Single-family homes with floorplans under 2,000 square feet typically range from the $400s to $600s, while larger lakefront properties are priced from $2 million and up.
Schools in Apache Shores are in Lake Travis ISD. Students here attend Lake Travis Elementary, Hudson Bend Middle School, and Lake Travis High School, all located just minutes away along FM 620. Following that same road in either direction will lead to an abundance of local eateries, grocery shopping, and professional services.
Neighborhood Amenities
Indian Creek Trailhead hiking area
Geronimo Park playscape
Riverside Park on Lake Austin
Private boat launch and docks
Community swimming pool
Tennis and basketball courts
Briarcliff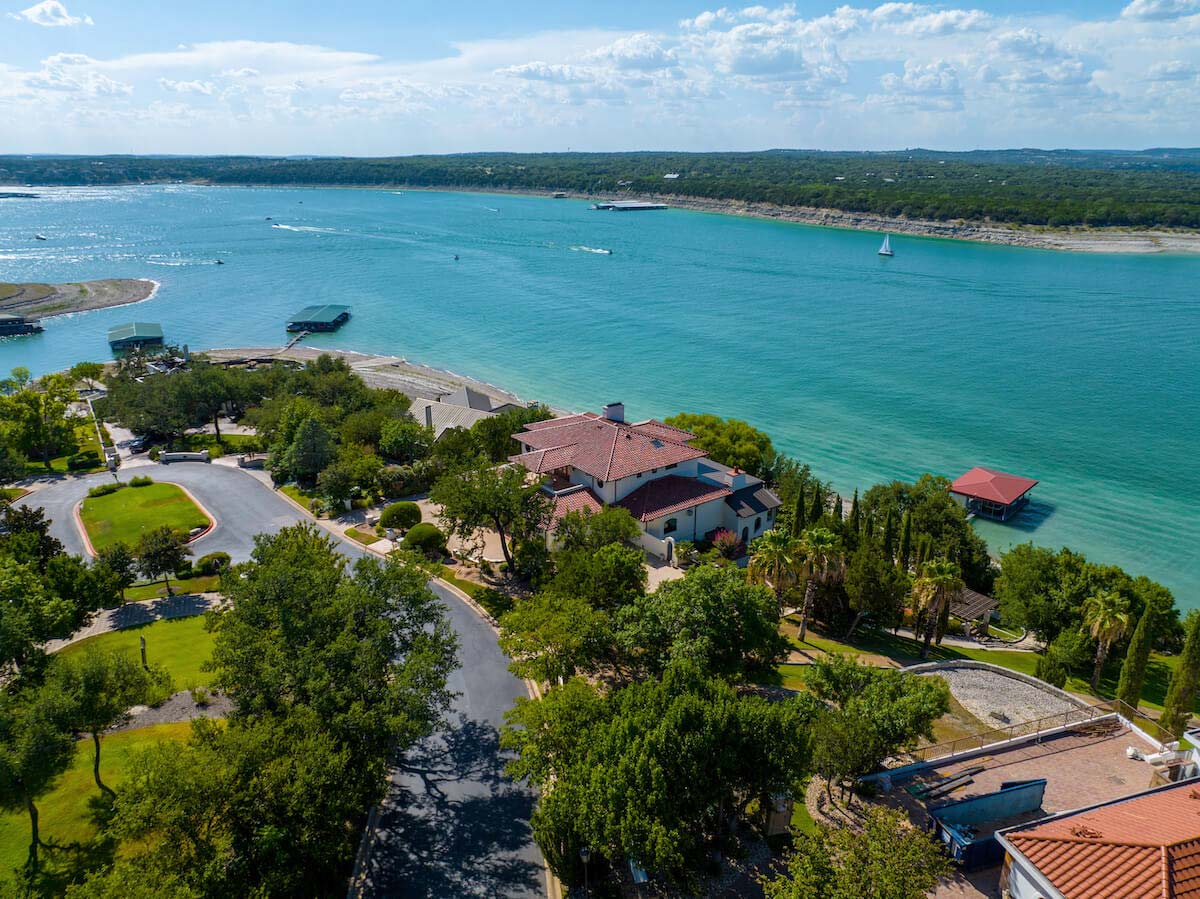 The Village of Briarcliff is a small community on Lake Travis developed initially as a waterfront resort in the 1960s. Just 30 miles northwest of Austin, Briarcliff is home to approximately 2,000 residents who left the big city in the rearview mirror. With its proximity to the lake, Pedernales River, and surrounding Hill Country vistas, it's easy to see why Briarcliff homeowners love it here.
Homes in Briarcliff typically range from 1,500 to 3,500 square feet and are priced from the $400s to $1 million or more. The village is zoned for Lake Travis ISD public schools. Local students attend West Cypress Hills Elementary, Lake Travis Middle School, and Lake Travis High School.
Residents of Briarcliff have several restaurants and smaller grocery stores in and around the community. Favorite local eateries include Lee's Almost By the Lake, the Lighthouse Restaurant and Lounge, and Taqueria Mex-Dom. Major grocery stores like H-E-B and Randall's are located about 12 miles away in the community of Lakeway, along with various other dining and retail options.
Of course, the main attraction in these parts is the great outdoors. In addition to playing on the lake, homeowners in Briarcliff are only 10 minutes away from the popular Pace Bend Park, with plenty of opportunities for hiking, biking, swimming, climbing, and more. Golf enthusiasts in these parts have lots of choices as well, including Willie Nelson's nearby nine-hole Pedernales golf course.
Neighborhood Amenities
Pedernales Golf Course
Briarcliff Marina
Library and Community Center
Briarcliff Park
Fenced dog park
Tennis and basketball courts
Hike and bike trails
Live the Lake Travis Lifestyle Every Day
There's no question that Lake Travis is a prime destination for getting wet and wild on the water. It's one of the state's best outdoor recreation spots, with unparalleled opportunities for boating, skiing, swimming, and soaking up some sun. It's a great place to play and an equally great place to live. When you're ready to start enjoying the lakefront lifestyle year-round, one of these neighborhoods might make a good home base. After all, having Lake Travis just steps away from your front door does sound good, doesn't it?