Best Neighborhoods on Lewisville Lake: Where to Buy a Lewisville Lake House
Posted by Texas Real Estate Source on Wednesday, December 14, 2022 at 11:17:49 AM
By Texas Real Estate Source / December 14, 2022
Comment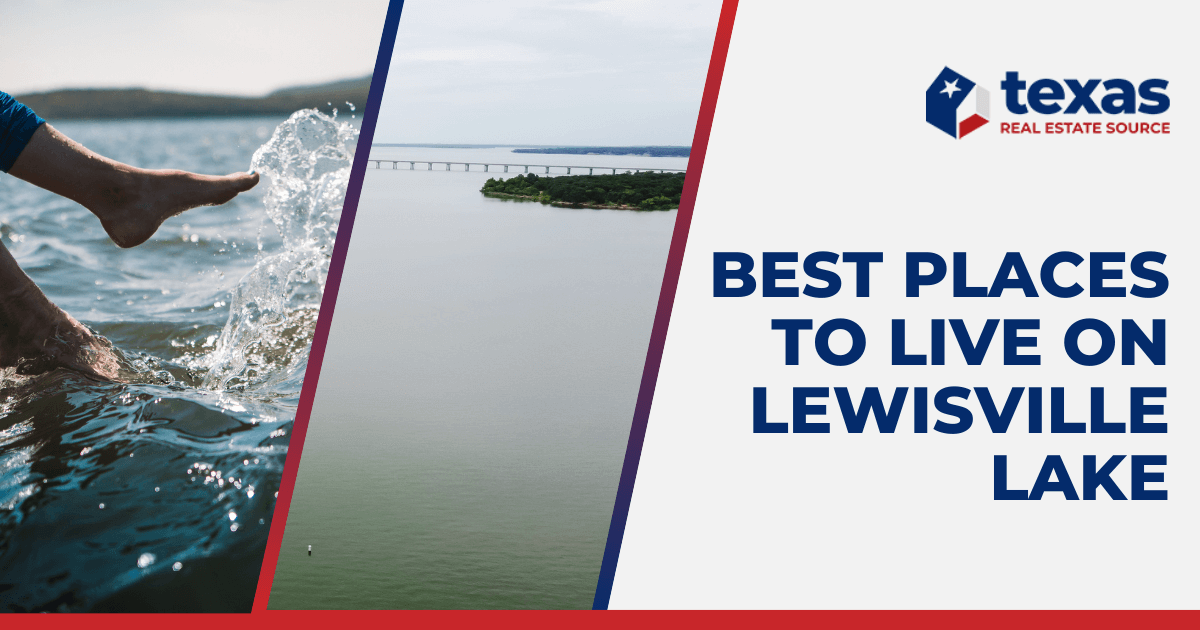 Lewisville Lake is one of the best lakes near Dallas, just 30 miles north of the Dallas-Fort Worth metro and offering lake living with all of the amenities of the big city. Recreation and fun are what Lewisville Lake is all about.
The United States Army Corps of Engineers (USACE) manages the reservoir, which spans over 29,000 acres. One of the many benefits of living on Lewisville Lake is that the Corps maintains shorelines, so waterfront property owners don't have to worry about constructing retaining barriers or walls.
The towns and communities around Lewisville Lake offer several public boat ramps to get your boat on the water. There are also a few marinas to store your boat with different storage options to suit your watercraft. Where's the best place to live on Lewisville Lake, though? A few great options include:
Little Elm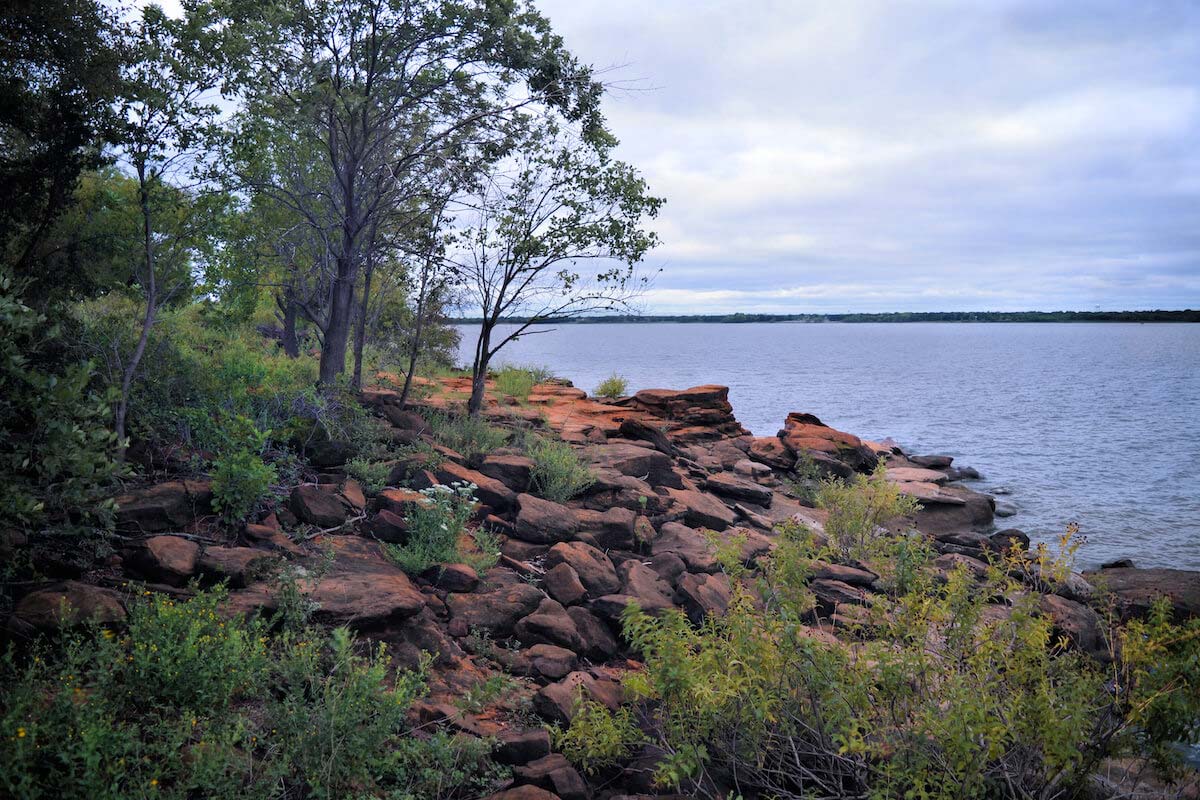 Little Elm is a small town in the northeastern part of Lewisville Lake. It's about 30 miles north of the city of Dallas on the Dallas North Tollway. The community sits along a portion of the lake with several inlets and peninsulas, so there are over 23 miles of shoreline to access the lake at Little Elm.
This small lakeside town has several public parks and hiking trails along the shores of Lewisville Lake. In addition, there are also recreational spaces with dog parks, a splash pad, and plenty of places to enjoy the outdoors.
Little Elm Park features many lakeside amenities like a pavilion with a grill, an amphitheater, a playground, athletic fields, and so much more. It even has an enclosed sandy beach tucked safely away from boat traffic.
Little Elm Park Boat Ramp offers residents a place to drop their boats in the lake for an affordable fee paid annually or daily if you use the ramp occasionally. Nonresidents pay a slightly higher cost.
The average home for sale in Little Elm typically lists in the high $400s. Luxury lakefront homes in Little Elm, on the other hand, easily reach higher, sometimes listing for over $1 million. In addition, vacant lots in Little Elm are available to build custom lake homes.
The Lakefront at Little Elm
The Lakefront at Little Elm is an entertainment district with amenities for all ages, events, retail shops, restaurants, and much more. From fast food to upscale dining, the variety of restaurants gives an option for every taste when it comes to dining at The Lakefront.
The Lakefront at Little Elm is designed to bring shopping, entertainment, and urban amenities of the big city together in a small town. It also makes use of all that Lewisville Lake has to offer.
Cottonwood Marina gives boat owners a place to store their boats. The marina has over 330 wet slips for 24- to 50-foot-long vessels. They also have boat and jet ski rentals.
The Lawn at The Lakefront sits under the town's historic water tower. Concerts and outdoor events are regularly held on the half-acre of open lawn. Another fun attraction is The Cove at The Lakefront, a massive indoor water park.
Neighborhoods Within 10 Minutes of The Lakefront
Oak Point
Oak Point is a small town halfway between the city of Denton and the city of Frisco to the north of Little Elm. The community is bordered on the west by Lewisville Lake, giving residents the opportunity for stunning views of lake sunsets.
Wildridge is an example of a new master-planned community in Oak Point with lot sizes from 50 to 70 feet and homes priced from under $600,000 to over $1 million. Custom builds are available. In general, homes for sale in Oak Point list for a median price in the mid-$500s, though there's plenty of range for buyers at every price point.
Oak Point is about 5 miles from The Lakefront at Little Elm.
Lakewood Village
Lakewood Village is a municipality on Lewisville Lake noted for its low tax rates. It also boasts the status of an International Dark Sky community, one of only about a dozen in the United States. Where else can you have a night of stargazing in an urban area as big as Dallas-Fort Worth?
The town enjoys over 10 miles of shoreline within its jurisdictional and corporate limits. Lewisville Lake borders the community on three sides, but the longest stretch of shore is to the east.
Homes for sale in Lakewood Village largely consist of luxury homes, with typical listings in the $800s to over $1 million. In addition, lots are available for custom builds.
Lakewood Village is about 4 miles from The Lakefront at Little Elm, right across the bridge.
Hackberry
Hackberry is a small town tucked into the northeast shore of Lewisville Lake. The community is on the southern edge of Little Elm and borders Frisco. It's less than 9 miles north of Sam Rayburn Tollway, providing convenient commutes into the Dallas-Fort Worth metro area.
Hackberry homes for sale typically list in the $300s up to the low $500s. With less shoreline than Lakewood Village and Oak Point, direct lakefront property is not available inside Hackberry city limits. Still, several properties in the area offer water views.
Frisco Lakes Golf Course is nearby, giving residents access to an 18-hole golf course. Frisco Lakes is rated one of the top golf courses in the Dallas-Fort Worth area.
Hackberry is about 5 miles from The Lakefront at Little Elm.
Highland Village
Highland Village sits on the southwest side of Lewisville Lake. This bustling suburb offers all of the amenities of the big city in a small-town setting. The Shops at Highland Village offer world-class shopping and restaurants.
Highland Village has several public parks, including lakeside recreational spaces and a dog park. In addition, public boat ramps are available at Copperas Branch Park.
South of Copperas Branch is Eagle Point Marina. The marina offers boat slips, dry storage, and a shop for boat repairs. Next to the marina is another public boat ramp.
Boat rentals and guide services are available next to Eagle Point Marina in Tower Bay Park. Rent a pontoon, jet ski, or ski boat to spend a day on the lake. Kayak and canoe rentals are also available.
Highland Village has several master-planned subdivisions with resort-style amenities and luxury homes. The average home for sale in Highland Village is over 3,000 square feet with 4 bedrooms and 3.5 baths, with median home prices around the $600s. There's plenty of variety, though, with homes listing in the $400s to over $1 million. Depending on the neighborhood, there are several styles and custom floorplans available.
Highland Village Amenities
The Shops at Highland Village
Public boat ramps
Eagle Point Marina
Boat, jet ski, kayak, and canoe rentals
Parks and recreation
Hickory Creek
Hickory Creek is located on the opposite southwestern shore from Highland Village. This small town has a lot of shoreline and plenty of access points to Lewisville Lake. The shoreline in Hickory Creek includes several public parks on lands leased by the city from the USACE. Many of the parks overlook the lake.
Hickory Creek maintains Point Vista, Harbor Lane, Arrowhead, and Sycamore Bend Parks, and park visitors can purchase daily or annual permits to access boat ramps, campsites, and other outdoor facilities. Hickory Creek Campgrounds features over 100 campsites with electric hookups.
Hickory Creek homes for sale generally list for a median price in the low $600s, but there's a lot of range depending on where you buy. Some homes near the neighborhood boat ramps can list in the $500s and below, while others in new construction communities like Steeplechase can hit the $800s and higher. There are plenty of newer communities in Hickory Creek as well as resale homes, so homebuyers have opportunities to find many kinds of homes to suit their preferences.
Hickory Creek Amenities
Several parks with lake access
Public boat ramps
Hickory Creek Campgrounds
RV sites with utilities
Hiking trails
Lake Dallas

Lake Dallas is a growing small town on Lewisville Lake. This resort community is bordered by Hickory Creek to the west and Lewisville Lake to the east. The Lewisville Lake Toll Bridge connects Lake Dallas to Lakewood Village and Little Elm on the eastern shore.
Lakeview Marina in Lake Dallas offers boat storage and repair, as well as covered and uncovered boat slips ranging in size from 22 to 58 feet to accommodate both power boats and sailboats.
Water's Edge Condominiums is a luxury condo community in Lake Dallas overlooking Lewisville Lake. Condos are updated with quartz countertops, modern color schemes, and attached garages. Prices for 3-bedroom condos here typically range from the high $300s to the high $400s. Some of the amenities offered to residents include a clubhouse, pool, fitness facilities, spa, and many other benefits. Not to mention, the condos are in a secluded location surrounded by the natural landscapes of the lake.
Most housing development is set away from the shoreline, but Lake Dallas homebuyers can occasionally discover homes with water views. Lake Dallas homes for sale typically list in the high $300s and low $400s, but the area is very popular. Homes in Lake Dallas typically don't stay on the market long.
Lake Dallas Amenities
Waterfront luxury condominiums
Lakeview Marina
Affordable housing options
Parks and recreational facilities
Ready to Find Your New Lake House on Lewisville Lake?
No matter what kind of lake lifestyle you're looking for, Lewisville Lake has a neighborhood for you. Whether you're looking to buy a Lewisville lake house to head onto the lake for boating fun or enjoy spending a day at the beach in the middle of the Metroplex, you have so many options when you live on Lewisville Lake.
With several marinas throughout the lake, boatowners have plenty of options for storing vessels of all sizes. There's no shortage of recreational activities, outdoor spaces, and public parks in each of the neighborhoods we've explored.