Best Neighborhoods in Lubbock-Cooper ISD: South Lubbock Schools
Posted by Texas Real Estate Source on Tuesday, February 7, 2023 at 4:36:20 PM
By Texas Real Estate Source / February 7, 2023
Comment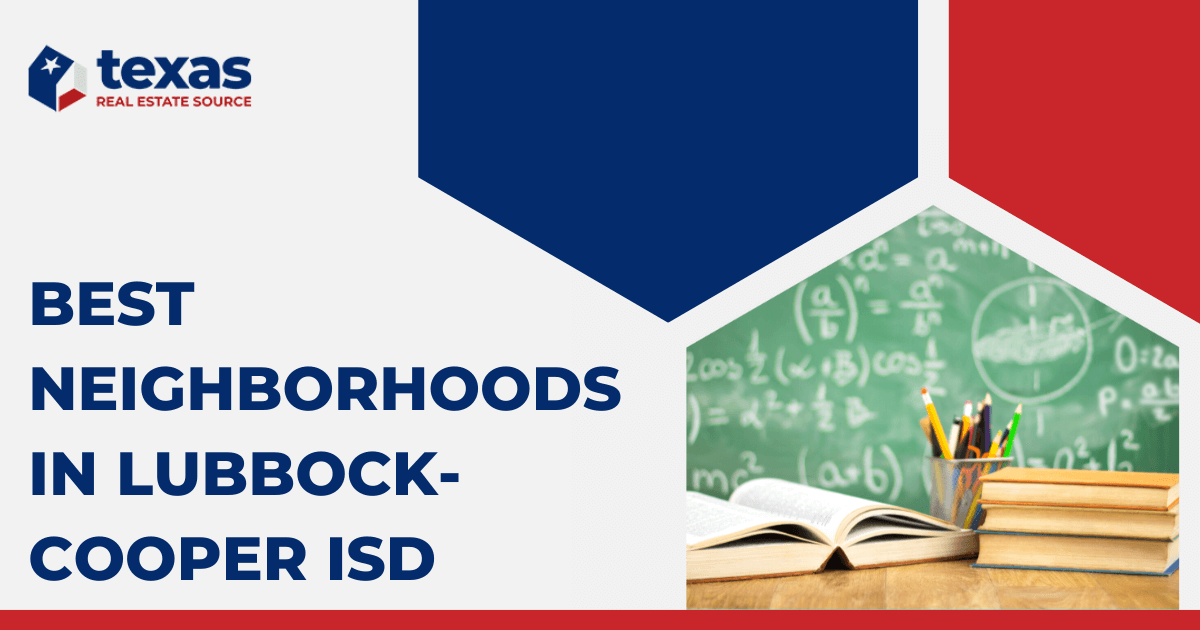 A large number of school districts surround the city of Lubbock, Texas, serving students in the city and throughout the many rural communities in the region. Several small towns near Lubbock, like Shallowater, Slaton, and Abernathy, have their own school districts, while the larger, growing population center of Lubbock has mandated multiple districts over the years in order to serve its educational needs.
Established in 1907, the Lubbock Independent School District is the area's largest agency, serving nearly 30,000 students in the central part of the city. Bordering Lubbock ISD to the west is the Frenship Independent School District, centered around the small town of Wolfforth. Adjacent to Frenship ISD and bordering Slaton ISD to the east is the Lubbock-Cooper Independent School District, founded in the 1930s to serve students south of the city.
About Lubbock-Cooper ISD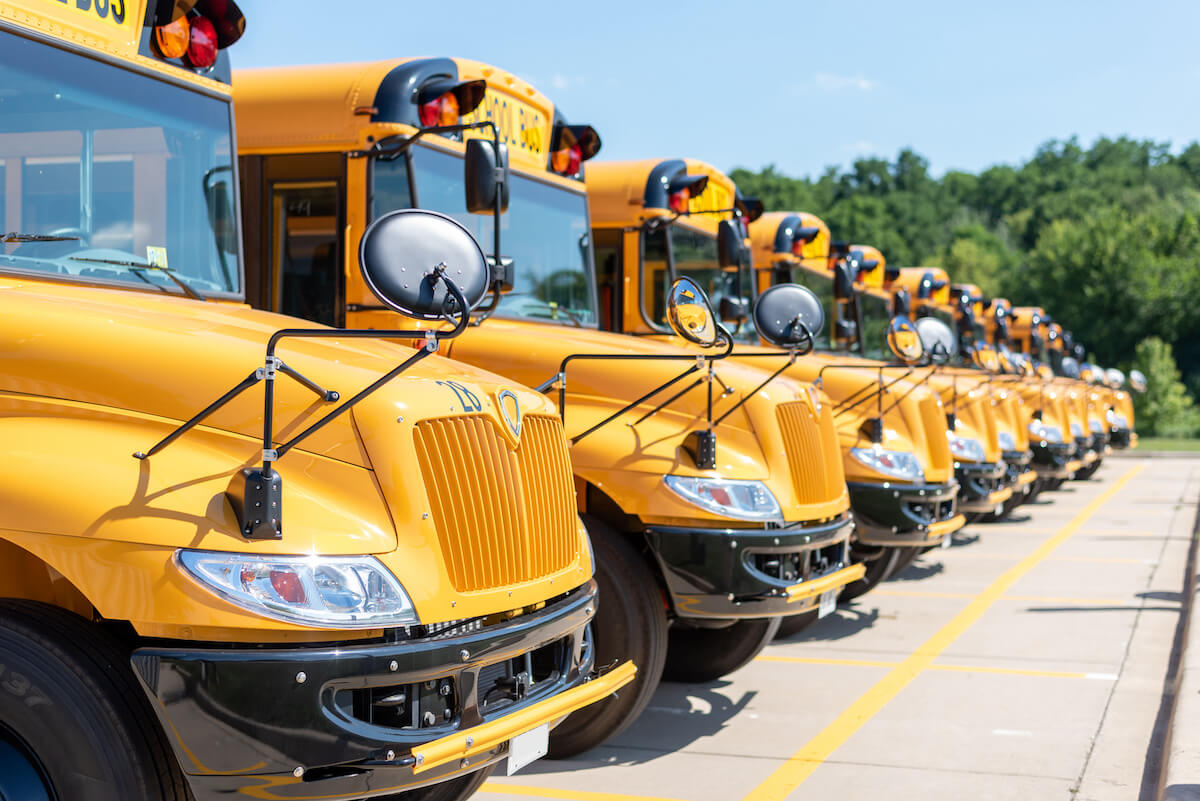 Covering an area from the Lubbock-Lynn county line north to 98th Street, Lubbock-Cooper ISD serves more than 7,000 students in this burgeoning section of the city. With a growth rate over the past few years of 20% or more, Lubbock-Cooper ranks among the fastest-growing school districts in Texas.
Lubbock-Cooper ISD comprises five elementary schools, two middle schools, and two high schools. The first schools in the district were established in what is now the Woodrow educational complex near Highway 87. Today Lubbock-Cooper South Elementary, Lubbock-Cooper Middle School, and Lubbock-Cooper High continue to serve area students, with additional campuses conveniently located throughout the district.
Elementary schools in Lubbock-Cooper ISD are generally named for their location within the district, West, Central, North, East, and South. In addition to the original middle school at the Woodrow complex, the Laura Bush Middle School campus in the northwest corner of the district serves about a thousand students in nearby neighborhoods. And Lubbock-Cooper ISD's newest campus, Liberty High School, serves residents living on the district's west side.
Fox Ridge
South of 98th Street, between University Avenue and Avenue U, lies the neighborhood of Fox Ridge. With I-27 only a few blocks to the east, Fox Ridge residents enjoy easy access to activities and attractions throughout the city. Zoned for Lubbock-Cooper ISD schools, the community is also convenient to several nearby campuses, including North Elementary, Laura Bush Middle School, and Lubbock-Cooper High School, just five miles down the interstate.
Fox Ridge homes for sale often feature well-landscaped front yards, fenced backyards, and rear service alleys. Comprising mostly newer construction homes, floorplans in the neighborhood measure between 1,200 and 2,600 square feet, with prices generally in the $200s and $300s.
The area around Fox Ridge boasts plenty of retail shopping, restaurants, and recreation opportunities, including an adjacent Walmart Neighborhood Market, Señor Chubby's Mexican Bar and Grill a few blocks west, and Earl Crow Park, less than a mile up University Avenue.
Kelsey Park
Lubbock's Kelsey Park neighborhood is farther south down Quaker Avenue, and the Lubbock-Cooper Central Elementary School campus is conveniently located within walking distance of homes in the northwest corner of the community. Kelsey Park students are zoned for Lubbock-Cooper ISD Middle and Liberty High.
Homes for sale in Kelsey Park are primarily new construction, with a mix of styles and floorplans. Typical properties here run from around 2,000 to 4,000 square feet and are priced from the $400s to over a million.
Kelsey Park is home to an 80-acre community park where residents enjoy paved walking trails, a private pond, and plenty of wide-open green space. The neighborhood also hosts the Trinity Christian educational and athletic complex, along with the Archie Warwick Memorial Stadium. Nearby hotspots include the Little League baseball fields at Thomas A. Martin Youth Sports Complex and the West Texas Raceway on the other side of Highway 87.
Orchard Park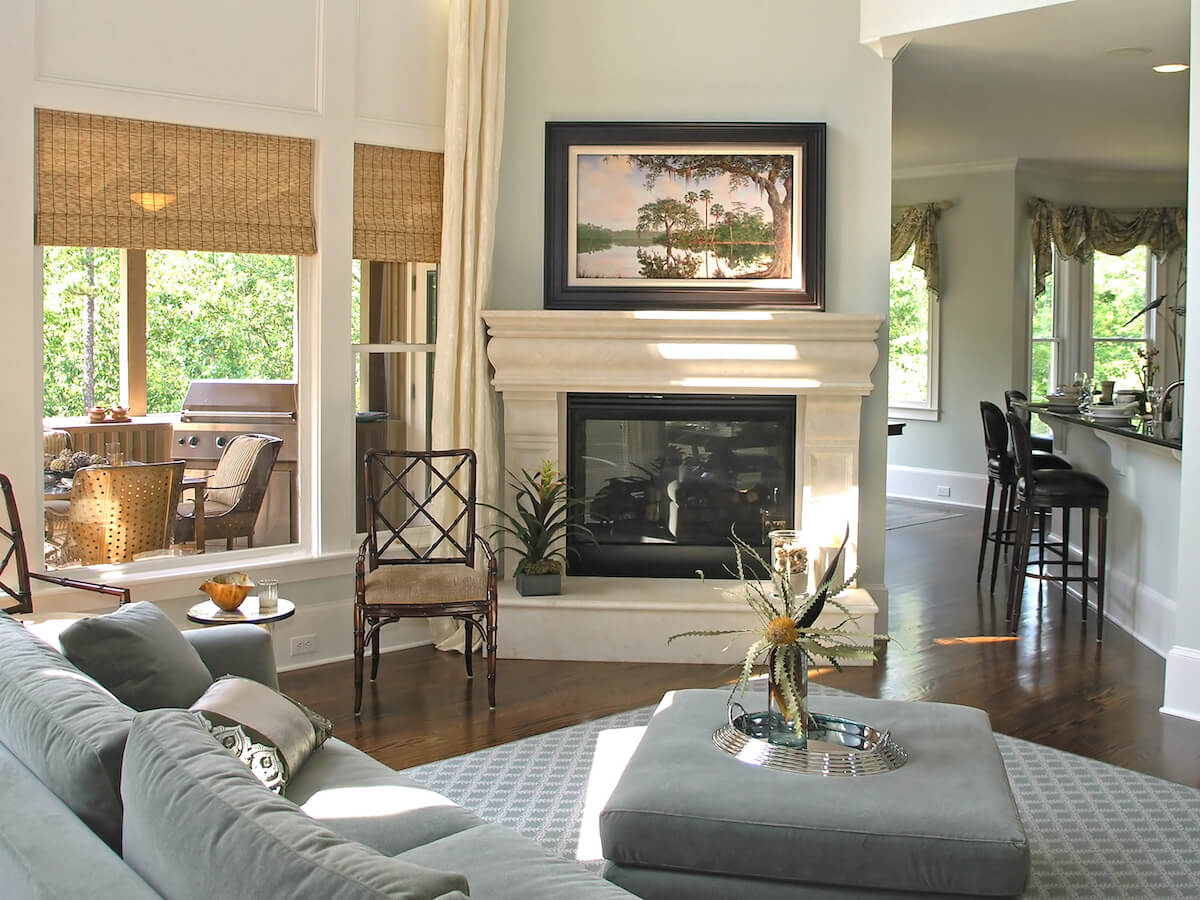 Further west, along 114th Street between Quaker and Memphis avenues, you'll find the residential development of Orchard Park. This community was established in 2008 and hosts more than a thousand residents today. Kids in Orchard Park attend the nearby Lubbock-Cooper ISD campuses of Central Elementary, Laura Bush Middle School, and Lubbock-Cooper High.
Orchard Park real estate crosses several different neighborhoods, including gated communities and non-gated sections. Homes here feature layouts as large as 4,000 square feet, with spacious lots and fenced backyards. Prices typically start from the $500s, ranging to more than a million.
Residents of Orchard Park enjoy plenty of area attractions and activities, with several Lubbock golf courses located throughout the region and The Falls Tennis and Athletic Club just blocks from the neighborhood. An H-E-B grocery is located nearby, as are favorite restaurants like Something Different Grill and Las Brisas Southwest Steakhouse.
Highland Oaks
Just west of Liberty High School is the country-lifestyle community of Highland Oaks. Located entirely within Lubbock-Cooper ISD, students here are also zoned to Laura Bush Middle School and Central Elementary, both usually 10 minutes away or less.
Amenities in Highland Oaks include multiple swimming pools, a community clubhouse, lighted tennis and basketball courts, and an ample central green space surrounded by walking trails and playgrounds. Residents also enjoy the peace of mind of having a dedicated security patrol in the neighborhood.
Homes for sale in Highland Oaks typically feature custom floorplans measuring between 2,000 and 5,000 square feet and sit on spacious one-acre lots. Fenced backyards here are large enough for private pools, entertainment patios, and additional detached structures like barns and greenhouses. Home prices in this Lubbock luxury neighborhood typically range from the $400s to the $800s, with vacant lots for sale generally starting from the $50s.
Fountain Hills Estates
In the extreme northwest corner of Lubbock-Cooper ISD is Fountain Hills Estates, positioned between Milwaukee and Frankford avenues on the north side of 114th Street. Students in the neighborhood are zoned to West Elementary and Laura Bush Middle School, funneling into Liberty High School a few miles to the south on Woodrow Road.
Established in 2010, Fountain Hills Estates features newer custom homes on oversized lots. Layouts typically measure between 2,800 and 4,800 square feet on homesites of a half-acre or larger, with prices generally from the $500s to the $900s. Vacant property is also available for new construction, priced from the $80s to the $100s.
The community's location positions it conveniently near many of the newly developed attractions and activities throughout Southwest Lubbock. Several Lubbock parks and golf courses provide plenty of outdoor recreation, and locals enjoy easy access to a variety of retail shopping and restaurants in this part of the city.
Vintage Township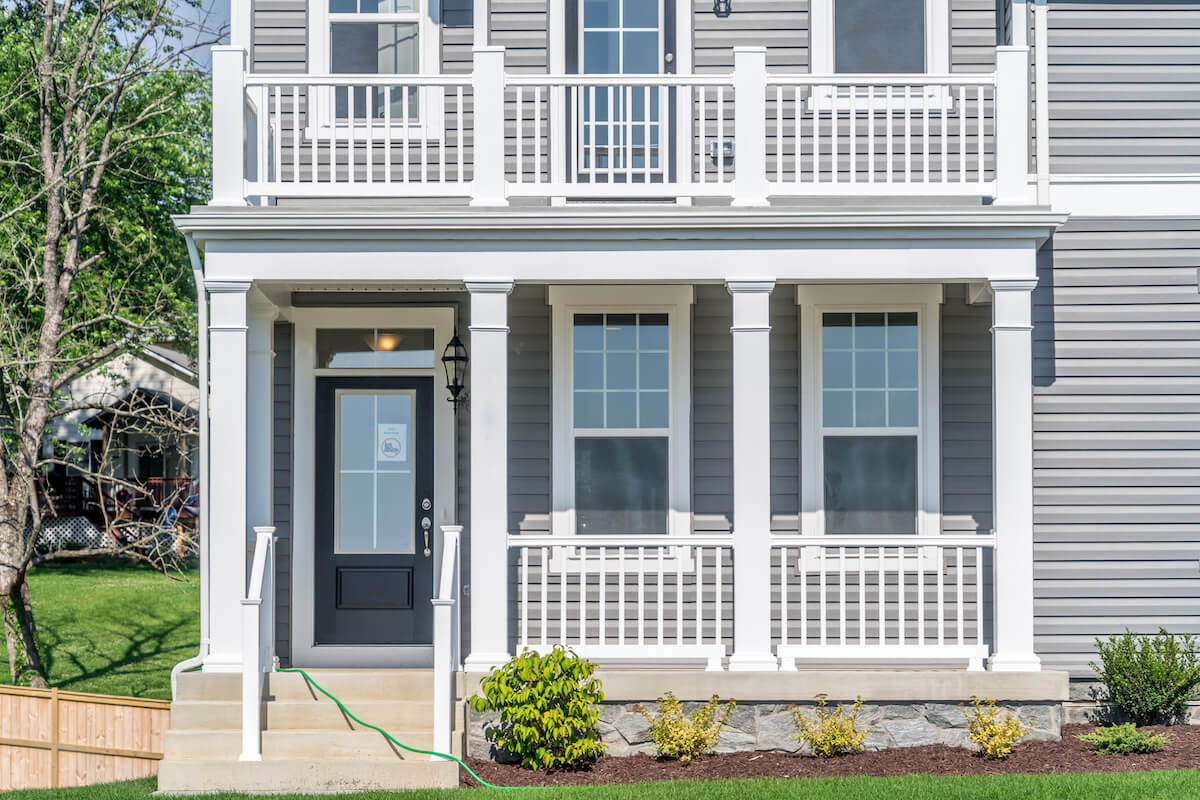 Vintage Township is among the most popular and unique neighborhoods in the southwest corner of Lubbock, featuring an eclectic mix of home types and architectural styles. Homebuyers looking at Vintage Township real estate will find quick move-in properties and new construction homes with floorplans up to 5,000 square feet. Prices are typically from the $400s, with vacant lots starting in the $40s.
Students in Vintage Township are zoned for Lubbock-Cooper Central Elementary a mile to the south, Laura Bush Middle School just a few blocks east, and Liberty High School near Quaker Avenue and Woodrow Road.
The community provides its residents with a wealth of next-level amenities. Several neighborhood parks and playgrounds, sports courts, a swimming pool, and a splash zone are among the favorite outdoor activities here. Homeowners in Vintage Township also enjoy an outdoor fireplace on the Founders Park Patio and community gatherings at the Town Hall event center.
Meadows South
Meadows South is located a few blocks northeast of Fountain Hills Estate. This neighborhood features several hundred single-family homes, most of which were built between 2000 and 2015. Typical homes for sale in Meadows South range from 1,800 to 2,200 square feet, with prices in the $200s and $300s. A large natural open space provides a buffer between homes here and nearby commercial development along FM 1730.
Students in the Meadows South neighborhood are zoned to West Elementary, within walking distance on the other side of Frankford Avenue. Elsewhere, kids in the community attend the nearby campuses of Laura Bush Middle School and Liberty High School.
Locals in this part of the city find no shortage of things to do. The Play Street Museum across Slide Road and The Little Gym of Lubbock gymnastics center in the community's northeast corner provide local children with plenty of playtime, learning activities, and special events. Older "kids" in the Meadows South neighborhood enjoy their leisure time at neighboring hotspots like Back 40 Grill or Gator's Bayou Cajun-style pub.
Viridian
Viridian ranks among the newer residential developments in the region. Located between Highway 87 and the community of Kelsey Park, the neighborhood is zoned for Lubbock-Cooper schools, including the East Elementary campus in the heart of the subdivision. The middle and high schools in the nearby Woodrow educational complex serve the remaining Viridian students.
Construction in Viridian began in early 2018, offering a variety of single-family properties and townhomes for sale. Homebuyers will find custom floorplans from top Lubbock home builders like Cody Craig Custom Homes, Southern Homes by Dan Wilson, and Texas Odyssey. Sizes range from 1,700 to 2,800 square feet, with homes for sale in Viridian generally starting in the mid-$300s.
Community amenities in Viridian include a neighborhood swimming pool, lots of green space, and an event center. Outside the subdivision, residents enjoy a bite at Rosa's Café and Tortilla Factory and grown-up playtime at the nearby Grab Axxes axe-throwing sports club.
Living in Lubbock-Cooper ISD
As the southern and southwest sections of Lubbock continue to expand, with commercial and residential development ongoing, a growing number of students are moving to Lubbock. The Lubbock-Cooper Independent School District is committed to matching that growth with the construction of several new campuses. Today, Lubbock-Cooper ISD facilities are convenient to the most popular neighborhoods in this part of the city. Whether homebuyers are looking to live close to town or prefer a property with a more rural vibe, there's a neighborhood zoned to Lubbock-Cooper ISD perfect for any lifestyle.
Ready to discover your next home in Lubbock? Call The RealFX Group at (512) 956-7390 to get in contact with an experienced local real estate agent today and let us help you find your dream home in Lubbock, TX.