8 Best Sugar Land Neighborhoods: Where to Live in Sugar Land
Posted by Texas Real Estate Source on Tuesday, January 24, 2023 at 2:28:37 PM
By Texas Real Estate Source / January 24, 2023
Comment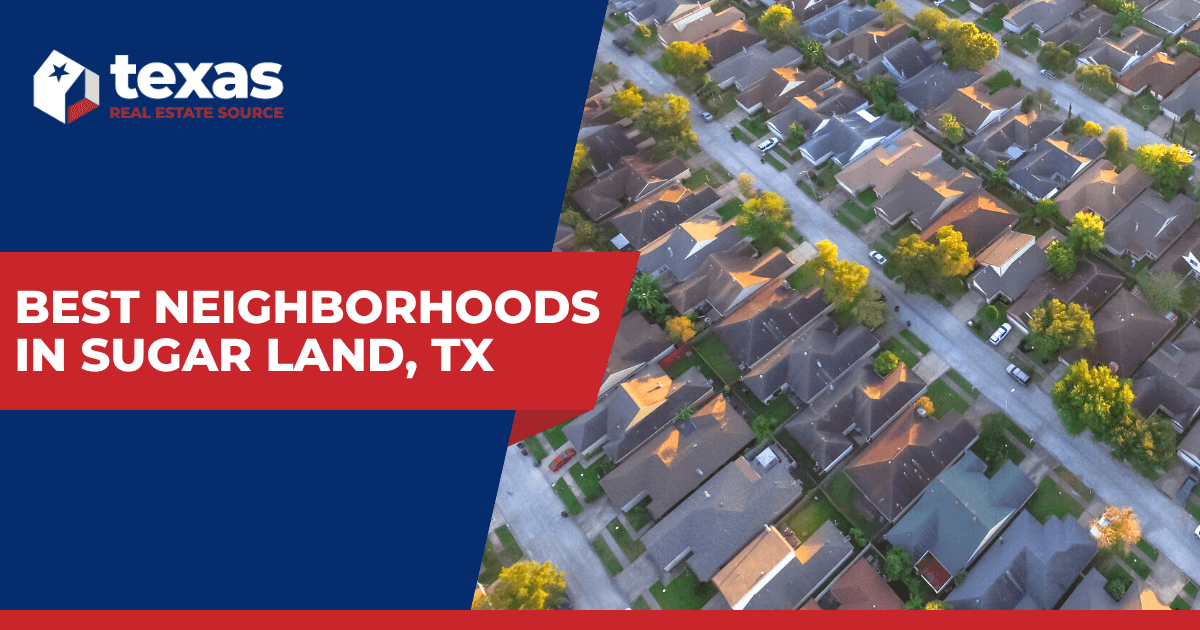 Sugar Land is one of the most popular high-end Houston suburbs, located in the southwest region of the Greater Houston area. This city offers abundant attractions, resources, and residential developments, making it one of the best places to live in this part of Texas. The area has developed into a major suburban center with ongoing commercial development and economic growth, yet maintained a small-town vibe and sense of community.
However, where are the best neighborhoods in Sugar Land? If you're in the market for a home in Sugar Land, here's where we suggest starting your home search:
Greatwood
Greatwood is a golf course community in Fort Bend County, just south of Sugar Land. Living only 30 miles from downtown Houston, residents of Greatwood have convenient access to everything there is to do and see in the southwest stretches of the city. First established in the late 80s, today, Greatwood features more than 3,000 homes and is considered one of the best neighborhoods in Sugar Land.
The Greatwood community has neighborhoods dedicated to custom homes and sections consisting of townhomes and condos for sale. Floor plans range from 1,800 to more than 10,000 square feet, with homes selling from the $200s to $2 million or more. Many of the properties in Greatwood back up to the golf course, while others provide great views of the neighborhood's lakes and green spaces.
Homeowners in Greatwood enjoy a wealth of private amenities. In addition to the world-class golf facilities, the neighborhood features several swimming pools, multiple tennis courts, and a community clubhouse. There are also a dozen parks and playgrounds, more than 30 acres of lakes, and a few miles of hike-and-bike trails throughout the area.
Several popular area destinations and attractions are nearby, including First Colony Mall, Riverpark Shopping Center, George Ranch Historical Park, and Brazos Bend State Park. Numerous other retail, restaurant, and recreation options are available throughout the Sugar Land area.
Greatwood is zoned for Lamar Consolidated Independent School District. Campuses serving students in the subdivision include Susanna Dickinson Elementary, Bess Campbell Elementary, Antoinette Reading Junior High, and nearby George Ranch High School. Several private schools and daycare facilities are also convenient to the neighborhood.
Greatwood Amenities
Club House
Three Swimming Pools
Waterpark and Splash Pad
Tennis Courts
Walking Trails
Community Lakes
Greatwood Golf Club
Riverstone
Among the best neighborhoods in Sugar Land is the master-planned community of Riverstone. The 3,800-acre development features hundreds of luxury homes situated around several community lakes. It's been considered one of the top-selling neighborhoods in the region for the past several years.
Homes for sale in Riverstone offer a mix of property types, including townhomes and single-family houses. Riverstone homesites generally run larger than average, as do the homes themselves. Floor plans range from 2,700 to more than 3,500 square feet, with prices generally starting in the $700s.
Those living in Riverstone are just minutes away from several shopping centers, health and professional services, and hundreds of dining options along the Highway 6 corridor. The neighborhood features resort-style amenities like swimming pools, a waterpark, tennis courts, a fitness center, and several recreation centers. Plenty of walking paths, parks, and playgrounds are found throughout the community. There's even a dedicated dog park designed especially for resident pups.
Schools in Riverstone are zoned in Fort Bend ISD. Anne Sullivan Elementary School is on-site, with the Sonal Bhuchar Elementary campus opening soon. Middle schools in the area include the First Colony and Fort Settlement campuses, and Lawrence E. Elkins High School is just minutes away. Several private schools and daycares are also found nearby.
Riverstone Amenities
The Club at Riverstone
Creekstone Village Recreation Center
Riverstone Boulevard Recreation Center
Tennis Courts
Parks and Trails
Dog Park
New Territory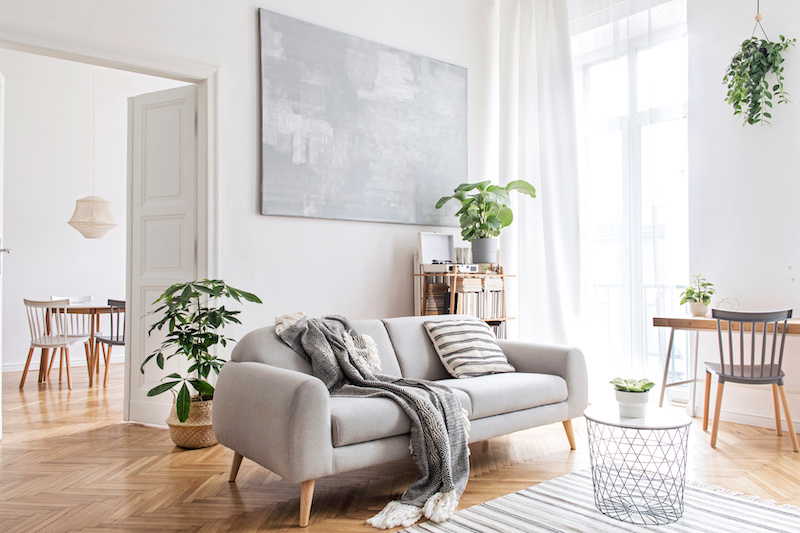 Long considered one of the best Sugar Land neighborhoods, New Territory is a huge master-planned community consisting of more than 40 subdivisions. Situated along U.S. Highway 90-A, about 30 miles from downtown Houston, the area once held thousands of acres of pecan groves and sugar cane fields. Today, New Territory features more than 4,600 homes and a population approaching 20,000 residents.
Homes for sale in New Territory are generally single-family homes in various styles, including Traditional, Colonial, and Georgian-Revival. Typical floorplans are two-story homes with four beds, three baths, and 3,000 square feet of total living space. Home for sale in New Territory typically have an average price in the mid-$500s. The New Territory community also features several waterfront homes and a section of gated homes.
Residents enjoy an abundance of community amenities and outdoor activities. At the heart of the neighborhood is The Club, featuring a complete gymnasium, a weight and fitness center, and convenient locker rooms. Nearby are a resort-style swimming pool complex, tennis and pickleball courts, and several playgrounds and sports fields.
Students in New Territory attend Fort Bend ISD schools in Sugar Land. Walker Station and Brazos Bend Elementary Schools are located within the community, along with the Sartartia Middle School campus. Secondary institutions serving the area include William B. Travis and Stephen F. Austin High Schools.
New Territory Amenities
Club House
Four Swimming Pools
Splash Pad
Multiple Tennis Courts
Parks and Playgrounds
Hiking and Biking Trails
Community Lakes
Telfair
Telfair is one of the newest neighborhoods in Sugar Land. This mixed-use community sits on over 2,000 acres west of town, stretching from Highway 90 Alternate down to Interstate 69. Residents of Telfair enjoy easy access to all of Southwest Houston and West Houston, including the Energy Corridor, numerous nearby parks, and the Texas Medical Center.
The Telfair community's distinctive landscaping and architecture feature wrought iron and brick details, suspension bridges, and colorful gardens. Single-family homes for sale in Telfair typically range from the $500s to $1.5 million and higher, with a median sale price generally in the high $600s.
Community amenities and attractions in Telfair include two swimming pools, a spacious community center, and several miles of walking and biking trails surrounding the 70-acre lake. The neighborhood also features almost 800 acres of undeveloped open space, with another 250 acres dedicated to parks and playgrounds. Telfair residents also enjoy WiFi access throughout all areas of the community.
Students here attend Fort Bend ISD schools. Elementary school campuses serving Telfair include Colony Meadows and Cornerstone. Kids in grades six through eight attend Fort Settlement and Sartartia Middle Schools, and older students enroll at nearby Clements High School. Private learning and daycare facilities are also located throughout the area.
Telfair Amenities
Community Club House
Two Swimming Pools
Waterpark and Splash Pad
Five Tennis Courts
Parks and Playgrounds
Trails and Lakes
Community WiFi
Avalon
Located near the Brazos River, about 20 miles from downtown Houston, is the community of Avalon. This Sugar Land neighborhood consists of five different sections, most of which offer waterfront homes for sale around the community's 70-plus acres of lakes.
The Avalon community features around 800 custom homes, ranging in size from 2,200 to more than 6,500 square feet. Typical homes for sale in Avalon list for a median price in the $900s.
Residents in the area are surrounded by recreational opportunities. Nearby Sugar Land Memorial Park and Brazos Landing provide plenty of trails for running, walking, and biking, with numerous playgrounds, picnic areas, and a dedicated dog park.
Inside the Avalon neighborhood, homebuyers will find a community clubhouse, tennis courts, a swimming pool complex, and multiple parks, playgrounds, and pathways. Avalon's lakes provide residents with opportunities for fishing, kayaking, and sailing just minutes from their front doors.
Avalon is zoned for Fort Bend schools, with nearby Commonwealth Elementary and the on-site Fort Settlement Middle School serving younger students. Older kids attend Clements High School, just a few blocks to the north. Several daycares and private early-leaning facilities are also found close by.
Avalon Amenities
Infinity Pool
Clubhouse
Tennis Courts
Walking Area
Playground
Pocket Parks
Sweetwater
Another of the best Sugar Land neighborhoods is the golf course community of Sweetwater. Less than 30 miles from downtown Houston attractions, Sweetwater residents are close to everything there is to do and see in the southwest corner of the greater metropolitan area.
The community is centered around the Sweetwater Country Club, with more than 570 upscale luxury homes situated along the fairways that stretch through the neighborhood. The average home in Sweetwater was built in the 1990s, features more than 5,000 square feet, and has a market value in the mid-$800s. Homes for sale in Sweetwater generally range from the $400s to more than a million.
Sweetwater's members-only country club is the main attraction. Sweetwater Country Club offers two championship-caliber golf courses, indoor and outdoor tennis courts, racquetball and basketball courts, and state-of-the-art fitness training facilities. Elsewhere in the community, residents enjoy multiple swimming pools, parks, and playgrounds, connected by various hiking and biking trails.
Sweetwater's students are served by Fort Bend ISD schools. Elementary school campuses in the area include Colony Bend, Commonwealth, and Settlers Way Elementary Schools. Kids in grades six through eight attend Fort Colony Middle School, and high schoolers enroll at the nearby Clements campus.
Sweetwater Amenities
Sweetwater Country Club
Several Swimming Pools
Resort Style Waterpark and Splash Pads
Multiple Tennis Courts
Parks and Playgrounds
Hike and Bike Trails
Community Lakes
First Colony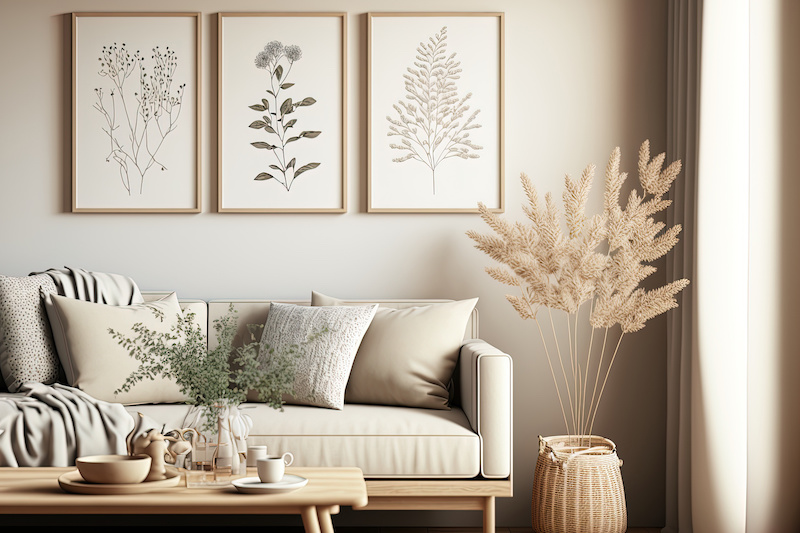 The master-planned community of First Colony sits on nearly 10,000 acres in Fort Bend County. This massive development comprises several dozen neighborhoods, with addresses in Sugar Land and neighboring Missouri City. First Colony features a mix of residential and commercial development, including the million square feet of retail space at First Colony Mall.
First Colony is home to more than 60,000 residents. Properties in the community include single-family homes, apartment complexes, condos, and townhomes for sale. The typical home in First Colony averages more than 3,000 square feet and lists in the high $800s.
The neighborhood benefits from a strong homeowners' association, ensuring that all landscaping, parks, walking paths, and common areas are well-maintained. Folks living in First Colony also enjoy several small community lakes and the many larger parks and lakes found throughout the surrounding region.
School-age residents of First Colony attend a variety of different schools in Fort Bend ISD. Depending on their exact address, students enroll in one of the area's many elementary schools, including Austin Parkway, Colony Bend, Settlers Way, and Lexington Creek, among others. Middle schools serving the community include the on-site First Colony campus, Dulles Middle School in Sugar Land, and Quail Valley Middle School. Most secondary-age students attend nearby Clements High School, with Dulles, Elkins, and Kempner High Schools serving some sections of First Colony.
First Colony Amenities
Aquatic Center and Neighborhood Pools
Tennis and Pickleball Courts
Bocce Ball Courts
Lighted Sand Volleyball Courts
Disc Golf
Heritage Colony Clubhouse
Oyster Creek Boathouse
23-Acre Lake
Imperial
The mixed-use development of Imperial offers home buyers the opportunity to live in one of the newest and best neighborhoods in Sugar Land. Constructed on more than 700 acres formerly owned by the Imperial Sugar Company, the community provides residents with a wealth of retail, recreation, and residential options.
Imperial is a unique community in that its new construction homes are designed to resemble the classic brownstones famous on the East Coast. The Imperial master plan includes over a thousand such homes, with additional mid-rise housing and a substantial amount of space reserved for commercial and office use.
Imperial's brownstones are built by Gracepoint Homes and are available in two different floor plans. Both the Lincoln and Montgomery models feature three stories, around 3,500 square feet, and prices from the high $600s.
The community boasts lifestyle amenities like tennis courts, a swimming pool, and several parks and playscapes. Nearby attractions include the Fort Bend Children's Discovery Center, a weekly Farmers' Market, and Constellation Field, home of the Sugar Land Space Cowboys minor league baseball team.
Fort Bend ISD schools serve students living in Imperial. Kids in the community enroll in Lakeview Elementary, Sugar Land Middle School, and Kempner High School. Several private schools are nearby, including Fort Bend Christian Academy and St. Laurence Catholic School.
Imperial Amenities
Tree-Lined Boulevards
Parks and Trails
Community Lakes
Oyster Creek
Fort Bend Children's Museum
Farmer's Market
Constellation Field
Ready to Find Your Sugar Land Dream Home?
Homebuyers considering real estate in the area will quickly realize that Sugar Land features some of the best neighborhoods in Greater Houston. Communities in Sugar Land offer a variety of home styles and price ranges, with top-notch amenities and area conveniences. As the region continues to grow, homebuyers looking to move to this part of Texas should have little trouble finding a Sugar Land neighborhood perfect for any lifestyle.