Best Parks in Sugar Land TX: 5 Sugar Land Parks & Bike Trails
Posted by Texas Real Estate Source on Thursday, January 26, 2023 at 10:22:20 AM
By Texas Real Estate Source / January 26, 2023
Comment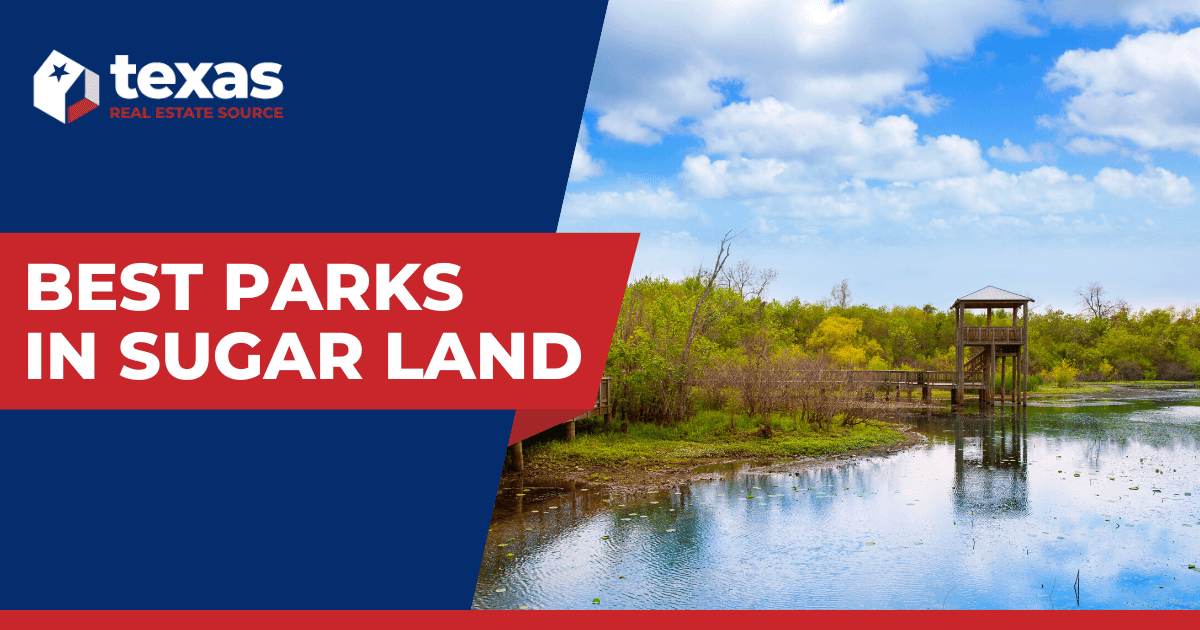 Part of Sugar Land's appeal is its access to a wide variety of outdoor activities. Whether you're looking for an expert-level mountain biking trail, a great play park, or the best place to spot an alligator, the parks in the city of Sugar Land won't disappoint. Residents and visitors can easily enjoy woodlands, wetlands, and wildlife at one of the city's many parks. If you're looking for the inside scoop on the best parks in Sugar Land, look no further.
Sugar Land Memorial Park
Sugar Land Memorial Park encompasses 150 acres and is bordered by the Brazos River. It offers 2.5 miles of walking and biking trails, two pavilions, an exercise area, an enclosed play area, playground equipment, a large grassy area, a Veterans Memorial, and a lake.
Take your kayak or canoe for a peaceful ride across the lake or cast a line to catch a channel catfish, bluegill, or largemouth bass. There's nothing quite like a day of good fishing or relaxing on the water. No matter which type of outdoor activity you enjoy, Sugar Land Memorial Park has it covered.
The park is also adjacent to the Pawm Springs Dog Park. This six-acre dog park includes a resort-style pond with a spray feature, play equipment, and a separate area for small dogs. Pawm Springs is a great place to let your dog let out the afternoon zoomies and play a little frisbee.
Sugar Land Memorial Park is a great place to enjoy the outdoors for the whole household.
Sugar Land Memorial Park Additional Information
Address: 15300 University Blvd. Sugar Land, TX 77479
Hours: Sunrise to sunset
Nearby Neighborhoods: Avalon, Colony Oaks, Williams Glen, Austin Meadows
Brazos River Park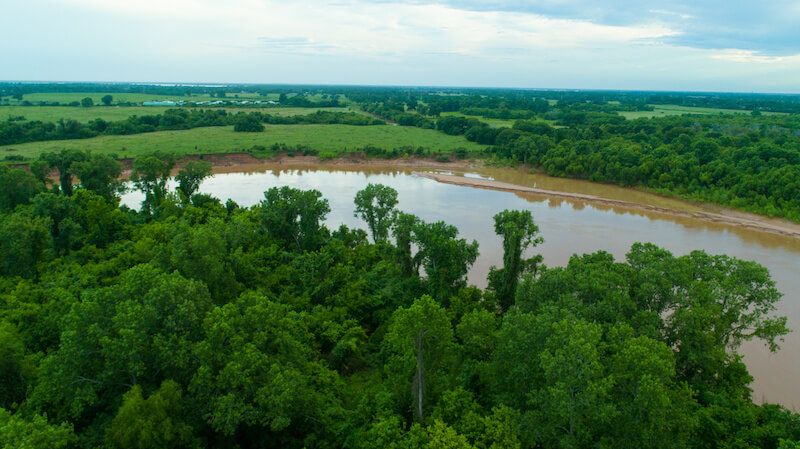 Brazos River Park covers 67 acres of premier outdoor recreation. It features 3.3 miles of walking and mountain biking trails, a disc golf course, and a stage area that can be rented for special events. Visitors can also take advantage of the BBQ grills, picnic tables, benches, and restrooms, with future development plans including a pavilion, playground equipment, concrete trails, bike racks, and irrigation.
One of Brazos River Parks' most standout features is a beautiful mosaic tile display. This work of art is made of recycled glass and wraps around a grassy overlook between the two main parking lots and the Crown Festival Park venue, so it's easy to find. Take a seat at the benches to admire it, or grab a friend and take some selfies.
From fishing to mountain biking or a quick game of disc golf, this is a great spot for your outdoor fix. Brazos River Park is a great option for a full day of fresh air and fun.
Brazos River Park Additional Information
Address: 18427 Southwest Fwy. Sugar Land, TX 77479
Hours: 7 a.m. to 9 p.m.
Nearby Neighborhoods: Greatwood, Colony Oaks, Williams Glen, Austin Meadows
Oyster Creek Park/Lost Creek Park
Lost Creek Park is a 21-acre community park featuring nine soccer fields (six lighted), a playground, a bike/walking trail, a pavilion, a picnic area, a concession stand, and restrooms. Visitors can take to the three-mile Oyster Creek Trail for an energizing jog or bring kids to play at the playground. There's no better way to spend an afternoon and release excess energy.
The park is also home to the Lost Creek Park Community Center. The community center can accommodate up to 40 people and offers plenty of parking, tables, chairs, and more. It's a great small event venue that offers access to the park and everything you need to help your event run smoothly.
Adjacent to Lost Creek Park is Oyster Creek Park. It offers a large amphitheater for up to 500 guests and can be reserved for private events.
These two park areas are some of the most popular places to visit in Sugar Land and are great picks for enjoying outdoor recreation and activities. They're also a great option if you're looking to host an outdoor event.
Oyster Creek Park/Lost Creek Park Additional Information
Address: 3703 Lost Creek Blvd. Sugar Land, TX 77479
Hours: 7 a.m. to 10 p.m.
Nearby Neighborhoods: Lake Pointe, Riverbend South, Brightwater Estates
Cullinan Park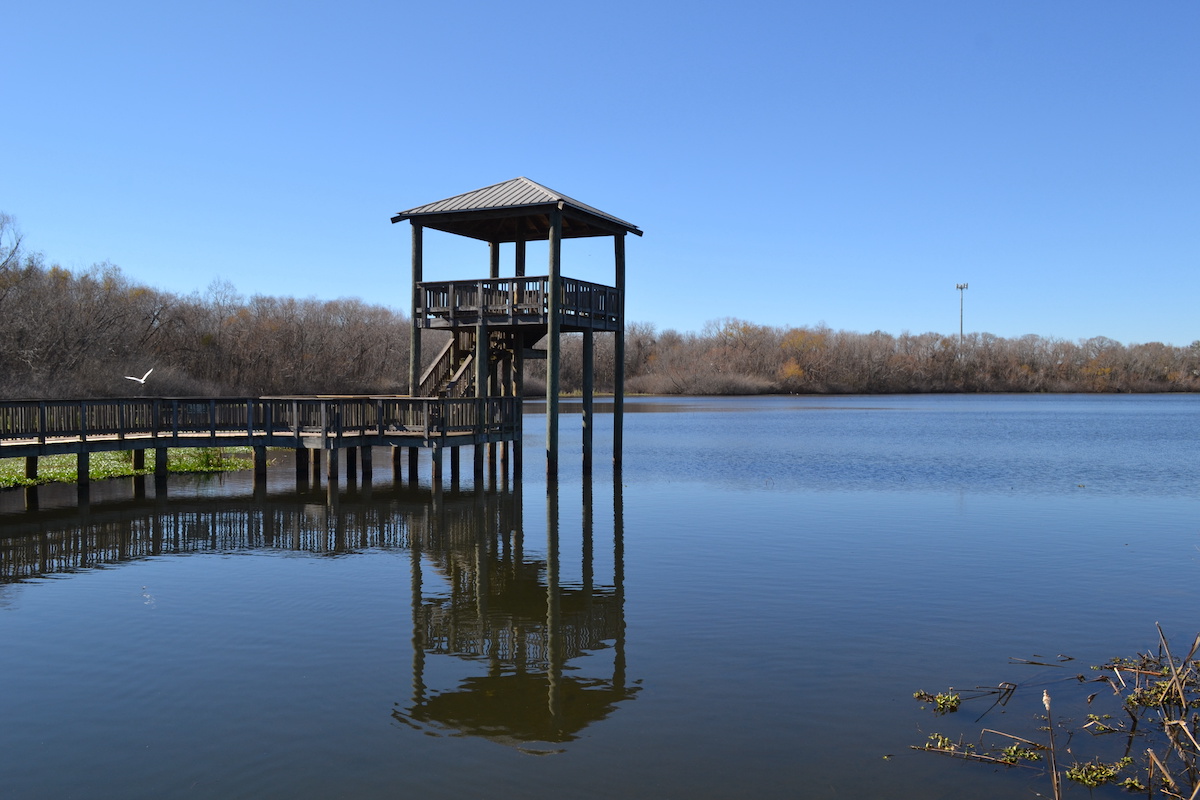 Cullinan Park is the perfect spot for the nature enthusiast. Spanning over 750 acres, this park offers a scenic opportunity to escape from everyday life. The tall trees and forested areas allow you to feel transported to a whole new place.
Visitors can check out wildlife in their natural habitat, including armadillos, hogs, and American alligators. There are also more than 200 species of birds and 300 species of plants to observe as well. Cast a line in one of the catch-and-release lakes or explore the woodlands and wetlands on the scenic nature trails that weave throughout the park, totaling over four miles. The park even has an observation tower so visitors can better view the local flora and fauna.
Whether you're hoping for a quiet picnic, a peaceful jog, or a birdwatching adventure, Cullinan Park is a fantastic opportunity to explore Texas wildlife.
Cullinan Park Additional Information
Address: 12414 Hwy 6 Sugar Land, TX 77498
Hours: Sunrise to sunset
Nearby Neighborhoods: Pheasant Creek, Park Pointe, Oak Lake Estates, Orchard Lake Estates, Stratford Park Village
Sugar Land Bike Trails
One of the best things about Sugar Land is its commitment to providing the community with plenty of opportunities to get outdoors and explore. The City of Sugar Land park system offers over 35 miles of trails.
Mountain bikers can access singletrack dirt trails at Brazos River Park, Sugar Land Memorial Park (Justin P. Brindley Trail), Oyster Creek, and RiverPark. Trails range from 1 mile to 5.4 miles and have varying levels of difficulty. Beginners can utilize the RiverPark MTB trail for an opportunity to try a winding trail with slight inclines and declines throughout. Experienced mountain bikers can challenge their skills at the Justin P. Brindley Mountain Bike Trail with its raised narrow boards and bridge drop-offs.
Bikers looking for something a bit more mellow can check out the trails at Cullinan Park, Eldridge Park, Oyster Creek and Lost Creek, Brazos River Park (paved), and Memorial Park.
No matter your skill level, there's a trail created just for you. Try them all to find your new favorite path to unwind and explore.
Outdoor Adventures in Sugar Land, Texas
Living in the Houston metro area can sometimes feel like there's no escape from the big city feel. But, once you know where to look, living in Sugar Land gives you access to fantastic parks and unlimited outdoor adventure. Whether you enjoy hours of peaceful walking along the wooded nature trails, wrangling bigmouth bass, or just want a place for your kids to play, Sugar Land parks have it all. From large-scale community events to neighborhood soccer practice or birdwatching and bike riding, you can find exactly what you're looking for in these Sugar Land parks.