5 Best Places for Engagement Photos in Houston
Posted by Texas Real Estate Source on Thursday, March 17, 2022 at 11:26 AM
By Texas Real Estate Source / March 17, 2022
Comment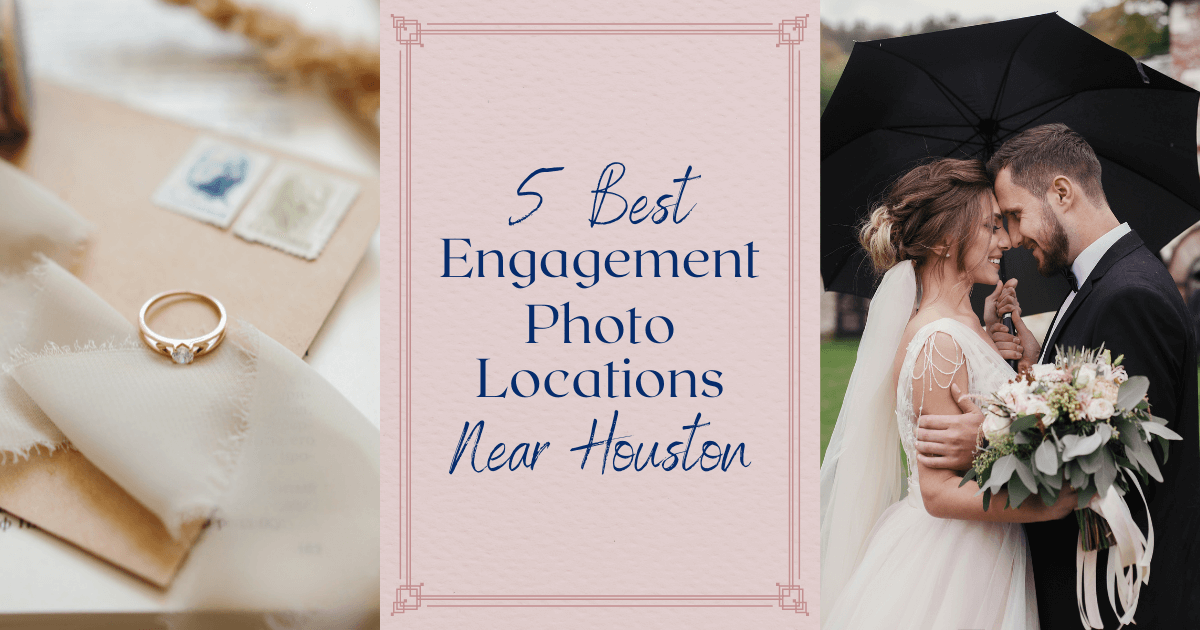 Natural settings, dramatic skylines, and imaginative works of art are just some of the endless possibilities for engagement photo settings in the city of Houston. Enjoy a stunning backdrop of delicate blue flowers at the William D. Lee Iris Collection at the Mercer Botanic Gardens. Pause atop the Sabine Street Bridge for a fantastic view of the Houston skyline. Linger in front of the Synchronicity of Color at Discovery Green for an artistic effect. An engagement photo should express a couple's personality, and Houston's scenic backgrounds provide plenty of opportunities to do so. Ready to capture that perfect shot? Consider one of the following best places for engagement photos in Houston.
Discovery Green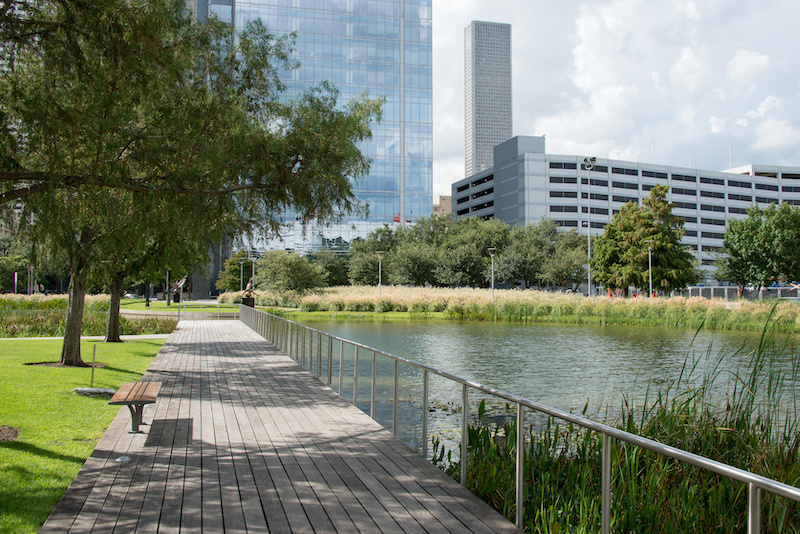 Discovery Green is a 12-acre public park located in the heart of downtown Houston. This remarkable urban greenspace represents a partnership between the city of Houston and residents who had the vision of converting a series of parking lots into a lush and beautiful outdoor park and entertainment space.
There are a number of stunning backdrops that are ideal for engagement photos, such as the one-acre Kinder Lake surrounded by plants and trees. The Brown Foundation Walkway provides a shady and intimate feeling for an engagement picture under the 100-year-old live oaks that line the pathway. A beautiful fountain set amid shady trees can be found in the Wortham Foundation Gardens, as well as colorful works of art. The 2-acre expanse of grass on Jones Lawn provides a stunning view of the Houston skyline.
Discovery Green Additional Information
Hours: Daily from 6 a.m. to 11 p.m. (including holidays). Extended summer hours are 6 a.m. to 12 a.m.
Address: 1500 McKinney, Houston, Texas 77010
Sabine Street Bridge
Originally built as a footbridge to cross the Buffalo Bayou in 1891, the Sabine Street Bridge is now a cherished landmark in Houston. Listed on the National Register of Historic Places, the bridge was built in 1924 and is the oldest concrete bridge remaining from the civic improvement program that took place in Houston in the 1920s.
This historic bridge features a view of the downtown Houston skyline that is unparalleled in the city. This view is a dramatic backdrop for a photo session, particularly during the moments before sunset. The sun's reflection in the skyscrapers is contrasted against the deep blue of the darkening sky, providing a thrilling and timeless effect. The trees that grow beneath the bridge reach high enough to frame the scene, adding a complementary natural border to the urban image.
Sabine Street Bridge Additional Information
Hours: Open 24 hours
Address: Buffalo Bayou Walk in Eleanor Tinsley Park
West of IH-45 before merging with IH-10
Houston, TX 77019
Hermann Park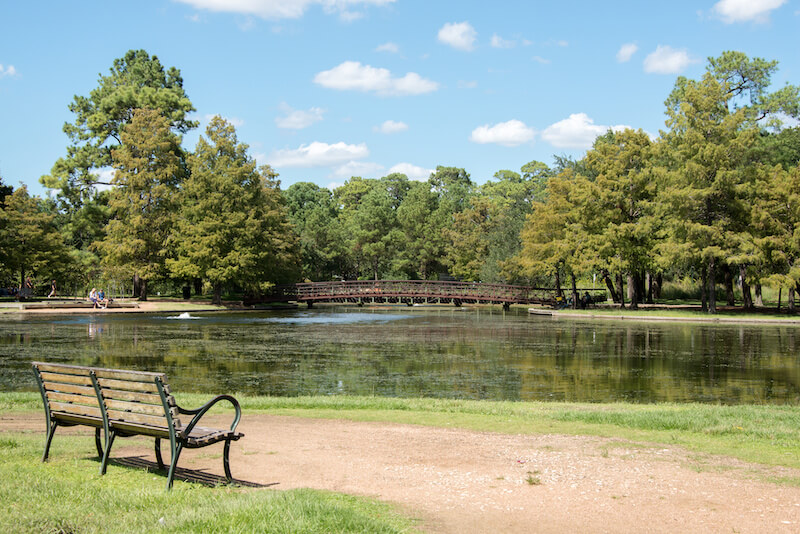 Hermann Park is a 445-acre park that is located downtown and central to all of Houston. The park is named after George Hermann, a successful entrepreneur who bestowed this generous portion of land to the city of Houston in 1914. Located near the Houston Zoo, the Museum District, and Rice University, Hermann Park has many of the best things to do in Houston. The park is located in a culturally significant area of the city while providing an oasis of beauty and space in the metropolitan area. The park offers a variety of beautiful backdrops for the perfect engagement photo, lovely at any time but resplendent in the spring when the flowers are in bloom.
The McGovern Centennial Gardens features a wide diversity of roses, trees, shrubs, and perennials, as well as an abundance of camellias and azaleas in the Woodland Garden. Meander down the secluded pathways and across the bridges of the Japanese Garden and discover waterfalls, cherry trees, Japanese maples, and crepe myrtles throughout this peaceful oasis. McGovern Lake provides an imaginative backdrop with its fountains and pedal boats, bringing to mind carefree days and timeless moments that can be preserved in a photograph.
Hermann Park Additional Information
Hours: Hermann Park: Monday – Sunday 6 a.m. to 11 p.m.
McGovern Centennial Gardens: Monday – Sunday 9 a.m. to 5 p.m.
Japanese Garden: Monday – Sunday 9 a.m. to 5 p.m.
Address: 6100 Hermann Park Drive, Houston, TX 77030
Mercer Arboretum and Botanic Gardens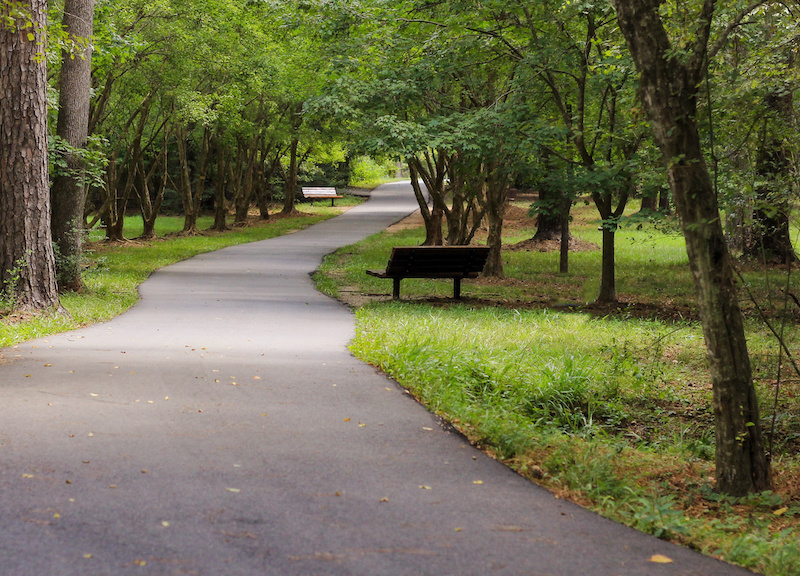 In the late 1940s, Thelma and Charles Mercer purchased 14.5 acres of land for their own home and garden. Harris County later purchased the property in 1974, and it has now expanded to include 325 acres. Named after the couple whose passion for nature inspired the property, the Mercer Arboretum and Botanic Gardens now features an arboretum on the west side of Aldine Westfield and the botanic gardens on the east side. Walking trails throughout the property pass through several picturesque settings, such as a Tropical Garden, a Bald Cypress Pond, a Bamboo Garden, an Herb Garden, an Azalea trail, and the Jake Roberts Maple Collection.
Early mornings are a special time to visit the gardens before the day warms, and the property is shaded by a wide variety of native trees such as dogwoods and hawthorns. Exotic tree species such as philadelphus and ginkgo can also be found. Colorful displays of daylilies and ferns are examples of the endless choices of beautiful photographic backdrops waiting to be discovered throughout this magnificent property.
Mercer Arboretum and Botanic Gardens Additional Information
Hours: Daily from 8 a.m. to dusk (closed on Thanksgiving, Christmas Eve, Christmas Day, and New Year's Day)
Address: 22306 Aldine Westfield Rd, Harris County, TX
Lillie and Hugh Roy Cullen Sculpture Garden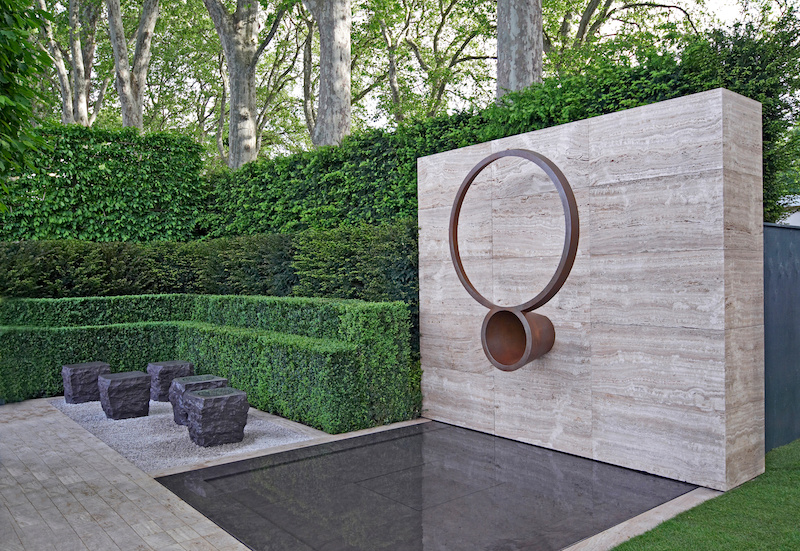 The Lillie and Hugh Roy Cullen Sculpture Garden is located at the Museum of Fine Arts, Houston (MFAH). It is named after these generous benefactors to Houston's arts and medical community. The garden was designed by Isamu Noguchi, a well-known artist and landscape architect from New York. Featuring works by talented artists such as Henri Matisse, Louise Bourgeois, Joan Miró, Auguste Rodin, David Smith, and Anish Kapoor, the garden has provided a beautiful and sophisticated setting for visitors since it opened in 1986.
Providing a blend of natural elements such as native trees and crepe myrtles, the garden is a beautiful oasis that offers shade for warmer days, making it an ideal outdoor destination all year round.
Lillie and Hugh Roy Cullen Sculpture Garde Additional Information
Hours: Daily from 9 a.m. to 10 p.m.
Address: Montrose Boulevard at Bissonnet Street, Houston, TX 77006
A Special Setting for Every Couple
Urban or natural, rustic or modern, Houston offers an endless number of locations to take that special picture. Take a walk through the Lillie and Hugh Roy Cullen Sculpture Garden and pause for a picture in front of the Cloud Column sculpture by Anish Kapoor. Follow a pathway to the Rose Garden with its abundance of blooms at Hermann Park. Relax on the grass at Jones Lawn at Discovery Green and enjoy its natural beauty with a view of the Houston skyline in the distance. No matter which backdrop Houston provides, the setting is sure to be as special as the couple in the picture.