7 Best Texas Coast Cities to Retire: Gulf Coast Retirement Towns
Posted by Texas Real Estate Source on Monday, May 22, 2023 at 10:59:06 AM
By Texas Real Estate Source / May 22, 2023
Comment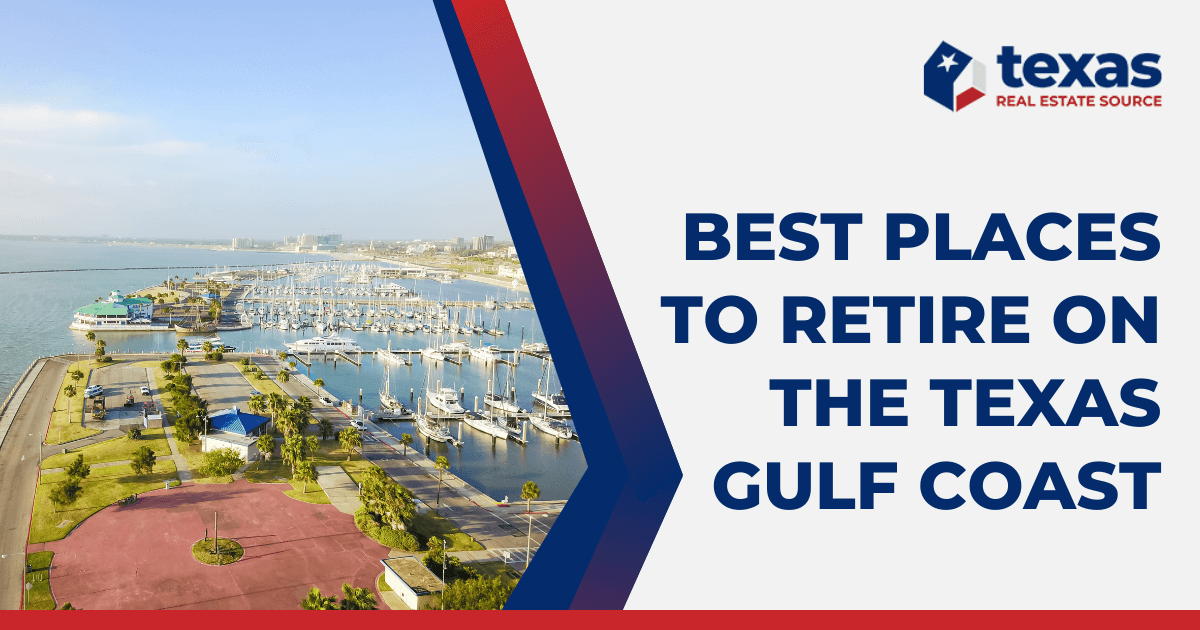 Warm coastal breezes, the sound of waves, and golden sunrises welcoming you to the next chapter of your life—the Texas Gulf Coast is considered a great place to retire among many older homebuyers. Whether you envision a peaceful retreat in a quaint seaside town or crave the bustling energy of a vibrant urban center, Texas Gulf Coast cities offer an array of choices to suit every taste. With their sun-kissed shores, charming communities, and abundant recreational opportunities, these coastal gems offer the perfect backdrop for retirees seeking a tranquil and vibrant retirement destination.
Welcome to your guide to the best coastal towns in Texas to retire, where the dream of a serene and fulfilling retirement becomes a reality.
Galveston County: Coastal Towns with Must-See Attractions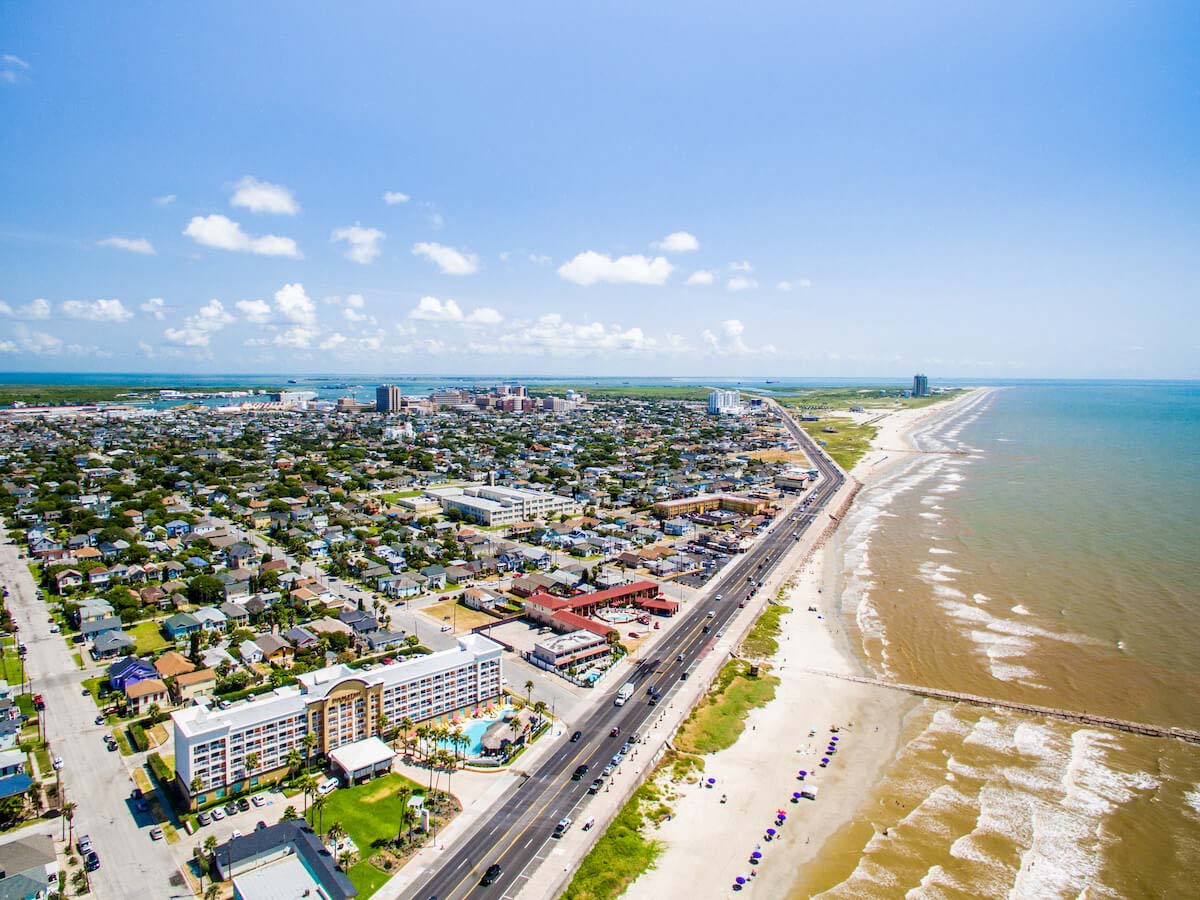 Galveston County is already a highly popular destination for weekend getaways from Houston, so why not make vacation time all the time? There are plenty of coastal towns near Galveston to relax into the beachside lifestyle.
Galveston
Starting with the main city itself, a home in Galveston can be a great choice for those seeking big-city amenities with their beachside retirement. This bustling island city offers a harmonious blend of natural beauty, cultural heritage, and affordability, making it an ideal destination for older homebuyers in search of a fulfilling retirement experience.
One of the primary attractions of Galveston is its many beaches, stretching for miles along the sparkling Gulf of Mexico. From the crowd-favorite East Beach to the aptly-named Sunny Beach, Galveston's beachfront is a haven for relaxation and recreation, offering opportunities for swimming, sunbathing, and indulging in various water sports.
Search

Galveston Homes for Sale
Beyond its captivating coastline, Galveston features a vibrant historic downtown district, a lush state park, a world-famous amusement park and boardwalk, aquariums, museums, fresh-caught seafood, and more. One thing's for sure: you'll never run out of things to do when you retire in Galveston.
Healthcare is an important consideration for any retirement destination, and Galveston has the University of Texas Medical Branch (UTMB) right near downtown. This hospital complex has top-tier medical professionals and facilities, so retirees can enjoy peace of mind.
Galveston is an idyllic coastal retreat, surrounded by natural beauty and a thriving community.
Kemah
Kemah is best known for its famous boardwalk, but buying a home in Kemah gets you so much more than that. Nestled at the north edge of Galveston County where Clear Lake meets Trinity Bay, homebuyers in Kemah and the Clear Lake area have opportunities for waterfront property, condos, and more affordable properties slightly inland. Beautiful single-family homes can easily be found as affordably as the $300s.
In addition to the Kemah Boardwalk, this area offers retirees scenic golf courses, laid-back bars and dining, and nearby attractions such as the NASA space center. Visit a park along Clear Lake's shores; join a local yacht club; book a fishing charter; the choice is yours. The affordability and location make this a popular Houston suburb for retirement.
Bolivar Peninsula
Want the beaches of Galveston, but without the big-city atmosphere? Bolivar Peninsula might be right up your alley. This area includes several census-designated communities such as Crystal Beach and Port Bolivar, separated from Galveston Island by a water channel and reachable by ferry (or taking the much longer way around by highway).
Residents of this corner of Galveston County get to enjoy miles of Gulf Coast beaches without the crowds of Galveston, thanks to its more remote nature. The majority of homes are within walking distance of the sand. Homes for sale in this secluded slice of coastal paradise come in a wide variety of price points, so buyers of all budgets should consider taking a look.
Victoria: The Crossroads of the Gulf Coast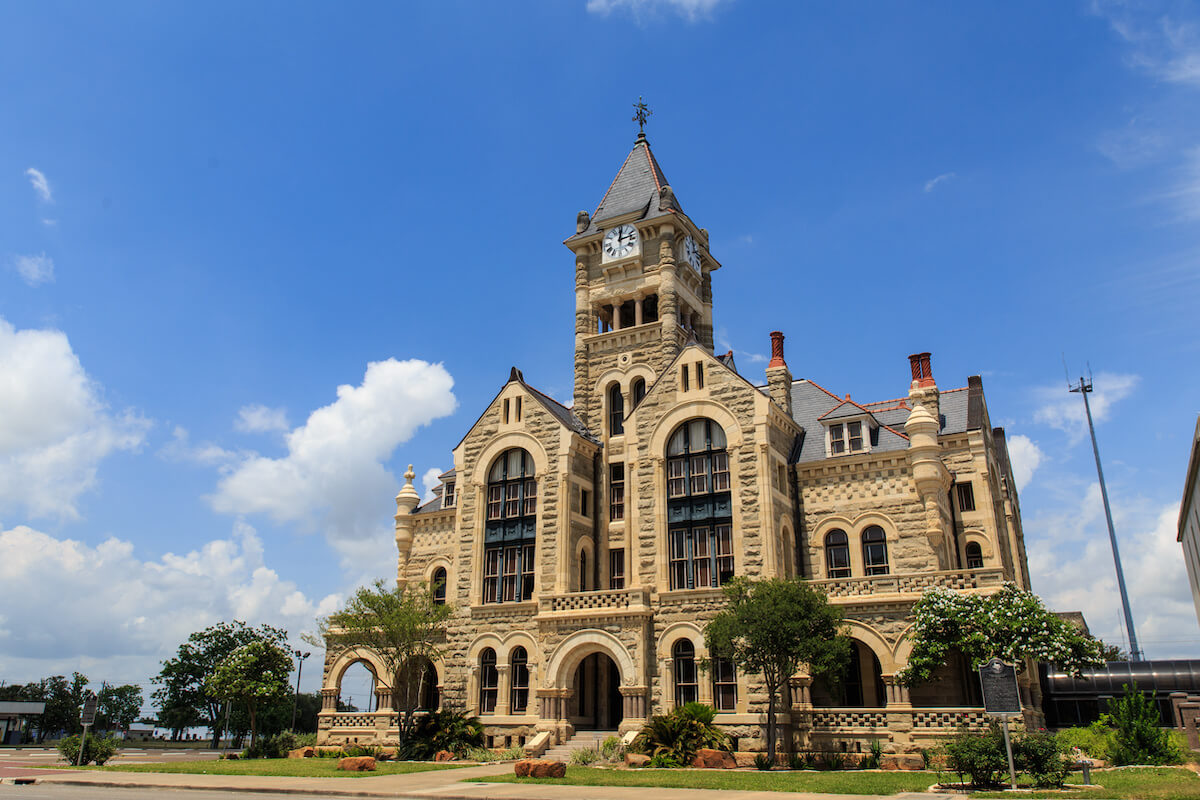 Set a bit further inland in the Texas Gulf Coast region, Victoria is a historic city that offers retirees affordable living, small-town charm, and a conveniently central location. Within about two hours' drive, you can be in San Antonio, Corpus Christi, Houston, or even Austin. How's that for a varied day trip schedule? If you want a shorter trip, the closest beaches are in Port Lavaca, about half an hour away.
That's not to say you won't want to stay at home, too. Known for its historic architecture dating back to the 1800s, Victoria boasts several parks and lakes perfect for those who enjoy fishing, boating, or simply taking in nature's beauty. Other attractions include golf courses, a branch of the University of Houston, two local hospitals, and even a zoo.
Quite a few homes for sale in Victoria list below the $300,000 mark, and new construction homes with 4+ bedrooms frequently still list below $500,000. If you're looking for affordability and travel opportunity, Victoria could make a great home base for your retirement lifestyle.
Rockport: Beautiful Seaside Living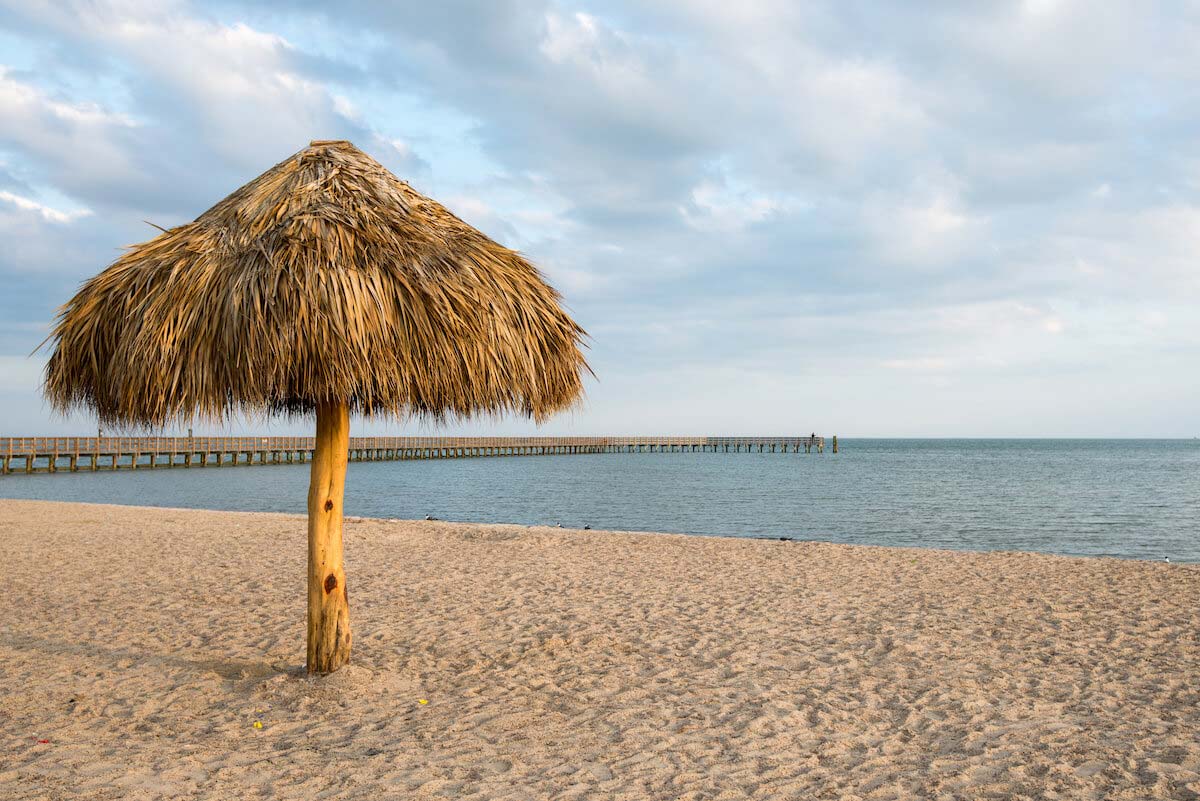 The charming town of Rockport just northeast of Corpus Christi is an attractive destination for many retirees who enjoy seaside living, as well as boaters and wildlife enthusiasts. Sheltered by the barrier islands and nestled between the bays, Rockport offers picturesque surroundings coupled with opportunities for beaches, birding, and fishing. Sandy sunbathing, local dining gems, and more await in this coastal haven.
Homes for sale in Rockport include a variety of waterfront homes that provide exceptional ocean views. Several neighborhoods are built around canals to allow boating access right outside your front door. You can find homes here at most price points, including waterfront property at far more affordable prices than larger cities.
With stunning waterfront views and ample opportunities for eco-tourism adventures, Rockport is a great small town in Texas to retire.
Harlingen: Affordable South Texas Coast Town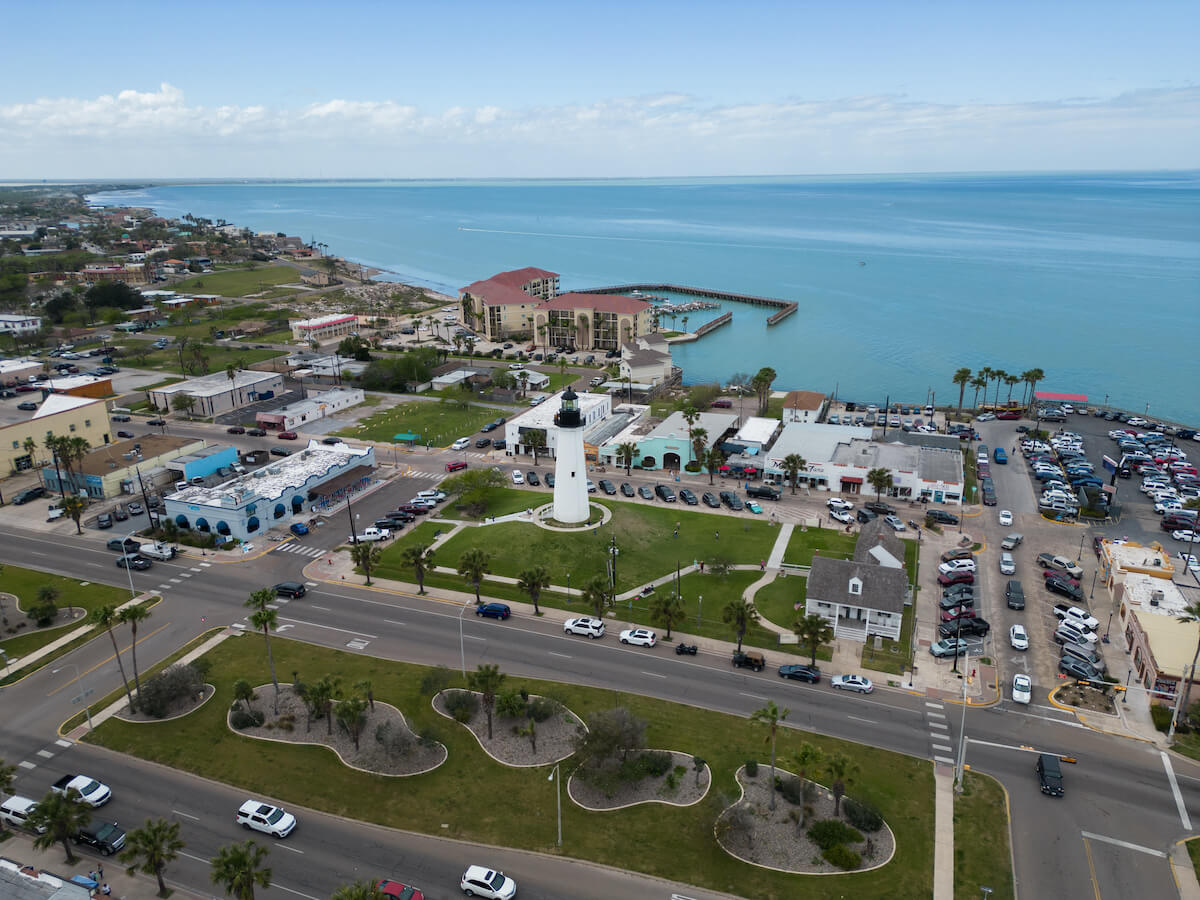 Way down south, almost to the southernmost point of Texas, retirees seeking an affordable and culturally rich destination along the Texas Gulf Coast will find the city of Harlingen. This vibrant community offers a unique blend of Texan and Mexican cultures in its historic downtown, great shopping options, and local attractions. Take a spin around Valle Vista Mall, tour locally owned cafes and restaurants, or be baking in the sun on a South Padre Island beach in as little as an hour.
One of Harlingen's main attractions as a Texas Gulf Coast retirement destination is its proximity to various south Texas destinations. This includes heading through Port Isabel to Padre Island National Seashore, which boasts beautiful beaches perfect for swimming, fishing, or simply relaxing in the sun. Additionally, retirees can explore nearby nature reserves such as Laguna Atascosa National Wildlife Refuge. Alternatively, take a day trip to historic Brownsville for even more cultural immersion.
Home prices in this area remain below national averages, with many new construction homes for sale in Harlingen listing as low as the $200s and low $300s. It's a hidden gem of the housing market.
Corpus Christi: The Sparkling City by the Sea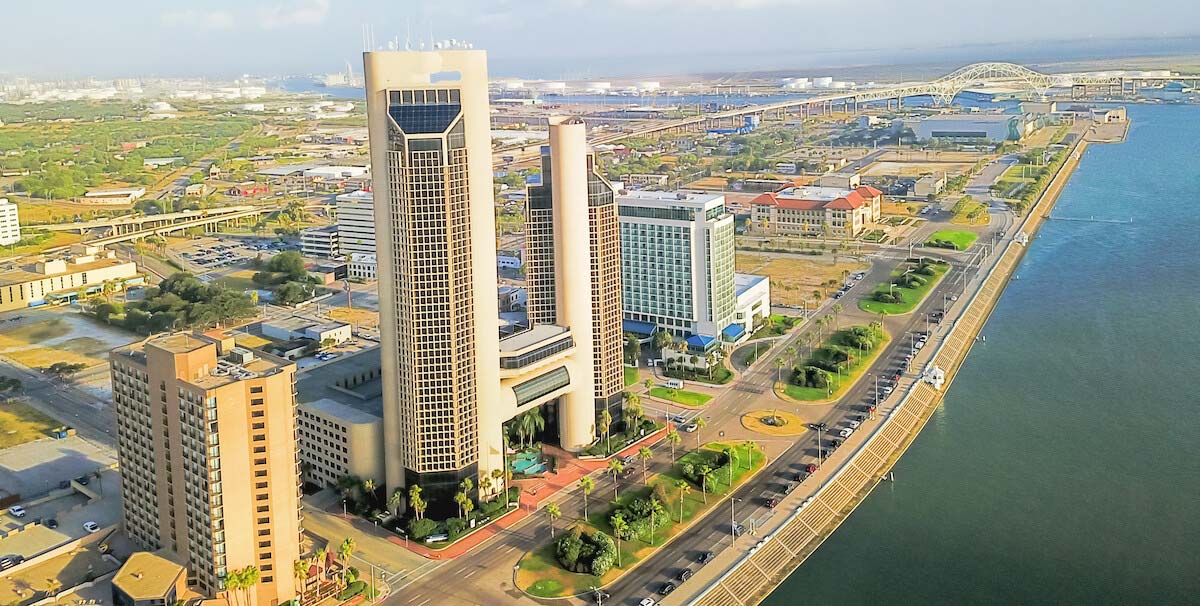 Alongside Galveston, Texas' other major coastal city is Corpus Christi, nicknamed the "Sparkling City by the Sea." Naturally, this makes it an ideal destination for retirees seeking a lively environment where they can stay active during their golden years. For those who enjoy the beach and water sports, Corpus Christi's extensive shoreline provides plenty of activities. Beaches flank either side of downtown's marinas, with additional miles of sandy shores nearby at Mustang Island State Park.
Apart from coastal attractions, Corpus Christi also features a buzzing urban scene. This includes museums like the Art Museum of South Texas and Corpus Christi Museum of Science and History, live music venues showcasing local talent at places like House of Rock or Brewster Street Icehouse, and countless dining establishments serving up delicious Tex-Mex cuisine alongside fresh seafood dishes.
Healthcare concerns are well-taken care of in Corpus Christi. The city has multiple hospitals and medical centers, including Corpus Christi Medical Center Bay Area, Corpus Christi Medical Center Doctors Regional, and CHRISTUS Spohn Hospital Corpus Christi - Shoreline.
Homes for sale in Corpus Christi include everything from high-rise beach condos to suburban single-family homes, and homebuyers can find them at almost any price point. It's a great opportunity to find the Gulf Coast home you've been waiting for.
FAQs About Texas Gulf Coast Retirement
Considering moving to the Gulf Coast for your retirement? Consider these answers to commonly asked questions:
Is Corpus Christi a Good Place to Retire?
Yes, Corpus Christi is an excellent place to retire. The city offers a pleasant climate, affordable living costs, and numerous recreational options such as beaches, parks, and boating. Additionally, the larger city environment offers various arts, culture, and entertainment opportunities.
Is Galveston, TX a Good Place to Retire?
Yes; Galveston offers picturesque waterfront homes along with a rich architectural heritage that appeals to many retirees. Its proximity to major attractions adds value, while scenic boardwalks provide leisurely strolls perfect during retirement years. The diverse activities available in Galveston make it an ideal retirement destination.
What Texas Beach City is the Best Place to Retire?
Some of the best beaches in Texas are near the Gulf Coast cities on this list, including Padre Island National Seashore near Harlingen, Mustang Island near Corpus Christi, Crystal Beach near Galveston, Rockport Beach near Rockport, and Lighthouse Beach near Victoria.
Ready to Enjoy a Beach Retirement in Texas?
For those seeking a retirement destination on the Texas Gulf Coast, there are numerous possibilities to explore. Whether you're looking for a thriving local community, beautiful nature and wildlife, entertaining outdoor activities, or a little slice of history, there are options for everyone.
Ready to live your best life in Texas? Call The RealFX Group at (512) 956-7390 to contact an experienced local real estate agent who can help you discover the Texas home of your dreams.