Retirement Bliss: Top 8 Spots to Retire Near Austin, Texas
Posted by Texas Real Estate Source on Thursday, June 1, 2023 at 5:02:09 PM
By Texas Real Estate Source / June 1, 2023
Comment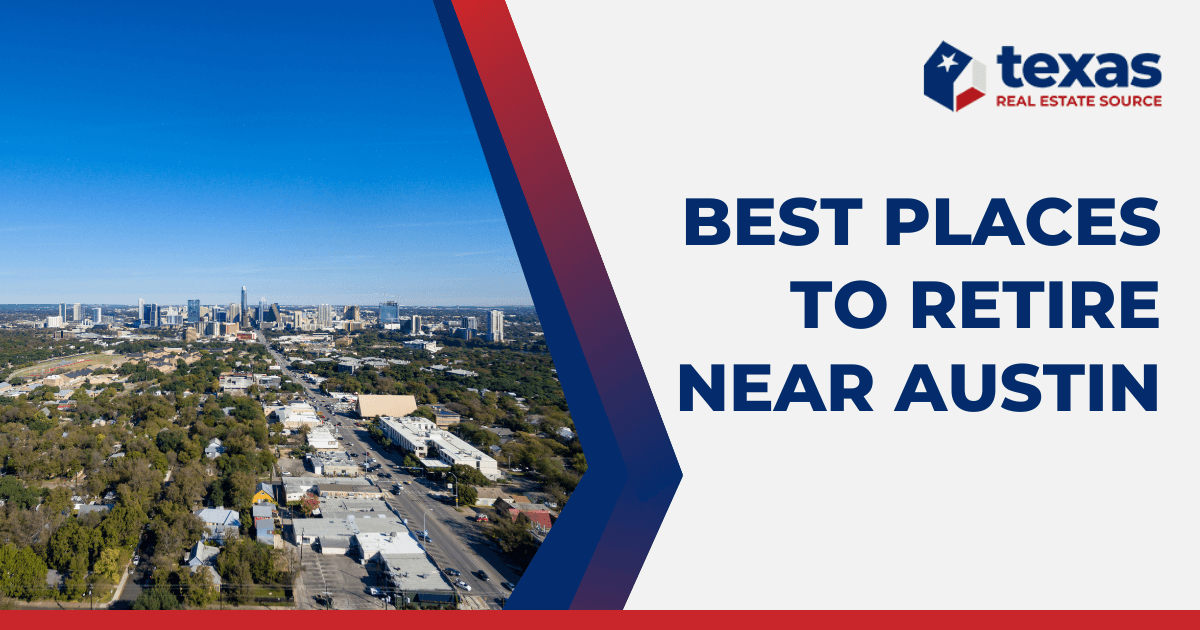 Retiring is an exciting new stage of life, and Austin is the perfect city to do it in. With its year-round warm weather, excellent healthcare facilities, and abundance of outdoor activities, Austin is a great place to retire. For those seeking to retire a bit further out from the downtown hub, though, several communities on the outskirts of Austin can be even better.
The best places to retire near Austin feature master-planned 55+ communities, affordable homes, abundant things to do, and more. From Georgetown to Buda, these cities near Austin offer amenities that many retirees desire.
Georgetown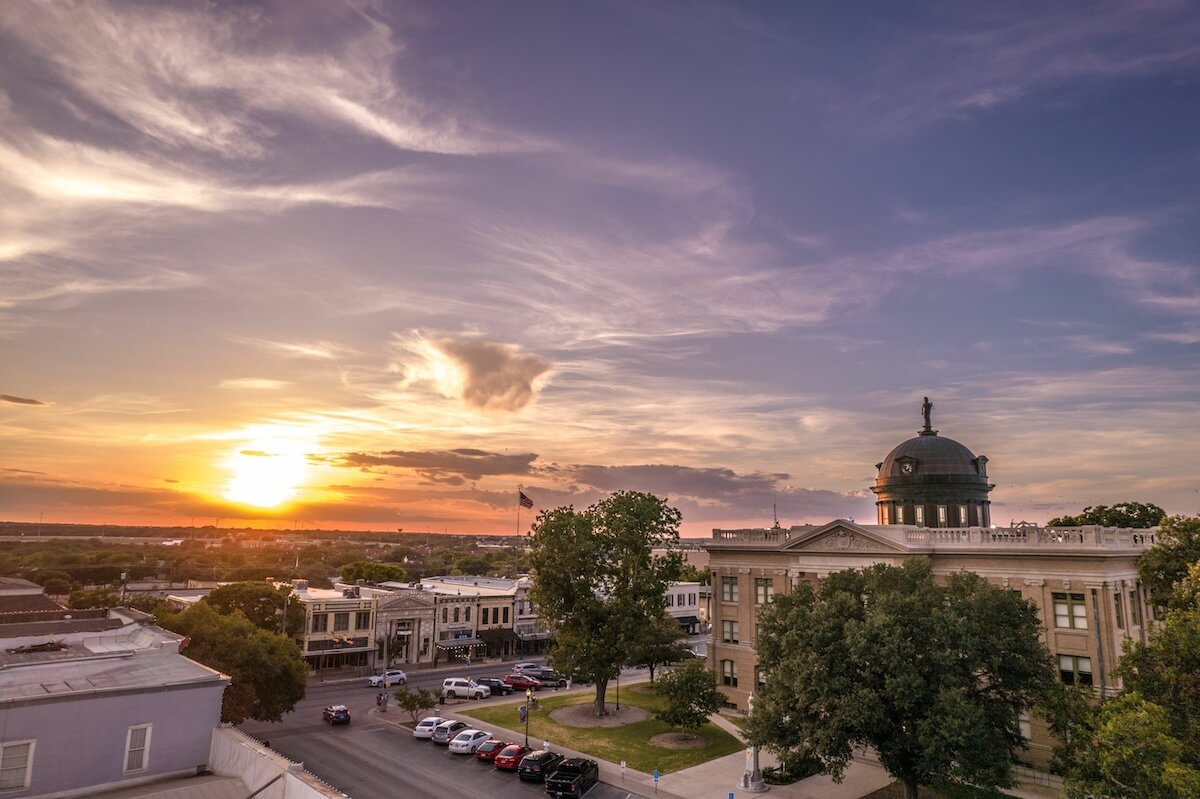 If you're looking for reasons to retire in Georgetown, Sun City Texas is ready to fill up your list and then some. Comprising close to 20% of Georgetown's population, this 55+ community is massive, and the catalog of amenities is equally impressive.
When you move into a home in Sun City, you gain access to multiple amenity centers, dozens of social clubs, miles of beautiful trails, pools, sports courts, golf courses—the list goes on. Suffice to say, there's a good reason it's often considered one of the best retirement communities in Texas.
Of course, the rest of the city of Georgetown is also appealing. It's famous for having "the most beautiful town square in Texas," surrounded by local restaurants and boutique stores. The area is dotted with parks and outdoor activities—take a walk along the San Gabriel River, play a round at the Georgetown Country Club, or get out on the water on nearby Lake Georgetown. Plus, Southwestern University allows those 50 and older to audit courses at just $75 per credit.
This charming small town is also located less than 30 miles away from downtown Austin, allowing retirees to enjoy the best of both worlds.
With its serene community and vibrant city life nearby, it's easy to see why Georgetown has gained popularity as an ideal retirement destination.
Dripping Springs
Experience the tranquility of Hill Country living with all the comforts of a picturesque town—Dripping Springs has it all for a countryside retirement!
Retirees in search of an idyllic town full of amenities will find exactly what they're looking for here. Even better, living in the nearby master-planned community of Belterra offers residents its own shopping center, parks, pools, and a professionally organized social calendar.
Plus, there's the Dripping Springs Wine Trail, featuring multiple wineries in close proximity, as well as the Dripping Springs Farmers Market. Local coffee shops and restaurants commingle with big-name stores like HEB, offering both character and convenience.
Retirees looking to escape city life will also appreciate the beauty that comes with living in Dripping Springs. With breathtaking views overlooking the Hill Country landscape and endless options for outdoor activities, retirees can make the most out of their new home here.
For those who want to experience more than just what their community can offer but don't want to be too far away from home, downtown Austin's entertainment districts are only 25 miles away. It typically takes just over 40 minutes by car during off-peak times, and seniors residing in Dripping Springs can benefit from this convenience while still enjoying a tranquil retirement lifestyle.
Horseshoe Bay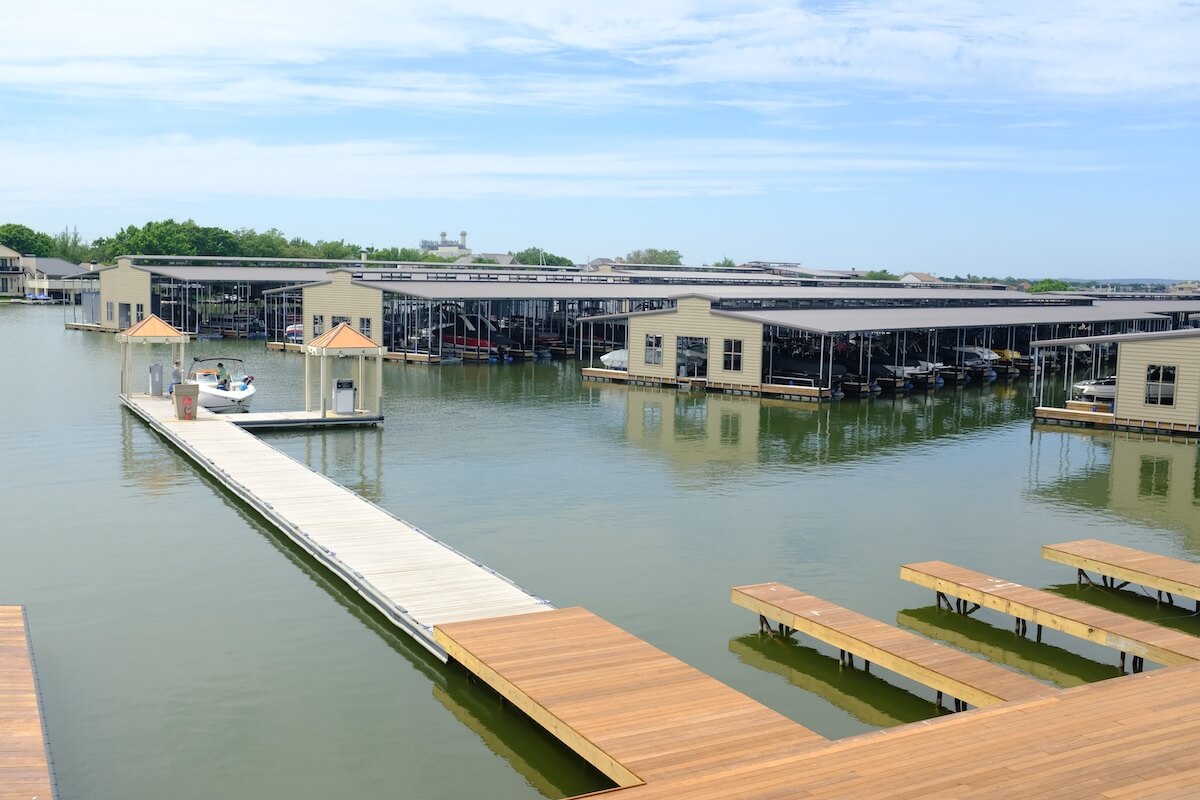 Relish in the peacefulness of a lakeside town close to all the excitement of city life and take advantage of the abundance of recreational activities available at Horseshoe Bay. As one of the best small towns in Texas to retire, you won't be disappointed.
Retirees looking for an affordable place to settle down will find that home prices in the Horseshoe Bay area typically start in the $300s, making it ideal for those on a budget—and there are also many high-end homes for sale on Lake LBJ for those who prefer the luxury lifestyle.
The town offers multiple golf clubs catering to varying skill levels, encouraging seniors to get out and exercise while connecting with others. Moreover, nearby marinas provide convenient access to water sports such as fishing, sailing, and kayaking. Lake LBJ is one of the best boating lakes in Texas, so you're likely to meet like-minded new friends.
For comprehensive healthcare services, including emergency medicine, orthopedics, cardiology, and more, Baylor Scott & White Medical Center - Marble Falls is located just a short drive away.
Wimberly
Discover the charm of Wimberley, an idyllic village full of rustic beauty and Texan hospitality that's perfect for those seeking a peaceful retirement. Located a bit less than halfway between Austin and San Antonio, Wimberly may be small, but it has big appeal among older homebuyers.
Wimberly homes for sale in established neighborhoods feature ranch-style homes surrounded by well-kept yards and mature trees on the outskirts, while newer subdivisions include Craftsman-style houses, custom-built homes, and other architectural styles.
The Blanco River and Cypress Creek run through town, with the latter leading up to Blue Hole Regional Park. Meandering through this beautiful setting are boutiques, galleries, and restaurants in the town square. Art is a prominent feature of Wimberly, and the local art galleries are filled with paintings, glasswork, photography, and more by local artists.
With plenty of great amenities coupled with gorgeous scenery, Wimberly is certainly one of the best places to retire near Austin because of its small-town comfort and great entertainment options.
Bastrop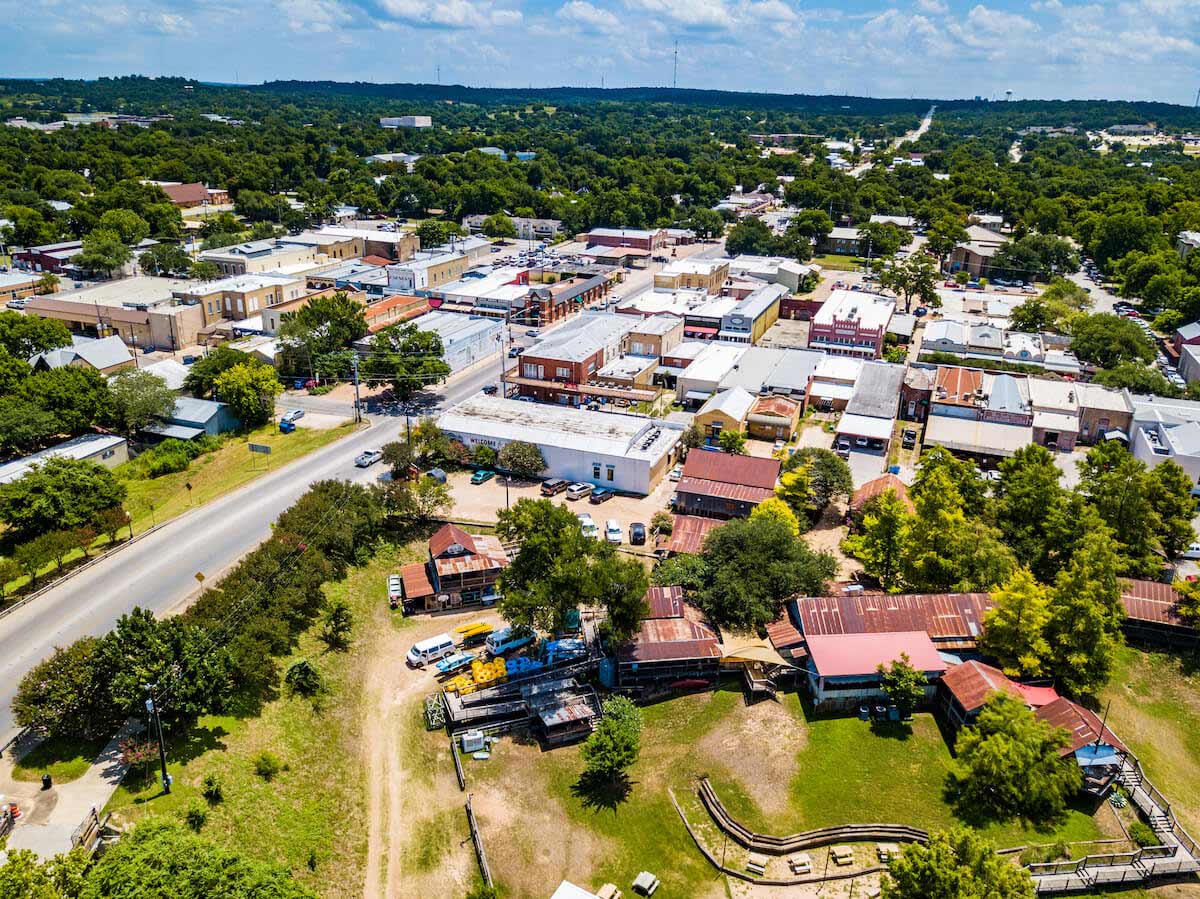 Unwind and explore the charming atmosphere of Bastrop, where you can take part in outdoor activities like bird watching, kayaking, and golfing every day. Nestled along the banks of the Colorado River, Bastrop provides an ideal location for retirees looking for a laid-back atmosphere while still being within easy reach of attractions in east Austin.
Bastrop's parks include an extensive network of hiking and biking trails, large state park, a local off-leash dog park, and more. Additionally, Bastrop offers many local events such as markets and live music performances, as well as quaint shops to explore.
Bastrop is also known for its affordability compared to other larger cities in the Austin area. Homes for sale in Bastrop typically have a median list price in the mid-$400s, with plenty listing for lower. In Austin proper, the median home price is closer to the low $700s. This low housing cost allows retirees to experience all that the town has to offer without breaking their budget. Moreover, it's convenient to get into Austin from here within about 40 minutes to an hour, meaning you can access Austin's restaurants, entertainment venues, and more without too much effort.
Liberty Hill
Enjoy the breathtaking views of Texas Hill Country in the city of Liberty Hill, about 34 miles north of downtown Austin. This up-and-coming city has a number of new housing developments, including the highly sought-after Santa Rita Ranch master-planned community. Homes in Santa Rita Ranch start in the $300s, a fantastic price for new construction with access to amenities like state-of-the-art fitness centers, community parks and nature trails, and multiple resort-style pools.
Even better for the 55+ crowd, Regency at Santa Rita Ranch provides residents with a private clubhouse and amenities for the exclusive use of this active adult community.
Elsewhere in and around Liberty Hill, there's an abundance of activities to enjoy during your retirement years. Wander through the local sculpture park, head down the highway to the shopping centers in Cedar Park, attend the Liberty Hill Fair and Rodeo or the Whimsy & Wonder Art Festival—the choice is yours.
Lago Vista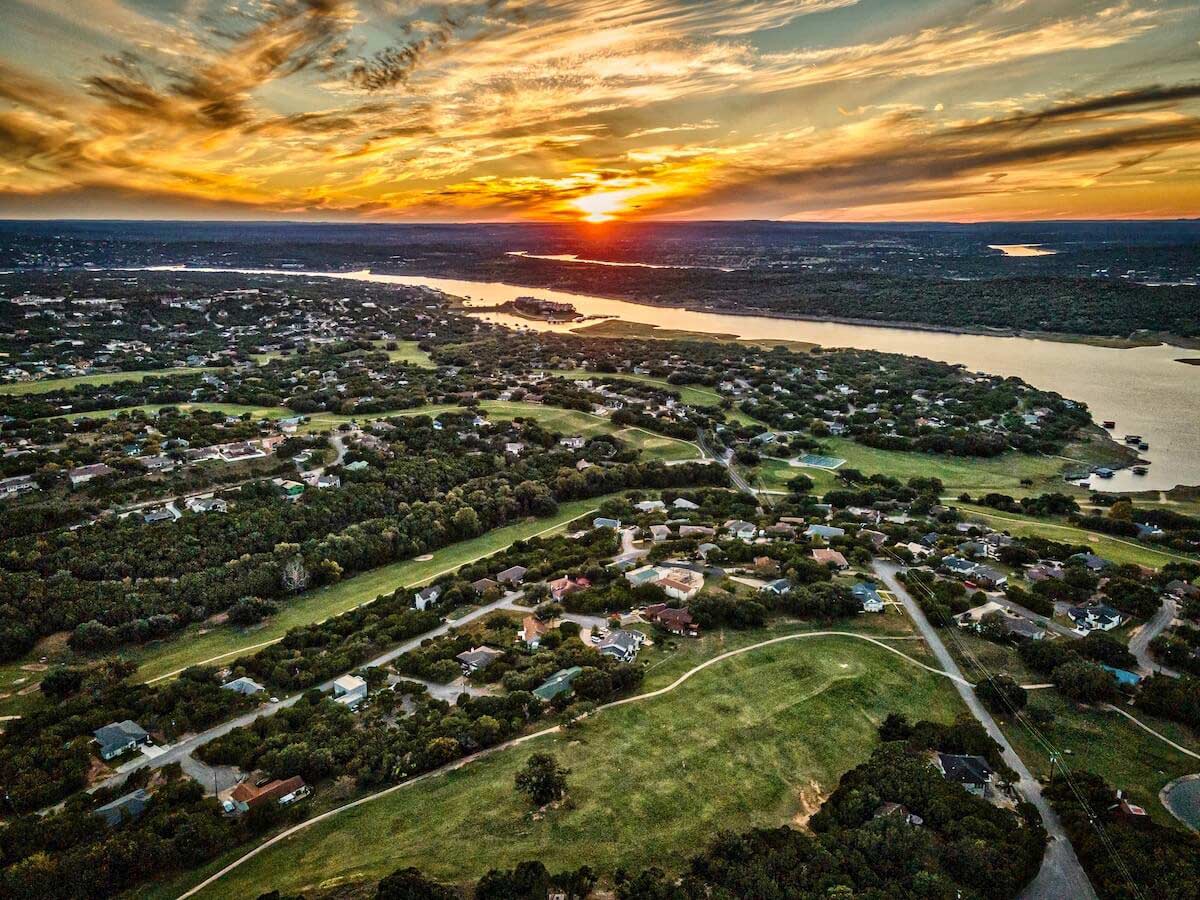 Located on the shores of one of the best lakes in Texas, Lago Vista offers a stunning setting with views of Lake Travis and rolling hills. Boasting a plethora of activities as well as tranquil retreats, it's the perfect destination for those seeking both activity and serenity.
Lago Vista offers something for everyone when it comes to outdoor activities. Motorcycling, biking, hiking, water skiing, and even scuba diving are just some of the thrilling options available here. For those looking to take it easy, there's bird-watching at Balcones Canyonlands National Wildlife Refuge as well as tubing and hiking around the lake. Golfers can enjoy the Lago Vista Golf Course or explore the numerous other options around the lake.
When it comes to homes for sale in Lago Vista, there's plenty to choose from. Condos and vacation rentals are available all around the lake area. Master-planned amenities are available in the Lakeside at Tessera community. Single-family homes typically start in the $300s.
With its vibrant energy yet tranquil atmosphere, Lago Vista provides residents with everything they need for an enjoyable lifestyle, whether they're seeking adventure or relaxation. Its captivating beauty only adds to its appeal as one of the best places to live near Austin for retirees.
Buda
Buda is like a peaceful oasis, offering locals and visitors alike an escape from the hustle and bustle of city life to relax and enjoy its scenic charm. In fact, it's earned the moniker "Outdoor Capital of Texas." With its emphasis on preserving heritage while providing modern conveniences such as restaurants, specialty shops, and attractions—all amidst lush oak trees—there are plenty of reasons why seniors would want to make Buda their home.
For those seeking a more relaxed way of life away from downtown Austin yet close enough to access its amenities when needed, Buda is an ideal location for retirement living. It's just 15 miles south of the heart of Austin, and shopping centers like Southpark Meadows are even closer. Homes in Buda are also quite a bit lower than in Austin, with a median price generally in the mid-$400s and a low cost of living for the area.
Buda residents can take part in the weekly farmers market or explore Buda Mill & Grain Co., a historic landmark redeveloped into a community center which offers shopping, dining, yoga classes and more. The town also boasts more than a dozen scenic parks and nature preserves with ADA-accessible trails that feature picnic areas, playgrounds, and sports courts. One noteworthy attraction is Historic Stagecoach Park; this 51-acre park offers a pavilion with picturesque pond views as well as an amphitheater for events and entertainment.
Its tranquil atmosphere makes it perfect for those who appreciate peace and quiet while still being within easy reach of urban offerings.
Ready to Retire Near Austin?
Retiring in Austin is an appealing prospect for many, with its warm climate and vibrant culture. However, it can be difficult to choose the right Austin community for your perfect retirement experience.
Georgetown, Dripping Springs, Wimberly, Liberty Hill, Horseshoe Bay, Bastrop, Lago Vista, and Buda are all wonderful choices that offer something special to retirees looking for a change of pace. Each offers its own unique charm, and with a little research and exploration, you'll soon find your perfect place to call home.