10 Best Rural Towns Near Dallas
Posted by Texas Real Estate Source on Monday, August 29, 2022 at 4:45 PM
By Texas Real Estate Source / August 29, 2022
Comment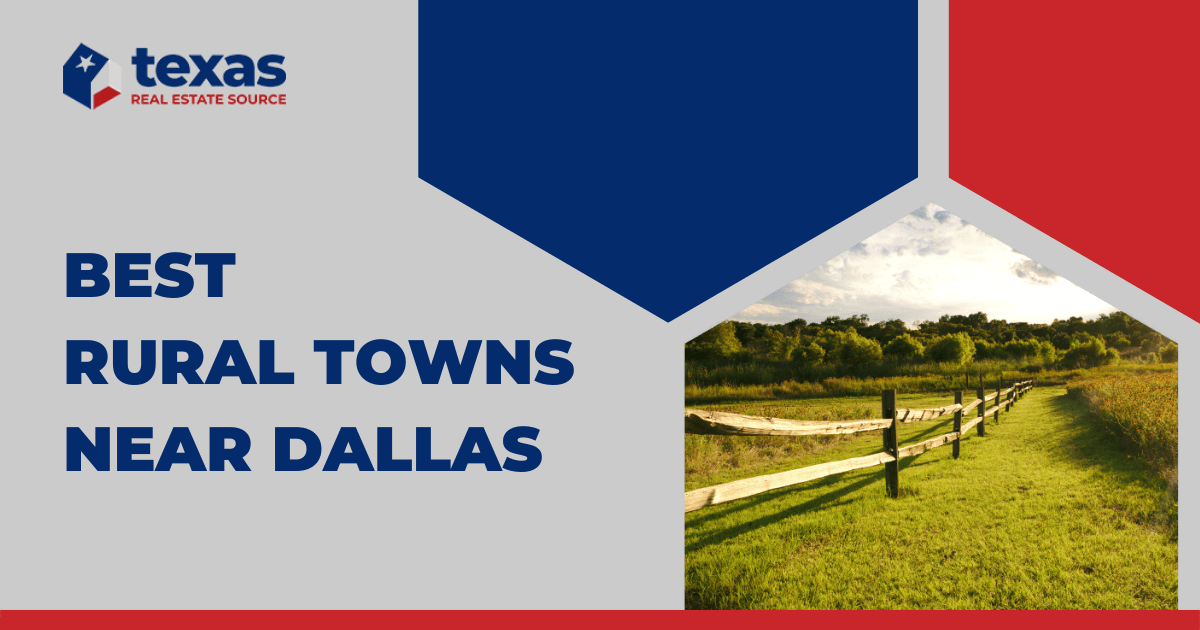 Anyone seeking a slower-paced, rural country lifestyle doesn't need to look too far beyond the skyscrapers in the city of Dallas. Living in the heart of the Dallas-Fort Worth metroplex may be preferred by those who enjoy the hustle and bustle of city life, but there are also many rural towns near Dallas, Texas, that offer a unique small-town experience while staying conveniently close to DFW's best amenities.
Known as some of the best small towns to live in Texas, these communities boast local lakes, gorgeous trees, and historical landmarks. Whether you are looking to slow down and enjoy life outside the bustling city limits or want a unique, authentic country lifestyle in rural Texas, you're sure to find that these towns are some of the best places to live in DFW.
Argyle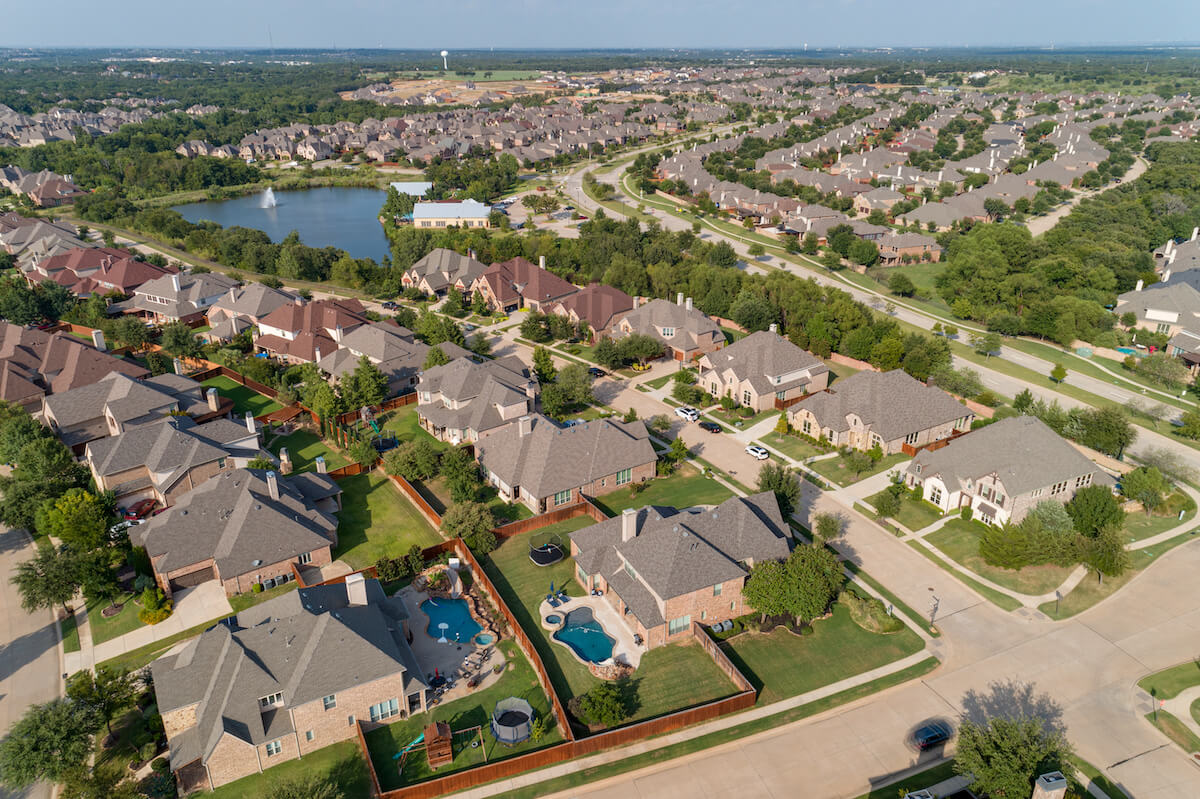 The city of Argyle is located just 40 minutes northwest of Dallas. With its extensive acreage, rolling hills, and wooded areas, this small town perfectly balances Texas rural land and suburbs. With a population of 4,300, Argyle real estate offers a close community with rural country homes and some of the best master-planned communities in Dallas.
Argyle's location provides a small-town atmosphere while maintaining proximity to big-city amenities, such as easy access to entertainment, business, and unique eats. Earl's 377 Pizza is one such local dive, offering Italian-American cuisine with an industrial-modern atmosphere.
According to a 2022 survey, Argyle ISD is ranked well among Texas's public school systems.
Reasons to Love Living in Argyle:
Living in master-planned communities like the Harvest community and the Canyon Falls neighborhood
Located within 15 miles of both Lewisville Lake and Lake Grapevine
Denton Country Club, Lantana Golf Club, and Robson Ranch Golf Club
Van Alstyne
Partially located in Collin County, the quaint town of Van Alstyne is situated only 40 minutes north of central Dallas and a mere 30 minutes from the Oklahoma-Texas border. Established in 1873, this North Texas town is home to approximately 4,000 people and combines quiet living with convenient access to larger cities such as McKinney and the city of Plano. With its historic downtown and authentic Texan community, Van Alstyne is undeniably one of the best rural towns near Dallas, Texas.
Van Alstyne's population has grown twice in size in the past decade and remains a top contender for new development. There are many beautiful parks, community events, and outdoor activities for all age groups. The city of McKinney to the south and the Sherman area to the north offer alternate options for entertainment and food. The quaint downtown district offers countless options for entertainment, businesses, and restaurants. One such restaurant, Jafar's Mediterranean Grill, offers flavorful, authentic Middle Eastern food with patio views of the town square. Van Alstyne has a large selection of education options as well, from elementary schools to Grayson College.
Many Van Alstyne homes for sale range from around $200,000 to $300,000, making the average cost of living lower than even the most affordable Dallas suburbs.
Reasons to Love Living in Van Alstyne:
Historic downtown district
Four neighborhood parks, including walking trails, playgrounds, and sports courts
Central Social District includes a splash pad, concert venue, and playground
Just down the road in the city of Anna is the Hurricane Creek Country Club
Ponder
Ponder is one of the top rural towns near Dallas, Texas. The population of this Denton County town is around 2,700 people, and residents can drive about 50 minutes to Downtown Dallas. The landscape around many homes for sale in Ponder combines classic Texas prairie, lush treelines, and lakes. Ponder's vintage town square encourages an atmosphere of community with monthly farmer's markets and town hall events.
Walking is the best option when exploring Downtown Ponder. The main street allows pedestrians easy access to a wide selection of restaurants, local businesses, and antique shops. Ponder is convenient to other modes of transport, too: three small airports are within a 15-minute drive of the town square.
Ponder offers many different history museums and picturesque golf courses. The Ponder Bank Building Museum is a famous landmark with a preserved, original interior dating back to when Bonnie and Clyde robbed the bank in 1932. The bank also served as the main set during the 1967 film starring Warren Beaty and Faye Dunaway. Today it is a must-see tourist destination on the north side of the town.
Reasons to Love Living in Ponder:
Kemp
Approximately 40 minutes southeast of Dallas, Kemp is home to historic Texas landmarks and rolling countryside. This rural town embodies the Hollywood ideal of the small-town lifestyle. With Kemp's annual festivities and community events, living in Kemp makes it easy to embrace small-town living and get involved in your community. There are countless opportunities for attending local farmers' markets throughout the month. The Full Quiver Farm is one such location, and it hosts local cheese and meat shops at a rural farm right outside Kemp once a month.
Kemp is one of the most affordable rural towns near Dallas, Texas, with average living expenses on par or lower than Dallas suburbs with the lowest property taxes.
Located just a short drive from Kemp is the Cedar Creek Reservoir. Outdoor adventures to the reservoir include camping, trails, boating, and fishing – perfect for anyone looking to soak up some sun and explore nature.
Reasons to Love Living in Kemp:
Frequent farmers' markets enable a farm-to-table dining philosophy
Cedar Creek Lake
Cedar Creek Country Club and King's Creek Golf Club
Attractively low cost of living
Decatur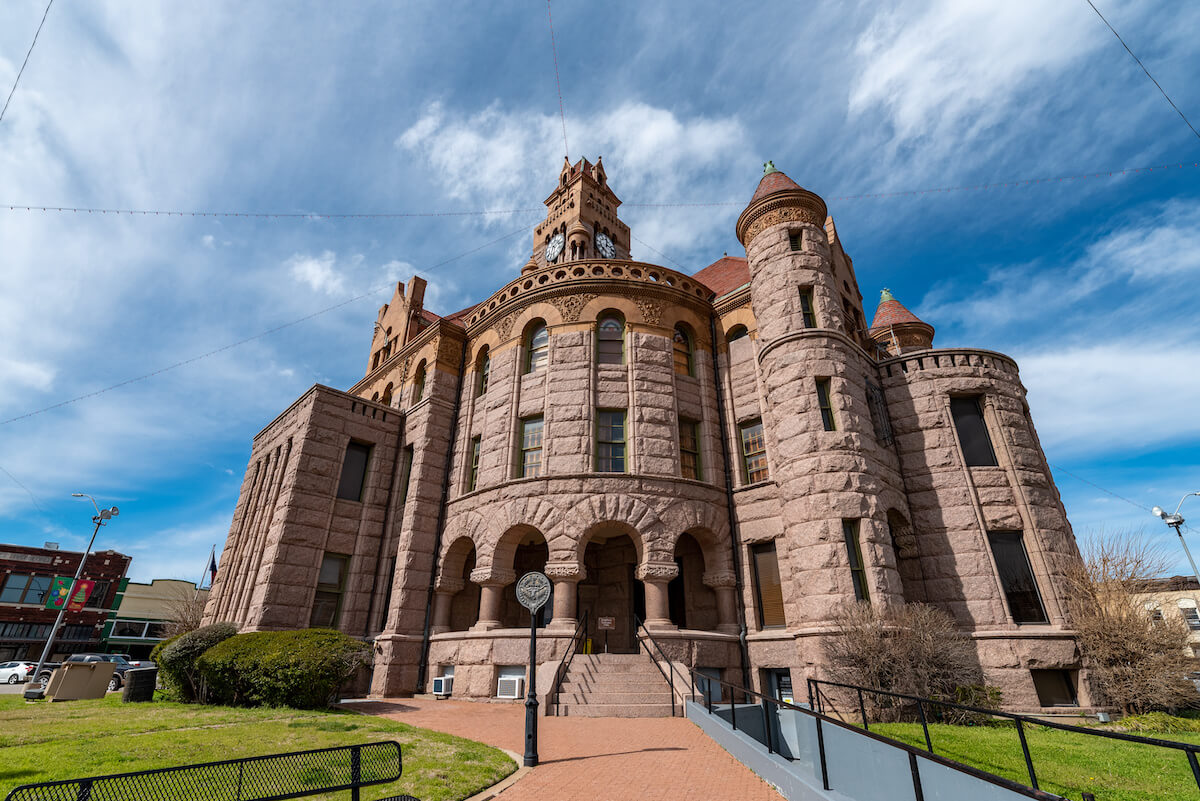 With incredible architecture located in the town square, Decatur upholds its small-town appeal while highlighting the city's natural beauty. Approximately 7,000 people call Decatur home, making this city one of the larger rural towns near Dallas, Texas. Homes for sale in Decatur are located an hour's drive north of Dallas, and though it is a farther drive than some of the previous towns on our list, Decatur has plenty to offer to make it worth the drive.
Decatur's city government takes pride in its focus on community building. The city maintains multiple parks for sports, hiking, camping, biking, and golfing, as well as a public library and a Main Street program. With the Fort Worth area only 35 minutes down the road, Decatur offers a small-town relief from the bustle while being just close enough to a busy city for additional amenities and entertainment.
Decatur's town square offers sweet treats, antique shops, local businesses, and fun boutiques. When strolling downtown, stop by the Dry Creek Boutique, which offers fashionable and unique women's apparel and gifts. In 2014, Dixon Water Foundation's Josey Pavilion, located directly across from the town square, was acknowledged by the San Antonio chapter of the American Institute of Architects for providing outstanding architecture in everyday places.
Reasons to Love Living in Decatur:
Wise County Courthouse is a castle-like centerpiece to top off Decatur's bustling town square
Decatur Golf Club, plus Bridgeport Country Club in the nearby city of Birdgeport
Nock It Archery Center
Sunnyvale
The town of Sunnyvale is located 20 minutes east of Dallas, with a population of 7,000 people. This Dallas County town is best described as rural suburbia, and with outdoor activities, unique culture, and historical monuments, Sunnyvale offers residents a peaceful yet thriving community. Despite its semi-suburban atmosphere, it has all the charm of other rural towns near Dallas, Texas.
According to a nationwide survey, Sunnyvale ranked #2 of the Top 100 Best Cities for Outdoor Living in 2022. Sunnyvale is home to many beautiful parks, including Samuell Farm North Park, renowned home to a breathtaking annual batch of bluebonnets.
With farmer's markets, speedways, and historical parks, there are many different activities to partake in Sunnyvale. It is not difficult to find a restaurant that accommodates outdoor seating—some even encourage patrons to bring their dog companions to join in the dining experience. Most restaurant venues are placed in picturesque locations in the heart of the town.
The town offers multiple options for students at every stage. From elementary, middle, and high schools, the Sunnyvale districts consistently have high community approval rates, with average student-teacher ratios of 15 to 1.
Reasons to Love Living in Sunnyvale:
Borders Lake Ray Hubbard
Samuell Farm offers fishing, walking trails, playgrounds, and more
Baylor Scott & White Medical Center - Sunnyvale
Justin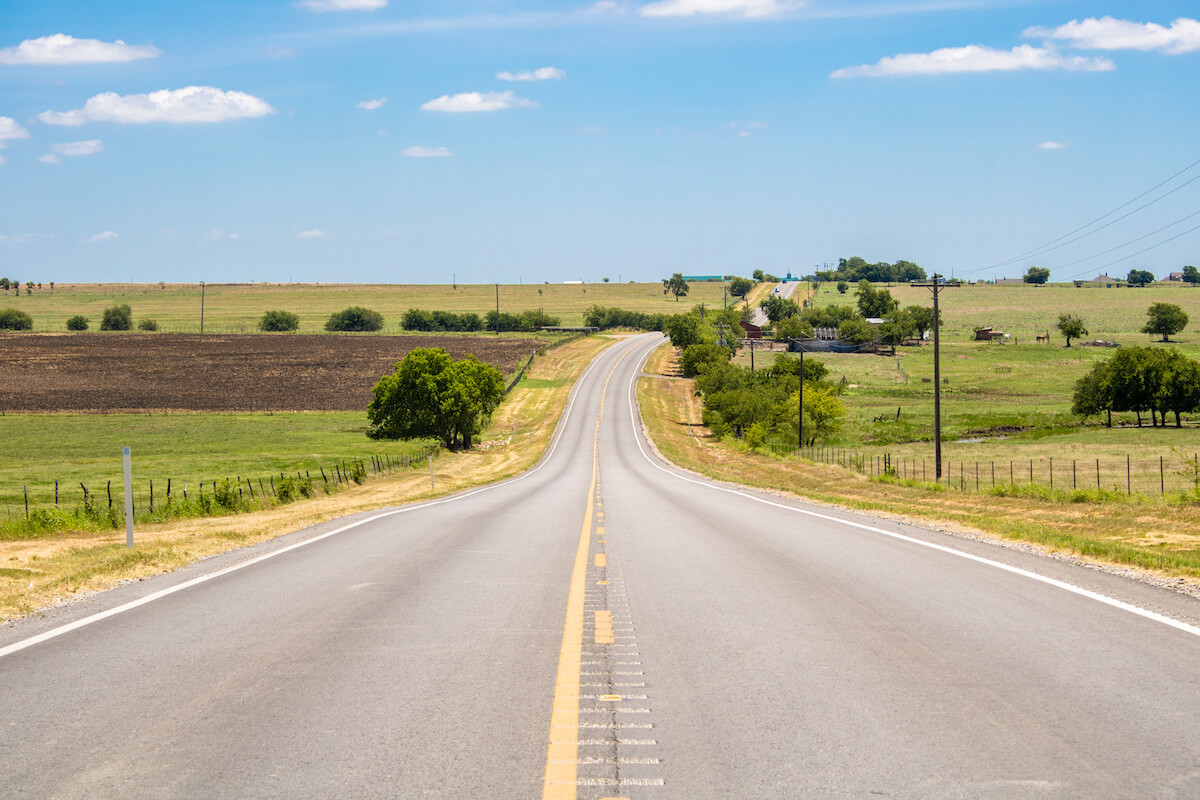 With a small population of approximately 4,600, Justin, Texas, is a 40-minute drive northwest of Dallas, heading toward Argyle. Justin offers a rural prairie feel with a close community near Flower Mound, Denton, and Southlake. People who buy Justin homes for sale enjoy an authentic Texas atmosphere with ample wildlife and breathtaking views of nature. With a growing population and city, Justin is an excellent place for people looking to make their home in one of the best small towns in Texas to live in.
The city maintains wonderful, spacious parks for residents and visitors. A popular spot is Tally Park, located right across the street from the town hall. Tally Park is nestled around a lake with plenty of picnic spots and is perfect for avid clearwater fishers. Justin also offers many extensive golf club options with scenic views, such as The Golf Club at Champions Circle, which offers golfing options and courses for every level of player. Just a few miles away, the Texas Motor Speedway offers faster-paced fun.
The dining scene in Justin offers local flavor, from popular Mexican and American dishes to delicious barbeque joints, all within walking distance from the main street.
Don't forget to buy some western clothing to get into the spirit of the North Texas countryside! Justin is home to the iconic Justin's Boots. The shop itself is full of authentic western wear and Texas history and provides a fun-filled experience for all ages.
Reasons to Love Living in Justin:
Plenty of new construction homes for sale thanks to its rapid growth
Parks like Justin Community Park, Bishop Park, and Tally Park
Hop next door to Stetson Legendary Hats when you're shopping at Justin Discount Boots to complete the look
Be sure to check out nearby master-planned neighborhoods like the Pecan Square community
Parker
Parker is a short 30-minute drive north of Dallas with a population of approximately 6,000. The Parker real estate market is known for its larger rural estates, horseback riding facilities, and zoning for Collin County School districts.
Parker has quite a few luxury home options, with many home values reaching over $1 million. If you've ever envisioned your dream home as a huge house with an expansive green lawn, Parker is the place to start searching—lot sizes of over 1 acre are the norm.
Fun Fact: Parker first landed a spot on the map when the popular television series Dallas used a local ranch as the main film venue for the series' fictional Southfork Ranch. It's also the hometown of Olympic gymnast Nastia Liukin.
Reasons to Love Living in Parker:
According to a local survey conducted in 2010, Dallas Magazine listed Parker as the Best Suburb to reside in.
Location near Lake Lavon
Oak Point Park and Nature Preserve
Cottonwood Creek Greenbelt
Canton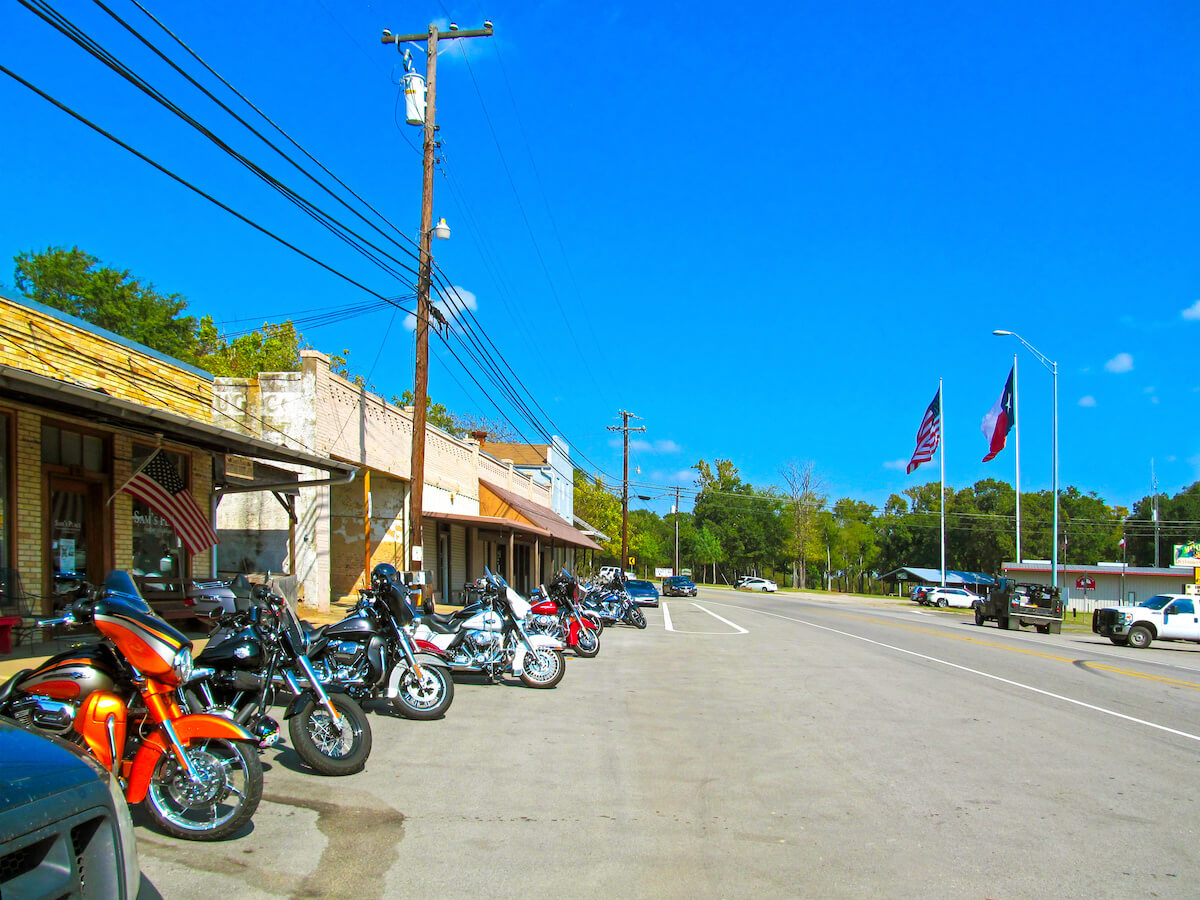 Canton is one of the farther drives away from the heart of Dallas, located an hour east of the city. Home to 4,000 people, the Canton community is one of the best small towns in Texas to live in because of its friendly atmosphere and close sense of community. There are plenty of beautiful places to call home, with vast lakes and forests surrounding the town.
Canton's parks provide a variety of hiking, walking, and biking trails. There are over fifty lakes in the Canton region. Two popular spots are Lake Palestine and Lake Tyler, with residents enjoying a variety of watersports, such as jet skiing, sailing, and fishing.
Canton offers a variety of water parks, skating rinks, frisbee golf courses, and city parks, perfect for any occasion. The Splash Kingdom Paradise Island is an unforgettable experience. The water park has high-speed slides, a wave pool, and a variety of age-appropriate activities for all. Canton is also home to the largest outdoor flea market in the world, which is a city favorite every month. The flea market is divided into two main locations: the First Monday Trade Day and Pavilion 4000, each offering a unique outdoor vintage shopping experience.
Reasons to Love Living in Canton:
Cherry Creek Park and its castle-inspired playscape
Old City Lake Park on the shore of City Lake
Splash Kingdom Paradise Island waterpark
Van Zandt Country Club
Pantego
Located 30-minutes west of Dallas, the city of Pantego is home to 3,000 residents. Homes for sale in Pantego are near the Arlington area, which is a short 20-minute drive from the bustling city of Fort Worth, providing a small-town feel with convenient access to city life. Pantego is more of a suburban area than some other cities on this list, though it offers many natural sites you'd expect to find in rural towns near Dallas, Texas.
This small town has multiple scenic parks and gardens. One such famous garden is Bicentennial Park, located right outside the central hub. This park offers luscious treelines and miles of walking trails, making Pantego one of the best small towns to live in Texas.
There are plenty of options for food and entertainment, including festivals, antique shops, and local cafes. A local favorite dining option is the Simply Divune Café, which offers American-style brunch and lunch options.
Pantego offers both public and private education for every student level. Most of Pantego's schools are directed under the Arlington school district and offer various schooling options, from the Texas Leadership Public School Charters to the Arlington Classics Academy.
Reasons to Love Living in Pantego:
Bicentennial Park features a creek, trails, playground, splash pad, and more
Lakewood Shopping Center
Shady Valley Country Club and Lake Arlington Golf Course
Proximity to Lake Arlington
Make Yourself at Home in Rural Towns Near Dallas Texas
Each of these cities offers an outstanding balance of authentic rural Texas living with a unique twist. The small-town feel and affordable country living paired with the convenience of big-city amenities are quite appealing. Whether you are a weekend daytripper or looking to settle down, the towns encompassing the Dallas-Fort Worth area are filled with hidden gems ready to be discovered.