7 Best Small Towns in Texas to Retire: Discover Small-Town Serenity
Posted by Texas Real Estate Source on Tuesday, May 16, 2023 at 10:56 AM
By Texas Real Estate Source / May 16, 2023
Comment
When it comes to the best small towns in Texas to retire, older homebuyers are spoiled for choice. The Lone Star State is expansive and has a multitude of charming communities tucked away, each with a unique blend of amenities and atmosphere.
Texas has some of the top choices for retirees looking to move away from big cities and experience a tranquil yet rewarding life. From picturesque Hill Country havens to serene lakeside escapes, these retirement destinations offer excellent healthcare facilities, recreational opportunities tailored towards senior residents, and proximity benefits from nearby urban centers.
Kerrville: A Top Retirement Destination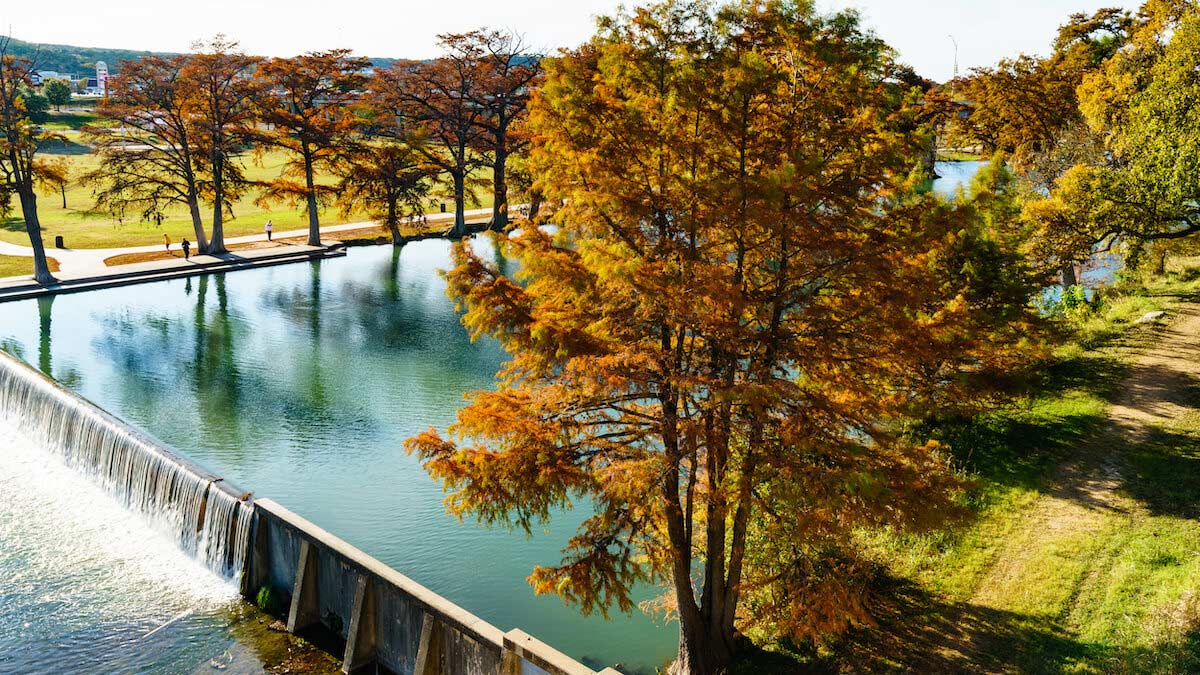 Known for its mild climate and affordable housing, Kerrville is an ideal retirement destination. Homes for sale in Kerrville generally start in the low $200s and go all the way up to luxury home territory, and good access to doctors means this little town northwest of San Antonio offers retirees the perfect balance between affordability and quality medical care. In fact, we'd consider it the #1 small town in Texas for retirement.
The Guadalupe River, which offers fishing, kayaking, and scenic walking opportunities, runs right through Kerrville. The city also boasts several parks, such as Louise Hays Park and Flat Rock Park, where senior residents can participate in various recreational activities while enjoying the mild winters that are characteristic of central Texas.
Kerrville offers top-notch healthcare services to its growing population of retirees. The Peterson Regional Medical Center near the middle of town is a highly regarded facility that provides comprehensive medical care, including emergency services, diagnostic imaging, rehabilitation programs, and more.
Kerrville is an ideal retirement destination with its pleasant weather and numerous outdoor activities.
Boerne: Affordability Near San Antonio
Just outside San Antonio, Boerne offers a compelling retirement destination for those seeking a small-town charm and a high quality of life. One of the standout features of Boerne is its rich cultural heritage. The town is known for its well-preserved historic district, featuring local art galleries, boutiques, and restaurants. Its cost of living is another notable perk, with homes for sale in Boerne frequently listing below the $400,000 mark.
Nature enthusiasts will find Boerne to be a haven. Surrounded by rolling hills, pristine rivers, and expansive parks, the town offers ample opportunities for outdoor activities. Retirees can enjoy hiking, biking, and bird-watching in Boerne City Park and the Cibolo Center for Conservation or take a leisurely stroll along the scenic River Road Park.
Boerne has a vibrant arts and cultural scene. In addition to downtown, the town hosts regular festivals, live music venues, and theatrical productions, providing retirees with a range of engaging entertainment options. The Boerne Performing Arts Center is a popular venue for concerts and shows.
With its rich history, natural beauty, thriving arts scene, and bustling downtown, Boerne, TX, presents an appealing small-town retirement experience. Retirees can enjoy a vibrant and fulfilling lifestyle surrounded by the enchanting landscapes and warm community spirit of the Texas Hill Country.
Fredericksburg: Rich History & Charm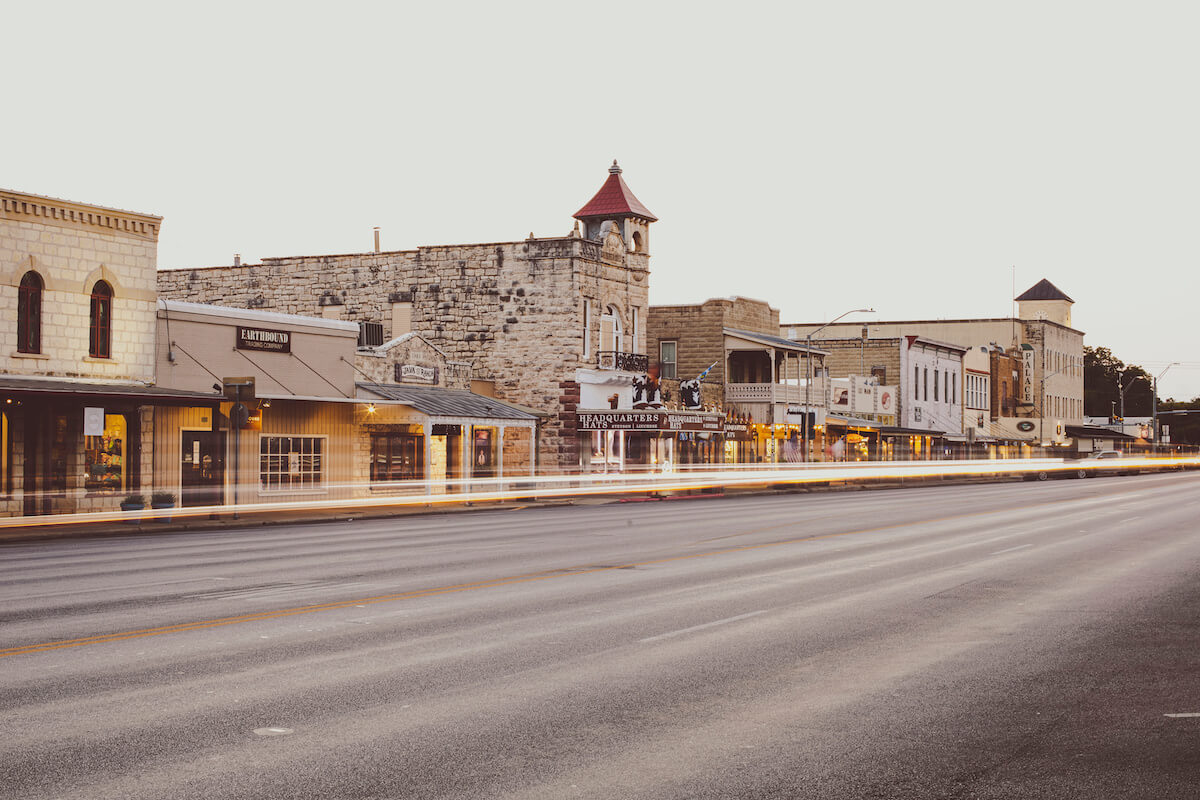 If you're seeking a retirement destination that offers small-town charm with a rich history, look no further than Fredericksburg. This beautiful Texas town is known for its pleasant weather conditions, allowing seniors to enjoy various recreational activities throughout their golden years while immersing themselves in local culture.
The historic downtown district of Fredericksburg boasts highly walkable streets lined with unique shops, art galleries, and local restaurants. Retirees can explore the living history museum at Pioneer Museum, visit the iconic National Museum of the Pacific War, or take a stroll through one of several beautiful state parks nearby.
Fredericksburg also offers plenty of recreational activities, including several top-notch golf courses where retirees can enjoy mild winters on the green. Multiple scenic trails and nature parks are available within easy reach, so hiking enthusiasts will find plenty to explore around Fredericksburg. It's also in the middle of some of the best scenic drives near Austin. And, as part of the Texas Hill Country's thriving wine scene, there are many vineyards and wineries offering tours and tastings.
In addition to these attractions, Fredericksburg also provides access to high-quality healthcare centers such as the Methodist Hospital - Hill Country, ensuring senior residents have everything they need for an enjoyable retirement experience in the Lone Star State.
Fredericksburg offers seniors a blend of historical sites and small-town charm, making it an ideal retirement destination.
Burnet: Scenic Hill Country Living
Also situated in the scenic Texas Hill Country, Burnet is a picturesque small town that offers a fantastic retirement destination for those seeking a relaxed and fulfilling lifestyle. Surrounded by rolling hills, pristine lakes, and scenic vistas, the town provides ample opportunities for outdoor activities. Retirees can enjoy fishing, boating, and swimming in any of the Highland Lakes on the Colorado River or explore the numerous hiking trails in the surrounding state parks and natural areas.
For history enthusiasts, Burnet offers fascinating landmarks and museums. The Fort Croghan Museum showcases the region's pioneer history, while the Highland Lakes Squadron museum exhibits vintage aircraft. The Delaware Springs public golf course offers another way to get out and about and enjoy the warm weather.
This small Texas town earns bonus points for its affordability. Burnet's cost of living is markedly lower than the Texas average, to say nothing of how much more affordable it is than the national average. Homes for sale in Burnet can easily be found in the $300s, with even brand-new construction often listing in the low $400s. As far as healthcare goes, Burnet has the Ascension Seton Highland Lakes hospital right at the south end of town.
Burnet is a great place to retire, offering beautiful scenery and peaceful living.
Dripping Springs: Master-Planned Perfection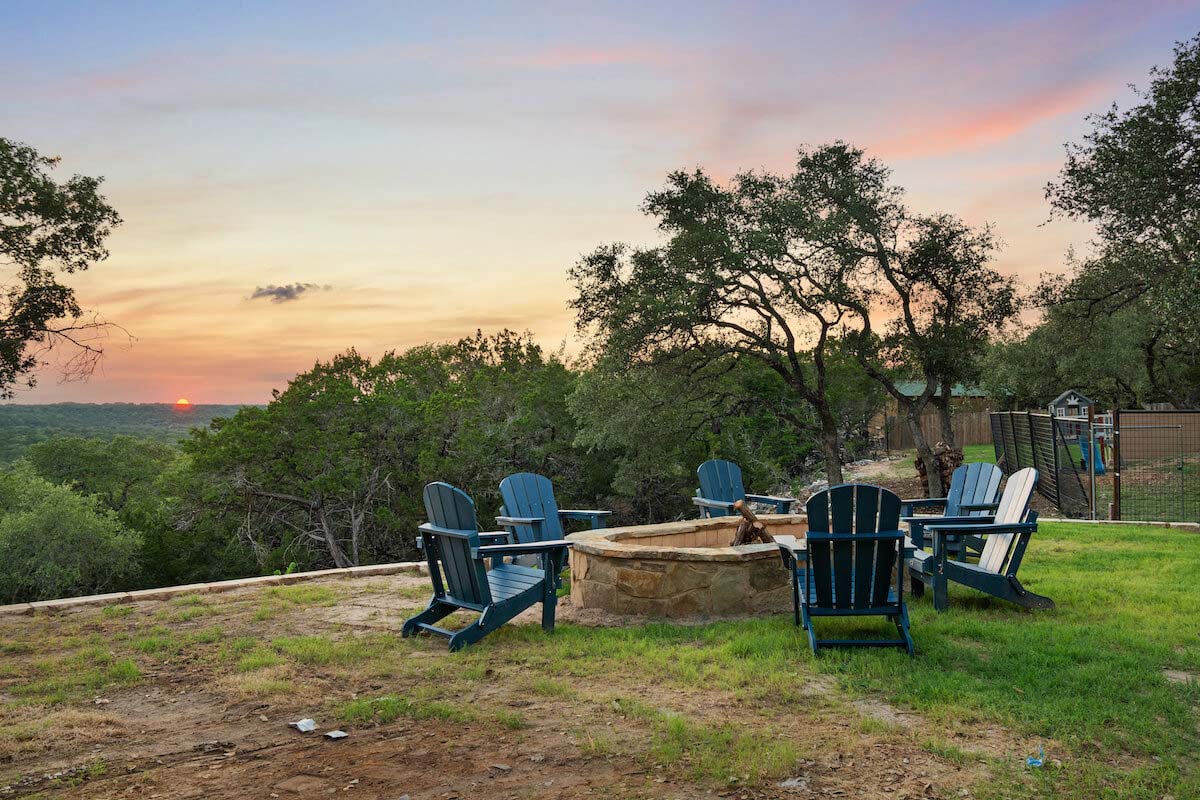 Retirees seeking a picturesque town with ample amenities like shops, wineries, and breweries should consider Dripping Springs. In addition, Dripping Springs has a major feature other towns on this list don't: nearby master-planned communities.
Right next door to homes in Dripping Springs, the Belterra master-planned community offers older residents a self-contained oasis, including its own shopping center, parks, pools, and a professionally organized community social calendar full of events. Homes in Belterra even include 55+ communities geared toward older homeowners. For example, The Cove at San Saba is a lock-and-leave garden home gated community, and The Jovie brings senior apartments into the equation.
Search

Dripping Springs Homes
Even still, residents of Belterra often visit Dripping Springs for its bevy of attractions. Some popular things to do include the Dripping Springs Wine Trail, featuring multiple wineries within close distance, and the Dripping Springs Farmers Market.
While Dripping Springs provides a peaceful retreat from city life, it's just 25 miles west of downtown Austin. Seniors in Dripping Springs can benefit from the proximity to Austin while still enjoying a serene retirement community lifestyle. The drive between Dripping Springs and downtown Austin generally takes 40 minutes or so at off-peak times.
Dripping Springs is a beautiful place to retire and enjoy the Hill Country lifestyle.
Mineola: Serene East Texas Living
Located about an hour and a half east of the city of Dallas, and a little over half an hour north of the city of Tyler, Mineola offers retirees peace and quiet within its woodsy surroundings. Much like Tyler, this East Texas town offers an attractively low cost of living, with homes in Mineola often listing below $400,000.
Mineola attracts notice for its historic downtown district, filled with bars, bakeries, boutiques, burger joints, and dozens of other small storefronts where residents can enjoy a casual day out without venturing too far from home.
Outdoor lovers are also in luck: the Mineola Nature Preserve spans over 2,900 acres and provides ample opportunities for hiking, bird-watching, horseback riding, and enjoying the beautiful scenery of East Texas. Nearby, Lake Holbrook offers fishing, boating, and even a swim beach.
Mineola offers a tranquil, peaceful atmosphere for retirees looking to relax and enjoy their golden years. If you're looking in the area, Tyler is a great place to retire in and of itself as well.
Horseshoe Bay: Lake Living Near Austin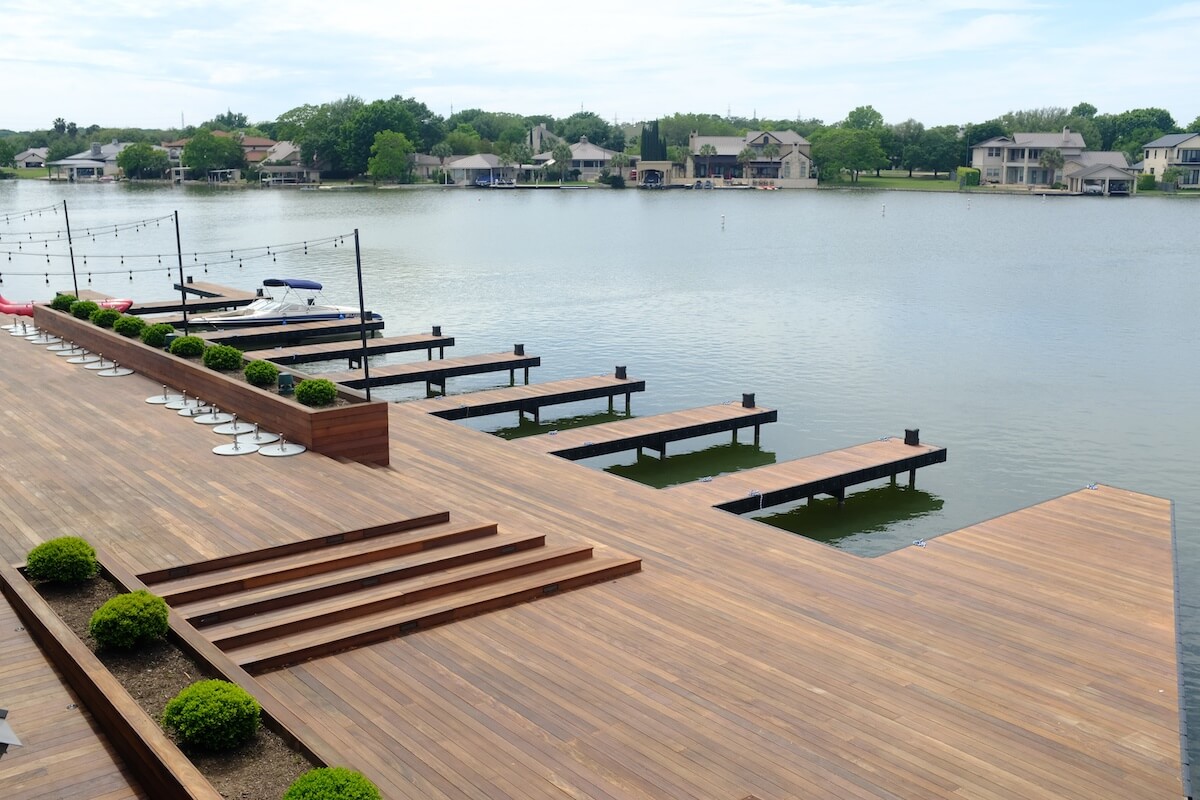 Located outside the city of Austin, Horseshoe Bay provides active retirees with lakeside living surrounded by natural beauty. With affordable home prices starting in the $200s and $300s and plenty of outdoor recreation opportunities like golfing or boating, it's an attractive option for those looking to retire close to city amenities.
Horseshoe Bay on Lake LBJ is associated with its resort and luxury condos, but resort-style amenities don't end there. The town has multiple golf clubs that cater to various skill levels, providing a great way for seniors to stay active and socialize. Additionally, local marinas like Lake LBJ Marina and Blue Lake Marina offer easy access to water activities such as fishing, sailing, and kayaking on one of the best lakes near Austin.
Search

Horseshoe Bay Homes
While enjoying the peaceful surroundings of this beautiful small town, retirees can also take advantage of being relatively close to Austin for big-city attractions like festivals, shopping centers, and entertainment districts. Plenty of great dining options are closer to home in the nearby city of Marble Falls, and halfway between the two at the junction of SH 281 and Highway 71 is Baylor Scott & White Medical Center - Marble Falls, which offers comprehensive care services, including emergency medicine, orthopedics, cardiology, and more.
Horseshoe Bay offers a great opportunity for retirees to enjoy the lake life near Austin.
Ready to Find Your Perfect Retirement Town?
Texas has many great small towns for retirement, offering cost-effective living, healthcare facilities, and recreational activities. No matter which town you choose, you can find a dream home in one of the best small towns in Texas to retire.
Ready to live your best life in Texas? Call The RealFX Group at (512) 956-7390 to contact an experienced local real estate agent who can help you discover the Texas home of your dreams.