Discover the 18 Biggest Lakes in Texas: Largest & Deepest Texas Lakes
Posted by Texas Real Estate Source on Tuesday, May 30, 2023 at 3:49:48 PM
By Texas Real Estate Source / May 30, 2023
Comment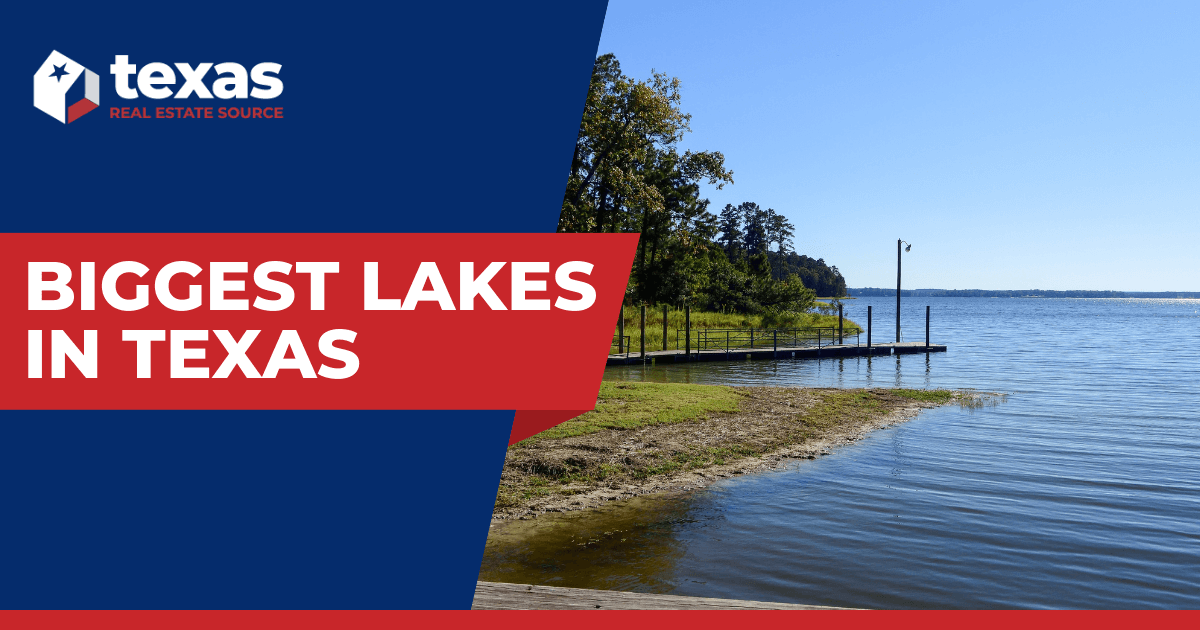 The Biggest Lakes in Texas
As a lover of outdoor activities, you'll be pleased to know that the State of Texas is home to some of the most beautiful lakes in the country. From man-made reservoirs to natural wonders, these bodies of water offer endless opportunities for adventure. Whether you're into fishing, camping, hiking, swimming, or boating, or looking for the best lakes to live near, there's something for everyone among the state's largest lakes.
What is the biggest lake in Texas?
The biggest lake that is entirely located within Texas is the Sam Rayburn Reservoir, also known as Lake Sam Rayburn. This lake is a man-made reservoir in the Angelina River Basin, covering an area of 114,500 acres and stretching for approximately 79 miles. The Sam Rayburn Dam, which forms the lake, was completed in 1965.
What is the largest lake in Texas by volume?
Toledo Bend Reservoir, located on the Texas-Louisiana border, is the largest lake in Texas by volume and is also the largest man-made lake. It was formed by building a dam on the Sabine River and boasts a maximum depth of 110 feet. With a surface area of 185,000 acres, the reservoir holds 4,477,000 acre-feet of water.
What is the deepest lake in TX?
Assuming lakes are at their maximum capacity, the deepest lake in Texas is Lake Travis, located just outside of Austin. Lake Travis is a reservoir on the Colorado River and was formed by the construction of Mansfield Dam in the 1940s. At its deepest point, it reaches a depth of about 210 feet, making it the deepest lake in the state. However, most lakes in Texas rise and fall depending on rainfall and lake management. Other lakes in Texas that could be the deepest at any given time include Lake Amistad, Lake Medina, and Possum Kingdom Lake.
List of Biggest Lakes in Texas
Toledo Bend Reservoir - Largest Man-Made Lake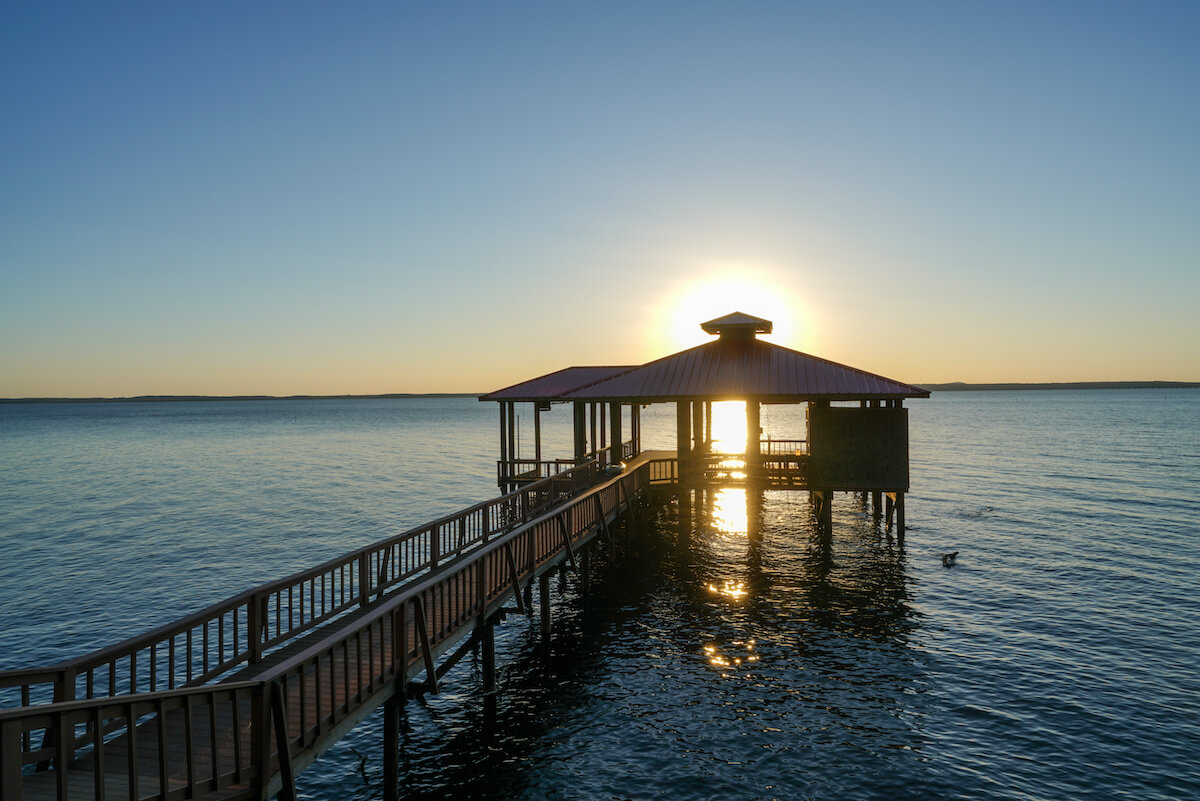 Toledo Bend Reservoir is the largest lake in the Lone Star State, covers almost 290 square miles and boasts over 1,200 miles of shoreline. This man-made lake was created in the late 1960s by damming the Sabine River to provide hydroelectric power generation, flood control, and a water source for Texas and Louisiana. The lake is also home to various species of fish, including largemouth bass, catfish, and crappie.
Recreational opportunities abound at Toledo Bend Reservoir. With its vast size, visitors can enjoy boating, jet skiing, kayaking or canoeing on the clear waters. Anglers can cast their lines from fishing piers or hire a local guide to take them to the best spots where they can catch trophy-sized fish. The surrounding forest areas offer camping sites and hiking trails for those who want to immerse themselves in nature.
Toledo Bend Reservoir is a popular tourist destination and plays an essential role in wildlife conservation efforts. The reservoir provides habitat for many aquatic species such as alligator gar and paddlefish while serving as a breeding ground for migratory birds like ducks and geese. This massive lake has become a sanctuary for wildlife that might have otherwise been destroyed due to industrialization or urbanization.
Lake Lewisville - Largest Urban Area Lake
Lewisville Lake is located near the most populated suburbs of the Dallas/Fort Worth metroplex. One of the main draws of Lake Lewisville is the lake's boating options. Whether you want to rent a boat or bring your own, this lake has something for everyone. You can spend the day cruising around the water or find a secluded spot and drop anchor for some swimming and sunbathing.
If fishing is more your style, then Lake Lewisville won't disappoint. The lake is home to several fish species, including largemouth bass, crappie, catfish, and white bass. There are even fishing tournaments held here throughout the year for those who really want to test their skills.
Caddo Lake - Largest Natural Lake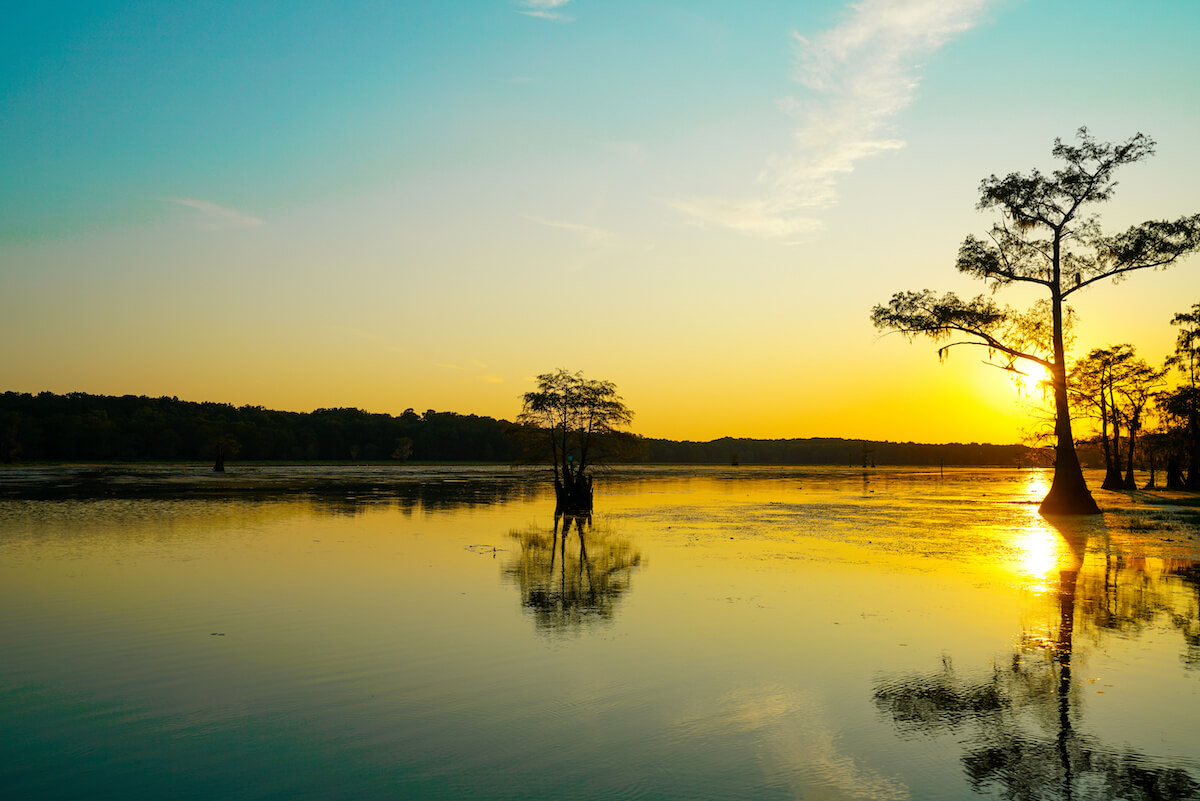 Caddo Lake is the largest natural lake in Texas. Located in the eastern part of Texas, this lake is a unique wonder that deserves to be preserved for generations to come. Many of the cypress trees at Caddo Lake State Park are over 400 years old and create an eerie but beautiful landscape.
Preserving Caddo Lake is crucial because it's home to a variety of unique wildlife. The lake contains over 70 species of fish and several endangered species, such as the paddlefish, bald eagle, and alligator snapping turtle. Tourists flock to this area every year to see these creatures up close.
Lake Travis - Largest Lake With Naked People
Lake Travis offers over 270 miles of shoreline to explore just a few minutes to the west of central Austin. One of the jewels of Central Texas and the Hill Country, this reservoir is located on the Colorado River and spans across 29.58 sq mi in surface area. It is consistently rated as one of the best lakes in Texas and among the most popular urban lakes in the United States. Visit during any holiday weekend, and you'll see that it's also among the most popular "party lakes" in Texas—and you might see a few naked folks if you venture along the shoreline of Hippie Hollow.
Apart from fishing, Lake Travis offers an array of water activities such as swimming, paddleboarding, kayaking, and jet skiing. If you're feeling adventurous, take a guided tour on a speedboat or flyboard along the lake's serene surroundings. You'll also find several top attractions on this lake like the Oasis Texas Brewing Company that serves delicious craft beer while overlooking stunning views of the sunset.
The best time to visit Lake Travis is during spring when wildflowers are blooming all around the lake's perimeter. You'll enjoy cooler temperatures with less humidity compared to summer months when temperatures soar high above 90 degrees Fahrenheit. Lake Travis offers visitors a plethora of vacation rentals, hotels, and luxury resorts and spas, making it an ideal destination for anyone seeking outdoor adventure combined with modern amenities.
Sam Rayburn Reservoir
Sam Rayburn Reservoir, the state's second-largest lake, offers ample opportunities for fishing and water-based activities, with over 114,000 acres of surface area to explore. If you're a fishing enthusiast, this is a great place to visit. With more than 80 species of fish present in the lake, it's no wonder that Sam Rayburn Reservoir hosts several fishing tournaments throughout the year. Some popular catches include largemouth bass, crappie, and bluegill.
If you're not into fishing but still want to enjoy the water, boating is another popular activity at Sam Rayburn Reservoir. However, before heading out on your boat adventure, make sure you check the boating regulations set by the Texas Parks and Wildlife Department. Also note that personal watercraft like jet skis are allowed on some areas of the lake but have specific speed limits and operating hours.
Besides fishing and boating, other nearby attractions are worth checking out when visiting Sam Rayburn Reservoir. For example, if you're interested in history or nature trails hiking then take a trip to The Angelina National Forest which is located just north of the reservoir. You can also find several hotels and camping grounds around here where you can stay overnight or longer while enjoying all these outdoor activities during your trip.
Falcon Reservoir
Falcon Reservoir, built for flood control, irrigation, hydroelectricity, and water conservation, covers a vast area of 154.63 sq mi in Texas. The reservoir is located on the Rio Grande River and is shared by both the United States and Mexico. Falcon Reservoir serves as an important source of water for agriculture and municipal use in South Texas.
Recreation opportunities at Falcon Reservoir include fishing, boating, camping, hiking, and birdwatching. The lake offers a variety of fish species such as largemouth bass, catfish, crappie and white bass making it an ideal destination for anglers. The park surrounding the lake has several picnic areas with grills where visitors can enjoy their meals while admiring breathtaking views of the reservoir's blue waters surrounded by desert landscapes. Overall Falcon Reservoir is a great place to visit if you're looking for fun activities in nature or just need a break from everyday life.
Lake Texoma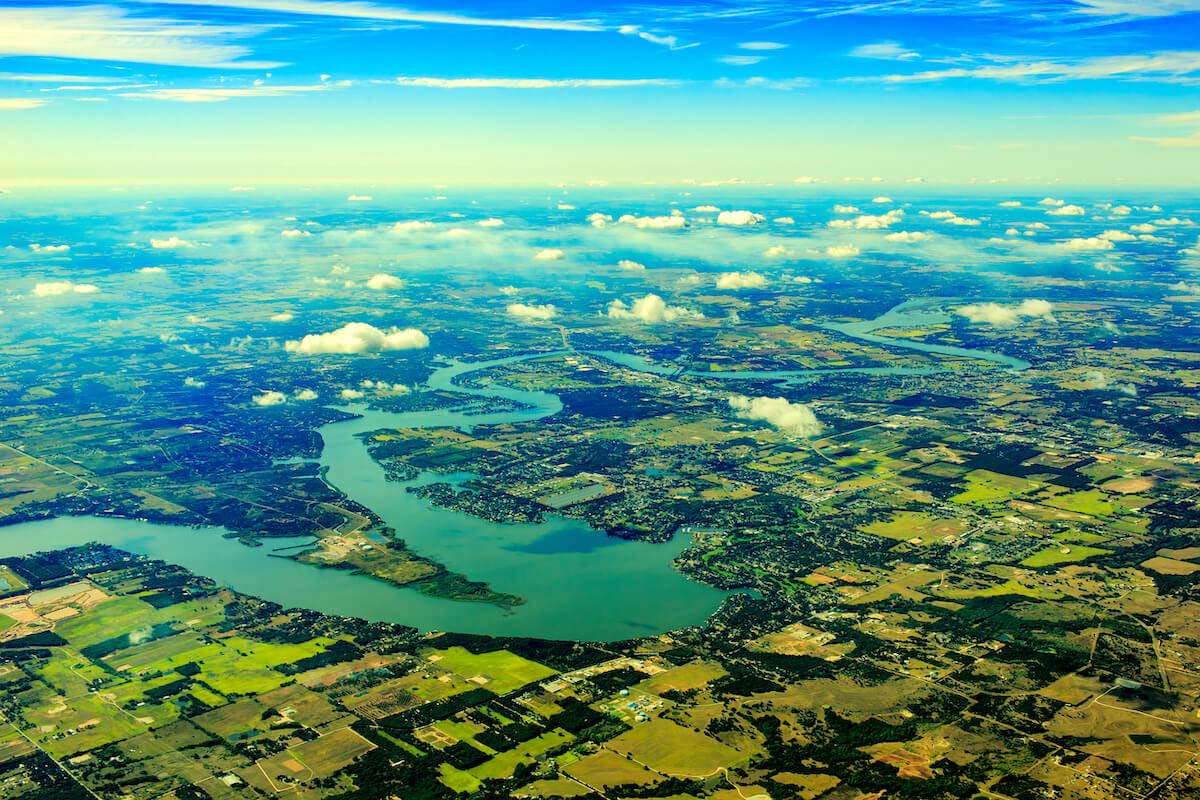 Lake Texoma is a highly developed lake covering both North Texas and Oklahoma counties with a whopping 139 sq mi of surface area and over 70 different fish species! It's no wonder that this lake is one of the top fishing spots in the region. Anglers come from all over to try their luck at catching striped bass, catfish, crappie, and more. But fishing isn't the only thing to do here. Lake Texoma offers a variety of popular recreational activities such as camping, hiking, swimming, and boating.
If you're looking for an escape from city life or just want to spend some time outdoors with family or friends, Lake Texoma is definitely worth checking out. With its vast size and diverse range of activities available, there's something for everyone here. So pack your bags and head on down to this beautiful lake for a weekend getaway you won't soon forget!
Lake Livingston

If you're looking for a great spot to enjoy some water activities and take in picturesque views, Lake Livingston in the East Texas piney woods is definitely worth considering. This lake covers 129.73 sq mi and was built mainly to provide freshwater to Texas residents, but it also offers plenty of recreational activities. Fishing opportunities are abundant here, with a variety of fish species such as catfish, crappie, bass, and white perch waiting for you.
Apart from fishing, Lake Livingston has something for everyone when it comes to recreational activities. You can go camping or hiking in the surrounding park areas that stretch over 450 acres. If you prefer swimming or sunbathing on sandy beaches, several public beaches are available around the lake's perimeter too.
Overall, Lake Livingston is an ideal place to spend some time outdoors with your family or friends. With its stunning natural beauty, abundance of recreational opportunities like fishing and hiking trails, and diverse wildlife population; this lake makes for a perfect weekend getaway destination.
Lake Amistad Reservoir
Lake Amistad is one of the largest lakes and must-visit spot for tourists looking for a fun-filled day of recreational activities. This border location between Texas and Mexico offers visitors a picturesque view of the surrounding mountains and crystal-clear water. The lake's 101.4 sq mi surface area provides ample space for activities such as fishing, boating, swimming, and scuba diving.
Tourist attractions at the Amistad Reservoir are not limited to water-based activities alone; several hiking trails offer an excellent opportunity to explore the natural beauty of the region. Wildlife enthusiasts can also enjoy watching animals like deer, coyotes, and birds in this region.
In addition to recreational activities, Lake Amistad has plenty of camping facilities that cater to both RVs and tents. Visitors can choose from numerous sites with amenities ranging from basic fire pits to full hookups. With its scenic beauty, plethora of recreational opportunities, and border location between Texas and Mexico, Lake Amistad is undoubtedly one of Texas' most treasured locations.
Richard-Chambers Reservoir
The Richard-Chambers Reservoir is a man-made lake and covers a total surface area of 64.63 sq mi. It has one of the largest water volumes among all lakes in Texas, making it an ideal spot for fishing enthusiasts.
Aside from fishing and wildlife watching, visitors can enjoy camping sessions with their loved ones or engage in various watersports like swimming and boating. The reservoir has several picnic areas perfect for having lunch while taking in breathtaking views of its surroundings.
Lake Tawakoni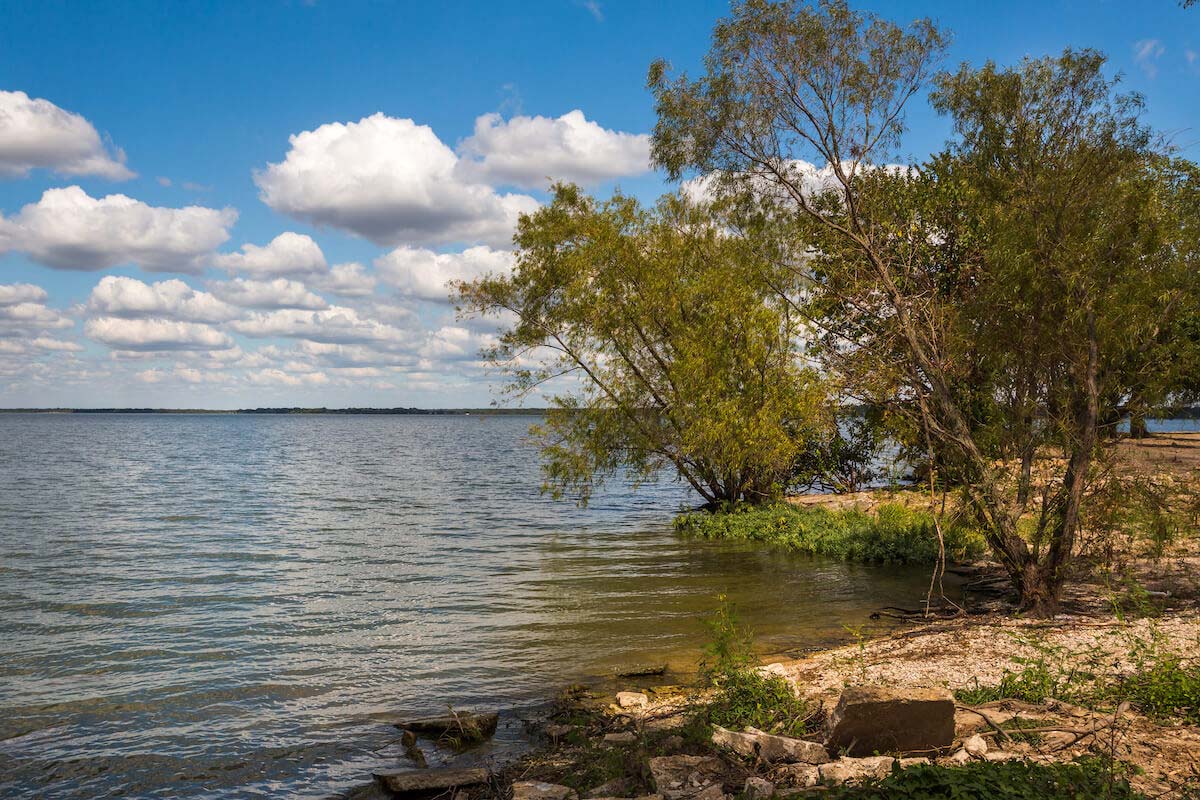 Located in Northeast Texas, Lake Tawakoni boasts a surface area of over 57 square miles. It is surrounded by lush greenery, making it an ideal place for a peaceful getaway. Fishing opportunities abound in Lake Tawakoni, with species such as catfish, bass, and crappie being popular among anglers.
If you're looking to explore the surrounding areas, there are plenty of attractions near Lake Tawakoni. The historic town of Greenville is just a short drive away and offers various dining options, antique shops, and museums.
Cedar Creek Reservoir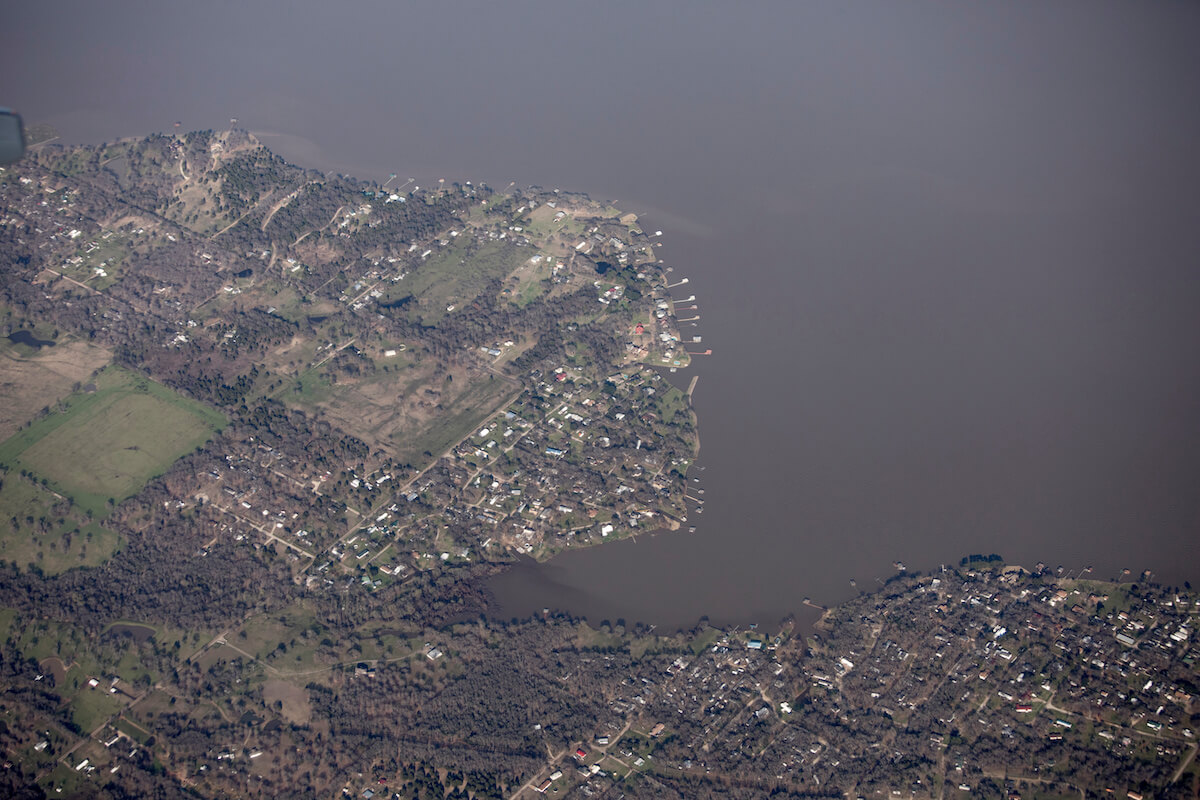 You'll love Cedar Creek Reservoir, with its expansive surface area of 51 sq mi and numerous coves perfect for fishing, swimming, and skiing. The reservoir, located in Kaufman and Henderson counties, boasts a picturesque surrounding scenery with lush green trees and rolling hills.
Whether you're looking for relaxation or adventure, Cedar Creek Reservoir has something to offer everyone who visits. With its beautiful surroundings and endless recreational opportunities like swimming or water skiing in crystal clear water, it's easy to see why this spot is so beloved by locals and tourists alike!
Lake Fork Reservoir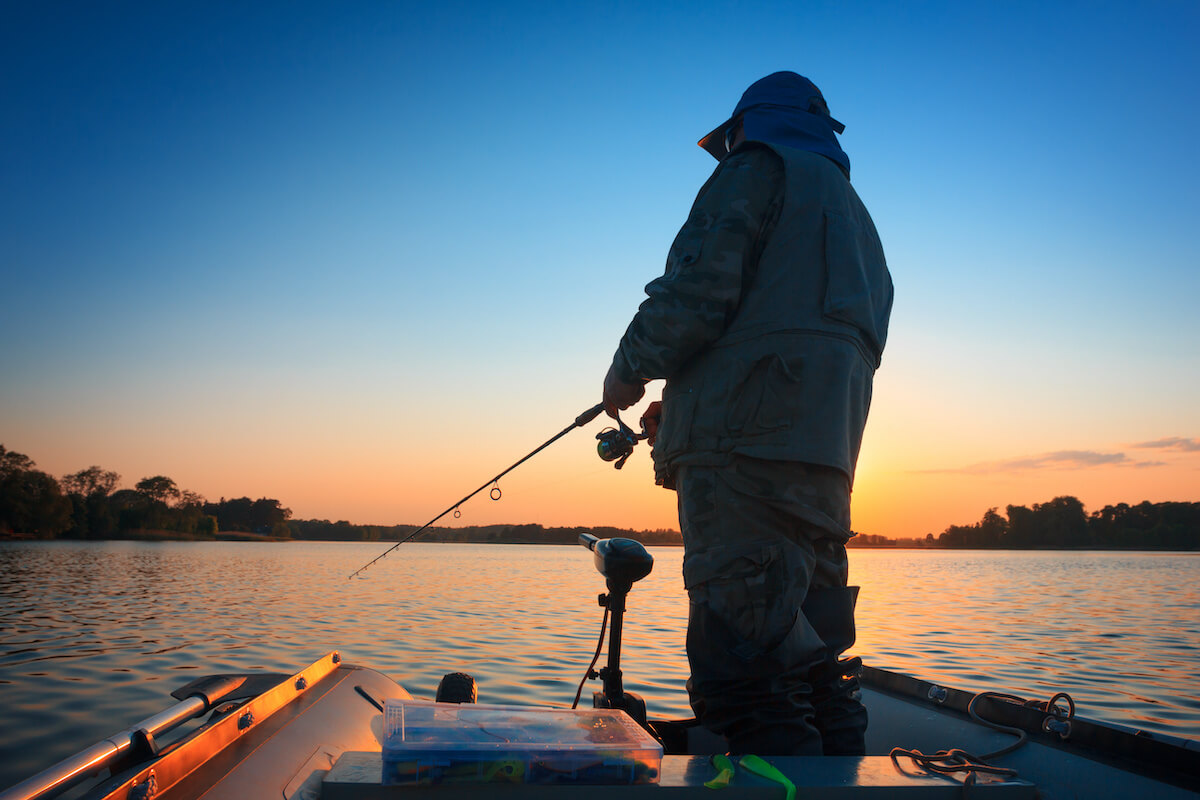 If you're searching for a tranquil fishing spot with pristine waters and scenic views, Lake Fork Reservoir is the perfect destination for you. Measuring 43.28 square miles in surface area, its clear waters are home to various species of fish, including largemouth bass, catfish, crappie, and sunfish.
Fishing tournaments are a common sight due to its reputation as one of Texas's best bass fishing lakes. Over the years, the lake has produced numerous record-breaking catches, drawing anglers from all over the country. Aside from fishing tournaments, visitors can also enjoy other recreational activities such as boating or taking a stroll along scenic hiking trails around the lake.
Lake Fork Reservoir's location makes it easily accessible for anyone interested in visiting. It is situated about two hours east of Dallas and only an hour and a half north of Tyler. If you're looking for a serene getaway spot with plenty to do outdoors, this lake should be at the top of your list.
Lake Palestine
Also in the East Texas pine forests, head to Lake Palestine near Tyler where you can cast your line and relax in the tranquil atmosphere. Lake Palestine was built as a reservoir in the late 1960s by the United States Army Corps of Engineers. The lake covers more than 25,000 acres, has a surface area of 40 sq mi, and has over 135 miles of shoreline. With its clear water and sandy beaches, you can take part in recreational activities such as swimming or water sports.
If you're an avid angler looking for some friendly competition, Lake Palestine is home to various fishing tournaments throughout the year. If fishing isn't your thing, there are other recreational activities that you can enjoy at this amazing lake. You can rent a boat or jet ski to explore the waters or hike through nearby trails while taking in scenic views.
Lake Palestine offers plenty of fun-filled opportunities for those seeking adventure or relaxation. Whether it's catching big fish or just lounging on the beach with family and friends, this lake has something for everyone.
Lake Buchanan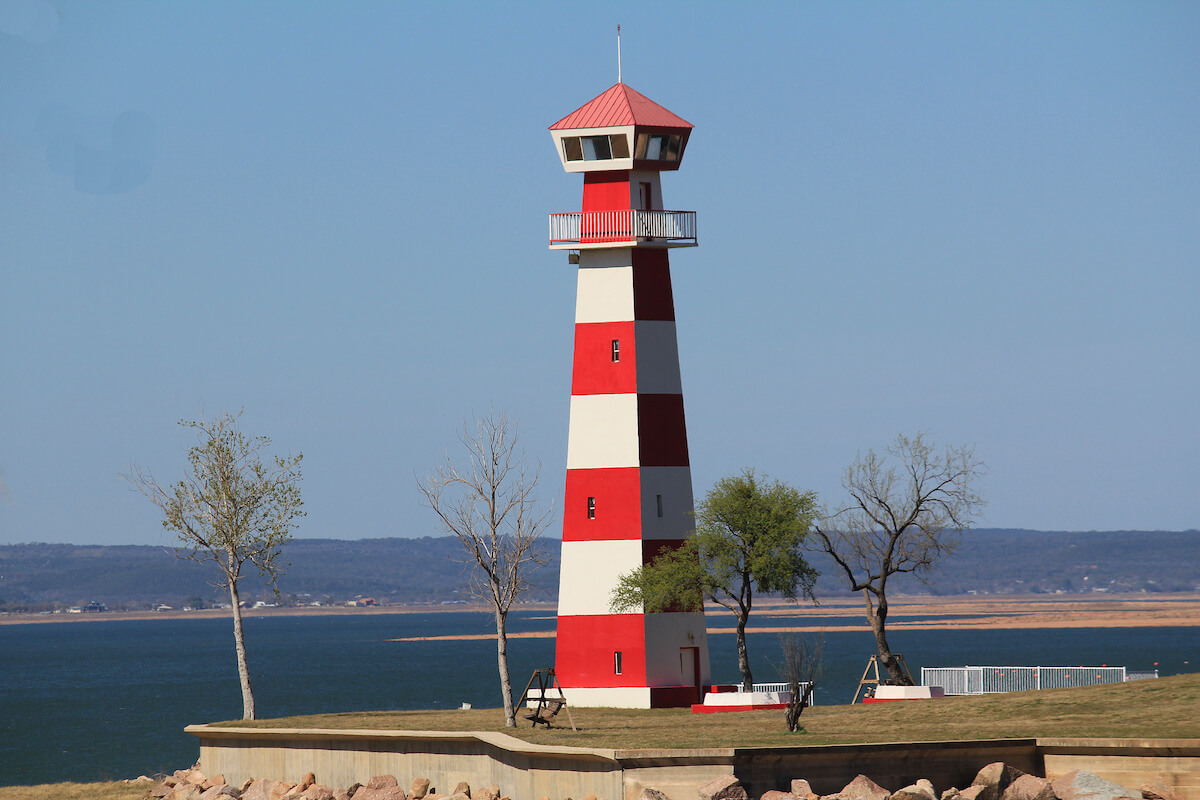 Known as one of the Highland Lakes on the Colorado River, Lake Buchanan is located in the Texas Hill Country to the northwest of Austin and covers a total surface area of 22,333 acres. It is surrounded by numerous attractions such as wineries, restaurants, hiking trails, and wildlife parks that you can explore during your visit.
One of the best activities to enjoy at Lake Buchanan is fishing. You can rent boats or bring your own to fish from the shore or deeper waters.
Apart from fishing opportunities, Lake Buchanan also offers other recreational activities like swimming or relaxing on its gravel beaches. The clear waters make it ideal for swimming while taking in the scenic views around you. You can also take a boat ride along the lake's shoreline or go kayaking to explore more secluded areas around the lake.
In summary, if you're looking for an escape from city life and want to connect with nature while enjoying some fun outdoor activities like fishing or swimming in clear water, Lake Buchanan is definitely worth considering.
Possum Kingdom Lake
Possum Kingdom Lake is surrounded by enchanting hills and trees, with its clear water reflecting the natural beauty of its surroundings. If you're looking for a place to unwind and enjoy nature, this is definitely the spot for you.
Accommodations at Possum Kingdom Lake range from luxurious resorts to cozy cabins and campsites. Whether you are looking for a romantic getaway or a family vacation, plenty of options are available for all budgets.
Possum Kingdom Lake offers something for everyone who loves spending time outdoors. From fishing and swimming to exploring scenic spots around the area, this beautiful lake is sure to leave you feeling relaxed and rejuvenated after your visit.
Lake Ray Hubbard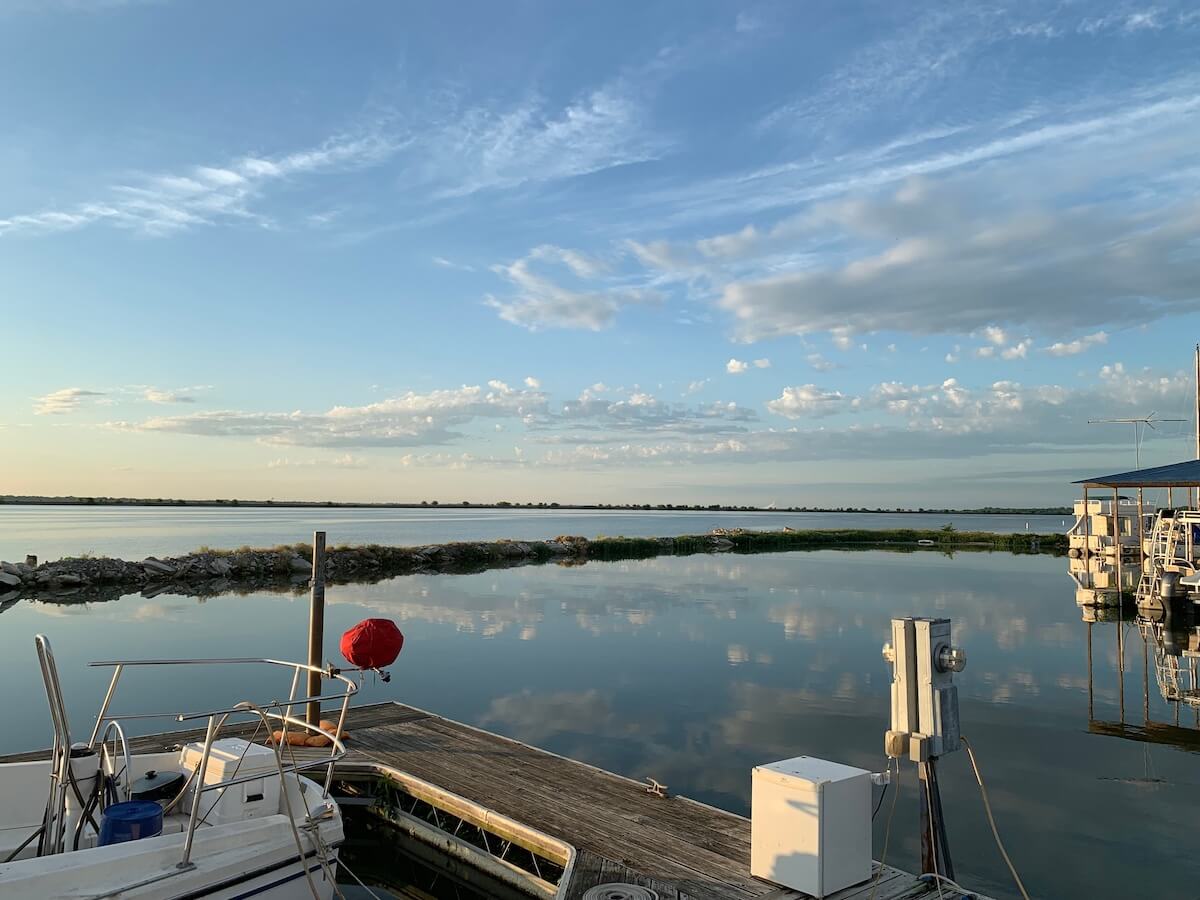 You'll love exploring the vast and picturesque Lake Ray Hubbard, with its numerous camping facilities, restaurants, and lodges lining the impressive shoreline. The lake is located in Dallas and Rockwall counties, covering a total surface area of 35.54 sq mi. With boating facilities available throughout the lake, it's easy to spend your day cruising through the waters while enjoying breathtaking views.
Lake Ray Hubbard offers various recreational activities such as hiking trails perfect for exploring nature around the lake's perimeter. You can also enjoy sunbathing on one of the sandy beaches or have a picnic with family or friends at one of the many designated areas throughout the park.
Lake Conroe
Lake Conroe has 32.81 sq mi of surface area just north of Houston. Boating activities are popular at this lake, with many visitors bringing their own boats or renting them from one of the many marinas available.
In addition to fishing, lakeside resorts that offer various recreational facilities like swimming pools, tennis courts, and golf courses. Lake Conroe is a fantastic destination for anyone looking to escape the hustle and bustle of Houston.
Ready to live your best life in Texas? Call The RealFX Group at (512) 956-7390 to contact an experienced local real estate agent who can help you discover the Texas home of your dreams.