Bridgeland vs. Towne Lake: Which Cypress Master-Planned Community Should You Live In?
Posted by Texas Real Estate Source on Wednesday, September 7, 2022 at 4:04 PM
By Texas Real Estate Source / September 7, 2022
Comment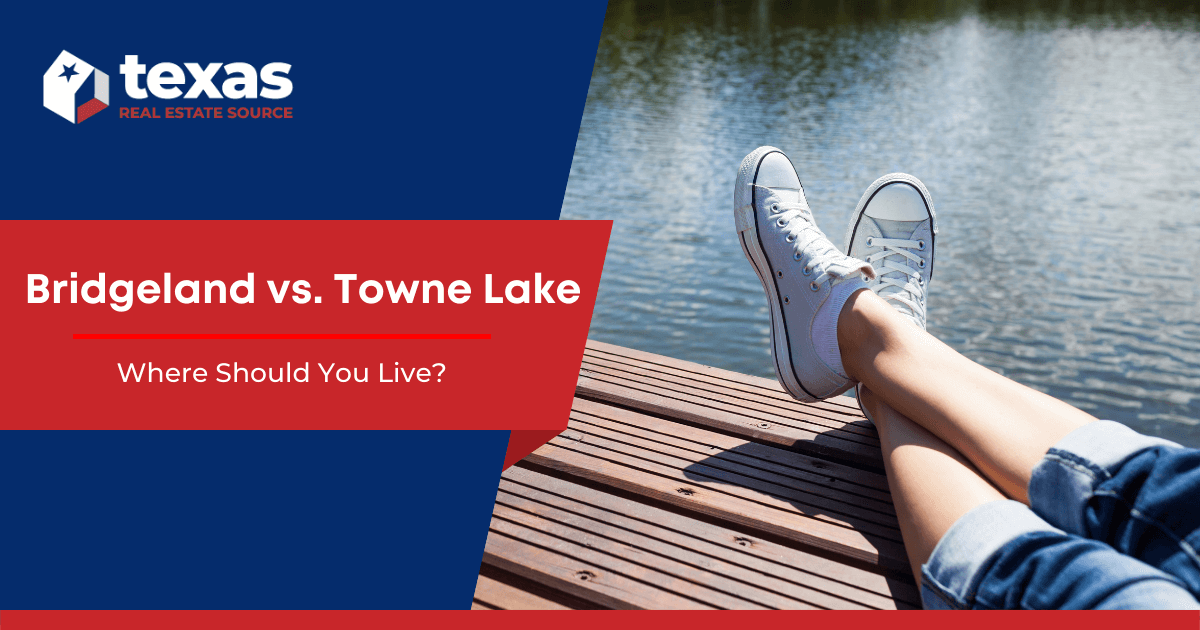 If you head northwest on US-290 with the hubbub of the city of Houston in your rearview mirror, you'll soon come across the city of Cypress. Almost 200,000 people live out this way, in and around the many developments that have sprung up in recent years. Among the newest and most popular Cypress, Texas, neighborhoods are the master-planned communities of Bridgeland and Towne Lake.
One of the first things you'll notice when you get out here is that despite its growth, the area has maintained a small-town feel. The stress-free lifestyle and sense of community are big attractions. So how do buyers decide between Bridgeland vs. Towne Lake?
Let's check out some similarities and differences between these two developments and discover which is right for you.
Bridgeland vs. Towne Lake Real Estate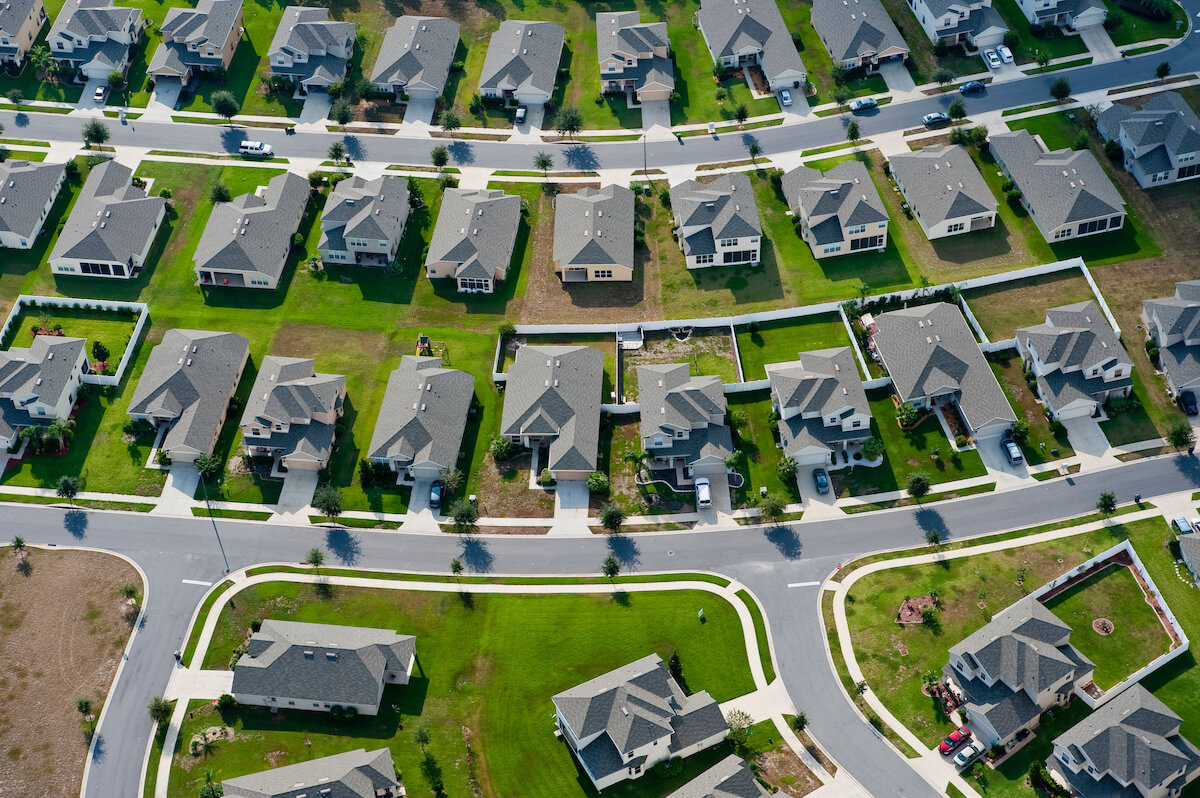 These new home communities in Cypress, TX are located near each other, just minutes south of US-290. Combined, Bridgeland and Towne Lake span more than 12,000 acres. They anticipate providing homes for as many as 70,000 residents when both developments are fully built out.
Home Prices and Availability
Upon completion, the Bridgeland master-planned community is expected to feature as many as 20,000 houses on more than 10,000 total acres. Typical four-bedroom, three-bath homes here average approximately 3,000 square feet on lots differing in size across the several distinct villages. Buyers can find Bridgeland homes for sale ranging anywhere from the mid $300s to $1.5 million or more, with an average sale price typically in the $600s.
Towne Lake developers plan for over 3,000 properties on about 2,400 acres when finished. Four-bed, three-bath homes for sale in Towne Lake average more than 2,900 square feet, and lot sizes vary by section. The average sale price in Towne Lake hovers around the $700,000 mark, falling within a range from the low $300s to $2 million and higher.
Builders and Home Styles
Homebuyers can choose from almost 20 Bridgeland builders, including Beazer Homes, David Weekley, Fredrick Harris Estate Homes, Lennar, and Perry Homes. The community features a diverse collection of architectural styles and property types, with quite a few new construction homes on the market.
Towne Lake builders include Beazer, Village Builders, and Newmark Homes, as well as several custom builders like the Braziel Building Group and Jamestown Estate Homes. Property types here range from condos and townhomes to single-family models and luxury waterfront homes. Buyers will also find a 55+ community among Towne Lake's different subdivisions.
Property Taxes and HOA Fees
Property taxes in these Cypress, Texas, neighborhoods vary, as Bridgeland and Towne Lake span multiple Municipal Utility Districts (MUDs). Bridgeland tax rates differ by village, ranging from about 3.4% in Lakeland Village to just over 3.5% in sections of Prairieland Village. Taxes for Towne Lake properties are similar.
Association fees in Bridgeland start at around $500 and can reach more than $2,900, depending on the specific section. Towne Lake HOA fees range from about $850 to a little over $3,300, based on the particular neighborhood within that community.
Don't forget to check whether you can save money with a Houston homestead tax exemption.
Bridgeland vs. Towne Lake Amenities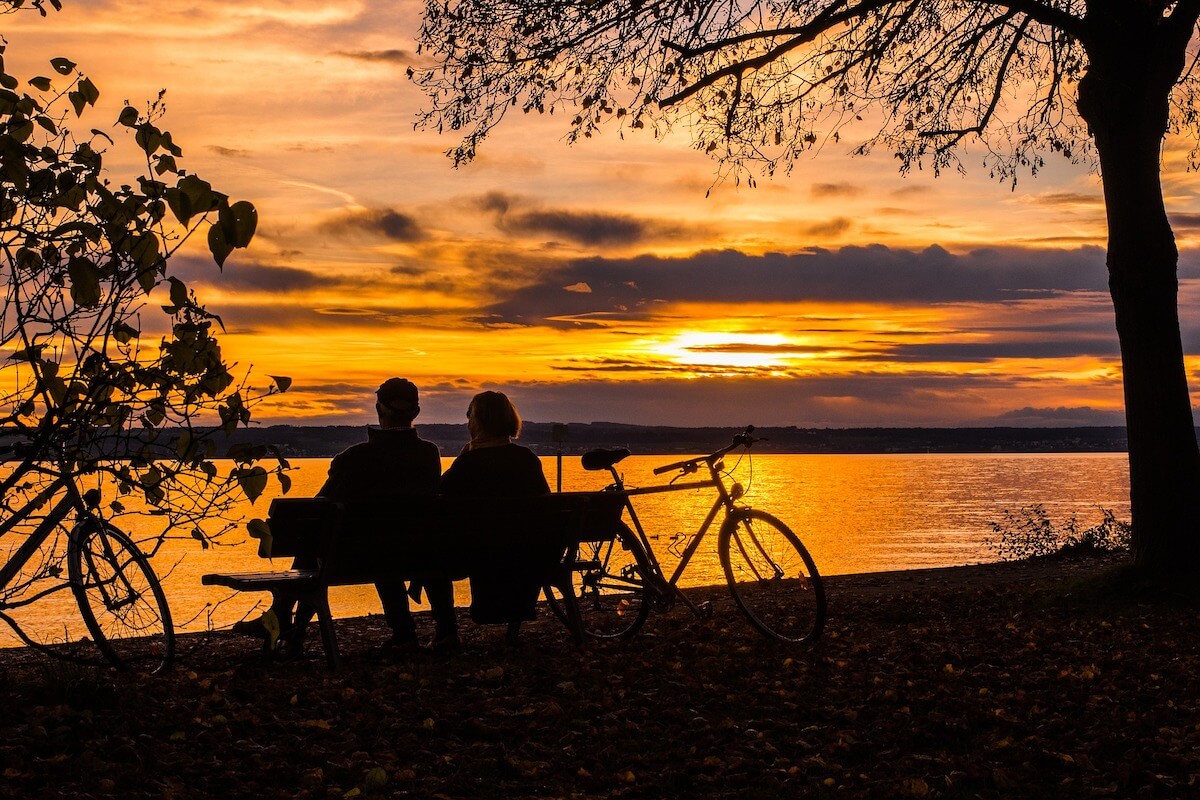 Comparing the amenities in Bridgeland vs. Towne Lake is challenging since both communities offer their residents so many unique things to do. The two neighborhoods feature acres of lakes and waterways surrounded by an abundance of parks, pools, playscapes, and nature trails. Amazing community centers, common areas, and retail spaces serve both subdivisions as well, providing plenty of socializing and shopping for Bridgeland and Towne Lake residents alike.
The Lakes
The Bridgeland community contains a few hundred acres of lakes and waterways winding through its various villages. The 140-acre Josey Lake is at the center of waterfront living for Bridgeland residents. Canoes, kayaks, and paddle-boats are welcome on the lake, and residents can take advantage of the many nearby walking trails, a birding tower for bird watching, or just kicking back in the hammock park.
Towne Lake's eponymous 300-acre reservoir is the largest private recreational lake in the Houston area, with 14 miles of shoreline providing a unique lifestyle for the community's residents. Motorboats and sailboats criss-cross the lake as folks living in waterfront homes hop in their personal craft for a quick cruise to dinner at The Boardwalk. On shore, several miles of tree-lined recreational trails around the lake showcase the area's native Texas flora.
Community Centers
The neighborhood hub in Bridgeland is the Lakeland Activity Center, with a 6,000-square-foot community center, fitness area, classrooms, meeting spaces, and a fully functional kitchen. The development employs an onsite director of activities who schedules regular community events, ranging from classes for grownups and kids to a monthly farmers market.
Over at Towne Lake, The Lakehouse is at the center of the community's amenities. Residents can catch a workout in the top-notch fitness center, take cooking lessons in the demonstration kitchen, attend a meeting in the conference room, or enjoy a private reception in the 200-seat banquet hall. The Lakehouse has its own beach and a marina for people arriving by boat.
Pools and Splash Parks
Don't be surprised if it seems like there's a swimming pool or waterpark around every corner in Bridgeland. The community's activity center features a junior Olympic-size pool, a dedicated dual-platform diving area, 30-foot water slides, a splash park, and more. Nearby in Lakeland Village Park, residents enjoy a heated lap pool and spray park.
Bridgeland's newest water features are found at Dragonfly Park. Float the lazy river, lounge around the beach-entry pool, get a workout in at the lap pool, or just cool off with the kids on the "sprayground."
Water fun at Towne Lake isn't limited to just the lake itself. Across the lagoon from the community's popular Boardwalk, residents can splash around the area's popular waterpark. Accessible by boat, the park features water slides, a lazy river, and an Olympic-style pool. Elsewhere around Towne Lake are several other swimming pools and the kid-favorite splash pad with its shooting streams and water fountains.
Trails
Outdoor enthusiasts will enjoy walking, running, and biking Bridgeland's many miles of trails that connect the individual villages with the lake and other community amenities. Different pathways running through Bridgeland include the Cypress Creek Nature Trail, Parkland Common Fitness Trail, House-Hahl Trail, and sidewalk trails winding through each neighborhood.
Towne Lake also has plenty of trails, with more than 24 miles of hike and bike paths available to community residents. Routes run along the shore of the lake, interrupted only by the occasional workout station, playscape, or picnic pavilion.
Parks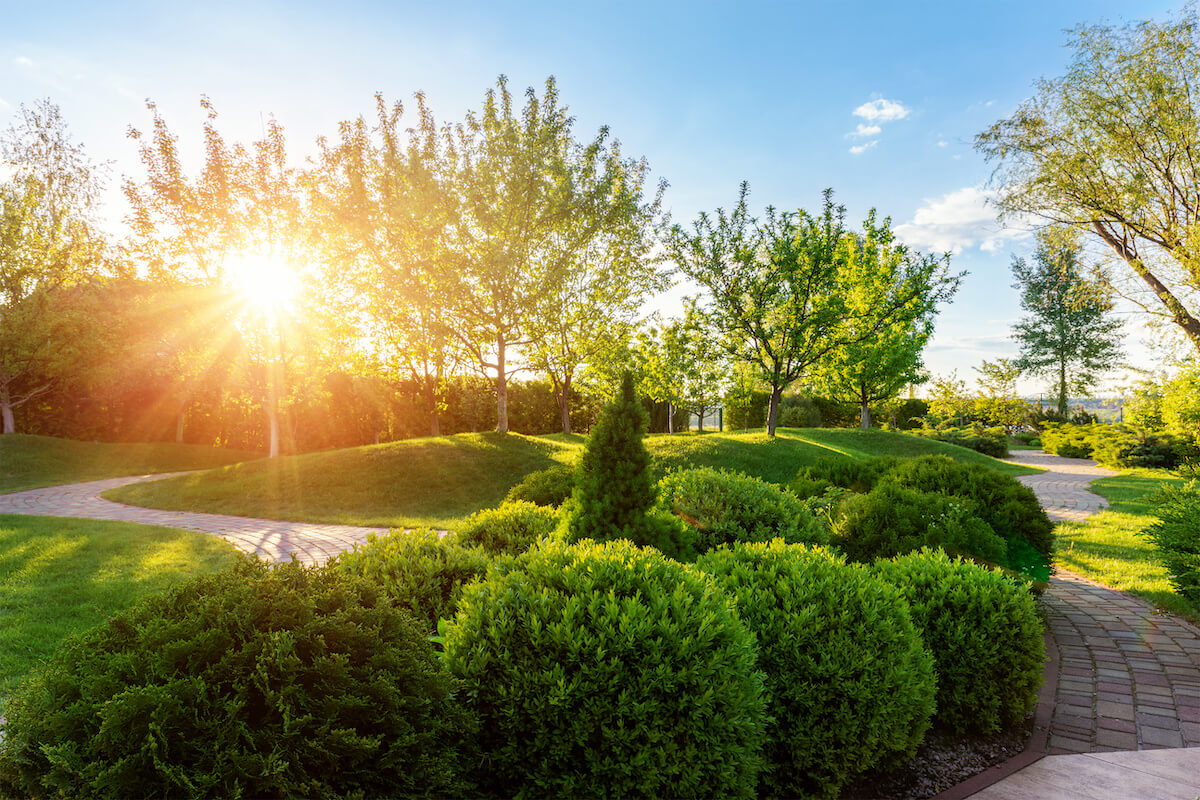 Both of these Cypress neighborhoods have paid particular attention to incorporating well-planned greenbelts and outdoor recreation areas into their respective communities.
At Bridgeland, dozens of parks and common areas give residents room for outside activities like concerts, movies, disc golf, and fishing. Some favorite spots include the covered pavilion at Festival Park, Oak Meadow Park's floating dock, and the fenced dog area in Lakeland Village Park.
Towne Lake features many parks, playgrounds, and pavilions, although the community's most popular centerpiece of outdoor fun might just be its 1.5-acre island. Residents reach The Island by boat and can enjoy the day picnicking, swimming, fishing, or just lounging on the private beach. Around Towne Lake, residents will find tennis courts, playscapes, and even a community garden.
Dining
Lakeland Village Center is the first of several retail and dining hubs planned for the Bridgeland community. Folks can grab a cup at L3 Craft Coffee and savor something sweet at Le Macaron or Great American Cookies. There are even treats for your pups at Woof Gang Bakery and Grooming. A few full-service restaurants are found here as well, including Chilosos Taco House, Russo's NY Pizzeria, and Local Table.
Bridgeland residents also enjoy regular culinary events like the monthly Friday Night Bites food truck gathering and occasional community-wide BBQ Cookoffs.
In Towne Lake, dining centers around The Boardwalk, where residents enjoy a wide selection of restaurants and pubs. Favorite eats include Torchy's Tacos, MOD Pizza, Taisho Teppanyaki, and The Union Kitchen. And Sam's Boat and the World of Beer are top spots for grabbing a brew and watching the game. The community also boasts its own Chik-fil-A.
Both neighborhoods are convenient to the US-290 corridor, where residents will find numerous popular restaurants and fast-food chains.
Shopping and Services
In addition to the many dining choices found there, Bridgeland's Lakeland Village Center also hosts a CVS Pharmacy, the Village Shops, and Bridgeland Fine Wine and Spirits. Numerous beauty, fitness, health, and financial services are available here, including Great Clips, Nails of America, Pure Barre, Cypress Endodontics, and Edward Jones Financial Advisors.
Shopping highlights at The Boardwalk in Towne Lake range from designer jewelry at Kendra Scott to home decor and fashion at The Royal Standard. Residents here also access various health and wellness services at spots like Club Pilates, Lakeshore Eye Care, Texas Children's Pediatrics, and Copper Creek Orthodontics, to name a few. Cy-Fair Federal Credit Union has a branch at The Boardwalk, with several onsite mortgage, realty, and title companies.
Numerous other shopping options are convenient to these two communities, including Houston Premium Outlets just off US-290 and Willowbrook Mall closer to the city on SH-249.
Unique Features
When you look at the community features of Bridgeland vs. Towne Lake, it's clear that both neighborhoods strive to provide their residents with unique lifestyle amenities. There's something for everyone in each of these subdivisions.
Bridgeland's many lakes, trails, pools, and parks provide unparalleled opportunities for outdoor fun, while numerous shopping and dining options give residents plenty to do indoors, as well.
Similarly, Towne Lake's unique amenities focus heavily on the great outdoors, with hiking and biking trails, fishing and boat docks, and several swimming pools and waterparks. The Island and Lakehouse round out the community's waterfront lifestyle. Meanwhile, The Boardwalk provides enough dining, shopping, and services that residents might never need to leave.
Bridgeland vs. Towne Lake Size and Location
As far as master-planned communities go, Bridgeland ranks among the largest in the state, sitting on almost 12,000 acres with an eventual 20,000 total homes expected in the coming years. The neighborhood extends from Fry Road westward across Grand Parkway and is roughly five miles south of Cypress and US-290.
Comparing Bridgeland vs. Towne Lake in terms of size, the latter rests on significantly less total acreage. Located on the east side of Fry Road, across from Bridgeland and about 10 minutes south of Cypress, Towne Lake will feature nearly 3,000 homes on 2,400 acres when complete.
Neighborhoods in Bridgeland
The master plan for Bridgeland includes four different villages, each with its own property styles and community features.
Lakeland Village is Bridgeland's first neighborhood, home to more than 3,000 households and exceptional amenities. Here, folks enjoy access to the village's retail center, activity park, nature trails, and water features.
Nearby Parkland Village lives up to its name, with parks, trails, and greenspaces creating a park-like environment for its residents. The 25-acre Dragonfly Park swim center and waterpark are located in this section of Bridgeland.
Recently opened on the west side of Grand Parkway, Bridgeland's Prairieland Village features a mix of property styles and prices among its eventual 7,000 new homes. The village is surrounded by native ecosystems and prairie-style landscaping, all connected by a system of walking trails.
Bridgeland's final planned neighborhood is Creekland Village, west of Grand Parkway and north of Parairieland Village. This section is expected to accommodate almost 6,000 residents upon final buildout.
Neighborhoods in Towne Lake
Towne Lake comprises more than a dozen distinct planned and completed neighborhoods. Highlights of these lifestyle-focused sections include gated community homes in Great Oaks Estates, the waterfront homes of Sunset Harbor and Water's Edge, and a 55-and-up enclave for active adults in Heritage Cove.
Elsewhere in Towne Lake, homebuyers can explore several other unique neighborhoods. The Crossing, for example, features an abundance of parks, trails, playscapes, and picnic pavilions, in addition to its community boat dock. Or, for more maintenance-free living, buyers can choose a zero-lot-line garden home on the water in Sunset Harbor Villas.
More lakefront lifestyle choices await buyers in Marina Bay, Lago Vista, Arbor Grove, and Northshore, Towne Lake's newest waterfront section.
Commutes and Access to Major Roads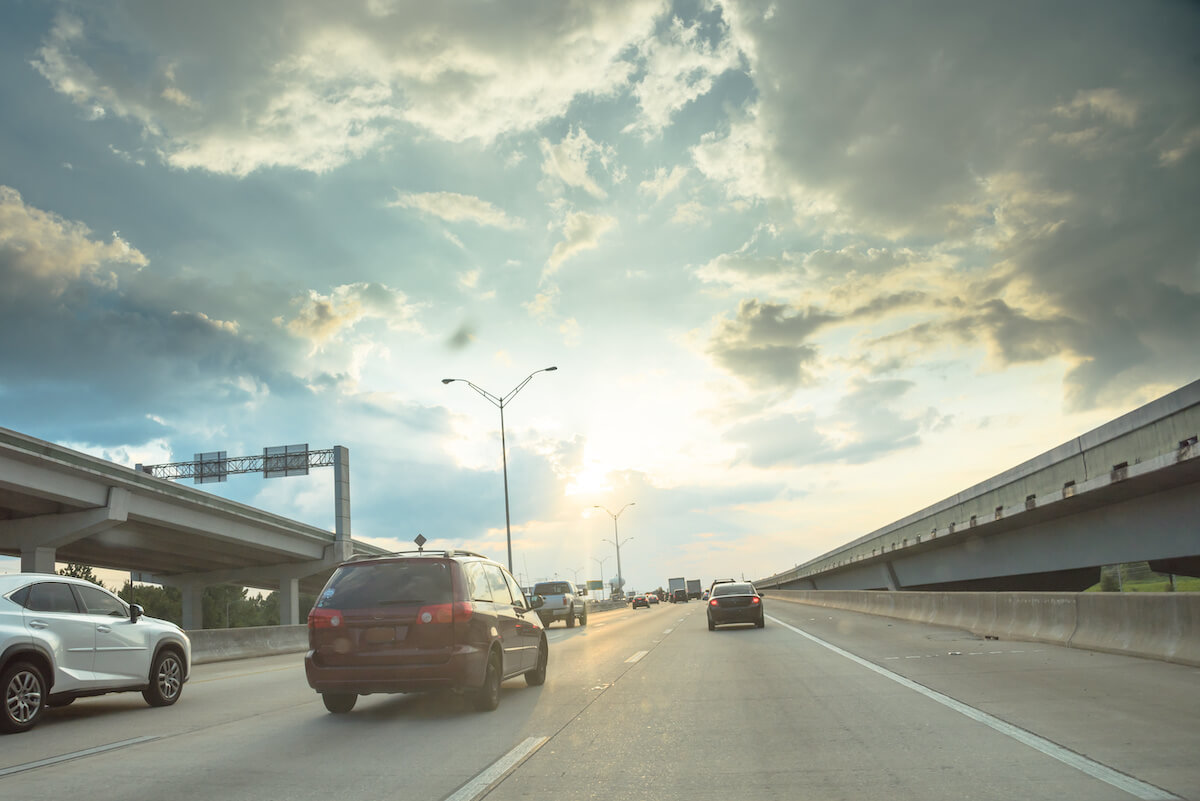 Most Cypress neighborhoods are served by Northwest Houston's major freeway systems, in particular US-290, providing the most direct route to the center of the big city. Nearby Sam Houston Tollway, State Highway 6, and Grand Parkway offer convenient access to other areas in and around Houston.
From Bridgeland, it's less than 20 miles down Grand Parkway to Interstate 10 and a little over 30 miles to downtown Houston via US-290. The Towne Lake commute is similar. It might be just a bit closer to Highway 6 and the Sam Houston Tollway; otherwise, drive times from Towne Lake are about the same as they are from Bridgeland.
Living a Lakefront Lifestyle in Bridgeland or Towne Lake
Bridgeland's larger size allows for the inclusion of a substantial number of parks and recreation opportunities. And with numerous waterways winding through its neighborhoods, homebuyers in Bridgeland will have no problem finding their lakeside zen.
Over at Towne Lake, amenities like The Lakehouse and The Boardwalk place the communities focus squarely on its namesake reservoir. Buyers with boats can take full advantage of the activities available on Towne Lake's 300 acres. At the end of the day, they'll also enjoy motoring to dinner across the lake from their waterfront homes.
As you can see, both of these master-planned communities near Houston offer significant value for homebuyers seeking an outdoor lifestyle away from the big city. The two communities feature such extraordinary lakefront living surrounded by a wealth of amenities that it's tough to decide between Bridgeland vs. Towne Lake.