The Complete Home Accessibility Guide
Posted by Texas Real Estate Source on Monday, October 24, 2022 at 8:15 AM
By Texas Real Estate Source / October 24, 2022
Comment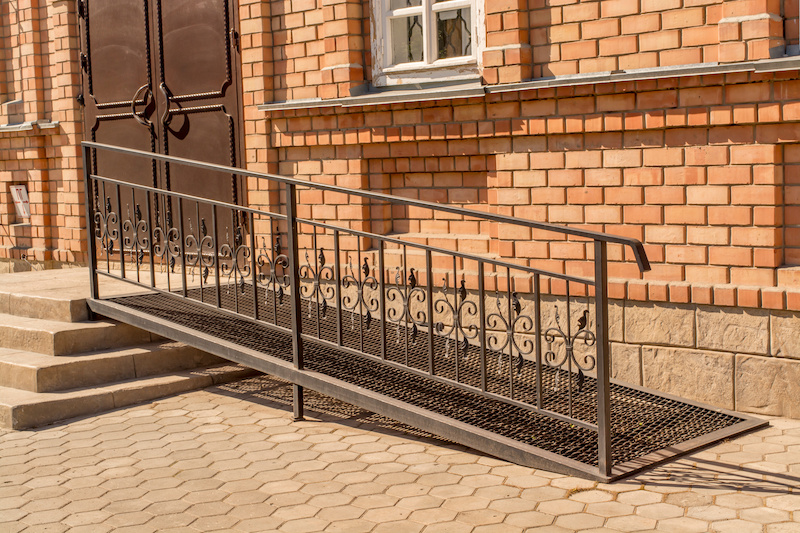 Accessible home improvements are any house modifications that increase safety, mobility, and independence for people with disabilities. To ensure consistency and quality, the Americans with Disabilities Act (ADA) outlines the best accessibility features for homes. While these guidelines are only enforced for public places, such as shops, restaurants, and parks, homeowners can use the ADA guidelines to eliminate accessibility concerns for private residences. This nearly extensive guide covers every area of the house — inside and out — to provide the most thorough accessibility checklist for homeowners. Keep reading for a room-by-room tour of the best accessible home upgrades.
Accessible Upgrades for Outdoor Areas
Improving accessibility for outdoor areas covers a variety of spaces, including driveways, garages, entrances, and backyards. Accessibility guidelines for these spaces emphasize safety, improved mobility, and ease of use. Specifications focus on essential accessibility features, such as ramp height or door width.
Driveways
Accessible driveways have smooth surfaces and safe sloping. An accessible slope increases by 1 foot per 20 feet of ramp. This ratio has been deemed safest by accessibility experts because it provides the assistance of a ramp without becoming too steep.
To accommodate a slope, the home foundations, which are usually not level with home entrances, may need to be raised. Raising the foundation can allow homeowners to build an accessible ramp leading directly to an exterior door. When buying a new construction home, it's best to implement these criteria to the original foundation design.
Increasing the contrast and texture of pavement makes it easier for visually-impaired people to sense changes, such as bumps indicating a curb cut or down-ramp. This upgrade is vital to distinguish between driveway and road.
Garages
An accessible garage provides at least 5 to 8 feet of space between vehicles for mobility devices, such as motorized wheelchairs. Additionally, homeowners may want to consider a minimum of 8 feet of clearance for an adaptive van and 30 feet of depth for improved storage and maneuverability.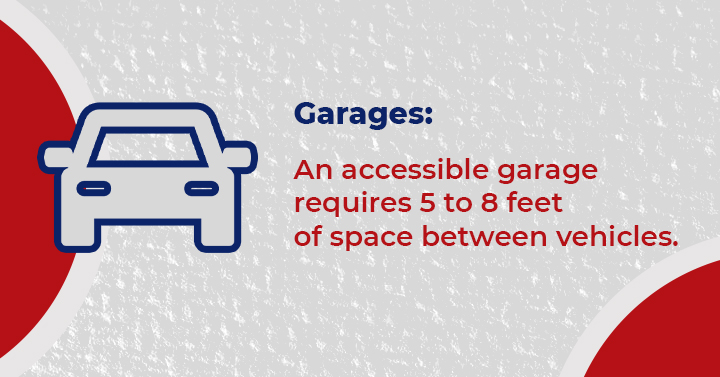 Homeowners can install various accessibility devices to make movement in the garage safer. Standard devices include push-button garage door openers, motion-sensing lighting near doors and the garage exterior, automated locking systems controlled by a keypad, as well as voice-controlled lighting and sound systems. Commute and travel times affect home values, and every commute starts in the garage. Removing every accessibility barrier can save hundreds of hours per week.
Entrances
Entrances should provide a simple way to get in and out. Stairless entrance upgrades may require the addition of a ramp. Ramps should increase by 1 inch in height for every 12 inches of length. Accessible exterior doors should be at least 32 inches. If the space allows, expanding the threshold up to 36 inches will provide the best operating space.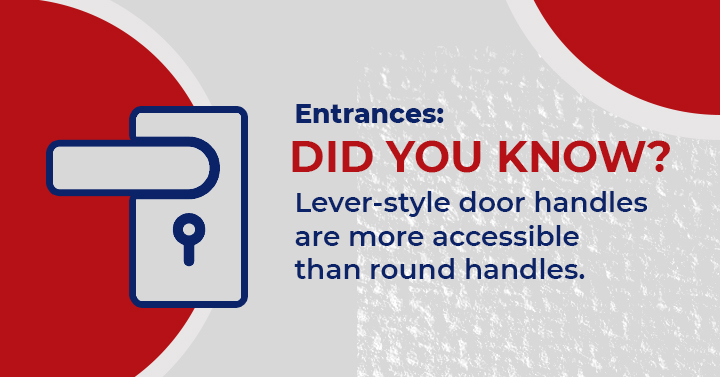 Lever-style door handles are more accessible to open than round ones, and door handles in contrasting colors are easier to locate and open. Doorbells should be placed 40 to 48 inches above the floor in a contrasting color to make them easier to find. Motion-sensing lights increase visibility at entrances, as well as provide added security.
Backyards
Accessibility features for backyards offer surfaces and seating that are simple to navigate. Pathways should be at least 42 inches wide so that wheelchair users can move easily. Patios and decks should be level and have a flat surface to minimize stumbling.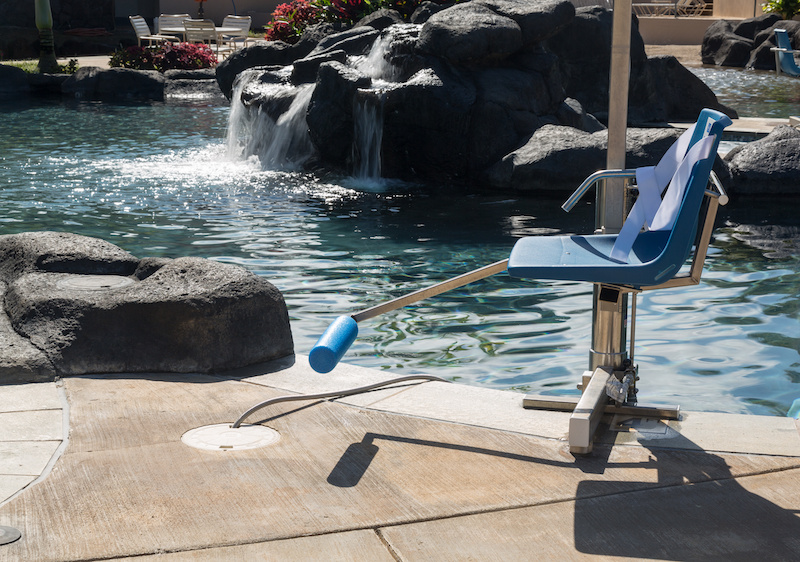 If the backyard contains a swimming pool, there are several accessibility modifications that should be made. Accessible swimming pools usually feature a sloped entrance, handrails, and curb-less edges. Homeowners may consider adding an aquatic wheelchair or an appropriate wheelchair ramp.
Accessible furniture in outdoor areas needs to be sturdy, sometimes including a permanent installation. Tables should be 28 to 34 inches in height, and the seat height should be proportionate. Walkways between furniture need to be 60 inches wide to allow wheelchair users to turn around.
For many homeowners, raising the accessibility standard outside the home is a top priority. These upgrades make areas around the home exterior safer and more straightforward to navigate, increasing access to transport, travel, shopping, dining, and more.
Accessible Upgrades for Common Areas Inside the Home
Upgrades to the home's living areas improve accessibility, movement, and comfort. Accessible living spaces should be spacious, uncluttered, and accommodating. These accessibility modifications emphasize ease of movement down hallways, through doors, and across the living room.
Hallways & Interior Doors
Two primary accessibility concerns for hallways and doorways are width and ease of use. Ideally, the hallway width should be 48 inches to offer wheelchair users maximum flexibility. At a bare minimum, the hall should be 36 inches wide.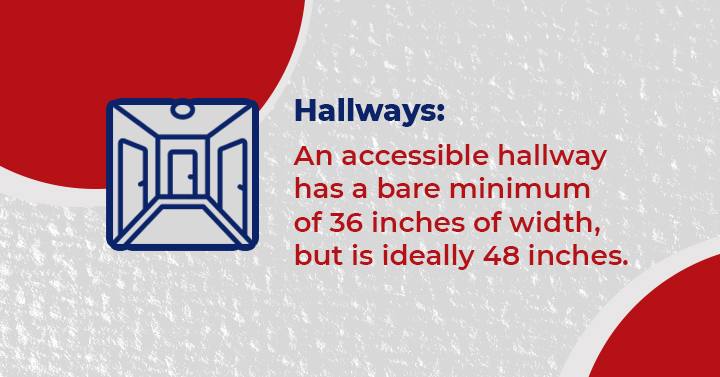 Installing interior doors with a width of 36 inches may require further retrofits to the hallways, but doors should be at least 32 inches wide. Lever handles provide a surface that is easier to grasp and push open.
Flooring should be consistent from room to room, without curbs or transitions. A smooth surface without rugs or carpet is safer for people who use mobility devices, such as a walker or wheelchair.
Living Room
Living rooms are more comfortable with the right design and equipment. Furniture arrangements should minimize clutter and provide at least 32 inches of walking space in a straight line across the room. A low seat height that is easy to augment with pillows is ideal. A variety of seating types, such as a padded sofa and wooden chair, increase flexibility. Furniture anchored to the wall minimizes the risk of toppling, an important safety consideration for protecting all household members and guests from common home safety hazards.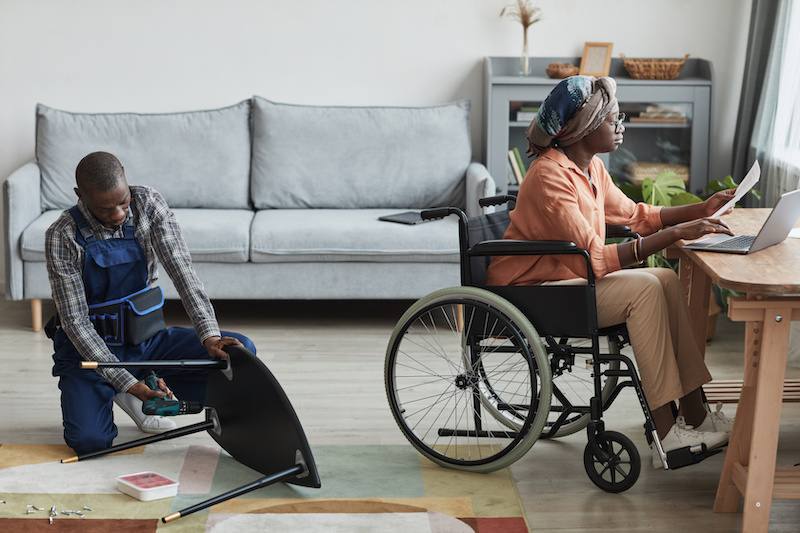 Many chairs and recliners have motorized lift capability, which allows the user to minimize bending to get in and out.
Smart TVs can be accessible if they offer adaptive features, such as customized caption placement, contrasting colors on the menu, and the ability to change presets in brightness and volume.
Making the living areas more comfortable for regular use improves the accessibility of the space. Adding space in the hallways and walkways increase flexibility of movement, with devices that allow people to tailor the space to their needs.
Accessible Upgrades for the Kitchen
Increasing accessibility in the kitchen calls for attention to many areas, including countertops, sinks, cabinets, and appliances. The right countertop height and depth are critical. Upgrades emphasize one-handed operation and the least amount of force needed to open and close.
Cabinets
Accessible cabinet design offers room for storage and ease of use. Building drawers into base cabinets instead of shelving maximizes space and accessibility. Custom cabinets come in various depths, with easy opening and closing. A pull-down shelf makes upper cabinets more accessible with a simple pulling motion. Homeowners can install motorized versions for heavy or bulky items, like a kitchen appliance. Drawer pulls in a D-shape or U-shape are easier to grip to open. Pulls come in various sizes to accommodate different hand shapes and motor coordination.
Countertops & Sink
The countertops and sink in an accessible kitchen should emphasize reachability. Clearance under the sink should be 27 to 30 inches, with no pipes or clutter obstructing the area. The sink itself should be wheelchair height (no higher than 34 inches above the floor) for maximum comfort and accessibility for wheelchair users. Accessible faucets provide plenty of water pressure with no more than 5 pounds of force, ideally with a motion sensor or touch operation. Depending on the sink height, the faucet should be installed 44 to 48 inches above the floor. Pull-down faucets are easy to reach and simply return to their original position.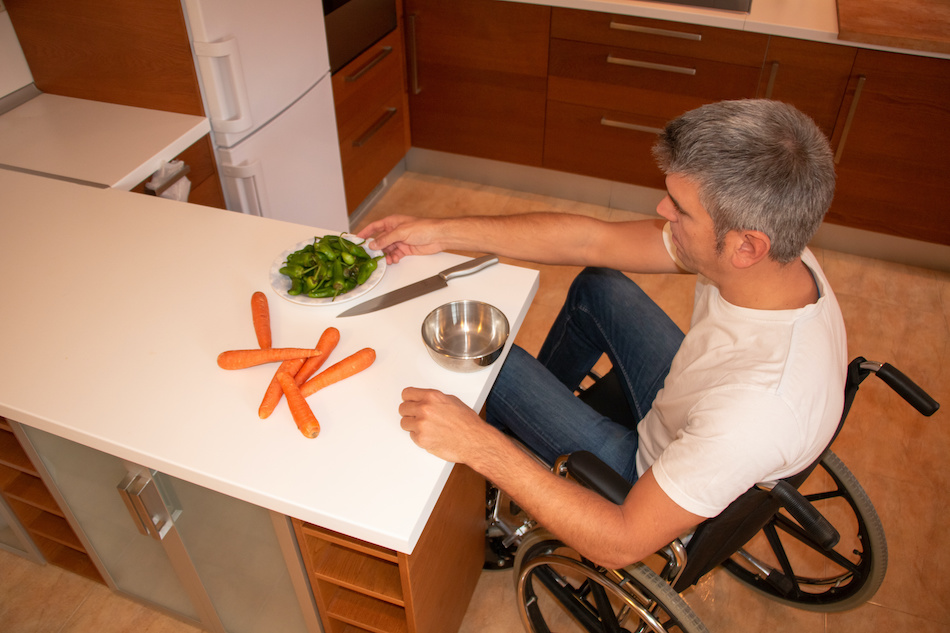 Fridge, Range & Oven
Appliance design determines accessibility, so it requires special equipment. Accessible refrigerators offer controls no more than 48 inches above the floor and one-hand operation. Homeowners may consider counter-depth fridges to maximize room for walking or turning around. Many new models of refrigerators come standard with this design. As an added perk, they're one of the best energy-efficient home upgrades available. An accessible range puts controls at the front for easy one-handed operation, with a maximum height of 48 inches and a minimum reach of 15 inches above the floor.
Accessible ovens place controls at the front, with no more than 5 pounds of pressure needed to open the door. Homeowners might upgrade to a wall oven in a custom cabinet for the perfect height.
An accessible dishwasher is 32 inches in height and easy to operate with one hand. The shelves may have separate doors so that people can pull them out with less force.
Accessible design features in the kitchen are just essential for usability, they also enhance safety. Changing the height and function of the countertops, sink, and appliances increases the usability of these features.
Accessible Upgrades for Bedrooms
Everyone's bedroom should be designed as a place for relaxation. As such, accessible bedroom designs focus on eliminating obstacles around the bedroom entrance, the bed itself, and the closet. Upgrades in this area often accommodate the existing room design, with various retrofits that improve the use and do not necessarily require significant remodeling. This depends on the size of the room, desired mattress height, and the original width of the door.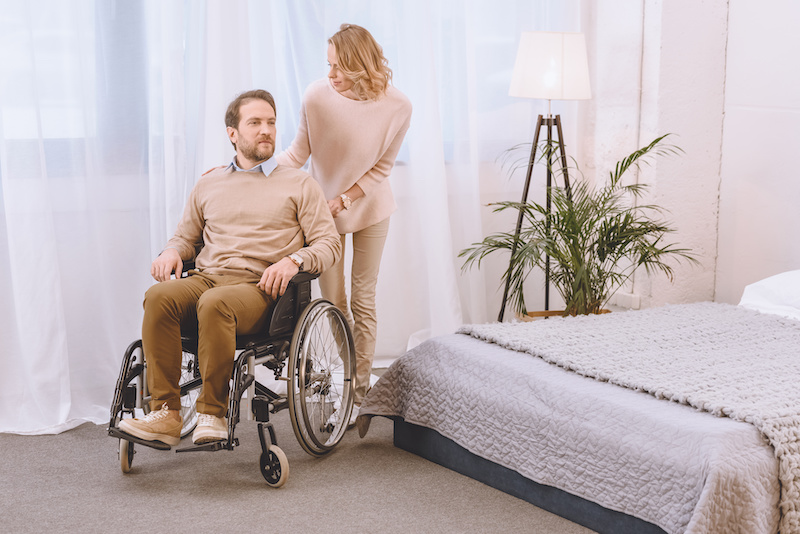 Beds & Attachments
Making beds accessible improves sleep and transitioning to other parts of the home. Bed lifts come in various shapes and styles, allowing people to adjust the mattress height at the touch of a button. Homeowners can consider various bed accessories to make a standard bed more accessible. For example, a bed rail decreases the risk of falling out, while a bed cane supports people to sit up. Similarly, a bed caddie is a soft, ladder-like device that makes it easier to pull to a sitting position.
Bedroom Accessories
Besides the bed, the bedroom itself ought to provide maximum accessibility. Homeowners can adjust shelving height to a maximum height of 48 inches for wheelchair users and place shelving in an area reachable by either hand. For doorway retrofits, offset hinges can provide an additional 2 inches of width by allowing the door to open entirely away from the doorframe. It is also relatively easy to install an electronic door-opener to an existing door, to minimize the amount of force people have to use to get in and out.
Closets
Keeping an organized closet is essential to accessibility, and adaptive tools are available to install in almost any closet type. Pull-down closet rods allow people to maximize space in a tall closet without having to reach for items. A built-in handle provides a way to grasp and pull down the rod. Homeowners can upgrade to a motorized version to ensure that the rod moves to a lower position with no pulling effort required. Battery-operated LED lights are easy to install to improve visibility in a relatively dark space. Some options have motion sensors to turn on automatically or can be operated by remote control.
Keeping a bedroom organized requires access to every part, including the closet. By evaluating these possible upgrades, homeowners can ensure better comfort during sleep and more accessible paths to getting dressed.
Accessible Upgrades for Bathrooms
Making the bathroom accessible often requires extending the space. Most bathrooms will not accommodate the room needed for wheelchair users to enter or turn around. Besides expanding the size, homeowners can make various upgrades to the room's shower, bathtub, sink, or toilet.
Showers & Tubs
An accessible bathroom is larger than the standard size. Specifically, the toilet should provide 60 inches of space, with a seat height of no less than 17 inches. Grab bars installed around the toilet will improve mobility. Curb-less walk-in showers with a bench and grab bars are ideal, and converting a tub to a walk-in shower can increase accessibility. In some cases, people may retrofit an existing bathtub with grab bars and a bench. With lever handles, faucets should be installed no higher than 48 inches above the floor.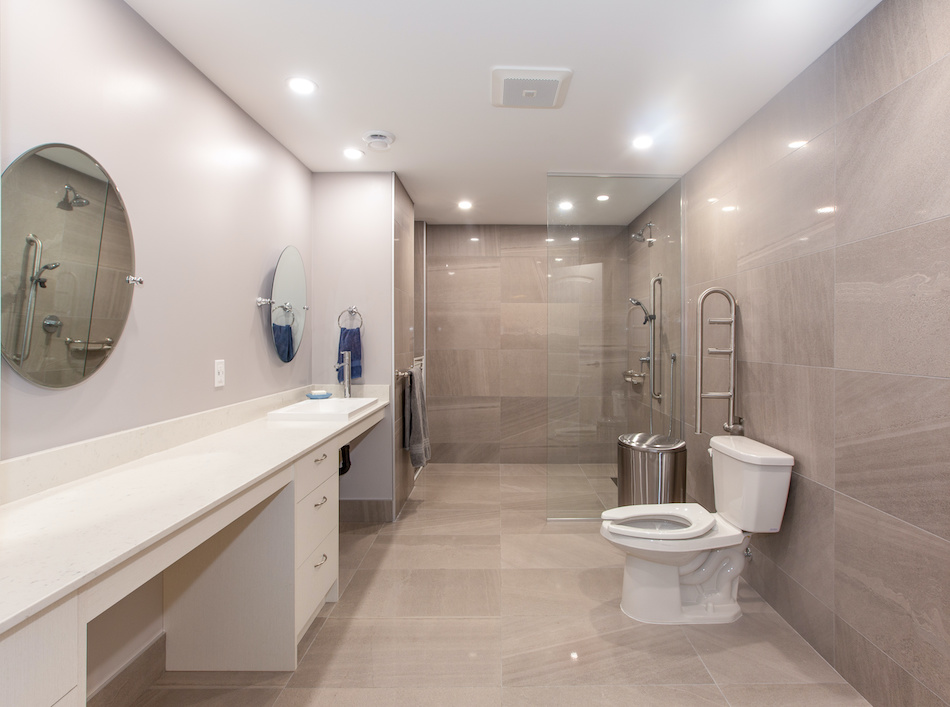 Sinks & Vanities
Making an accessible bathroom sink often involves putting other storage in reachable places. The sink should be wheelchair height (34 inches) with complete clearance underneath. Lever handles on the faucet improve one-handed use. The sink should not be installed within the 60-inch space for the toilet, and it should not impede the complete opening of the door. To make the mirror more practical, homeowners have a couple of options. They can install the mirror at a fixed tilt or install a full-length mirror.
These upgrades are designed to make it easier for residents to use the toilet, wash, and take care of other needs by themselves. In most cases, the bathroom dimensions will need to be expanded.
Smart Home Appliances that Improve Home Accessibility
There are many smart technology home improvements that homeowners can install to increase accessibility at home. Most tools require the use of a hub, which people can install, set up, and tailor to suit a wide range of appliances. Popular smart home systems include:
Smart home security systems
Lighting
Voice control and sound systems
Smart screens, providing real-time access to the state of the home or various appliances
Smart plugs, which can automate almost any equipment
With a comprehensive system controlled by a hub, people may turn on the lights without reaching the switch or see inside a refrigerator without opening it. These options minimize the motions people must make to perform regular tasks in the home.
Financing Home Accessibility Projects
Making a home into an accessible space often requires expensive retrofits that homeowners need to finance. Although many grant programs and tax credits are available, they are often limited to specific groups, such as veterans. Before homeowners start planning these upgrades, they should look for programs at the federal level and in their state or county. Grants, tax credits, and other financial incentives may not cover the total cost of the upgrades. However, they can help make necessary home improvements more affordable.
Home Accessibility Grants
Homeowners may want to start by seeing if they are eligible for various grant programs to pay for accessibility upgrades. A grant is a sum of money given by a government authority or other organization to qualified individuals. People who receive a grant do not usually have to pay it back. There may be limitations on the use of the grant and restrictions on the sale of the home within a certain period after receiving the grant.
The Department of Veterans Affairs offers several grant programs to qualified veterans. These grants may allow veterans to do one or more of the following:
Buy an accessible home
Retrofit an existing home for accessibility
Pay for accessible temporary housing while they upgrade their homes
In many cases, veterans must have a service-related disability to qualify.
Although many grant programs have oversight by a government organization, several private companies and community groups offer grants as well. These grants may cover upgrades related to a specific type of disability, such as a sudden or unexpected spinal cord injury. They may also be limited to people who meet certain requirements or live in a specific area. As such, people may want to look for local programs first.
Tax Deductions for Home Improvements
Homeowners may be able to claim a portion of their home improvement costs on their annual taxes, depending on the type of improvement. As a general rule, the IRS allows individuals to claim medical expenses as an itemized deduction on their tax returns, with limits based on the total expenses and the person's income. Home improvements to make a home accessible for a resident's disability can count toward this deduction, but there are limitations.
These high-ROI home improvement projects often increase the resale value, which is the most significant limitation on the deduction. Before filing a claim, people must estimate the increase in value from the home improvement and deduct that amount from the total cost. For example, if a homeowner pays $20,000 in accessibility upgrades that increase home value by $10,000, they could only claim up to $10,000 in expenses. Homeowners should consult IRS publication 502, which covers tax deductions for medical and dental expenses, to learn more about claiming the deduction or ask their accountant for more information.
Funding Sources
There are a number of programs and grants with the sole purpose of helping households make accessible home improvements. There are many national programs that can help:
Households can also look for local or state-funded programs for grants and financial assistance:
The Amy Young Barrier Removal Program (AYBR) is an accessible home improvement and modification grant offered by the Texas Department of Housing and Community Affairs.
The Home Modification Loan Program (HMLP) is a Massachusetts loan program that helps landlords and homeowners make accessible home modifications.
Resna.org has partnered with many states to provide low-interest loans for accessible home improvements and technology.
Design Every Room In Your House With Accessibility in Mind
Making a home more accessible is a highly personal experience, and the process will look different for every home. Following this accessibility checklist can help residents of the home cook, clean, relax, and stay healthy without putting themselves at risk. Eliminating accessibility concerns allows a person to feel comfortable in the home and make it easier for them to move between rooms or leave when they choose. These improvements can be expensive, so homeowners should look for ways to finance them, such as grants or tax incentives. After the project is complete, they can have a home that is more accessible to all residents.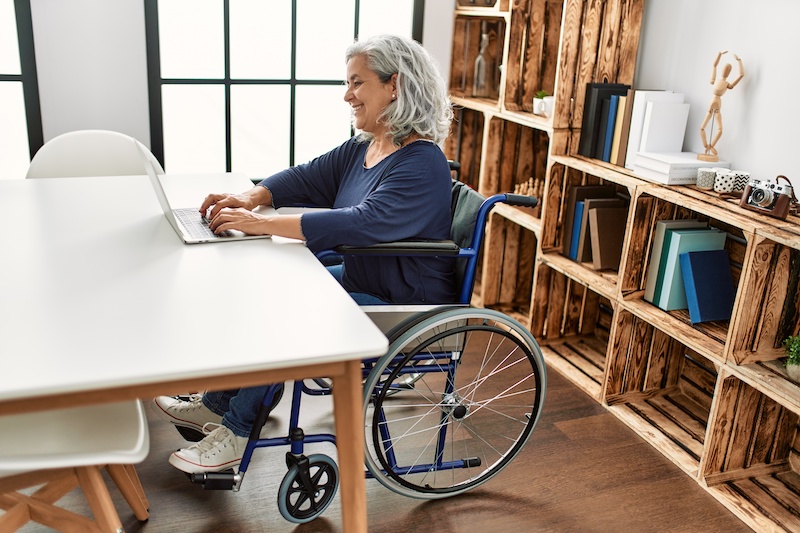 Home Accessibility Resources