4 Best Flea Markets Near Cypress, TX: Cypress Street Markets
Posted by Texas Real Estate Source on Tuesday, November 14, 2023 at 1:58:34 PM
By Texas Real Estate Source / November 14, 2023
Comment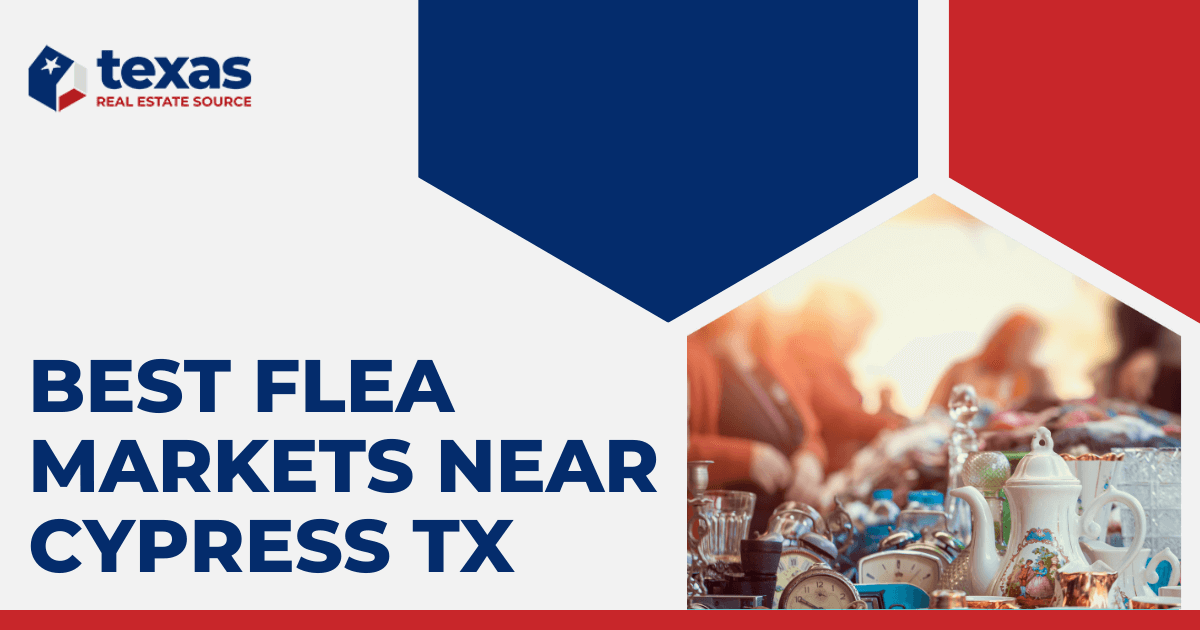 Exploring flea markets offers a unique adventure, blending the thrill of treasure hunting with local culture. The best flea markets near Cypress provide a rich array of items, from vintage finds to handmade crafts. These markets not only offer a glimpse into the local community's creative arts but also serve as a hub for finding one-of-a-kind items and collectibles.
Whether you're a collector, a bargain hunter, or just looking for a fun day out, the flea markets around the city of Cypress are sure to captivate. Dive into this guide to discover the top flea markets in the area and what makes each one special.
Traders Village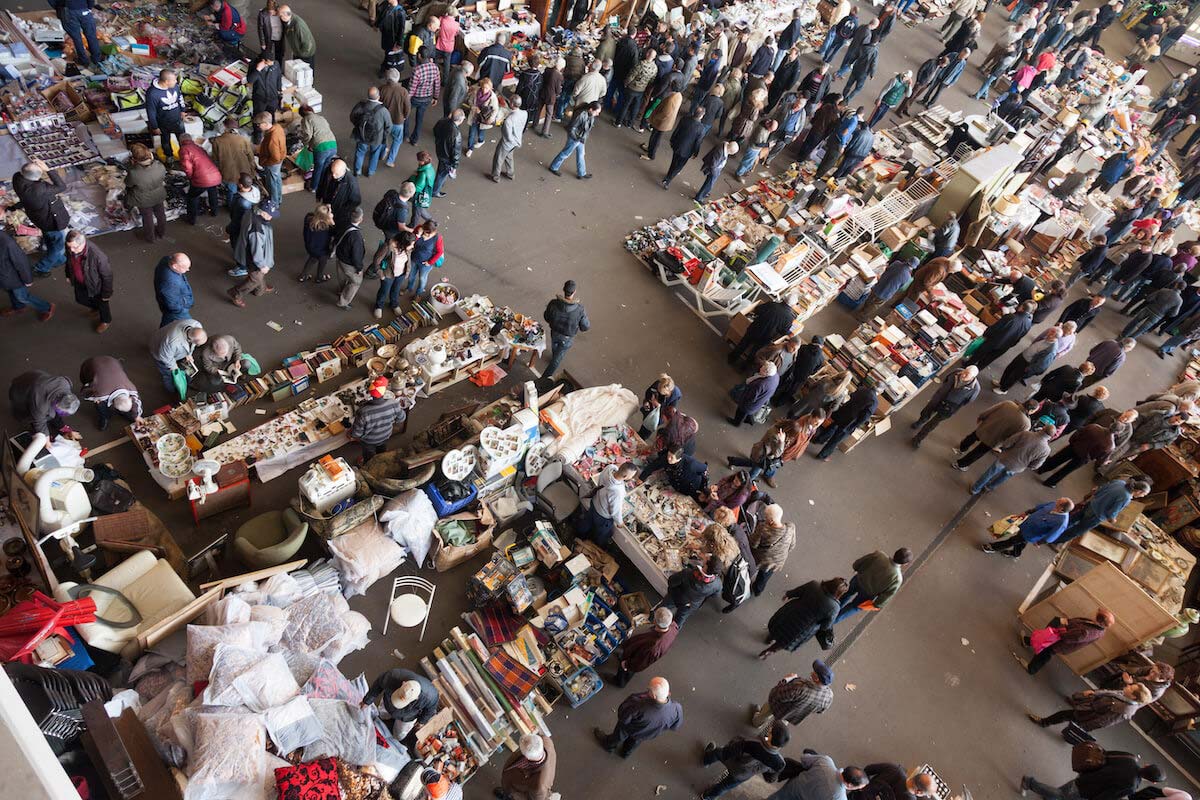 Traders Village Houston sits on more than a hundred acres along Eldridge Parkway on the south side of Highway 290 near the city of Jersey Village. Considered to be one of the biggest and best flea markets in Houston as well as the entire state, Traders Village boasts more than 1,500 vendors showcasing an infinite selection of goods ranging from antique auto accessories to vintage western wear and everything in between.
This sprawling outdoor market has remained a Houston-area attraction for more than 30 years, drawing millions of visitors annually. Popular regular merchants at Traders Village Houston include The Soap Lady cosmetics, Hey Bro!! video game store, Kustom Kar Stereo automotive audio, and the Texas Hat Company.
In addition to the abundant treasures and flea market finds here, visitors can also explore a full-fledged amusement park, complete with a variety of exciting carnival rides. Thrill seekers will want to experience the 128-foot-tall Fleafall or take a spin on the high-flying Yo-Yo swing ride, and there are plenty of more leisurely attractions like the Family Train and old-style Carousel to enjoy. All-access wristbands for the Traders Village amusement park rides are available for $14.99, or visitors can buy single-ride tickets.
Shoppers will find various food and drink vendors located throughout the flea market. Favorites include Bahama Bucks dessert shop, burgers from Gary's Grill, and lots of carnival food classics like corn dogs, funnel cakes, churros, and turkey legs. Traders Village also hosts regular community events like the annual Houston Championship Chili Cookoff and the Telemundo Houston Toy Drive.
Traders Village Houston opens every Saturday and Sunday from 10 a.m. to 6 p.m. Parking is $5.00, and RV and self-storage facilities are also available.
Traders Village Houston Information
Address: 7979 North Eldridge Parkway, Houston, Texas 77041
Phone: 281-890-5500
Hours: Every Sat–Sun 10 a.m.–6 p.m.
Parking: $5.00
Sunny Flea Market
Near I-45 and West Gulf Bank Road in the Aldine area is Sunny Flea Market, another of the city's most popular outdoor shopping experiences. Spread across several acres along Airline Drive, it ranks among Texas's biggest and busiest open-air flea markets. Reminiscent of south-of-the-border street bazaars, Sunny Flea Market hosts hundreds of vendors and thousands of visitors each weekend, with shops selling everything from handcrafted cowboy boots and western wear to tools, jewelry, and various Mexican imports.
Sunny Flea Market is well-known for having some of the best Central American and Mexican food in the Houston area, with plenty of other flavors to choose from as well. Favorite dining spots here include Que Tacote restaurant, Taqueria Los 4 Brothers food truck, and De Buey Y Vaca Taqueria. The market also features an abundance of kid-friendly activities and attractions, with assorted amusement park rides and playground spaces.
The gates at Sunny Flea Market are open on Tuesdays from 9 a.m. to 5 p.m., Saturdays from 8 a.m. until 6 p.m., and Sundays from 6 a.m. to 7 p.m.
Sunny Flea Market Information
Address: 8705 Airline Drive, Houston, Texas 77037
Phone: 281-447-8729
Hours:

Tues: 9 a.m.–5 p.m.
Sat: 8 a.m.–6 p.m.
Sun: 6 a.m.–7 p.m.
Katy Market Day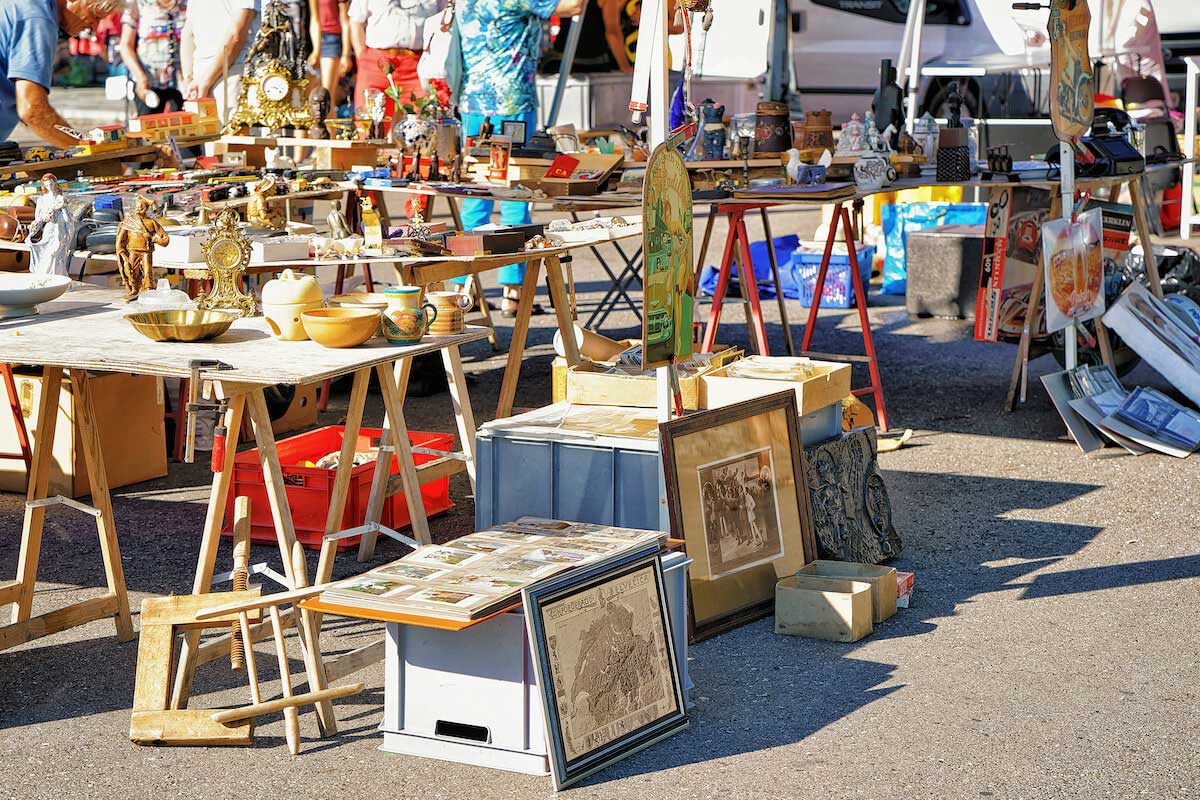 For almost 30 years, Katy Market Day has been a regular community event in the heart of the city's historic downtown area. Held every third Saturday from March through November in and around Heritage Plaza in the shadows of the town's old water tower, Katy Market Day also hosts special events and holiday fairs like the popular Katy Old Fashioned Christmas each December.
This monthly flea market in the city of Katy features over a hundred vendors showcasing a variety of arts and crafts and local cottage industries. Visitors to Katy Market Day events enjoy browsing items ranging from antique memorabilia and handcrafted collectibles to homemade baked goods and locally-grown produce. The event also hosts several food trucks serving a variety of fun flavors, live music, street entertainers, and lots of kid-friendly attractions and activities.
Katy Market Day is free to the public, generally running from around 10 a.m. until 4 p.m. Shoppers are also invited to explore the many antique stores and mom-and-pop boutiques in nearby downtown, as well as the numerous drinking and dining hotspots found here. Top stops for a beer and a bite in the area include Katy Crossing Icehouse and the Southern Dough Baking Company.
Katy Market Day Information
Address: Avenue B and 2nd Street, Katy, Texas 77493
Phone: 281-391-1993
Hours: One Satudary a month from 10 a.m.–4 p.m. March–Nov; dates posted on website
Don't miss the Katy Old Fashioned Christmas Market here in early December!
Cheng's Flea Market
Two miles up Airline Drive from Sunny Flea Market, near West Road and I-45, is Cheng's Flea Market, offering Houston locals another authentic outdoor street fair and swap meet experience. Cheng's is home to a huge variety of handmade treasures and unique collectibles, with sellers offering finds ranging from vintage to contemporary. There's something here for everyone here.
In addition to shopping, visitors to Cheng's Flea Market also enjoy a variety of vendors preparing plenty of Tex-Mex street food favorites. In fact, Cheng's has become a popular weekend stop for locals to grab lunch or an early dinner at spots like Nena's Taqueria or the Choo Chew food truck. The gates here are open on Saturdays and Sundays from 8 a.m. until 6 p.m.
Cheng's Flea Market Information
Address: 10802 Airline Drive, Houston, Texas 77037
Phone: 281-445-5269
Hours: Sat–Sun 8 a.m.–6 p.m.
Tips For Visiting a Flea Market
Many of the most popular flea markets near Cypress offer more than just shopping. They entice visitors with a carnival-like atmosphere, complete with food vendors, entertainment, attractions for the whole family. Folks can easily spend an entire day shopping, eating, and playing at outdoor venues like Traders Village or the Sunny Flea Market. Here are a few pro tips from seasoned flea market patrons to help make the most of the experience:
Shoppers should bring their own bags and arrange to transport any larger purchases.
Most vendors don't have automated credit card processing, and flea market ATMs are often unreliable. Visitors should bring cash for any expected purchases.
Be prepared to put in a few miles of walking. Comfortable walking shoes are highly recommended. Families with small children should consider wagons or strollers.
The weather in the Texas Gulf Coast region can be hot and humid in the summertime, so dress appropriately.
While outdoor shopping like a flea market may seem like a great place to take your dog, be sure to check first. Traders Village doesn't allow dogs, for example, because the intense heat of the concrete in the summer can cause injury to unprotected paws.
There's something to do and see everywhere you look at a flea market, so be prepared for a fun and exciting afternoon!
Ready to Explore a Flea Market Near You?
The best flea markets near Cypress, TX, stand out as vibrant spots for unique finds and community engagement. They offer something for every visitor—rare antiques for collectors, affordable goods for budget shoppers, and an enjoyable atmosphere for those seeking a leisurely browse. These markets are more than just shopping destinations; they're cultural experiences that connect visitors with their communities. Discover the joy of flea market shopping and uncover the hidden gems of Cypress.
Ready to find your new home in Cypress, TX? Call The RealFX Group at (512) 956-7390 to contact an experienced local real estate agent today and let us help you discover the perfect place to live in Cypress.