Dallas Vs Fort Worth: Where Should You Live?
Posted by Texas Real Estate Source on Monday, August 29, 2022 at 9:58 AM
By Texas Real Estate Source / August 29, 2022
Comment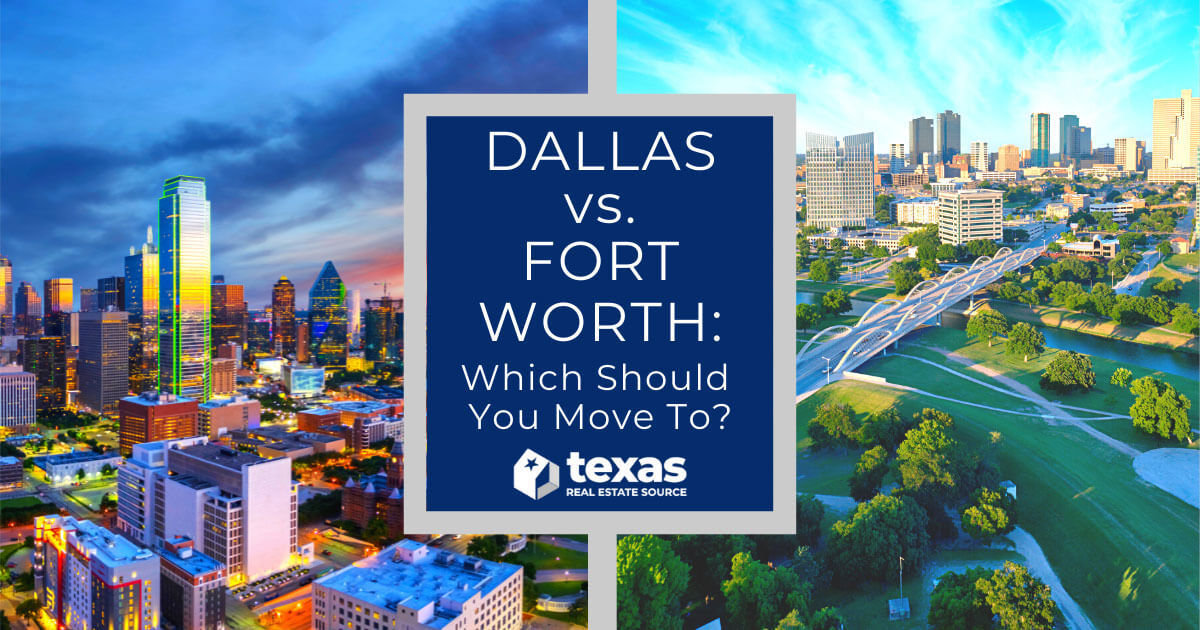 The Dallas–Fort Worth metroplex takes up a big chunk of the North Texas map. Spanning more than 10 counties and home to nearly eight million people, it tops the list of most populous metro areas in the state. DFW, as it's known, is also the 4th largest metropolitan area in the country.
Individually, the city of Dallas' population is nearing 1.5 million, while its neighbor, the city of Fort Worth, has grown to almost a million. The cities are virtual neighbors with just 30 miles between them and share one DFW airport, of the world's busiest airports. Given their proximity, you'd expect a lot of similarities between the two cities. For the most part, you'd be right.
There are some disparities in housing costs and average salaries, as well as some significant differences in rush hour traffic. Nonetheless, the two cities are surprisingly similar in many other respects.
Both Dallas and Fort Worth have an abundant variety of dining and entertainment choices. Sports and outdoor recreation options are also plentiful throughout the entire metroplex. For those choosing a more rural lifestyle, nearby suburban communities provide relatively easy access to both cities.
So, if you're planning to move to the DFW area, you have a decision to make. Should you live in Fort Worth or Dallas? Read on to discover how they're both alike and what makes each city unique.
Fort Worth Economy vs. Dallas Economy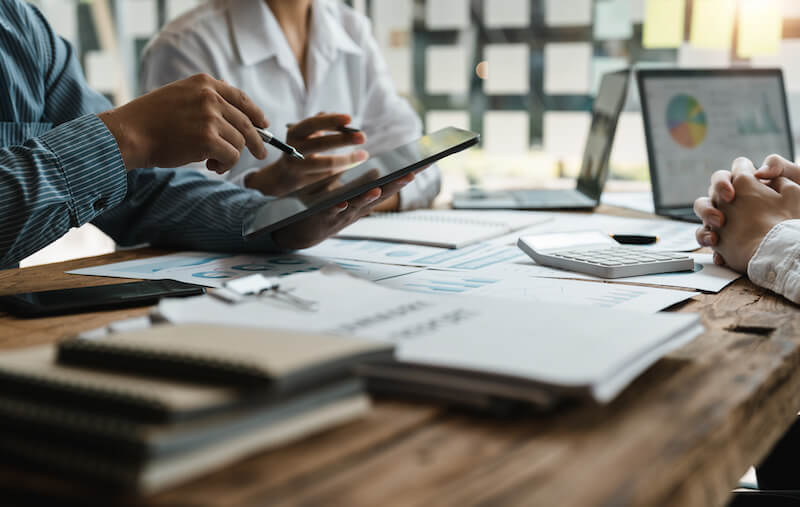 Economic considerations are always a concern when choosing where to live. Currently, the Dallas–Fort Worth metro enjoys a job market growing well ahead of the national pace. The area also maintains a reputation as one of the best business climates in the country, continuing to attract new companies across a broad range of industries.
Given the area's relative economic health, it should be no surprise that the cost of living in DFW is quite similar across several key metrics.
Cost of Living
In general, the cost of living in Dallas is similar to Fort Worth, both being on par with national averages in several categories. However, homebuyers may be attracted to the generally lower home prices in Fort Worth.
For instance, average utility costs are nearly identical for both cities and in line with the rest of the country. Food spending is also similar across the DFW metro area, with a typical trip to the grocery store costing about the same in both cities.
Healthcare expenses are somewhat lower in Dallas vs. Fort Worth. However, both compare favorably with the rest of the United States.
Perhaps the most significant disparity between the two cities is in the housing market. People moving to Dallas County will find that the median home price is over $400,000 for a 3BR, 2BA home, while that same house costs less than $300,000 in Fort Worth. Rent for a 2-bedroom apartment is also lower in Tarrant County, with the median rate around $1,300 compared to $1,600 in Dallas.
Job Market
The latest employment numbers for Fort Worth and Dallas show that both cities experienced significant job growth over the past 10 years. The two towns are also projected to outpace the job market for the rest of the country in the coming years.
Average salaries in Dallas are slightly higher than $70k, while the Fort Worth average income is about $5,000 less per year. Unemployment rates are almost the same across the metroplex, comparing favorably with the national average.
Overall, the DFW-area job outlook continues an impressive upward trend, with companies hiring new employees in record numbers.
Top Industries & Biggest Corporations
The Dallas–Fort Worth metropolitan area boasts the country's 4th highest number of Fortune 500 companies, attracting businesses across several major sectors, including aviation, energy, healthcare, logistics, and manufacturing. Major companies currently calling the DFW metro home include American Airlines, Southwest Airlines, ExxonMobil, and Baylor Health Care System.
Known as the "Silicon Prairie," a reference to the high volume of technology companies in the area, the DFW metro hosts Amazon, Microsoft, IBM, and Oracle, among others. The telecommunications industry also thrives in the metroplex, with Nortel, Alcatel, and Ericsson among the most prominent names.
Economically speaking, the outlook for the entire metroplex remains bright. Wherever you decide to live, Fort Worth or Dallas, the two cities offer a business climate ideal for both employers and job seekers.
Fort Worth Commutes vs. Dallas Commutes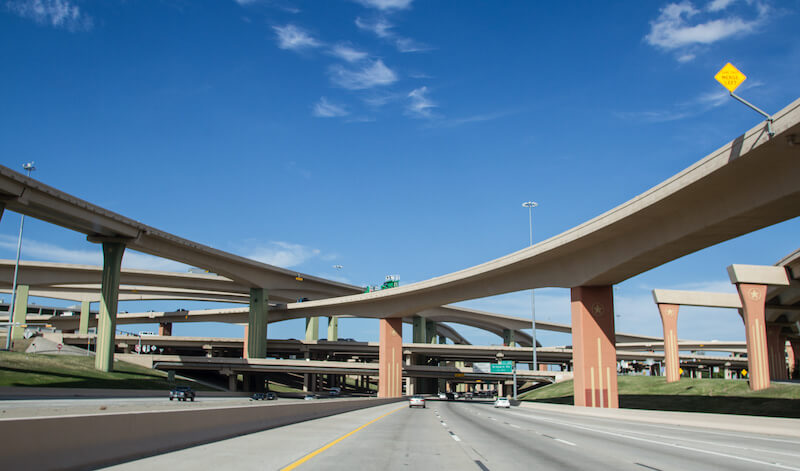 No one likes being stuck in traffic. Sometimes that's just the unfortunate reality of big city living. Nowhere is that more evident than Dallas at rush hour. Fort Worth also has the occasional traffic jam, though not with the frequency or severity of its larger neighbor. Both cities offer various means of public transportation, and numerous commuter-friendly suburbs in the area provide further relief from downtown congestion.
Traffic Patterns and What to Expect During Rush Hour
Rush hour traffic can be a struggle, no matter where you live. With several interstates and major highways intersecting the two cities, DFW commuters can expect delays during morning and afternoon drivetimes. Fort Worth slowdowns are typically along the I-35W corridor, running north to south through the middle of the city. Dallas rush hour traffic is often heavier, with backups occurring on any of the dozens of routes into the town. Its saving grace, however, is a well-developed public transportation system.
Public Transportation
Most Dallas commuters who prefer public transportation choose to ride the Dallas Area Rapid Transit system, aka the DART. The ever-expanding DART system combines buses and trains to link downtown Dallas with surrounding suburbs. Over 60 rail stations and more than a dozen bus transfer facilities make the system one of the most efficient means of transportation in the DFW metro.
Fort Worth's public transportation options include the Trinity Railway Express (TRE) commuter train system. The TRE connects with Dallas, the DFW airport, and several suburban areas between the two cities. In addition, the city's Trinity Metro bus service provides transportation to major areas of town, including the Fort Worth Zoo and the Stockyards.
Both cities offer ample taxi and ride-share services.
Best Suburbs in Dallas and Fort Worth for Short Downtown Commutes
If you work downtown but prefer not to live there, you'll find several commuter-friendly options in the 'burbs.
Here are a few of the best places to live in the Dallas-Fort Worth area to minimize time spent in rush hour traffic while maximizing your work-life balance.
Less than 20 miles north of downtown Fort Worth you'll find the popular community of Keller. This fast-growing suburb of about 50,000 typically provides a commute of about 30 minutes or less.
Just north of Keller on US-377 is the Roanoke community, with a population of just over 10,000. The rush-hour drive from Roanoke to downtown Fort Worth is usually about 30 minutes.
Home to around 50,000 people, the town of Bedford lies midway between Fort Worth and Dallas. The rush hour drive to downtown Fort Worth is typically about 20 minutes and just over 30 minutes to the Dallas city center.
Due south of Arlington on US-287, you'll find the city of Mansfield. This community of about 75,000 people is about 20 miles southeast of downtown Fort Worth with a rush hour commute of around 30 minutes.
Straight down I-35W is the community of Burleson, with a population of around 50,000. It's usually about a 30-minute rush-hour drive into downtown Fort Worth.
This growing bedroom community of more than 200,000 lies about 30 miles from town, just a straight shot up the Dallas North Tollway. The downtown commute is usually around 30 to 40 minutes from most homes in Frisco.
On the east side of Lake Ray Hubbard is Rockwall, home to about 50,000 people. Many Rockwall homes for sale have convenient access to I-30 and is less than 25 miles from downtown Dallas.
You'll find the homes in Forney about 25 miles east of Dallas on US-80. This community of about 25,000 has a rush hour commute of approximately 45 minutes.
Rush hour traffic in Dallas vs. Fort Worth can be fierce at times. Luckily, the area benefits from efficient public transportation systems that make getting around easier. Several suburban areas also provide more reasonable downtown commutes for those who work in the city but prefer more rural living or one of the best master-planned communities in DFW.
Things to Do in Fort Worth vs. Things to Do in Dallas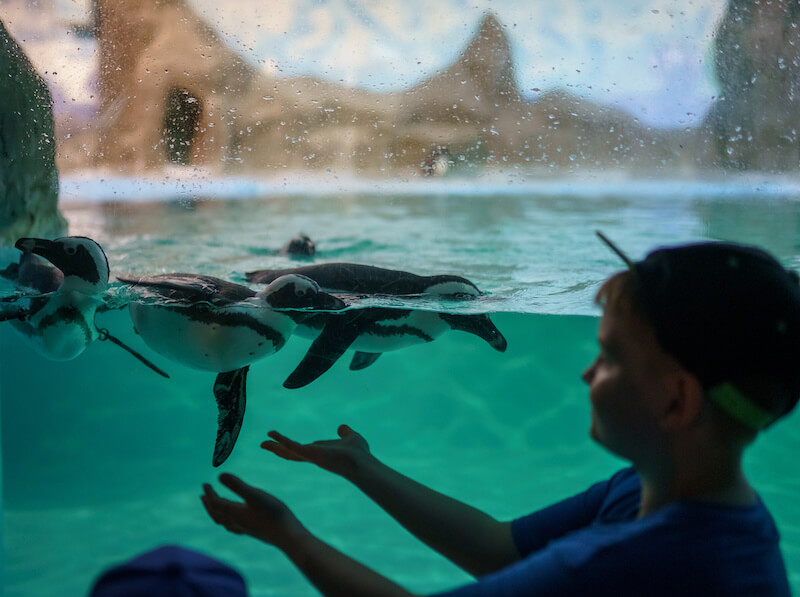 Whether moving to Dallas or Fort Worth, you'll find both to have vibrant entertainment scenes with no shortage of things to do in DFW. Dining and shopping downtown, hiking and biking the great outdoors, or catching one of your favorite sports teams, there's something for everyone in the DFW metroplex.
Downtown
If downtown is where the action is, then Fort Worth's action starts in Sundance Square, almost 40 square blocks of shops, restaurants, art galleries, and entertainment venues.
Here you'll find plentiful dining options, offering favorites like burgers and BBQ, steaks and seafood, and a variety of international flavors. Known for being an entertainment destination, Sundance Square hosts several small theaters, concerts, and other events. And, when a little peace and serenity are in order, the Fort Worth Water Gardens are nearby.
With a few townhomes and Fort Worth condos in the area for folks who prefer to live in the thick of it all, historic Sundance Square is the heart of Cowtown. Named for the Sundance Kid of Butch Cassidy fame, this downtown destination is a must-see.
As you'd expect, there's no shortage of things to do in downtown Dallas, either. There's always something happening with a vibrant arts scene, luxury shops, fine dining, and plenty of urban green space. Check out the shops and restaurants of the West End District. Don't miss the Dallas Arts District, the most extensive urban art center in the country, featuring museums, performance venues, restaurants, and nightlife. Finally, be sure to catch the Dallas Farmers Market, a downtown institution since 1941.
Outdoor Activities
For animal lovers, the metroplex features not one but two nationally-acclaimed zoos.
The Fort Worth Zoo, founded in 1909, is home to more than 7000 animals. It's consistently ranked one of the top zoos in the country. Favorite exhibits include Elephant Springs, Raptor Canyon, and the World of Primates. Most recently, the Fort Worth zoo has been instrumental in the effort to help save Texas horned lizards, a threatened species once common throughout the state and the eponymous mascot of the city's top university.
The Dallas Zoo opened in 1888 and currently sits on over 100 acres, making it the oldest and largest zoo in Texas. The main sections include Zoo North, Wilds of Africa, and Giants of the Savanna. Zoo North is the original section with numerous exhibits, including snakes, birds, monkeys, and more. Hippos, gorillas, chimpanzees, and crocs live in the Wilds of Africa area, with elephants, giraffes, lions, zebras, and other animals calling the Giants of the Savanna section home.
In Dallas, Klyde Warren Park features food trucks, a seasonal ice skating rink, and tons of games. Fort Worth's most popular park is Trinity Park, nestled right next to the river.
The greater Dallas–Fort Worth area features plentiful parks and green spaces; hiking and biking trails abound. There are also a wealth of water sport opportunities, with numerous lakes and rivers in the region.
Sports
The area is home to numerous professional sports franchises, with the NFL's Dallas Cowboys being the most well-known. Other pro sports teams include the Texas Rangers (MLB), Dallas Mavericks (NBA), and Dallas Stars (NHL).
The metro maintains many major college sports as well. The Southern Methodist University (SMU) Mustangs call Dallas home, while the Texas Christian University (TCU) Horned Frogs lead the way next door in Fort Worth.
Fort Worth also has its cowboys. The annual Fort Worth Stock Show & Rodeo is the oldest continuously running rodeo in the country, held every year since 1896.
Nightlife
If you're looking for nightlife in DFW, you won't have to look far.
As we've seen, Sundance Square is an entertainment hub in downtown Fort Worth offering numerous dining and entertainment options. From Sundance Square, West 7th Street stretches across the Upper West Side, hosting some of the area's favorite nightclubs, bars, and restaurants. Continuing into Fort Worth's Cultural District, you'll find even more to do. Don't miss West Magnolia Avenue on the city's southside, either. The neighborhood has an eclectic boho vibe, with a wide variety of after-dinner entertainment choices.
The nightlife next door in Dallas is as big as the city itself. With a dizzying number of hip lounges, cozy pubs, and live music venues, there's something fun to do every night of the week. Check out the iconic Rodeo Bar in the Adolphus Hotel for a typical-Texas experience. Or, head over to The House of Blues, ranked by Billboard as one of the country's most popular music clubs. Before the evening is over, don't miss the view from the Gallery Rooftop Lounge atop the boutique CANVAS Hotel.
As cliche as it sounds, there's something for everyone in either Dallas or Fort Worth. Both downtown areas are alive with entertainment options. The two cities also boast a pair of the country's finest zoos. With plenty of sports and outdoor recreation and an abundance of evening entertainment, you'll find something to do day and night.
Should You Live in Fort Worth or Dallas?
Trying to decide between living in Fort Worth or Dallas can be difficult. Each has a red-hot job market with no signs of slowing down, and the cost of living in both compares favorably with the rest of the country. There are also many entertainment and recreation opportunities providing significant work-life balance for residents of either city. Despite Dallas' infamous rush hour traffic, getting around in the metroplex isn't too tough otherwise.
The real attraction to the area, though, is the area. Taken as a whole, Dallas–Fort Worth offers all of the conveniences and amenities associated with big city living. Being surrounded by dozens of smaller suburban communities with relatively easy access to those cities also provides a rural respite from downtown congestion. With so much going for the entire DFW area, the real question isn't where you're going to live. It's when you're gonna get here!
Want to compare more Texas cities? Check out our Dallas vs Houston guide.