Downtown Austin vs the Domain: Which Neighborhood is Best For You?
Posted by Texas Real Estate Source on Tuesday, September 13, 2022 at 8:36 AM
By Texas Real Estate Source / September 13, 2022
Comment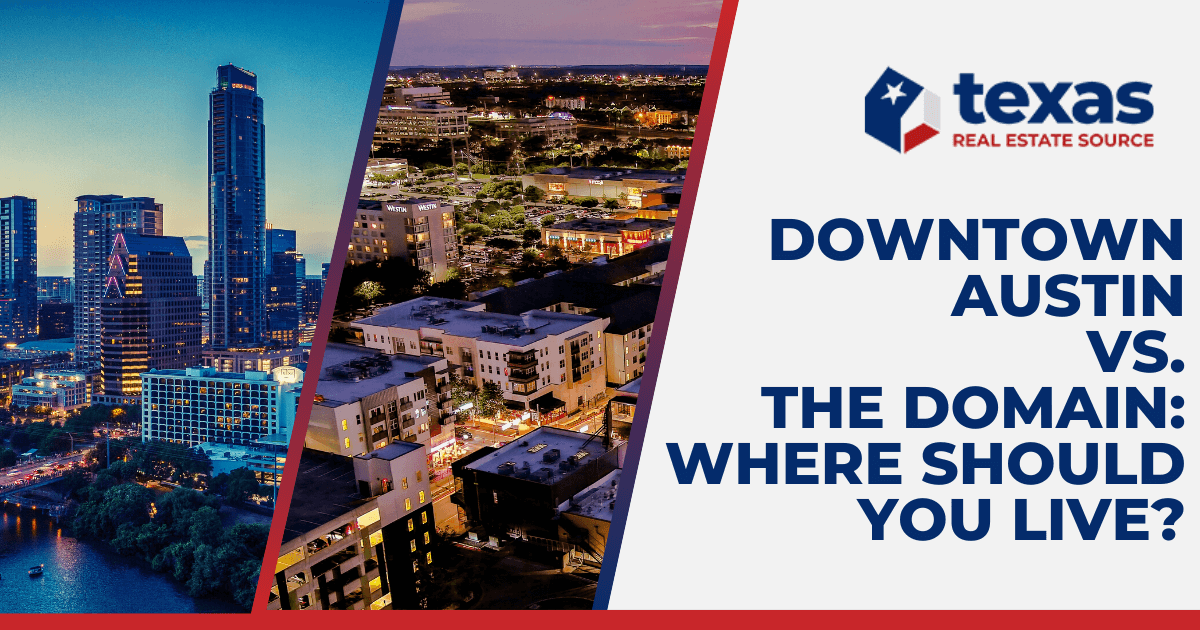 There are plenty of great reasons to move to Austin, and the Downtown and Domain communities contribute to them. The Domain is located in northwest Austin and is known for its upscale shopping and dining. Downtown Austin is located further south near the Capitol and is known for its nightlife and live music scene.

So, which location is the better place to live? It depends on what you're looking for! The Domain may be a better fit if you're looking for a relaxed atmosphere with easy access to shopping and dining. On the other hand, if you're looking for walkability to work, lakeside city living, and luxury high-rise condos, downtown Austin may be for you. Thankfully, both areas are home to vibrant communities and many of Austin's condos.
Comparing the Domain and Downtown Austin in housing costs, restaurants and shopping, and their entertainment and attractions can help you decide where you should live.
What's it Like Living in Downtown Austin?
You'll find luxury condos, apartments, and some of the best neighborhoods on the Barton Creek Greenbelt in Downtown Austin. High-rise lofts are conveniently centered in the vibrance of Downtown and close to incredible restaurants and a lively party scene.
In addition to breathtaking views, many places downtown furnish luxury amenities like concierge service, valet parking, laundry service, and so much more. Many of the most spectacular luxury homes in Austin are just outside of the Downtown area. It's a great place to stroll, explore, experience, and live.
Cost of Housing in Downtown Austin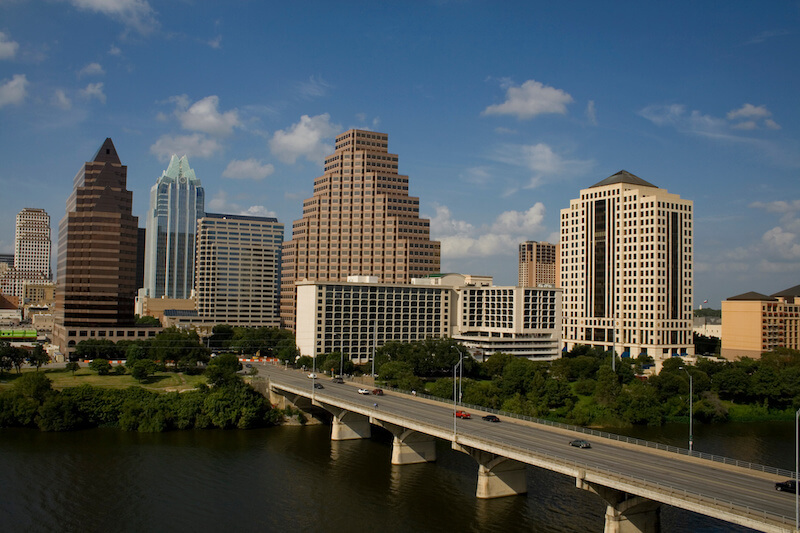 Downtown Austin real estate comes at a premium; small studio condos occasionally list from the $400,000s, but generally, one-bedroom condo listings typically start in the $700,000s. For a one-bedroom condo in a prime Downtown location with more than 1,000 square feet of living space, home buyers can expect to find listings for around $1 million. In addition to the amenities of Downtown Austin high-rise condo buildings, they offer some of the city's best views of Lady Bird Lake and the Colorado River.
The rental prices in Downtown Austin range from $1,200 to over $20,000 per month, but most units are in the range of $2,000–$4,000. Seven Apartments at 615 W. 7th Street has several one-bedroom floor plans for under $3,000. Residents enjoy amenities like dry cleaning service, a sun deck complete with an infinity pool, and a convenient downtown location.
For luxurious high-rise condo or apartment living—not to mention easy access to the best outdoor recreation around—Downtown Austin can't be beaten. The arts, the culture, and the impressive housing options—plus their value as real estate investments—are just a few of the perks of living in Downtown Austin.
Downtown Austin Shopping
Downtown Austinites have access to everything they need. Whole Foods' original store is located Downtown on North Lamar Boulevard. In addition, the Sustainable Food Center's Farmers' Market offers locally grown produce from 9 a.m. to 1 p.m. every Saturday.
Shop the 2nd Street District with its variety of locally-owned boutique shops, restaurants, and entertainment venues. All are within a few blocks between San Antonio and Guadalupe Streets.
Retail stores like Urban Outfitters and Francesca's are just a couple of the shops that make up the 2nd Street District. Also, shop home décor at Blue Dot Furniture, and find unique clothing and gifts at Austin Rocks.
Downtown Austin Restaurants
Whether looking for high-end fine dining or a casual café, downtown Austin has restaurants for all tastes and budgets.
Enjoy southern comfort food at Moonshine Patio Bar & Grill, located in Austin's historic Waterloo Compound. Their take on southern favorites includes chicken-fried steak, fried green tomatoes, and corndog shrimp.
Texas Chili Parlor is the place to go for authentic Texas cuisine at affordable prices. Of course, they're known for their incredible Texas chili, but their Tex-Mex menu will give you something new to try with every visit. For under $5, you can get a taco with rice and beans.
Downtown Austin Bars & Nightlife
Midnight Cowboy is an intimate lounge with a speakeasy ambiance located on Austin's famous 6th Street. Make a reservation and enjoy an Old Fashioned in this prohibition-style bar.
Venture to Higher Ground at 720 Congress Avenue, where "enlightened spirits" are welcome to this church-themed bar and restaurant. The happy hour drinks and bites are sure to elevate your soul.
Summit Rooftop & Lounge at 120 W. 5th Street overlooks the Warehouse District and offers patrons remarkable views of the Austin skyline. Reserve a VIP table or book a private event at this swanky rooftop venue.
Downtown Austin Attractions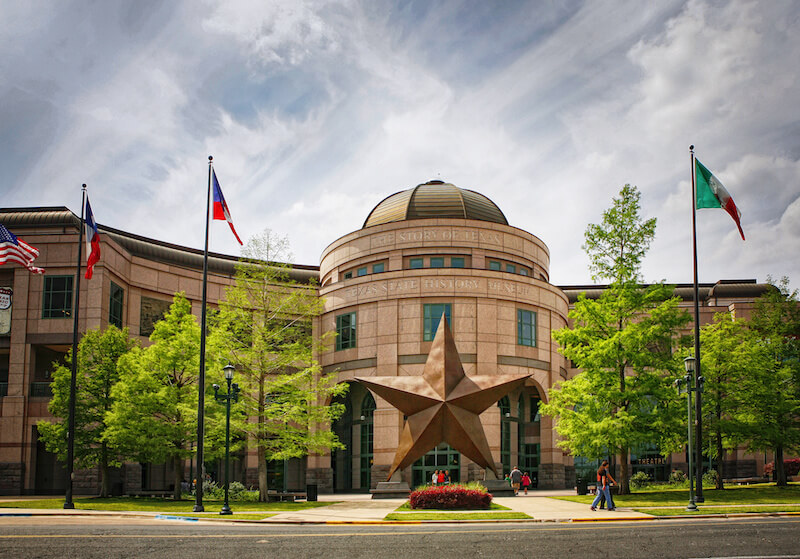 Aside from the historic Capitol and government buildings, downtown Austin has a lot of attractions to check out. Bullock Texas State History Museum and Blanton Museum of Art are located on Martin Luther King Jr. Boulevard, bordering the south side of the UT-Austin campus.
Austin's world-renowned live music scene finds its roots on Sixth Street. Known as the "Bourbon Street of Austin," 6th Street is an eclectic collection of establishments that give Austin its reputation for being the world's live music capital. Support local artists by visiting Lucky Lizard Curios & Gifts. While you're there, stop inside the Museum of the Weird. Don't forget to pick up your signature "Keep Austin Weird" tie-dyed t-shirt.
Hip and artsy, Rainey Street has craft beer and cocktails in creative and stylish bars with plenty of outdoor seating. The Tipsy Alchemist exemplifies Downtown Austin's weird yet sophisticated vibes. There are so many great things to do in Austin, and most of them are in or around the Downtown area!
What's it Like Living Near The Domain?
Apartments in the Domain are conveniently located near everything you need for comfortable living. Almost all apartment communities have been constructed within the last decade, so you'll enjoy modern designs with amenities rivaling Downtown.
The Domain's apartment complexes provide walkable access to grocery and retail stores and world-class shopping—urban living with a small-town feel best sum up the reasons to love living near the Domain.
Cost of Housing Near The Domain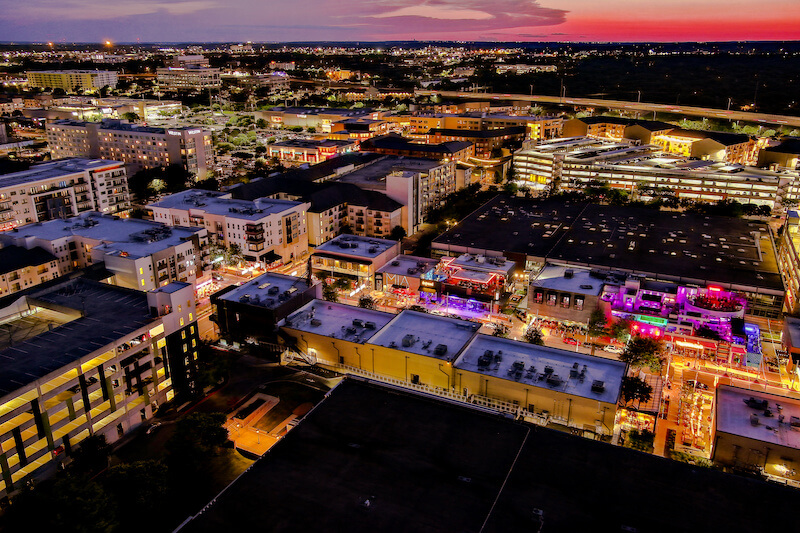 The real estate market in the Domain only offers rentals, but neighborhoods surrounding the Domain have plenty of listings for home buyers. Homes in the Avery Ranch community are just 10 miles from the Domain, as is the city of Round Rock. Single-family homes near the Domain generally list from the low $400,000s.
Rental prices in the Domain range from just over $1,200 for a studio to over $10,000 for a luxury three-bedroom apartment. On average, renters can expect to pay around $3,200 for a two-bedroom apartment. The Kenzie At The Domain, located at 3201 Esperanza Xing, is an example of the Domain's luxury and style. This apartment complex features an infinity pool, community wifi, and on-demand concierge service.
Amenities that are available at most of the apartments in the Domain include:
Dry cleaning and laundry services
Electric vehicle charging stations
Smart technology spaces and cybercafés
Door trash pickup and recycling services
Secured bicycle storage
Gyms and workout facilities
Concierge services
While housing in the Domain is apartment-style, the area immediately surrounding it is home to some Austin townhomes and single-family homes.
The Domain Restaurants
The Domain is home to several chain restaurants offering unique dining experiences tailored to incorporate local flavors and ingredients. Perry's Steakhouse & Grille has a location at the Domain Northside.
For Austin farm-to-table dining, check out Second Bar & Kitchen. The New American cuisine restaurant is located in the Domain Northside at 3121 Palm Way inside the four-star rated Archer Hotel. Culinary Dropout is right around the corner for a more casual and British-influenced option.
Venture outside of the boundaries of Tex-Mex at the "temple to the liberated taco" and experience multi-cultural taco fusions at Velvet Taco you can't find anywhere else.
The Domain Bars & Nightlife
Yard House offers New American cuisine from their scratch kitchen. In addition, this high-end sports bar has over 125 beers on tap and is a great place to catch a game.
If you're a kid at heart and looking for fun, consider Punch Bowl Social in the Domain for a fun night out with friends. Get your friends together to go bowling, play games in an old-school arcade, and get on stage for karaoke.
The Rose Room is an upscale nightclub that offers three levels of table service and an energized atmosphere that will keep you on the dance floor all night. Reserve a table and spend a night dancing to club beats at their rooftop bar overlooking Rock Rose Avenue.
Attractions Near The Domain
Enjoy the green space at Domain Central Park, which includes a popular informal playground for children. Walking trails and volleyball courts are available for anyone to get outdoors and get some exercise.
Domain Central Dog Park lets your dog run off-leash while you relax on one of the benches, or bring a blanket to spread on the grass. Water fountains give dogs a place to cool off and splash around.
The Museum of Ice Cream is dedicated to all things ice cream, and it features a variety of interactive exhibits that are perfect for kids and adults. Ride an animal cookie while learning about ice cream.
The Domain Shopping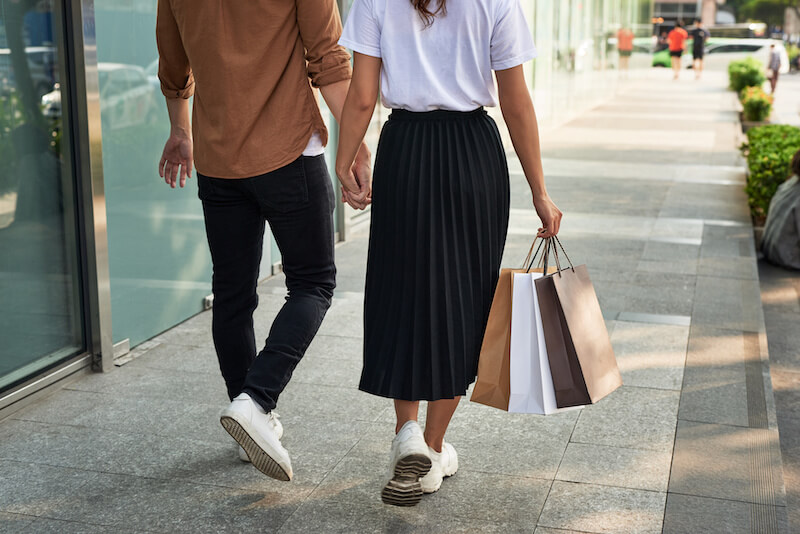 Residents get to experience world-class shopping within a pedestrian-friendly neighborhood. The Domain Asion Center is located at 3220 Amy Donovan Plaza, and The Domain Northside is at 11821 Rock Rose Avenue.
High-end boutiques like the Golden Goose and the Impeccable Pig let you craft your style out of unique and fashionable apparel. The Domain also has luxury retailers, including Chanel and Louis Vuitton.
For groceries, Whole Foods is located in Domain Northside. If you are on the Domain's south side, Natural Grocers is just outside the neighborhood, off of the Mopac Expressway service road.
Deciding Between Downtown Austin and The Domain
A decision to move to the Domain or Downtown—similar to deciding between living in North and South Austin—comes down to your preferences towards high-rise urban living versus slightly more suburban, amenity-rich living. Downtown is more lively in terms of nightlife and entertainment, while the Domain is more centered on shopping.
Both neighborhoods provide access to green spaces and outdoor areas. However, Downtown offers more access to the river and walking trails. The Domain has its Central Park and easy access to other parks in the city, most notably Walnut Creek Park.
Both areas have access to Austin's CapMetro bus and rail service, providing commuting options depending on the job location.
Downtown Austin requires more planning concerning parking, with some residences offering parking garage spaces and valet. The Domain features newer construction with more parking accommodations in mind.
Restaurants and shopping are comparable in both areas, with the Domain having an open-air concept with shopping centers. You can find the same quirky Austin vibes at restaurants in the Domain as Downtown.
The rent prices trend higher in downtown Austin than in the Domain. Both neighborhoods offer luxury accommodations and amenities, but Downtown provides high-rise views that the Domain can't match with lavish penthouse suites and rooftop patios.
So Which is Better? Downtown Austin or the Domain?
Anyone deciding between living in the Domain or Downtown Austin should consider what they're looking for in a neighborhood. If you want to be close to the action and have easy access to nightlife and restaurants, then Downtown Austin is probably the better choice. But if you're looking for a more relaxed atmosphere with plenty of shopping and outdoor space, then the Domain might be a better fit.
Ultimately, it comes down to personal preference and what you value most in a neighborhood. Take one of Austin's great scenic drives, get a feel for the city, and enjoy all it offers!