Commuting in Houston: What to Know about Driving & Public Transportation in Houston TX
Posted by Texas Real Estate Source on Wednesday, April 19, 2023 at 4:12:54 PM
By Texas Real Estate Source / April 19, 2023
Comment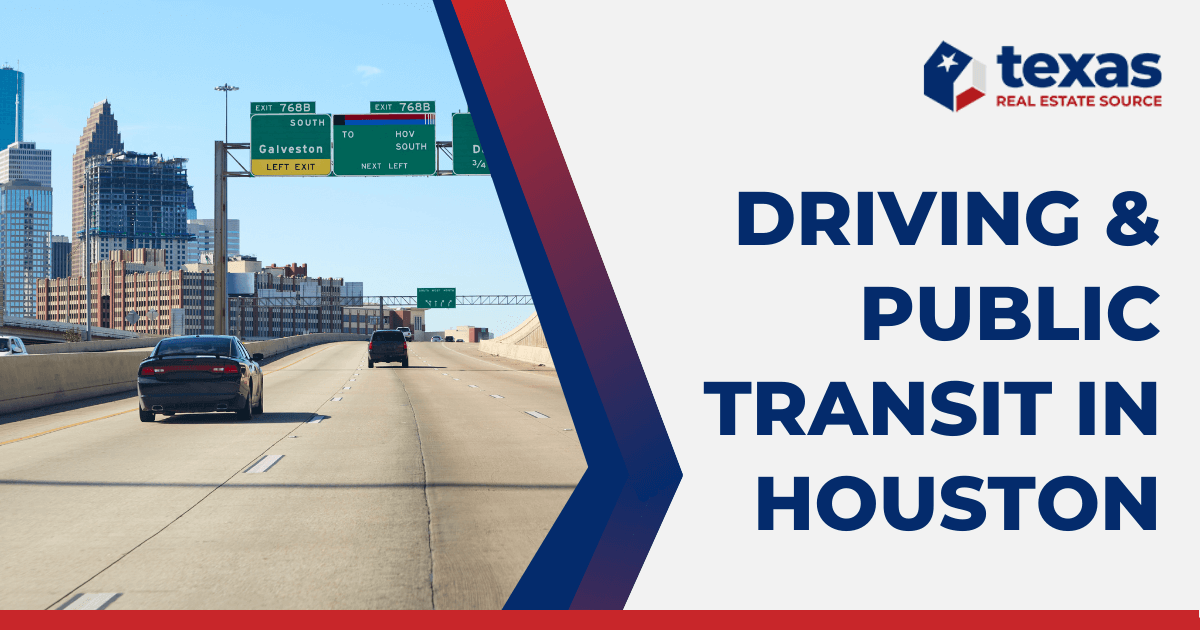 Welcome to Houston, Texas, a vibrant and bustling city known for its sprawling urban landscape. It can seem overwhelming to navigate at first, but whether you're a local or a visitor, getting around the city can be a breeze with a little guidance. This guide aims to provide you with helpful tips and information on navigating the city of Houston, so you can make the most of your time in this exciting city. From the plethora of highway nicknames to the best suburbs for commuting, here's what you need to know about driving and public transportation in Houston.
Step One: Get to Know Your Major Roads
If you've just moved to Houston, understanding the directions your new neighbors give you is likely to be a challenge until you get used to each major highway having multiple commonly used nicknames. Understanding the most popular roads, where they lead, and their nicknames can help you feel more comfortable driving in Houston.
I-610 is nicknamed "The Loop" or the 610 Loop. It forms a 42-mile circle around the inner city of Houston. Many drivers use it to get around the Houston metro area, and you may hear about "Inner Loop neighborhoods" when searching for a home—many homebuyers find this area desirable for short downtown commutes and proximity to major Houston attractions.
I-10 East is often referred to as Baytown-East Freeway. It runs east from downtown Houston to Jacinto City, Cloverleaf, and the Channelview area, and eventually leads into Beaumont.
I-10 West is Katy Freeway. It runs from downtown through Hedwig Village and the Energy Corridor into the city of Katy. If you plan to continue west, this interstate will take you into San Antonio.
I-45 South, the Gulf Freeway, connects Houston to Galveston. Those traveling to Friendswood, League City, or other South Houston locations can utilize I-45 South. On the other end I-45 North, North Freeway, heads from Houston toward Spring, The Woodlands, and Conroe. It continues through Huntsville and will ultimately lead travelers into Dallas.
I-69/ US 59 Northeast is called the Eastex Freeway. It runs from Houston to the city of Humble, and, farther onward, leads into Cleveland and Livingston.
I-69/US 59 Southwest is called the Southwest Freeway. It leads from Houston to the city of Sugar Land and beyond.
There are also several toll roads in the area. The most iconic is Sam Houston Tollway, which forms a second ring around the city farther out than the 610 Loop. While it's not a perfect correlation, generally speaking, neighborhoods inside this ring are part of Houston proper, while the suburbs are located outside of it.
Major Houston toll roads (and their nicknames) include:
Sam Houston Tollway: Beltway 8 or the Outer Loop
Fort Bend Tollway: Fort Bend Parkway or Fort Bend Parkway Toll Road
Westpark Tollway: The Westpark
SH 99 Toll: The Grand Parkway
SH 249 Tomball Parkway: Tomball Tollway
Hardy Toll Road: The Hardy
These roadways typically offer a less congested path, but at a price. Most tolls run between $0.50 and $1.75 per segment. Many Houstonians advocate purchasing an EZ Tag or TxTag for convenient payment, but if you don't have a tag, you'll receive a bill in the mail.
What to Expect Driving at Different Times of Day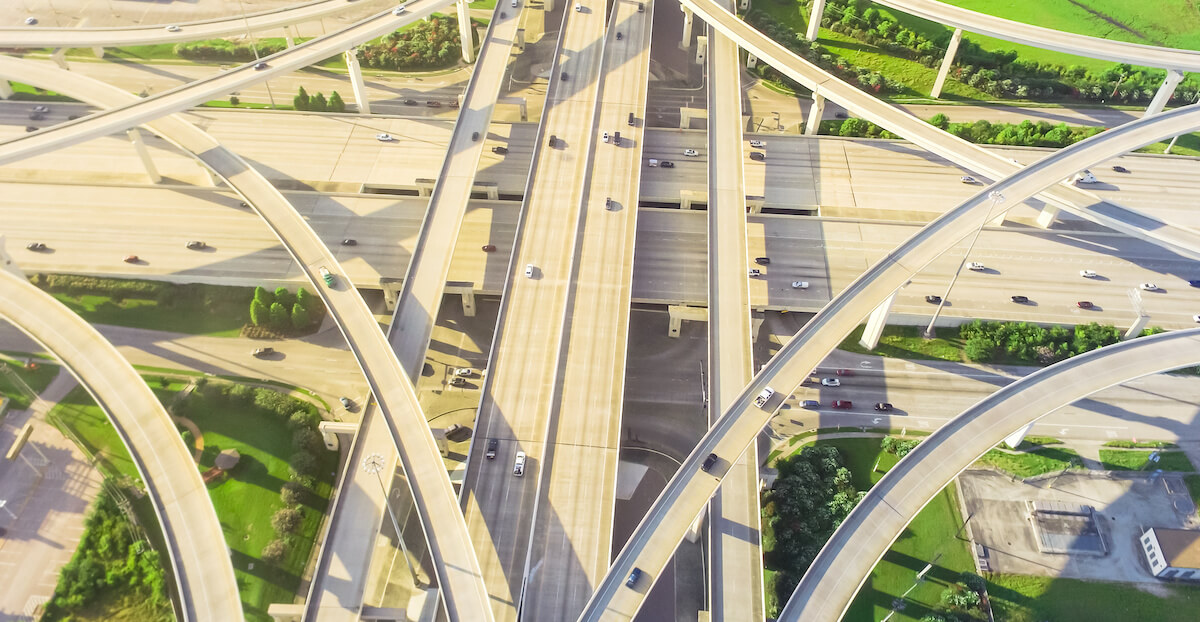 As with all major metropolitan areas, you are bound to experience traffic congestion when you're on the road at certain times of the day. Morning rush hour in Houston generally runs between about 7 a.m. to 9 a.m. with evening rush hour often beginning around 4 p.m. and lasting until 7 p.m. The morning rush can add 4 minutes for every 6 miles, and the evening rush can add an additional 10 minutes for every 6 miles of your trip, barring obstacles like road work, rain, and accidents.
The most congested highways during rush hour are the 610 Loop from I-10 to I-69 in Uptown and Southwest Freeway from the 610 Loop to Highway 288. If these roads are on your commute, it may be worth getting into the habit of using apps like Google Maps, Apple Maps, and Waze to get real-time alternative routes to help you avoid traffic. Although you are likely to experience traffic in the Houston area, using these tools can help you arrive where you need to go on time.
To help ease traffic congestion, Houston encourages the use of its HOV lanes. If your route includes I-45, Highway 59, or Highway 290, consider the advantages of carpooling or taking the bus, which can also use the lane.
Parking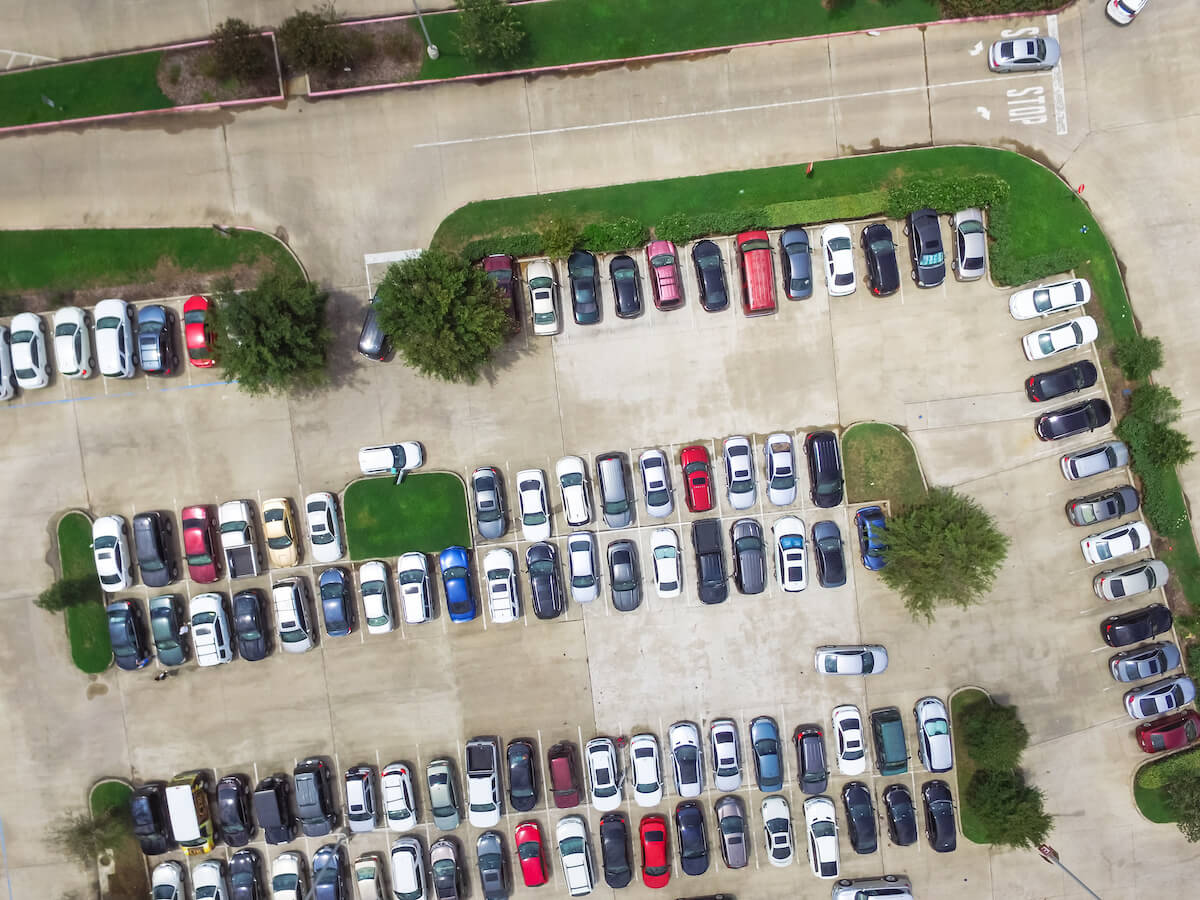 While parking in major cities often gets a bad rap, downtown Houston offers more than 100,000 parking spaces. There are 2,200 on-street spaces, 24,000 surface parking lot spaces, and 75,000 garage spaces. So, if you need to park, there are a lot of options. Here are a few tips to help you navigate parking in Houston:
First, pay attention to the street signs. Metered spots may turn into tow-away zones at specific times or have a set time limit. Be sure to recognize red markings for commercial-only meters or tow-away zones to avoid tickets or having your car removed.
It's also a good idea to use the available hi-tech parking meters. Most downtown areas have pay-by-phone apps like Parkmobile or Parkbytext that are easy to use and help you ensure you can park in a specific spot. These apps won't accept payment if the spot is free at the time or if the spot is currently off-limits. Metered parking typically costs $1-2 per hour while garage parking ranges from $6-10 for 2 hours. Keep in mind that popular areas may be more expensive. If parking in a certain area is a bit expensive, check a few blocks away for cheaper options.
Downtown visitors can enjoy free on-street parking from Monday–Saturday 6 p.m.–7 a.m. and all day Sunday. This is perfect for those looking to enjoy dinner downtown or Sunday brunch and adventuring.
You can also buy a Downtown Hopper pass, which is a one-time daily fee that allows you to travel throughout the area without paying the meter each time.
If you are looking for long-term parking, there are overnight and monthly parking options available at many locations. Overnight parking rates generally range from $5 to $20. Monthly parking ranges from $100 to $550 based on location and amenities.
Public Transportation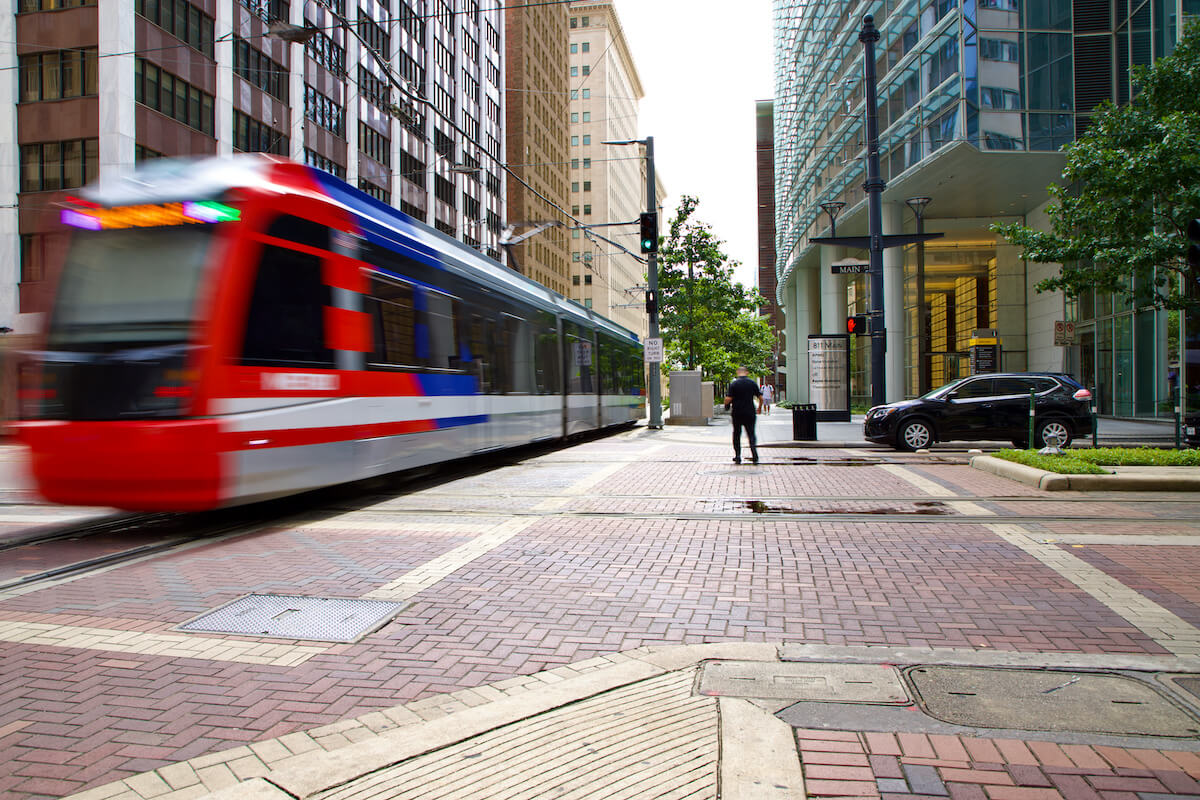 While most people in Houston use personal cars for transportation, reports show that the monthly total ridership of the local bus, METRORapid, Light Rail, and Park & Ride exceeds more than 5 million riders a month. These public transportation options are great for those who don't like to drive or may not have access to a personal vehicle. It's also beneficial in reducing air pollution, saving money, reducing traffic congestion, and offering riders free time to read, work on the go, study, or otherwise make use of time otherwise lost en route. Regardless of why you choose public transportation, it's a solid option in many places in the Houston area.
METRO Bus
The METRO Bus offers over 80 local bus routes to serve communities inside and outside the 610 Loop. Using this service, you can easily access your office, school, shopping, and more. The METRO system also offers transit centers with sheltered waiting areas to connect you to more transportation options.
Bus riders can find local bus routes, system maps, and FAQs online on the Ride Metro website or the RideMETRO mobile app. With more than 1,200 buses, the METRO is a great option for public transportation in the area.
Cost & Payment Options:
METRO Bus Regular Fare: $1.25
Discounted Fare: $0.60 (for students, seniors, and those with disabilities)
Payment methods include the METRO Q Fare Card, METRO Q Mobile Ticket, METRO Day Pass, METRO Money, and cash.
METRORail
The METRORail is a light-rail network that connects to several areas in downtown Houston, including the Texas Medical Center, the University of Houston, Houston Zoo, NRG Stadium, the Theater District, and the Museum District.
The METRORail runs seven days a week from 5 a.m. to midnight. Three separate lines run at different frequencies. The Red Line METRORail runs Monday–Friday every 6 minutes and Saturday–Sunday every 12 minutes. The Green and Purple Lines run Monday–Friday every 12 minutes and Saturday–Sunday every 18 minutes.
You can easily locate information about times and schedules on the RideMETRO website and app. In addition, all METRORail lines connect near Central Station Main.
Cost & Payment Options:
METRORail Regular Fare: $1.25
Discounted Fare - $0.60 (for students, seniors, and those with disabilities)
Payment methods include the METRO Q Fare Card, METRO Q Mobile Ticket, METRO Day Pass, METRO Money, and METRORail Ticket.
Park & Ride
Park & Ride is a public transportation service for those living outside the 610 Loop but who need to commute to the Texas Medical Center or downtown Houston. Suburban residents can drive to the nearest Park & Ride center, park their vehicle, and board a bus for the rest of the trip, thus avoiding driving in the most frequently congested areas. Riders can relax and enjoy free Wi-Fi while letting someone else do the driving. As a bonus, this express bus uses the HOV express lanes, making your trips even faster.
Riders can use this service from locations like the city of Cypress, Grand Parkway, Spring, and the Bay Area. This is an excellent option for those who want a lower-stress commute experience.
Cost & Payment Options:
Regular Fares range from $2–$8. Fares vary depending on where you board.
Discounted Fares range from $1–$4
Payment methods include the METRO Q Fare Card, METRO Q Mobile Ticket, METRO Day Pass, METRO Money, and cash.
METRO curb2curb
The METRO curb2curb service is an on-demand service available to certain customers without access to a METRO bus route. It doesn't travel a standard route, instead traveling within a specific zone. Riders can board at a specific location or schedule a pickup location and the vehicle will then drop them off at their destination within the zone or another METRO facility for a transfer. To check your eligibility, head to RideMetro.org.
Cost & Payment Options:
METRO Regular Fare: $1.25
Discounted Fare: $0.60 (for students, seniors, and those with disabilities)
Payment methods include the METRO Q Fare Card, METRO Q Mobile Ticket, METRO Day Pass, and METRO Money.
Paratransit Options
All METRO-owned transit vehicles are ADA-accessible. In addition, METRO has a shared-ride paratransit service called METROLift. The drivers will pick up riders at home and drop them off at their destination. It operates throughout Harris County and offers free Wi-Fi. You can schedule a METROLift trip online or by phone from 8 a.m.–5 p.m. by calling 713-225-6716.
Customers who qualify for METROLift can also ride all METRO services for free with up to one assistant.
Cost & Payment Options for METROLift:
METROLift one-way ticket: $1.25
METROLift Monthly Pass: $47.25
Payment Options:
MACS-WEB online trip planner: Credit or Debit Cards
METRO Online RideStore: Credit Cards
METRO RideStore Locations: Cash, Check, Credit Card, or Debit Card
Taxis & Rideshare
Houston offers several taxi and rideshare options. In fact, Houston has more than 2,200 taxis in its fleet. This is a quick and easy way to travel to downtown locations.
There is also "The Wave" shuttle. The Wave is a fun bus service that offers rides around Houston's most popular nightlife areas, including Montrose, Downtown, Uptown, Midtown, and more. Their shuttles feature upgraded seats, stereos, TVs, and LED lights. You can call this service to pick you up along their regular route or at its designated free parking lot. They also offer bus rentals and other services for private events.
Houston offers rideshare car services like Uber and Lyft as well.
Cost & Payment Options:
Taxis have a $6 flat rate downtown
The Wave: $8 one-way or $15 all night
Uber & Lyft prices vary based on individual trips
BCycle
BCycle is a bike-sharing service with over 150 stations and 1100+ bikes in the Houston area. Members can grab a bike from any BCycle Station and guests can pay as they go at the kiosk or on the mobile app. Simply return the bike to a BCycle station when you're finished and that's it. The BCycle mobile app offers a station map with available bikes/docks, allows you to check out bikes, and tracks your trip history and fitness stats. This is a handy option for a quick transportation service throughout Houston.
Cost & Payment Options:
$5 per 30-minute single trip with a $2 additional charge per 30 minutes for e-bikes
$25 per month membership with a $1 additional charge per 30 minutes
Payment is handled through the mobile app
Commute Times from Suburbs to Downtown
The Woodlands
The Woodlands community is located approximately 29 miles north of Houston. The fastest routes from The Woodlands include I-45 and Hardy Toll Road. At non-peak hours the drive can take just under 30 minutes. Luckily, with these two roadways, busier times only increase the drive by 10–15 minutes.
Those needing public transportation can ride a FlixBus from The Woodlands into Houston. Once in Houston, you can also utilize the METRORail, METRO bus, or other public transportation options.
Cypress
Cypress sits approximately 27.5 miles northwest of Houston. Popular routes from Cypress to Houston include US-290 E and I-10 E. The drive from Cypress to Houston generally takes less than 30 minutes. With increased traffic, it can take an additional 10 minutes.
Those relying on public transportation can use the METRO weekday system 217 into Houston.
Katy
The city of Katy is approximately 28 miles west of Houston. Most travelers use 1-10 exclusively. The drive into Houston takes about 40 minutes but can take 50 minutes or more with traffic.
For those needing public transportation, you can use the Greyhound bus or Flixbus. However, the METRO system plans to expand into the inner Katy corridor area and offer exclusive lanes for Regional Express buses.
Sugar Land
The city of Sugar Land is located 22.5 miles southwest of Houston. Depending on the time of day, the drive generally takes between 23 to 33 minutes. Most travelers take 1-69 to US-59.
Sugar Land offers the Fort Bend County Public Transportation service that features a weekday commuter Park and Ride service. Those needing to get to Greenway Plaza, the Galleria Area, or the Texas Medical Center can choose from two park-and-ride lot locations. Fares range from $2.25 to $3.59 each way. Riders can also use this service and hop on one of the other public transit options once in Houston.
Pearland
The city of Pearland sits 21 miles south of Houston. This makes drive times usually take just under 30 minutes. Most commuters take South Freeway/Highway 288 or State Highway 35 to travel into the Houston area.
Pearland residents can take advantage of public transportation options from the Harris County METRO or METRO STAR; however, there are no public transit services within the city.
Humble
The city of Humble is located just under 20 miles northeast of Houston. Commuting times range but are generally under 30 minutes. Humble residents often take I-69 into Houston for a simple and direct drive.
Those needing public transportation can utilize line 259 or 256 buses from the METRO of Harris County.
Other Helpful Things to Know
Driving in a major metropolitan area can be stressful, and with so many cars, bikes, and pedestrians in Texas' biggest city, it can be hard to stay focused and catch all the relevant information around the road. Here are some top tips for driving in Houston:
Houston is spread out across a large area. Residents in the outskirts of city limits may live up to 30 miles from downtown. So, when it comes to traveling into the city, be sure to plan your day around stops close together and the time of day. With over 7 million people calling Houston home, it isn't the best idea to hit the Galleria at the height of the midweek rush hour.
Unlike in many other cities, Houston is so big that there's no such thing as a reverse commute. Living in downtown Houston and working in the suburbs won't necessarily save you commuting time. (If you live in downtown Houston, though, there's a good chance you can walk or bike to work!)
When it comes to driving on the freeways, HOV/HOT express lanes run in one direction but are reversible. In the mornings, they run toward downtown Houston, and in the evening, they travel away. Lane usage and fees depend on each freeway, the time of day, and the number of people in your car. Watch for road signs and exits to use these lanes most effectively.
Prepare for the weather. It rains frequently in the Houston area, which often leads to more traffic hazards, slower drivers, and wet roadways. Keep a weather app on your phone, and if it's going to rain, plan for plenty of extra time to get where you need to go safely.
Get Around Houston Like a Pro
Navigating Houston's roads and public transportation system can be a relatively hassle-free experience with a little bit of planning and knowledge. By following the tips and information outlined in this guide, you can explore all that this vibrant city has to offer, from its world-class museums and restaurants to its scenic parks and neighborhoods. Whether you choose to drive or take public transportation, Houston is a city that is full of energy and excitement, and there's always something new to discover.