Tesla Solar Roofs in Easton Park Austin: What to Know
Posted by Texas Real Estate Source on Thursday, November 10, 2022 at 2:58:55 PM
By Texas Real Estate Source / November 10, 2022
Comment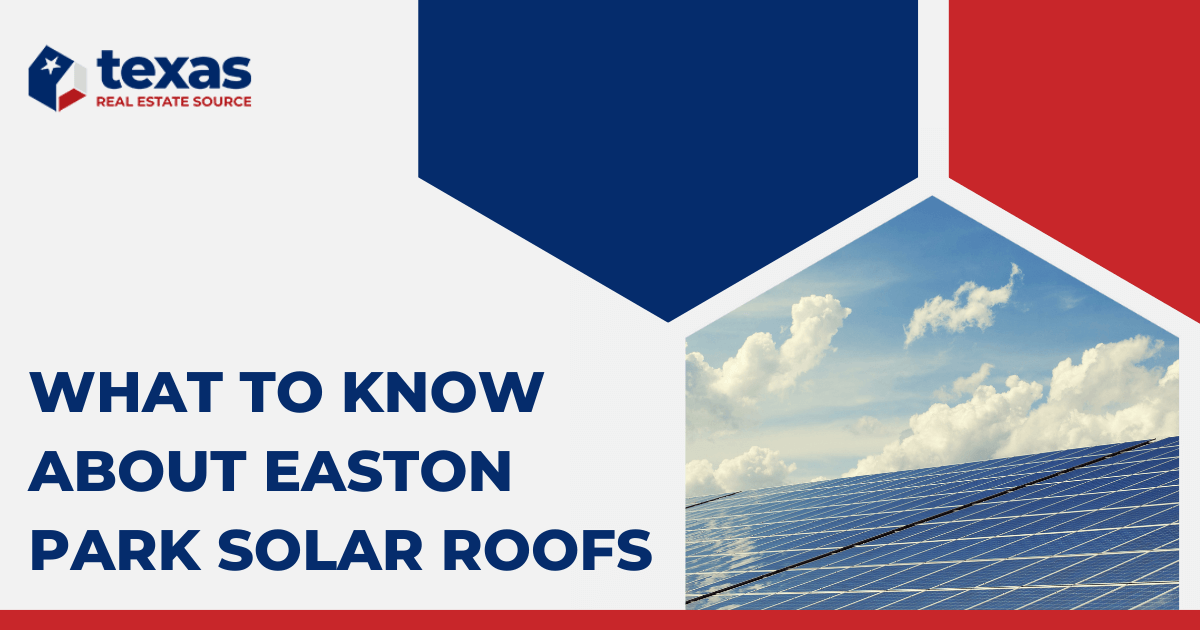 Interested in saving money on your utility bills? What about owning an environmentally friendly home?
What if you could do both using a singular part of your home that's already installed and ready? With Tesla's Solar Roofs, your home could begin to harness the power of the sun and use it to keep your household running in an effective, inexpensive, and eco-friendly way.
Wondering where to buy a Tesla house in Texas? The newest homes for sale in Easton Park are shining examples of how Tesla's Solar Roofs can benefit homeowners and prove to be a worthy investment.
What to Know About Tesla Solar Roofs
Tesla Solar Roofs are an upgrade from the bulky solar panels of the past, further advancing this popular sustainable construction trend. Built using a combination of architectural-grade steel and glass tiles, Tesla Solar Roofs are designed to blend into the color and texture of your roof and match the aesthetic of your home.
When a Tesla Solar Roof system is installed, an integrated Powerwall is also fitted to store excess energy produced by the solar panels. This means you won't have to worry about a lack of energy throughout your home, even when the sun isn't shining.
Additionally, the Powerwall can automatically detect local power outages, keeping your electricity running smoothly even when the city grid is down.
Tesla's Solar Roof is built to last, which means it can withstand all kinds of weather without compromising its effectiveness. The Solar Roof allows those living in Easton Park to maximize their roof space for optimal solar energy usage, as Tesla can work around skylights, vents, and other structures to custom-fit as many panels as possible to your roof.
Tesla Solar Tiles vs. Traditional Solar Panels
The aesthetic difference between Tesla's Solar Roof and traditional solar panels isn't the only thing that might have homeowners choosing one or the other. The Solar Roof is one of the most durable home solar products on the market, with extremely high wind, fire, and hail ratings and dependable steel fortifications.
Every Solar Roof comes with a warranty of 25 years, which means you can trust that you'll be able to enjoy clean and dependable energy in your home for many years to come.
Solar Power in Texas: Is It Worth It?
Whether you're new to Texas or were born and raised in the Lone Star State, you know Texas has no shortage of sunny days, which makes it one of the best states for solar panels on homes. Additionally, the state of Texas offers some great tax incentives for homeowners who choose to power their homes with clean solar energy.
A few drawbacks should be considered before installing a Solar Roof, such as the upfront cost, the time it takes for solar panels to pay for themselves, and the fact that some areas of Texas get more sunlight throughout the year than others.
However, the benefits include massively reduced electricity bills for the foreseeable future, access to tax rebates, and protection from grid outages, which are some powerful reasons to consider going solar in Texas.
Tesla Easton Park Homes Come with the Full Package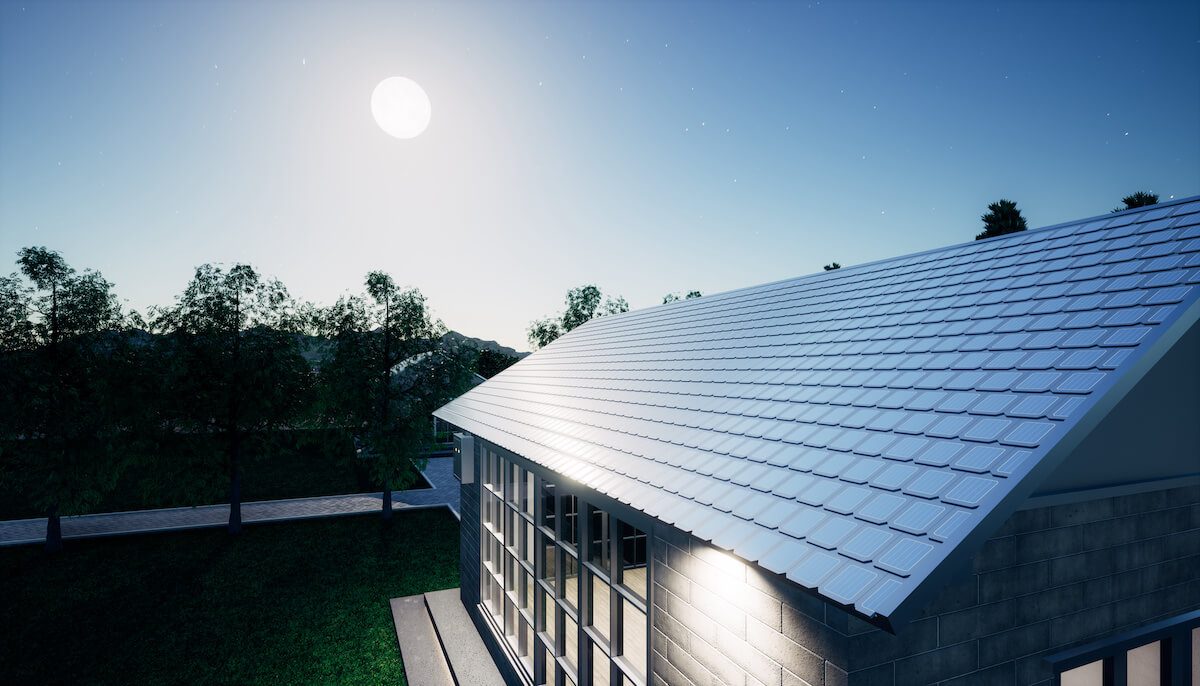 Thanks to major home builder Brookfield Residential, several new construction homes in the Austin neighborhood of Easton Park feature the Tesla Solar Roof and are allowing residents to reap the benefits from the moment they move in.
Residents are enjoying much more than just the clean energy powering their homes and the massively reduced electricity bills when compared to their previous homes. They appreciate having the panels up and running on move-in as well as the sleek design of the panels that fit in seamlessly with the roof itself.
A variety of homes currently available in Easton Park feature the whole Tesla Solar Package, including the Tesla Solar Roof and Tesla's Powerwall system that stores excess solar energy and keeps the home powered with clean energy year-round.
Choose from multiple design styles, square footage totals, bedroom and bathroom counts, and price points, with many Tesla Solar Package homes starting at around $700,000.
The home styles and amenities in Easton Park make it easy for new residents to enjoy a high standard of living in this desirable Austin neighborhood while reaping the additional benefit of a solar-powered home.
Easton Park Is the First Tesla Solar Neighborhood
Easton Park's homes may not have been the first in the country to experience the benefits of a Tesla Solar Roof, but the neighborhood does stand out as the first all-solar community using Tesla products, thanks to the partnership between Brookfield Residential, Tesla, and Dacra, another real estate developer.
Referred to as SunHouse at Easton Park, this green energy initiative is the result of careful planning on the parts of all three partners. Their aim was to create beautiful, desirable homes that feature all of the benefits of the full Tesla Solar Package and, as a result, reduce the demand on Austin's electrical grid. The first solar homes went up in the Easton Park neighborhood of Kieke Park, with homes in Discovery Park following.
The plan is to build out SunHouse at Easton Park even further in the future to create more solar-powered homes and continue to offer this incredible service to homebuyers in the city of Austin.
Additionally, if the currently available homes don't tick the right boxes, homeowners can place themselves on a waitlist for new construction homes with solar roofs as Easton Park continues to be built out.
Changing the World One Roof at a Time
It's clear to see that Tesla is changing the game when it comes to residential solar panels. With products that are just as aesthetically pleasing as they are effective and durable, the Tesla Solar Roof is the perfect eco-friendly home upgrade for homebuyers in Austin.
SunHouse at Easton Park is a rare opportunity to be a part of history in the making.
Ready to live your best life in Easton Park? Call The RealFX Group at (512) 956-7390 to contact an experienced local real estate agent today and let us help you discover the perfect Easton Park home.