Aging-In-Place Remodeling: 17 Upgrades for Easier Senior Living
Posted by Texas Real Estate Source on Thursday, May 25, 2023 at 4:04:34 PM
By Texas Real Estate Source / May 25, 2023
Comment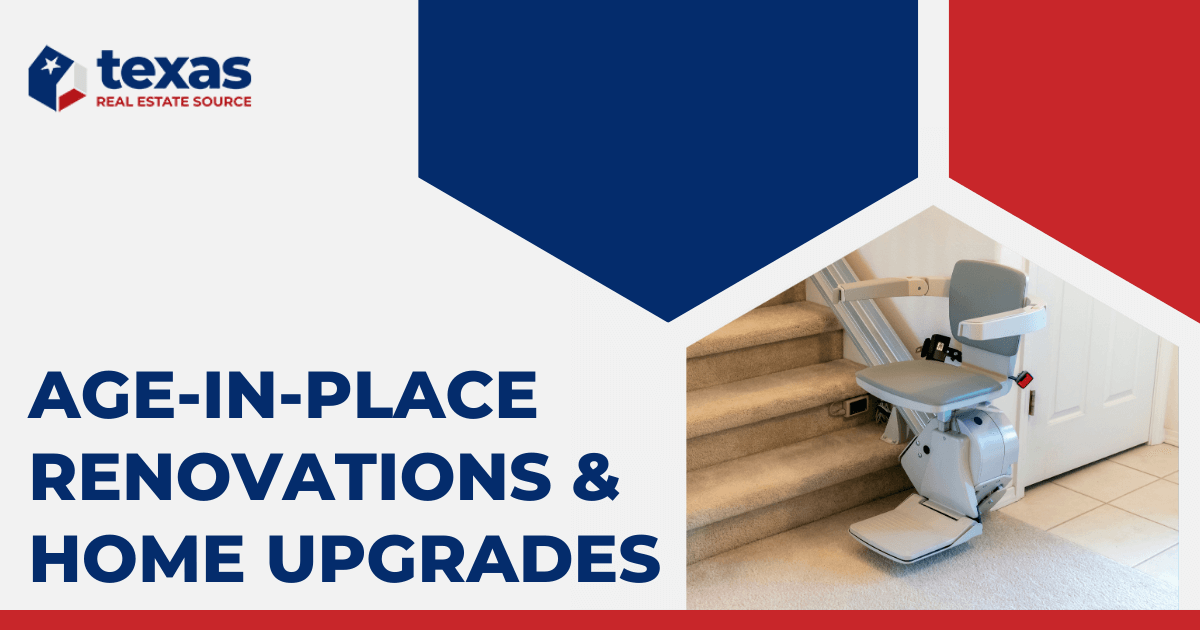 As people age, they may find it increasingly difficult to navigate their homes and complete everyday tasks. Fortunately, it's entirely possible to make changes that create a safe and comfortable living environment for older homeowners to "age in place" rather than move to an assisted living facility. Age-in-place renovations can help seniors maintain independence in their homes by making it easier for them to get around and do the things they need or want to do without having to rely on others for assistance.
Whether you're building a home, planning renovations to your current residence, or looking for homes with age-in-place features already available, age-in-place renovations are easier the sooner you get started.
Plan Age-In-Place Features Ahead of Time
Planning ahead for features to make living easier as you age can save significant time and money, so it pays to consider age-in-place features well before anyone in your household needs them to be available. The cost of retrofitting a space with these modifications can be far more expensive than including them from the start, making it essential to consider age-in-place features before building or remodeling.
Additionally, waiting until age-in-place features are needed introduces a time crunch that can impact both the quality and price of the final product. To ensure a senior's home is properly outfitted for aging in place, planning ahead is key.
By predicting what features could be beneficial down the road, homeowners save themselves future headaches and hefty costs.
Age-in-Place Additions During Construction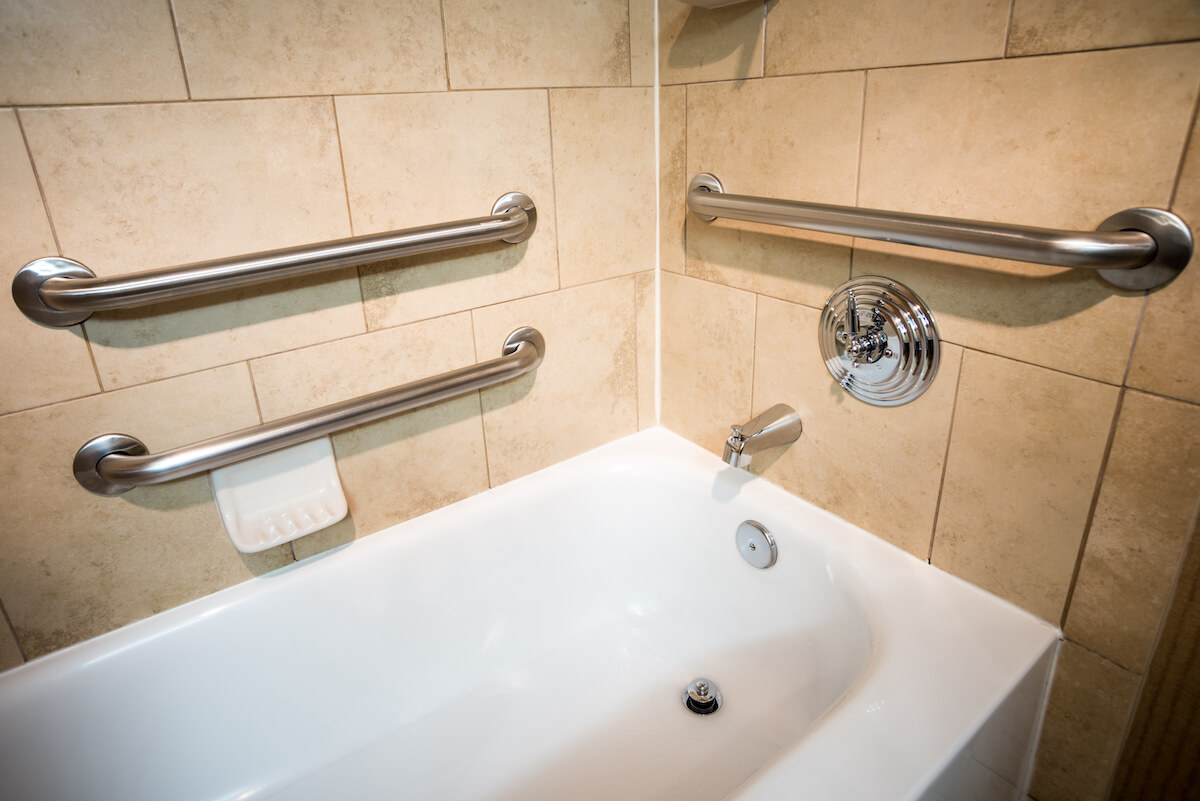 When constructing a home, it's important to consider age-in-place features. These may include the home's floor plan, entryways, and support features inside the walls. Additionally, stairs, doorways, and electrical wiring should all be taken into account. By making these features aging-friendly during construction, seniors can enjoy a more comfortable living experience while maintaining safety and home accessibility.
One-Level Living
If you're buying a home with the intention to stay for the long haul, one-level living is a great way to make sure you can do that comfortably if aging introduces mobility concerns. Ensure that all necessary rooms, such as bedrooms and full bathrooms, are located on the ground floor, with no stairs or steps involved. Ground-level master suites are ideal, but even having a ground-level home office that can be converted into a bedroom if needed is a great way to futureproof.
One-level living offers seniors the following benefits:
Increased safety by avoiding tripping hazards from stairs
Reduced physical strain of climbing stairs
Easier access to all parts of the home
Improved independence and freedom of movement
Zero-Step Entry
Creating a zero-step entry is an easy way to make sure a home is totally accessible, so homeowners or visitors using wheelchairs can roll in and out with ease.
To create a zero-step entry, the doorway should be situated at ground level with no steps or ramps required to access it. The door should also open wide enough to accommodate wheelchairs and other mobility devices, including walkers and scooters.
It's easiest to create this type of entry during the construction of the home since it allows builders to avoid having to create an intrusively obvious ramp. It's also significantly less expensive than remodeling later.
Another bonus? Rolling luggage and strollers can cross easily.
Grab Bar Blocking
When a grab bar is not securely mounted, there's a higher risk of it becoming loose or even falling off the wall. For secure grab bars, it's important to install wooden blocking in the tub, shower, and toilet areas at the appropriate height before finishing the walls. These are essentially like extra wall studs for things to be fastened to later instead of plain drywall.
To ensure stability, installing horizontal wood blocking during construction is an inexpensive and straightforward solution. The alternative is to having to take the walls apart later to install the necessary support structure or compromising with a lesser installation method with a greater risk of failing at an inopportune time.
Grab bars can be useful to people of all ages, as wet tile in bathrooms poses notorious slip hazards. If you're not installing grab bards right away, however, be sure to take measurements of exactly where the blocking is installed and take pictures before the wall is closed up to reference later.
Wide Stairs & Doorways
Increase the safety and usability of your stairs in general by opting for wider, deeper steps and shorter risers. The effect is a flatter slope with greater surface area for more stable footing.
A wider staircase is especially beneficial when it comes to age-in-place home renovations for seniors. The extra space allows two people to cross paths side-by-side, in addition to allowing room for a lift chair if needed. It also makes moving furniture easier and more efficient.
When it comes to doorways, having them at a width of 36 inches is ideal, but 32 inches should be the absolute minimum width. If you're installing 32-inch doors, save room for wider doors later by planning switches, plumbing, wiring, and other obstructions as if the wider door is already in place. If you make the switch later, you won't have the hassle of rerouting things.
Raised Outlets & Lowered Switches
How far do you have to stoop to plug something into your current wall outlets? Installing outlets at 18 inches off the floor and light switches lower than 48 inches makes them more accessible for everyone, regardless of sitting or standing. This is especially beneficial for seniors who are looking to age-in-place by completing home renovations.
Extra Lights & Dimmer Switches
Add extra lights and use dimmer switches to turn down the brightness rather than going with the bare minimum for your lighting. Wiring your home to support lights in more places can help everyone, regardless of age or ability, have improved control over their lighting and boost safety in their living space.
LED lights also last longer than traditional bulbs, reducing the need for frequent bulb changes, which may be difficult for a senior with limited mobility. Dimmer switches can create a range of light levels, from bright task lighting to soft ambient light, allowing individuals to customize their living environment as desired.
Lights & Outlets Near Stairs
Any stairway with more than six steps is required to have a light switch at both the top and bottom for safety reasons—fumbling in the dark creates an exponentially higher risk of tripping and falling. However, electrical outlets at the top and bottom of the stairs are also useful. Residential stair lifts can use these outlets without tracking cables or extension cords in inconvenient locations. (It's also convenient for plugging in a vacuum cleaner.)
Motion-activated lights in stairways add an additional level of convenience, especially when your hands are full or you don't want to fumble for a switch in the dark.
Age-in-Place Upgrades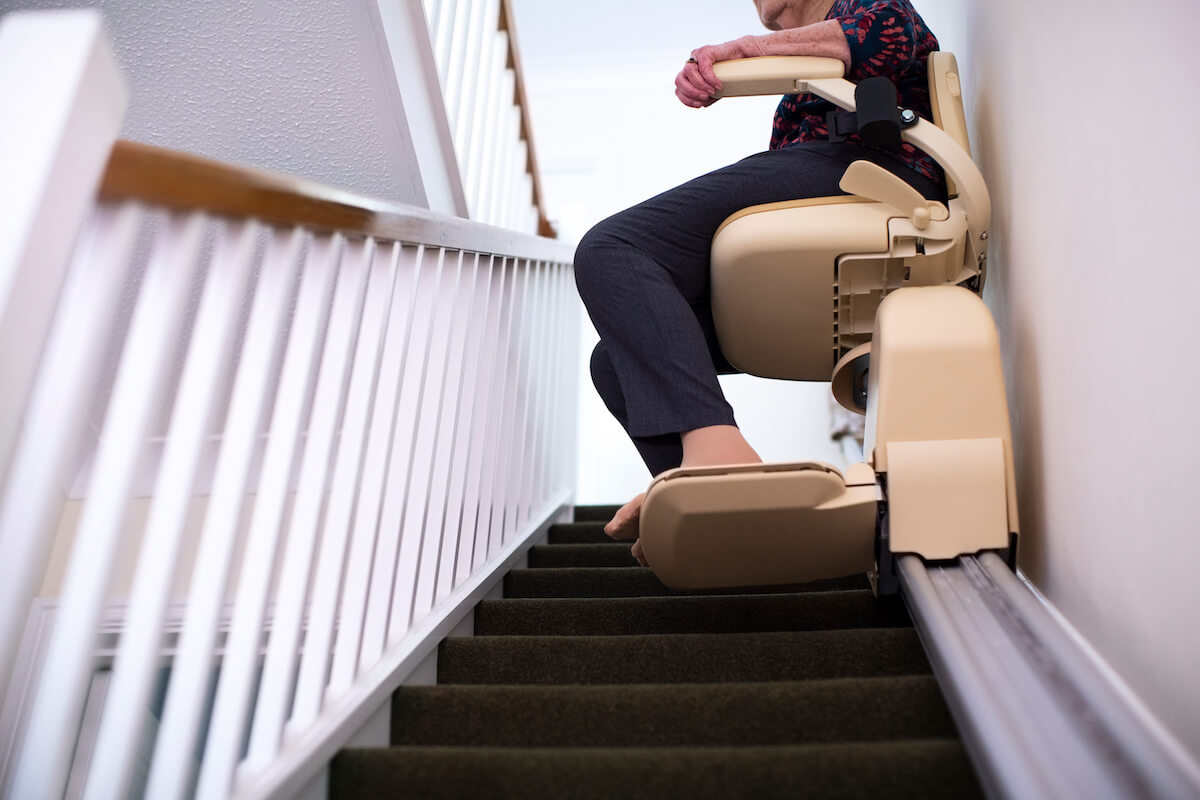 Making aging-friendly upgrades to existing homes has become increasingly popular—not surprising, since surveys show that around 75% of homeowners over 50 want to age in place. These upgrades can make a home safer and more comfortable for seniors, and many can be implemented without requiring structural renovations like the projects listed above.
For example, switching out existing hardware for aging-friendly light switches and fixture handles, adding double stair handrails, upgrading to a zero-threshold shower, choosing universal-design appliances, and even changing which way doors open can all contribute to a more age-friendly home.
By making these modifications to an existing home, seniors can remain independent while still having the security of being in familiar surroundings.
Aging-Friendly Light Switches & Handles
Choose light switches and handles that are easy to operate—ADA guidelines are a great place to start. Paddle-style switches are preferable to traditional toggle switches for seniors because they can be controlled with less force and precision required. Both types of switches also come in locator variants, which have a soft red glow when in the off position to help you locate them in the dark.
When selecting door knobs, cabinet hardware, and plumbing fixtures, look for designs that don't require excessive pinching, twisting, or force. It's also important to consider whether the item can be used by someone with limited hand or arm mobility.
An easy hardware change to make is to opt for 'D' shaped pulls or handles on cabinets. These items are available at most hardware stores and home improvement outlets.
Double Stair Handrails & Stair Lifts
Installing handrails on both sides of staircases is an essential way to help those who may be more unsteady on their feet. This can be especially important for elderly individuals, who are often more prone to age-related conditions such as injury or illness that can cause instability and balance issues.
Double stair handrails ensure that seniors have the extra support they need when navigating stairs in order to age in place safely and confidently. Another option, particularly if you already have an electrical outlet near the stairs, is to install a stair lift. These motorized systems allow those with mobility issues to bypass the stairs entirely by riding the lift along rails set alongside the staircase. Straight stair lifts typically cost between $2,500 and $6,000, while stair lifts for curved stairs are more expensive.
Change Which Way the Door Opens
Consider changing the way your door opens to make it easier for those with mobility issues. When using a wheelchair or other mobility aid, having a bathroom door that swings inward rather than outward can be a greater hassle than you might think in terms of having the space needed to maneuver.
In addition, pocket doors are great for many smaller spaces and require less floor space than traditional doors. This makes them ideal for bathrooms that are already tight on space.
Curbless Shower
Just like a zero-entry front door, removing the step-over curb and installing a zero-step shower space can create a more accessible, safer space for everyone. This renovation provides easier entry into the shower area with one less trip hazard. Zero-threshold showers are also increasingly popular with homeowners of all ages for their sleek and often luxurious appearance.
Additionally, this type of design is suitable for wheelchair users as it can be modified into a fully accessible shower with either seated transfers or roll-in capability. A curbless shower is an ideal choice for seniors who want to age in place and enjoy their independence while ensuring safety and convenience. An alternative to having seating inside the shower area is installing a walk-in tub, which has similar low-threshold features.
Appliances with Universal Design
Outfitting your kitchen with appliances designed for universal use encourages the idea of accessibility for all abilities and ages, so you don't need to worry about whether or not you'll be able to use the appliance. This type of design takes into account usability features like clear information displays, intuitive functions, and easy-to-reach controls.
For example, stoves should be positioned in a way that minimizes reaching over hot burners to adjust settings. Additionally, microwaves should never be placed above the range, as this makes them more difficult to access. Other universal appliances, such as refrigerators, dishwashers, and ovens, are available in variations that can be used either sitting or standing.
By considering these types of details during renovations, homeowners can ensure they'll be able to comfortably stay in their homes after retirement.
Creating the Perfect Forever Home
Aging in place can be a great way to ensure seniors maintain their independence and quality of life in the comfort of their homes. By planning ahead, they can ensure their home is equipped with all the features necessary to make aging easier.
From installing aging-friendly appliances and adding extra safety features to widening doorways for wheelchair access, these age-in-place modifications provide peace of mind and practicality for seniors everywhere.
With thoughtful renovations, seniors can stay safe, secure, and comfortable while living out their golden years at home.
Ready to live your best life in Texas? Call The RealFX Group at (512) 956-7390 to contact an experienced local real estate agent who can help you discover the Texas home of your dreams.