7 Best Houston Family Vacations: Top Day Trips & Weekend Family Getaways Near Houston
Posted by Texas Real Estate Source on Thursday, August 10, 2023 at 1:30 PM
By Texas Real Estate Source / August 10, 2023
Comment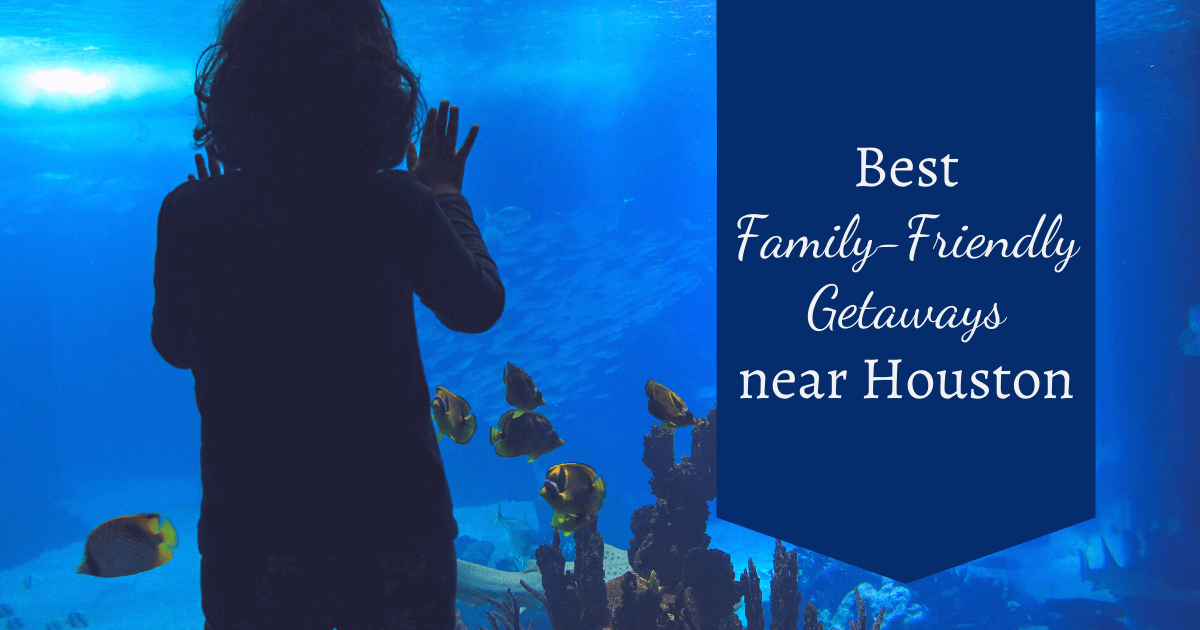 Native Houstonians know the perks of living in a growing metropolitan area in Texas. Recent studies name the city of Houston as one of the world's greatest places, and it's even been described as one of the best American cities of the future. Still, even H-town dwellers need some time away to stretch their horizons, change up the view, and practice the tradition of road-tripping somewhere new.
If you're in need of a great family vacation destination near Houston, there are plenty of family-friendly getaways nearby, and even the ones that are a bit more of a drive are worth the time. Fill up your gas tank and discover the best weekend trips from Houston for families.
Kemah, TX
One of the best family vacations near Houston for a fun day trip is the city of Kemah. Kemah is a 40-minute drive from Houston, traveling southeast of the city's epicenter. Vacationers can take Interstate 45 South, and once there, look for a couple of popular attractions: Kemah Boardwalk and Space Center Houston.
Kemah Boardwalk
The Kemah Boardwalk is an amusement park stuffed to bursting with fun rides, retail stores, restaurants, and occasionally music and dance festivals, all traversable by a boardwalk looking out over Galveston Bay. Visitors who want to stay overnight to enjoy the Ferris Wheel, roller coasters, and many shopping and dining options can book a hotel on the boardwalk called the Kemah Boardwalk Inn. Visitors can also book a dinner or leisure cruise on FantaSea Yacht.
Space Center Houston
This nonprofit museum is suitable for all future astronauts. Space Center Houston has exhibits like the Falcon 9 Rocket Exhibition and the Starship and Astronaut Galleries, where real astronauts' suits are displayed. Visitors to the Space Center can enter a replica NASA space shuttle carrier. Trace human evolution and our attempts to move through space in one fun-filled afternoon.
New Braunfels, TX
When you're looking for the perfect family getaway to have fun outdoors, travel to the Comal River or the Schlitterbahn Water Park in the Texas Hill Country—specifically, New Braunfels. Cold springs run through the town, and river tubing is a favorite local sport. To get there from Houston, you'll take Interstate 10 West for just under three hours.
Tubing on the Comal
Along with German-inspired heritage in the town's center, quirky shops, and beer gardens, there's family fun to be had along the world's shortest river (it's only 2 miles in length).
Try horseback riding along the river's banks, or set up an inner-tubing tour. A good "float" can be had in three hours. There are games and food areas set up by vendors and many places along the river to start floating. 512 E San Antonio Street is a good departure point.
The Schlitterbahn Water Park
With rides, cabanas, events, shopping, and a massive water park, the whole family is sure to enjoy Schlitterbahn. This New Braunfels resort destination includes rides like:
The Dragon Waterslide
Bamboozle Bay Heated Pool
Blastenhoff Beach
Boogie Bahn Surfing Ride
Cliffhanger Tube Shoot
Double Loop Body Slides
Many more
Visitors can also enjoy restaurants, bars, and shaded areas when the Texas heat grows too intense.
Corpus Christi, TX
Kid-friendly activities abound in Corpus Christi, Texas, a 3.5-hour drive from Houston's center—just the right distance for a long weekend getaway. Corpus Christi is bursting with family activities, like a full-sized aquarium, hike and bike trails, beaches, hockey games, and more. To get to Corpus Christi from Houston, travelers can take 59 Southwest.
Rockport Beach
With just a $5 daily admission, families can visit Rockport Beach. It's one of the cleanest beaches in Texas, on a peninsula jutting out from Rockport Harbor. This distinguished "blue wave beach" meets strict environmental standards, and there's a full mile of it to picnic, dip in the ocean, and build sandcastles on all day long. Families looking for a beach vacation couldn't ask for better.
The Texas State Aquarium
More than 360 ocean-dwelling species are on display at the Corpus Christi Aquarium, highlighting ocean life from the Caribbean and Gulf of Mexico. Take the kids to spend the day watching dolphins, sea urchins, lizards, birds, fish, and more. With the addition of the Yucatan experience, visitors can explore the coastal jungles and coral reefs of the Sian Ka'an Biosphere Reserve. Tickets range from free for kids two and under, $28.95 for kids three to twelve, and $38.95 for people 13 and older.
Schanen Hike & Bike Trails
If visitors to Corpus Christi want to stay active, hike and bike trails from Yorktown to Saratoga Boulevard connect four different parks: Snead, Whales, Cedar Ridge, and Brackenridge.
Corpus Christi Icerays Hockey Games
A trip to Corpus wouldn't be complete without an Icerays hockey game. Part of the North American Hockey League, the Icerays play games throughout the season from October through April.
Galveston, TX
Of course, we could hardly include Corpus Christi without including the other major city on the Texas coast: the city of Galveston, roughly an hour southeast of Houston. Activities include a theme park, beaches, kayaking, an aquarium, a water park, and visiting one of the best state parks near Houston.
Galveston Island Historic Pleasure Pier
There's a reason this is a favorite family travel destination! Enjoy rides ranging from twirling teacups to the Iron Shark rollercoaster. Win a prize at the Midway games. Grab a bite to eat at the famous Bubba Gump Shrimp Co. and snag a trinket at one of the shops on the pier. There's a whole lot to do at this oceanfront amusement park.
Moody Gardens
It not only has a world-famous aquarium, it has a rainforest zoo, 3D and 4D theater experiences, the Discovery Museum, day cruises on a paddlewheel boat, a golf course, a ropes course and zip line, swimming pools, a spa, and seasonal events throughout the year. Oh, and it's a hotel, too. You'll need to make this a weekend family getaway just to have time to experience everything under Moody Gardens' iconic glass pyramids.
Galveston Island State Park
No trip to Galveston would be complete without a trip to the beach. Get your fun in the sun across miles of beaches. Go camping or rent a lodge and stargaze. Fish from a kayak, explore miles of trails, or do both on one of the paddle trails. Attend a ranger talk to make this family beach trip not only fun, but educational.
Dallas, TX
The city of Dallas, a 3.5-hour drive from Houston, is a family getaway that's well worth the trip. With a world-renowned arboretum bursting with plants and lush trees to the Historic McKinney Trolley, The Ross Perot Science Museum, Klyde Warren Park in the middle of the Arts District in Downtown, and much more, there are plenty of things to fill a long weekend with fun in the Big D.
To get to Dallas from Houston, visitors can take Interstate 45 North for approximately 240 miles.
The Dallas Arboretum
With 66 acres of land to stroll, the Dallas Arboretum and Botanical Gardens thrill the senses with color and variety. Rolling green hills, tasteful garden sculptures, a view of White Rock Lake, and massive Magnolia trees are just a start. It's been named one of the South's best botanical gardens by Southern Living Magazine, and Martha Stewart says it's one of the best gardens she's ever visited.
McKinney Ave. Trolley Rides
The M-line trolley offers historical trolley rides along the restaurant and shopping center packed McKinney Avenue adjacent to downtown Dallas. Visitors should try stopping at Breadwinners Cafe for breakfast along the trolley line. It has one of the best pastry cases in all of Texas. Just call ahead for reservations, as there can be an hour-long wait.
Perot Museum of Nature and Science
The Perot Museum of Nature and Science, built by famous Texan and former politician Ross Perot, is a delight for families visiting Dallas. This makes for a great family vacation spot—kids can learn about engineering, energy, Earth history, gems, dinosaurs, and more. Exhibits are available year-round.
Klyde Warren Park
For Houston families with art aficionados, Klyde Warren Park is the perfect respite in the center of the Arts District in downtown Dallas, bridging downtown and uptown, adjacent to Will Rogers Highway.With playgrounds, green space, a restaurant, yoga classes, water fountains, and year-round festivals, it offers families a great way to spend the afternoon and run off some energy after touring the Crow Museum of Asian Art or the Nasher Sculpture Garden. The park often has some great food trucks lining its periphery.
The Woodlands Resort, TX
Three hundred and fifty lush acres of greenspace and golf await when you visit The Woodlands Resort in The Woodlands community. This is one of the best family getaways near Houston, and one of the closest, too. It's just 33 miles from Houston's center on Interstate 45 North, and it's ideal for any type of weekend away from home—even a girls' getaway.
There's a year-round water park with pools, water slides, and a 1,005-foot lazy river. If visitors prefer while the kids are playing at the water park, or they even want to teach their kids how to love the green too, there are lessons offered among manicured greens in a pine forest by a top-100 GOLF Magazine instructor.
There are three different restaurants to appeal to the foodies, ranging from a stylish bar to an outdoor cafe. The rooms are appointed with views of the pines, and spacious suites can accommodate the whole family.
Jellystone Park in Waller, TX
Families can camp their hearts out at Jellystone Park, located in the city of Waller, TX, 51 minutes away from Houston via US 290 W. Visitors have numerous camping options ranging from tent site rentals, premium RV pull-through site rentals, or even cabin rentals.
Jellystone is packed with activities the whole family can enjoy. Attractions include a year-round water park with splash pads, a lazy river, multiple pools and slides, paddleboats, and a fishing lake. Travelers can also enjoy mini-golf, gem mining, video arcades, arts and crafts, hayrides, outdoor sports like basketball and volleyball, and a bark park.
The park has ample restrooms situated around the acreage, three air-conditioned comfort stations, an outdoor stage where visitors can plan performances, a rec hall, laundry facilities, and an outdoor movie theatre where popular films are screened.
Jellystone Park also offers golf carts, linens, pergolas, and pool cabanas that visitors can rent. Visitors can stay with numerous options, but the luxury RV sites are a big draw for travelers from all over the country, and it's one of the best places to take your RV in the Houston area.
Enjoy a Perfect Family Vacation Near Houston
While there are plenty of things to do in Houston, its proximity to nearby Texas towns makes road trips fun, easy, and a great way to build family memories. Depending on the time families have to drive, visitors to these nearby family vacation spots can schedule a day on the road or plan a weekend getaway to take advantage of all the amenities available in each city. Texas cities have their own flavor, and there's no better way to learn about them than experiencing what they have to offer in person.