50+ Best Things to Do in Houston, Texas: Popular Houston Attractions & Activities
Posted by Texas Real Estate Source on Thursday, August 10, 2023 at 4:30 PM
By Texas Real Estate Source / August 10, 2023
Comment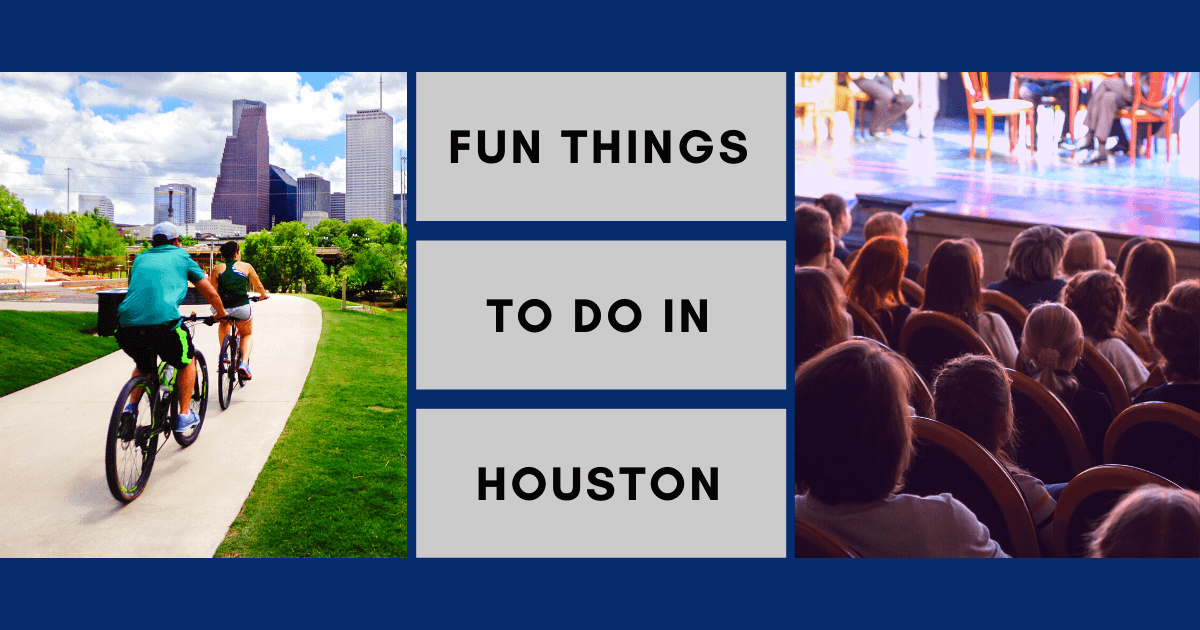 There are so many fun things to do in Houston that it seems like the city is bursting at the seams—that would certainly explain why it's the biggest city in Texas. However, there's just so much stuff to do in Houston that it can be difficult to know where to start.
A few unique things to do in Houston are hinted at by its nicknames, like "Bayou City" and "Space City." Other Houston attractions are common but are so good as to be world-famous, like its museums, parks, and food scene. Even if you want to get out of the city for a bit, homes in Houston are only an hour from Galveston Island and a whole host of other vacation destinations, so there's no end to things to do near Houston.
If you're looking to hit the highlights of the best Houston activities, here are a few great places to start.
Houston Outdoor Adventures
Houston has plenty of outdoor adventures to offer. Some of the best spots to enjoy nature are the city's many parks, which offer hiking and biking trails, as well as lakes for fishing and swimming. In addition to its parks, Houston is home to numerous beautiful bayous and creeks that provide excellent kayaking, canoeing, and tubing opportunities.
Parks
Popular Houston Parks
Hermann Park
Buffalo Bayou Park
Memorial Park
Brazos Bend State Park
Some of Houston's best parks include Buffalo Bayou Park, Memorial Park, and Brazos Bend State Park. And, of course, Hermann Park is one of the most popular places to visit in Houston.
Buffalo Bayou Park is located along the banks of Buffalo Bayou and offers amenities like a skate park, picnic area, hiking and biking trails, and a playground. Memorial Park has many sports options, from baseball and softball fields to an 18-hole golf course to a three-mile track for running and more. Brazos Bend State Park is about one hour southwest of Houston in the city of Needville, offering camping, fishing, and nature hikes.
Hermann Park is in a class of its own, containing iconic places in Houston like McGovern Lake's island, the Houston Zoo, and the Pioneer Memorial Obelisk in front of the reflection pool. Wander through the tranquility of the Japanese Garden, ride the Hermann Park Railroad's miniature train, or play a round on the Hermann Park Golf Course. Other attractions in this famous Houston park include the Miller Outdoor Theater, the McGovern Centennial Gardens, and the Sam Houston statue.
Residents can also find numerous other parks scattered throughout the city.
Water Recreation
Houston Water Recreation Options
Armand Bayou tours
Buffalo Bayou tours
Sylvan Beach Park
Galveston Beach
Hurricane Harbor Splashtown
Typhoon Texas
Houston's waterways offer a variety of opportunities for water recreation, from tours to beaches to waterparks.
A couple of top waterway tours options include Armand Bayou and Buffalo Bayou. Both offer beautiful wildlife views, though Buffalo Bayou also takes explorers near the downtown skyline. For those who want a little more freedom, there are plenty of beaches in the Houston area to explore. Sylvan Beach Park offers a fishing pier and a few sandy spots, while Galveston Beach has 32 miles of coastline.
Houston residents also enjoy proximity to numerous waterparks, including Hurricane Harbor Splashtown in nearby Spring and Typhoon Texas in Katy.
Hiking & Biking Trails
Popular Houston Trails
White Oak Bayou Trail
Buffalo Bayou Trail
Memorial Park trails
Houston has many great hiking and biking trails. The White Oak Bayou Trail, Buffalo Bayou Trail, and Memorial Park trails are the most popular. All of these trails are well-maintained and offer beautiful views of Houston's bayous.
The nearly 17-mile White Oak Bayou Trail runs along the bayou of the same name. Apart from some overpasses, it's a quiet and paved trail to enjoy nature. Similarly, the Buffalo Bayou trail stretches for 15 miles and goes through parks, forests, and waterways to offer different views. Memorial Park provides multiple trails, including the Seymour Lieberman with its workout track and other options for cyclists in particular.
Between the trails, water, and parks, Houstonians have no shortage of ways to appreciate the nature around their city.
Houston Shopping
Houston Shopping Destinations
The Galleria
Memorial City Mall
Uptown Park
River Oaks Shopping Center
Houston Premium Outlets
Houston is home to a large number of shopping destinations. The Galleria, Memorial City Mall, and Uptown Park are some of the most popular shopping areas in the city. These malls offer a wide variety of stores and restaurants, and they are all located relatively close to each other.
The Galleria is the largest mall in Texas. It features hundreds of stores, including Saks Fifth Avenue, GAP, Ann Taylor, and Nordstrom. In addition to shopping, the Galleria offers dining options and an indoor ice skating rink.
The Memorial City Mall is a popular shopping center located a few miles west of Houston. It is home to dozens of shops, including an American Girl store, Old Navy, Target, and Michael Kors. The mall also has a Cinemark theater.
One of the other options for shoppers is Uptown Park. This shopping center has fountains, statues, and walkways to peruse during shopping. Many upscale boutiques are in the center, plus spas, jewelers, florists, and more.
Other shopping destinations in Houston include the River Oaks Shopping Center and the Houston Premium Outlets. Shoppers can also visit Sawyer Yards to support local artists, and there are numerous other boutiques throughout the city.
Houston Sports
Sports fans will be happy to find themselves in Houston. The city boasts six professional teams and collegiate teams in numerous sports and a nearby minor league baseball team.
Sports Teams
Houston Pro Sports Teams
Texans
Astros
Dynamo
Dash
Rockets
SaberCats
Houston is home to the Texans (National Football League), Astros (Major League Baseball), Dynamo (Major League Soccer), Dash (National Women's Soccer League), Rockets (National Basketball Association), and SaberCats (Major League Rugby). Just outside of Houston is the Astros' Triple-A affiliate Sugar Land Space Cowboys (formerly Skeeters).
Local colleges with NCAA sports teams include the Houston Cougars, Rice University Owls, Houston Baptist University Huskies, and Texas Southern University Tigers. Universities have sports ranging from football, basketball, and baseball to track and field.
Stadiums
Houston Sports Stadiums
PNC Stadium
Minute Maid Park
Toyota Center
AVEVA Stadium
NRG Stadium
There's a trio of stadiums in the heart of downtown Houston. PNC Stadium (Dynamo and Dash), Minute Maid Park (Astros), and the Toyota Center (Rockets) are just across the Eastex Freeway from each other. The SaberCats play at AVEVA Stadium, adjacent to the Houston Sports Park athletic complex south of the city. The Texans' home — NRG Stadium — is located on Kirby Drive next to the historic Astrodome.
Other stadiums in the city include Rice University's football stadium and Houston Baptist University's Husky Stadium.
With plentiful college and professional sports teams to enjoy, the Houston sports fan will always have a team to cheer for. The stadiums spread out across the city allow anyone to catch a game or tailgate with some fellow fans for a good time.
Houston Restaurants
Popular Houston Restaurants
Hobbit Cafe
Christie's Seafood & Steaks
Feges
Houston's proximity to the Gulf Coast means seafood is popular, but it's also in Texas, which means there are plenty of spots to enjoy some barbecue or TexMex.
Anyone looking for some vegan options should check out Hobbit Cafe. The menu is much larger than its namesake, from sandwiches (many with Middle Earth-related names!) to burgers and salads. It even features an outdoor deck beneath a large oak tree to enjoy a drink.
Seafood lovers will want to stop by Christie's Seafood & Steaks, a place that's been around for over 100 years. The lighthouse on top of the current building makes it easy to find, and visitors won't be disappointed by the platters of shrimp, oysters, and more. Its famous fish sandwich has been on its menu since 1917.
For barbecue, Feges is an excellent choice. It has a few salads, but most of its menu includes meats from pork ribs to brisket. Sandwiches, nachos, and baked potatoes offer more options for enjoying the BBQ. The restaurant also allows guests to buy in bulk.
Arts & Culture in Houston
Houston is a city that is rich in both arts and culture. Many museums and theaters offer various experiences to enjoy. The city's museums are spread across four zones around downtown, while many of the performing arts are in the Theater District.
Museums
Houston Museums
Children's Museum of Houston
Houston Museum of Natural Science
Space Center Houston
Contemporary Arts Museum Houston
The Menil Collection
Houston Center for Photography
Houston Museum of African American Culture
The Museum of Fine Arts Houston
And more!
You can't talk about culture in Houston without mentioning the Houston Museum District. There are a whopping 19 museums within walking distance of each other—and many of them are free.
The Children's Museum of Houston is perfect for kids, teaching everything from math and science to art in entertaining ways. Exhibits include a puzzle-filled spy experience, the fully kid-run city of Kidtropolis, and one inspired by the PBS Kids show Cyberchase.
The Houston Museum of Natural Science is located on the north end of Hermann Park and offers something for everyone. Home to 17 permanent exhibits ranging from Egyptian artifacts to Texas wildlife, other sights include the Cullen Hall of Gems and Minerals and the Morian Hall of Paleontology.
Space Center Houston, located southeast of the city by Clear Lake, is the official visitor center of NASA's Johnson Space Center, offering exhibits and attractions related to space exploration. Some exhibitions include a tour of the Johnson Space Center, a look at flown spacecraft, and a collection of spacesuits.
You can also find some off-the-wall museums in Houston. Take the Art Car Museum, for example—it has many fantastic contemporary art exhibits, almost all of which take a vehicular form.
Dance & Theatre
Houston Dance & Theatre Options
Jones Hall for the Performing Arts
Wortham Theater Center
Hobby Center for the Performing Arts
Miller Outdoor Theatre
The Theater District covers 17 blocks downtown and has almost 13,000 total seats. Facilities include the Jones Hall for the Performing Arts, Wortham Theater Center, and the Hobby Center for the Performing Arts. The Hobby Center has two halls: Sarofim, the larger of the two, and Zilkha. Like many performing arts centers, the Hobby Center features performances from live music to musicals to other shows.
One famous theatre outside the Theater District is Miller Outdoor Theatre, located in Hermann Park. The Outdoor Theatre allows attendees to enjoy events for eight months out of the year without paying a dime. The theatre has a range of performances from classical music and jazz to Shakespeare and musicals to dance.
Thanks to the plentiful options of dance, theatre, and museums, Houston residents always have opportunities for both entertainment and education. Much of it is right in the heart of the city, meaning they don't have to travel far.
Houston Nightlife
Houston Nightlife Destinations
"Secret bars"
Axelrad Beer Garden
Stampede Houston
Washington Avenue
Montrose
Those looking for fun things to do in Houston for adults have plenty of options, including some "secret bars" that have the thrill of being hidden away from all but those in the know. However, there are just as many "public" options to enjoy.
For some live music and a good drink, head to Axelrad Beer Garden. The place offers a lot of outdoor seating, including hammocks. It's next to Luigi's Pizzeria, and Axelrad welcomes people to enjoy the pizza in their garden. Axelrad's menu includes beer, wine, cocktails, and non-alcoholic options.
People can have a Texan nightclub experience at Stampede Houston, a country bar featuring a dance floor, live music, and even a mechanical bull. Visitors can make their own music with karaoke nights, and they can get a friendly competition going at a pool table. The place even offers free dance lessons on Friday nights.
For nightlife in general, there are multiple places to go for some iconic Houston entertainment. Washington Avenue is one of the most densely packed streets for bar-hopping, and it stretches all the way from downtown to Memorial Park. (Don't worry—there are plenty of bus stops to get you home.) Explore some of the best bars in Houston, including the retro HandleBar, the Porch Swing Pub, and MAX's Wine Dive.
Montrose is another popular place to go in Houston for a night out, with a lot of the action happening along Westheimer Road. Restaurants abound with every type of cuisine, from Vietnamese to vegan to Voodoo Doughnuts. Popular venues include AvantGarden, which has dancing and live music in a historic building, the Anvil cocktail bar, and The Burger Joint, which serves gourmet burgers, fancy shakes, and booze.
Discover Your Favorite Fun Activities in Houston
You'll never have to ask yourself what to do in Houston, Texas, for long. Houston is a city offering something for everyone—and we really mean everyone. Outdoor activities? Great restaurants and nightlife? Shopping, culture, theater? Niche museums and hole-in-the-wall cafés right alongside major tourist attractions and iconic places to visit? You bet. No matter which attraction sounds the most interesting, it's easy to fill up your weekend calendar with things to do and places to go in Houston.