Get Away for The Weekend with These 6 Quick Trips From Houston
Posted by Texas Real Estate Source on Tuesday, January 3, 2023 at 2:43 PM
By Texas Real Estate Source / January 3, 2023
Comment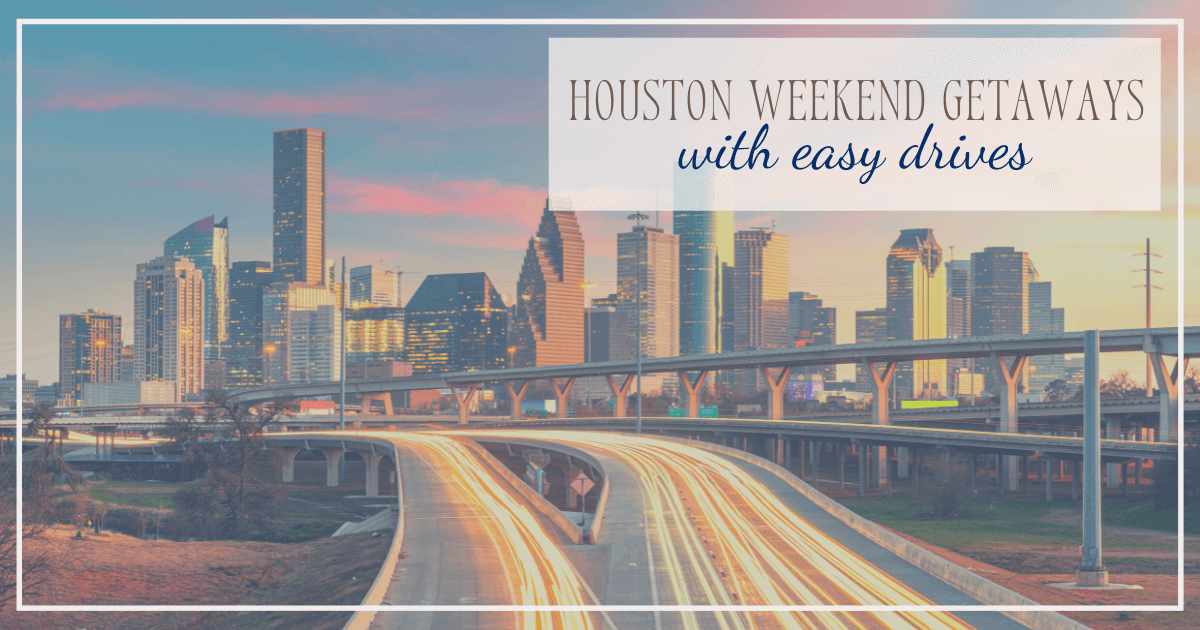 The city of Houston is known for its waterways, space ties, and great amenities like parks and arts destinations. Yes, there are many things to do in Houston, but sometimes residents want to explore new areas and make new memories. From nearby beaches and nature areas to other cities, read on to learn about the best weekend getaways near Houston with an easy drive.
Galveston
The sea calls travelers to the Galveston community to experience the slower pace of island life. Visitors are invited to simply sit on the beach or seawall and enjoy the ocean breeze or partake in everything else the island offers. Moody Gardens is a must-see site, its three pyramids welcoming visitors to the island. Explore the ocean's depths in the Aquarium Pyramid, view exotic plants and animals in the Rainforest Pyramid, and learn something new in the Discovery Pyramid.
There are some unique museums in Galveston, like Pirates! Legends of the Gulf Coast, where visitors can learn about the island's connection to the history of pirates, and the Texas Seaport Museum, where guests can explore the decks of the 1877 tall ship ELISSA. For dining, fun, and games on the water, visit Galveston Island Historic Pleasure Pier. Galveston is approximately 55 miles southeast of Houston, and it's a quick one-hour drive, with no traffic, via Interstate 45. Take one of Houston's most scenic drives to visit Galveston and unwind on island time.
Where to Stay in Galveston
Enjoy some island hospitality at one of these lodging options.
Hilton Galveston Island Resort sits on Seawall Boulevard, steps away from the sandy beach and 10 minutes away from great sites.
Sand 'N Sea Properties has amazing West End vacation rentals that are beachside, bayfront, or on the canal.
Avenue O Bed and Breakfast is a historic inn four blocks from the beach and the Pleasure Pier.
Caddo Lake State Park
Caddo Lake State Park is a dream site for nature lovers and photographers. The bayou winds through ancient bald cypress trees covered in Spanish moss. Visitors can kayak along the waterways, go on an early morning fishing trip, hike the forest trails, hunt for a geocache, rent a historic cabin, or camp in one of their 45 campsites. There is an abundance of wildlife to observe, including fish, turtles, minks, raccoons, beavers, armadillos, and deer. Alligators also live in the park, so please read the safety rules before exploring the area.
Caddo Lake State Park is approximately 230 miles northeast of Houston, and it's a pleasant four-hour drive, with no traffic, via Highway 59. Visit the 26,810-acre lake and experience this Texas treasure.
Where to Stay Near Caddo Lake State Park
Experience more of the area's history and culture in one of these comfortable locations.
The historic Kahn Hotel, a fine establishment in downtown Jefferson, is one of the top 10 most haunted hotels in Texas.
On the shore of Caddo Lake in Uncertain, Hodge Podge Cottages provides 10 different comfortable and unique cottages.
White Oak Manor Bed & Breakfast in Jefferson offers southern charm and hospitality.
Austin
The capital city of Austin is unlike any other in Texas. Visitors can dine on the best barbecue in Texas for lunch, tour the Texas Governor's Mansion in the afternoon, observe the flight of over one million Mexican free-tailed bats at sunset, and dance late into the night at a honky-tonk. Austin, named the live music capital of the world, has over 250 music venues with tunes for every taste. There is also a vibrant art and culture scene, with impressive galleries and unique museums, like the Museum of the Weird.
Visitors can spend an entire weekend exploring all of these places or mix it up and enjoy the great outdoors at beautiful spots like Lake Travis, Barton Springs, and Lady Bird Park. Austin is 165 miles northwest of Houston, and it's an easy three-hour drive, with no traffic, following Interstate 10 and Highway 71. Visit Austin and discover the best of Texas.
Where to Stay in Austin
These standout hotels are the perfect place to chill at the end of a fun day deep in the heart of Austin.
East Austin Hotel is a European-inspired, locally owned boutique hotel with a rooftop bar five blocks from downtown.
The historic Austin Motel is in the South Congress neighborhood and surrounded by some of the best sights in the city.
Hotel San Jose is an urban bungalow-style hotel with lush gardens that serve as a gathering place for locals and visitors.
Sam Houston National Forest
Sam Houston National Forest, with over 163,000 acres, is an ideal destination for those who love outdoor adventure. There are wide-open skies, towering pine trees, rippling water, and flourishing wildlife. There are many ways to explore and enjoy the park. Visitors can take a hike on the 128-mile Lone Star Hiking Trail, fish for bass and catfish on Lake Conroe, go horseback riding on a wilderness trail, photograph endangered bald eagles and red-cockaded woodpeckers, or camp in one of the recreation areas.
Sam Houston National Forest is approximately 60 miles north of Houston and is an easy one-hour drive, with no traffic, via Interstate 45. Head to Sam Houston National Forest, breathe in the fresh air, and enjoy an outdoor adventure.
Where to Stay Near Sam Houston National Forest
Camping is popular at Sam Houston National Forest, but it is not the only lodging option in the area.
The Historic Hill House in Willis offers guests a one-of-a-kind experience of staying in one of the few homes in Texas built in the 19th century.
Gibbs Street Manor, in New Waverly, is a historic bed & breakfast that provides guests with peace and tranquility in their luxurious rooms.
Bethy Creek, in Lake Livingston, offers stunning lakeside views for guests who stay in their charming and spacious cabins.
Brenham
Brenham is a beautiful city with an incredible history. Blue Bell Ice Cream, founded in Brenham, has been helping keep Texans cool since 1907. Visitors are invited to enjoy a scoop (or two) at the ice cream parlor inside the creamery. Baylor University opened in Brenham in 1845 and operated there for 41 years before moving to Waco. Visitors can view two structures from the original university while wandering through beautiful bluebonnets at Old Baylor Park at Windmill Hill.
Brenham is also home to some fascinating museums. Brenham Fire Company Number 1 Fire Museum houses one of the three remaining 1923 American LaFrance Type 38 fire engines, known as "Samanthe." The Texas Cotton Gin Museum is home to the 1914 Burton Farmers Gin, the oldest operating cotton gin in America. Brenham is approximately 75 miles northwest of Houston and is an easy one-hour drive, with no traffic, via Highway 290. Visit Brenham and learn more about the amazing history of Texas.
Where to Stay in Brenham
Experience more of Brenham's history and culture in one of these lovely locations.
The Ant Street Inn in downtown Brenham is a Texas-registered historic landmark and has 15 stunning guest suites furnished with antiques.
Far View Bed & Breakfast Estate, also registered as a Texas historic landmark, is a two-acre retreat designed for comfort and relaxation.
Southern Rose Ranch Bed & Breakfast is a beautiful guest house with two suites and an outdoor spa on a storybook Texas ranch in Chapel Hill.
College Station
College Station's claim to fame is Texas A&M University, but there is much more to this fun college town. There are wonderful museums to indulge the most demanding tastes, including Forsyth Galleries at TAMU and the George H.W. Bush Presidential Library & Museum. There are beautiful outdoor spaces, like The Gardens and Research Park. Visitors can relax with a glass of Texas wine at Perrine Winery and Peach Creek Vineyards or get a bottle to go to enjoy at a DIY painting event at Painting with a Twist or Board & Brush.
There are also some picture-perfect spots around town for fun selfies or memory-worthy family photos, like the Howdy from Aggieland mural in Century Square, Bottlecap Alley in the Northgate District, or the Texas Flag Book Wall inside the George Hotel. College Station is approximately 95 miles northwest of Houston, and it's an easy hour and a half drive, with no traffic, following Highway 290 to Highway 6. Visit College Station and learn that you don't have to go back to school to have fun.
Where to Stay in College Station
Visitors will find hospitality, comfort, and fun in these College Station hotels.
The Stella Hotel is a Conde Nast top-ranked Texas hotel that offers luxurious suites with spectacular views of Lake Atlas.
Calvary Court provides guests with comfort and fun with outdoor games, fire pits, and live music.
7F Lodge allows guests to escape the hustle & bustle in one of the eight cabins located on the 14-acre wooded property.
Fun and Adventure Close to Houston
Travelers don't have to go far from Houston for fun and excitement. These getaway spots showcase the history, culture, and adventurous spirit of Texas. Whether it's a need for fun or relaxation, these weekend getaways will satisfy that longing.