Living in Downtown Austin: Your Neighborhood Guide to Austin's Entertainment Districts
Posted by Texas Real Estate Source on Monday, September 26, 2022 at 1:42 PM
By Texas Real Estate Source / September 26, 2022
Comment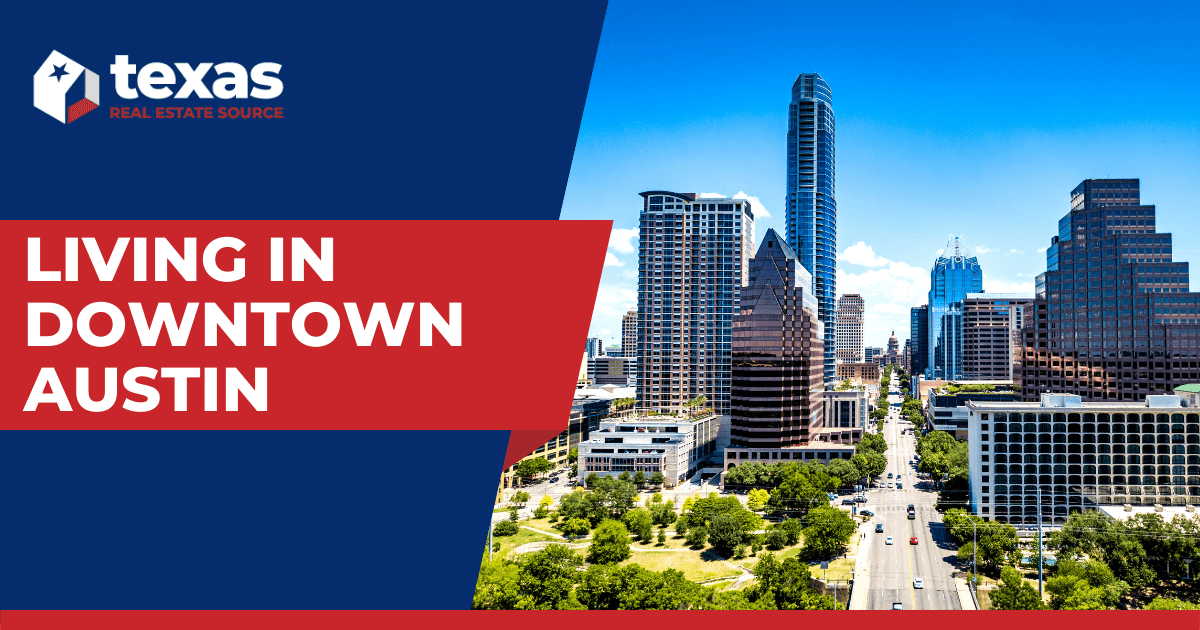 The city of Austin, Texas, has seen rapid growth over the last decade, and for a good reason. Its job sector is booming, the cost of living is relatively low for a city with such an impressive tech sector, and its downtown core is one of the most walkable in the state.
It's easy to get pleasantly lost while exploring downtown Austin's colorful murals, then wind up at a Tex-Mex food truck serving the best breakfast tacos outside of Mexico. Locals may also spend a lazy day floating downstream on Lady Bird Lake, the city's beloved urban oasis, before rocking out at a live show at Austin City Limits, one of the largest music festivals in the country. All these Austin staples are in or near downtown, making it an ideal place to live for those wanting to be at the heart of all the action.
Perks of Living in Downtown Austin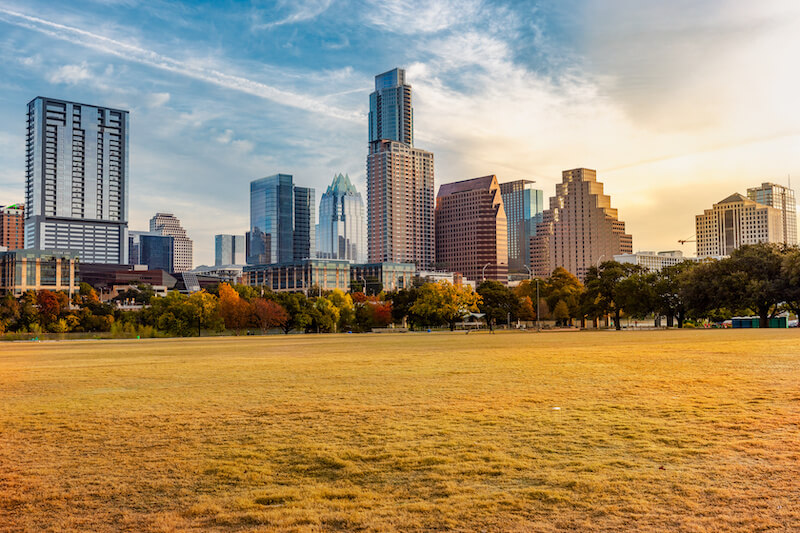 Downtown Austinites have easy access to some of the most visited events in the country, including South by Southwest (SXSW), the Austin Film Festival, and Batfest. Here are some extra perks of living in Austin's downtown neighborhood.
Downtown Austin Is One of Austin's Most Walkable Neighborhoods
One of the best things about living in downtown Austin is that locals can easily get around on foot. They can run errands, grab a bite to eat, and enjoy a night out without relying too much on a car.
Other advantages of living in a walkable area include:
A healthier lifestyle: People living in walkable communities tend to be more physically active and have a lower risk of cardiovascular disease.
Lower carbon footprint: According to the Climate Reality Project, neighborhood amenities within walking or biking distance of residential areas can help reduce transportation-related emissions that harm the environment.
Extra savings: The American Automobile Association (AAA) reported that the average driver spends about $9,300 per year on car-related expenses such as gas, insurance, and maintenance. Living in a walkable community with nearby public transportation can help reduce these costs.
Social interaction: Spending more time walking or biking around the neighborhood and less time in a car can also lead to more social interactions with neighbors. Doing so can create a sense of community and help locals feel more connected to the people who live around them.
Downtown Austin Shopping Is Amazing
Nearly every downtown in the country has a smattering of chain stores and big-box retailers, but downtown Austin's shopping scene is slightly different. Here, an eclectic mix of local boutiques and internationally recognized brands are all within walking distance. Local favorites like Austin Rocks, Toy Joy, and Lucky Lizard Curios & Gifts are just three of the many unique shops in downtown Austin you can't find anywhere else.
Locals flock to the 2nd Street District for the best shopping and dining venues, a retail and entertainment hub located in the heart of downtown. This pedestrian-friendly area is home to dozens of high-end and casual retailers, fitness studios, jewelry stores, and more.
Downtown Austin Nightlife Is the Life of the Party
Downtown Austin comes to life after sunset with one-of-a-kind events, bar crawls, and live music venues that keep locals and visitors entertained well into the night. Devil May Care, Elephant Room, and Antone's Nightclub are a few live music hotspots in the area.
You can also find other nightlife options on 6th Street in downtown's Historic District. This lively strip hosts popular themed bars and clubs open late into the night. Popular venues include one of the city's best-known dive bars, The Jackalope, and Kung Fu Saloon, an arcade bar with vintage video games and signature sake bombs.
Those who want to experience downtown Austin's nightlife with a little less commotion can head to Congress Avenue, where rooftop bars and restaurants offer stunning views of Austin's cityscape.
There's Plenty to Explore Outdoors in Downtown Austin
Downtown Austinites can choose from several activities to enjoy at Lady Bird Lake, an artificial reservoir on the Colorado River. Just south of downtown, the lake is the spot for kayaking, stand-up paddleboarding, and picnicking by the water.
For those who want to stay on dry land, the 10-mile Roy and Ann Butler Hike and Bike Trail winds its way through some of Austin's most scenic locations, including Zilker Park, Austin's Botanical Gardens, and the Pfluger Pedestrian Bridge.
Waterloo Greenway offers the perfect escape for an urban oasis a little closer to home. This seven-park string cuts through the heart of downtown from north to south, providing locals with green spaces to relax and recharge.
Republic Square is another excellent spot for spending time outdoors in downtown Austin. The park hosts several events throughout the year, including a weekly farmer's market, fitness classes, and block parties.
Downtown Austin Neighborhoods: 7 Austin Entertainment Districts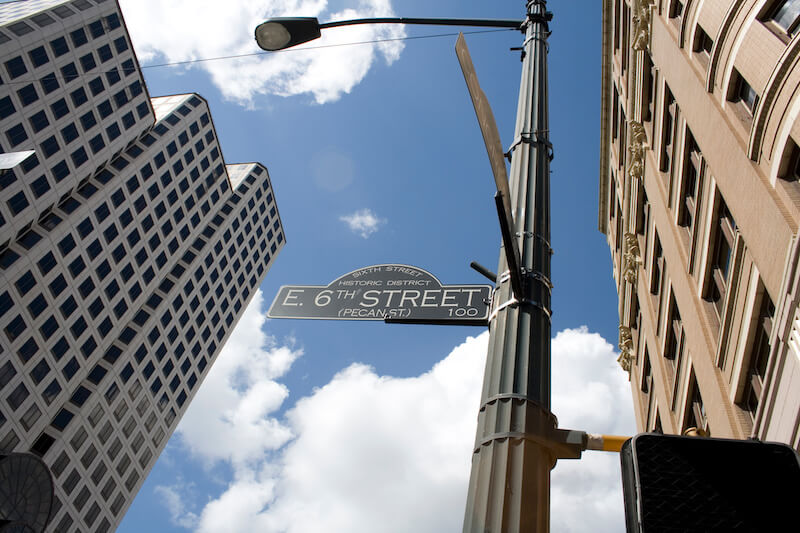 Downtown Austin is home to seven entertainment districts with unique personalities and attractions. Here's a look at seven of Austin's most popular downtown neighborhoods.
Warehouse District
With its converted warehouses serving as art galleries, restaurants, and nightclubs, Austin's Warehouse District residents have plenty of opportunities to explore the city's creative side. Located west of Congress Avenue, the district is home to some of Austin's best live music venues, including The Belmont, Parker Jazz Club, and Cedar Street Courtyard. Dance venues like Rain, Highland Lounge, and Coconut Club add to the district's bustling nightlife scene, while popular bars like The Roosevelt Room and Lavaca Street Bar keep the party going well into the wee hours of the morning.
The neighborhood offers a mix of luxury homes, condos, and lofts, some of which were built in the '60s, '70s, and '80s, while others are more recent or new construction. Residences in the Warehouse District's newer developments may include floor-to-ceiling windows, industrial finishes, and private balconies with views of Austin's skyline.
6th Street
With nicknames like "Dirty Sixth" and "The Strip," there's no denying that 6th Street is the epicenter of Austin's nightlife scene. The neighborhood is home to a seemingly endless array of bars, clubs, and live music venues.
Driskill Bar in the historic Driskill Hotel puts on live music performances six nights a week, while Pete's Dueling Piano Bar on the other side of the strip provides sing-along entertainment every night. Other watering holes worth checking out include the trendy Midnight Cowboy and Firehouse Lounge speakeasies.
Foodies will find no shortage of excellent restaurants on 6th Street, from Tex-Mex favorites like Iron Cactus and Chupacabra Cantina to trendy burger joints like Casino el Camino and Eureka!
Most of the housing options on 6th Street are apartments and condos, with some above ground-floor businesses. Interested homebuyers can find fully residential buildings in the adjacent blocks, just a short walk from all the action.
2nd Street
The 2nd Street District is in the southern part of downtown Austin. Congress Avenue borders 2nd Street's east side, with Cesar Chavez Street to the south and Shoal Creek to the west. Downtown Austinites come to this waterfront neighborhood to shop, dine, and drink at some of the city's best local businesses.
Austin City Limits Live anchors 2nd Street, a futuristic steel structure with a boxy, geometric design. Also known as the Moody Theater, this venue hosts over 100 concerts each year and serves as the headquarters for Austin's public television station, KLRU.
When they're not catching a show at The Moody, residents of 2nd Street often shop at the many independent boutiques near Guadalupe Street. Must-visit stores include Luxe Apothetique apparel, Eliza Page jewelry, and Austin Rocks, a shop specializing in locally made Austin-themed gifts.
The 2nd Street District's dining scene is just as diverse as its shopping. Restaurants and cafes like BarChi Sushi, Jo's Coffee, and Lamberts BBQ are all within walking distance. For a quick bite, food trucks like Kebabalicious and Out of Nowhere ATX usually park on Congress Avenue near 3rd Street.
Market District
Just west of Republic Square, a cluster of residential towers and Whole Foods Market's headquarters form part of Austin's luxurious Market District. Here, a 58-story glass skyscraper known as The Independent dominates the Austin skyline. The building stands at 694 feet and is the tallest in the city. Other impressive structures in the neighborhood, most of which offer state-of-the-art amenities, include The Monarch, The Bowie, and Seven.
But the Market District is more than just one Whole Foods grocery store and a bunch of high-rises. The neighborhood is also teeming with fitness studios, furniture stores, art galleries, and some of downtown's best restaurants and bars.
Some of the district's must-visit establishments flank 6th Street between North Lamar Boulevard and Nueces Street. These include Walton's Fancy & Staple, a gourmet grocery store and cafe; Taquero Mucho, a kitschy pink-and-white trailer serving delicious tacos; and Green Light Social, a retro-chic cocktail bar with a spacious outdoor patio.
For more excellent places to eat, locals flock to Ranch 616 and Juan Pelota Cafe on Nueces Street on the neighborhood's eastern side.
Congress Avenue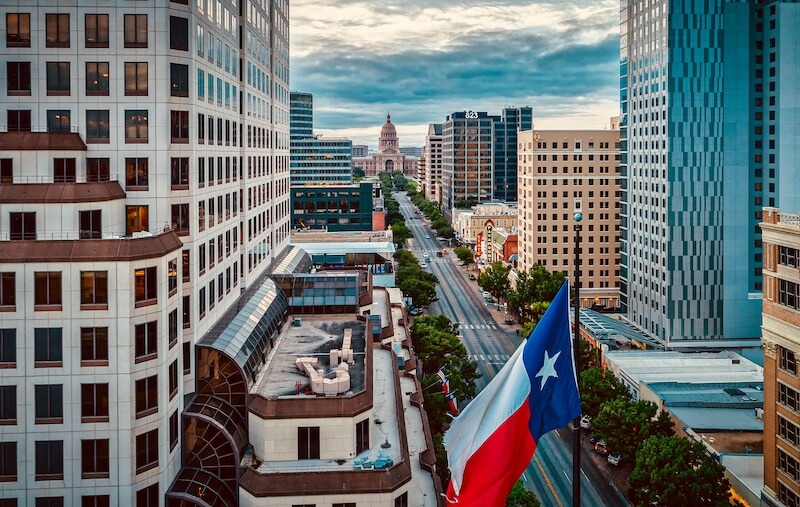 The section of Congress Avenue stretching from the Texas Capitol building to the Colorado River is one of Austin's busiest districts. The area is home to the Museum of the Weird, the Mexic-Arte Museum, and the 100-foot-tall "Tau Ceti," Austin's tallest mural.
Like the other entertainment districts on this list, Congress Avenue is packed with excellent places to eat, drink, and catch a show. Some of the best restaurants in Austin, including Caroline, Roaring Fork, and Corner Restaurant, can be found here. After dinner, locals often catch an improv act or a stand-up comedy show at the Hideout Theatre and Esther's Follies, or they see a live band at one of Congress Avenue's many music venues.
But most unique of all is the Austin Bats experience. Every night at dusk, 1.5 million Mexican free-tailed bats take flight from under the Congress Avenue Bridge, which makes the Texan capital home to one of the largest urban bat colonies in the world. There are several ways to enjoy this winged phenomenon, such as taking a boat tour on Lady Bird Lake, watching from the Statesman Bat Observation Center, or attending Batfest, Austin's annual bat-watching music festival.
Red River Cultural District
The Red River Cultural District in downtown Austin extends from East 12th Street south to Cesar Chavez Street and from Interstate 35 east to Red River Street. It is Austin's go-to neighborhood for live music, quick bites, and craft beer.
One of the city's most iconic live music venues, Stubb's Bar-B-Q, is located here. The venue has a restaurant, bar, and an amphitheater, where many well-known music artists have performed, including Willie Nelson, Johnny Cash, and The Fabulous Thunderbirds. Other popular live music spots in Red River include Mohawk, a multi-level venue with indoor and outdoor stages, and Empire Control Room and Garage, an auto shop turned DIY music space.
The Red River Cultural District is also known for its fantastic food scene, with places like Pelon's Tex Mex, Hoboken Pie, Koriente, and the Austin Taco Project dotting the area. And no visit to Red River would be complete without stopping by Central District Brewing, an industrial-chic taproom offering various craft beers.
Rainey Street District
The last stop on our tour of downtown Austin's entertainment districts is Rainey Street, a boot-shaped neighborhood just north of Lady Bird Lake and west of I-35. Once a quiet residential street lined with bungalows, Rainey Street has since transformed into one of Austin's most popular nightlife hotspots in recent years.
Today, the bars, restaurants, and food trucks line the street, many of which are housed in repurposed shipping containers and trailers. Some of the most popular places to drink on Rainey Street include Half Step, Icenhauer's, Lustre Pearl, and the circus-themed Unbarlievable. The best grub spots include Banger's Sausage House and Beer Garden, Emmer & Rye, and Little Lucy's donut shop.
The Rainey District is also home to the Emma S. Barrientos Mexican American Cultural Center, which offers art exhibits, wellness programs, and other community events. The museum sits on a patchwork of greenery that includes Waller Beach Metropolitan Park, Willow Park, and the Tejano Walking Trail.
Downtown Austin: Something For Everyone
Austinites are proud of their unofficial slogan, "Keep Austin Weird," and the downtown area's entertainment districts are a perfect example of this quirkiness. Whether they're in the mood for some honky tonk, a few rounds of arcade games, or simply want to people-watch from one of the many outdoor patios, downtown Austin's residents can find it all within walking distance. With new bars, restaurants, and music venues constantly popping up, there's always something new to explore in this weird, wonderful, vibrant part of town.