Low-Maintenance Landscaping Ideas For Texas Homeowners
Posted by Texas Real Estate Source on Thursday, September 8, 2022 at 12:28 PM
By Texas Real Estate Source / September 8, 2022
Comment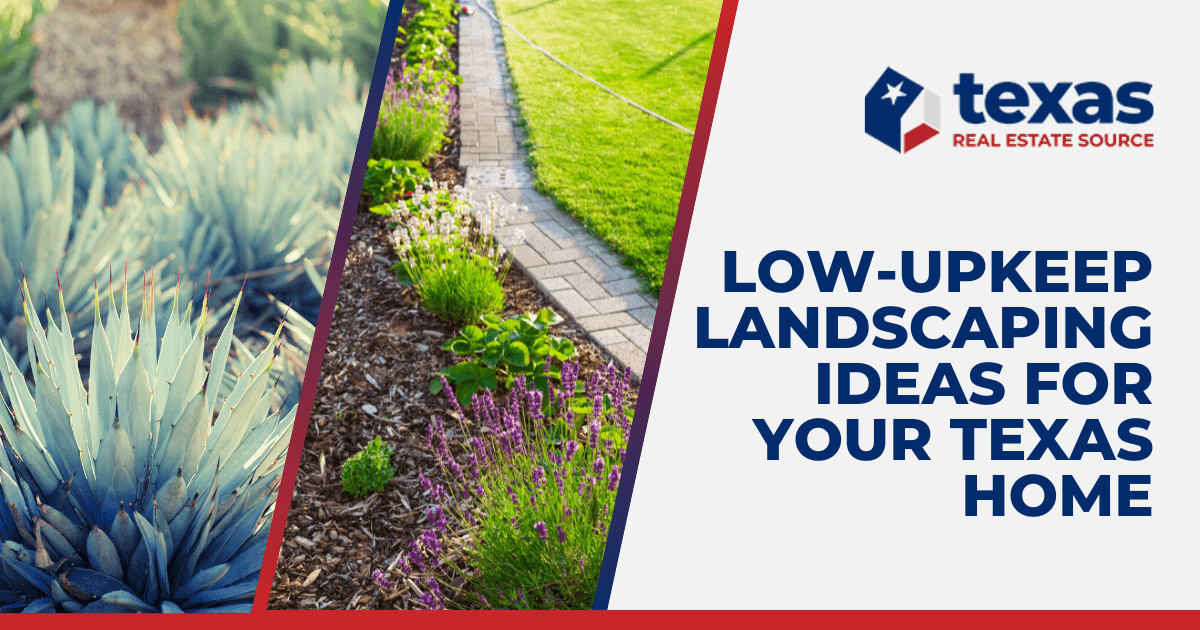 Where do you begin when choosing plants for your front yard? If you go for looks first, you might find that keeping your new flowers healthy and beautiful is a more challenging task than you thought. Texas generally doesn't lend itself well to water-hungry roots or leaves that will wilt in the heat and sun.
If you want to escape spending hours keeping your garden alive, low-maintenance landscaping will be right up your alley.
With so much climate variety across Texas, it's important to consider your region when choosing plants. In some regions, such as west Texas, embracing the desert aesthetic will reap rewards. In other places, such as the celebrated hill country around the city of Austin, the land is full of lush greenery. Around homes in Houston, humidity and even salinity may become a factor. Wherever you live in Texas, this article will give you low-maintenance landscaping options that will work for your home.
Incorporate Native Flowers and Plants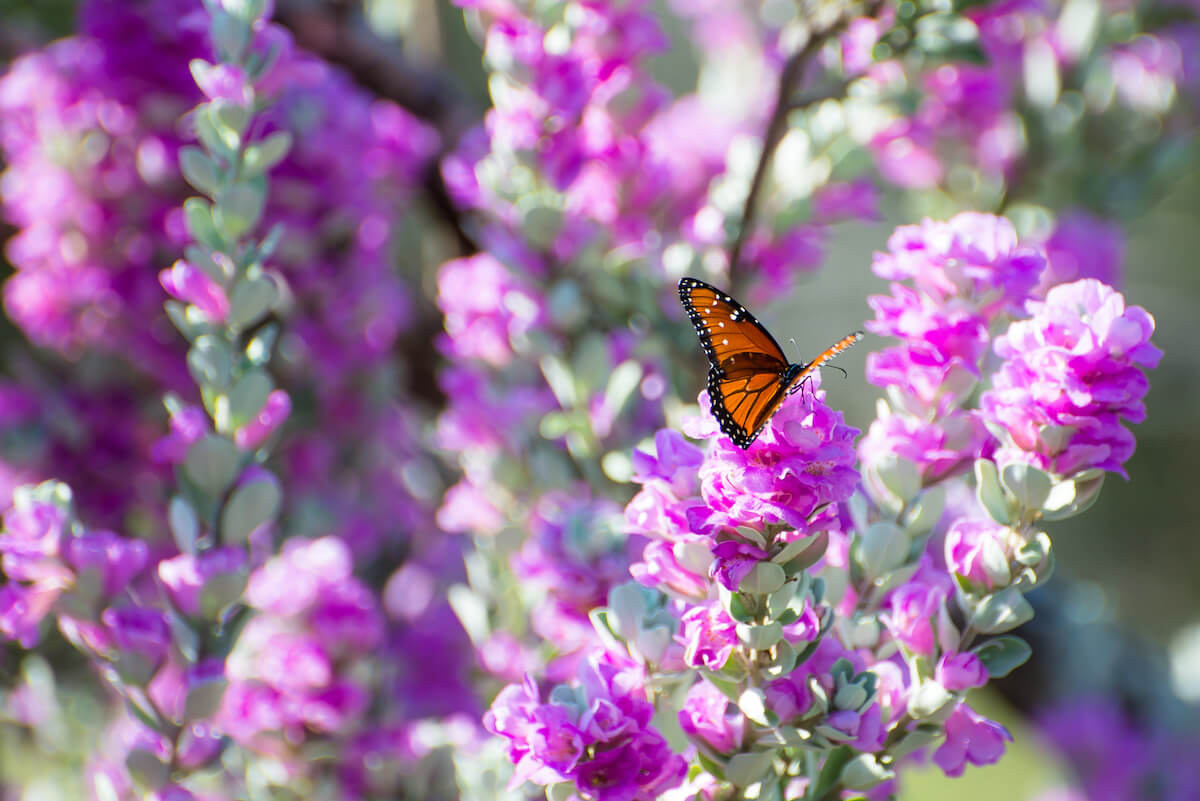 There are eight unique climate zones and eight USDA hardiness zones within Texas, each with different environments for plants and flowers. This can make getting some plants to bloom a tricky business, but not if you choose native plants.
Not only are native species generally easier to come by and more affordable than more exotic plants, but they are also much lower maintenance for a homeowner looking for a beautiful landscape. Native plants require less water since they have adapted to the rainfall habits of the area. This is a great aspect of an environmentally friendly landscape. Additionally, local wildlife will be attracted to these plants and are best supported by species native to Texas. Since they are in their element, these plants generally do not require much fertilizer or pesticide, if any.
Native plants in Texas come with a sense of security. You can worry less about the plants getting too much sun or heat; most Texas native species need moderate to extreme heat to thrive. They are also fairly easy to find at any local nursery or hardware store. Just because they're native doesn't necessarily mean they are simply grasses and desert plants; many Texas native plants showcase a variety of stunning colors that are both beautiful and resilient.
Low-Maintenance Native Plants in Texas
Central Texas
Black-eyed Susan: A flower with yellow petals and a black center that thrives in full sun and is very drought tolerant. It also attracts butterflies.
Mexican Buckeye: A type of bush or small tree that does well under full sun and in rocky dry soils. It produces pink flowers that attract wildlife.
South Texas
Englemann's Daisy: Has yellow blooms in the summer; very heat resistant.
Black Dalea: Very low-maintenance shrub that blooms from around April to October.
North Texas
Texas Purple Sage: A pink and lavender flower; Texas's official native shrub. It blooms constantly, attracting butterflies year-round.
Dwarf Palmetto: Very resilient palm with thick leaves that can be used as a makeshift hedge.
East Texas
Winecup: Great plant for ground cover; purple wildflowers with very thick foliage. The flowers bloom in the morning and close in the evening.
Agave: Greatly favors dry and hot climates. Succulent plants with bright yellow blooms. It's often used for the ability to take up space and provide a desert look.
West Texas
Desert Willow: Can withstand multiple soil types; potential for shrub or tree depending on space. Grows fast and handles drier climate very well.
White Sage: Excellent ground cover; white flowers with gray-green foliage.
Hardscaping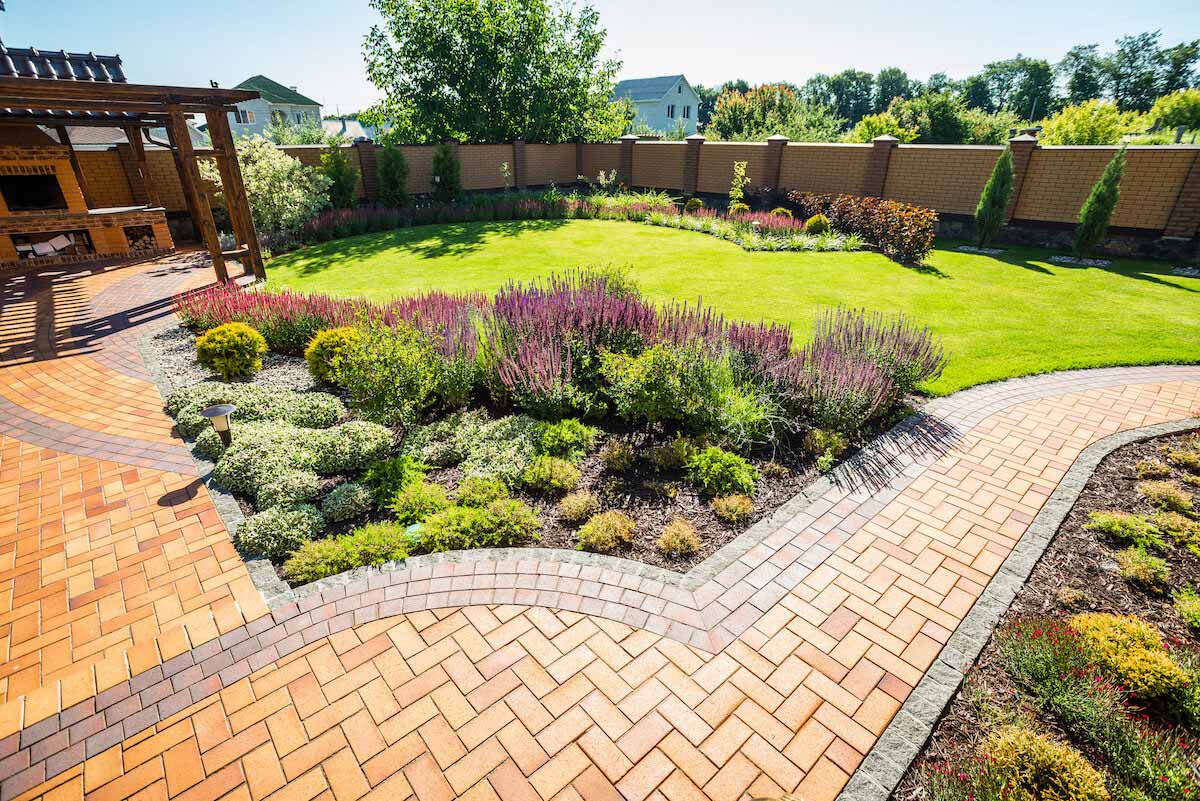 Hardscaping, which encompasses all non-living aspects of landscaping, is an easy way to express style and personality and enhance the space with lower maintenance. This practice is an efficient way to increase property value by making the home look bright and alive, organized and colorful. It also makes it easy to create an outdoor living space, raising value not just in your eyes but in the eyes of potential buyers.
Some examples of hardscaping include patios, walkways, decorative rocks, fountains, and gazebos. While hardscaping could entail maximizing the space you have or adding elements, it doesn't have to break the bank. By making a few simple adjustments, you can significantly spruce up your home's exterior.
Hardscaping is a great home improvement project to personalize your landscape and get a fantastic return on investment, especially if you're looking for a DIY project. By DIYing, you save the cost of labor and have more control over the precise design. However, calling in professionals can enable you to quickly reap the benefits of larger-scale projects and projects that you may fall outside your DIY comfort zone.
Low-Maintenance Hardscape Materials
Pea gravel: A more economical option, choosing rock means you don't have to replace it very often, and a variety of gravel or pebbles can be used to fill in patches in the space or walkways.
Brick: This classic choice provides a clean look for patios, walkways, or fire pits with a multitude of designs available.
Mulch: Mulch must be replaced annually, but it conserves water, provides nutrients to plants and flowers, limits weed growth, and comes in different colors as well; perfect for flower beds.
Bark: For more of a natural look, bark is an excellent option that is both inexpensive and does not require water to maintain.
Paving stones: With so many potential designs, colors, and patterns, paving stones are a versatile option, both low maintenance and long-lasting.
Artificial Grass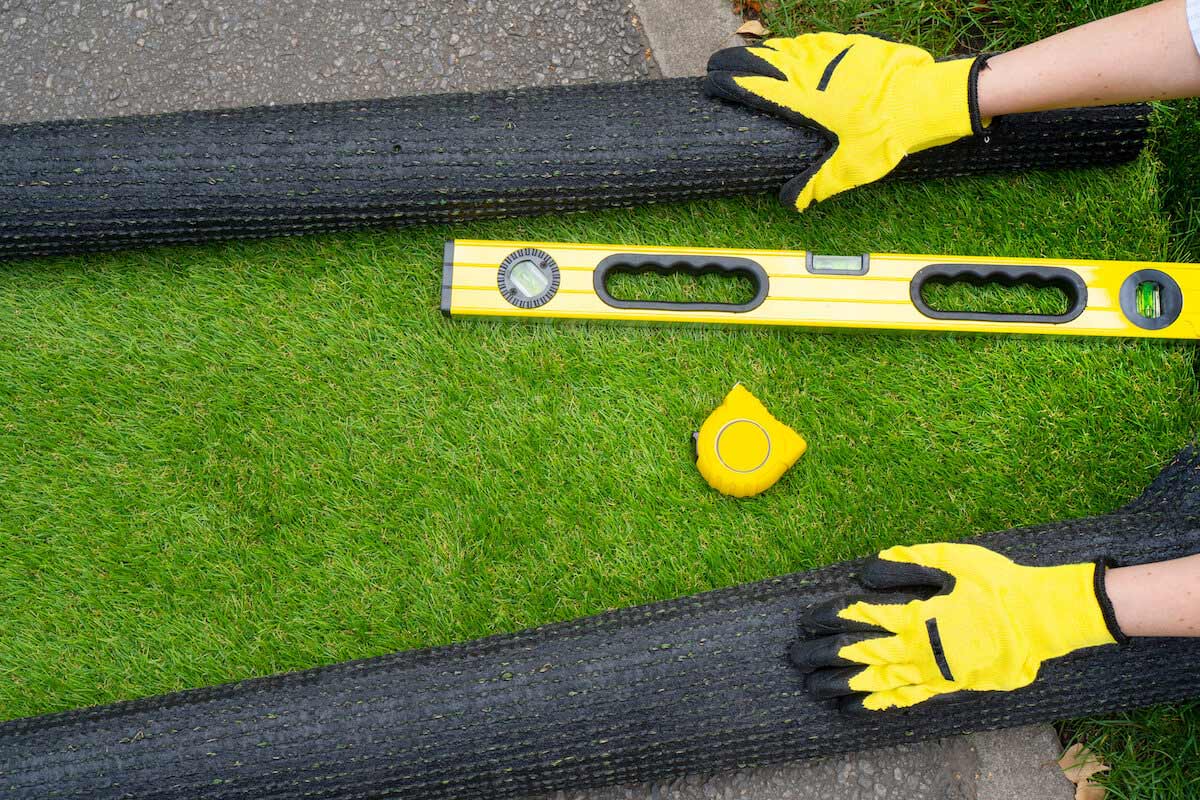 Having the perfect, lush green grass in the Texas heat is not always guaranteed, and sometimes the ground needs some help to grow. An easy alternative that provides a picture-perfect yard year-round with little maintenance and a one-time installment is artificial grass. With this option, you easily save up to 70% on water bills from less watering and irrigation. There is no spraying for weeds, making sure it is getting enough water, or worrying that it will die from the heat.
Artificial grass does still require some maintenance, including rinsing off dust and debris and cleaning up pet messes, but you can say goodbye to mowing the lawn.
Most regions of Texas can benefit from this option since most turf is drought resistant, though it can heat up more than natural grass in hot climates. No matter what kind of roller-coaster weather Texas will bring, well-maintained turf can withstand it all, from storms to droughts, for an average of about 15 years.
Types of Artificial Grass for Landscaping
Nylon: Requires the lowest maintenance of the three; most resilient; UV-resistant and won't fade; most heat resistant; very long-lasting.
Polypropylene: The thinnest and softest of the three; very resistant to water absorption; most inexpensive.
Polyethylene: More realistic-looking and -feeling than polypropylene; does not absorb water; does not keep odors; softer than nylon.
Container Gardening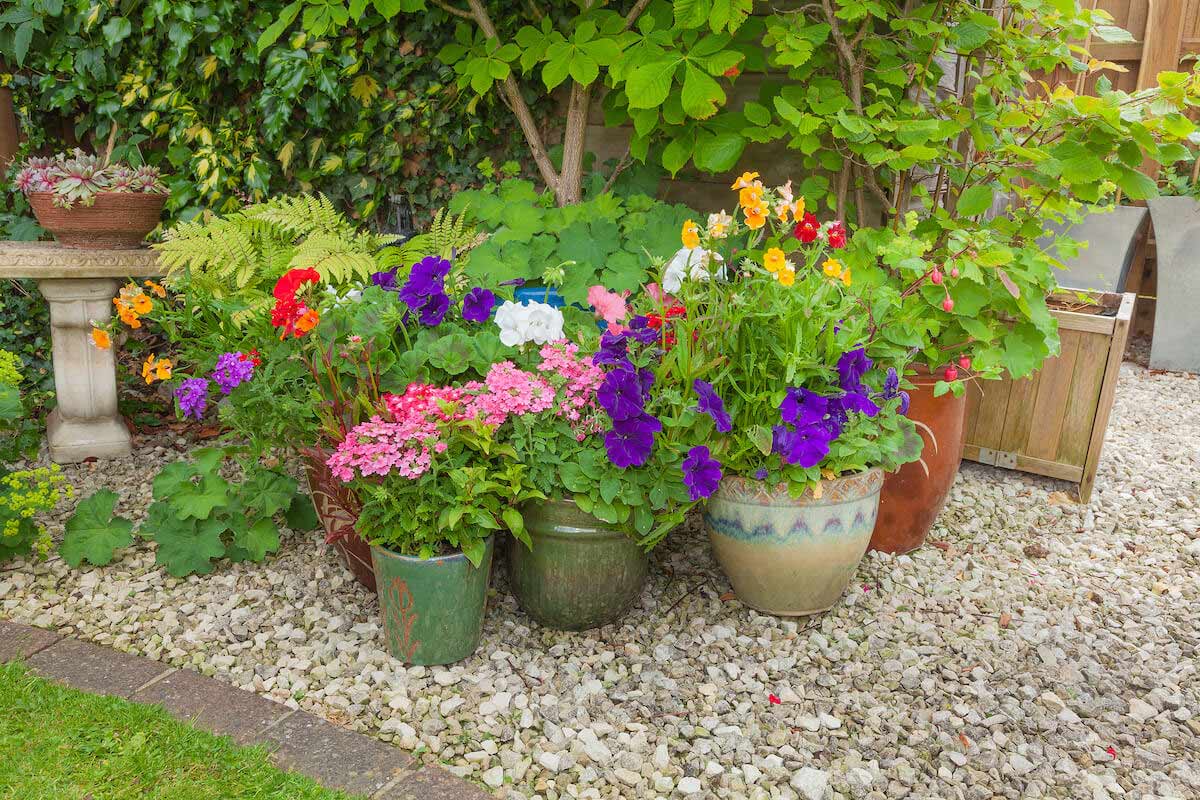 There are endless options for container gardening, from different sizes and colors of containers to design and placement throughout your space. With containers, you have more freedom and control over how much sun and water the plant receives. This is also a great way to test out new plants to see if they'll thrive near your home before you put them into the ground. If your plant is not drought resistant and loves water, containers are great for plants that need extra drainage.
Choose durable artistic pots that can be used and re-used for years and hold many different plants and soils. Repurpose containers you already have to create unique arrangements. Upcycle items taking up space in your garage and give them new life. Your creativity is the only limit. Container gardening is very useful if you have a changing design or vision for your space and having plants in pots means easy moving for whatever your vision holds. The right container can either be a neutral tool for showcasing the plant it holds or be a stunning piece to complement the landscaping.
Container gardening is also popular for condos since they can be arranged on balconies or porches when the homeowner doesn't have a yard. Small indoor container gardens can also brighten up a space.
Low-Maintenance Plants for Container Gardens
Texas Lantana: Lantana native to Texas produce bunches of multicolored flowers that bloom throughout the year and are easily maintained.
Zonal Geranium: With artistic white blooms, this plant is the definition of versatile and resilient. Able to withstand a wide variety of sun and water conditions and soil types, this flower is perfect for thriving in a container setting.
Wild Mint: The benefit to using this in container gardening specifically is that this plant typically spreads very quickly if it is not controlled. This mint provides a wonderful sweet aroma to your space and can also be harvested for herbal remedies and teas.
Plant A Tree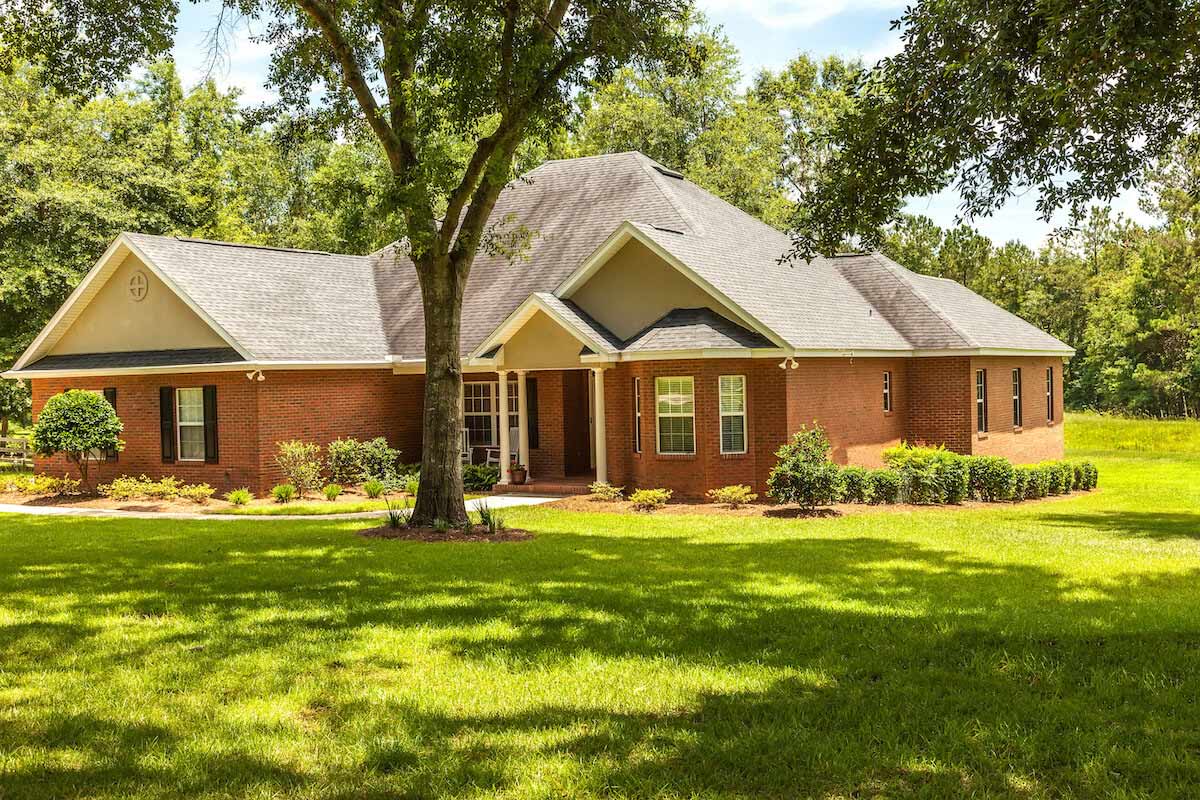 This landscape choice provides much-needed shade from the Texas heat. Trees generally require little upkeep compared to flower gardens, besides the occasional trimming of branches and use of a leafblower, and can be beneficial to the wildlife in the region. For the lowest maintenance, choosing a smaller tree that flourishes in the soil and climate of the region is best. Choosing the right tree is key; a tree that thrives in its environment means less work for you.
Trees are also a fantastic investment if you plan to live in your home for years to come. Mature trees can increase the value of your home substantially—some trees can boost home value by up to 15%.
Whether in the front or back of the home, trees are a great addition to the landscape, and some varieties can add blooming flowers or even fresh fruit. They can also enhance your yard with lights strung through the branches, or, if it is a larger tree, a treehouse. Additionally, depending on the chosen function of the tree, all different sizes of trees provide a focal point for the yard.
Low-Maintenance Native Trees in Texas
Texas Redbud: Has glossy leaves with a bloom of vibrant magenta color; 15 feet maximum height. Full sun exposure is best. Thrives in southern Texas.
Crape Myrtle: Flourishes in north Texas; flowers in the summer with colorful leaves in fall; many different shades of blooms, including white, purple, pink, and red. Adaptable and works well in large or small spaces, with the added benefit of being drought tolerant.
Magnolia: Prefers full sun and acidic soil; wonderful white blooms with very lush leaves. It prospers in east Texas and comes in different sizes, from the little gem variety to the taller tulip.
Texas Mountain Laurel: Has lush dark green foliage and deep purple blooms; this smaller size tree is great for low upkeep and graceful color. Does best in central Texas
Black Cherry: Good size for backyards; thrives in central Texas. It attracts many different species of wildlife, including birds, butterflies, and bees, and does better in less acidic, moist soil.
Xeriscaping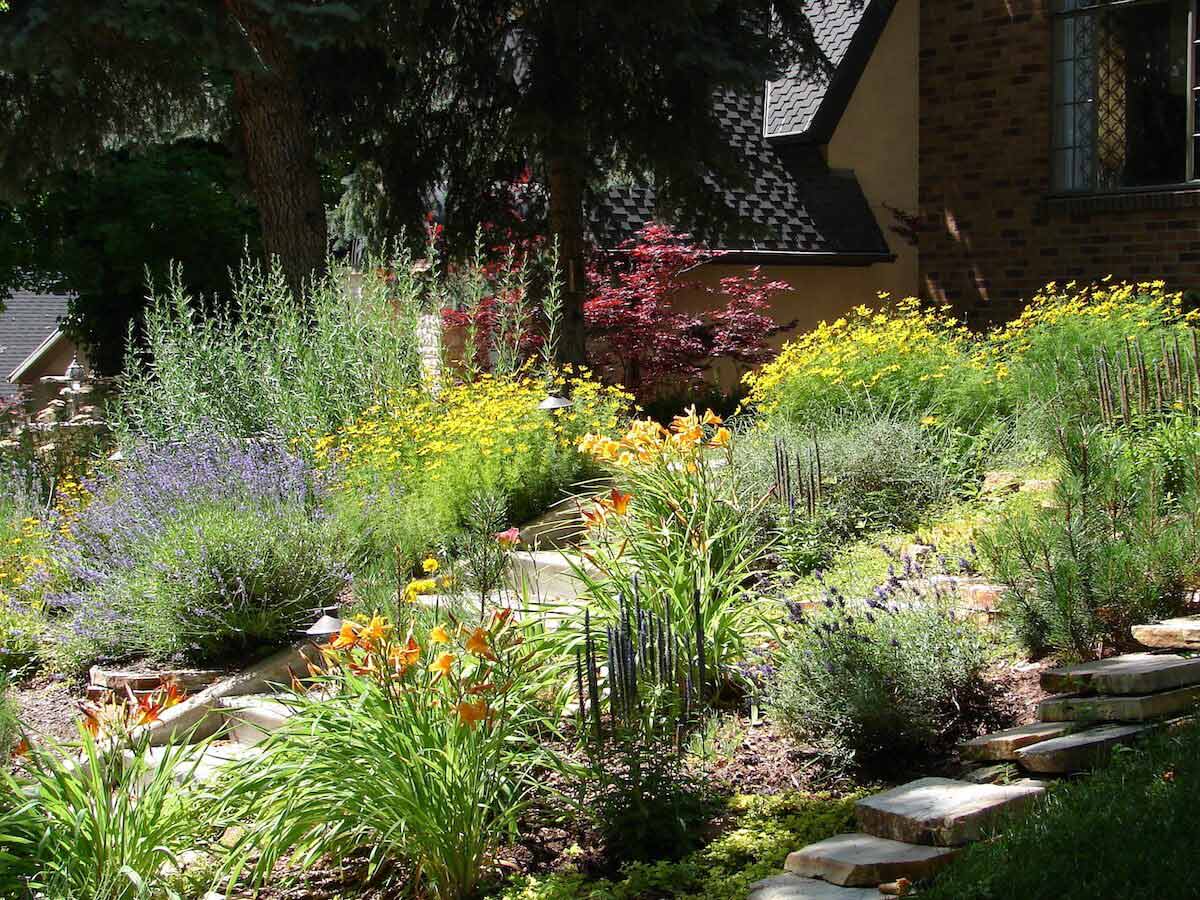 Xeriscaping uses plants that thrive in arid climates to reduce maintenance requirements in hot, dry regions. By incorporating different plants that have this characteristic, homeowners who live in a drier climate, such as west Texas, can enjoy a fuller-looking garden without constantly running up their water bill. Xeriscaping is growing in popularity due to its low-maintenance benefits, and homeowners are discovering that xeriscaping can create particularly eye-catching designs.
As another benefit, xeriscaping is a particularly environmentally friendly form of landscaping since it requires less water. In addition, since many regions of Texas are hot and dry, many native plants can perform double duty in xeriscaped gardens. These don't necessarily have to be succulents and cactuses—in fact, there are many shrubs, trees, grasses, and perennials that thrive in drier conditions. Selecting plants able to withstand the drier climate of Texas for each design can yield a wonderful, even colorful, landscape.
Low-Maintenance Xeriscaping Plants
Bougainvillea: Thrives in extreme southern Texas heat and has a variety of lush flowers and bright colors. Grows best in hotter environments.
Buffalo Grass: Primarily found in central and north Texas, this short grass is great for coverage. It does not thrive in shade and prefers full sun for optimum growth.
Firebush: As the name implies, this plant looks like it is ablaze with orange blooms that show their beauty from summer to fall. It does best in the southeastern regions of Texas.
Red Yucca: A succulent resembling a yucca plant; thrives in full sun environments and typically grows from 2–4 feet in height. It has red blooms and year-round foliage, feeds wildlife, and thrives in central or western Texas regions.
Rosemary: Makes your garden smell wonderful and fresh, and you can use it in recipes. These hardy plants are very low maintenance and thrive in full sun. They grow especially well in the southern part of Texas.
Give Your Texas Home Beautiful Landscaping
If you're looking for the maximum landscaping reward for the minimum maintenance investment, these low-effort plants and landscaping tips are a great place to start. Native flowers and plants are essential for resilient gardening that will last longer in the Texas climate. Hardscaping enhances your outdoor area with little ongoing effort. Artificial grass is an easy way to keep things looking green. Container gardening gives an easy pop to any outdoor area, including homes without traditional garden space. Trees bring much-needed shade for relief from the Texas heat, and xeriscaping stands out without having to work for it.
By using natural resources and making a few simple design decisions, you are well on your way to owning a beautiful and worry-free yard to complement your Texas home.
Ready to live your best life in Texas? Call The RealFX Group at (512) 956-7390 to contact an experienced local real estate agent who can help you discover the Texas home of your dreams.