Lubbock vs. Amarillo: Which West Texas City Should You Live In?
Posted by Texas Real Estate Source on Thursday, January 26, 2023 at 9:30 AM
By Texas Real Estate Source / January 26, 2023
Comment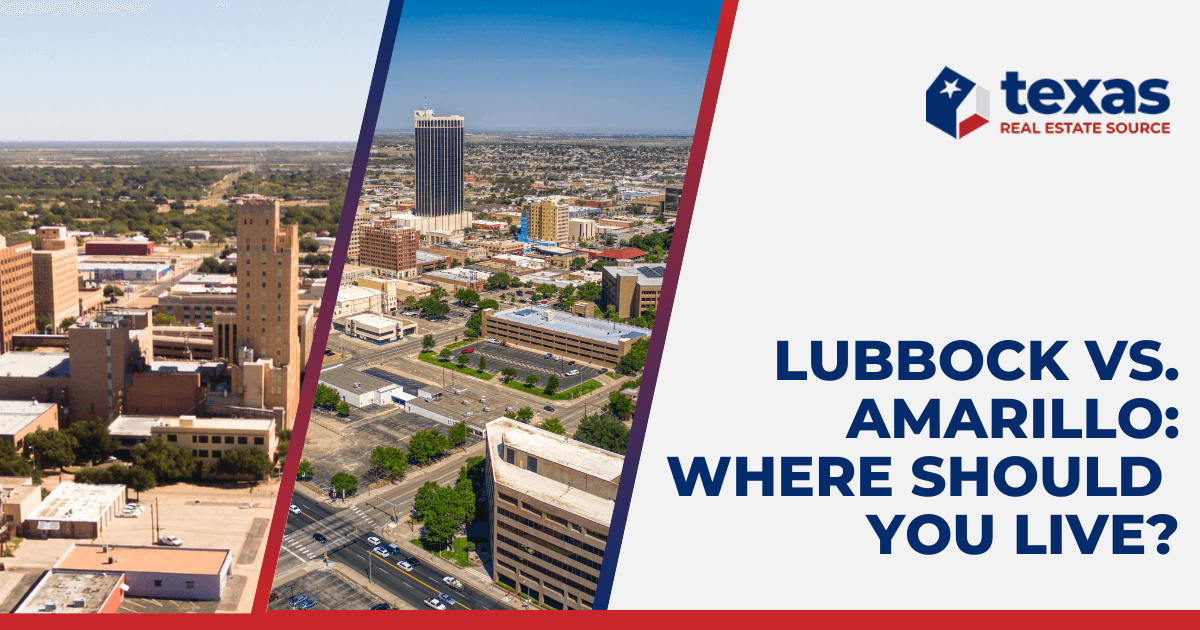 There's an ongoing contrast between the cities on either end of Interstate 27 in Northwest Texas. Fueled by a hundred years of high school football rivalries, civic pride, and good-natured bickering, the competition between Lubbock vs. Amarillo is fueled by their surface similarities, too. Though separated by more than 120 miles, the two towns have more in common than differences.
Both cities were established in the late 1800s and today are the economic centers of their respective regions. Amarillo is the largest city in the Texas Panhandle, with more than 200,000 residents within its limits and a population nearer to 300,000 people throughout the surrounding area. Similarly, the city of Lubbock is home to around 270,000 residents, with about 320,000 people living in the greater metro. Known as Hub City, Lubbock is the center of commerce in the South Plains.
Perhaps the primary cause for any Amarillo vs. Lubbock competition is the differences in their economies. In Lubbock, cotton is king. It's among the world's largest cotton-growing regions. By contrast, Amarillo is cattle country, responsible for processing about 25% of the country's beef supply. But is that really the biggest difference? Let's dig deeper into these and other factors in each city that may help answer any Lubbock vs. Amarillo questions.
Lubbock Economy vs. Amarillo Economy
Amarillo and Lubbock feature agriculture-based economies: cotton in Lubbock, and cattle in Amarillo. Retail, education, and healthcare are also major sectors of the economy for each city, with many of the largest employers coming from related industries. Both communities share similar living costs and job markets as well, with a few exceptions.
Cost of Living
Both Lubbock and Amarillo compare favorably with nationwide numbers in terms of cost of living. For example, food and grocery expenses in the two cities run about the same, with both enjoying less expensive food prices in contrast to the rest of the country. Transportation costs and utilities are also about the same in Lubbock vs. Amarillo, with both being significantly better than U.S. averages.
Overall, the cost of living in Lubbock is just a few percentage points higher than for residents of Amarillo. The most significant differences are found in healthcare expenses and housing costs. Healthcare in both cities is a bit more expensive than the national average, and Lubbockites spend as much as 10% to 15% more than Amarilloans. Like most of Texas, housing-related expenses in both cities are significantly less compared to the rest of the country, though real estate runs a few points higher in Lubbock than in Amarillo.
Job Market
The employment outlook for residents of both cities is generally positive, and unemployment numbers are about the same. Though long-term job growth projections for Lubbock are predicted to outpace the rest of the country, any anticipated slower growth in the Amarillo market is expected to be offset by higher wages.
Top employers in Amarillo include Tyson Foods, the Amarillo Independent School District, the City of Amarillo, and various healthcare systems and services throughout the Panhandle region. In addition to agriculture, education, and healthcare, the petroleum industry is also a big part of Amarillo's economy.
Lubbock's economy is equally robust, with a significant number of jobs available in agriculture, manufacturing, education, and healthcare. Among the major employers in the Lubbock area are the Texas Tech University System, Lubbock ISD, the City of Lubbock, and Covenant Health System.
Lubbock Traffic vs. Amarillo Traffic
Drivers accustomed to traffic in larger cities will find both Amarillo and Lubbock much easier motoring, even at rush hour. With fewer vehicles on the road versus Texas cities like Austin, Houston, and Dallas, driving in Lubbock and Amarillo may sometimes seem like a slow-motion Sunday drive in comparison.
Traffic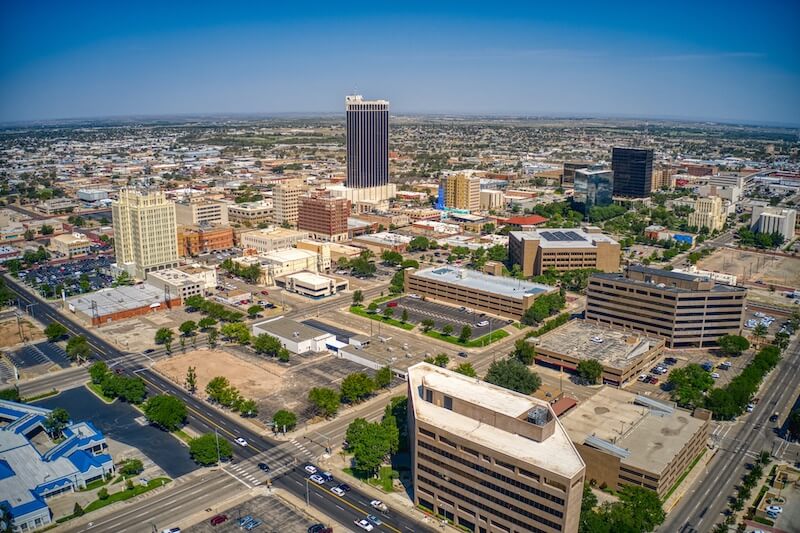 Getting around Lubbock is relatively simple. The neighborhoods in Lubbock are laid out in an easy-to-follow grid pattern, with I-27 running north to south, the Marsha Sharp Freeway cutting through the town east to west, and Loop 289 circling the entire city. Outside of morning and afternoon rush hours, residents here report that they can access almost anywhere in Lubbock within 15 minutes. It's also worth noting that folks living near the Texas Tech campus typically find everything they need within walking distance of home, making driving unnecessary in many cases.
Amarillo drivers generally enjoy light traffic as well. Unlike more southern sections of the state, though, Amarillo gets about 18 inches of snow a year, which can affect winter driving. Otherwise, accessing the area is relatively straightforward, with I-27/US-87 running north-south and Interstate 40 crossing east-west through town. The I-40 Business Loop and parts of historic Route 66 cut across the north side, and Loop 335 forms an outer ring around the greater Amarillo area. As with most cities of this size, morning and afternoon drive times may have moderate road congestion.
Public Transportation
While neither city has a high demand for public transportation compared with larger metropolitan areas, both Lubbock and Amarillo provide their residents with plenty of services. In Lubbock, for instance, Citibus offers fixed-route and paratransit programs throughout the city. Daily, weekly, and monthly passes are available, and Texas Tech students always ride free. Amarillo City Transit provides similar public transportation for its residents, with fixed-route schedules and special paratransit services for disabled riders.
Both Amarillo and Lubbock are home to several private taxi services. And riders in either town typically can easily find an Uber or Lyft driver when needed. For longer trips, there's a Greyhound bus terminal in both cities. The two-hour ride from Amarillo to Lubbock typically runs between $30 and $40, with destinations like Dallas, Fort Worth, and Oklahoma City generally priced around $100 or less.
Best Small Towns Near Lubbock & Amarillo
Both Amarillo and Lubbock are the central cities in their respective regions. Each is surrounded by several smaller rural communities, usually within a 30-mile radius of their more metropolitan counterparts.
Among the best small towns near Lubbock is Wolfforth, about 12 miles southwest down the Marsha Sharp Freeway. Wolfforth's population of more than 6,000 enjoy a small-town atmosphere with convenient proximity to the attractions and amenities of their larger neighbor. About 12 miles northwest of Lubbock is Shallowater, another small country town with quick, easy access to the city.
Other tiny Texas towns in the Lubbock area include Abernathy, home to around 3,000 folks just 18 miles up I-27, and Buffalo Springs, a popular outdoor recreation area just 10 miles from the city. Some of the larger communities outside of Lubbock include Plainview, 45 miles to the north in Hale County, and Levelland, the Hockley County seat 30 miles west of Lubbock.
Small towns near Amarillo include the nearby city of Canyon, with a population of more than 15,000. Less than 20 miles south of Amarillo, Canyon is home to West Texas A&M University and the famous 47-foot-tall "Big Texan" statue. About 30 miles east along US-60 is Panhandle, another Amarillo-area small town and the headquarters of neighboring Carson County. Elsewhere around Amarillo are the rural Texas communities of Happy, "The Town Without a Frown," and Hereford, known as the "Beef Capital of the World."
Things to Do in Lubbock vs. Things to Do in Amarillo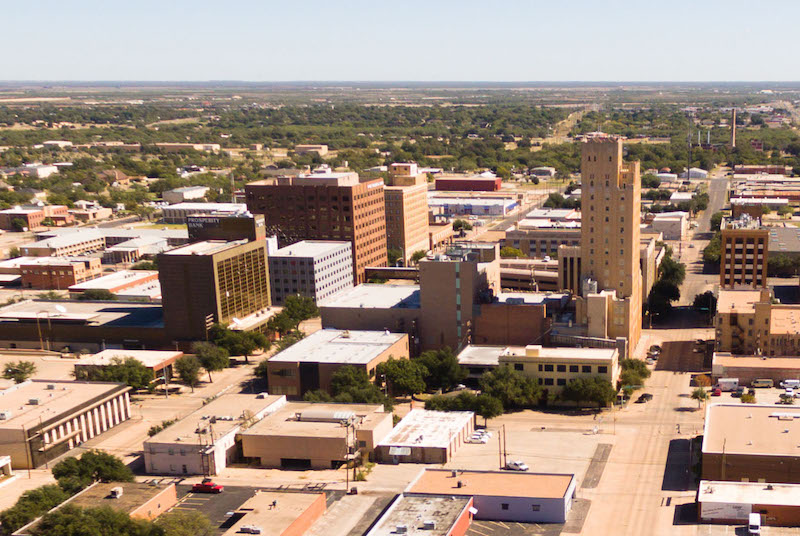 While Amarillo and Lubbock may not feature all the activities and attractions of Texas's larger cities, there's certainly no shortage of sights to see and things to do in either location. For instance, Amarillo is home to the American Quarter Horse Hall of Fame, the Amarillo Museum of Art, the Amarillo Botanical Gardens, and the Amarillo Zoo. One of the city's most recognizable landmarks is Cadillac Ranch, the public art installation featuring 10 graffiti-covered cars nose down in the desert dirt.
To the south, the Lubbock Aquarium is the only public aquarium facility in West Texas. The town also features the American Windmill Museum, the Buddy Holly Center, and the Museum of Texas Tech University. A favorite attraction in Lubbock is Prairie Dog Town, dedicated to education about and preservation of the tiny critters.
Outdoor Activities
Both Lubbock and Amarillo are rich with outdoor recreation opportunities, featuring numerous parks, nature areas, neighboring lakes, and golf courses. Among the top parks in Lubbock is the Buddy Holly Lake Recreation Area, with hiking trails, fishing and picnicking, and plenty of dog-friendly places. The Lubbock Memorial Arboretum and Mackenzie Main City Park also provide locals with lots of options for fun in the sun. Golfers looking for the best places to play will find plenty of public and private golf courses in Lubbock, including Meadow Canyon Creek Golf Club in the heart of the city.
Amarillo is an outdoor recreation mecca in its own right, with nearby Palo Duro Canyon State Park providing locals and visitors with unparalleled opportunities for hiking, camping, horseback riding, and more. Other area favorites include the nearby 640-acre Wildcat Bluff Nature Center and the Lake Meredith recreation area, about 40 miles north of town. Golf enthusiasts have convenient access to several courses in and around Amarillo as well, with Ross Rogers and Comanche Trail among the favorite public facilities.
Sports
As they do throughout the rest of Texas, the Friday night lights shine brightly in Lubbock and Amarillo. High school sports, particularly football, are revered in this part of the state, and both cities make youth athletics a priority. In Lubbock, numerous soccer, baseball, and softball fields are scattered around the city. The Thomas A. Martin Youth Sports Complex and Lubbock Youth Sports Complex are top spots. Amarilloans serve youth sports as well, with facilities like the Southeast Sports Complex and the Colt45 Baseball and Softball training academy.
A wide selection of other sports can be found in Amarillo, including the Arizona Diamondbacks' double-A affiliate Sod Poodles, the FC Amarillo Bombers pro soccer team, and the Amarillo Bulls of the North American Hockey League. And, after a long hiatus, intercollegiate athletics are returning to Amarillo College, with the school again fielding teams in men's baseball, women's volleyball, and men's and women's cross country. Of course, the center of the sports universe in Lubbock is Texas Tech University and its various athletic programs, especially Red Raiders football and Lady Raiders basketball.
Nightlife
Residents of both cities enjoy a vibrant nightlife scene, with plenty of brewpubs, restaurants, and cultural destinations. Amarillo arts and culture options include the Amarillo Little Theatre, Amarillo Opera, and the Lone Star Ballet, while the Lubbock Cultural District boasts various museums, musical performances, and fine arts events and attractions. Among Lubbock's "must-see" spots is the West Texas Walk of Fame, celebrating the area's music and musicians.
Both cities also feature a full menu of dining options, from local flavors like Amarillo's Big Texan Steak Ranch and Lubbock's Escondido Grill to the international fare found at Hayashi in Southwest Lubbock or Los Braceros in Amarillo. Various brewpubs, bars, and nightclubs are also scattered throughout both places. Favorites include Two Docs Brewing in Lubbock and Amarillo's Six Car Pub and Brewery.
Amarillo vs. Lubbock: Which Will You Choose?
Amarillo and Lubbock have more in common than some may have expected. These two Texas towns boast plenty of attractions and activities, lots of sports and outdoor recreation, and an abundance of dining and entertainment options. Traffic is typically not a significant issue in either location, and both communities enjoy strong economies and job markets. With so many similar benefits and amenities, choosing between moving to Lubbock vs. Amarillo may have just gotten harder, rivalry or not.
Ready to discover your next home in Lubbock? Call The RealFX Group at (512) 956-7390 to get in contact with an experienced local real estate agent today and let us help you find your dream home in Lubbock, TX.