Magnolia Schools: Magnolia ISD & Other Schools in Magnolia TX
Posted by Texas Real Estate Source on Thursday, September 21, 2023 at 2:40:15 PM
By Texas Real Estate Source / September 21, 2023
Comment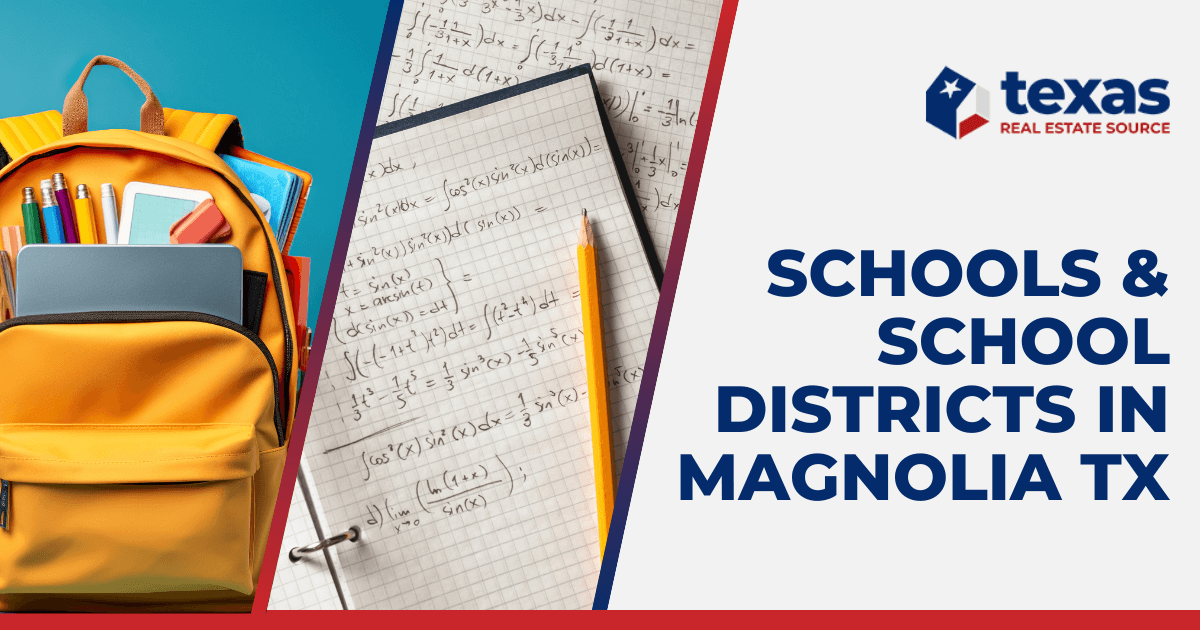 The city of Magnolia, TX, has a variety of schools that cater to its community's educational needs. From Magnolia ISD to higher education, you've got your bases covered.
In this article, we'll take a closer look at the schools in Magnolia, shedding light on what makes them unique and valuable to students and parents. Whether you're seeking insights into alternative education or considering moving to Magnolia and want to know which school district Magnolia is in, understanding the educational landscape is crucial.
Public School Districts Serving Magnolia: Magnolia ISD
The Magnolia Independent School District (ISD) is the sole public school district serving the city of Magnolia. Just over 13,600 students are enrolled, and the district has 16 schools.
Magnolia ISD Feeder Pattern
Elementary School
Intermediate School
Junior High
High School
Bear Branch Elementary
Bear Branch Intermediate
Bear Branch Junior High
Magnolia High School
Ellisor Elementary
Magnolia Parkway Elementary
Smith Elementary
Lyon Elementary
Magnolia Intermediate
Magnolia Junior High
Magnolia West High School
Magnolia Elementary
Nichols Sawmill Elementary
Williams Elementary
In addition, the DAEP (Disciplinary Alternative Education Program) campus supports students who have been placed on temporary disciplinary leave. The final school in Magnolia ISD is the ALPHA Academy, which serves as the alternative education high school for the district.
The ISD's website has several interactive maps for determining which school a student will attend based on home address. The attendance zones aren't always contiguous, so the closest school isn't always the school a home is zoned to.
Magnolia ISD is a designated District of Innovation, giving public schools more freedom and flexibility, much like charter schools. The district offers a wide range of specialized educational programs, including a Career and Technical Education Center, Bilingual & ESL, Special Education, inclusive preschool, and MATRIX (Moving Adults to Transition to Real Interest and Experiences).
Middle and high school students can participate in several sports, fine arts, and other clubs and organizations. Elementary students have extracurricular programming including student council, safety patrol, science club, and more.
The Advanced Academics and Gifted and Talented programs offer a variety of services for students identified as "advanced learners." These include concentrated group work and advanced classes in specific subjects.
Magnolia ISD has a full-day pre-K program for qualifying four-year-olds with specific educational needs before entering school at five. Pre-K education is available in both English and Spanish Bilingual settings. All eight elementary schools in Magnolia offer the pre-K program.
Magnolia Private Schools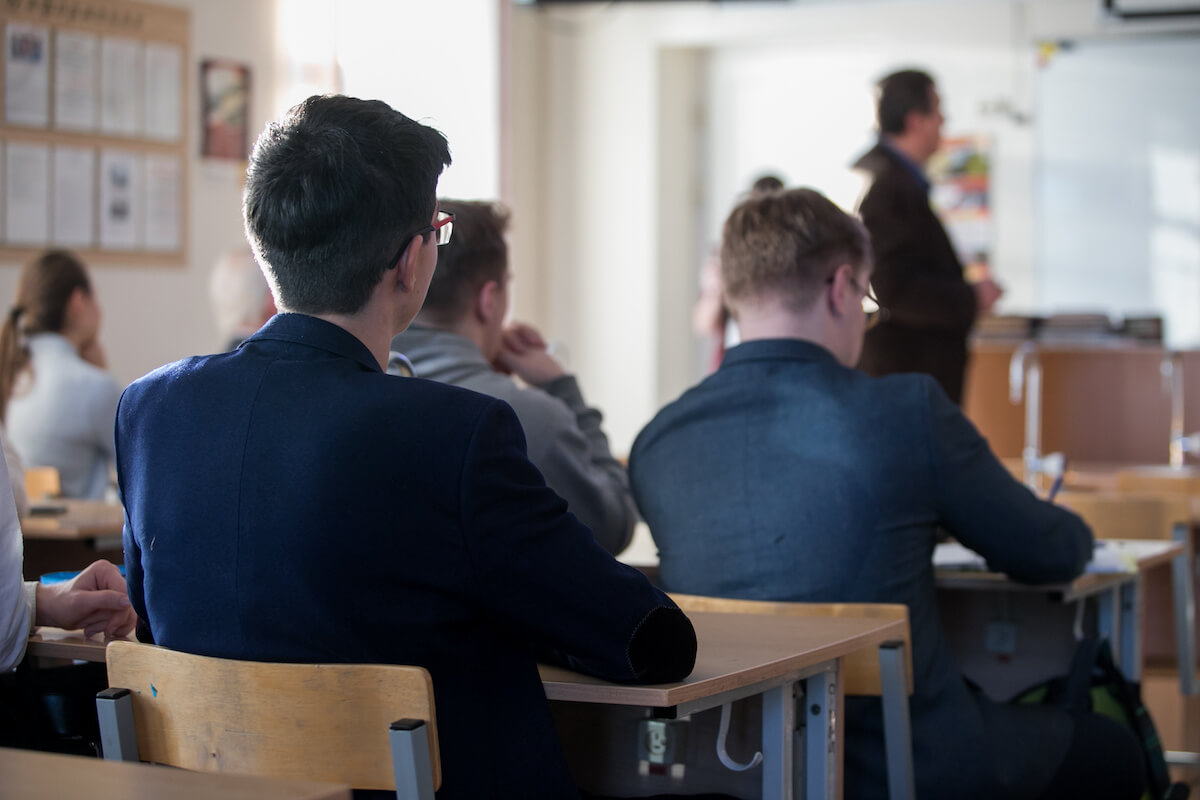 In addition to the many public schools in Magnolia, students may also attend a private school. There are several in the community, including some that serve only primary or upper grades, K–12 schools, and schools that have a religious affiliation.
We've highlighted five Magnolia private schools, each with a unique curriculum or mission.
Acton Leadership Academy
Acton is a modern one-room schoolhouse with individualized "studios," where students work in a self-paced environment and there's a heavy focus on technology. The school serves kindergarten through 12th grade and operates on a 10-month schedule with five 1-week breaks in addition to a traditional 2-week holiday break.
Legacy Preparatory Christian Academy
This private Christian school serves grades pre-K through 12 on a university-style schedule. That means younger students are on campus two days a week and complete classwork at home on alternating days, and juniors and seniors have M/W/F and T/Th classes. The school boasts a college acceptance rate of 100%.
Magnolia Heritage Academy
MHA offers a homeschool hybrid learning model, where students attend class three days a week. While the school is not accredited, as it's partially a homeschool model, it does closely follow Texas Essential Knowledge and Skills (TEKS) standards and a traditional grading model. Teachers are also available for additional private tutoring and the school organizes opportunities for students to connect outside the classroom.
The Sherwood Academy
A small campus of 220 students, The Sherwood Academy serves kindergarten through 9th grade, with plans to continue expanding through 12th. The unique curriculum equally favors indoor and outdoor learning, and students have opportunities to take classes in STEAM (science, technology, engineering, and math), Spanish, fine arts, and more.
Texas Autism Academy
Serving students on the autism spectrum, Texas Autism Academy offers both part-time and full-time programs. A Board Certified Behavior Analyst (BCBA) helped create the research-based curriculum and the school creates individual education plans for each student based on assessments, data from teachers, and parental input.
Colleges & Universities Near Magnolia
Magnolia students also have several options for attending college close to home. These colleges each offer various degree programs, and each has its own specialty, ranging from agriculture to nursing and engineering.
Lone Star College - Tomball
"Redefining the community college experience," Lone Star College - Tomball focuses on career training and development programs. The large campus in the city of Tomball welcomes over 80,000 students each year, enrolled in a vast range of classes. While there are over 100 programs to choose from, a few of LSC's standouts include emergency management, cloud computing, data analysis, and electric line workers.
Prairie View A&M University
The state's second-oldest public institution of higher education, Prairie View A&M is a deeply rooted part of the community. It was founded in 1876 and has been named a top historically Black college several times. The university is especially well-known for its College of Agriculture and Human Sciences, as well as programs in architecture, nursing, and juvenile justice.
Sam Houston State University - The Woodlands Center
A satellite campus of Sam Houston State University, The Woodlands Center (TWC) is the home of the college's highly esteemed school of nursing. This campus in The Woodlands also offers a variety of degree programs to undergraduate, graduate, and doctorate students. The university's Small Business Development Center is also at TWC.
Ready to Enroll in a School in Magnolia, TX?
Magnolia's educational landscape, characterized by its commitment to student success, is an essential aspect of the town's appeal. The schools in Magnolia not only provide knowledge but also contribute to the development of the town's young minds—and older minds, too!—preparing them for a promising future.
Thinking about buying a home in Magnolia, Texas? Call The RealFX Group at (512) 956-7390 to talk to a local real estate agent who can help you find your perfect Magnolia, TX, home.