8 Most Affordable Neighborhoods in Cypress TX
Posted by Texas Real Estate Source on Monday, December 19, 2022 at 3:25:45 PM
By Texas Real Estate Source / December 19, 2022
Comment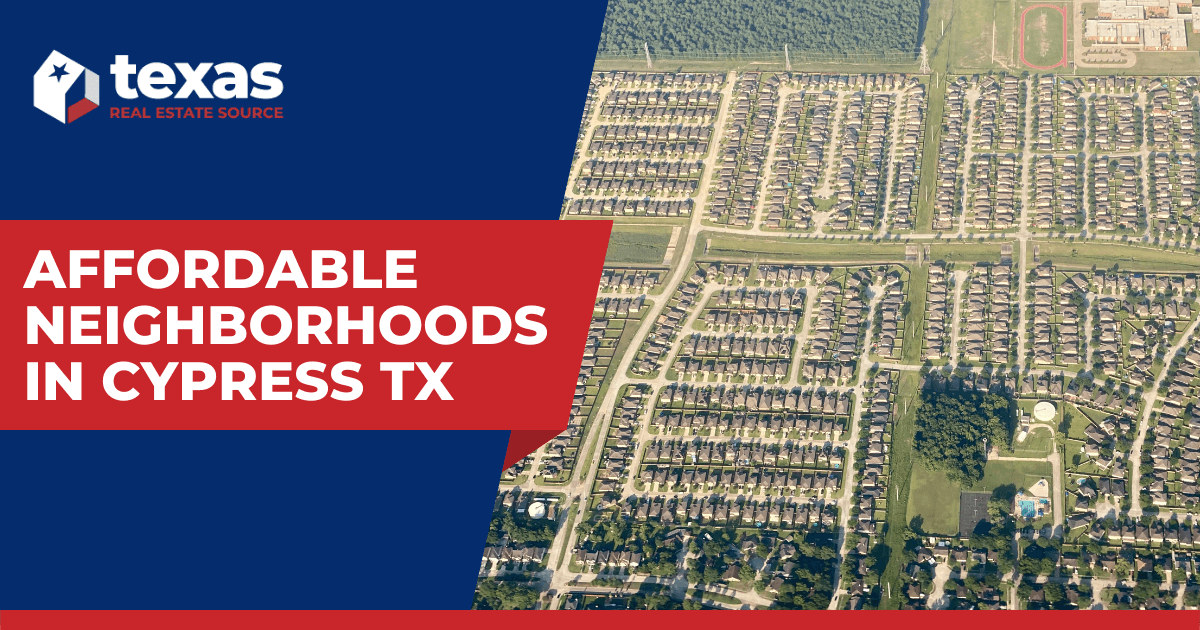 Until the late 1980s, the far northwest corner of the Greater Houston area was primarily rural ranch land and thickly wooded forests. In the 90s, developers began significant residential and commercial construction along the US-290 corridor, particularly around the community of Cypress. Today, about 200,000 residents live out here among the numerous master-planned communities and new home developments that have sprung up in recent years.
The newness of the area correlates to higher home values in these desirable communities. Homes for sale in Cypress, TX, often list for more than $500,000 and run even higher in some of the most expensive Cypress neighborhoods. However, homebuyers considering this part of Texas have plenty of community options, home styles, and price ranges to choose from. Read on to explore some of the most affordable neighborhoods in Cypress and discover where to find homes priced well below the area average.
Cypress Springs
One of the most affordable neighborhoods in Cypress is the community of Cypress Springs. Located on the south side of Longenbaugh Road, just east of Fry Road, Cypress Springs sits less than 30 miles from downtown Houston. Development began in the early 2000s, and today the neighborhood features more than 800 single-family homes.
Typical floorplans in this neighborhood range in size from 1,300 to more than 3,000 square feet, averaging just over 2,000 square feet. Homes for sale in Cypress Springs are generally priced from the $100s to the $300s, with an average selling price of around $250,000.
Kids grades PK–5 in Cypress Springs are zoned to attend either Andre Elementary or Duryea Elementary School. Hopper Middle School serves students in grades 6–8, while teens in grades 9–12 enroll in nearby Cypress Springs High School. Several private schools and daycare facilities are also convenient to the neighborhood.
Cypress Springs residents will find plenty of things to see and do in this part of the Houston metro. The area features dozens of public Cypress parks and many other outdoor recreation opportunities. Other amenities near the neighborhood include a number of specialty grocery stores and Richard & Meg Weekley Community Center.
Cypress Springs Amenities
Community Park
Sports Fields
Sports Courts
Playground
Yaupon Ranch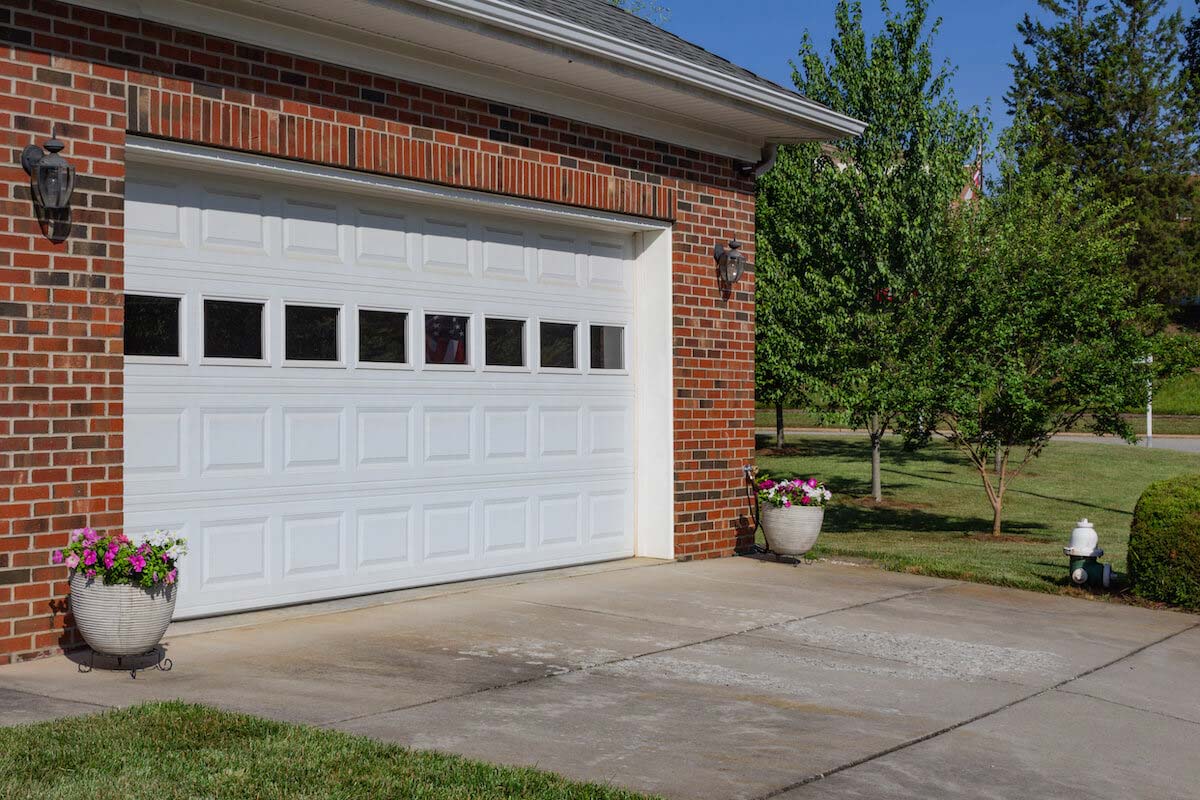 Straddling Greenhouse Road on the south side of Longenbaugh, Yaupon Ranch is positioned conveniently between Fry Road and Barker Cypress. Yaupon Ranch comprises several neighborhood sections established in the 1970s, totaling more than 900 single-family properties.
Homes in Yaupon Ranch are primarily traditional architecture, with many residences having been built in the 70s and 80s. Average properties here run just under 2,000 square feet on homesites of about 5,800 square feet. Homes for sale in Yaupon Ranch typically list from the $100s to the $300s, with an average price of around $270,000.
The Yaupon Ranch neighborhood is also zoned to Cypress-Fairbanks ISD. Students here attend Andre Elementary School, Hopper Middle School, and Cypress Springs High School. The area also features dozens of daycare facilities and private learning programs within minutes of the community.
Residents of Yaupon Ranch enjoy easy access to area parks and golf courses. Plenty of shopping, dining, and entertainment venues are also found in this corner of the Greater Houston metro.
Yaupon Ranch Amenities
Fenced Swimming Pool
Pocket Parks
Multiple Playgrounds
Sports Court
Covered Picnic Areas
Bonaire
The neighborhood of Bonaire lies just north of US-290 and Highway 6, a little over 20 miles from downtown Houston. Founded in the late 1970s, the Bonaire community features a mix of commercial and residential development. Today Bonaire has more than a thousand single-family homes and ranks among the most inexpensive neighborhoods in the Cypress area.
Floorplans in this neighborhood range from 1,300 to more than 2,600 square feet, with an average home size of just over 1,500 square feet. Homes for sale in Bonaire typically list from the $100s to the high $200s, with the typical property selling for about $225,000.
Bonaire residents are zoned for Lamkin Elementary, which sits on the community's west side, and Adam Elementary, which serves the east side. Arnold Middle School and Cy-Fair High are minutes from Bonair and serve grades 6–8 and 9–12, respectively.
The Bonaire subdivision has easy access to a variety of shops, services, restaurants, and entertainment options, such as an outlet mall within the neighborhood and plenty of dining options near the intersection of Northwest Freeway and FM 1960 West. This part of Houston also features an abundance of public parks, recreation centers, golf courses, and more. Suffice to say, there's no shortage of activities and attractions for residents of Bonaire to enjoy.
Bonaire Amenities
Community Clubhouse
Swimming Pools
Playgrounds
Barwood Park
Lancaster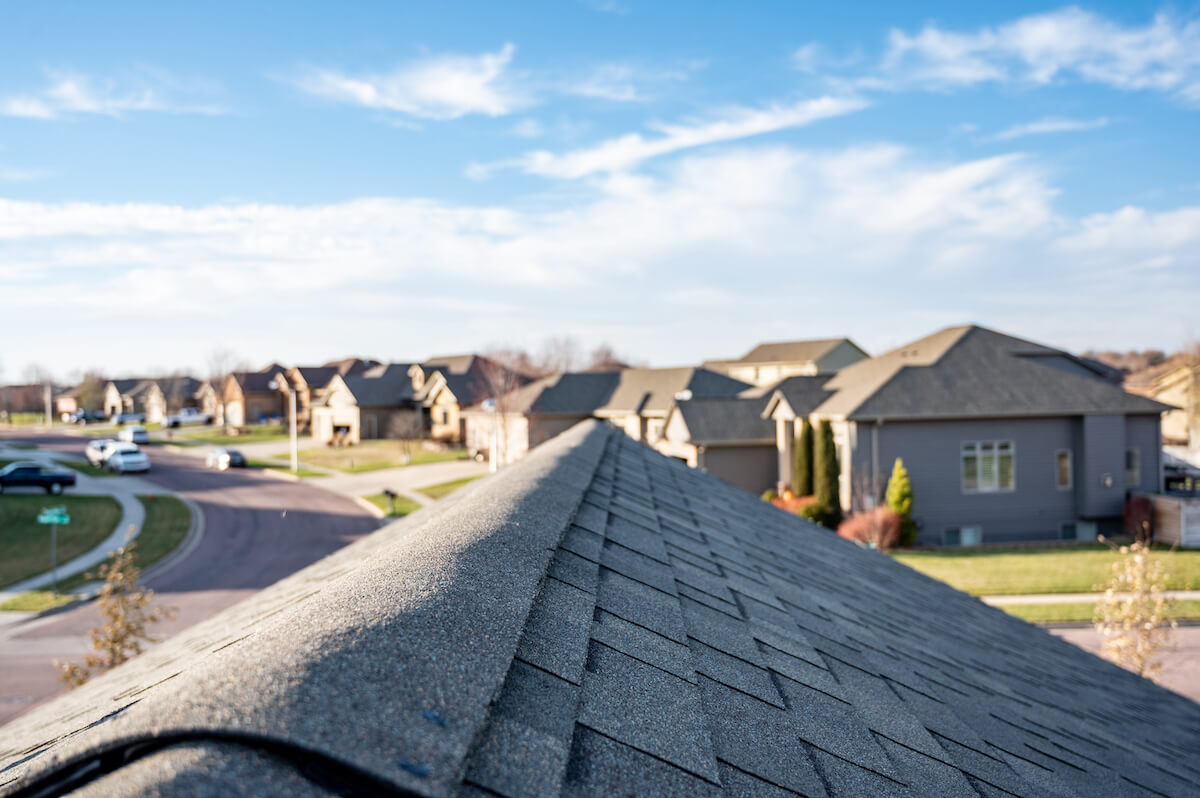 The Cypress-area community of Lancaster is located on the north side of FM 529, just east of Fry Road. Downtown Houston is less than 30 miles away, and the city's Energy Corridor is only a few miles south down Highway 6. The Lancaster development started getting built out in the early 1980s, with almost 600 single-family homes in the neighborhood today.
Among the most affordable Cypress neighborhoods, homes for sale in Lancaster generally range in price from the $100s to the $200s. The median selling price for homes here is usually around $175,000. Floorplans in the community average 1,300 square feet, with most properties built in the 80s and 90s.
Students living in the Lancaster community attend Cy-Fair ISD schools in the area, including Andre Elementary, Duryea Elementary, Hopper Middle School, and Cypress Springs High. Numerous private schools and daycare centers are also located nearby.
There's no shortage of restaurants, retail, and recreation in the region. With dozens of shops and businesses along Fry Road and FM 529, Lancaster residents will find everything they need just minutes from their front doors. There are plenty of amenities and attractions inside the community as well.
Lancaster Amenities
Lancaster Community Center
Swimming Pool
Lancaster Park and Playground
Sand Volleyball
Sports Court
Picnic Tables
Cypress Ridge
The community of Cypress Ridge is an affordable neighborhood option for homebuyers interested in moving to Cypress. With construction beginning in the early 2000s, Cypress Ridge now comprises about 480 single-family homes nestled near the intersection of Huffmeister and Cypress Rosehill Road.
Most Cypress Ridge homes range in size from 1,400 to over 3,200 square feet, with the typical floorplan running about 2,100 square feet. Homes for sale in Cypress Ridge typically list from the $200s to the $300s and generally sell at an average price of around $280,000.
Cypress Ridge students are zoned to attend Robison Elementary, Goodson Middle School, and Cypress Woods High. Various other private schools, early learning programs, and daycare facilities are found within minutes of the subdivision.
The central location of the Cypress Ridge community is convenient to downtown Houston attractions as well as employment opportunities in Houston's Energy Corridor, just 20 miles to the south. And folks here have a headstart to the Texas Hill Country, with the city of Austin only a couple of hours away.
Cypress Ridge Amenities
Community Parks
Shaded Playgrounds
Picnic Areas
Near Cypress Towne Center
Ravensway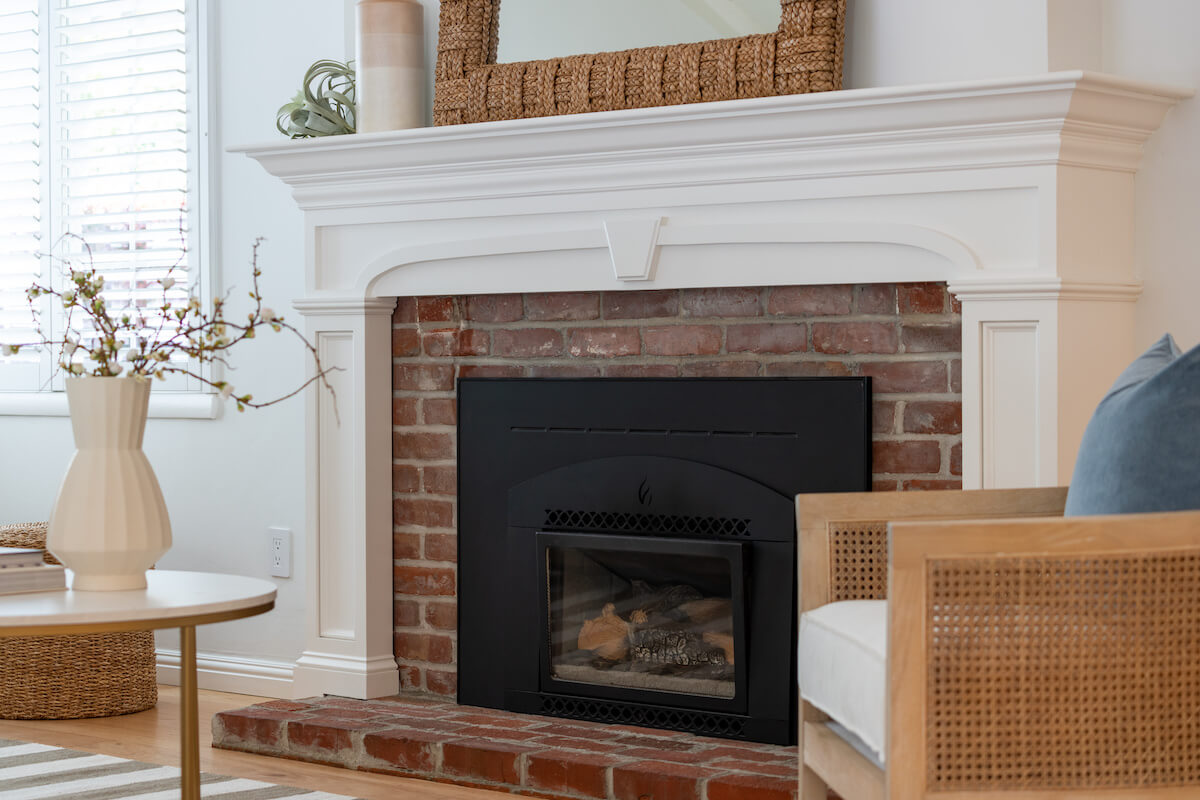 Another affordable Cypress-area neighborhood is the wooded community of Ravensway, north of 290 and Hwy 6 on the east side of Huffmeister Road. Established in the 1970s, Ravensway is home to more than 300 single-family properties in the heart of Northwest Houston.
Homes in the Ravensway neighborhood range from 1,500 to more than 2,700 square feet, and homesites here typically have homes with larger lots than in similar communities, averaging almost a quarter of an acre. Prices range from the $100s to the $300s, with the average home for sale in Ravensway listing for around $260,000.
Students PK–5 are zoned to attend the on-site campus of Millsap Elementary, while grades 6–8 enroll in nearby Hamilton Middle School. Older kids in the community attend the Cy-Fair High School campus located just three miles away.
Local highlights include several equestrian-related services close to Ravensway. Horse lovers will find a variety of boarding stables, riding schools, trainers, and veterinarians just minutes from the neighborhood. Elsewhere, the area features a variety of dining, shopping, and entertainment venues. Several public parks and golf courses are also convenient to the Ravensway community.
Ravensway Amenities
Ravensway Clubhouse
Swimming Pools
Tennis Courts
Basketball Court
Playgrounds
Cy-Fair Nature Trails
Nearby Horse Stables
Stablewood Farms
Stablewood Farms is another of the most affordable neighborhoods in Cypress. Straddling Louetta Road east of Huffmeister and Barker Cypress, Stablewood Farms was first developed in the early 2000s. Today the community features a few hundred traditional-style single-family homes with plenty of trees and well-maintained landscaping.
Homes in Stablewood Farms feature floorplans averaging around 2,300 square feet. Average homesites run a little over 7,000 square feet, with some backyards big enough for private swimming pools. Stablewood Farms homes for sale generally range from the $200s to the $400s, with a typical list price in the mid-$300s.
Farney Elementary and Black Elementary schools serve Stablewood Farms students in grades PK–5, and Goodson Middle School handles grades 6–8. Stablewood Farms students in grades 9–12 attend Cypress Woods High School, just three miles away.
Residents of Stablewood Farms will find an abundance of parks and green space in the area. The nearby Little Cypress Creek Nature Preserve is a favorite destination, featuring ponds, hike and bike paths, and horse riding trails. Elsewhere, folks have easy access to various restaurants, retail shopping, and entertainment opportunities.
Stablewood Farms Amenities
Stablewood Farms Swimming Pools
Splash Pad
Sports Courts
Covered Picnic Areas
Parks and Playgrounds
Walking Trails
Mason Woods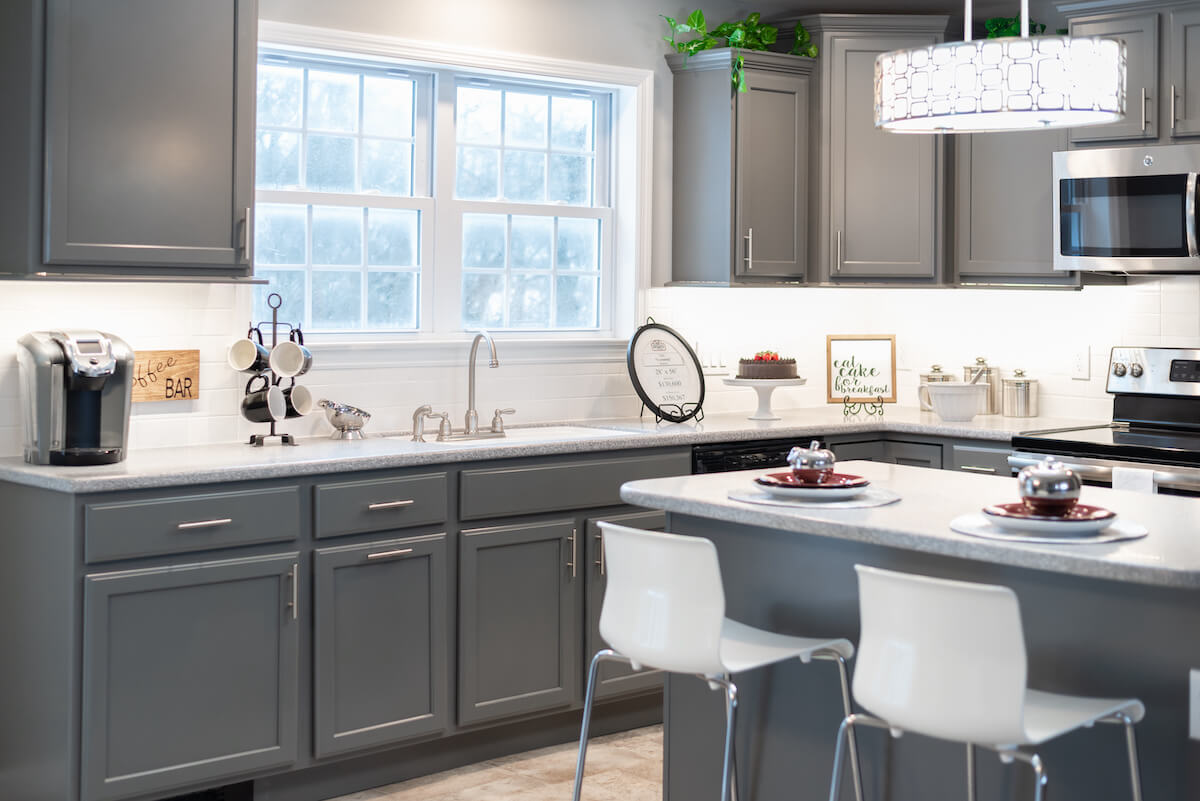 One of the newest and most affordable neighborhoods in Cypress is the community of Mason Woods, near FM 529 and the Grand Parkway Toll Road. The development features several different residential sections and brings more than a thousand new homes to this corner of the Greater Houston area.
New construction homes for sale in Mason Woods focus on innovative design and energy-efficient features, with floorplans ranging from around 1,300 to nearly 3,000 square feet. Several buildable plans allow buyers to customize their living space, and quick move-in models are generally available. Homes for sale in Mason Woods generally start from the $200s.
Mason Woods has multiple Cypress-Fairbanks ISD schools located just minutes away. Students in Mason Woods attend Walker Elementary, Rowe Middle School, and Cypress Park High School. Plenty of daycare and early-learning centers are also found throughout the area.
Residents of Mason Woods have easy access to hundreds of restaurants, nightclubs, retail shops, and entertainment venues in the area. Plenty of parks, public golf courses, and other outdoor recreation options surround the subdivision, as well.
Mason Woods Amenities
Recreation Center
Fitness Center
Resort-Style Swimming Pool
Splash Pad
Community Lakes
Parks and Playgrounds
Your Dream Home in Cypress, TX is Waiting
Cypress offers a lot of places to live and a lot of things to do on Houston's northwest side. There are dozens of neighborhood parks, public golf courses, and hike and bike trails. The area also features an abundance of dining, entertainment, and shopping options.
The Cypress suburb comprises various residential communities with thousands of single-family homes and multi-family units. Property prices can run into the millions in some of the most popular neighborhoods in Cypress. Fortunately, this city is home to several well-established communities that provide homebuyers with affordable living options.
Ready to find your new home in Cypress, TX? Call The RealFX Group at (512) 956-7390 to contact an experienced local real estate agent today and let us help you discover the perfect place to live in Cypress.