8 Most Affordable Neighborhoods in Richmond TX
Posted by Texas Real Estate Source on Monday, January 16, 2023 at 9:34 AM
By Texas Real Estate Source / January 16, 2023
Comment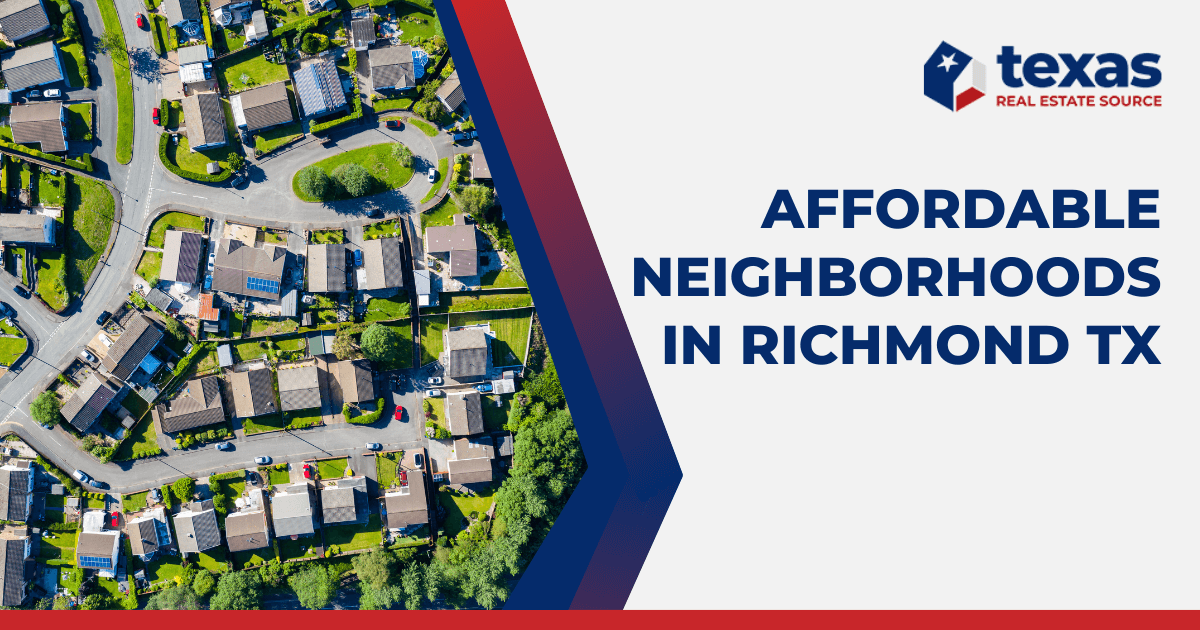 Nestled within Fort Bend County just outside the greater Houston area, Richmond is a small, close-knit city with a distinct sense of small-town charm. Homes in Richmond have many desirable features that provide a high standard of living, and its many affordable neighborhoods allow people of all lifestyles to find their perfect home on their budget.
Wondering which Richmond, Texas, neighborhoods might have everything you're looking for? Come take a closer look at some of the affordable neighborhoods in Richmond, TX, the general price points of their homes, and the amenities that residents of those communities can enjoy:
Long Meadow Farms
With a convenient location along State Highway 99 (also known as Grand Parkway), Long Meadow Farms is an ideal neighborhood for easy access to various areas throughout the greater Houston area. This highway crosses over multiple spokes in the Houston highway "wheel," including Southwest Freeway, Alt-90, Westpark Tollway, and Katy Freeway.
Most homes in this neighborhood are single-family homes, but there's plenty of variety in size, with four-bedroom homes having anywhere from less than 2,000 square feet to over 4,000 square feet. Home prices in the community also have a wide range, with homes for sale in Long Meadow Farms generally starting in the mid-$300s and extending into the $600s and up. Generally speaking, the further south in the neighborhood you look, the larger and more expensive the homes become.
This means that whether you're looking for a smaller property size and simpler home or a large plot of land with a spacious home, you can find it among the avenues of Long Meadow Farms. Some homes even have waterfront views, thanks to the picturesque neighborhood lakes.
Long Meadow Farms Amenities
Easy access to State Highway 99
Community pool
Public parks and green spaces
Walking trails
Restaurants and grocery shopping nearby
Regal Grand Parkway movie theater
Vacek Country Meadows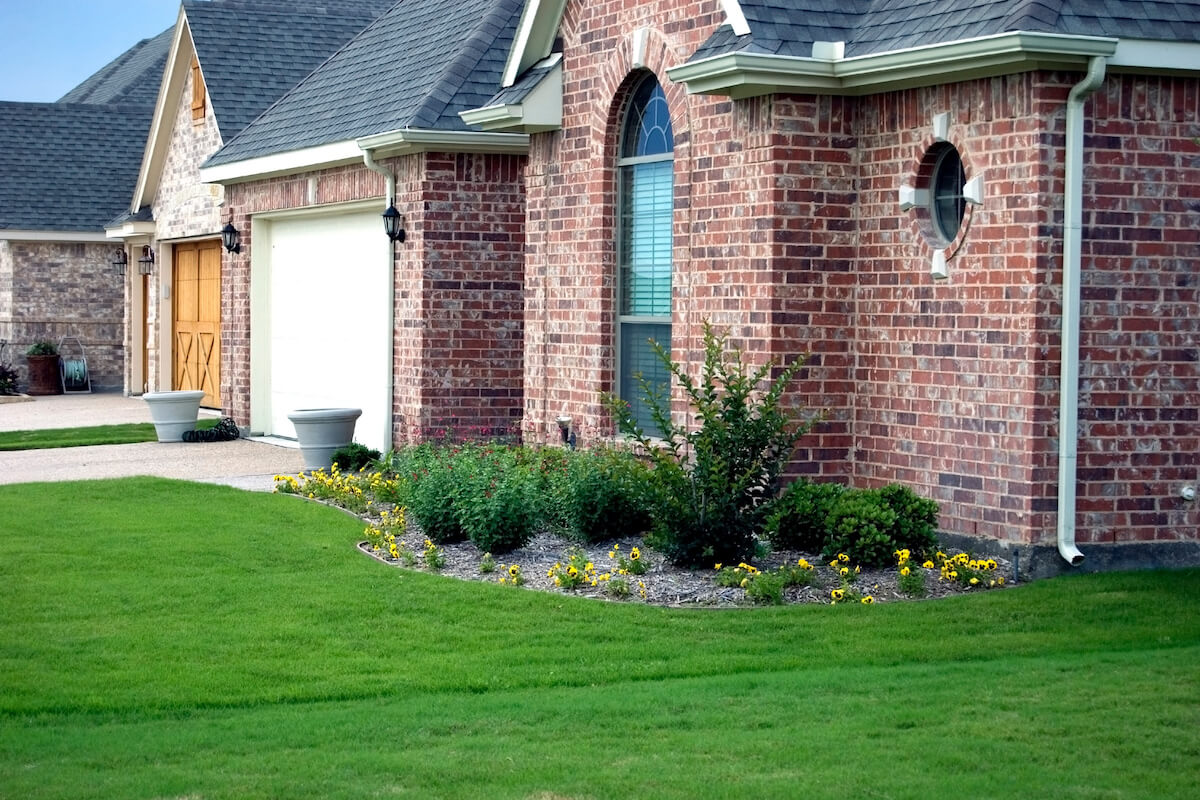 Vacek Country Meadows is a rural community of new construction homes located south of central Richmond and southwest of the city of Houston proper. Since Vacek Country Meadows is distinctly separated from most of Richmond's neighborhoods, residents enjoy a peaceful atmosphere while still being able to access all the amenities they might need within minutes.
There is a huge variety of newly built homes available in Vacek Country Meadows, making it easy to find the perfect new home to fit both your lifestyle and your budget.
Most homes in this community have approximately three bedrooms and two bathrooms at around 1,500 square feet, and home prices in Vacek Country Meadows usually range from the high $200s to the mid-$300s depending on home size, distinct location, and more.
The majority of new homes in Vacek Country Meadows are built by LGI Homes, a reputable builder in Richmond, TX, that has expanded the neighborhood with multiple stunning brick homes, adding value to the community and providing plenty of housing options for new residents.
Additionally, with the 10-year structural warranty on every new LGI home in Vacek Country Meadows, new residents can have peace of mind knowing that their home is built for the long haul.
Vacek Country Meadows Amenities
Within 15 miles of both Richmond and the city of Rosenberg
Scenic natural views
Equestrian services nearby
Walking trails and picnic areas
Candela
Candela is another master-planned neighborhood out in the country, located north of central Richmond—so far north, in fact, that it's actually closer to the city of Fulshear than downtown Richmond, despite the addresses. In addition to having many high-quality new construction homes already built in a variety of sizes and styles, Candela is still growing, so new residents have the opportunity to design their dream homes from the ground up.
Living in a master-planned community like Candela gives residents access to amenities within their own neighborhood, such as Candela's Axis Amenity Center with a fitness center, pool, and indoor and outdoor entertaining areas.
Also, major thoroughfares like State Highway 359 (traveling north to south) and FM 1093 (traveling east to west and turning into Westpark Tollway) are located within minutes of residents' homes in Candela. This neighborhood is well-connected to its surrounding communities and cities.
Homes in Candela typically have around four bedrooms and 2.5 bathrooms, with prices starting from the low $300s. At the higher end, brand-new luxury homes for sale can list in the $800s and higher.
Candela Amenities
Community pools and splash pad
On-site elementary school
Outdoor gathering areas
Fitness center
Dog park
Playground
Westheimer Lakes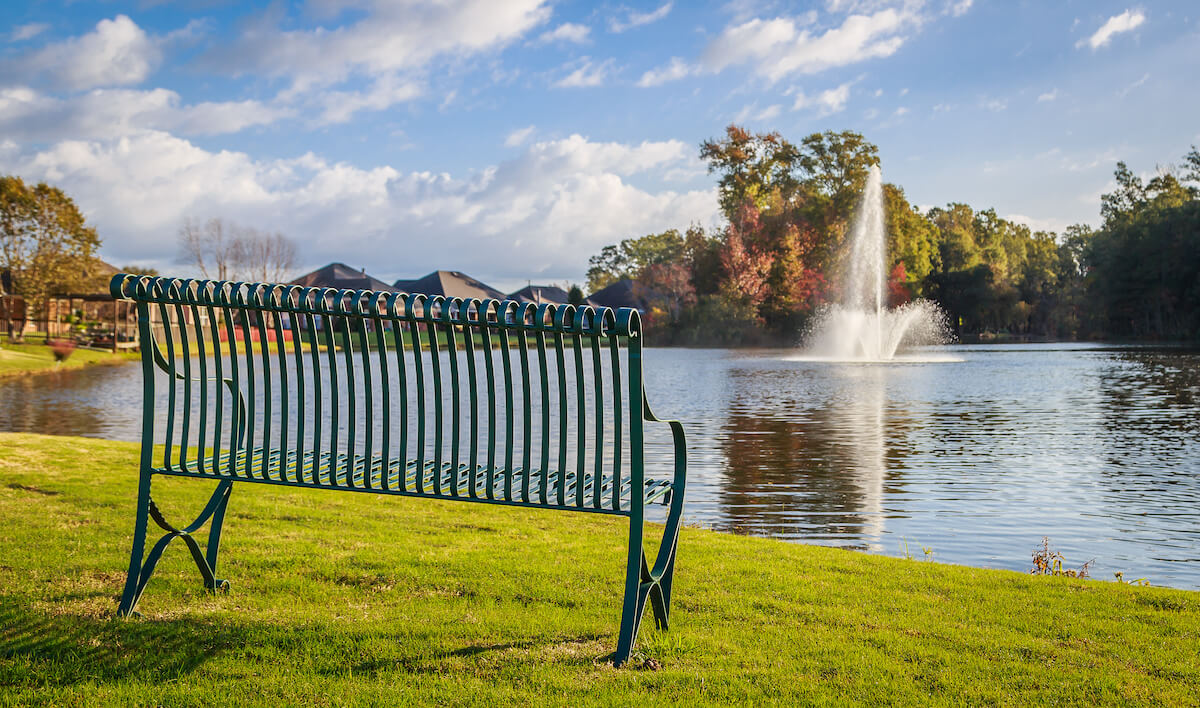 Westheimer Lakes is an expansive master-planned community just northeast of Candela with multiple subdivisions. In fact, Westheimer Lakes is made up of two halves: Westheimer Lakes proper and Westheimer Lakes North, which has addresses in the city of Katy.
This beautiful neighborhood has more to offer its residents than just large properties and well-designed homes. True to its name, Westheimer Lakes contains multiple bodies of water. This makes it possible for residents to enjoy a variety of waterfront homes with scenic views as well as opportunities for recreation.
The lakes truly make Westheimer Lakes stand out from other Richmond neighborhoods; the waterfront nature of the community is a significant feature that draws new residents to the area.
Homes for sale in Westheimer Lakes can be found as affordably as the low $300s. Homes in this price range typically have three or four bedrooms, two or three bathrooms, and 1,800 to 2,300 square feet of living space.
Westheimer Lakes Amenities
Waterfront homes
Community pools and splash pad
Children's playhouse
Walking trails
Volleyball, basketball, and tennis courts
Location on Westpark Tollway
Shopping and dining nearby
Canyon Gate at the Brazos
If you're looking for a central, walkable neighborhood with easy access to all of your favorite shopping, dining, and entertainment options, Canyon Gate at the Brazos is the perfect neighborhood for you.
Located just southeast of central Richmond, Canyon Gate at the Brazos is a little city all its own with a commercial area to explore nearby in addition to its many inviting residential streets and cul-de-sacs. A winding river runs right through the middle of Canyon Gate at the Brazos, helping keep the neighborhood connected to the surrounding nature.
In fact, residents of the community can easily access all kinds of walking trails, nature lookouts, lakes, and public parks within a short drive, such as Brazos River Park, one of the best parks in Sugar Land. Additionally, the close proximity to Interstate 69/Southwest Freeway makes trips into Downtown Houston simple for residents of Canyon Gate at the Brazos.
Homes for sale in Canyon Gate at the Brazos typically list between the low $300s to the high $400s depending on lot size, home size, and landscaping and architectural details. Many homes in this neighborhood are more than 2,500 square feet in size and are built with attractive brick facades to support an inviting community feel.
Canyon Gate at the Brazos Amenities
24-hour security at entry
Playground
Community pool
Fitness center
Tennis courts
Restaurants, shopping, and entertainment nearby
Lakemont
Nestled just south of Westpark Tollway and east of the Lakes of Bella Terra neighborhood, Lakemont is another large community made up of multiple subdivisions in north Richmond. With several bodies of water within the community, new residents have a good chance of finding a home with a water view for sale. The majority of Lakemont's homes are less than 20 years old, making it a great place to buy a home that is near the beginning of its lifespan and will last for many years to come.
Most homes in the neighborhood have an average of four bedrooms and three bathrooms, but specific home details vary greatly throughout Lakemont. In general, homes for sale in Lakemont list from the mid-$300s to the low $500s, with plenty of homes in the high $300s–low $400s range.
Though you can likely find a home in Lakemont suitable for most budgets, the homes with the most desirable features, like water views, tend to be pricier. On the other hand, some of the neighborhood's desirable features are shared by the entire community, such as the on-site elementary school and community pool.
Lakemont Amenities
Malls, grocery shopping, and restaurants nearby
On-site elementary school
George Bush Park nearby
Community pool, outdoor patio areas, and playground
Grand Mission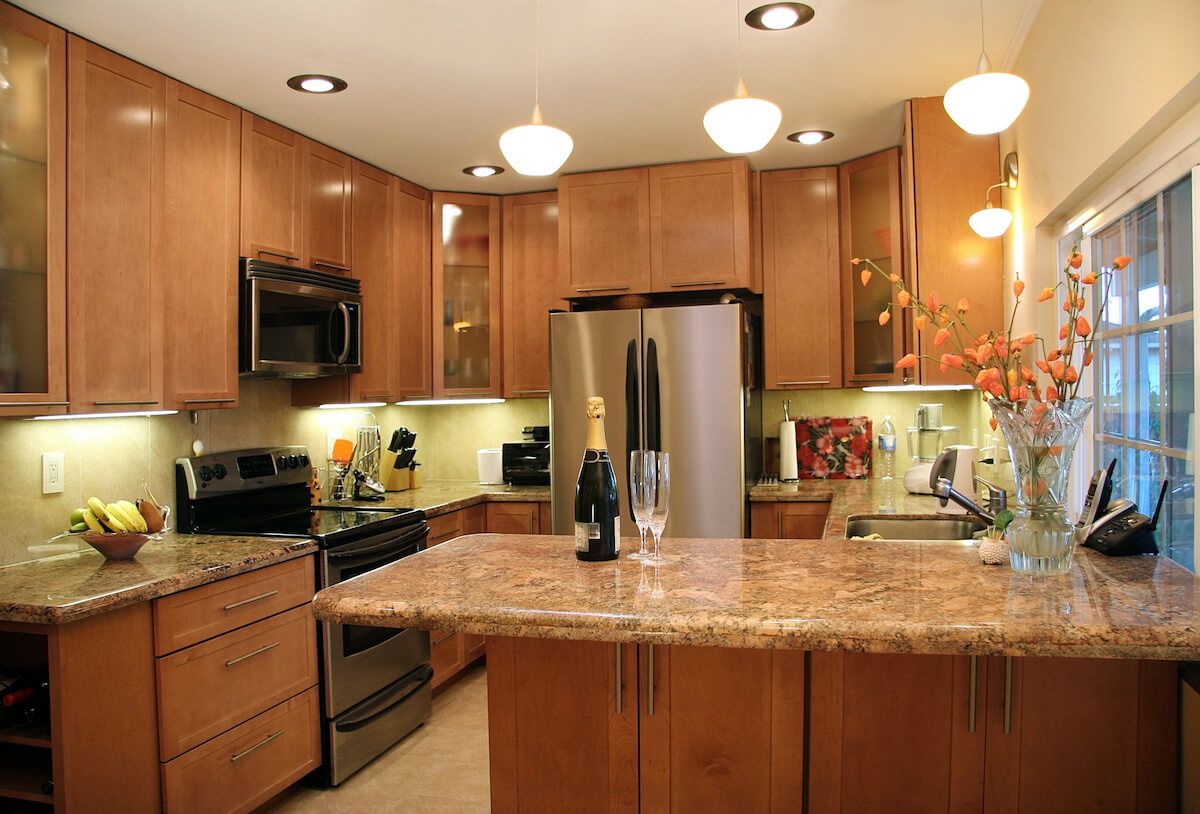 Lakemont's next-door neighbor, Grand Mission, offers many of the same amenities and home types as Lakemont while still maintaining a distinctive sense of community all its own. Grand Mission is also located on Westpark Tollway, connecting the neighborhood directly to Downtown Houston attractions.
In addition to being located within minutes of all kinds of restaurants, shops, bars, and other forms of entertainment, Grand Mission homes are extremely close to Freedom Park, a huge scenic green space just north of Westpark Tollway. At Freedom Park, visitors can participate in any number of outdoor recreational activities, including hiking, biking, picnicking, playing recreational sports, and simply enjoying the beautiful views around the natural area.
No matter your preferences and budget, there's a home in Grand Mission to suit your needs. Just like the neighborhood's amenities, Grand Mission homes are widely varied, with many different property sizes and home styles available.
Prices for Grand Mission homes are generally in the low $300s to mid-$400s, though homes can be priced higher depending on their exact location, lot size, home size, landscaping features, and more.
Grand Mission Amenities
Access to scenic natural areas
Access to Westpark Tollway
Grocery stores, restaurants, and retail shopping nearby
Multiple community pools and splash pads
Community gym, clubhouse, and playground
Fieldstone
Fieldstone is a quiet neighborhood across the highway from Long Meadow Farms. Homes here are shaded by mature trees, and community areas are noted for their well-maintained beauty.
The neighborhood itself contains a community center with a fitness center, splash pads, pool, and playground, but otherwise, Fieldstone is free of any commercial traffic. However, easy access to Highway 99 gives Fieldstone residents access to Aliana Shopping Center and The Shops of Bella Terra, as well as grocery stores, retail, and restaurants right outside neighborhood boundaries. With so many shops, eateries, and opportunities for entertainment in Fieldstone, it's easy to enjoy an exciting and varied lifestyle when you choose this neighborhood as your home. There are many home styles and sizes to select from, so you can tailor your Fieldstone home to your needs and desired experience.
Home prices in Fieldstone usually range from the low $300s to the high $400s, with some homes above this range depending on the home's specific features and location. Fieldstone properties generally range in size from 0.07 acres up to around 0.35.
Fieldstone Amenities
Grocery and retail stores nearby
Community pool, splash pads, and playground
Community outdoor gathering area with fire pit
Access to State Highway 99
Find Your New Community in Richmond, TX
As you can see, Richmond is a varied community with many distinctive neighborhoods to choose from. No matter which area you choose to settle in, however, you're sure to find a huge number of amenities, an affordable home, and a sense of connection to the neighborhood itself as well as to the big city of Houston to the east.
Considering Richmond for your next home? Call The RealFX Group at (512) 956-7390 today to get in contact with an experienced local real estate agent who can help you find your dream home in Richmond, TX.