Luxury DFW Living: 8 Most Expensive Neighborhoods in Dallas and Fort Worth
Posted by Texas Real Estate Source on Thursday, September 1, 2022 at 12:38 PM
By Texas Real Estate Source / September 1, 2022
Comment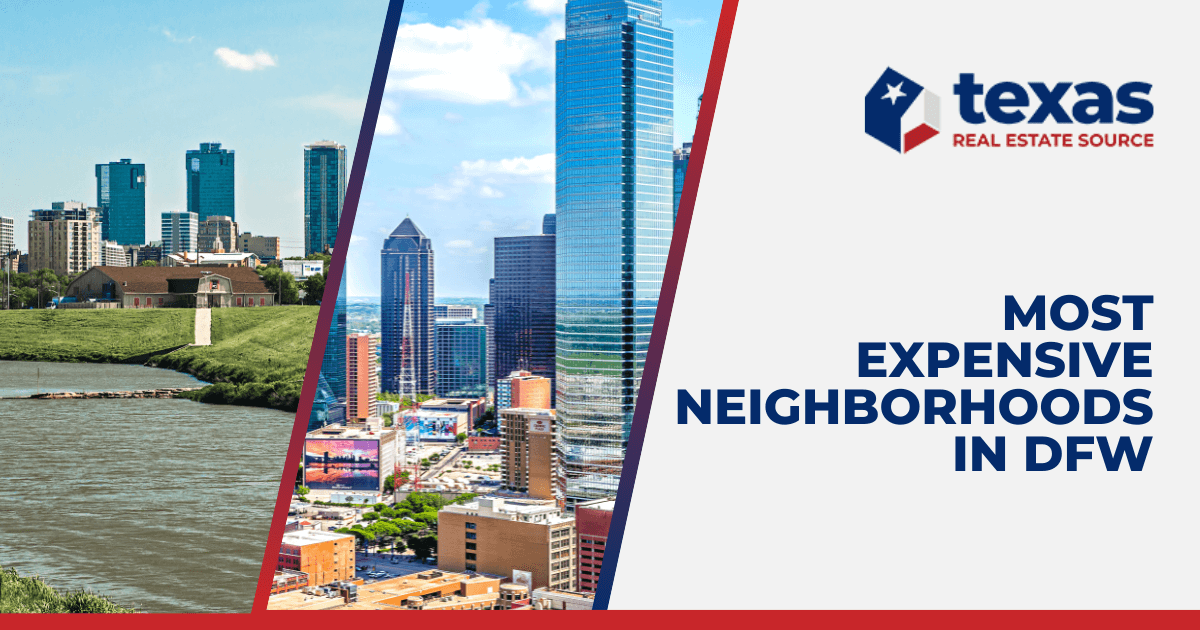 In a state known for its big-bigger-biggest culture, it should be no surprise that the Dallas–Fort Worth area contains many of the most lavish properties in Texas. Dallas-Fort Worth, also known as DFW, is the largest metropolitan area in the South, and both cities are surrounded by high-end communities featuring high-priced real estate. If you're moving to the DFW area and looking for luxury, read on to explore the most expensive neighborhoods in Dallas and Fort Worth.
Most Expensive Neighborhoods in Dallas
Dallas homebuyers will find a mix of luxe property types, from gated community homes and golf course properties to condos, townhomes, and loft apartments near the city center. In some areas, homes with acreage and waterfront homes are not uncommon. Keep reading to find out what makes these upscale Dallas neighborhoods unique.
Preston Hollow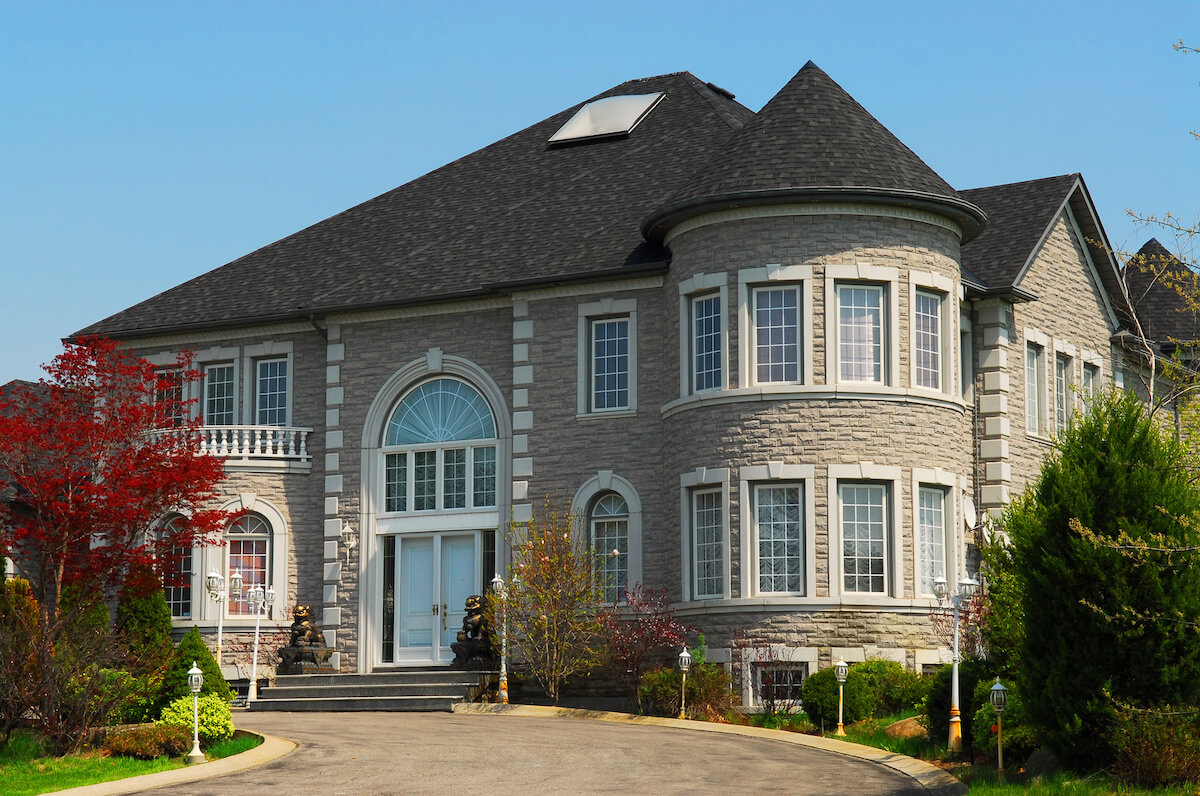 Preston Hollow is one of the most expensive neighborhoods in the city of Dallas. The community features many grand old homes and spacious lots typical of Dallas during the Texas oil boom in the early 1900s. About 10 miles up the Dallas North Tollway from downtown, Preston Hollow provides easy access to the city center. Frequent business flyers also appreciate its proximity to Dallas Love Field Airport.
Shoppers find unique local and national retailers at the iconic Preston-Royal Shopping Center. They can also explore boutique shops at The Plaza at Preston Center.
Popular restaurants in the area range from coffee shops and delis to fine dining and international flavors. There's no shortage of nightlife, either. Numerous gastropubs, taverns, and sports bars serve the area, along with several high-end hotel bars.
Outdoor enthusiasts can hike and bike the eight-mile Northhaven Trail that runs through the northern Dallas area.
Preston Hollow has a number of gated community homes mixed in with smaller ranch-style properties. Many homes are built on large lots and feature extensive landscaping and custom amenities.
Homebuyers will also find condominiums in Preston Hollow. Preston Tower, for example, has more than 300 total units, with several other individual condo properties in the area.
Prices in Preston Hollow start in the mid-$300s but can quickly soar to $10 million or more. The median home cost is around $1 million, with rent averaging about $2,000 per month.
Preston Hollow Highlights
Heavily wooded with ample parks and greenspace
Numerous oversized lots
Public and private schools nearby
Close to Southern Methodist University (SMU)
Arts District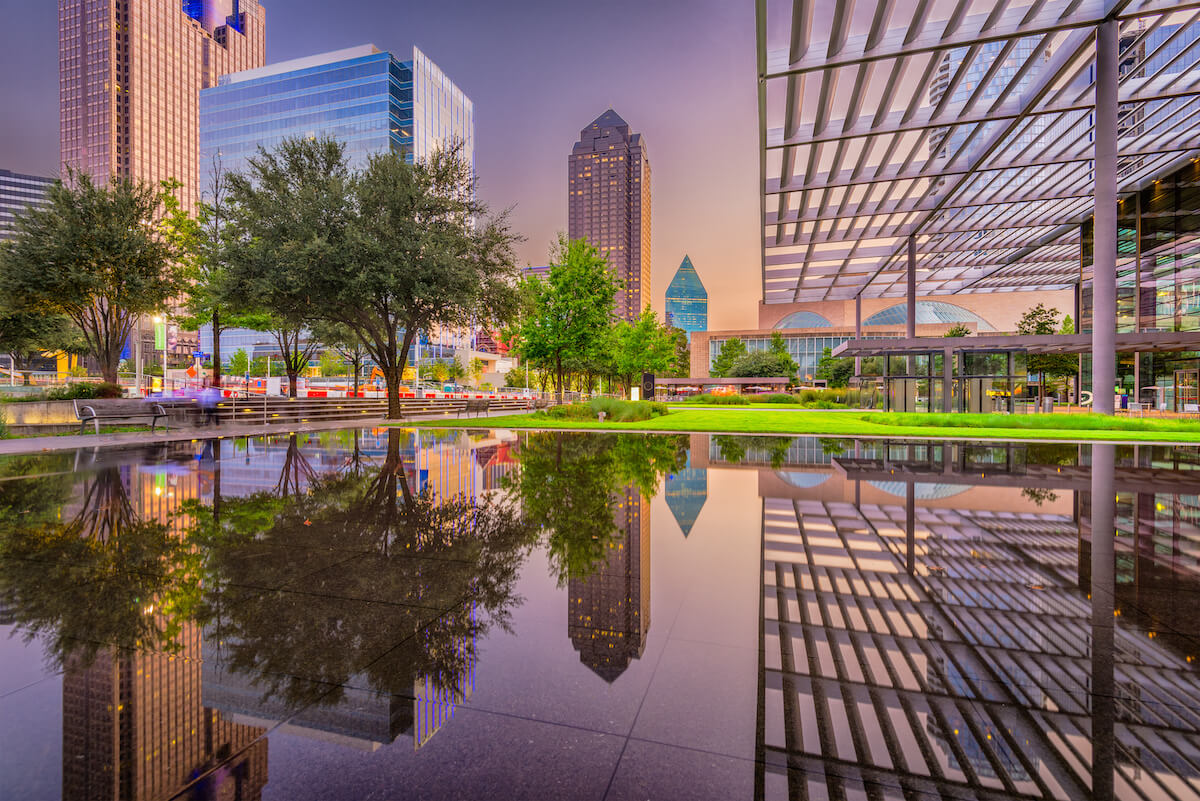 One of the largest urban cultural centers in the country is the Dallas Arts District, a downtown hub for the city's visual and performing arts scene. Just north of the city center and a few blocks from US-75 and Woodall Rodgers Freeway, Arts District residents enjoy convenient access to everything the DFW metro offers—that is, if they ever decide to leave home.
With so many things to do in DFW, Arts District residents find everything they need right in their neighborhood. The highly walkable Arts District features dozens of restaurants, cafes, pubs, shops, and markets.
Bridging the Arts District and Dallas' Uptown area is Klyde Warren Park, a unique green space built on an elevated deck above the eight-lane Woodall Rodgers Freeway. Other Arts District highlights include the Winspear Opera House, the Dallas Museum of Art, and the Dallas Symphony Orchestra.
Available properties in Dallas' Arts District trend towards studios, loft apartments, and high-rise condos. The area is home to One Arts Plaza, perhaps the most recognizable condo tower in the city.
Single-bedroom units begin in the $300s, though home listings in the area typically average closer to $3 million. Some of the Arts District's most luxurious properties cost $5 million or more.
Arts District Highlights
Walking distance to parks and museums
Booker T. Washington High School for the Performing and Visual Arts
Nasher Sculpture Center
Crow Museum of Asian Art
Lakewood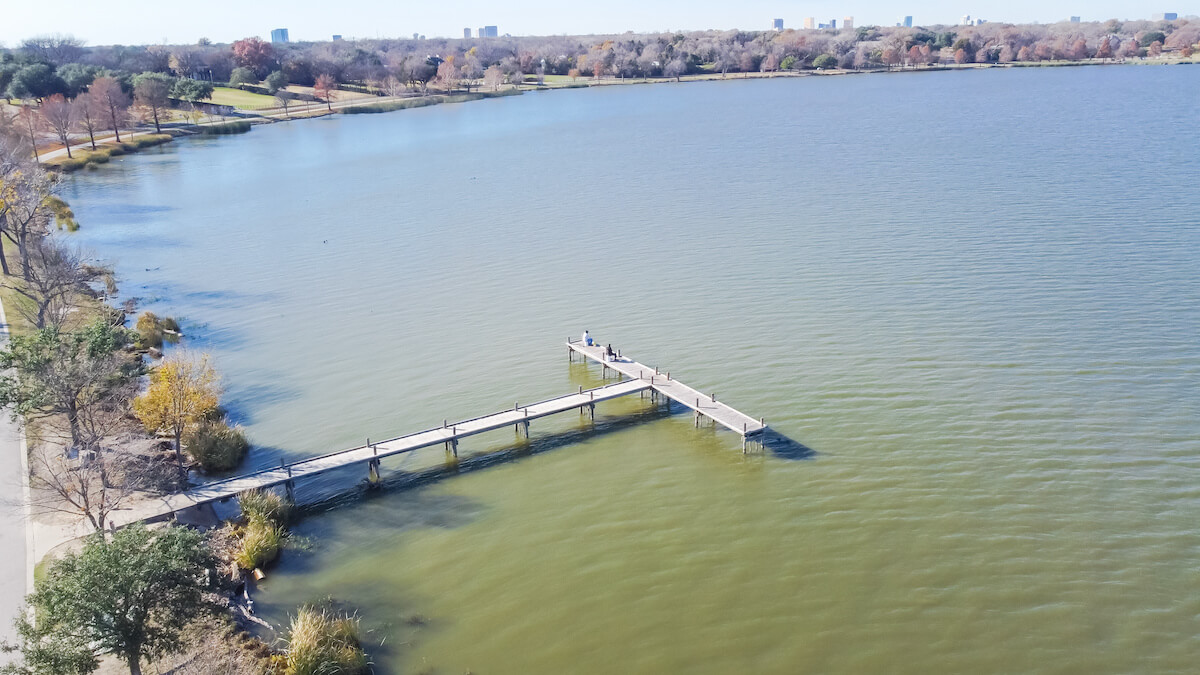 The Lakewood area, established in 1882, is almost as old as Dallas. On the west side of White Rock Lake, this historic neighborhood is among the most expensive areas in Dallas, but with the laid-back vibe typical of a waterfront community.
Lakewood residents enjoy a quiet, small-town feel while relaxing in the shadow of their larger neighbor less than 10 miles away. If and when they venture out, residents have easy access to I-45 and I-30 and quick commutes to the surrounding communities.
Lakewood is close to many popular shops and restaurants. Casa Linda Plaza, Dallas' oldest shopping center, provides residents with more than 60 retail and dining options.
White Rock Lake is Lakewood's main attraction and provides abundant fishing and watersport opportunities. Surrounded by miles of hiking and biking trails and several wildflower and picnic areas, outdoor recreation remains the true allure of the region.
Many of Lakewood's properties date back to the early 1900s. Homes exist across several neighborhoods, with a mix of estate properties, mansions, and more modest single-family homes.
Buyers in the area have no problem finding various home styles and sizes. Waterfront homes, golf course properties, and new construction homes are available in the $800,000 to $900,000 range, with several properties listed for $2 million–$3 million or more.
Lakewood Highlights
Lakewood Country Club 18-hole golf course
Public and private schools
Dallas Arboretum
1930s-era Lakewood Theater
Bluffview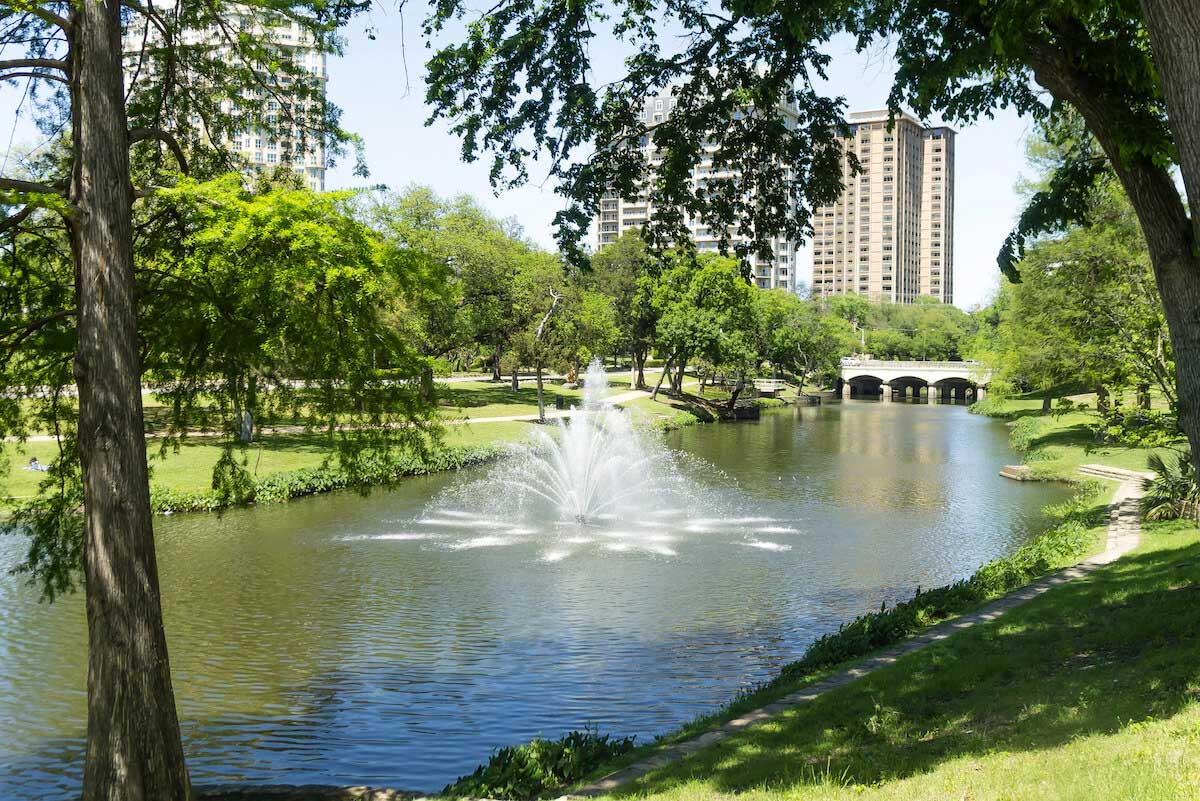 Perched atop the cliffs along one of the many Trinity River tributaries in the region sits the community of Bluffview. Overlooking tree-lined streets, Bluffview was once a dairy farm and is now one of the most expensive neighborhoods in Dallas.
Just up the North Dallas Tollway and less than 10 miles from the center of town, Bluffview is close to many of the area's essential businesses. Residents especially appreciate the neighborhood's proximity to Love Field Airport and its adjoining private airport facilities.
When you're ready to go outside, head over to the Bachman Creek Greenbelt. Plenty of open spaces are available for playing, and a pet-friendly trail runs through the trees along the creek.
The Bluffview area features about 2,000 homes with a mix of architectural styles. Some luxury homes sit on generous lots of two or more acres. Prices in the area range from the $400s to more than $8 million, with median home prices just above the million-dollar mark.
Bluffview Highlights
Tree-lined streets
Large, over-sized lots
Naturally hilly terrain with numerous scenic views
A mix of public and private schools
Uptown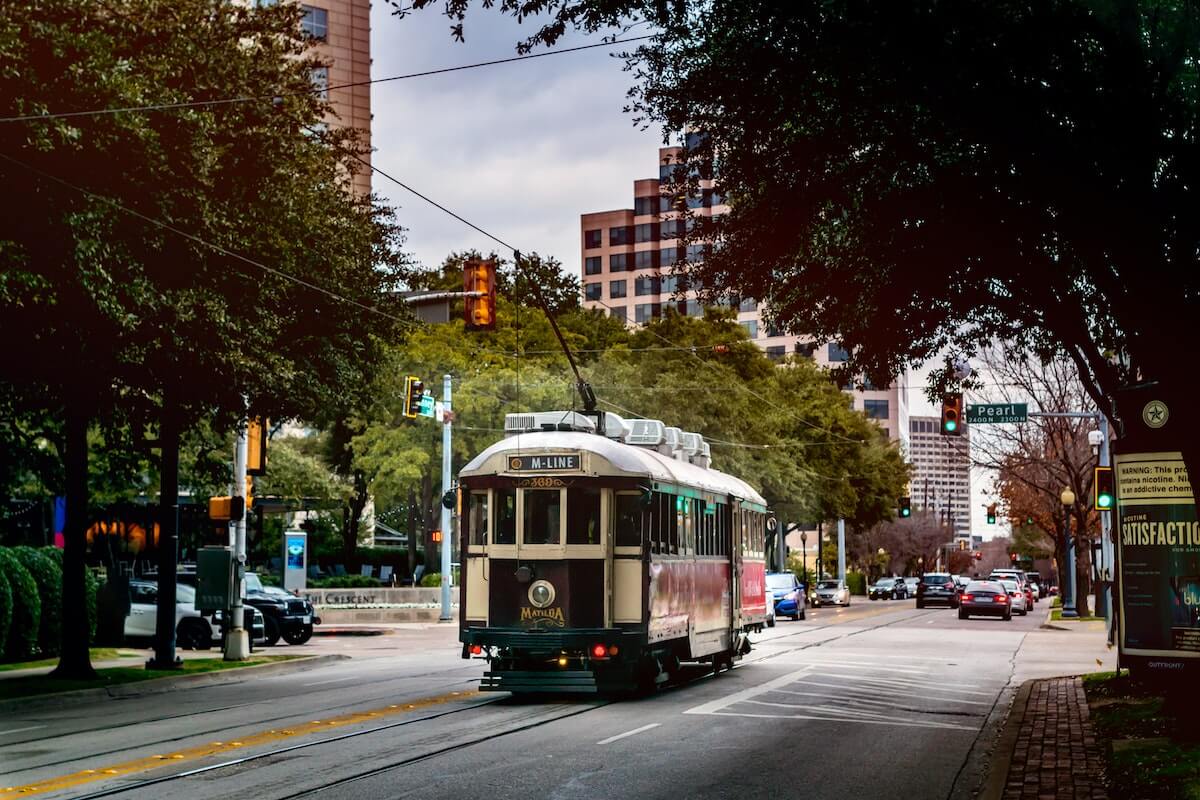 Eclectic, hip, and lively are just a few of the descriptions for the Uptown Dallas area. Somewhat reminiscent of New York's SoHo neighborhood, Dallas' Uptown is fun and funky, with a vibrant arts and entertainment scene.
The Uptown community is one of the city's most walkable and features some of Dallas's best bars, restaurants, and shops. However, if you're not in the mood to walk, you can catch a free ride on one of the vintage McKinney Avenue trolleys connecting Uptown to the downtown area.
Running along the neighborhood's west side near Turtle Creek, Katy Trail provides Uptown residents with the area's best opportunities for outdoor recreation. Jog, bicycle, or stroll along 3.5 miles of well-kept scenic paths.
Uptown features more than a dozen high-rise residential buildings. Buyers in this part of town typically find condos, loft apartments, or townhomes with rooftop balconies starting in the $300s for smaller single-bedroom models. The average listing price in Uptown is about $800,000, with some of the more luxurious properties ranging up to $5 million or more.
Uptown Highlights
Walkable, pet-friendly community
Vintage electric trolley cars
Katy Trail hiking and biking path
Easy access to other Dallas urban districts
Most Expensive Neighborhoods in Fort Worth
The most expensive neighborhoods in Fort Worth are located primarily in the city's southwest corner. These luxurious communities provide residents with a country club lifestyle just blocks away from many of Fort Worth's most iconic landmarks. If you value being close to Texas Christian University, numerous private and public golf courses, and the area's many parks, moving to one of these upscale Fort Worth neighborhoods is an easy decision.
Rivercrest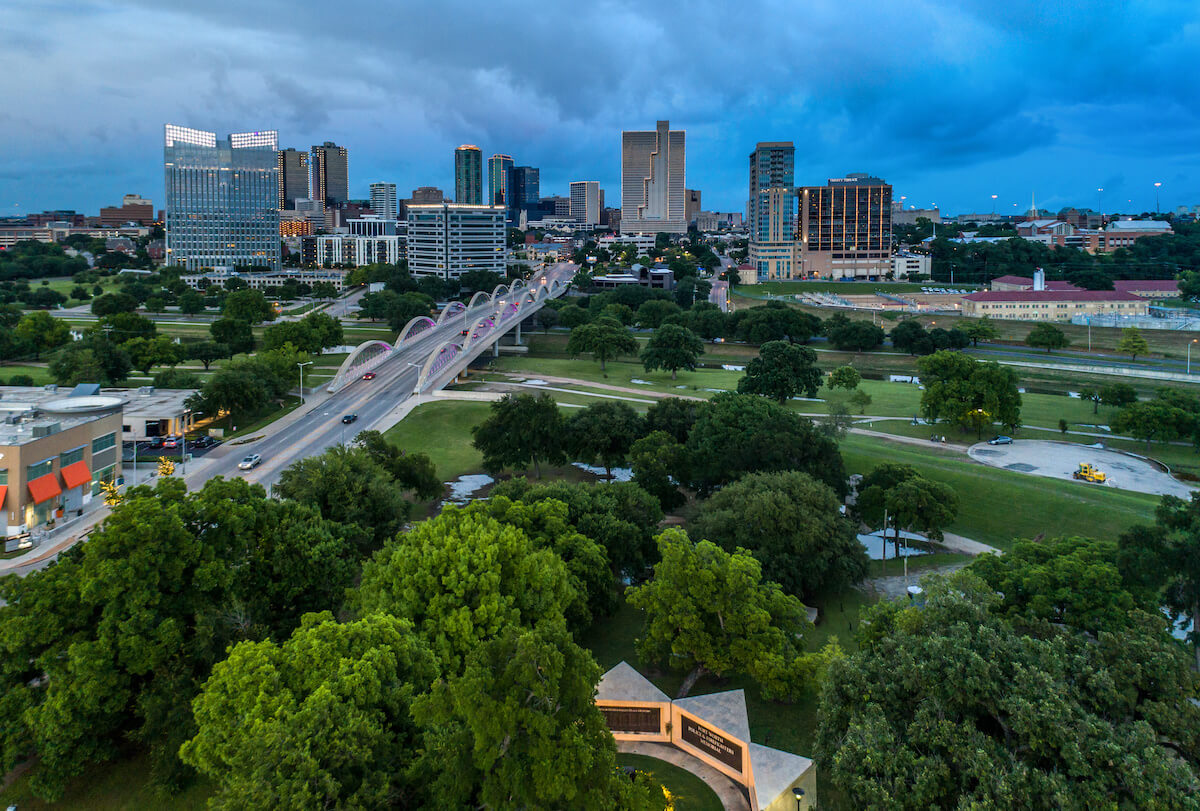 Also known as Crestline, the Rivercrest neighborhood is approximately five miles west of downtown Fort Worth. Sitting on a bluff overlooking the West Fork of the Trinity River, this private community dates back to the early 1900s. Today, Rivercrest remains a quiet and laid-back refuge from the city of Fort Worth; however, it's close enough to town to get there quickly when needed.
The area features numerous restaurants, from BBQ and burgers to fine dining and multicultural cuisine. Plenty of popular pubs and taverns surround Rivercrest, and there's no shortage of places to shop 'til you drop in this part of town.
Rivercrest residents can find other popular destinations just a few blocks south, including the Fort Worth Botanic Gardens, Japanese Garden, Modern Art Museum of Fort Worth, and the Amon Carter Museum of American Art. Dickies Arena, a nearby multipurpose venue, hosts concerts, sporting events, and the Fort Worth Stock Show & Rodeo.
Golf is popular in Rivercrest. Fort Worth's oldest private country club, River Crest, is tops among the dozens of private and public courses. Originally the center of the community, numerous estate homes were built around River Crest in the early 1900s.
Homebuyers will find various properties in the Rivercrest neighborhood, from townhomes to larger luxury homes. The average list price for homes in Rivercrest is just over $2 million.
Rivercrest Highlights
Wooded areas and walking trails
River Crest Country Club
Numerous public and private golf courses
Convenient to Fort Worth Cultural District
Colonial Hills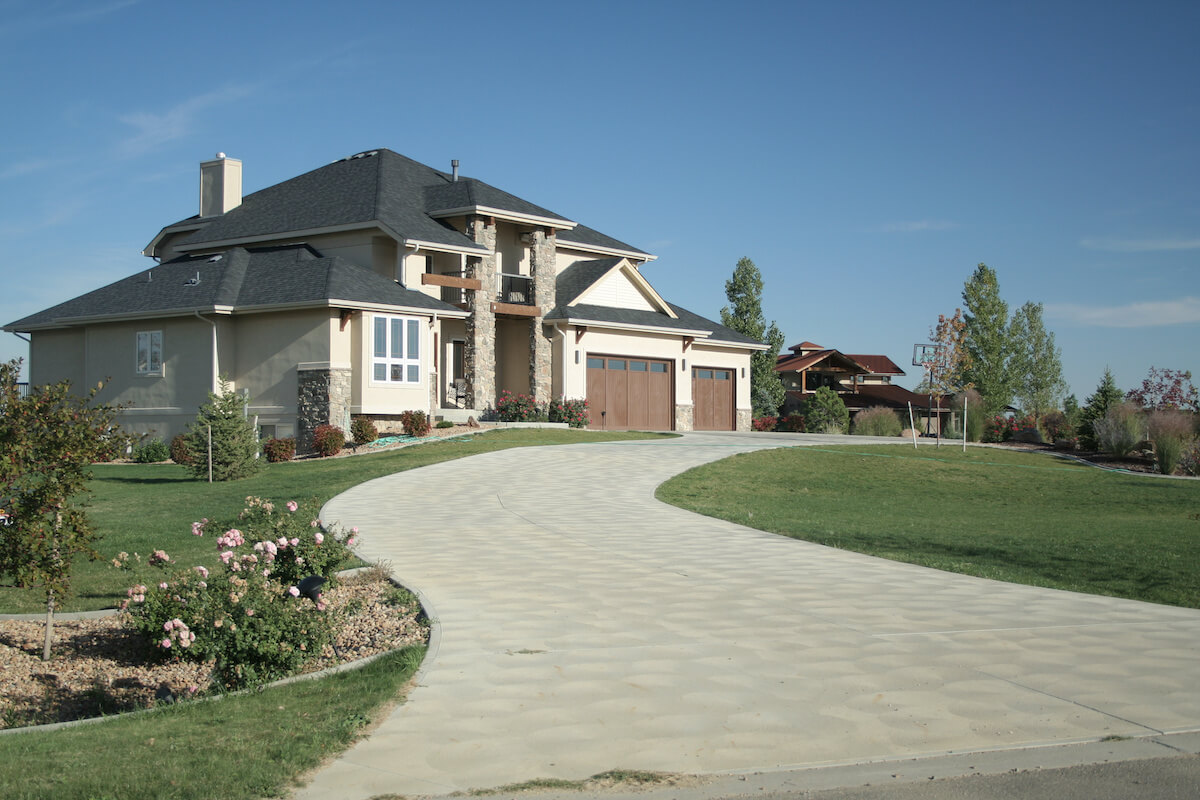 Southwest of downtown Fort Worth, just a few miles down the Chisholm Trail Parkway, is the neighborhood of Colonial Hills. Situated along the Clear Fork branch of the Trinity River, Colonial Hills offers country club living just a few blocks from the Texas Christian University campus.
Colonial Hills' residents can find many activities in the area. The Shops at Clearfork, just across the river, contain many shops and restaurants.
Golfers can play the world-class 18-hole course at the member-owned Colonial Country Club. Additionally, Fort Worth Zoo is just minutes from the first tee box. The area also features dozens of parks, playgrounds, and green spaces for hikers and bikers.
Among the most expensive neighborhoods in Fort Worth, property listings in Colonial Hills start around $500,000 for smaller condos. Some of the largest estate homes are priced well into the millions.
Colonial Hills Highlights
Colonial Country Club and Golf Course
Near Texas Christian University (TCU)
Close to Fort Worth Zoo
Public and private schools
Tanglewood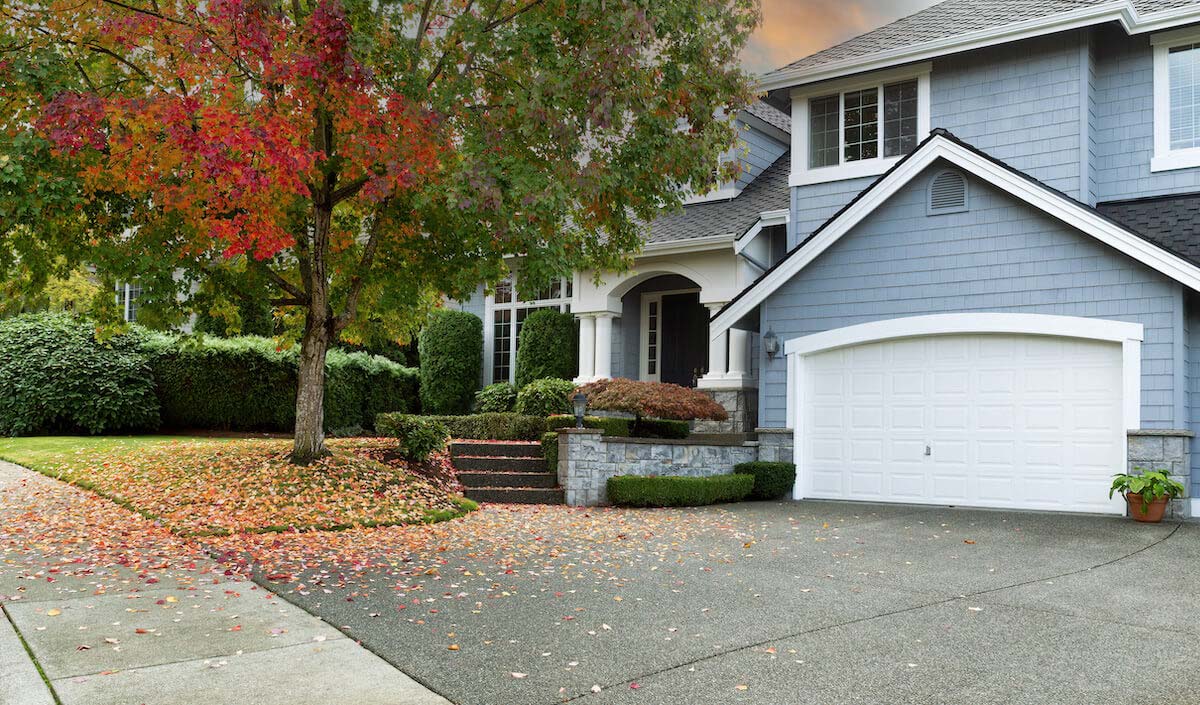 A relatively large community about five miles from downtown, the Tanglewood neighborhood sits between the TCU campus and the Trinity River Clear Fork branch.
Those living in Tanglewood can easily access everything in Fort Worth's southwest section. Shoppers can find many stores and malls close to the area, including Overton Park Plaza, Hulen Mall, and the Shops at Clearfork.
Enjoying the great outdoors in the Tanglewood area of Fort Worth is easy, with three miles of parks and green spaces connecting the neighborhood to numerous sports courts, playgrounds, and the Trinity Trails system.
Tanglewood real estate is available in many property types and styles. Buyers will discover comfy bungalows, smaller townhomes, spacious two-story homes, and even the occasional luxury estate. Average prices are around $800,000 to $900,000, with more luxurious homes listing for several million dollars.
Tanglewood Highlights
Community parks with hiking and biking trails
Hartwood Park tennis courts
Public and private golf courses nearby
Near TCU and Amon G. Carter Stadium
Luxury Living at Home in Dallas–Fort Worth
Each of these DFW-area communities offers its residents a unique lifestyle. If you're looking for luxury living near fantastic restaurants, must-see entertainment venues, world-class golf, and outdoor activities, all within minutes of big city conveniences, look no further – you've found more than just one of the most expensive neighborhoods in Dallas or Fort Worth.