6 Best Luxury Neighborhoods in Katy TX: Luxury Living in Katy
Posted by Texas Real Estate Source on Wednesday, February 15, 2023 at 5:25:15 PM
By Texas Real Estate Source / February 15, 2023
Comment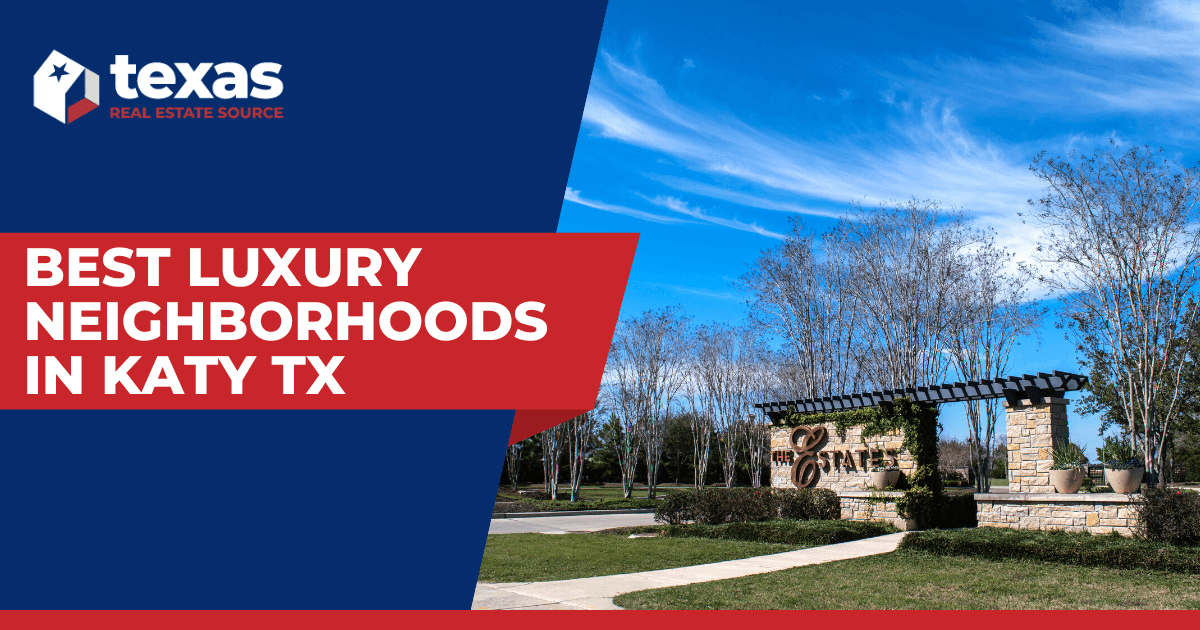 Katy, Texas, is a popular suburb of Houston that offers award-winning schools, great amenities, and stunning floor plans. It's no surprise that many people are looking to buy homes in Katy's most expensive neighborhoods. From the expansive Cinco Ranch to the prestigious Elyson, these neighborhoods offer luxury living with access to job centers, entertainment hubs, and more. Whether you're a fan of architecture or simply looking for a place to live that offers modern luxury, there's no shortage of high-end neighborhoods to explore in the city of Katy.
Cane Island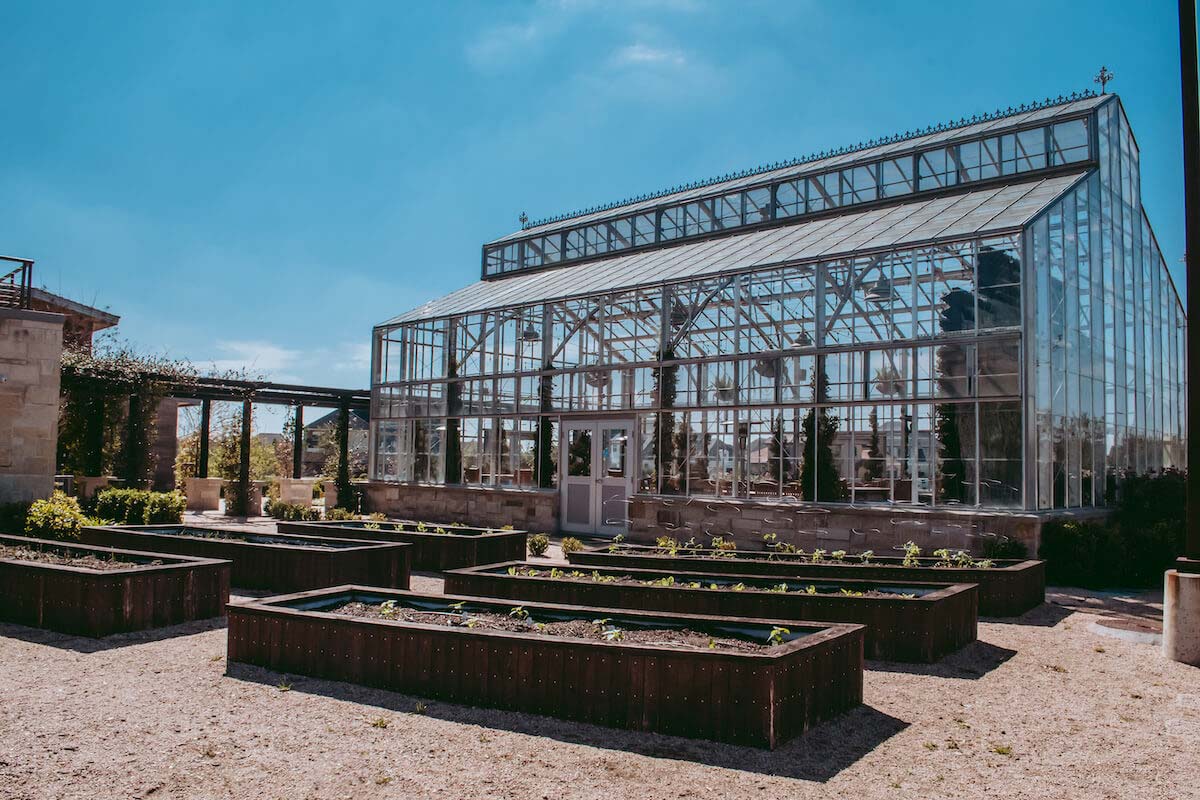 Homebuyers looking for the northwest Katy neighborhood of Cane Island should head west down I-10 to the Cane Island Parkway exit at the ginormous Buc-ee's convenience store and gas station. Less than a mile up the road, they'll find this thousand-acre community, home of luxury living and high-end amenities.
Cane Island's master plan includes approximately 2,000 new homes, an on-site Katy ISD school, community lakes and water features, and plenty of undeveloped natural space. Cane Island is one of only a few luxury home developments to benefit from Katy municipal services and utilities.
Homes for sale in Cane Island are typically new construction, with floorplans from leading builders like Trendmaker, Ryland, Toll Brothers, and David Weekley, as well as several custom home builders. Move-in-ready homes average around 3,200 square feet and are typically priced from the $400s to $1.2 million and more. Half-acre lots are also available for new construction homes, starting from the $300s.
Those living in Cane Island are zoned to the Katy Independent School District. Students in the community attend the on-site Robertson Elementary School and the nearby campuses of Katy Junior High and Katy High School.
Cane Island Amenities
The Oaks Kitchen and Bar
Ambassador Suite Treehouse
Swimming Pools
Splash Pad
Fitness Center
Yoga Studio
The Lawn
Parks and Trails
Playground
Newest Listings in Cane Island
Cinco Ranch
The most extensive residential development in the area is Cinco Ranch, a sprawling master-planned community in Katy spanning several thousand acres along Grand Parkway, just a few miles south of the I-10 interchange. Begun in the early 1990s, Cinco Ranch continues growing with top area builders like Taylor Morrison, Toll Brothers, and Perry Homes. Upon eventual full buildout, Cinco Ranch will feature more than 14,000 homes.
Cinco Ranch features a mix of older established properties and new construction homes for sale, including a variety of traditional single-family houses, patio homes, and gated community estates. Prospective homebuyers in Cinco Ranch will also find plenty of golf course properties and waterfront homes to consider. Prices typically range from the $300s to $1.5 million and more.
Cinco Ranch homeowners are zoned for Katy ISD schools, with most of the area's 20-plus campuses located within the community. More than a dozen elementary schools and junior highs serve students in Cinco Ranch, with high-school-age kids attending Cinco Ranch, Seven Lakes, or Tompkins high schools. The University of Houston at Cinco Ranch provides higher education opportunities for area residents as well.
Highlights of the Cinco Ranch lifestyle include access to an abundance of outdoor recreation found in and around the community. There are dozens of swimming pools, tennis courts, and parks, as well as acres of green space and miles of trails. Golfers will be excited to learn that the Golf Club at Cinco Ranch is one of the highest-rated courses in Texas. The area is also home to numerous other public and private golf courses.
Cinco Ranch Amenities
The Golf Club at Cinco Ranch
Multiple Swimming Pools
The Water Park
Tennis Courts
Basketball Courts
The Lake House
The Beach Club
Beach Volleyball Courts
Cricket Pitch
League Play Athletic Fields
Neighborhood Parks and Playgrounds
Hiking and Biking Trails
Covered Picnic Pavilions
G W Cartwright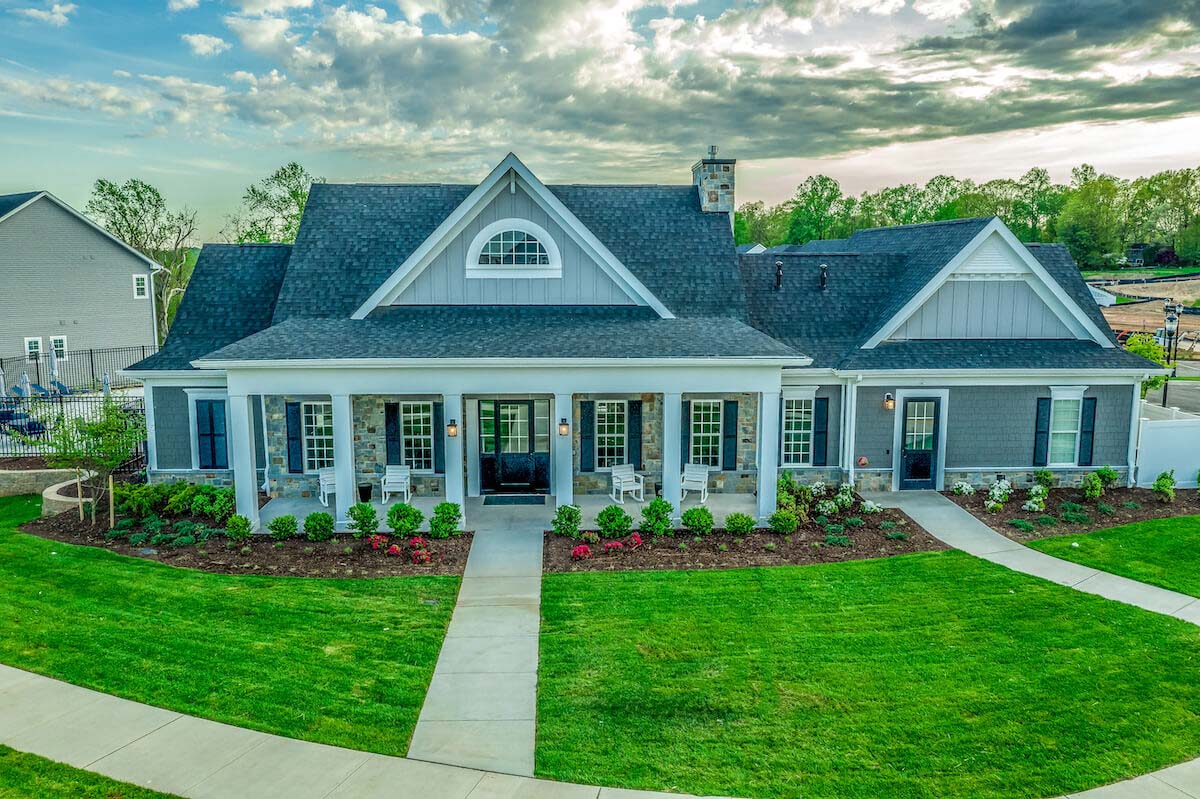 Located a couple of miles south of Katy Mills shopping mall is the G W Cartwright neighborhood, one of the most established area communities, dating back to the mid-1950s. This established subdivision straddles both sides of Buffalo Bayou, with access to the northeastern section from Westheimer Road and entry to the southwestern portion from Gaston Road. Despite its relatively urban location, G W Cartwright maintains a solid rural feel with heavily-wooded areas, fenced horse properties, and agricultural exemptions.
G W Cartwright homes are a mix of old and new construction on vast, unrestricted lots. Among the more modern properties in the neighborhood are contemporary and Mediterranean designs with floorplans from 2,400 to more than 6,500 square feet on acreage homesites ranging up to 15 acres or more. Recent sales in G W Cartwright start from the $800s and run to $2 million and higher.
Students in the G W Cartwright subdivision attend nearby Katy schools, including Woodcreek Elementary, Cinco Ranch Junior High, and Tompkins High School. There are also dozens of preschools, daycares, and private educational facilities nearby. Several campuses for The Goddard School of Katy daycare centers are just minutes away, as are private programs like Sugar Creek Montessori and Discovery Schoolhouse.
Homebuyers in G W Cartwright will be interested in knowing that the community has no HOA. Homes here are also on private water wells and septic systems, so residents pay no MUD taxes.
G W Cartwright Amenities
Horses Allowed
No Restrictions
No HOA, No MUD
Buffalo Bayou Access
Heavily Wooded
Large Lot Sizes
Elyson
Located on the west side of Grand Parkway, about halfway between I-10 and US 290, is the 3,600-acre master-planned community of Elyson. Compared to other residential developments in the region, the area around Elyson is much less developed, maintaining the wide-open feel of Katy's rural prairies and grasslands. However, when big city conveniences beckon, homeowners here enjoy relatively easy access to Houston.
Real estate in the Elyson community centers around several private lakes that meander through the neighborhood. The average floorplan here measures about 2,800 square feet, typically featuring four bedrooms and three baths. Recent homes for sale in Elyson have listed from the $300s, with many larger lakeside properties priced in the $900s.
The Elyson neighborhood falls entirely within the boundaries of the Katy Independent School District, with resident students attending Bethke Elementary, Stockdick Junior High, and Paetow High School. Among the many other educational programs found between Elyson and Katy are the Aristoi Classical Academy public charter school, Trinity Spiral preschool, and the Goddard School Morton Ranch Road daycare center.
Elyson Amenities
Elyson House Amenity Center
Swimming Pools
Splash Pad
Fitness Center
Game Room
Event Lawn
Sports Field
Elyson Cafe
Parks and Trails
Private Lakes
Newest Listings in Elyson
Firethorne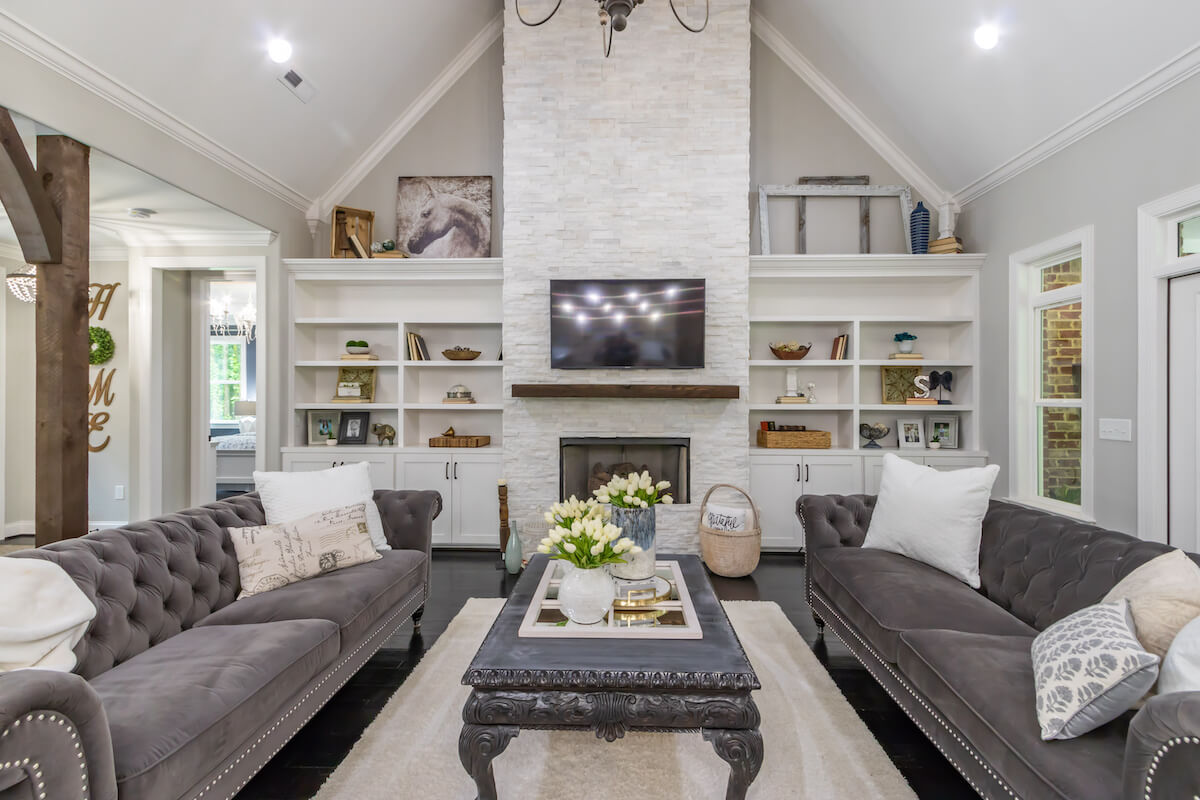 Firethorne is one of the area's more recent residential developments, located just a few minutes from Katy on the south side of I-10. The community features a mix of luxury homes, retail shops, restaurants, and essential services, providing residents with everything they need within walking distance from their front doors.
The Firethorne community features a few thousand single-family homes from top-rated builders like Coventry Homes and Ashton Woods. Typical floorplans average more than 3,200 square feet, and properties here are newer construction, with most built around 2010. Home sales in Firethorne are generally from the $200s to the $900s.
The majority of Firethorne residents are served by Katy ISD schools, including the nearby campuses of Wolman Elementary, WoodCreek Junior High, and Katy High School. Some community sections extending west of West Firethorne Road are zoned to the Lamar Consolidated Independent School District. Lamar CISD schools for students living in the western reaches of Firethorne include the on-site campus of Lindsey Elementary and nearby Roberts Middle School, Leaman Junior High, and Fulshear High School.
In the heart of the community is the Firethorne Competitive Swim Center, a unique swimming pool complex and training facility reserved exclusively for the Firethorne Firefish swim team and community residents.
Firethorne Amenities
Firethorne Competitive Swim Center
Firethorne Forest Reserve
Private Lake
Firethorne Clubhouse
Fitness Center
Swimming Pools
Tennis Courts
Playgrounds
Sports Fields
Walking Trails
Kelliwood
The large master-planned community of Kelliwood spans more than a dozen different neighborhood sections across both Harris County and Fort Bend County. The development began construction in the late 80s and now occupies a large portion of the property on both sides of Fry Road, just minutes south of I-10.
Homes across the different Kelliwood neighborhoods vary in size, style, and price. Some sections have houses from the $200s and $300s, while home sales in other parts of Kelliwood run well into the millions. Among the most expensive Katy neighborhoods is the Lakeforest of Kelliwood section. This enclave features mostly large Mediterranean-style homes on lake-view lots of an acre or more, with private pools and backyard tennis courts being common. Recent sales in Lakeforest are from the $700s to $2.5 million and higher.
Another luxury home neighborhood in the area is the Lakes of Buckingham Kelliwood section. Homes here are mostly traditional and Spanish-style architecture, with typical floorplans around 4,500 square feet. These homes sit on huge lakeside and lake-view lots and are typically priced from the $400s to the $800s.
Thanks to Willow Fork Country Club, many Kelliwood neighborhoods, such as Kelliwood Greens and Kelliwood Links, also feature golf course homes with expansive views.
The Kelliwood community is zoned entirely for Katy public schools, with numerous campuses conveniently located throughout the area. Among the Katy ISD schools serving Kelliwood students are Exley, Pattison, and Hayes elementary schools, McMeans and Memorial Parkway junior highs, and Taylor and Seven Lakes high schools. Various private and parochial schools are also found here, including Epiphany of the Lord Catholic School, the Primrose School of Kelliwood, and The Nest Schools daycare center.
Kelliwood Amenities
Willow Fork Country Club
Great Southwest Equestrian Center
Community Clubhouse
Swimming Pools
Tennis Courts
Parks and Playgrounds
Private Lakes
Walking Trails
Explore the Best Luxury Neighborhoods in Katy, TX
Homebuyers moving to Katy will discover an eclectic mix of luxury home communities suitable for a variety of interests. They'll find horse properties, golf course homes, country club living, waterfront estates, and more. Folks who appreciate upscale lifestyle amenities and the custom comforts of a well-appointed home will find everything they're looking for in one of Katy's most luxurious neighborhoods.
Newest Luxury Listings in Katy
Ready to discover your next home in Katy? Call The RealFX Group at (512) 956-7390 to get in contact with an experienced local real estate agent today and let us help you find your dream home in Katy, TX.