8 Best Home Builders in Richmond TX: Build Your Custom Home
Posted by Texas Real Estate Source on Tuesday, January 17, 2023 at 1:48:16 PM
By Texas Real Estate Source / January 17, 2023
Comment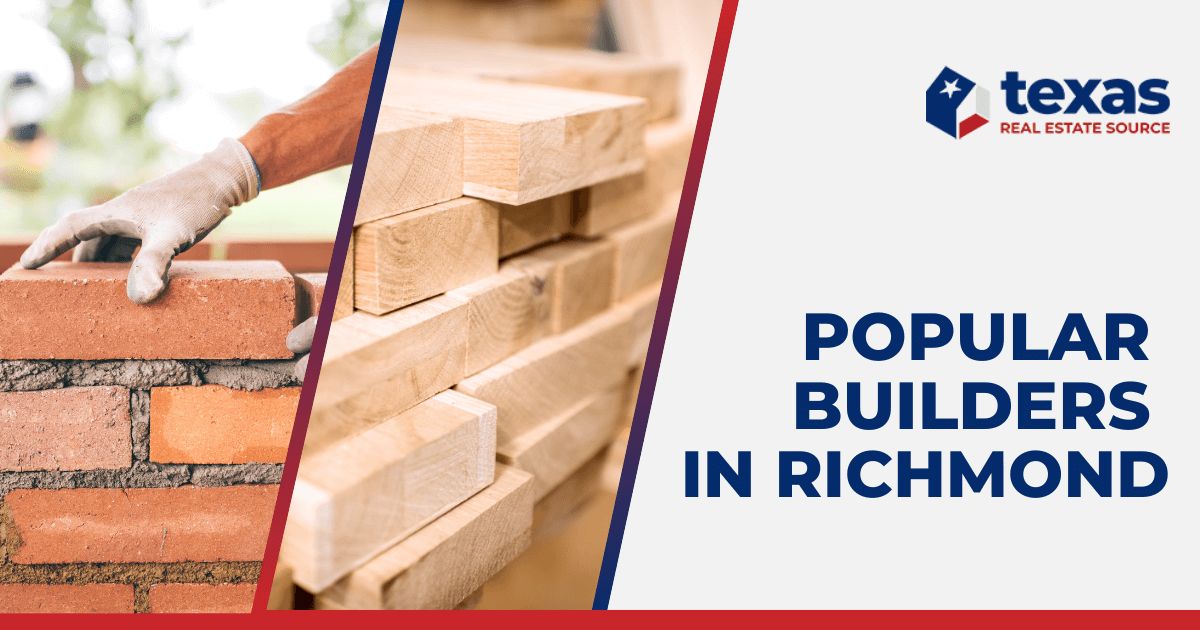 Richmond is a vibrant city nestled near the Brazos River just outside of Houston. Those looking to create their ideal lifestyle might consider a home in Richmond for many reasons, but one of the best is the array of high-quality home builders creating dream homes in the area.
A wide variety of gorgeous new construction homes are ready to move into in Richmond, but if your goal is to create your perfect home from the ground up, take a closer look at some of the premier new home builders in Richmond, TX:
Fairmont Homes
Fairmont Homes is a well-respected home-building company in Richmond that has been serving the area for many years. The company is run by Robert Coz and Michael Pelletier, a dynamic duo of builders that prioritize a high level of communication with their clients to make the construction process as smooth and enjoyable as possible.
Fairmont Homes is a part of the Southern Living Custom Builder Program, an exclusive builder group in the greater Texas area. Additionally, the company has received several awards for its high standard of home building, including the Best of Houzz Design Award each year from 2015 to 2020 and the Best of Houzz Service Award each year from 2014 to 2020.
Fairmont Homes can provide just about everything a client looking to build a new home could need, including custom floor plan drafting, budget planning, site preparation, and much more.
Fairmont Homes Additional Information
Talasek Builders
Founded and owned by third- and second-generation new home builders Justin Talasek and Pete Talasek, it's clear to see that Talasek Builders has a strong foundation of experience and passion for the craft.
The primary philosophy of Talasek Builders is a dedication to highly personalized service for every client as well as complete support throughout each step of the home-building process.
Justin and Pete Talasek boast a combined 40 years of experience as home builders in Richmond, TX, and surrounding areas. Therefore, it's no surprise that the company has created a strong name for itself throughout Texas.
Talasek Builders prioritizes a strong relationship with each client that supports mutual trust and respect, making the typically stressful process of designing and building a new home smooth and even enjoyable.
Talasek Builders currently features a series of already-built homes in the city of Galveston at Pointe West, a quiet and luxurious community near the city's west end. However, the company is available for custom home building in multiple Texas cities, including Richmond.
Talasek Builders Additional Information
Arrow Custom Homes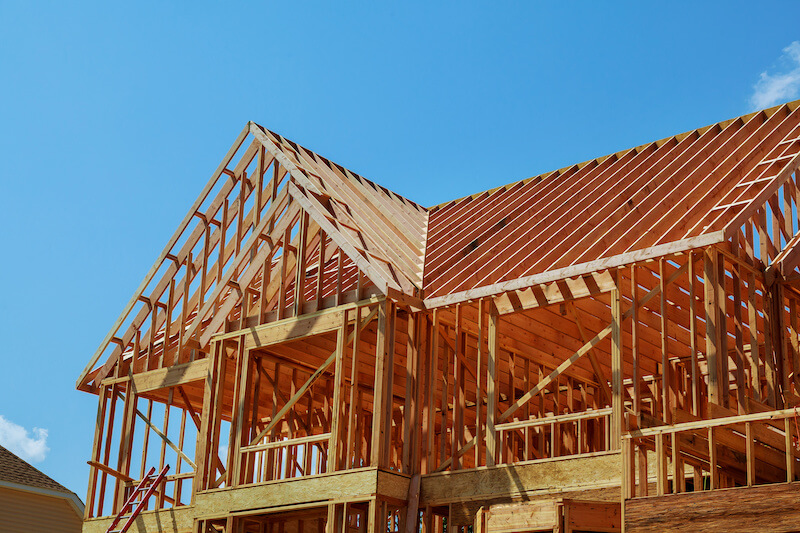 At Arrow Custom Homes, creating the perfect blend of comfort and beauty is always at the center of each new home construction project. The company works closely with each client step by step in order to make all of their new home dreams come to fruition, no matter how big or small.
Arrow Custom Homes was founded and owned by Texas local Doug Bingham, who went from job site to job site helping build custom homes for other companies throughout the 1980s before finally starting his own custom home business in 1999.
To this day, Doug personally oversees every project taken on by Arrow Custom Homes to make sure that each client is fully satisfied and that each project is built to the company's high standards.
Arrow Custom Homes provides new home construction in Richmond, TX, and surrounding areas, as well as remodeling services for already-built homes. Quality, efficiency, and experience are the pillars of every Arrow Custom Homes project, and clients can trust that their home is as safe as it is beautiful.
Arrow Custom Homes Additional Information
Year Established: 1999
Services Offered: Custom floor plans, garage and ADU design and construction, guesthouse design and construction, and more
Areas Served: Richmond, Wallis, Sealy, and more
Makena Custom Builders
Makena Custom Builders is a trusted new home construction company that serves multiple neighborhoods in the greater Houston area. The company uses only the highest quality building materials and prioritizes great attention to detail as well as open communication between the builders and clients.
Makena Custom Builders' team has a combined 15 years of experience in new home construction, and the company proudly features more than 25 completed homes.
The Makena Custom Builders team comprises only the best architects, contractors, suppliers, and engineers in the greater Houston area, promising clients of all lifestyles their dream homes on a reasonable timeline.
Makena Custom Builders is affiliated with multiple new home construction associations, including the Greater Houston Builders Association, Crocket Bank, Prosperity Bank, and Newfirst National Bank.
Makena Custom Builders Additional Information
Price Range: $500,000 to $2 million
Services Offered: custom home design and new home construction
Areas Served: Richmond, Fulshear, Weston Lakes, and more
New Construction Neighborhoods in Richmond by National Builders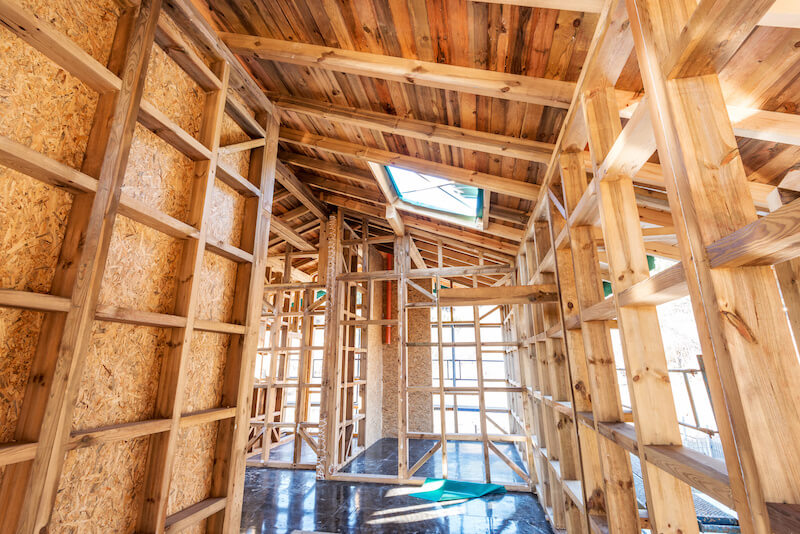 Perry Homes
Perry Homes is proud to be one of Richmond's top new home builders, with multiple custom homes already available in several neighborhoods throughout the city.
Its constructions can be found in desirable master-planned communities in Richmond with incredible amenities to offer residents, such as Candela, Fulbrook on Fulshear Creek, Cross Creek West, and more.
Perry Homes has been building custom homes throughout Texas' many master-planned communities for more than 55 years. They've had their hand in several of the best master-planned communities near Houston, such as the homes in Sienna and Cane Island. With more than 65,000 families successfully served and homes included in more than 85 communities throughout the state, Perry Homes is one of the most prolific homebuilders in Texas.
Taylor Morrison
Taylor Morrison custom homes can be found in various Richmond communities, including Trillium and Grand Vista, two master-planned neighborhoods in the city that provide a high standard of living for residents and popular amenities near their luxury homes.
Taylor Morrison is a long-standing authority on new home design and construction in Richmond and beyond, with more than 100 years of home building experience.
The team at Taylor Morrison works to build trust with every client and provide them with the exact outcome they're looking for, which is why Taylor Morrison has received the award of America's Most Trusted Home Builder for seven years running.
David Weekley
Custom homes by David Weekley can be found in multiple master-planned communities throughout Richmond, including StoneCreek Estates, Veranda, and Harvest Green.
Each community offers a wide variety of new construction homes for sale for Richmond residents to create their ideal lifestyle, as well as a long list of desirable amenities, including private parks, nearby Richmond schools, community centers, and more.
David Weekley created his custom home building company in 1976 at just 23 years old, and the results of his hard work are clear to see with the huge variety of gorgeous David Weekley custom homes available throughout Texas.
The company is proud to claim a spot on Fortune magazine's "100 Best Companies to Work For" list a total of 16 times and counting.
Coventry Homes
Coventry Homes proudly features many of its custom-built homes throughout Richmond's multiple master-planned communities, including the resort-style Candela, the amenity-rich Veranda, and Mandola Farms, a community that boasts a low tax rate for residents.
The company firmly believes that Richmond is one of the greater Houston area's most up-and-coming cities, which is why Coventry Homes is only getting started building custom homes for Richmond residents.
Since 1988, Coventry Homes has been a premier home-building company in Texas, with more than 55,000 homes built so far. In addition to Richmond and Houston proper, Coventry Homes custom homes can be found in major Texas cities such as Austin, San Antonio, and Dallas–Fort Worth.
Lennar
Lennar custom homes can be found in several Richmond neighborhoods, including Veranda, Sendero, and Cross Creek Ranch, among many others.
Lennar has been providing Texas residents of all lifestyles and tastes with their custom dream homes since its founding in 1954, and Lennar homes come in all shapes and sizes to suit the client's specifications perfectly.
Meritage
Meritage is a well-respected custom home builder in Texas that features homes in desirable Richmond neighborhoods like Creekside Farms, Mandola Farms, and Grand Trails.
With custom homes to be seen all across Texas, it's clear that Meritage has earned the trust of Texas homeowners during its more than 30 years in business. Meritage aims to shape the communities surrounding its custom homes with high work standards and close relationships with clients.
Make Your Dream Home a Reality with New Home Builders in Richmond, TX
With so many incredible custom home builders currently offering their services to current and future residents of Richmond, it may be difficult to narrow down your choice. Any of these Richmond home builders will be proud to work with you to create the home of your dreams in this great Houston suburb.
Considering Richmond for your next home? Call The RealFX Group at (512) 956-7390 today to get in contact with an experienced local real estate agent who can help you find your dream home in Richmond, TX.