Moving to Austin: 7 Reasons To Love the Texas Capital
Posted by Texas Real Estate Source on Saturday, December 3, 2022 at 1:23 PM
By Texas Real Estate Source / December 3, 2022
Comment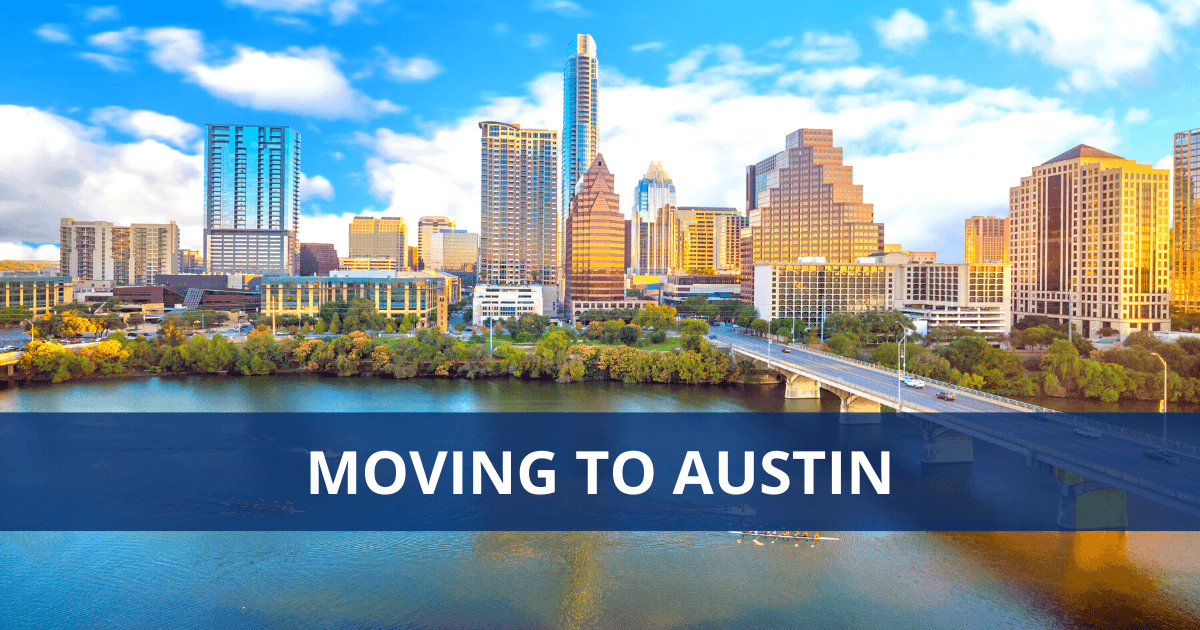 Living in Austin, TX
If you're considering a move to Austin, TX, you're in for a treat. The city has quickly become one of the most popular destinations in the country, and it's easy to see why. From its vibrant music scene and world-class restaurants to its friendly people and abundance of outdoor activities, the city of Austin has something for everyone. So what are you waiting for? Keep reading for a guide to what you need to know before moving to Austin, Texas.
10 Reasons to Move to Austin
Austin attracts new residents so well that it's one of the fastest-growing cities in the nation. Here are a few of the highlights:
Tech industry is so strong that Austin is also called Silicon Hills
High salaries in Austin's top industries
Eclectic housing options for all tastes
Live music capital of Texas
Lakes, trails, and outdoor activities galore
Some of the best food variety you'll find in Texas
Walkable neighborhoods, robust public transit, and bikeshare programs
Legendary nightlife scene downtown
Multiple school districts and UT Austin
Unique local attractions and atmosphere, from pedicabs to the South Congress Bridge bat colony
Cost of Living in Austin, TX
There's no doubt that Austin's cost of living is expensive, but that can be said for any major metro area. Housing costs, in particular, tend to be higher than the national average, with groceries and utilities running a bit below the norm.
Austin homes for sale typically have a median price between $550,000 and $570,000. However, buyers can locate houses from the high hundreds to luxury properties in the multi-million range. Austin apartments typically have an average monthly rent of around $1,690. As with homes, the more affordable communities tend to be further out from the city center.
Austin Job Market
As a major economic hub in the Lone Star State, Austin is excellent for job seekers. In fact, Forbes named it one of the "Best Places for Business and Careers" in 2019.
The major employers in Austin are some major companies, including:
Dell Technologies (14,000+ Austin employees)
H-E-B (18,000+ Austin employees)
Ascension Texas (11,200+ Austin employees)
St. David's Healthcare (10,800+ Austin employees)
Many companies have also opened or moved their corporate and regional headquarters to the Austin metro area, such as:
Apple
Facebook
eBay
Indeed
NXP Semiconductors
SolarWinds
In addition, major employers in Austin include IBM, Seton Medical Center, the state of Texas, and the University of Texas. In fact, the university has an impressive alumni network that gives it significant influence in the city, with many large corporations relocating to Austin due to UT graduates. The university has also supplied the workforce to grow Austin's booming tech industry.
Key Industries in Austin
Management, science, and technology professionals will be right at home in Austin. Thanks to the high number of company headquarters and large technology companies in the area, Austin's major industries include advanced manufacturing, clean technology, life sciences, space technology, creative and digital media, data management, financial services and insurance, and regional offices and supporting facilities.
In addition, major institutions in the area, such as research centers and universities, continue to influence Austin's economy, supplying workers and workspaces to fuel innovation.
Things to Do in Austin
With its eclectic mix of people and activities, Austin offers many fun things to do and has become one of the most popular destinations in the country. Here are just a few things you should consider doing on your visit or move to the city, from the iconic Austin City Limits Music Festival to touring Austin's many craft breweries to birdwatching or fishing at a local park.
Outdoor Activities in and Near Austin
Austin is an ideal place for outdoor enthusiasts, thanks to its beautiful Hill Country scenery, mild year-round weather, and a plethora of parks. After getting settled in your new home, consider hitting one of these popular outdoor destinations:
Barton Creek Greenbelt: This eight-mile trail system located southwest of the city center is an excellent place for hiking, swimming, rock climbing, and biking.
Hamilton Pool Preserve: This hidden pool is located 30 miles west of downtown Austin and is surrounded by towering cypress trees. It's a great place to swim, picnic, birdwatch, or explore caves.
Lady Bird Lake Hike & Bike Trail: Named after Lady Bird Johnson, this 10-mile trail loop around Lady Bird Lake is considered one of the best urban trails in the country.
Lago Vista Hike & Bike Trail: This six-mile trail along the Colorado River is a great place for hiking or biking and offers beautiful Hill Country views.
Lady Bird Johnson Wildflower Center: Also known as the Austin Native Plant Center, this 16-acre center features more than 650 plant species native to Texas. The center hosts classes, workshops, and events, including an annual Butterfly Festival in March.
Local Austin Attractions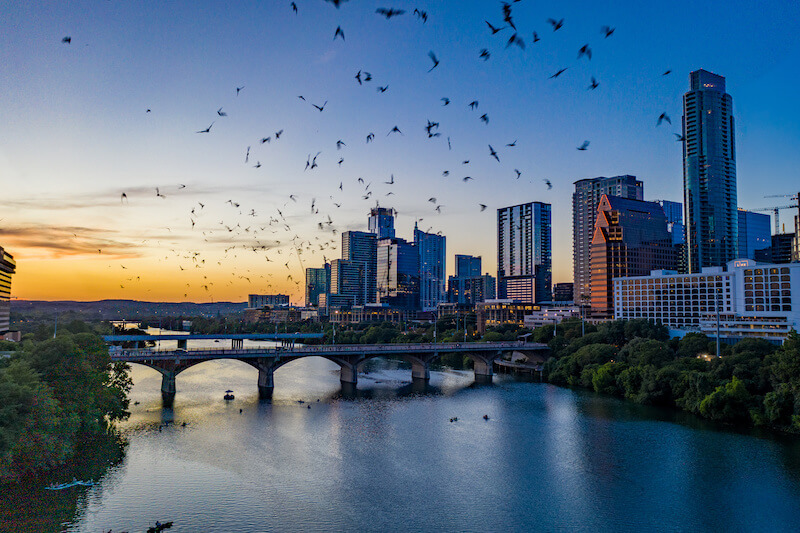 Some things are so quintessentially Austin that no local should pass up the opportunity.
Between May and early fall, be sure to visit the Congress Avenue Bridge Bats. Each summer night, 1.5 million Mexican free-tailed bats fly out from underneath the Ann W. Richards Congress Avenue Bridge to hunt insects. There is no fee to watch them fly out at dusk (usually around 8 p.m.) or return at dawn (around 7 a.m.).
The Lyndon Baines Johnson Library and Museum is located on the University of Texas campus. The permanent museum features exhibits about LBJ's life and the history of the U.S. while the library holds his papers and memorabilia, including a replica of his presidential limousine. In addition, Austin has many other museums and art galleries with distinct collections. Whether a visitor is interested in science, aviation, fine art, history, or something a little bit quirky, there's a museum for that.
The state capitol building, located in the downtown Austin neighborhood, looks very similar to the U.S. capitol, with one crucial difference—because of its use of local Texas granite, it's pink! This pink granite building with its gold-domed top is one of the most photographed things in Texas. Visitors can tour the halls and grounds for free or go into the second-floor observation decks to get panoramic views of Austin.
One of the things all new residents should experience at least once is the Austin City Limits music festival. Held every year for two consecutive three-day weekends in September, this world-renowned music festival draws some of the biggest names in music from all genres and up to 75,000 visitors a weekend. Be sure to buy tickets early, though, because passes often sell out before the actual event.
South by Southwest is even bigger. This 10-day music, film, and interactive festival brings in more than 200,000 attendees every March. During the day, there are music showcases at various venues around downtown Austin. Then things move to the evening when things get really interesting—attendees flock to Sixth Street for nonstop partying in bars and clubs with great live bands.
Restaurants and Nightlife
Austin is a city that loves to eat. It's known for its love of barbecue, Tex-Mex, and hot chicken wings, so be sure to give those a try. Of course, there are also things like pho and sushi restaurants, as well as plenty of high-end spots to take those hard-earned paychecks.
Some of the best restaurants in Austin are found in food trucks, though some, like the upscale Odd Duck, have graduated to brick and mortar buildings. Others partner with local restaurants and craft breweries like Zilker Brewing Co. and serve on-site. For a fantastic food tour of Texas' capital, try going on a food truck scavenger hunt to find a new favorite cuisine.
Austin is also known for its nightlife, with Sixth Street being home to some of the most famous bars in Texas. This six-block area is popular with locals and visitors alike, especially during South by Southwest, when things can be a bit crazy in Austin. Must-visits include Parlor & Yard, Green Light Social, and the iconic Maggie Mae's.
Austin Weather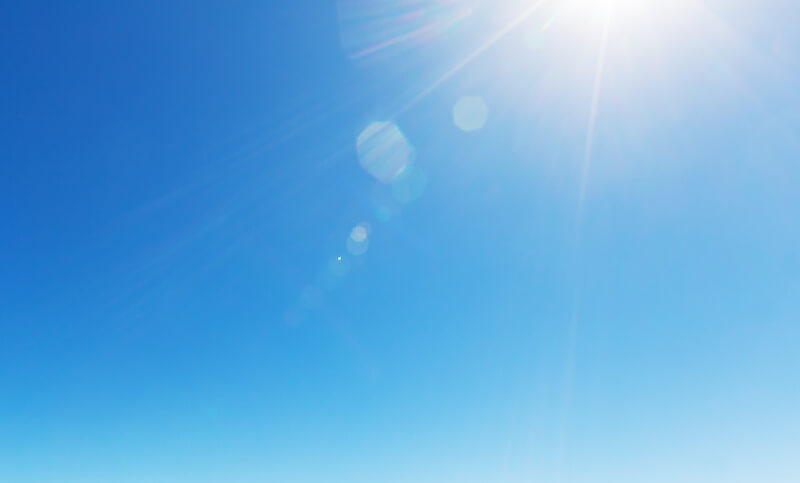 Austin's weather is mixed. The summers are hot and humid, but things cool off during the fall and winter months. In good news for those who love to be outside, it never gets too cold here—the temperature generally ranges from 43 to 97 degrees and only rarely dips below 30.
The best time to visit Austin from a weather perspective is during the spring when things are warm but not overly hot. On the other hand, things slow down a little during the summer as it tends to be too hot for many visitors' tastes, and things pick up again during the fall and winter months. Peak tourism months are from early April to late May and in the fall from mid-September to late October. Regardless of the time of year, however, there's constantly something going on.
The rainiest month is May, with an average of 3.8 inches of precipitation. On the other hand, snow is unlikely, with perhaps a third of an inch per year.
Austin Traffic
Traffic in Austin is no joke, whether driving, biking, or taking the bus. The city's motto may be "Keep Austin Weird," but things can get pretty intense on the road—and things happen fast here.
The best way to avoid rush hour (which can start as early as 6 a.m.) is to work remotely, live close to work, or start the morning early. During rush hour, typically 7 to 9 a.m., traffic delays can take a one-hour commute and add 30 minutes or more on top, not factoring in weather or accidents.
During rush hour, the most congested areas tend to be I-35, Highway 290, and MoPac, also called Loop 1, especially near downtown and near where any two of the three cross paths in the southwest and southeast areas of the city. Highway 183 in the northwest can also experience slowdowns.
Depending on the start point and destination of a drive, using local roads as alternative routes may or may not help, as the Colorado River runs through the middle of the city, and there are limited roads to cross it. However, I-35 and MoPac run parallel to each other through most of Austin, so if there's an accident or other delay on one, it may be worth checking the other.
Public Transportation in Austin
There are some things to help keep things moving, though—while Austin has a significant car culture (there are over 800 major parking garages in the downtown area), it also has various options for public transportation.
The MetroRail train runs over 32 miles along nine different stations starting at downtown Austin and going all the way up to the city of Leander. Single rides cost $3.50, and twice that for a full-day pass. It operates six days per week, with service going until 7 p.m. Monday through Thursday, until 1:30 a.m. on Friday, and 2:30 a.m. on Saturday.
Capital Metro's bus system provides access to many different parts of the city, including the university. The price of single rides is $1.25, and daily passes are $2.50. As with the rail, multi-day passes and other fares are also available.
Austin also has plenty of Uber and Lyft drivers and other ride-sharing services always available. More traditional taxi companies, such as ProntoRide, Vonlane, Austin Express Cab, and Yellow Cab, are also available. For a unique experience, riders can also find one of Austin's pedicabs.
Speaking of pedal power, MetroBike Austin is the city's bike-sharing service. Bike docking stations are particularly plentiful around the downtown area and the university for maximum convenience. Download the app, unlock a bike, and leave it at the nearest dock to the destination.
You can get all kinds of things moving in Austin—just be sure to plan ahead!
Austin Schools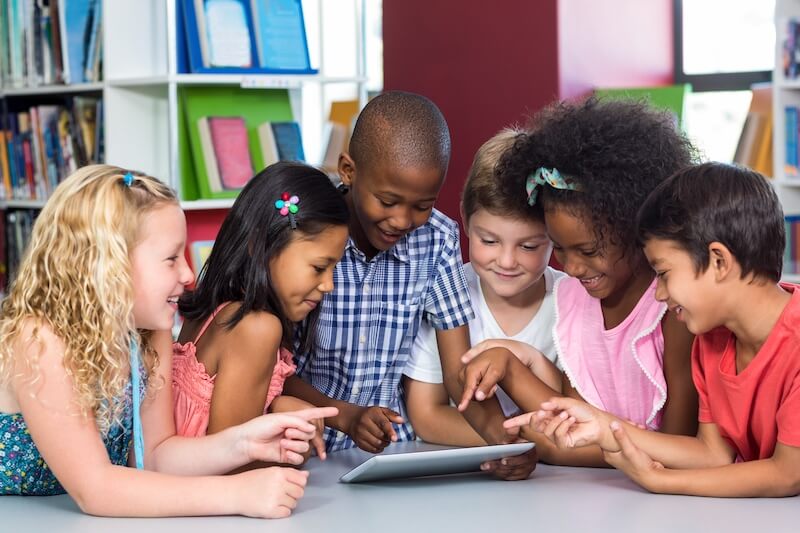 Austin is served by the Austin Independent School District (AISD), which covers most of the city, except some of the more southwestern areas.
Eanes Independent School District (Eanes ISD) handles some parts of northwest Austin, as does Leander Independent School District (Leander ISD). Round Rock ISD serves some parts north of 183 as far as the city of Pflugerville, while Del Valle and Pflugerville ISDs handle the area west of I-35 down to some parts south of 290. Some other school districts that fall within Austin's city limits are Leona, Lake Travis, the city of Lago Vista, the city of Manor, Marble Falls ISD (though some areas lie in Burnet County), and ESD (including Webberville).
There are also over 100 private schools serving almost 20,000 students in the area. Just over a third of these private schools are religiously affiliated.
Note that area schools can change attendance zones at any time, so be sure to check the individual school district websites for information on what schools serve any particular address.
The most iconic university in the area, UT Austin, has over 50,000 students and is particularly renowned for its architecture, business, and engineering programs. There are also over 10 other public and private universities in the area, such as Concordia University, Huston-Tillotson University, Austin Presbyterian Theological Seminary, St. Edward's University, Southwestern University in the nearby city of Georgetown, and Texas State Univer­sity–San Marcos.
Get Ready to Find Your Home in Austin, Texas
Austin has a lot to offer for people from all walks of life and worldwide. It has a complex and interesting history, and it adds more excitement every day. While this famously eclectic city is fast-paced, it's easy for anyone who wants to take the time to look into all that it has to offer.