Moving to Galveston: 7 Reasons to Love Living in Galveston TX
Posted by Texas Real Estate Source on Saturday, December 17, 2022 at 1:46 PM
By Texas Real Estate Source / December 17, 2022
Comment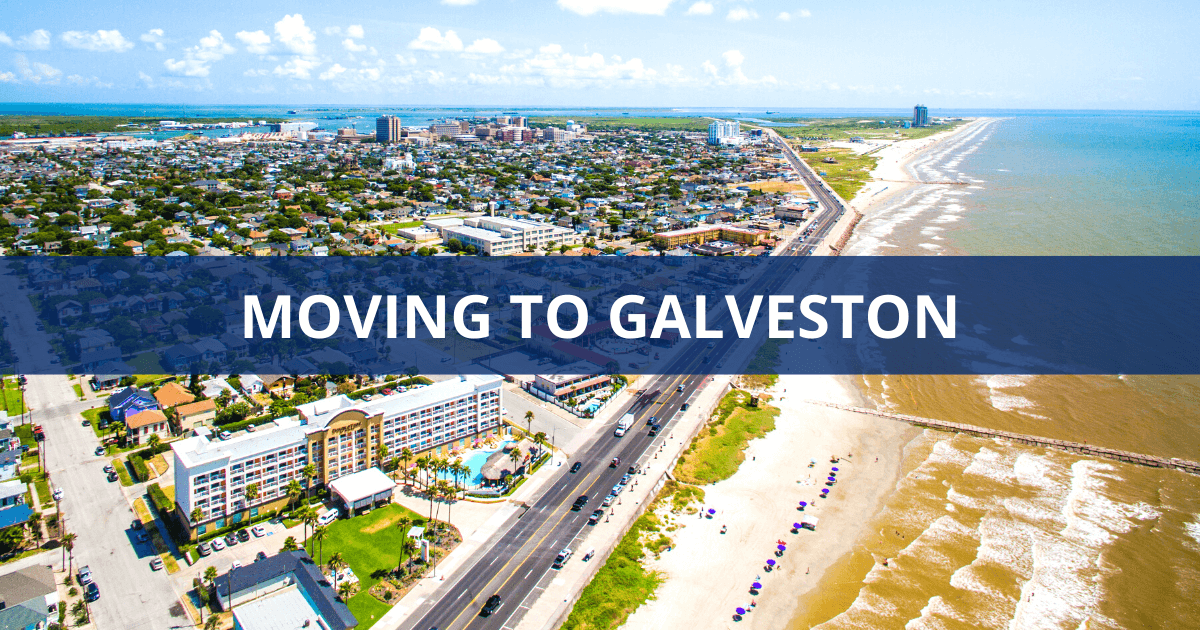 Living in Galveston, TX
Located in Galveston County, the city of Galveston has a population of approximately 50,000 people. It's located about 50 miles southeast of Houston, and the city was founded in 1839.
The Port of Galveston is Texas' largest cruise ship port. Thanks to tourism, health care services, financial services, and more, the local economy has found success.
Those considering a move to the Texas Gulf Coast should keep Galveston at the top of their list. Galveston homes for sale offer an iconic coastal lifestyle with a welcoming atmosphere and fun year-round activities. Plus, with affordable housing and a thriving economy, it's no wonder Galveston is one of the fastest-growing cities in Texas.
10 Reasons to Move to Galveston
Why is this Gulf Coast city so popular? These are just 10 reasons that people might consider moving to Galveston:
Gulf Coast beaches
Moody Gardens, Schlitterbahn Waterpark, and other renowned attractions
Lower cost of living than Houston
Business-friendly environment
Galveston ISD and Texas A&M University at Galveston
Fantastic seafood, as well as other cuisines
Shopping, dining, and nightlife in the Strand Historic District
Galveston Island State Park has all your nature cravings covered
Public transit includes trolleys and water taxis
A vacation-worthy getaway year-round
Galveston Cost of Living
The cost of living in Galveston is very reasonable. In fact, Galveston expenses are four percent below the national average and 10 percent lower than the cost of living in Houston.
In Galveston, monthly living costs for a family of four total approximately $4,350. That's almost $1,000 less a month than living in Houston. The average home price in Galveston is around $280,000, and there are plenty of areas where people can downsize to an apartment or smaller house at an even lower cost.
Renting a one-bedroom apartment in Galveston will cost approximately $1,100 per month. The cost for Galveston utilities is 11 percent higher than national averages, mainly due to the moderate climate, but grocery store prices are almost 13 percent lower than the national average.
Transportation is just slightly more expensive in Galveston. If living without a car isn't an option, expect to pay around $2,600 per year for gas and auto repairs.
The sales tax rate in Galveston is 8.25%.
Galveston Job Market
Galveston has an unemployment rate of just under 6%. While the number of jobs is higher than in most other cities in Texas, new businesses continue to open each year. There are plenty of opportunities for business owners who want to move their companies to Galveston. An organization called the Galveston Economic Development Partnership was founded in 2016 to help local businesses thrive by offering incentives like access to capital, professional development training programs for employees, customized marketing plans, and more. Businesses that relocate get dedicated support from this group of professionals working together to promote community growth.
The city's major employers are in the health care industry, but there are also jobs available in tourism, fishing, retail, and telecommunications. Top companies include American National Insurance, The University of Texas Medical Branch at Galveston, DSW Homes, Galveston College, and Tremont House.
Popular Industries in the Area
As far as industries go, Galveston remains a leader in health care and tourism, but the following also have a significant presence:
Hospitality: The local economy thrives thanks to tourism, including fishing and water sports at the island's beaches. Galveston is a popular destination for spring breakers from Texas schools and universities and from across the nation.
Health Care: UTMB has been ranked in the top 10 for medical research by U.S. News & World Report.
Financial Services: As a major player in financial services, SmithBucklin Corp offers careers in accounting or finance on the island.
Telecommunications: Because of its proximity to the city of Houston, Galveston is an attractive place for major telecommunications businesses to set up shop.
Manufacturing: Thanks to imported materials from other states and countries, especially Mexico, manufacturing jobs are plentiful in Galveston.
Government/Public Administration: The City of Galveston employs 1,270 people.
Education: With public schools across the city plus several private institutions on the island, opportunities for work in education abound in Galveston.
The largest companies in and around Galveston include the University of Texas Medical Branch with 9,000 employees, American National Insurance Company with 1,600 employees, Galveston Independent School District with approximately 1,360 employees, and Landry's Restaurants with 1,300 employees.
Things to Do in Galveston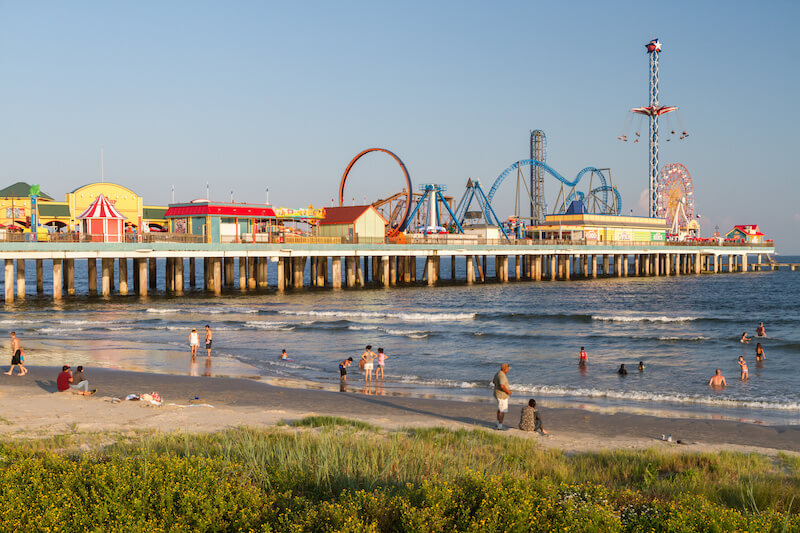 Galveston is home to several attractions that will entice locals and visitors alike. It's a popular destination for kid-friendly activities, but there are plenty of things to do for those who enjoy living it up or connecting with nature as well. In the Strand Historic District, discover vintage clothing boutiques or walk along brick sidewalks between 19th-century Victorian architecture.
Galveston has plenty of festivals to enjoy the local culture in addition to national headliners in music and even annual rodeos! From April through October, there are fireworks on Wednesdays at 9 p.m. during Celebrate Galveston events featuring live concerts.
Outdoor Activities
Moody Gardens is a multi-purpose resort featuring three separate living rainforests and event venues. The rain forests offer a chance to see plants, animals, insects, birds, and fish from around the world up close. Adventure seekers will love Schlitterbahn Galveston Waterpark with slides, rivers, and rides in a tropical setting by the water.
Those who prefer catching fish over splashing in the water can head to Galveston Island, which provides plenty of opportunities for anglers to cast lines in saltwater or freshwater. Of course, the beaches are an excellent place to spend the day, from the famous Stuart Beach to the boardwalk at East Beach.
Restaurants, Breweries, & Bars
For a taste of the local flavor, sample crawfish at Flip Flops Beach Bar & Grill. Brews Brothers offers an American menu and 24 beers on tap. In the mood for something sweet? La King's Confectionery offers ice cream on a historic property. For excellent brisket, turkey legs, and delicious sides, check out Leon's World Finest Bar-B-Que.
Popular bars in Galveston include O'Malley's Stage Door, The Rooftop Bar at the Tremont House, and Lucky Lounge, one of many Galveston bars with outdoor seating.
Nightlife
Galveston has a wide selection of fun nightlife destinations. Those who enjoy dancing can head to nightclubs located in the Strand Historic District or Buccaneer Days Inn with dance floors and pool tables.
Galveston Climate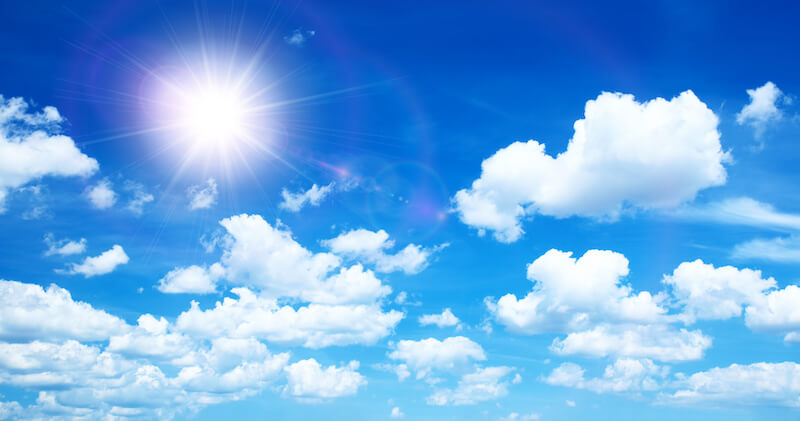 In Galveston, the climate is subtropical. Summers are long and hot with many thunderstorms, while winters are short and mild to cool. The average July high temperature is 89 degrees, and the average January low is 48 degrees. The city's humidity can make the weather feel even hotter in summer.
The record high temperature in Galveston is 104 degrees, and the record low is 8 degrees. Annual rainfall averages 50 inches, with June being the wettest month of the year.
The best time to visit Galveston is during the spring in March, April, or fall in October or November. Average temperatures throughout the year are listed below:
January: 50 degrees
February: 56 degrees
March: 62 degrees
April: 69 degrees
May: 75 degrees
June: 82 degrees
July: 89 degrees
August: 87 degrees
September: 80 degrees
October: 73 degrees
November: 67 degrees
December: 61 degrees
Galveston Traffic
Traffic in Galveston is similar to traffic across the state of Texas. The average time spent commuting in Galveston one way is approximately 21 minutes for an average distance of about 21 miles, less than the country's average commute time of about 27.6 minutes.
Taking Galveston's main corridor, I-45, from Galveston to Houston takes at least one hour on a weekday morning. Traffic in Galveston is heaviest on weekday mornings between 7 and 8 a.m. and weekday evenings between 5 and 6 p.m.
Those driving to Dallas from Galveston should estimate up to six hours, depending on the route they take. I-45 N provides the shortest drive time, but alternative driving options include TX-90 and I-45 N or Highway 6 N.
Galveston has plenty of parking, especially in the downtown area, with 10,000 available spaces within a five-minute walk to the Strand District. Parking is enforced between 9 a.m. and 6 p.m. Monday through Saturday.
Alternative Routes
In addition to I-45, Galveston's main roads and freeways include:
State Highway 3, ending in southeast Houston
State Highway 6, known historically as the Old Galveston Highway
State Highway 146, a major corridor for travel and tourists
State Highway 275, which allows for major traffic to and from the Port of Galveston
Farm to Market 518, ending in Pearland
Farm to Market 1764, the main road for commerce and retail
Farm to Market 2004, which connects Galveston County to Port Freeport
Houston Hobby Airport is approximately 45 minutes from Galveston, while George Bush Intercontinental Airport is farther away, about an hour and 15-minute drive. Traffic can result in up to one hour of additional travel time during peak hours.
Public Transportation in Galveston
There are many options for getting around in Galveston, Texas, including by air, land, or sea. Galveston's main public transportation service is the Island Transit, providing bus and rail trolley services. Additionally, The Port Bolivar Ferry offers water taxi services between Galveston and nearby Port Bolivar.
Schools in Galveston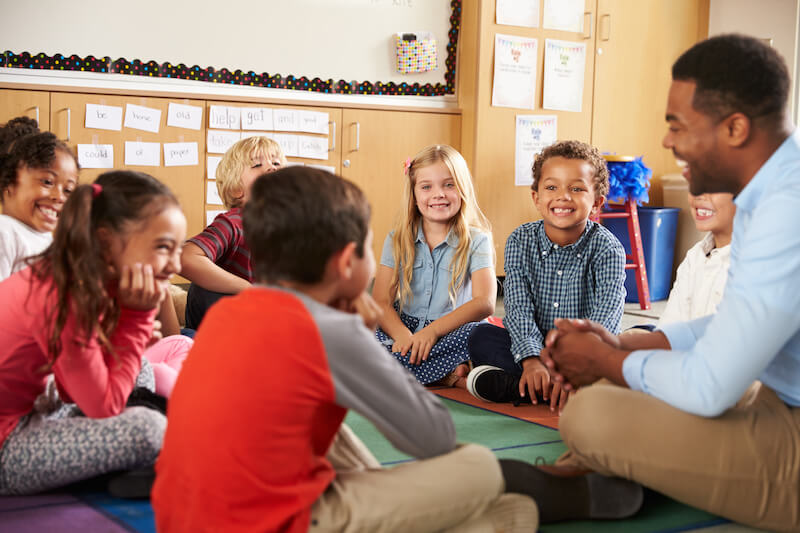 The Galveston Independent School District is responsible for the city's public schools and has 11 total. These include Parker Elementary School, Central Middle School, and Ball High School, among others. Additionally, Galveston has six private schools that students can also attend: O'Connell College Preparatory, East End Preschool, Holy Family School, Satori School, Trinity Episcopal School, and Upward Hope Academy.
Baylor College of Medicine is located in nearby Houston, less than 40 minutes from Galveston by car and approximately 45 minutes on the I-45 N corridor. Texas A&M University at Galveston offers degree programs for those who wish to pursue higher education but want their classes close to home.
Ready to Move to Galveston?
Those considering a move to the Lone Star State should think about Galveston as their new home. The cost of living is relatively low, there are plenty of job opportunities available in a variety of industries, and the climate is mild year-round. While Galveston's traffic is comparable to other parts of Texas, there are several public transportation options that make getting around town fairly easy. If schools are an important factor, Galveston has some excellent educational institutions from which to choose.