Mueller Amenities Guide: Your Guide to Life in Mueller, Austin
Posted by Texas Real Estate Source on Tuesday, September 13, 2022 at 4:55 PM
By Texas Real Estate Source / September 13, 2022
Comment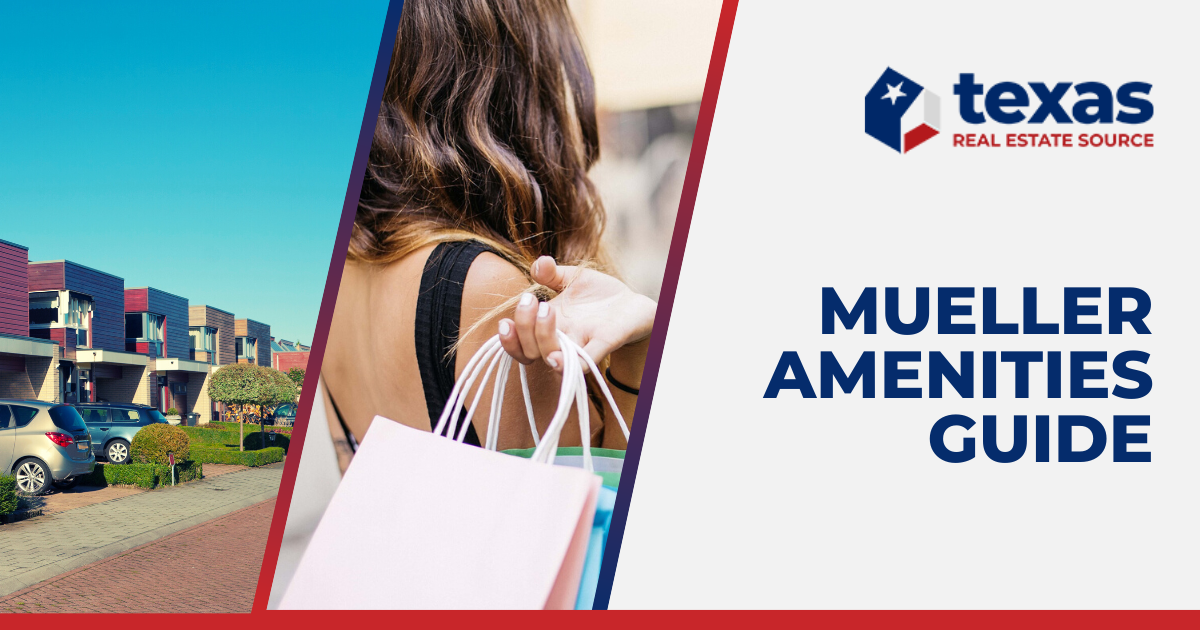 Less than five miles up Interstate 35 and just beyond the shadows of Austin's high-rise skyline is the master-planned Mueller community. Construction began in 2007 on the former site of Austin's Robert Mueller Municipal Airport. Today, this top Austin master-planned community serves as an eco-friendly mixed-use development.
Mueller provides a blend of single-family homes, condos, townhomes, offices, retailers, and restaurants. Residents here find amenities suited to any lifestyle, including several shopping districts, entertainment venues, and an abundance of health and wellness services. Outdoor recreation is also well-represented in the Mueller community, with the neighborhood surrounded by parks, trails, and greenbelts.
Mueller Parks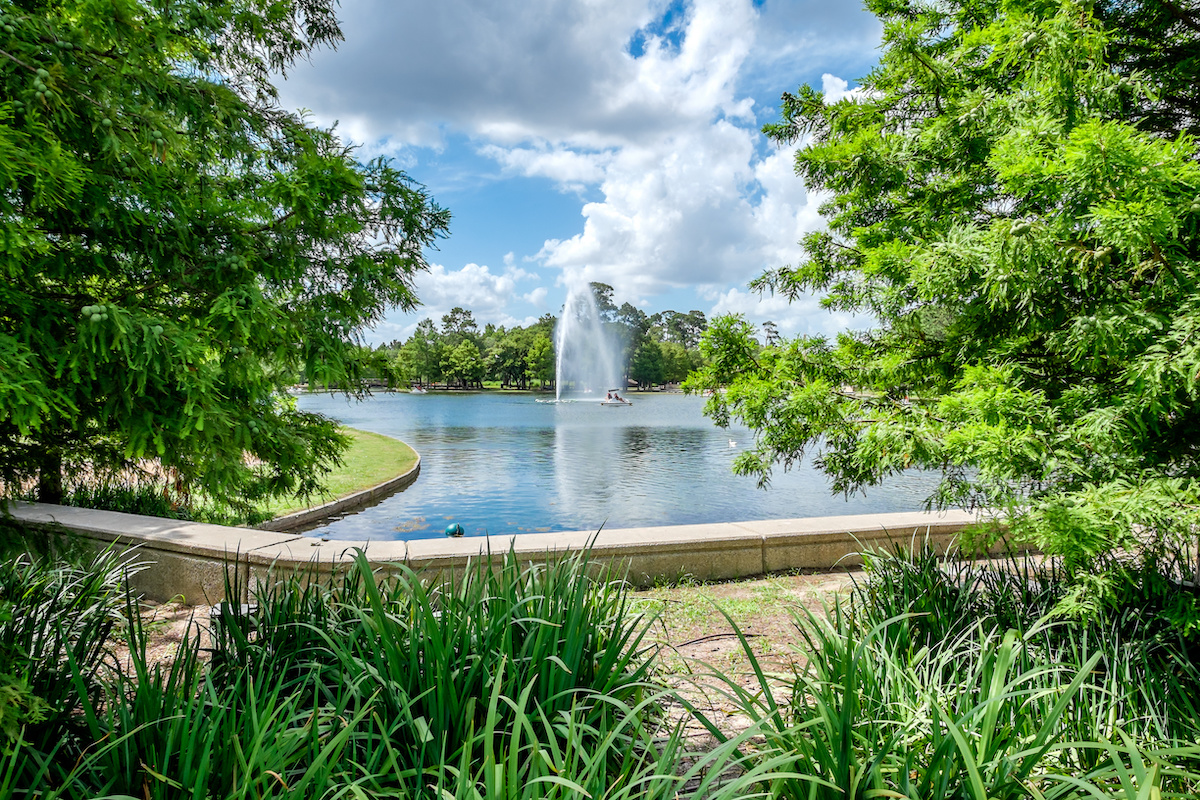 The Mueller park system comprises almost 140 acres of public greenspace connected by 13 miles of trails and bike paths, providing ample outdoor recreation for residents and visitors. Approximately 20 percent of the total neighborhood area is devoted to parks.
Mueller Lake Park is the centerpiece of fresh-air fun here, with 30 acres and almost three miles of trails surrounding a large central lake. Visitors can find interactive playscapes, picnic areas, public art installations, and an open-air amphitheater for regular community events.
A few blocks away, Ella Wooten Park offers 2.5 acres of open lawn, a five-lane Junior Olympic-sized lap pool, and a nearby children's wading pool. Visitors will also find a basketball court, playscape, shaded picnic areas, and tree-lined sidewalks here.
John Gaines Park is among the many unique, sustainable features of Mueller. This community space provides resident urban farmers with more than 130 garden plots, compost bins, and a tool shed for gardening supplies. Additionally, it provides a playscape with cargo nets, swings, tunnels, swimming and wading pools, and a couple of large open lawn areas.
Jessie Andrews Park is one of Mueller's newest additions. Ideal for small picnic-style gatherings, children's birthday parties, or simply hanging out with friends, the center of attention is the 20-foot purple octopus sculpture perched atop the public restrooms.
At the northern edge of the Aldrich Street district is the 3.5-acre Mary Elizabeth Branch Park. Visitors enjoy amenities like beach volleyball courts, playgrounds, an enclosed dog run, and a large open lawn perfect for picnics and gatherings. Among the park's most innovative features is the interactive waterscape, allowing folks the chance to play in the rain at the push of a button.
Nearby, there's another public gathering space at Paggi Square. This small pocket park has a multi-sport court for bocce ball, many mature trees, and various shaded seating areas.
Bordering portions of the Mueller community are two greenbelts and trail systems. The Northwest Greenway features 10-foot wide, rock-paved hiking and biking trails, shaded picnic areas, and playscapes. With similar trails and play areas, the Southwest Greenway has joined forces with the Lady Bird Johnson Wildflower Center to restore the area's native Texas ecosystem and provide visitors with educational resources.
Mueller Shopping
Several retail and lifestyle districts are located throughout the Mueller community, including the 400,000-square-foot Regional Retail area, the nearby Mueller Market District, and the mixed-use Aldrich Street entertainment, retail, and residential section.
Aldrich Street
Between Mueller Lake Park to the south and Mary Elizabeth Branch Park on the northern side is the Aldrich Street lifestyle district, a one-of-a-kind collection of dining, shopping, entertainment, and wellness options mixed with office space, apartments, condos, and hotel rooms.
Visitors can find favorite flavors at places like B.D. Riley's Irish Pub, Lick Honest Ice Cream, and Lady Quackenbush's Cakery, or exercise at Barre3 or Orangetheory Fitness. Other top spots on Aldrich Street include the Alamo Drafthouse Cinema, where patrons can catch dinner, drinks, and a movie. There's also Thinkery, Austin's interactive, play-based learning experience for kids of all ages.
The Mueller Market District
The Mueller Market District is a walkable community retail area near 51st Street and Berkman Drive on Mueller's north side. Here, residents can shop for groceries at H-E-B, enjoy a bite at Torchy's Tacos or Xian Noodles & Sushi, or grab a drink from Starbucks or Juiceland.
The area hosts a 24-hour emergency care facility and several health and wellness tenants, including vision care, dental, dermatology, chiropractic, dialysis, and rehabilitation services. Business customers to the center will find a University Federal Credit Union and UPS Store among the shops. Charging stations are available for electric vehicles parked here. A traditional fueling station is also located close by at H-E-B.
The Regional Retail District
In the northwest corner of the subdivision, with frontage on I-35, the Regional Retail Center serves as a major shopping destination for those living in Mueller and surrounding areas of Austin. This district features about 40 businesses, from fast casual dining to full-service banking and everything in between.
Major anchors in the Regional Retail District include The Home Depot, Best Buy, Old Navy, Bed Bath & Beyond, and Marshall's. Travelers in the area will also find overnight accommodations at the nearby Residence Inn.
Mueller Restaurants
With the sheer volume of dining options available in the city of Austin, there's always something new to try in Mueller. Dozens of restaurants, cafes, and pubs are scattered throughout the community, serving up an assortment of flavors from around the globe.
Around the Aldrich Street district, diners enjoy southern cooking and cocktails at Colleen's Kitchen, steamed buns and bubble tea at Bao'd Up, and family-style Italian at L'Oca d'Oro. Unique offerings like Korean-Mexican fusion at Chi'Lantro and made-to-order authentic Hawaiian at Pokeatery are must-try spots in the Regional Retail district. You'll find Austin favorites like Calle Taqueria and True Texas BBQ at the H-E-B food court in the nearby Market District.
Mueller Trailer Eats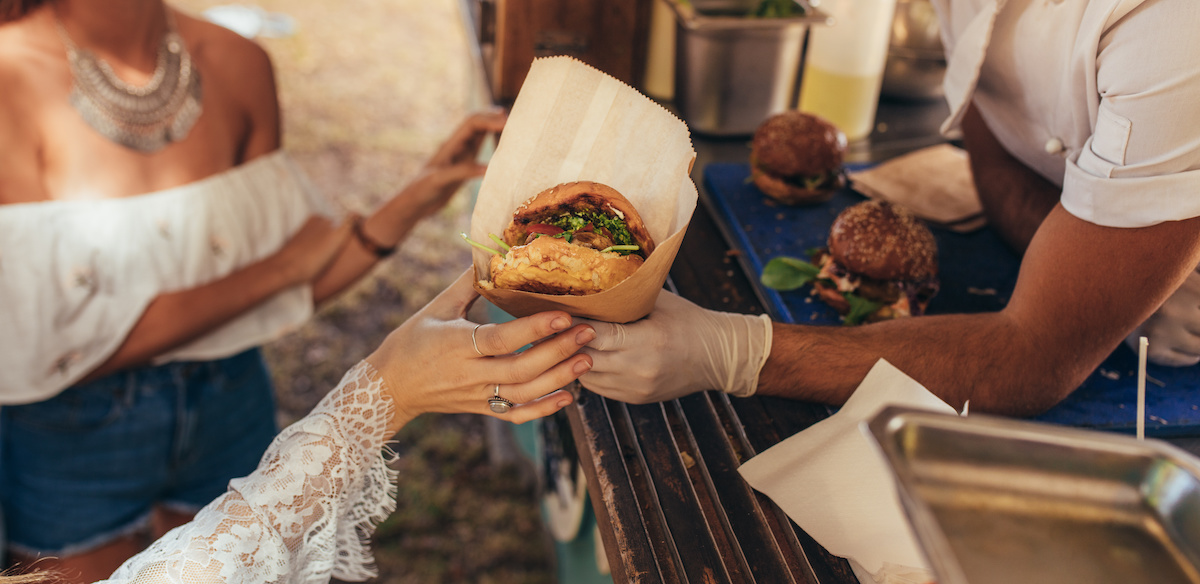 Just off Airport Boulevard, inside Mueller Lake Park, is the historic Browning Hangar, a remnant of the original Austin airfield. It's now the home to the Mueller Trailer Eats food truck park.
There's not a bad choice in the bunch, but it's hard to beat the burgers and kebabs at The Stonehouse Woodfire Grill. While you're eating, you might as well make room for a vegan wrap from Conscious Cravings and a gourmet empanada over at the Mmmpanadas food truck.
Mueller's food truck park is open seven days a week until 8 p.m. every evening.
Mueller Farmers Market
If you're looking to grab something to throw on the barbecue in Mueller's many picnic areas next weekend, then you're in luck. The Texas Farmers' Market at Mueller makes its home at the Mary Elizabeth Branch Park pavilion every Sunday. You'll find just about everything you need to grill for the whole group.
Every week, come rain or shine, dozens of local farmers and vendors show up with fresh fruits and vegetables, locally raised meats, eggs, cheeses, prepared foods, and more. According to the Austin Chronicle, Texas Farmers' Market at Mueller has been voted the city's favorite for the past eight years.
Other Amazing Mueller Amenities
We've covered the incredible outdoor spaces and retail shops and restaurants around Mueller – but the lifestyle amenities don't stop there. Mueller also features health and wellness services, daycare and early learning facilities, pet care facilities, and more. There's even one of the coolest movie houses you'll ever see a show in.
Alamo Drafthouse Cinema Mueller
What happens when you put serious movie buffs in charge of the theater? The answer is Alamo Drafthouse Cinema, featuring six auditoriums with reserved seating, 4k digital projection, and RealD 3D technology. The movie house screens new and classic films at their Mueller location in the Aldrich Street entertainment district.
The best part of the Alamo Drafthouse experience is never having to leave your seat. Order fish and chips, pepperoni pizza, and philly cheesesteak delivered directly to your seat, along with local beers and craft cocktails. There's also a kid's menu for young visitors.
Thinkery
Elsewhere in the Aldrich district is the Thinkery, a unique 40,000-square-foot interactive children's museum and education center offering a variety of indoor and outdoor play-based learning activities. Here, kids can participate in STEAM (science, technology, engineering, arts, and math) programs designed to stimulate curiosity in children of all ages.
Thinkery partners with the local community and institutions like the University of Texas to help people understand the benefits of early childhood learning and development. These partnerships also allow Thinkery to continue sharing its innovative educational experiences throughout the Austin area.
Mueller Daycares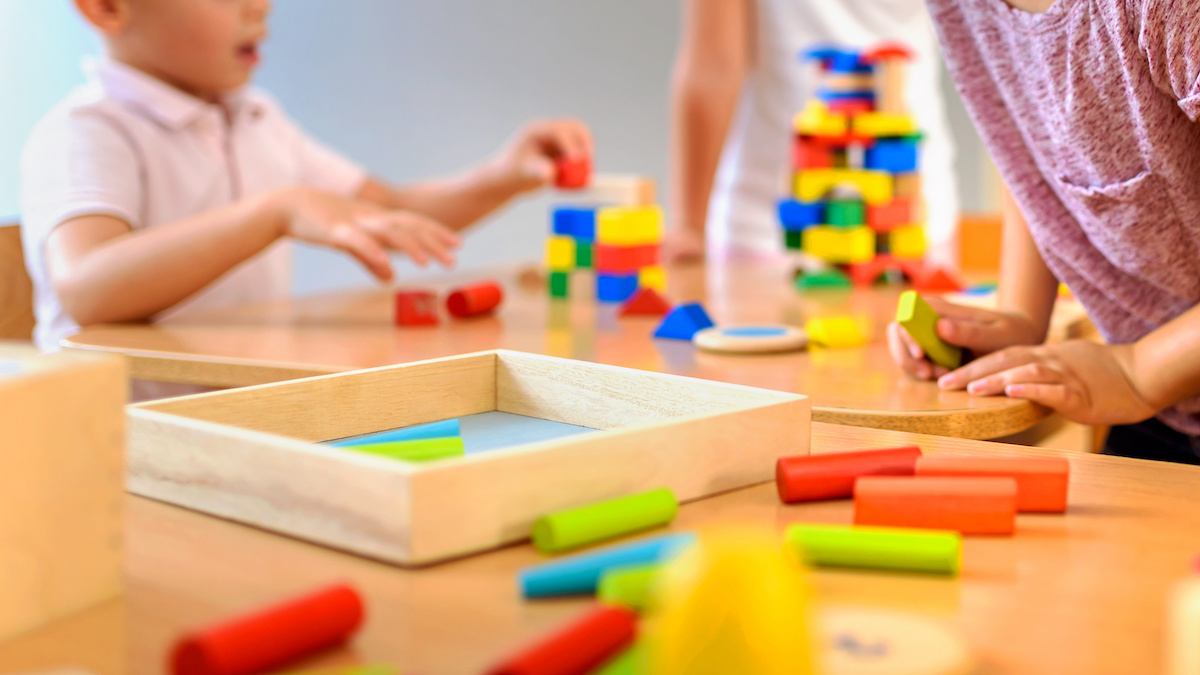 Several learning centers and daycare facilities serve the Mueller community, including the Primrose School of Austin. Primrose is an accredited private preschool providing early education and childcare for area students. Its campus is located on Aldrich Street, just across from Mary Elizabeth Branch Park.
The Rise School of Austin Preschool on the east side of Mueller offers early learning for children of all abilities. It also provides an aftercare program for students who need extended-hour childcare.
Minutes away, just west of I-35, are the Stepping Stone School - Hyde Park and the nearby Stepping Stone School at Mueller/UT. Stepping Stone features a small campus with age-appropriate playgrounds and activities for kids from six weeks to five years old.
Mueller Pet Amenities
Living in Mueller is a pretty sweet deal for the dogs, too. Pet owners particularly appreciate the fenced dog play area at Mary Elizabeth Branch Park and the pup-friendly patio at Cafe Mueller by H-E-B.
In the Aldrich Street area, Woof Gang Bakery & Grooming provides plenty of pet food, supplies, and grooming services. There's also a PetSmart in the Regional Retail District. Nearby, Banfield Pet Hospital and Austin Vet Hospital provide veterinary services.
Mueller Health Care Services
Health care providers and wellness services are plentiful throughout Mueller, with numerous vision, dental, dermatology, and pediatric practices and several physical therapy and rehabilitation centers.
Dell Children's Medical Center, a full-service pediatric medical center and emergency care facility, is located in the northwest corner of the community facing Mueller Road. Additional pediatric care in Mueller is at Ascension Strictly Pediatrics and Lone Star Pediatric Dental & Braces in the Aldrich Street area.
Other health care services in the area include Whole Family Chiropractors, Swish Dental, and CVS-Satellite Healthcare Mueller.
Mueller: A Model Urban Neighborhood
The Mueller master-planned community is a model for the modern urban village. With its mix of property types, various business services, and plentiful outdoor spaces, it's clear why people love living in master-planned communities—and those living in Mueller find every conceivable amenity available in their backyard. If and when residents need to leave the neighborhood, Mueller's convenient location makes getting to downtown and other parts of Austin a breeze.