Pet-Friendly Retirement Communities 101: What to Know About Senior Living with Pets
Posted by Texas Real Estate Source on Tuesday, May 23, 2023 at 12:26:35 PM
By Texas Real Estate Source / May 23, 2023
Comment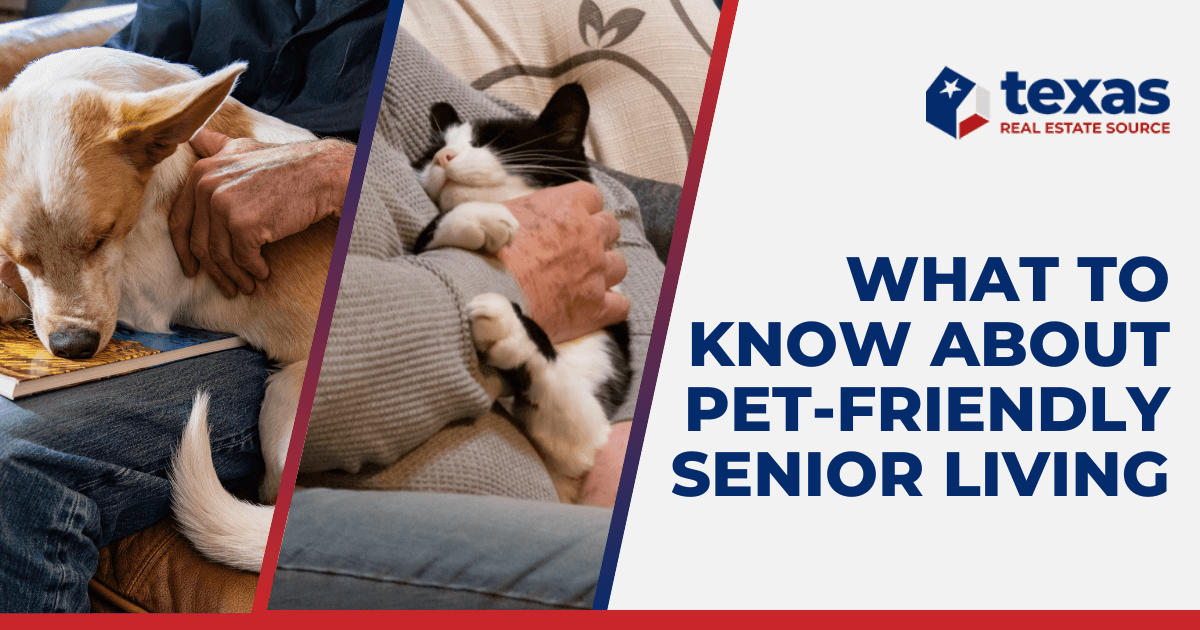 As more seniors are looking to spend their golden years with their beloved pets, pet-friendly retirement communities have become increasingly popular. These senior living facilities not only accommodate the needs of older adults but also ensure a comfortable and enjoyable environment for their furry friends. Learn about the numerous benefits that pets bring to senior living, including medical advantages, companionship perks, and the promotion of an active lifestyle among older adults.
Benefits of Pet Ownership for Seniors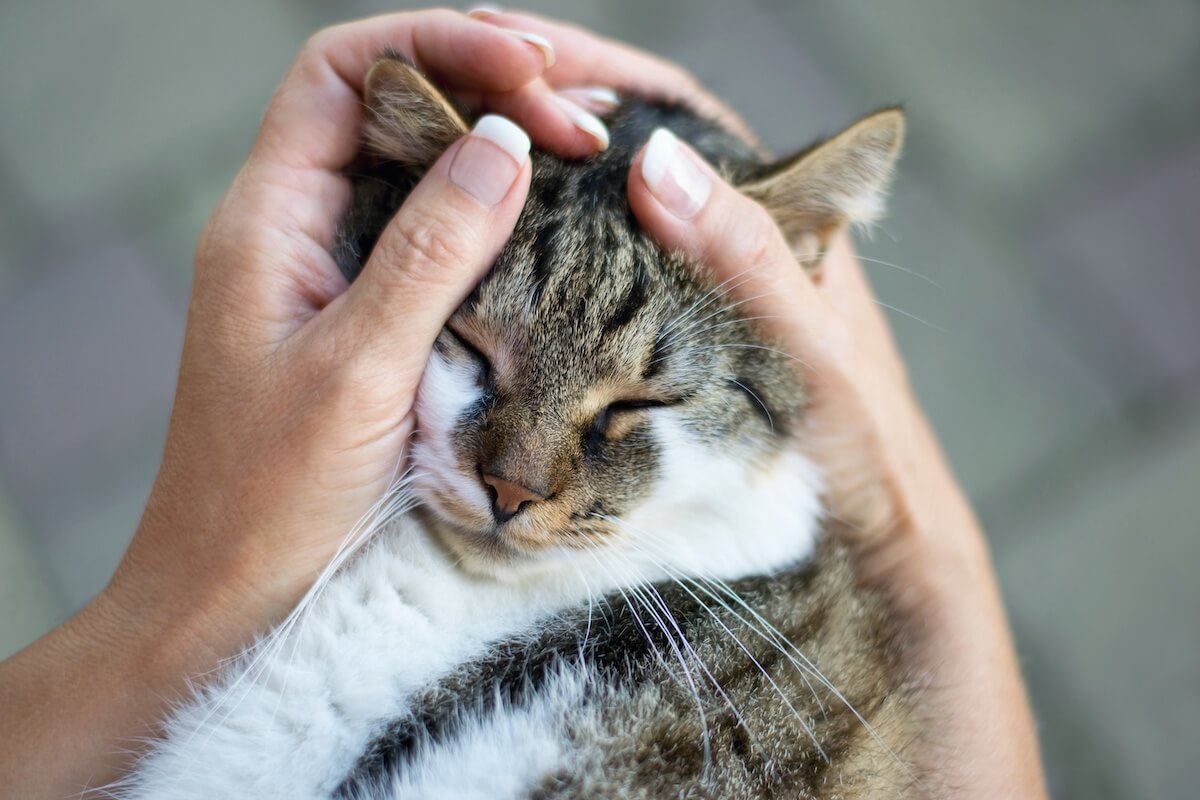 Pet ownership offers health benefits for seniors. Medical studies have revealed that having a pet can help lessen tension, reduce blood pressure, augment physical activity levels, and improve mental health. For instance, having a dog encourages regular walks and exercise routines, which are essential for maintaining good health for older adults. Cat purring has therapeutic benefits, including healing bones and tendons and reducing the risk of heart disease.
Petting an animal of any kind is a well-known stress reducer. Pets also stave off feelings of loneliness and isolation—many seniors report that their pets give them a sense of purpose, engagement, and unconditional affection.
Besides providing companionship at home, pets help older adults stay active by creating opportunities for social interaction within pet-friendly retirement communities. Many facilities organize events or activities tailored specifically towards pet owners, like group dog walks or animal therapy sessions with certified therapy animals. These gatherings not only allow residents to bond over their shared love of animals but also encourage them to form new friendships while staying engaged in community life.
Overall, pet-friendly retirement communities have realized the advantages of senior pet ownership and strive to create a welcoming environment for both seniors and their beloved pets.
Pet Restrictions in Senior Living Facilities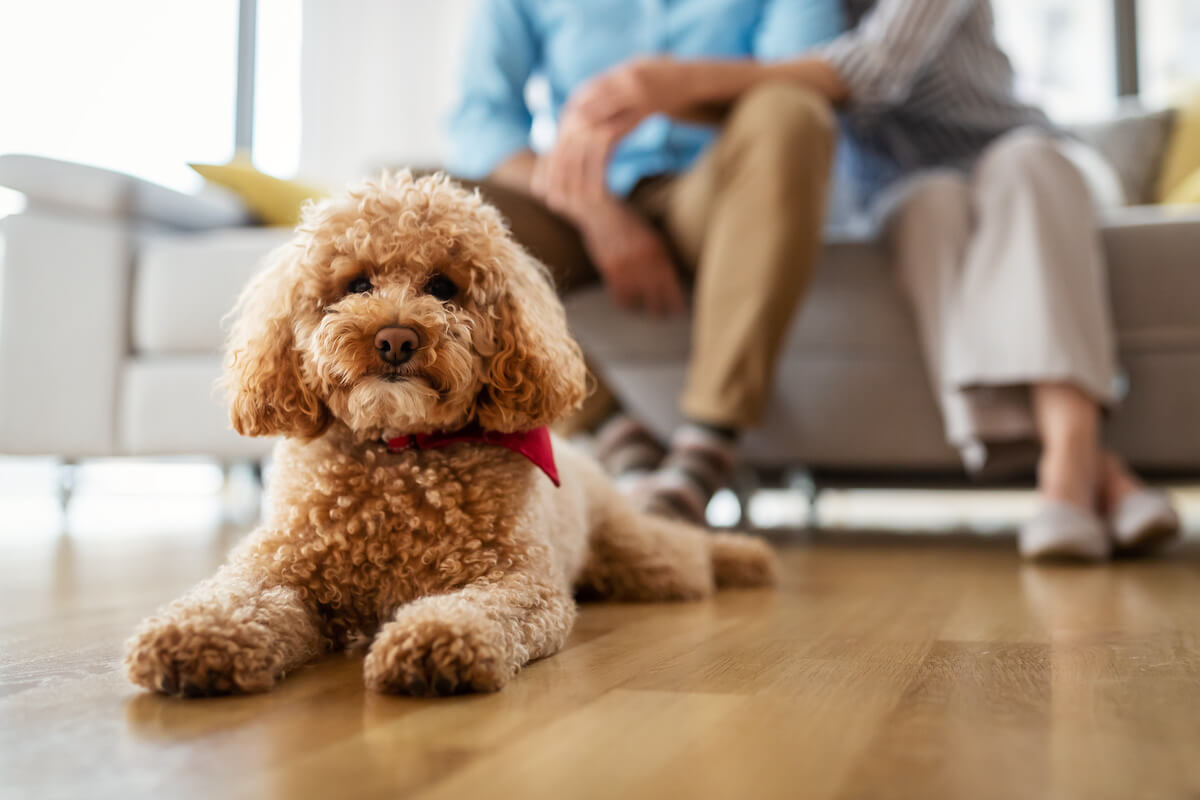 When searching for pet-friendly retirement communities, it's essential to ask about any restrictions regarding the types of animals allowed. Undomesticated or exotic animals might not be permitted, and even common pets like dogs may have size restrictions in some communities. Knowing the common senior community restrictions beforehand can assist you in locating an appropriate residence that meets both your and your pet's needs.
Common Limitations to Look For
Size restrictions: Many pet-friendly assisted living communities have size limits on pets, typically allowing only smaller breeds under a certain weight (e.g., 25 pounds). This helps ensure that larger animals do not pose safety risks for residents with mobility issues.
Species restrictions: In general, small mammals such as rabbits or guinea pigs are often welcomed alongside dogs and cats. However, some communities might also allow birds or fish, while others may prohibit them due to noise concerns or maintenance requirements.
Breed restrictions: Some neighborhoods maintain lists of prohibited dog breeds based on perceived aggression levels or insurance liabilities. Commonly excluded breeds include pit bulls, rottweilers, and Doberman pinschers, among other types.
Aging considerations: Older adults should also consider their pet's age and how it may impact their ability to care for them in a senior living community. For example, younger or more energetic dogs might not be suitable for assisted living facilities, where seniors have limited mobility.
By familiarizing yourself with the rules and restrictions of various pet-friendly retirement communities, you can make an informed decision on which facility best suits your needs as well as those of your furry friend. Along with other questions to ask before choosing a senior community, remember to ask about these policies during visits and gather all necessary information before committing to a specific community.
Pet Amenities in Retirement Communities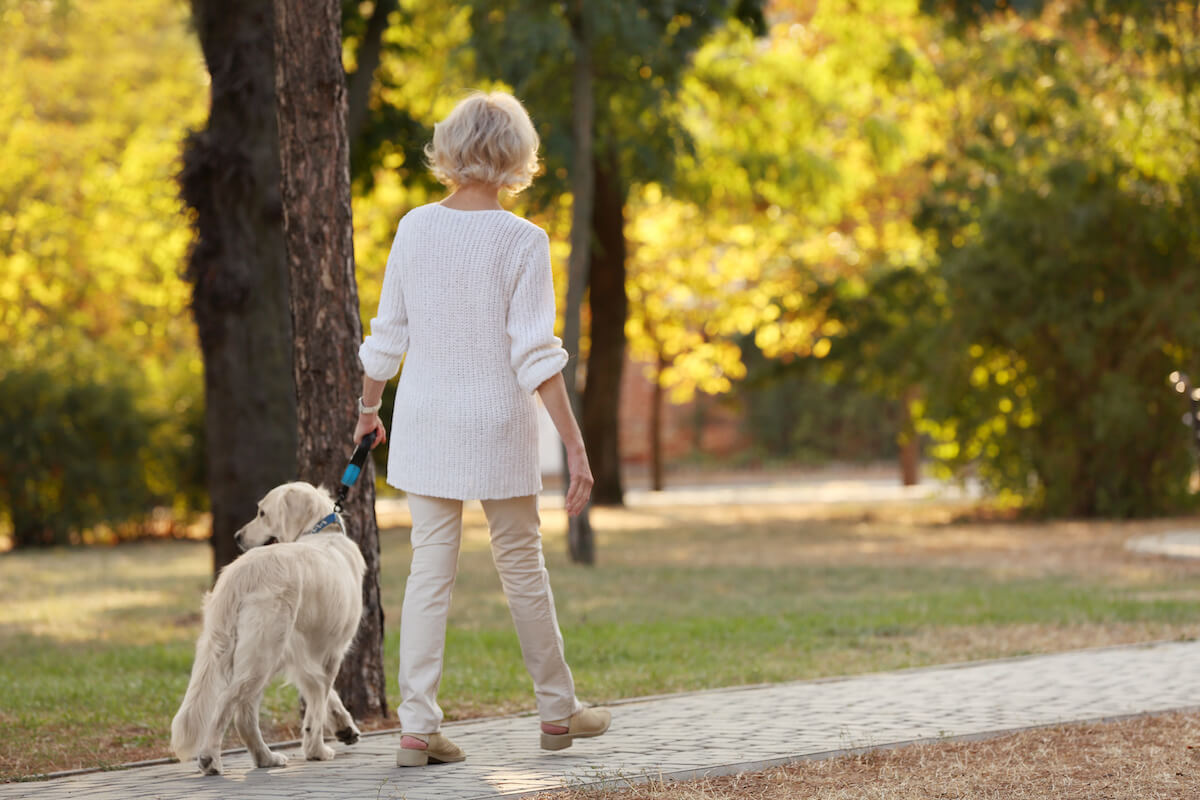 As pet ownership among seniors continues to grow, many retirement communities have recognized the importance of providing amenities that cater specifically to pet owners and their animal companions. Retirement communities that accommodate pet owners provide amenities for both seniors and their pets, ensuring a comfortable lifestyle.
On-site Grooming Stations
Some pet-friendly senior living communities provide on-site grooming or dog wash stations where residents can take care of their pets without having to leave the premises. These stations are typically equipped with professional-grade equipment such as raised tubs, grooming tables, hair dryers, and various brushes or combs. In addition to making it easier for seniors to maintain their pets' hygiene, these on-site grooming stations also serve as social hubs where neighbors can bond over their pets.
Walking Trails and Dog Parks
Many 55+ communities feature walking trails or designated dog parks within the property grounds. Walking trails may be paved paths winding through scenic landscapes or natural wooded areas offering a peaceful retreat from daily activities. On the other hand, dog parks often include fenced-in spaces with agility courses or open fields for off-leash playtime.
In addition to these specialized on-site amenities, some pet-friendly senior communities even collaborate with local businesses like veterinary clinics or dog trainers to offer exclusive discounts for community members seeking additional support services for their pets. Retirement communities are creating a more inclusive atmosphere by providing pet-related amenities and services that promote the health of both seniors and their beloved animals.
Typical Pet Fees in Retirement Communities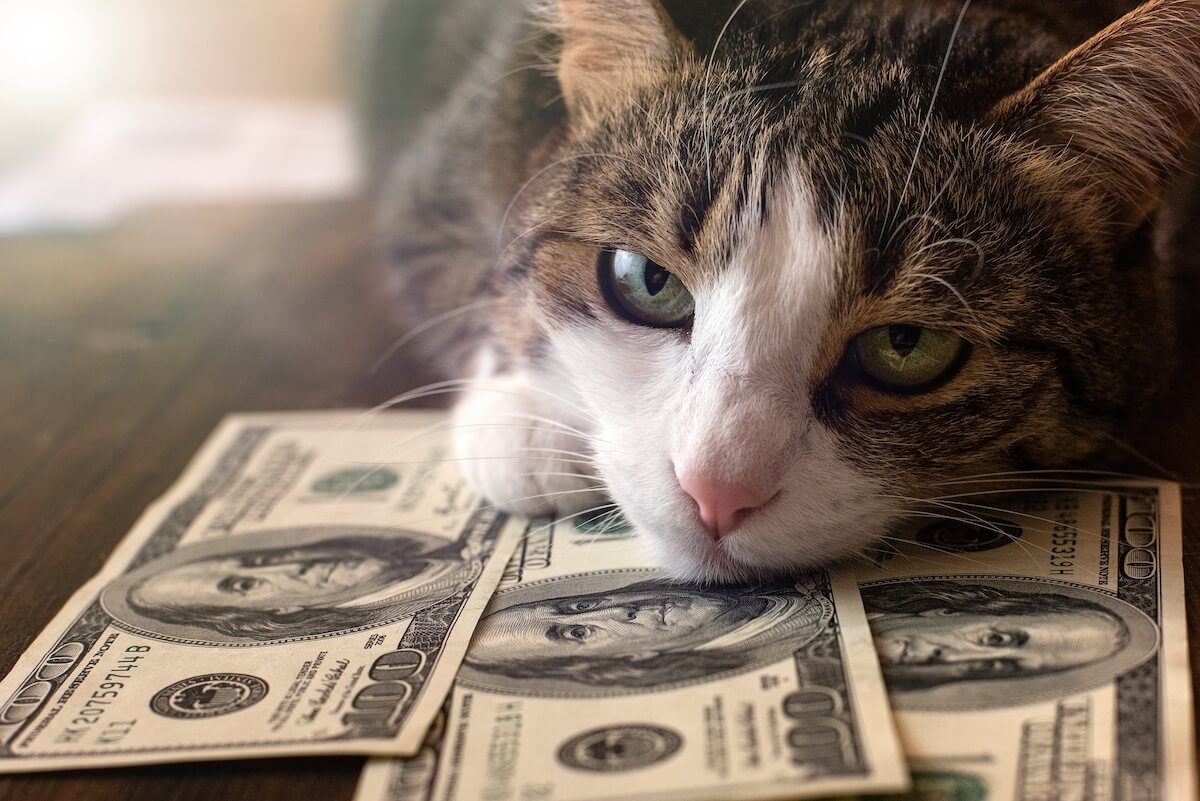 When considering a move to a pet-friendly retirement community, it's essential to be aware of any potential extra expenses associated with bringing your beloved pet along. Before signing a lease or joining the HOA (as active adult communities are usually also HOA neighborhoods), be sure to ask about any additional costs associated with having a pet in the retirement community.
One-time Deposit Fees
In some cases, senior living communities may require a one-time pet deposit upon moving in. This fee helps cover any damages or additional cleaning that might be needed due to your pet's presence. The amount of this deposit can vary significantly, so it's essential to include this in your financial plan when selecting the right community for you and your pet.
Recurring Charges Related to Pets
Pet rent: Some senior apartment facilities charge an additional monthly "pet rent" fee as part of their pet policies. This cost is typically nominal but should still be considered when comparing different communities.
Grooming services: If the retirement home offers on-site grooming stations or partners with local groomers, there may be added costs for using these services. However, the community may also offer discounts that you wouldn't get living outside the community.
Dog walkers and pet sitters: For seniors who need assistance caring for their pets while they're away or unable due to health reasons, hiring dog walkers or pet sitters through the community could incur additional fees.
Veterinary care: While not directly tied to the facility itself, don't forget about regular veterinary check-ups and treatments required by most pets. Some communities may have partnerships with local veterinarians, offering discounted rates to residents.
By understanding the expenses of pet ownership in a retirement community and planning accordingly, you can ensure that both you and your companion enjoy a comfortable and happy retirement together.
Support Services for Seniors With Pets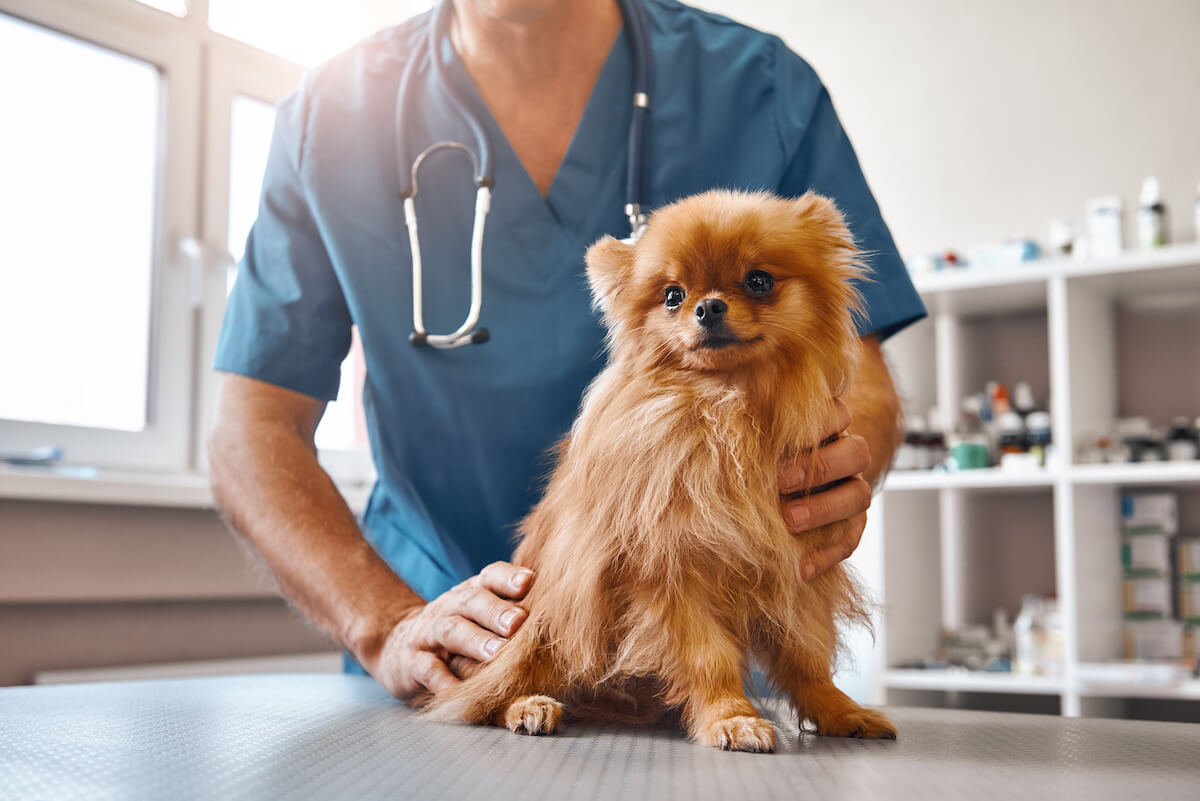 As a pet owner, it's essential to consider the support services available within different communities designed specifically around assisting elderly individuals who own pets. These services can provide assurance and make sure that both you and your cherished animal companion are looked after in the event of any unforeseen circumstances or other conditions.
Emergency Assistance Options
In some senior living communities, emergency assistance options may be available for residents with pets. This could include on-site veterinary care or partnerships with local veterinarians to provide prompt medical attention when needed. Additionally, some facilities might have staff members trained in pet first aid and CPR, ensuring that they're prepared to handle any unexpected health issues your companion may encounter.
Ongoing Pet Care
While planning ahead, look into local services for:
Pet sitters who can temporarily look after your pet while you recover from illness or injury.
Dog walkers who will ensure that your dog gets regular exercise even if mobility challenges prevent you from doing so yourself.
The closest vet if your senior community doesn't have one on-site. This is particularly important if you have a pet that's not a cat or dog, as not all vets are equipped to care for small mammals or exotic pets.
Public transportation to places such as shopping centers with pet stores or the closest animal hospital.
By considering the support services available within pet-friendly retirement communities, you can ensure living in a good place where both you and your pet receive the care and attention needed to thrive. Pets make great therapy animals and can help keep seniors active and engaged. Pets provide companionship and can help reduce stress and anxiety, making them an essential part of many seniors' lives.
Overall, pet-friendly retirement communities and assisted living facilities can be great options for seniors who want to keep their pets by their side.
FAQs About Pet-Friendly Retirement Living
How Do Senior Communities Handle Aggressive/Noisy Pets?
Pet-friendly retirement communities understand the importance of maintaining a peaceful environment for all residents. If a pet exhibits aggressive behavior or causes excessive noise, most communities have policies in place to address these issues. This may include requiring the owner to attend dog training classes, implementing behavioral modifications, or finding alternative accommodations if necessary.
Do Senior Communities Have Activities for Pet Owners?
Many senior living communities recognize the benefits of incorporating pets into their programming and offer various events and activities designed specifically for pet owners. These can range from group dog walks and "yappy hours" where residents gather with their four-legged friends to educational seminars on topics such as senior dog care. Some facilities even partner with local animal shelters or rescue organizations for volunteer opportunities and adoption events.
How Much Do Pet Fees Cost at Retirement Communities?
Pet fees in retirement communities vary, so be sure to ask each community you're interested in for the specifics. Generally speaking, you might see an upfront one-time pet deposit of around $200–$500 and a monthly pet rent of between $20–$100. You also might see one but not the other. Pet rent may also be different between pets; for example, a cat might have a lower rent than a large dog.
Tips For Finding The Right Pet-Friendly Community
Contact multiple communities: reach out to several different senior communities in your desired area so you can compare amenities, rules, costs, etc., related to having a pet on-site.
Schedule visits: visit each facility personally before making a decision. This will allow you not only to see what life would be like for you and your pet but also to ask any questions that may arise.
Ask about support services: inquire about the availability of pet care assistants, dog walkers, or emergency assistance options within each community.
Enter Your Next Chapter With Your Best Friend
More and more senior housing developments are recognizing the importance of pets to older adults and are responding with pet-friendly policies and amenities. From senior apartments to active adult communities, it's easier than ever to find a place where you and your furry best friend can thrive in your retirement.
Ready to live your best life in Texas? Call The RealFX Group at (512) 956-7390 to contact an experienced local real estate agent who can help you discover the Texas home of your dreams.